With a few pieces of paper and clever folds, we can create different boxes to hold everything from snacks to jewelry. An origami box can also be a creative way to present a gift. Today's article presents my favorite 19 tutorials on how to make an origami box that will hopefully become a favorite of yours, too!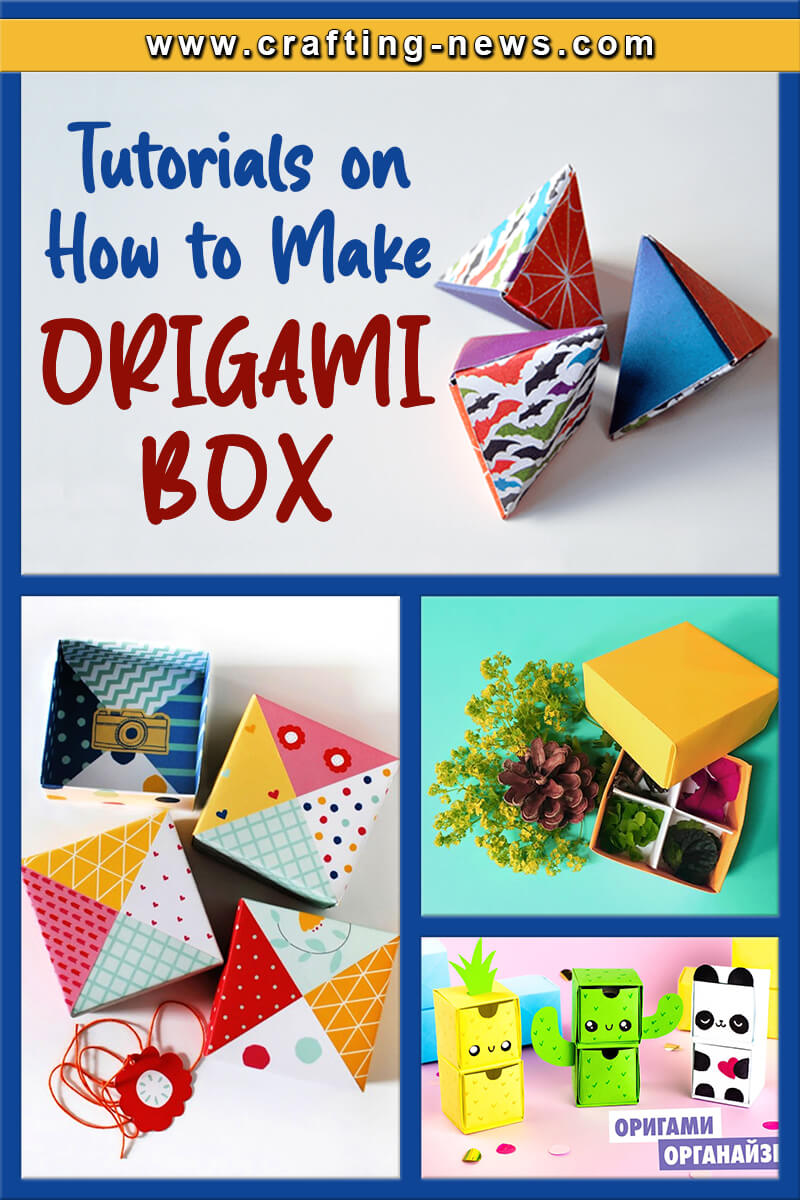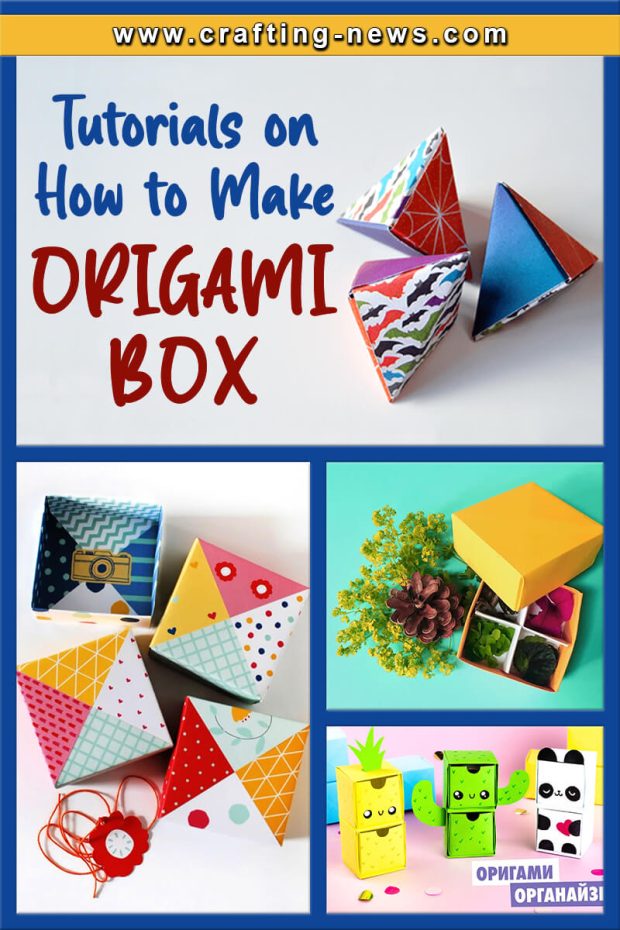 19 Quick and Easy Origami Box Tutorials
These tutorials range from conventional square and rectangular shapes to those in the form of an animal, a flower, and other shapes. By varying the type of paper and color combinations, we can create an endless variety of effects. Suitable for origami enthusiasts of all skill levels, this lit promises hours of creative joy.

1. How To Make An Origami Heart Box by Origami Spirit
Valentine's Day is just around the corner. As with any other holiday, it offers a good excuse to make some sweet origami hearts, and give lots of kisses to our favorite princes and princesses.

If you don't celebrate Valentine's Day, not to worry! Love is one of the best excuses to make an origami box, and let that special someone know of your love for them. It's an easy model to make and I'm sure you'll love it!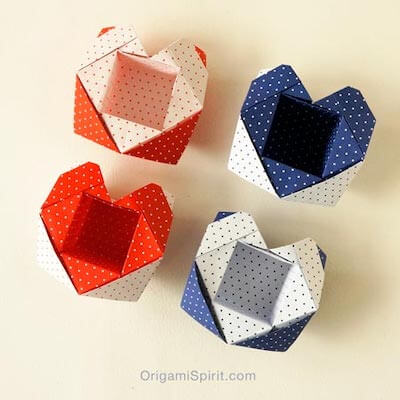 Follow the tutorial here

2. Easy Rectangular Origami Box by Red Ted Art
This cute little gift box would also work great as small stationery box to organize your desk or your drawer. It can be made simple and plain or decorated in any way you wish.

This is probably the easiest how to make a rectangular box with lid tutorial you can find, a great one for beginners!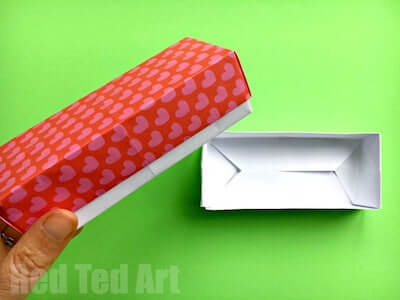 Follow the tutorial here

3. How To Make An Origami Box With Cover by Housewife Eclectic
Sometimes I just need a tiny box. But those are usually the hardest to find just laying around. And I rarely have time to run to the store real quick to get one. I find this tutorial an easy solution to make one!

Fold an origami box with cover in just a few minutes without tape or glue. Don't worry if you've never done origami before. You can do this!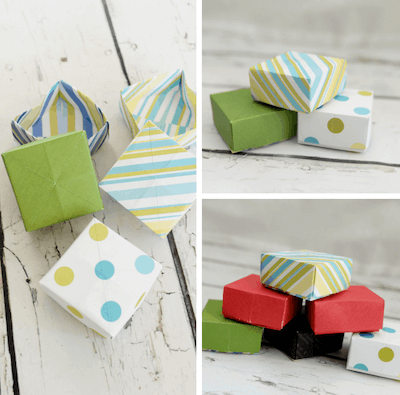 Follow the tutorial here

4. How To Fold Origami Star Snack Boxes by Gathering Beauty
Make these easy origami star boxes with this simple diy. A few simple folds and you'll have the perfect little box to hold snacks and candy.

They're a fun little project that you can use to store paperclips, buttons, drawing pins or any other little bits and pieces you have lying around. Bonus: They're so easy to make, you'll be able to whip up a bunch of them in no time.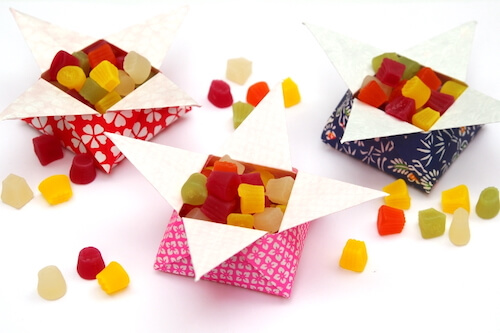 Follow the tutorial here

5. Origami Box For Nature Collections by Barley & Birch
There are some easy folds and some harder folds throughout the process of making this origami box, so I recomment adult supervision/help for this one. Once finished, the box is amazingly sturdy — making it the perfect small collector to throw in a backpack or carry along for a hike.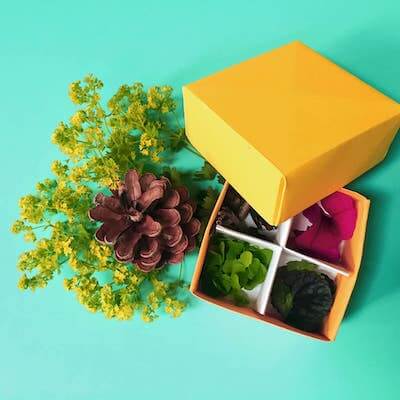 Follow the tutorial here

6. Origami Halloween Box by Polly's Origami
Make a cute origami Halloween surprise toy with only paper and glue. You can make a zombie, a skeleton, a ghost to pop out of the box. Alternatively you can use this origami Halloween box for candy or other small things on Halloween.
Follow the tutorial here

7. Origami Hinged Gift Box by Paper Kawaii
Learn how to make a hinged origami box! It's made from 2 sheets of paper and no glue. This origami gift box is perfect for many different kinds of presents, or store things in them. Easy to make!
Follow the tutorial here

8. How To Make Origami Paper Box by The Little Crafties
Learn how to make these DIY origami chest of drawers in this step by step paper folding craft tutorial. This tutorial will show how to make origami paper box with 2 storage units or drawers but you can easily extend it and make more drawers by following the same method as shown.

These miniature paper drawers or paper boxes look really cute and can be used to store small items like pins, buttons, beads etc.
Follow the tutorial here

9. Pretty Origami Box For String Lights by Lia Griffith
We are always looking to add a little DIY to our Holiday decorations and this pretty origami box project is perfectly suited to sprucing up your indoor string lights. You will use two sizes of square origami papers in three different colors to make these little origami boxes.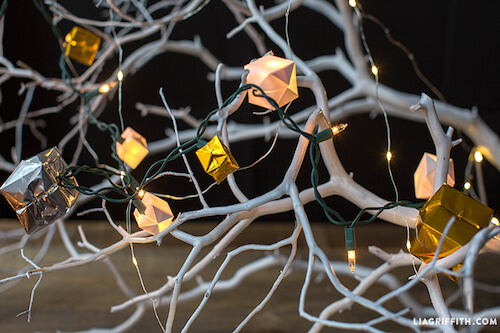 Follow the tutorial here

10. Origami Desk Organizer Boxes by Hello Origami
Let's make an origami paper organizer with this tutorial on how to make a cute cactus, pineapple and panda! You can store different stationery stuff, jewelry, or even sweets in these boxes!
Follow the tutorial here

11. Origami Triangle Boxes by I Try DIY
Good things come in small packages, or at least tiny triangular origami boxes anyway. So I included these simple pyramid style boxes. They're great for holding small sweets and would make fantastic wedding favors.

These boxes really are so simple to make. In fact, I think they might be the easist DIY box I've shared so far.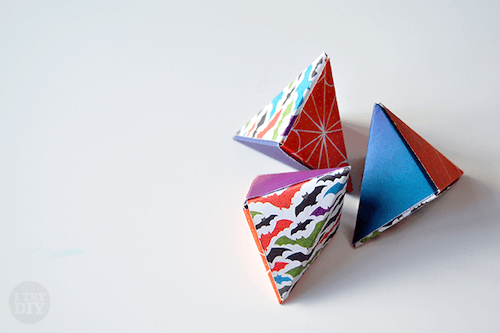 Follow the tutorial here

12. Patchwork Paper Origami Gift Boxes by We Are Scout
These lidded origami gift boxes are based on a traditional Japanese design to which we will be adding our own patchwork paper twist. The paper corners will sit neatly in the base and lid without needing to be secured, but you can add a bit of fun there with a sticker.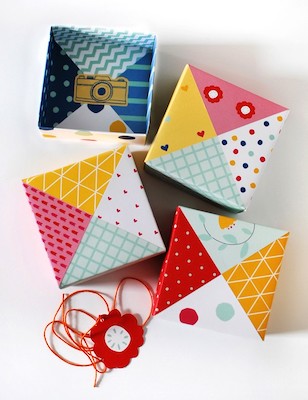 Follow the tutorial here

13. Origami Tissue Boxes by DIY Crown
Want to learn how to make these adorable origami tissue boxes? You can make them as tiny as you want and also put real paper inside. They are also super easy to make.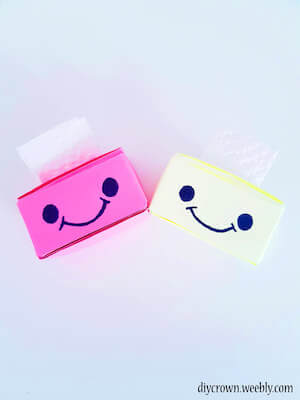 Follow the tutorial here

14. Origami Secret Drawer Box Tutorial by Paper Kawaii
This tutorial will show you how to make a cool origami drawer box. This origami 'Tetra Box' uses no cutting or glue, just paper. This origami drawer box is easy to make. You can use as a gift box or keep your special items inside.

These modular origami drawers are super easy to make. You just need to make 4 sets of box drawers and two pieces for the top and bottom.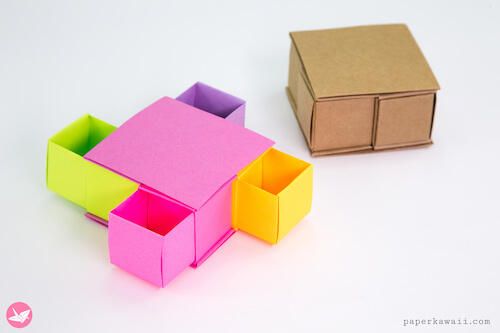 Follow the tutorial here
15. Origami Envelope Box Tutorial by The Spruce Crafts
Learn how to make a nifty origami envelope box. This traditional origami model is very useful and can be used as a box or an envelope. It would make a nice invitation with the invite on a square piece of paper on the inside.

This origami envelope could also be used to package flat things like hoop earrings, small necklaces, memory cards, teabags, or stamps, but the possibilities are endless.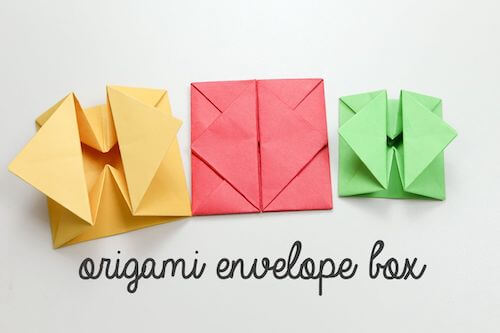 Follow the tutorial here

16. Flower Easy Origami Box Tutorial by Ventuno Art
There may be times when you want to give someone a quick gift and do not have a box on hand. No need to worry! This origami flower box is easy to make, beautiful and quite versatile.

All you need is sheets of square paper. I prefer cardstock or scrapbook paper, but you can use wrapping paper, kraft paper. No glue or tape is necessary for construction. Isn't that fabulous? You will be able to make handy containers in minutes!
Follow the tutorial here

17. How To Make A 3D Origami Small Jewellery Box by 3dorigami Videos
Paper jewelry boxes make excellent storage boxes for keepsake jewelry. Watch this tutorial to learn how to keep your jewelries safe and stored nicely. This requires a lot of individual pieces with relatively simple folds, and requires patience to complete. But I assure you, this 3d Origami Box is worth your time!
Follow the tutorial here

18. Origami Candy Shaped Box Tutorial by Cut Out + Keep
This sweet little origami candy box model is a perfect gift box, party or wedding favor, and it's easy to learn how to make one with this video tutorial. This is a cute candy/sweet shaped origami box and it's pretty easy to make.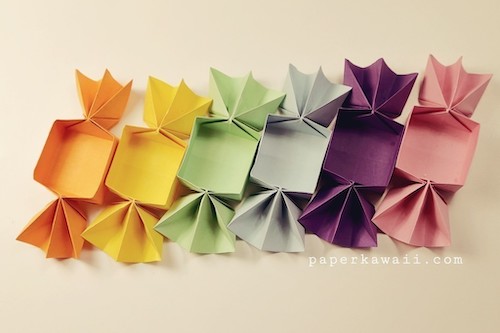 Follow the tutorial here

19. Origami Lady Box Tutorial by Jose Meeusen
This tutorial will show you how to fold the origami Lady Box that is made from 1 sheet of square paper. It's unique twisted frame makes this a lovely gift or ornament.

I have actually never folded or come across any boxes similar to this before. The box has a really interesting twisted frame. The base of the box can also have little feet sticking out of tuck them under. I would love to purchase some special and large paper just to use to make this box.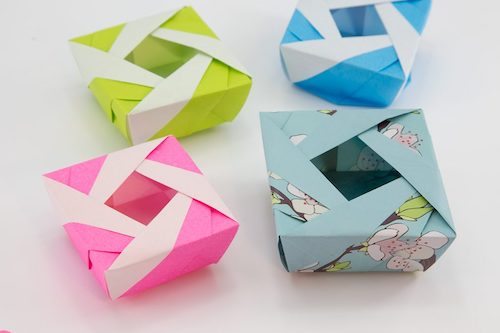 Follow the tutorial here
VWHETHER YOU ARE LOOKING TO MAKE A GIFT BOX OR FIND A STORAGE SOLUTION, THESE 19 TUTORIALS ON HOW TO MAKE AN ORIGAMI BOX WILL SURELY COME IN HANDY!
I really hope you like these origami box tutorials and enjoy crafting them yourself. If you try to create any of these origami boxes, please tag us on Facebook and show us how you're using or decorating them. We look forward to seeing your handiwork!
Got a bunch of paper lying around? Try these Paper Piecing Patterns, Paper Plate Jellyfish Crafts, Paper Weaving Patterns, Paper Mache Crafts, and a lot More Paper Crafts here!
What are you waiting for? Grab some paper and start folding right away with your favorite tutorial on how to make an origami box today!