Halloween will be here before you know it and if those old skeletons in your closet aren't cutting it anymore for your festive decorations, we've got you covered with these Halloween macrame patterns. Learn how to create an amazing macrame perfect for Halloween with minimal knot knowledge. A project so easy you will be able to haunt and hang on your walls in just an afternoon!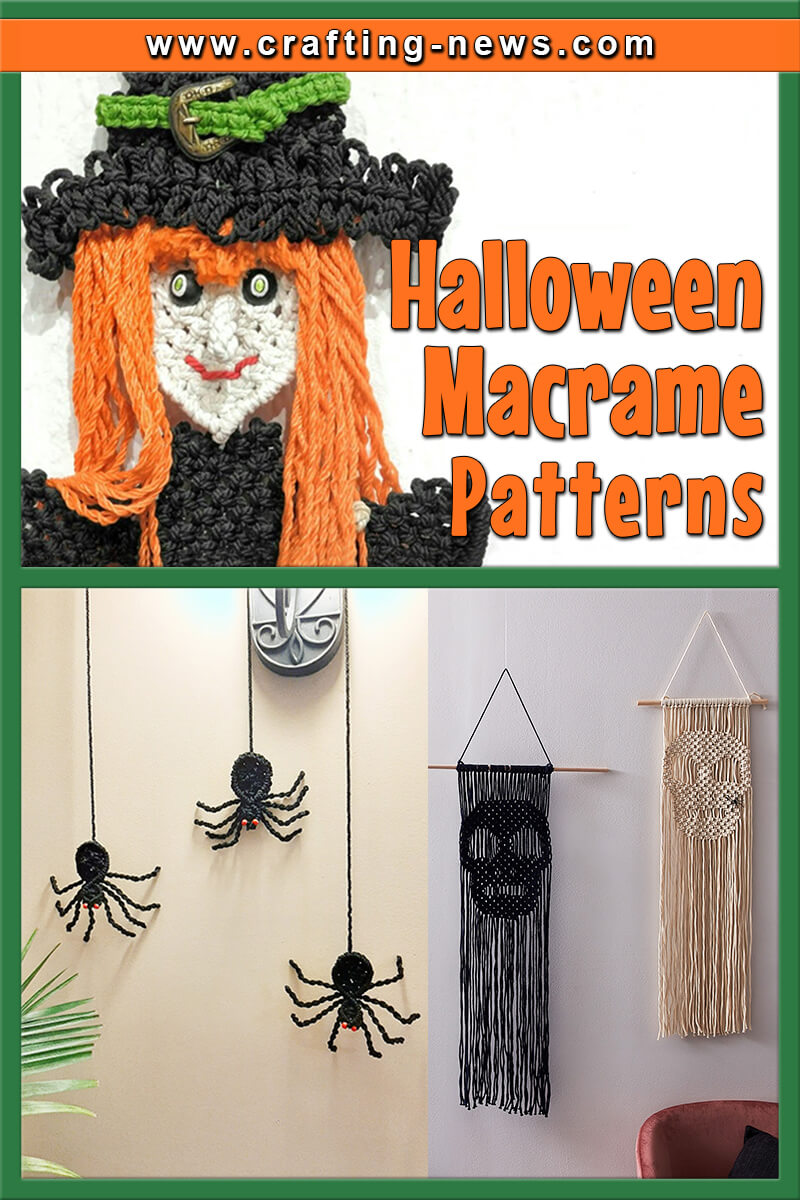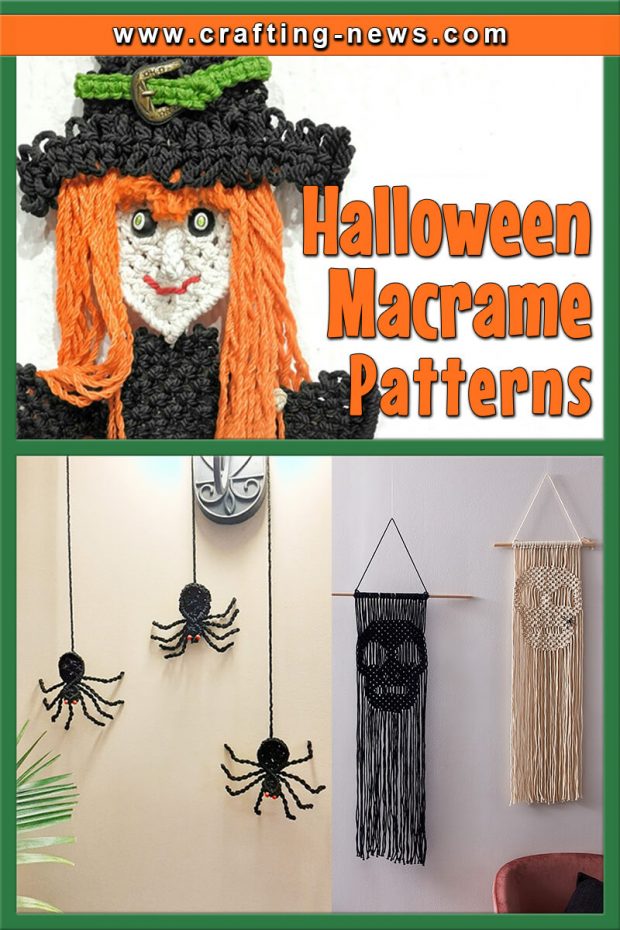 12 Halloween Macrame Ideas
Halloween crafting season is here and it's time to get serious! But that doesn't mean you need to spend the rest of the month working on elaborate DIY projects! Quick holiday crafts like the ones below are the best holiday crafts, because holidays should be all about no-stress cuteness and fun.

1. Halloween Macrame Bat Pattern by A Parlin Project
This cute macrame bat decoration is the perfect spooky Halloween friend for your walls, or all year round if you love bats!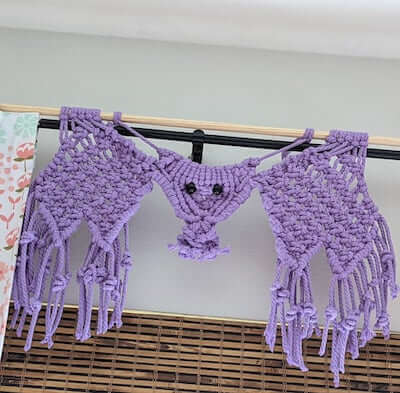 Get the Pattern by A Parlin Project here

2. Macrame Wall Hanging Free Halloween Pattern by Hobby Craft
If you'd like to add a modern spin to your Halloween decorations, look no further than a macrame wall hangings. Modern and quick to make – you can create the skull wall hanging using only the square knot. If you'd like to try your hand at something a little trickier, have a go at our moon wall hanging!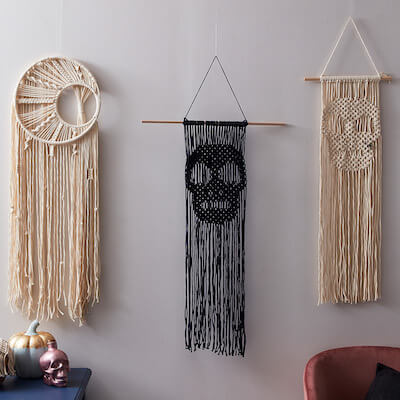 Get the Pattern here

3. Macrame Halloween Skeleton by Sasha Macramessage
Hanging this skeleton for your Halloween decoration is sure to invite envy among your friends and family for their finish look. This piece of decor is certain to level up your decor with a western flair, building up your personal style. This accent piece makes a perfect gifting option too.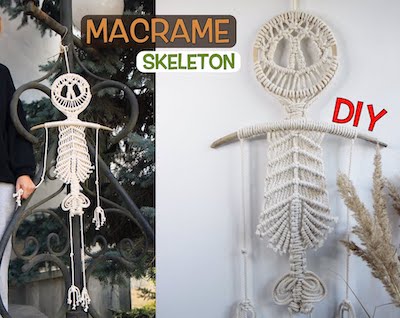 Get the Pattern here

4. Macrame Candy Corn Wall Hanging by Gray Wonders
Need some more fall/Halloween decor this year? Then come make this adorable candy corn wall hanging. This hanging is made with only two knots: the reverse lark's head, and the vertical double half hitch.
Get the Pattern here

5. Spooky Macrame Halloween Ghost Pattern by Rosa May Crafts
This Macrame Ghost Pattern can be created to make buntings, garlands or individual decor to hang in the trees or around your home. Add LED lights to light them up.

Get your home ready for Halloween with this super cute macrame ghost! Perfect for a kid's bedroom or any place that needs a little spook!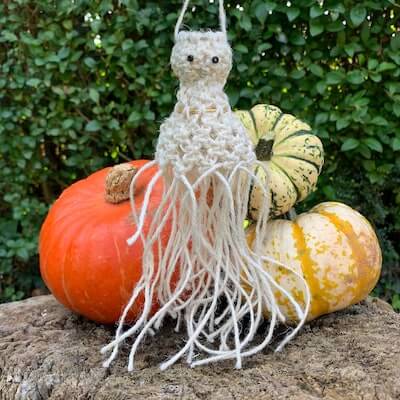 Get the Pattern by Rosa May Crafts here

6. Halloween Skull Macrame Pattern by Sage Studio Macrame
Learn to make this gothic decor for your home or a touch of boho halloween decor this fall! This is a fun project for someone who has a bit of macrame experience already.
It is of medium difficulty but uses only one type of knot, so anyone can learn quickly! It is perfect for spooky decor or a halloween gift you can learn to make yourself!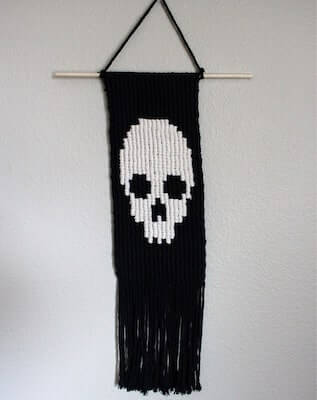 Get the Pattern by Sage Studio Macrame here

7. Macrame Spider Pattern by Sandy's Textile Studio
Create cute spider decorations using macrame cord. These little arachnids aren't that creepy, so you can make these friendly critters any time of year!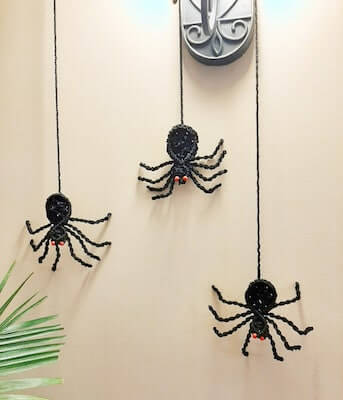 Get the Pattern by Sandy's Textile Studio here

8. Spooky Macrame Wall Hanging by Brooklyn Craft Company
Here's an adorably spooky Halloween Macrame Wall Hanging that's super quick and easy. It's the perfect way to add a little goth flair to your house for the fall season, and the best part is you can make it in about an hour!

You will love this dark beauty to hang on a door, or even to swap out with one of your regular pieces of wall decor. It makes for a subtle, spooky touch wherever you hang it – and if you want to take it up a notch on the creepy scale, throw on a giant paper spider.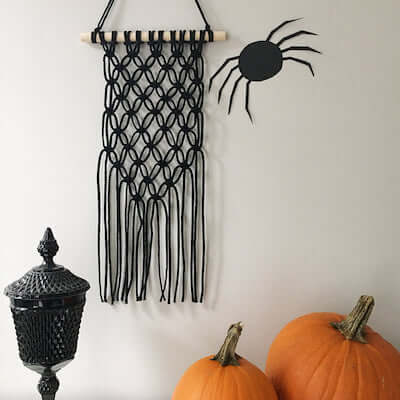 Get the Pattern here

9. Macrame Ghost Wall Hanging by Marching North
Learn how to make a spooky Macrame Ghost Wall Hanging for Halloween in this step by step tutorial! The whole thing is done with vertical double half hitch knots, and you just change colors according to the chart to make this free halloween pattern. Once you get the knot down, it's simple!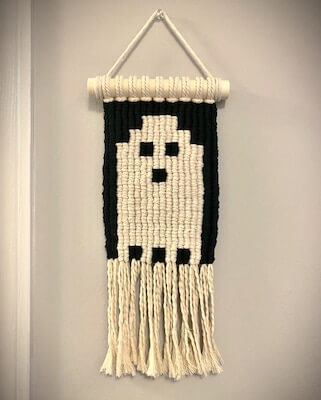 Get the Pattern here

10. Macrame Moon Halloween Wreath by One Mama's Daily Drama
Make a macrame moon wreath for cute and witchy Halloween decor. This DIY tutorial includes how to tie macrame knots and is perfect for beginners. You might even want to display this wall hanging year-round if your home decor is cottagecore or retro style!
Also see: Macrame Moon Patterns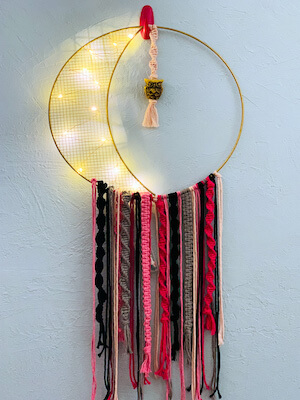 Get the Pattern here

11. Macrame Wall Hanging Witch by Macrame Magic Knots
No Halloween is complete without a home full of witches! With her huge eyes, she will bewitch you and your Halloween home this year!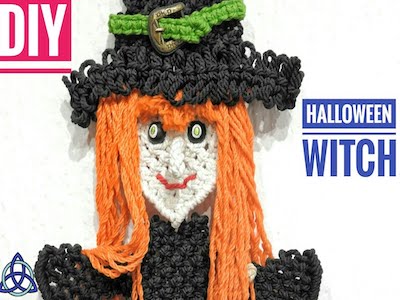 Get the Pattern here

12. Giant Spider Web For Halloween by Decor Hint
This Halloween DIY is so simple and makes a big impact on your porch. If you're looking for an easy, inexpensive way to add some Halloween decor to your home – this is a winner!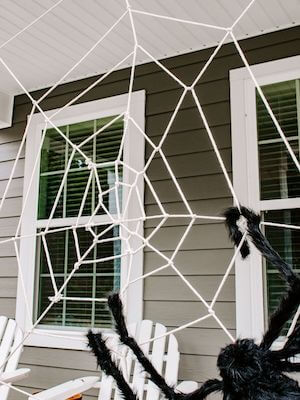 Get the Pattern here
MAKE YOUR HALLOWEEN MORE CREATIVE WITH THESE HALLOWEEN MACRAME PATTERNS!
If you make these projects, we want to see! Share your pics on our Facebook Page so we can creep on your crafts!

For more frighteningly good DIY Halloween inspiration take a look at our 90 DIY Outdoor Halloween Decorations, 50 Halloween Paper Crafts, 15 Halloween Plastic Canvas Patterns, and 12 Halloween Felt Crafts.

Try this easy Halloween macrame projects that is as easy to make as it is adorable! Happy Haunting!