If you want decoration that sends you out to space, then some of the best macrame moon patterns will help your decor stand out in a more compelling and stunning way.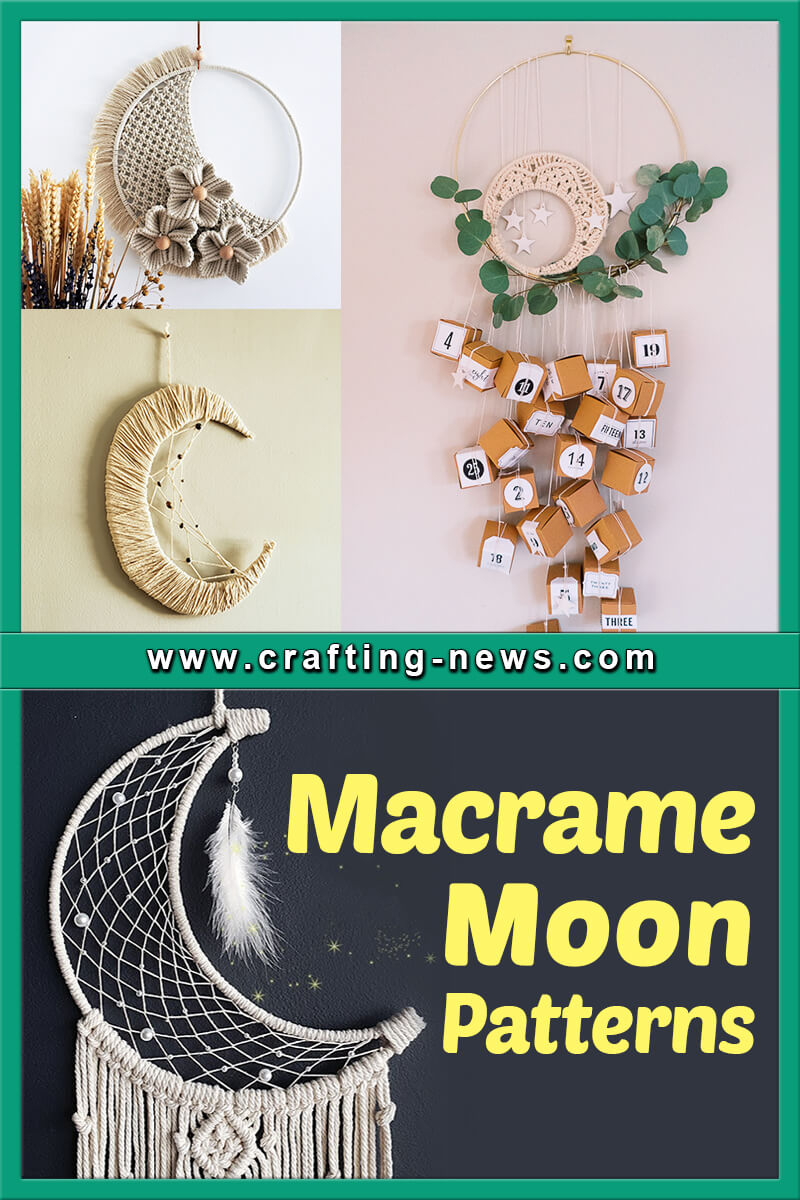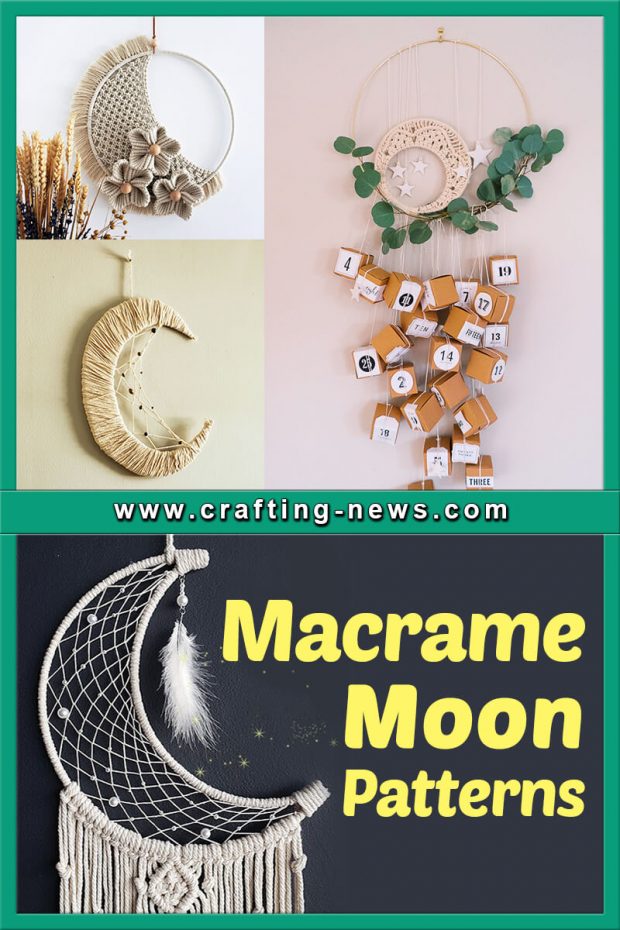 These macrame moon are truly aesthetic macrame pieces which can turn any space into a boho chic oasis. Of course, you don't need a nostalgic reason to love the moon, or to decorate your home with them.

There's just something magical about the sky, and luckily for all of us moon babies, we can make some seriously stylish celestial items like the ones below!
1. DIY Crescent Moon Macrame Dream Catcher by Matching North
Learn how to make a beautiful and dramatic Crescent Moon Macrame Dream catcher with Feathers in this step by step tutorial! You'll need to know the square knot, double half hitch knot, and larks head/cow hitch knot for this tutorial. It's a lot simpler than it looks!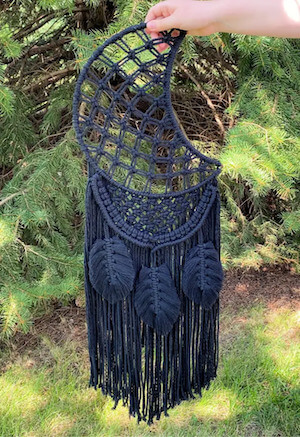 Get the Pattern here
2. DIY Macrame Moon Halloween Wreath by One Mama's Daily Drama
Make a macrame moon wreath for cute and witchy Halloween decor. This DIY Macrame moon wreath tutorial includes how to tie macrame knots and is perfect for beginners. You might even want to display this wall hanging year-round if your home decor is cottagecore or retro style!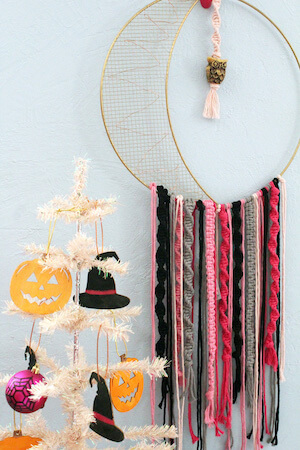 Get the Pattern here

3. DIY Macrame Moon Dream catcher by The Craft Cat
Learn how to make a beautiful Moon Dreamcatcher using macrame and weaving technique. A calming home decor that you will love. This is a wonderful wall hanging decoration for your bedroom, living room or baby room.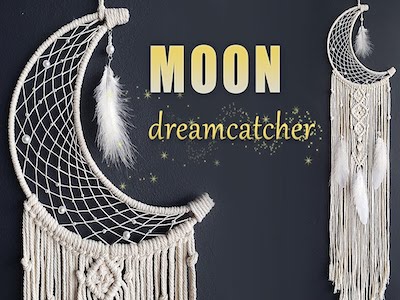 Follow the tutorial here
4. DIY Moon Shaped Macrame Wall Hanging With Lights by Pop Shop America
Are you ready to make this gorgeous Moon Shaped Macrame Wall Hanging with Lights? It's the perfect hangable light for any space that doesn't have access to electric!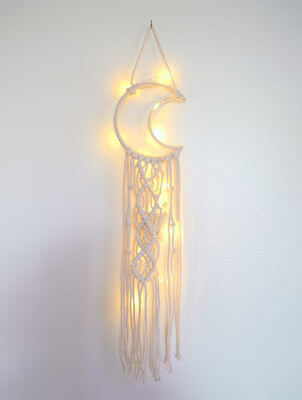 Get the Pattern here
5. Chipboard Macrame Moon & Stars by Lia Griffith
This chipboard macrame moon and stars is an easy DIY craft and a great project for kids too. Not only does it make cute decor for a kid's room, but you could also craft it for a nursery.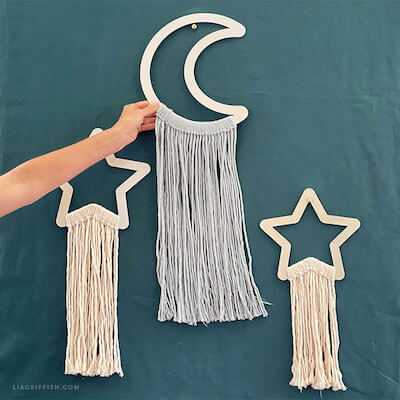 Get the Pattern here
6. Flower Half Moon Macrame Pattern by This Is Suzy
Create a powerful rustic vibe that moon-based decorative pieces may not always have with this Flower Half Moon Macrame Pattern. The added flowers further helps this piece have an impact.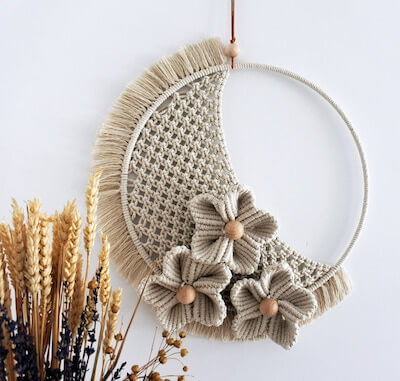 Get the Pattern by This Is Suzy here

7. DIY Macrame Moon Dream Catcher Wall Hanging Tutorial by Crafting On The Fly
All you need is 2 metal rings to create the illusion of a sun and a crescent moon. Do you see how the 2 parts come together?
This beginner Macrame moon wall hanging looks sophisticated and intricate yet only uses 3 easy macrame knots. This Macrame dream catcher is perfect for any boho home decor and I already found the perfect spot for it.
Here's more colorful DIY dreamcatcher ideas.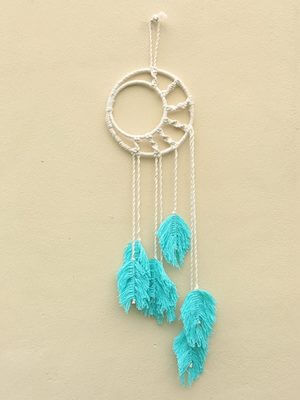 Follow the tutorial here
8. DIY Advent Calendar With Macrame Moon Pattern by If Only April
This tutorial will show you how to make a macrame crescent moon and incorporate it into the advent calendar. Aesthetic, natural, gorgeous home decor! This advent calendar is so minimalist and natural but will give you all the chills with a macrame crescent moon and stars!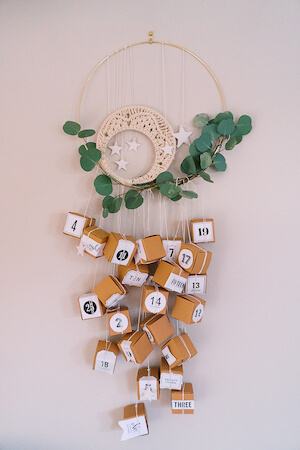 Follow the tutorial here
9. Simple Macrame Crescent Moon Dreamcatcher by Felt Magnet
This Crescent Moon Dream Catcher is a fun way to add a little celestial magic to your home. The materials needed are ones you most likely have on hand, and you can customize it to suit your tastes.
Choose to hang it up above your bed to ensure a good night's sleep or display it on a wall as a unique conversation piece.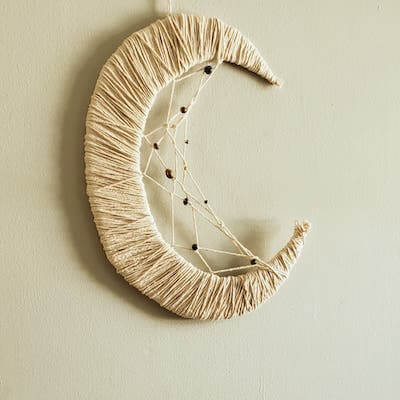 Follow the tutorial here
10. Macrame Moon Dream catcher Kit
Whilst this is a challenging craft kit, it is also suitable for beginner with a little bit of patience. There are only 5 knots to learn for you to be able to complete this dreamcatcher. And the kit comes with detailed instructions as well as a video showing each step.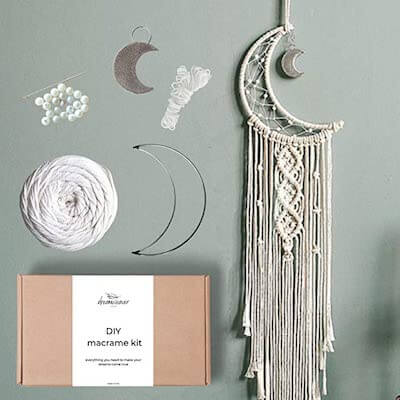 Get the kit on Amazon
BRING THE MOON TO YOUR HANDS AND HOME WITH THESE BEAUTIFUL MACRAME MOON PATTERNS!
Love these DIY projects? Check out all of our macrame crafts. Or browse through our home decor for more ideas. Whatever you do, be sure to share it with us by posting photos to our Facebook Page!

Indeed, these macrame moon pieces are perfect for living room or bedroom wall decor, and all of your other home wall decoration needs.