Ward off those night terrors, or at least *attempt* to make bedtime a little smoother with these DIY Dreamcatcher for kids. These dreamcatchers offers bright colors that are fun for kids and fun to design. Add a touch of whimsy to each of them then let your kids pick the perfect spot in their room or playroom to display their creations.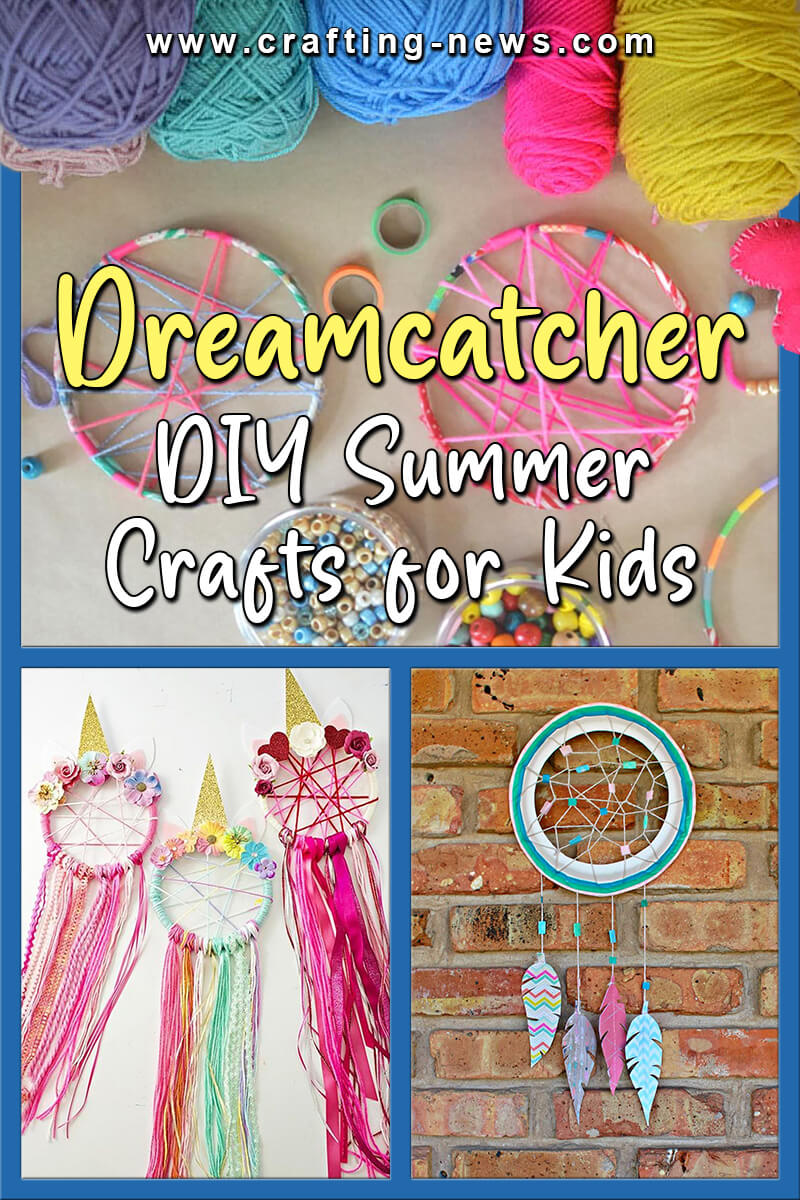 Dreamcatchers for kids may look complicated, but they are actually really easy to make. All you need are simple materials and a bit of time. Set aside a weekend morning or afternoon and have a blast making beautiful dreamcatchers with your children!
1. Dreamcatcher Craft For Kids by My Nourished Home
This DIY dreamcatcher offers bright colors that are fun for kids and fun to design. Add a touch of whimsy with feathers then let your kids pick the perfect spot in their room or playroom to display their creations.
This dreamcatcher also makes a great grandparent or teacher gift that your kids can personalize!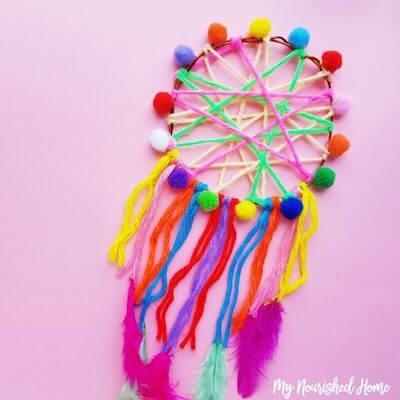 Follow the tutorial here
2. DIY Unicorn Dreamcatcher
Add a glittery horn, felt ears and glued on flowers and you have a beautiful handmade unicorn dreamcatcher. The yarn hangings are just simple loops and you can add lots of texture and variety by choosing various colors, ribbons and yarns. These adorable Unicorn Dreamcatchers make a fun unicorn party craft or playdate activity.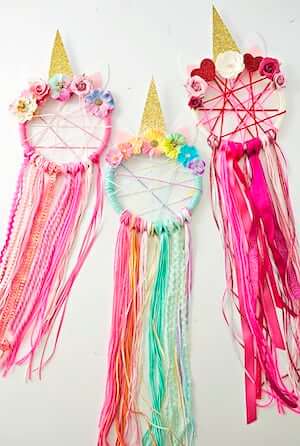 Follow the tutorial here
3. DIY Leaf Dream Catcher by Crate & Kids Blog
Here's a project that's perfect for Fall! Give your kids' rooms an autumnal makeover with this pretty dream catcher from Delineate your Dwelling. Good idea post a nature walk!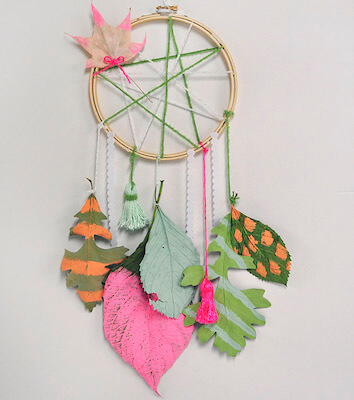 Follow the tutorial here
4. DIY Stick Dreamcatcher With The Kids by Handmade Kids
This is a fun indoor craft activity to do with kids of all ages. The crafty supplies in this DIY are great sensory items for the little ones to feel and hold while helping out.

There are so many different ways to make your dreamcatcher – you can use sticks or dowel, wool or string, add beads and buttons. You can make it as long or as short as you like, as colourful or as simple as you like – the options are endless.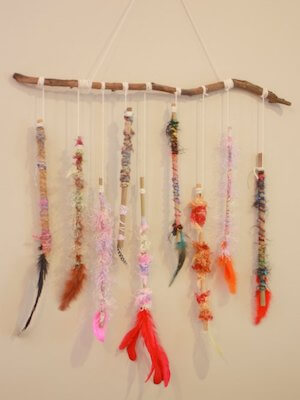 Follow the tutorial here
5. DIY Paper Plate Dream Catcher For Kids by Easy Peasy Creative
Have you been looking for the perfect dream catcher? Why not make one yourself? This paper plate dream catcher is so easy to make and uses supplies you most likely have on hand! Kids will love helping you create this gorgeous feather dream catcher!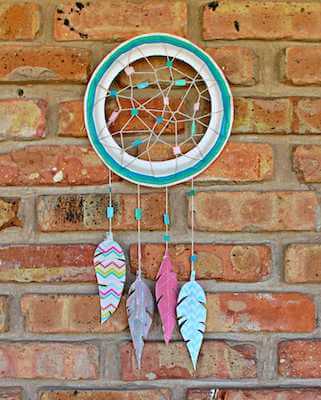 Follow the tutorial here
6. Woven CD Dream Catchers by Pink Stripes Socks
There are many good uses for recycling old CD's but this project's got to be one of the most inventive and colorful ways out there. Get kids excited about creating fun woven patterns on CD's to make these totally groovy and cool dreamcatchers.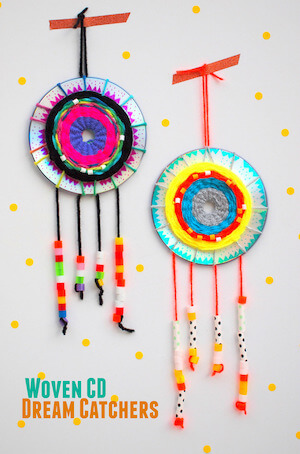 Follow the tutorial here
7. DIY Dreamcatcher by Happy Active Kids
This DIY Dreamcatcher Craft encompasses so many different elements of early learning – including creative thought, cultural awareness, discussions around nature and seasons, fine motor skills and construction processes.

This is so simple and easy to make. Brilliant for creative thought as you can use any material you have on hand to decorate your dream catcher. You could use feathers, beads or even washi tape.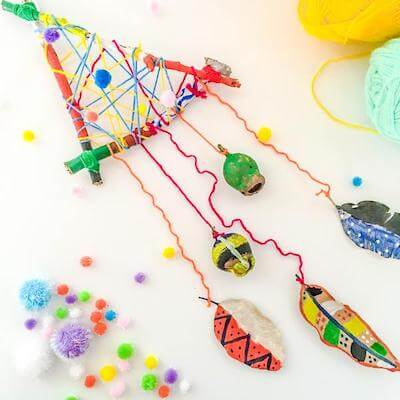 Follow the tutorial here
8. How To Make A Dream Catcher by Molly Moo Crafts
Have you ever seen a dream catcher featuring pom poms and colored fish before? Neither have we! This gorgeous creation is perfect for children, as it allows their imagination and creativity to run wild.
They can create a wide variety of fun shapes to add to their design, making each DIY dream catcher as unique as its maker!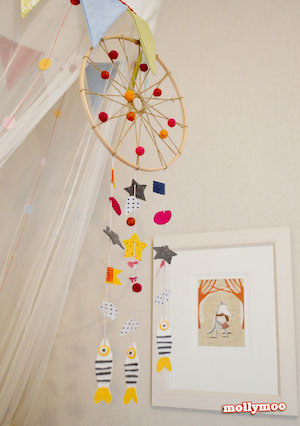 Follow the tutorial here
9. Perler Bead Dream Catchers by The Art Kit
These Perler Bead Dream Catchers are such and easy craft for kids but we'll bet you'll want to make one of your own too! With just a few basic craft supplies, you can easily create these adorable mini dreamcatchers.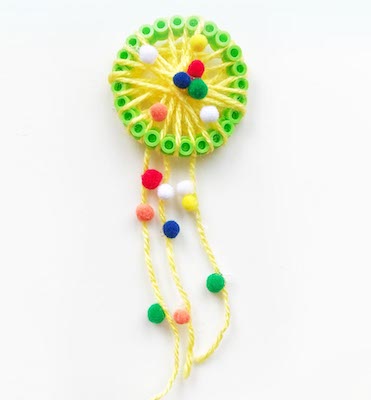 Follow the tutorial here
10. Kid's Dreamcatcher Kit by Crafty Creatures
Let your kids get creative while they make a themed dreamcatcher! This kit will show you how. Choose from the selection of designs and the online tutorials will instruct you as you weave color onto the hoop and create a great keepsake.
This kids dream catcher kit includes all the supplies you require to make your chosen dreamcatcher.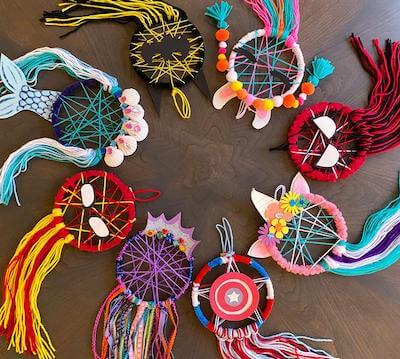 Get the Kit here
11. DIY Dream Catcher For Kids by Project Kid
Washi tape is one of those things that can be used in a gazillion ways, like this dream catcher from Project Kid! This is the easiest way to make a dream catcher, and you can make use of colorful patterned tape for the feathers.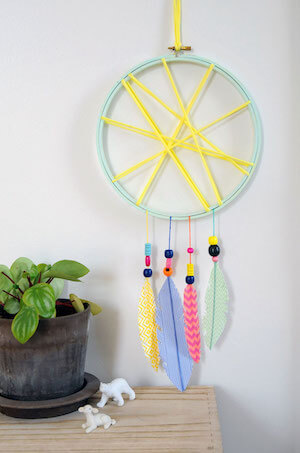 Follow the tutorial here
12. How To Make A Dream Catcher For Kids by One Crazy Mom
This dream catcher craft from One Crazy Mom has a very open ended nature to it. Once the yarn frame is done, it's just a matter of adding on whatever they have in their craft stash! It uses the embroidery hoop method to make the creation process kid-friendly, as there's no need for difficult crochet or weaving. What a great idea!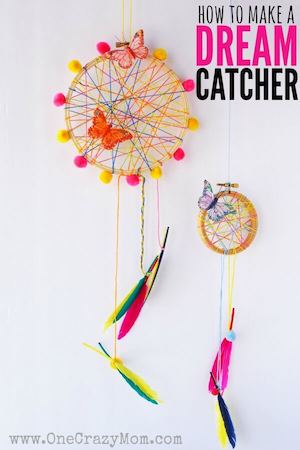 Follow the tutorial here
13. DIY Dreamcatcher For Kids by Art Bar
Summer is just around the corner and school will be out. Your kids will be at home with nothing to do but get into mischief. As much as we love them, the little rascals will have so time on their hands they might drive you crazy.
Well, the DIY dreamcatcher for kids is here to save your summer and theirs as well. If you wanted something to keep the kids busy while you enjoy a good book in your hammock, then you are at the right place.
If you wanted to spend an afternoon with them doing an activity they would love, then you are also at the right place. The DIY Dreamcatcher For Kids is fun to make, and your children will love it.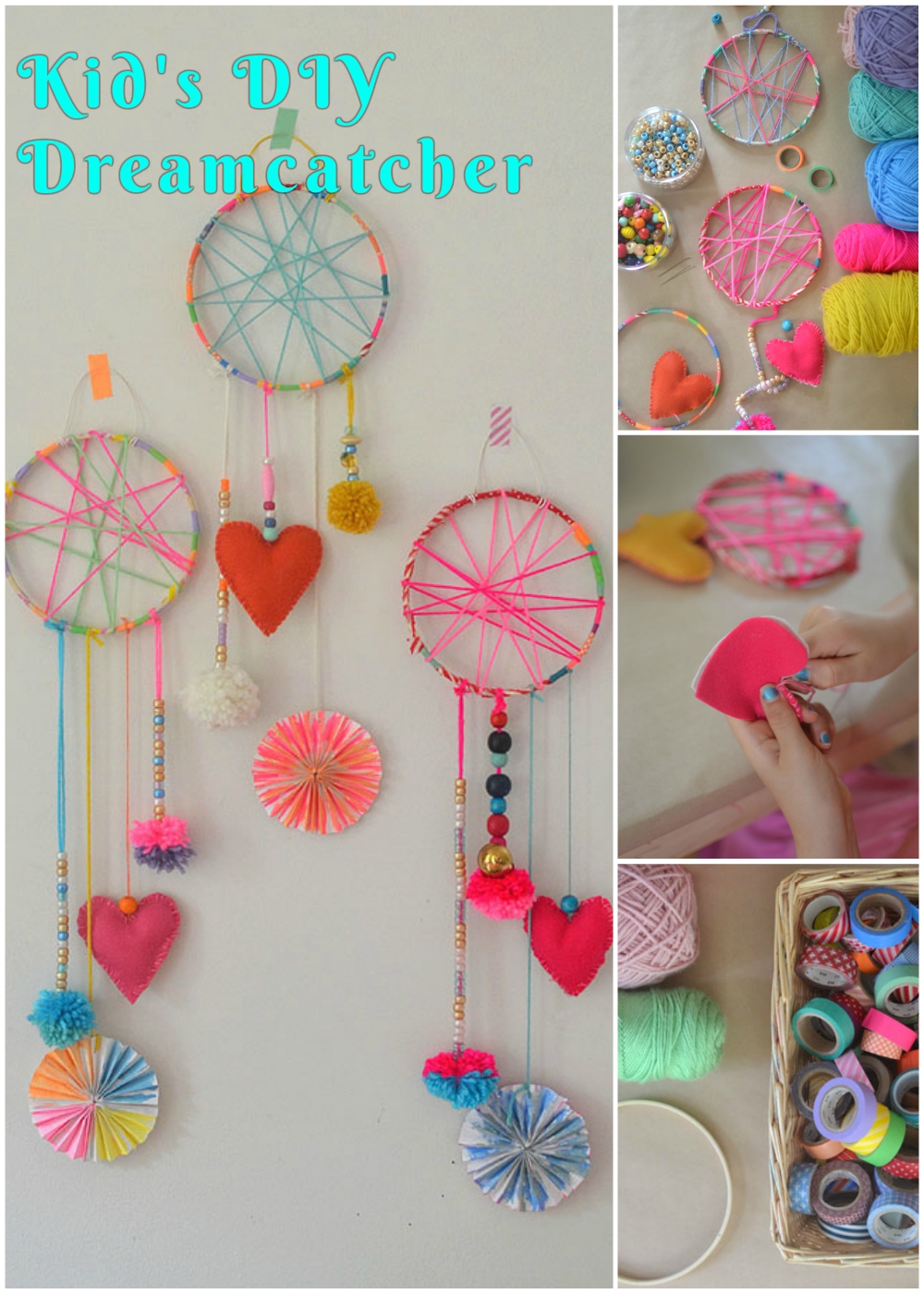 So what materials will your cheeky kids need to get their creative juices flowing?
Materials For The DIY Dreamcatcher For Kids
Wooden embroidery hoop
Washi tape
Yarn
Felt (small piece)
Polyester batting (a minimal amount)
Needle and thread
Beads ( pony beads and wooden beads)
Pom-pom maker (optional)
Paper pinwheels made from sulfite paper
Watercolors
A piece of wire for hanging (silver or colored)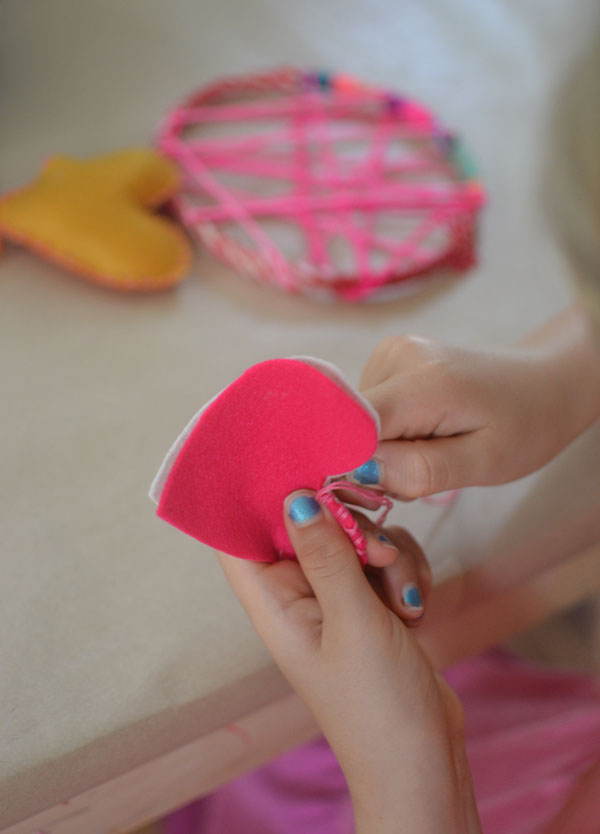 The whole procedure of making the dream catchers can be found on artbarblog.co
m, and it is pretty straightforward. Making dreamcatchers is pretty easy, especially following the procedure on their website. The instructions are clear and precise and are explained in very simple English that your kids will understand.
Also, they have included a lot of images and illustrations just to show what they are explaining. All you and your kids need to do is let your imaginations run wild and to have fun.
Using The DIY Dreamcatcher For Kids
There are a million things that you can do with the DIY dreamcatcher for kids. You can hang them next to the chimes on your front porch to sift away the bad dreams, or hang them as decorations in your kid's bedroom.
Traditionally, Indians believed that dreams naturally float in the air and the dreamcatchers caught the bad dreams in their webs while letting the good dreams pass through. They were p
resented to individuals as tokens of goodwill.
You can still do the same with family and friends. Have your kids make a few to give to their friends, their cousins or even their uncles and aunts. I am sure they will adore your children's creations.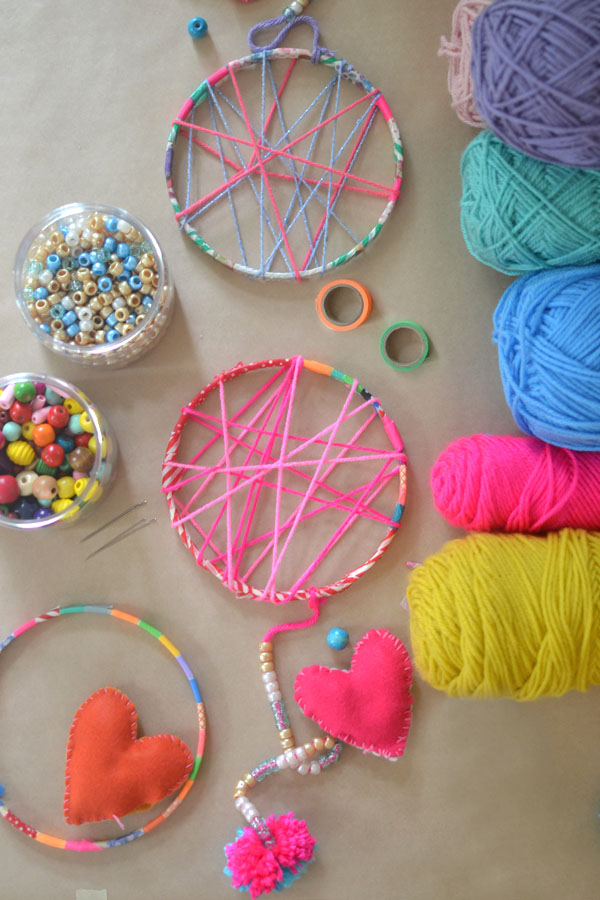 DIY Dreamcatchers – A Great Party Activity
And it doesn't have to end there. The DIY dreamcatcher for kids can also be a fun activity for a kid's party. For your kid's next birthday lay out the materials for making the dreamcatchers in the yard and have an hour where all the kids get to make their dream catchers.
Involve the parents too or leave the children to their creativity while you and the other parents have some grown-up time. Either way, the children will love making the dreamcatchers.
Getting Started On The DIY Dreamcatcher For Kids
So if you were either looking to spend time with your child, looking for something to unleash the Picasso in them, or just looking for something to occupy your child's time this summer, the DIY dreamcatcher for kids is just the thing.
For more DIY projects for your kids, see our DIY Piggy Bank Projects. It is a fun activity and will get your child inspired by art making.
So do it for the love of your child and get him or her the DIY dreamcatcher for kids and watch them create such stunning art.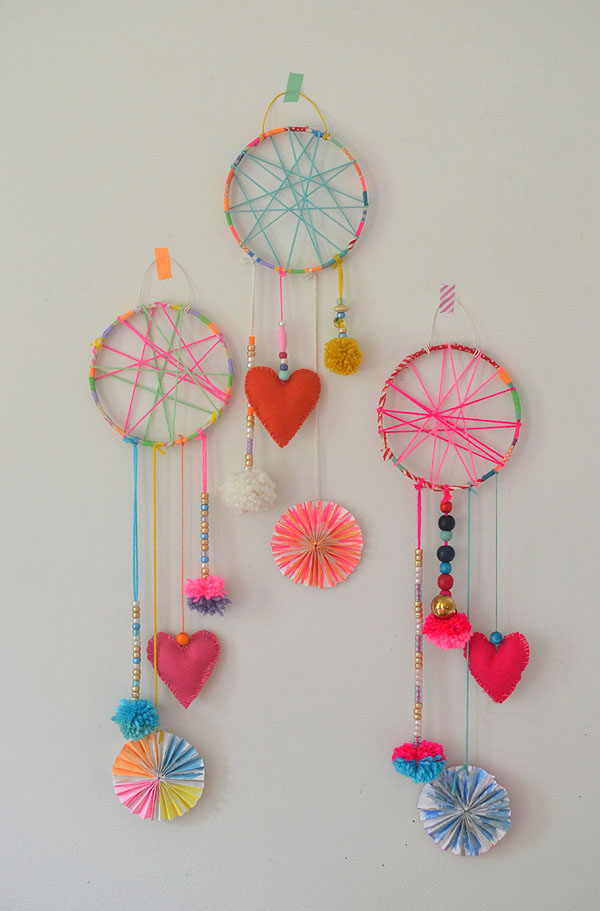 DIY Dreamcatcher For Kids – Instructions
CHASE AWAY BAD DREAMS WITH THESE ADORABLE AND EASY DREAMCATCHER CRAFT IDEAS FOR KIDS!
We hope to see your creations on our Facebook Page. Please share them with us!

Looking for more creative crafts to make with the kids? Check out our DIY Fairy Jars, DIY Yarn Ball Ideas, DIY Dragon Egg Crafts, Paper Weaving for Kids, Felt Food Play toys, Water table for Kids and more fun Kids Crafts here.

If you were wondering how to make DIY dreamcatchers for kids, now you have 14 different approaches to try! Happy crafting!