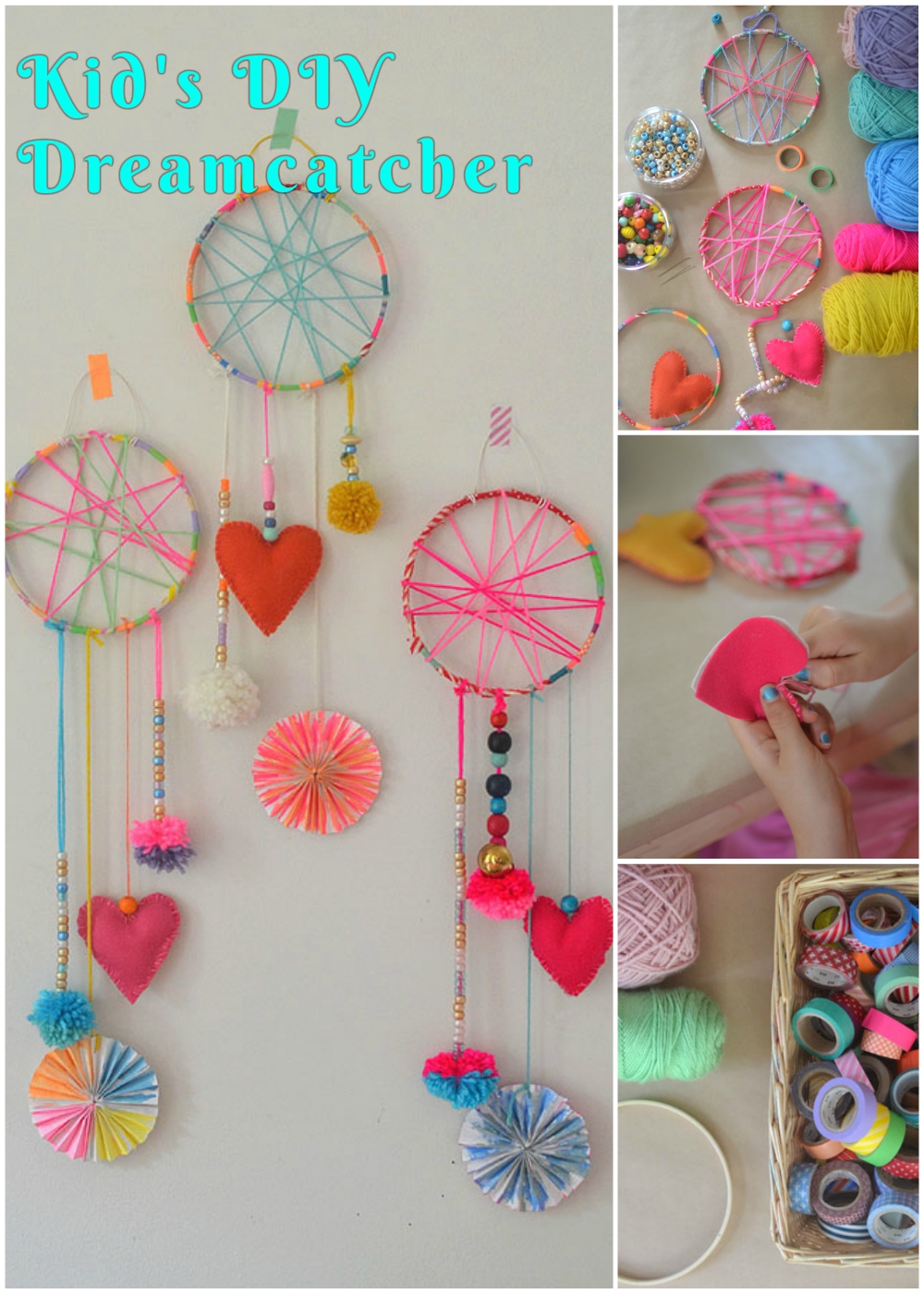 DIY Dreamcatcher For Kids
Summer is just around the corner and school will be out. Your kids will be at home with nothing to do but get into mischief.  As much as we love them, the little rascals will have so time on their hands they might drive you crazy.
Well, the DIY dreamcatcher for kids is here to save your summer and theirs as well. If you wanted something to keep the kids busy while you enjoy a good book in your hammock, then you are at the right place. If you wanted to spend an afternoon with them doing an activity they would love, then you are also at the right place. The DIY Dreamcatcher For Kids is fun to make, and your children will love it. 
So what materials will your cheeky kids need to get their creative juices flowing?
Materials For The DIY Dreamcatcher For Kids
Wooden embroidery hoop
Washi tape
Yarn
Felt (small piece)
Polyester batting (a minimal amount)
Needle and thread
Beads ( pony beads and wooden beads)
Pom-pom maker (optional)
Paper pinwheels made from sulfite paper
Watercolors
A piece of wire for hanging (silver or colored)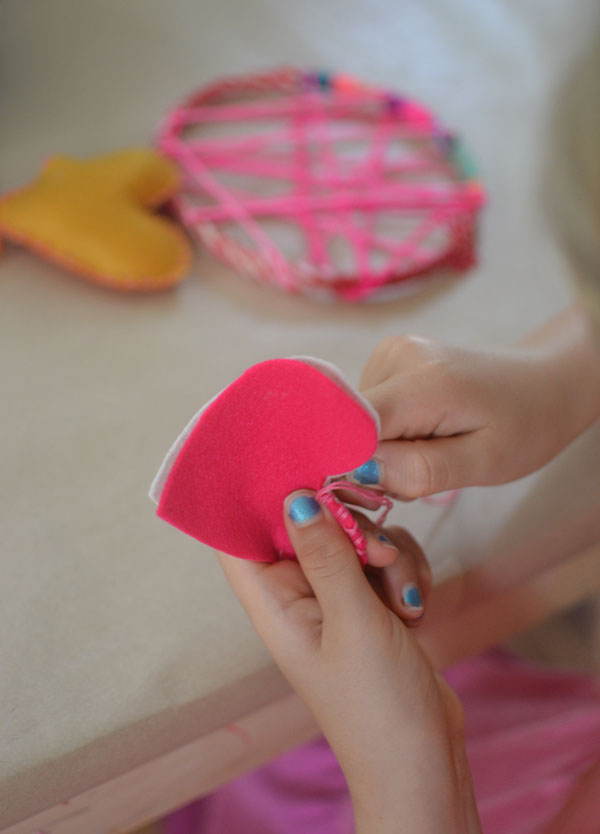 The whole procedure of making the dream catchers can be found on artbarblog.co
m, and it is pretty straightforward. Making dreamcatchers is pretty easy, especially following the procedure on their website. The instructions are clear and precise and are explained in very simple English that your kids will understand.
Also, they have included a lot of images and illustrations just to show what they are explaining. All you and your kids need to do is let your imaginations run wild and to have fun.
Using The DIY Dreamcatcher For Kids
There are a million things that you can do with the DIY dreamcatcher for kids. You can hang them next to the chimes on your front porch to sift away the bad dreams, or hang them as decorations in your kid's bedroom.
Traditionally, Indians believed that dreams naturally float in the air and the dreamcatchers caught the bad dreams in their webs while letting the good dreams pass through. They were p
resented to individuals as tokens of goodwill.
You can still do the same with family and friends. Have your kids make a few to give to their friends, their cousins or even their uncles and aunts. I am sure they will adore your children's creations.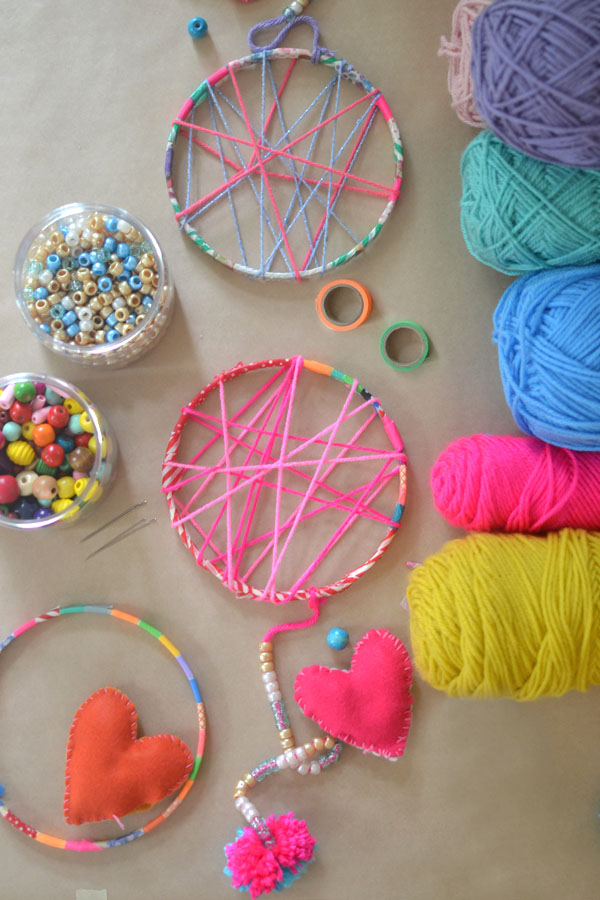 DIY Dreamcatchers – A Great Party Activity
And it doesn't have to end there. The DIY dreamcatcher for kids can also be a fun activity for a kid's party. For your kid's next birthday lay out the materials for making the dreamcatchers in the yard and have an hour where all the kids get to make their dream catchers.
Involve the parents too or leave the children to their creativity while you and the other parents have some grown-up time. Either way, the children will love making the dreamcatchers.
Getting Started On The DIY Dreamcatcher For Kids
So if you were either looking to spend time with your child, looking for something to unleash the Picasso in them, or just looking for something to occupy your child's time this summer, the DIY dreamcatcher for kids is just the thing. 
For more DIY projects for your kids, see our DIY Piggy Bank Projects. It is a fun activity and will get your child inspired by art making.
So do it for the love of your child and get him or her the DIY dreamcatcher for kids and watch them create such stunning art.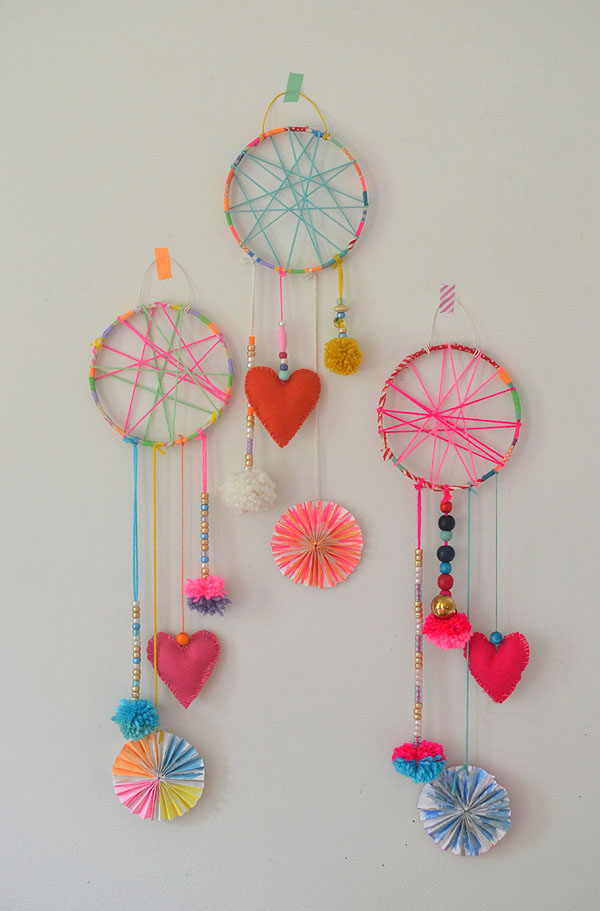 DIY Dreamcatcher For Kids – Instructions