There are so many creative and easy DIY piggy bank ideas to try that is better and more fun than buying one from a store. Most of these DIY piggy banks below are made from items that you may have around the house or can purchase for the fraction of the price a normal piggy bank costs.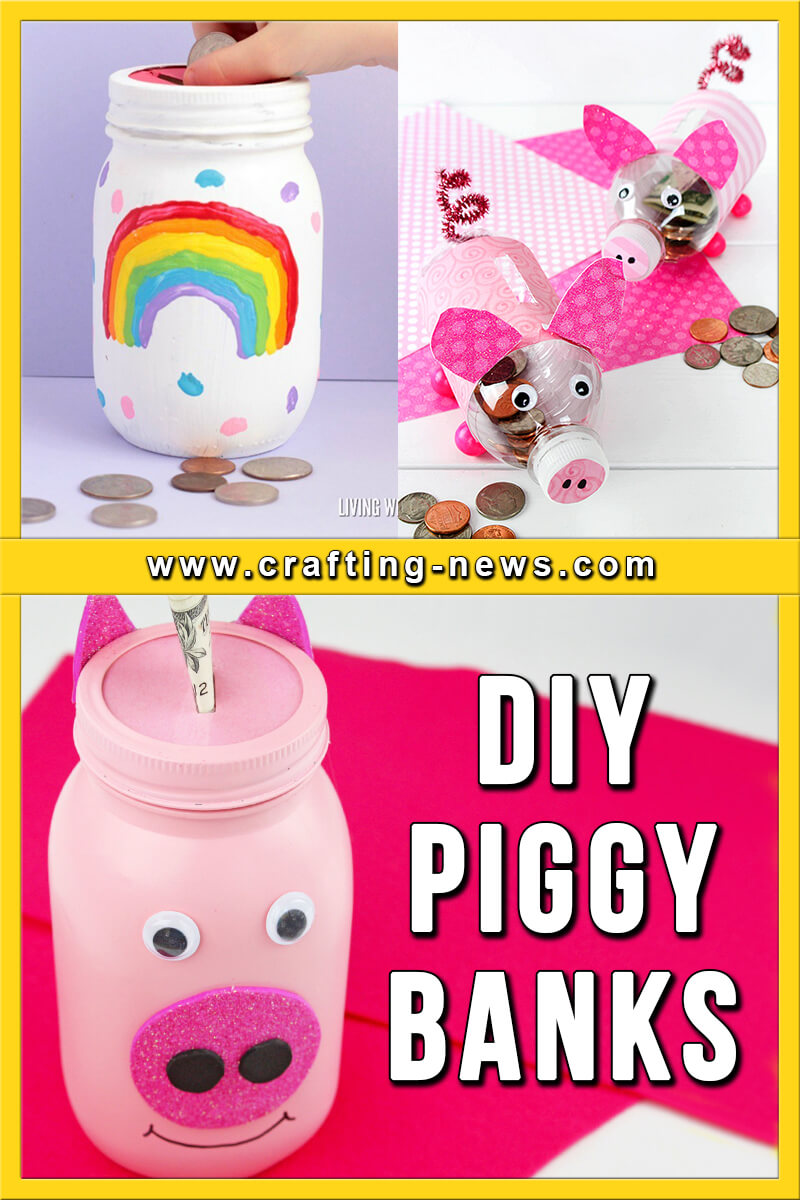 If you're trying to find cute or clever ways to help yourself save up souvenir money for the next big trip you're taking or trying to teach your kids how to have a good relationship with money, piggy banks can come in handy.
38 Piggy Bank Ideas
These adorable piggy banks will totally change the way you save! They may not accrue interest, but they are cuter than a drive-through ATM.
1. Felt Piggy Bank by Dream A Little Bigger
Why not make little felt piggy banks that you can toss in your purse and keep track of your change with? Because a fuzzy, fat pig in the bottom of your purse will be much easier to grab a hold of! Made in lots of fun colors, these would make great little gifts!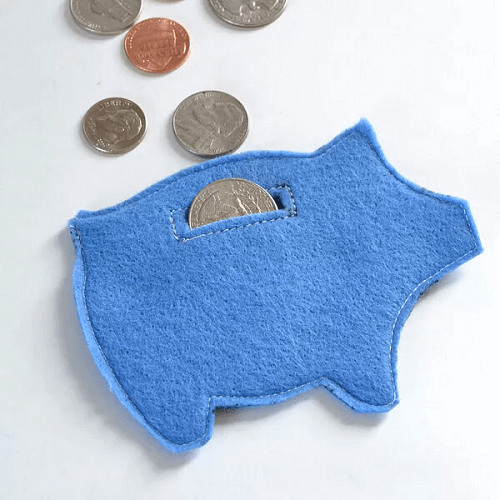 Follow the Felt Piggy Bank Tutorial Here
2. Diy Piggy Bank by Disney Family
Made in Hamm's likeness out of a plastic jar, this portly piglet can be banked on to help your child keep their new penny collection safe. Not only is there a slot in his back for dropping in the coins, but his snout screws on and off, making it a cinch to empty the bank and look through all of the newly pressed souvenirs.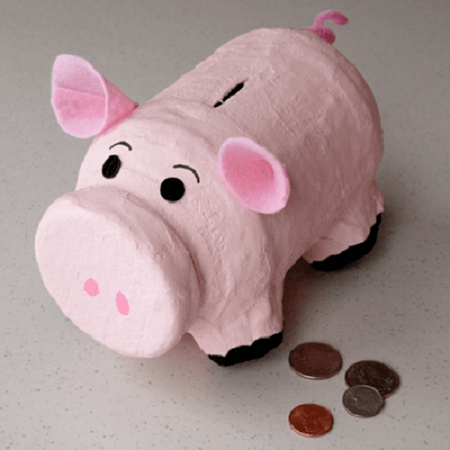 Follow the Diy Piggy Bank Tutorial Here
3. Rainbow Mason Jar Piggy Bank by Living Well Mom
With a rainbow color scheme that is easy to follow, this mason jar project is one of those DIY piggy bank ideas that the kids can tackle alone. It's a fun, colorful way to encourage kids to save money.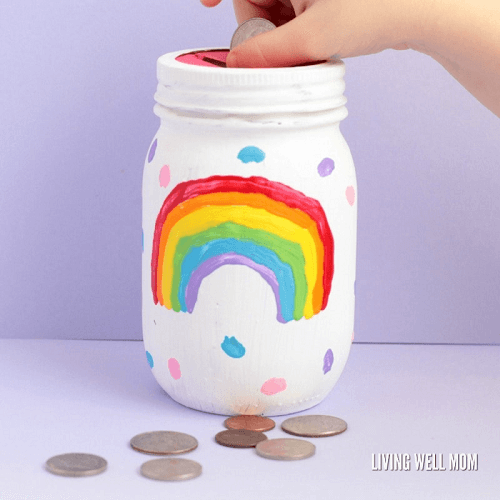 Follow the Rainbow Mason Jar Piggy Bank Tutorial Here
4. Diy Piggy Bank Made From A Book by Karen Kavett
This is an easy way to save up all your coins and to keep your money hidden if you put in on your bookshelf with all your other books. All you have to do is hollow out the book and line it with cardboard.
Then add a piece of cardboard with a slot at the top, decorate it however you like, and you've made a piggy bank out of a book!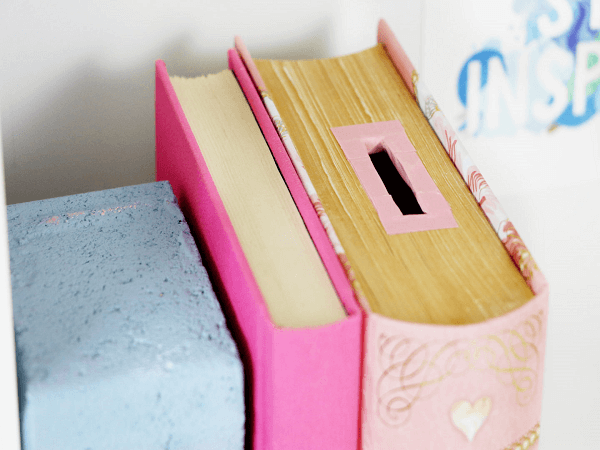 Follow the Diy Piggy Bank Tutorial Here
5. Giant Mail Tube Piggy Bank by Damask Love
Create an easy DIY Giant Mail Tube Piggy Bank that looks like a pencil. It's inexpensive to create and perfect for kids and adults to stash away money! It's the most fun way to teach children how to save!

Follow the Giant Mail Tube Piggy Bank Tutorial Here
6. DIY Water Bottle Piggy Banks by Our Kid Things
No need to waste even more money by buying a piggy bank from the store, you can simply make your own from water bottles! This is a great repurposed craft to find a use for those plastic water bottles instead of cluttering our landfills.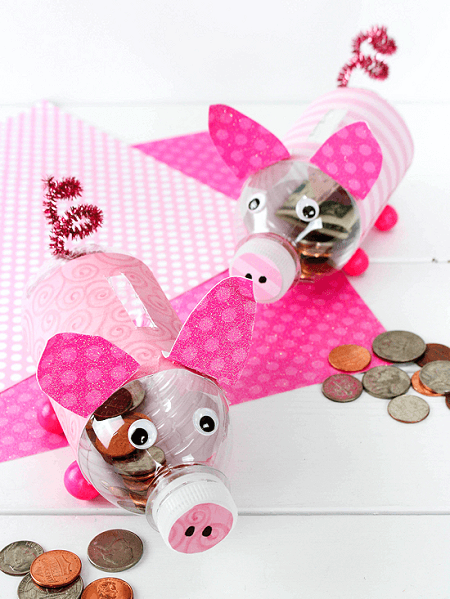 Follow the DIY Water Bottle Piggy Banks Tutorial Here
7. Mason Jar Superhero Coin Banks by Fireflies And Mud Pies
How adorable are these mason jar banks? They are so simple to make and fun to create with your little ones! For the superhero fans in your life, these piggy bank coin jars are a perfect addition to your superhero fan's collection that will be enjoyed for years to come.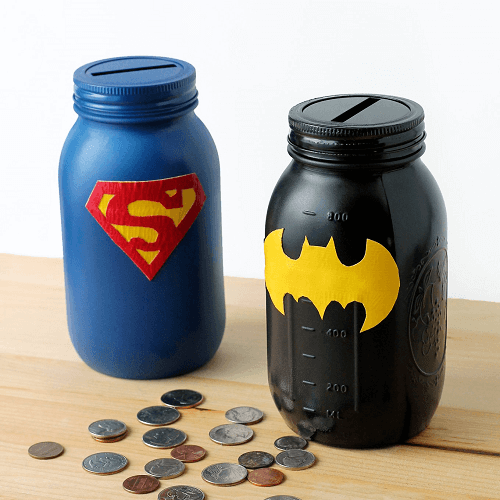 Follow the Mason Jar Superhero Coin Banks Tutorial Here
8. DIY Llama Piggy Banks by Amy Weir
See how to transform these simple wooden block banks into colorful and whimsical Llamas. And I think the brighter the color of Llama you make, the more money you can save … or something fun like that!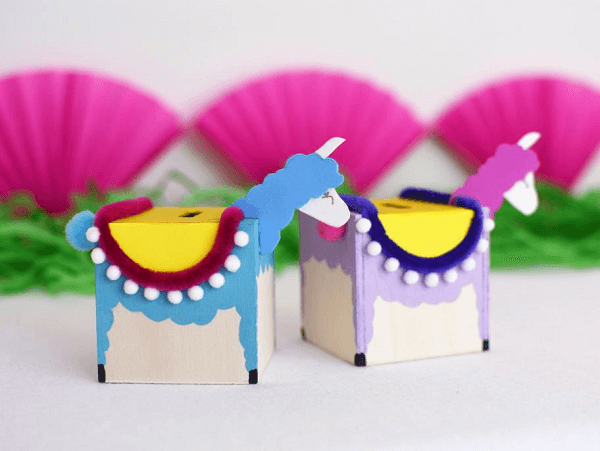 Follow the DIY Llama Piggy Banks Tutorial Here
9. Cereal Box Piggy Banks by Kix Cereal
Add a little fun to your way of saving money with these easy to make piggy banks. You can create whatever your imagination can come up with using an empty recycled cereal box, construction paper, scissors, glue, a few googly eyes and a pipe cleaner or two.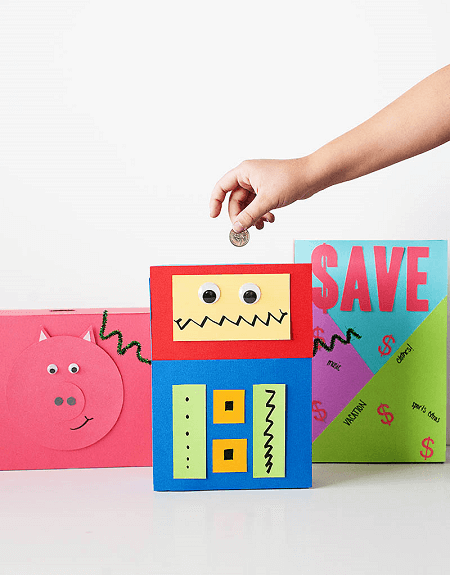 Follow the Cereal Box Piggy Banks Tutorial Here
10. DIY Turtle Coin Banks by Krokotak
Here is a super cute craft project to make lovely turtle piggy banks from plastic bottles. This tiny bank that looks like a turtle actually floats! You can put it in water and they "swim" like sea turtles or you can put coins inside to make some music when shaking.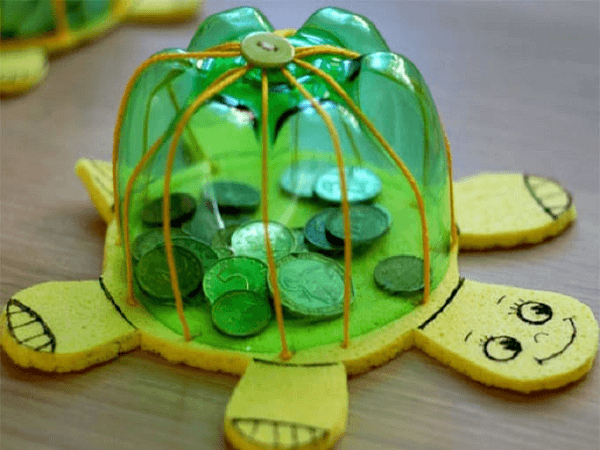 Follow the DIY Turtle Coin Banks Tutorial Here
11. DIY Leather Piggy Bank by Lovely Indeed
Elevate your standard way to save coins with this DIY leather piggy bank. It even has a way to empty out the change without ripping the whole thing apart. It's indeed in keeping with the piggy bank theme and whether it's for a girl or boy, they both will love it just as much.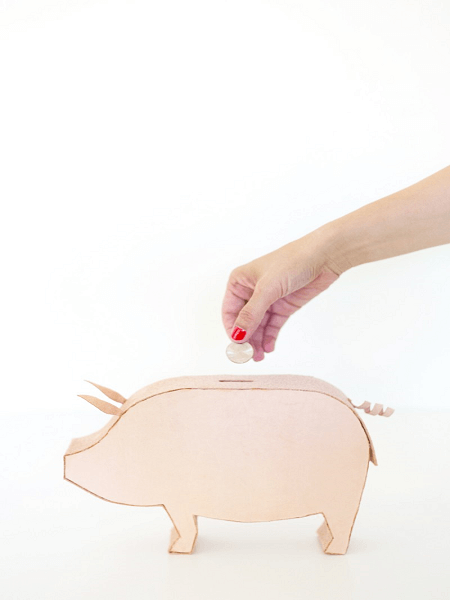 Follow the DIY Leather Piggy Bank Tutorial Here
12. Minion Mason Jar Coin Banks by KA Styles
Create your own little minion to take charge of your money with these minion mason jar banks. After all, who doesn't love those adorable minions? Make these painted mason jar coin banks with this fantastic tutorial by KA Styles.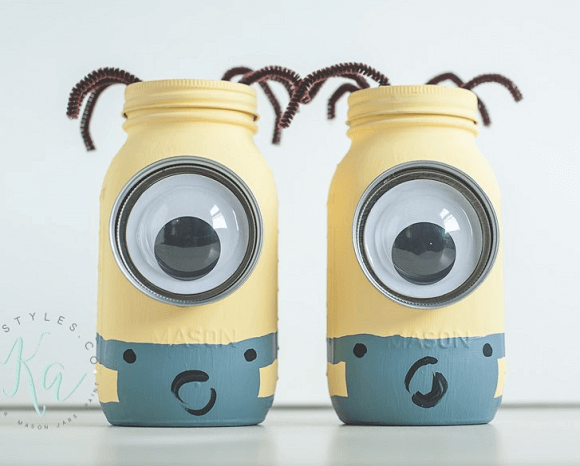 Follow the Minion Mason Jar Coin Banks Tutorial Here
13. DIY Piggy Bank by Playground Parkbench
This rainbow themed coin bank is fun to use and adds a pop of color to you or your kid's bedroom. Teach your little ones how to make their own luck with this DIY piggy bank.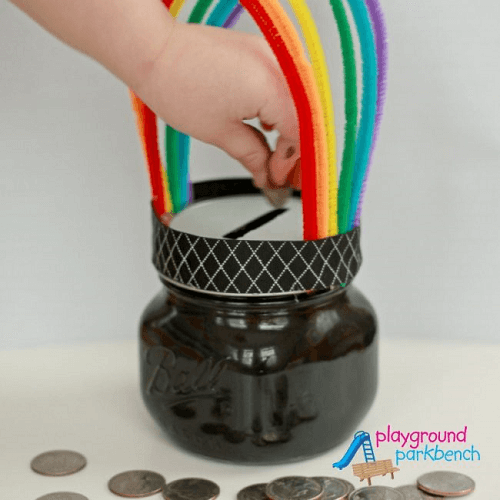 Follow the DIY Piggy Bank Tutorial Here
14. Tissue Box Crochet Piggy Bank by Nicki's Homemade Crafts
You'll get such a kick out of this adorable piggy bank crochet tissue box, you'll want to hook one for every room in the house! And you'll certainly be able to because the quick and easy pattern hooks up in no time.
You could also give this as a birthday gift or stocking stuffer to help your little piggies learn how to manage their pennies.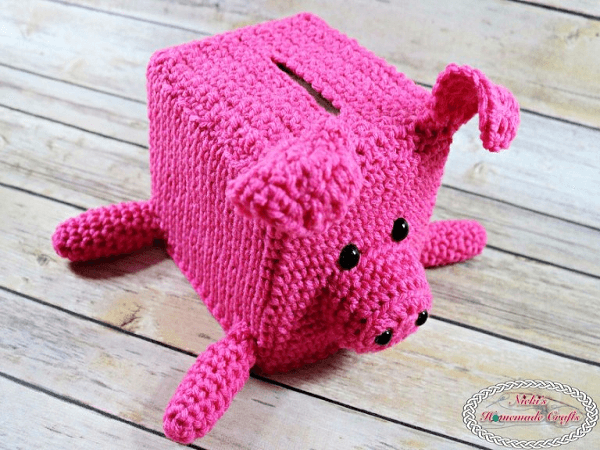 Follow the Tissue Box Crochet Piggy Bank Tutorial Here
15. Wipes Container Piggy Bank by Sunny Day Family
Kids can stash their cash in this adorable piggy bank, made from an empty wipes container. Do you still keep the baby wipes container? If so, upcycling a baby wipes container can be a good decision to challenge your creativity.
You can make a piggy bank from that container and decor it as cute as possible to make the saving time more enjoyable.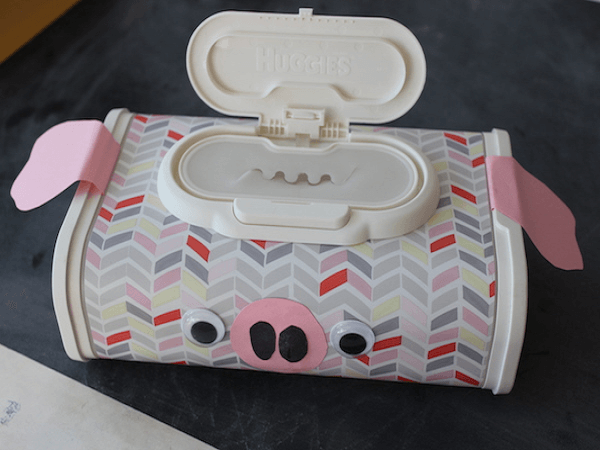 Follow the Wipes Container Piggy Bank Tutorial Here
16. Rolling Coin Bank by Lovely Indeed
Putting money into this coin bank will definitely something you and your kid will be excited to do every day. If you like your money-saving to come with a little show, then this is a great DIY craft to make.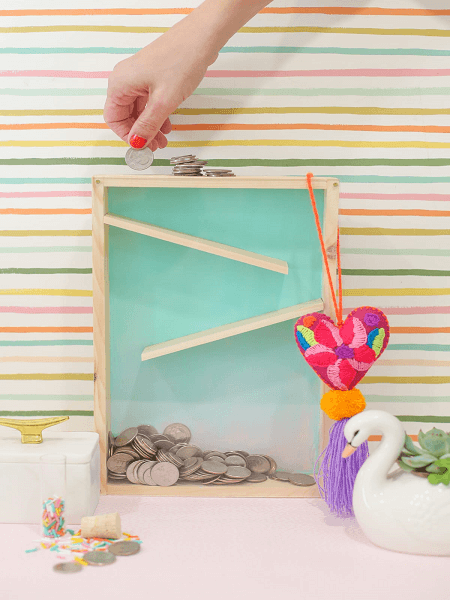 Follow the Rolling Coin Bank Tutorial Here
17. DIY Piggy Banks by Homemade Ginger
This DIY piggy bank is easy to make even if you don't have much DIY experience. The tutorial will show you how to create a wooden stand for 3 mason jars. You will end up with a piggy bank for kids that has a way for them to divide their money up into "spend", "save" and "give" categories!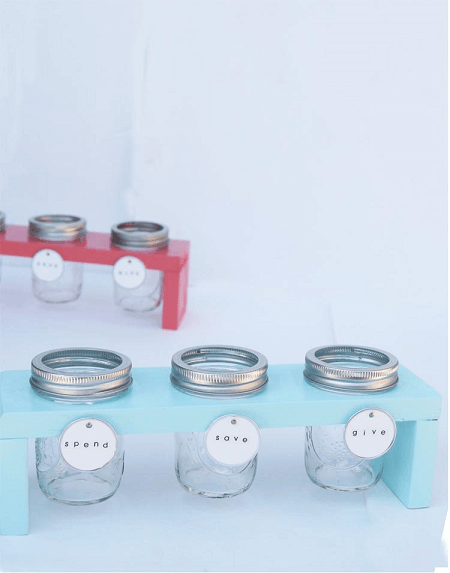 Follow the DIY Piggy Banks Tutorial Here
18. Cardboard Coin Bank by Instructables
Here is an easy coin bank made of cardboard, cord and elastic tape. This is a great purpose to recycle old cardboard boxes. You can also make it in other shapes as a pyramid or cylinder.
If you want you can decorate the coin bank with cardboard, stickers or paintings as you like.

Follow the Cardboard Coin Bank Tutorial Here
19. DIY Coin Bank by Paper & Stitch
This coin bank is made out of milk box which covered by the removable wallpaper. Once you finished it, it can be an adorable focal point of your area. This is also a great use for any leftover wallpaper you might have!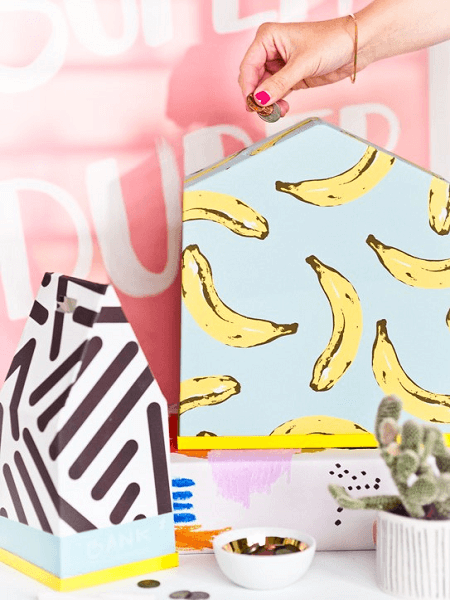 Follow the DIY Coin Bank Tutorial Here
20. Sequins Piggy Banks by Handmade Charlotte
A penny saved is a penny earned – and saving has never been more fun than with these rainbow-hued sequin piggy banks! Give empty chip tubes and cardboard food cartons a whole new life – it's so easy and fun to decorate them however you like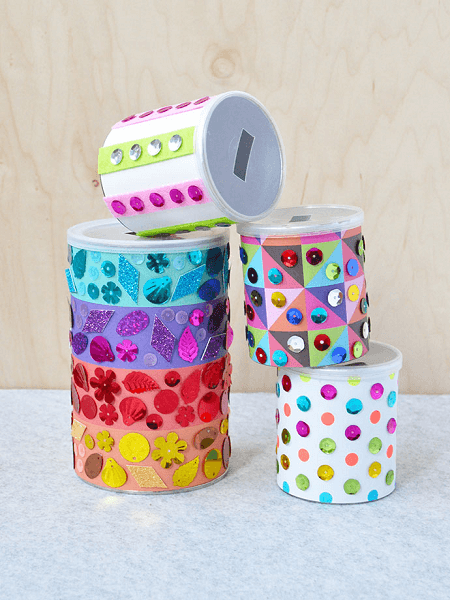 Follow the Sequins Piggy Banks Tutorial Here
21. DIY Globe Piggy Bank by Un Beau Jour
How's this for a wedding wishing well that also doubles as a coin bank? This guestbook-inspired coin globe is also a beautiful decor item that is likely to be a permanent part of your home long after the kids have learned all about money counting and saving.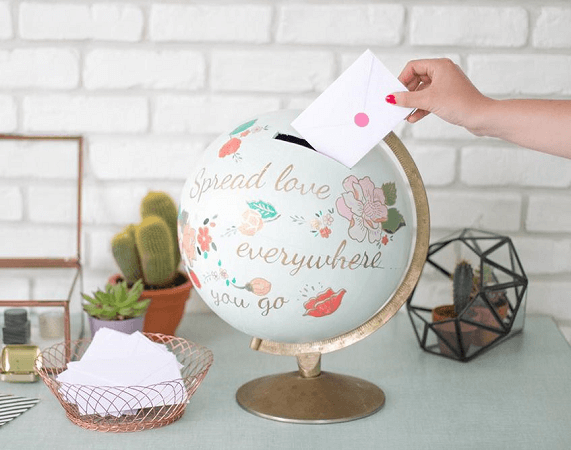 Follow the DIY Globe Piggy Bank Tutorial Here
22. DIY Starbucks Piggy Bank by Karina Garcia
Karina Garcia has the best idea for coffee lovers! Save up your latte fund in this Starbucks themed piggy bank. You may be spending a lot of money on your coffee, but that doesn't mean you can't also be mindful of finances.
Make sure to skip coffee every now and again to save the money inside of your fancy Starbucks piggy bank!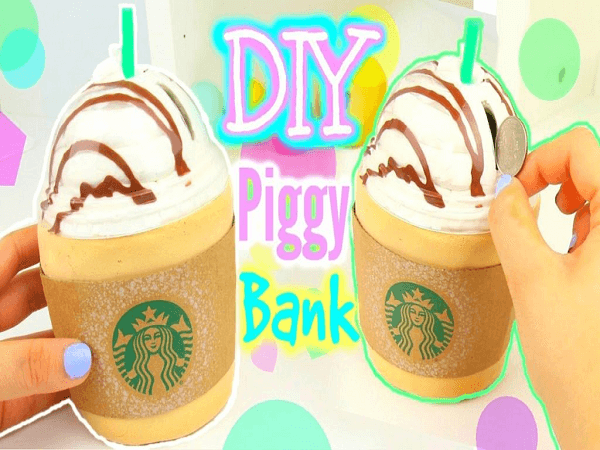 Watch the DIY Starbucks Piggy Bank Tutorial Here
23. Formula Can Piggy Bank by It Happens In A Blink
Embellish an old Formula can with decorative fabric, ribbons and a dollar tag to create a chic coin bank that is just the right size to save up on change while traveling.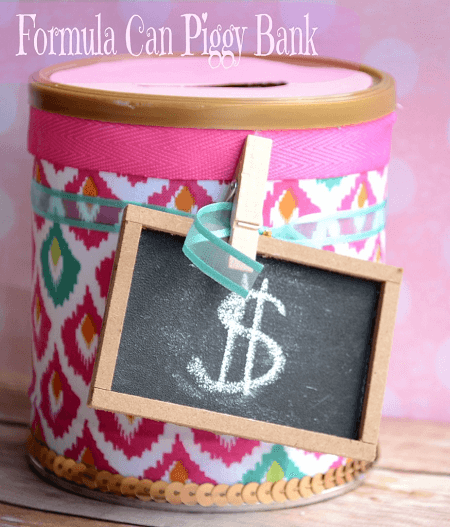 Follow the Formula Can Piggy Bank Tutorial Here
24. Paper Mache Dino Bank by Red Ted Art
Sometimes a simple piggy bank just isn't what's cool anymore. For those who want a different animal, then you can create something different from a paper mache project. For a refreshingly different twist on your piggy bank idea, consider going with the dinosaur motif this time.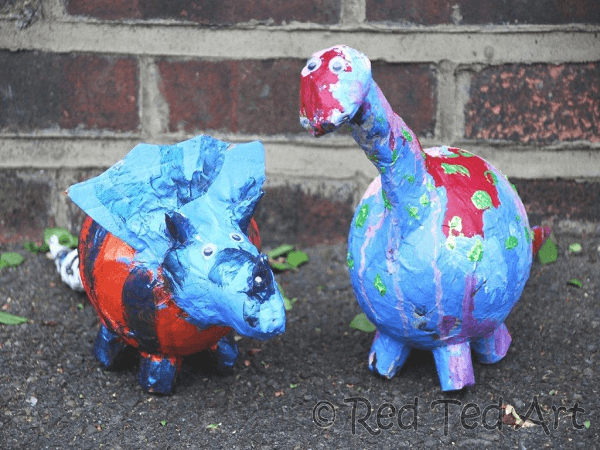 Follow the Paper Mache Dino Bank Tutorial Here
25. Self Sorting Wooden Coin Bank by Instructables
Tired of sorting coins manually? Coin sorting is a tiresome job. Make a wooden coin separator out of common materials! This eco-friendly wooden coin sorter uses gravity to sort coins automatically, negating the need for batteries.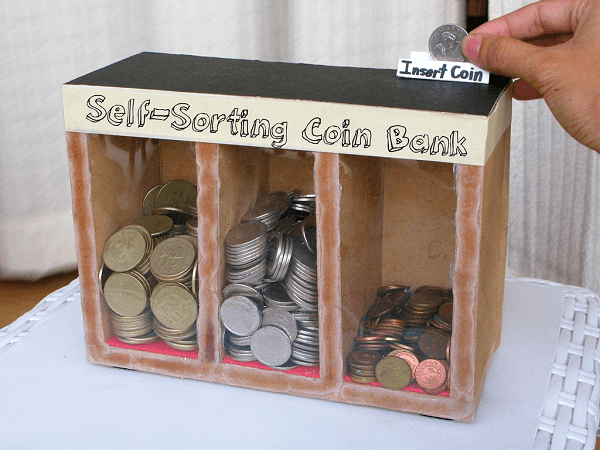 Follow the Self Sorting Wooden Coin Bank Tutorial Here
26. Painted Polka Dot Piggy Bank by The Crafty Blog Stalker
Paint your own Polka Dot Piggy Bank. This pig bank will keep your change safe and look super cute sitting on your dresser. Great do it yourself kids craft.
Follow the Painted Polka Dot Piggy Bank Tutorial Here
27. DIY Coin Bank by Cut Out And Keep
Transforming an unattractive, metal coffee can into something you can happily display is both easy and fun. If you have spare coffee cans, it doesn't hurt to give this a try!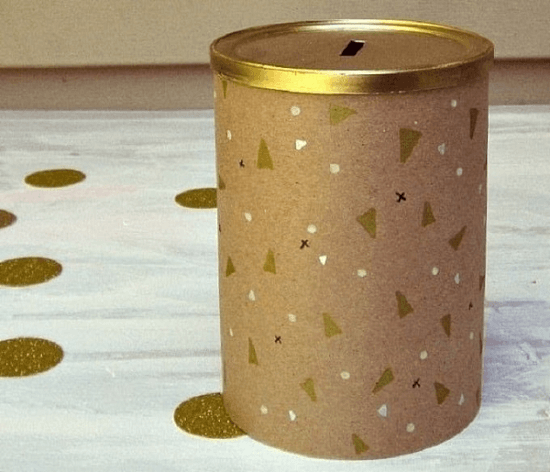 Follow the DIY Coin Bank Tutorial Here
28. DIY Unicorn Piggy Bank by Fun 365
Create magical whimsy while saving all that spare change with fun to make DIY Unicorn Piggy Bank! And the best part is you can add as much color to your unicorn as you would like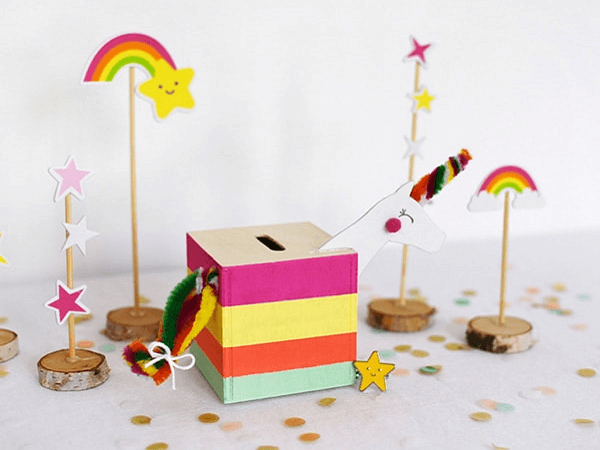 Follow the DIY Unicorn Piggy Bank Tutorial Here
29. Homemade Piggy Bank by The Princess And The Tot
Made with a plastic bottle and green craft foam stickers, this piggy bank actually looks like a festive prop, but the good news is that it's relevant year-round.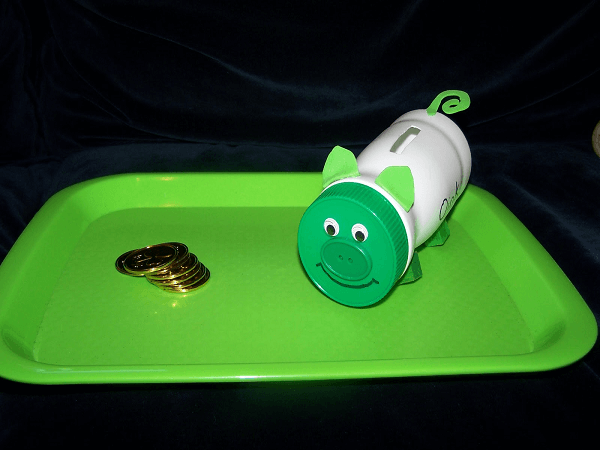 Follow the Homemade Piggy Bank Tutorial Here
30. Piggy Bank Pouch by Nosey Nest
Teach your kids the value of money and saving with this quirky piggy bank pouch. Feed the piggy loose change, and watch him grow nice and full.
Follow the Piggy Bank Pouch Tutorial Here
31. DIY Piggy Bank Gift Boxes by Handmade Charlotte
These piggy banks disguised as whimsical gift boxes excite your child's imagination, making it a fun challenge for them to save as many coins as they can. You can eas­ily cre­ate embell­ish­ments of all shapes and sizes, giv­ing each piggy bank a totally unique personality.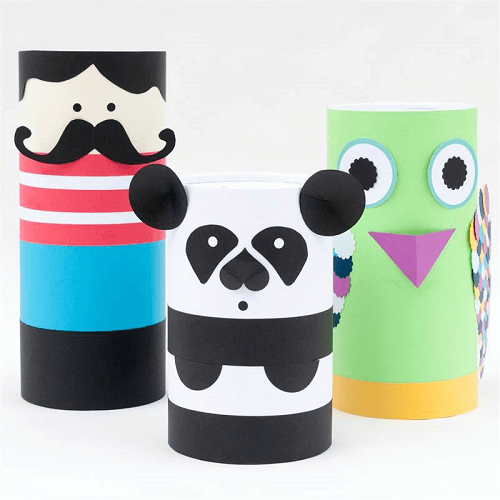 Follow the DIY Piggy Bank Gift Boxes Tutorial Here
32. Ice Cream Fund Mason Jar by Yesterday On Tuesday
DIY Ice Cream Fund Mason Jar, a fun way to recycle a Mason Jar and save money for all those summertime ice cream cones! This Ice Cream Fund Mason Jar Craft turns a jar into a fun piggy bank that ice cream lovers can use to save up for the ice cream truck, and it looks great with even the simplest styles.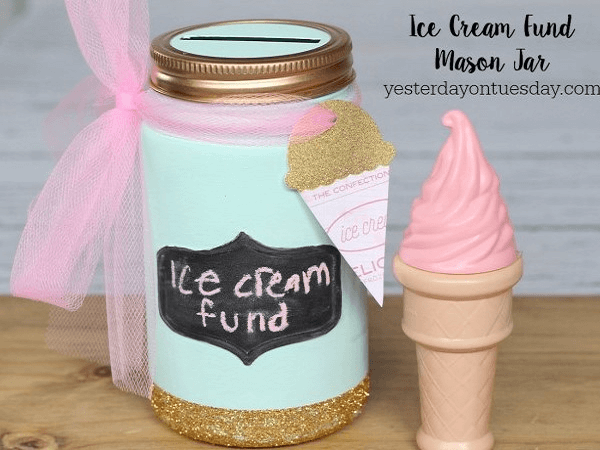 Follow the Ice Cream Fund Mason Jar Tutorial Here
33. DIY Piggy Bank by Penelope's Oasis
This cute little piggy bank started off at the market as a mouthwash bottle. With recycled materials and cute cutouts, this zero-waste DIY piggy bank project makes a nice addition to your child's room. The design is simple enough that your child can help you finish it!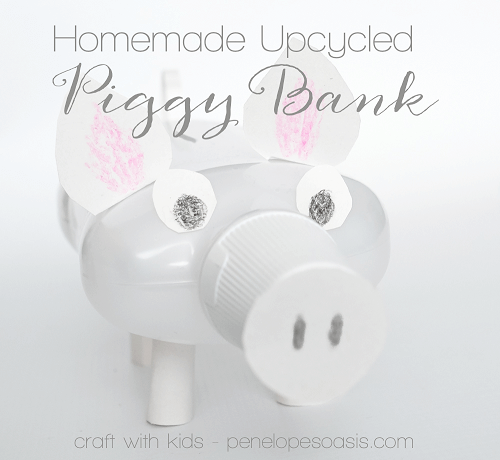 Follow the DIY Piggy Bank Tutorial Here
34. Shadow Box Frame Piggy Bank by Jennifer Perkins
With a design that appeals to adults as well, this disguised money bank is easy to customize to a style that goes with your personality and the room decor. Fill it up with coins or dollar bills and start saving for your next big adventure, rainy day, or whatever else you're saving up for.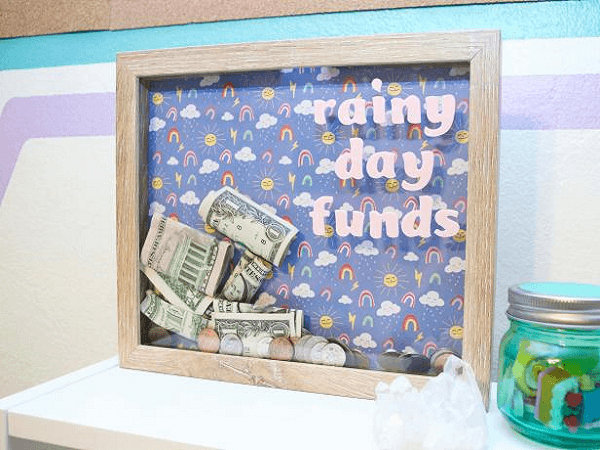 Follow the Shadow Box Frame Piggy Bank Tutorial Here
35. Mason Jar Piggy Bank by Shauna Krantz
Turn a simple and empty mason jar out of your kitchen into this absolute and chic piece of the piggy box! So paint the jar in pink and add eyes, nose, and the ears to it, and your gorgeous piggy bank in complete piggy style is just ready to rock kid's room shelves!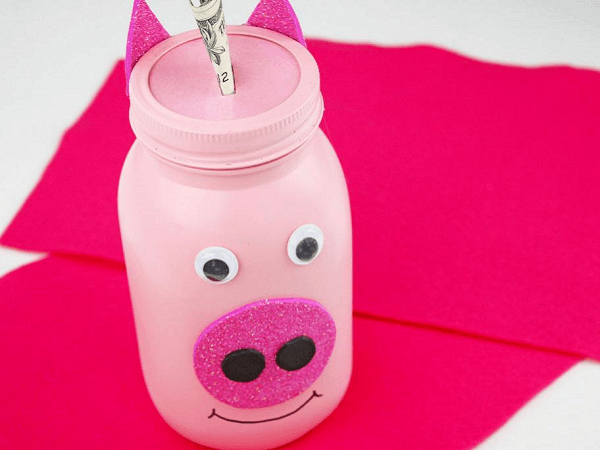 Follow the Mason Jar Piggy Bank Tutorial Here
36. DIY Felt Piggy Bank by Shelterness
Make your kid happy with this piggy bank! It's soft, pretty and easy to take the money out. Saving will be much cuter if you are feeding your coins to this little piggy bank.
Follow the DIY Felt Piggy Bank Tutorial Here
37. DIY Lunchbox Piggy Bank by Studio DIY
Get the free printable to paint "Broke" on your piggy bank on the blog so no one will steal your spare change!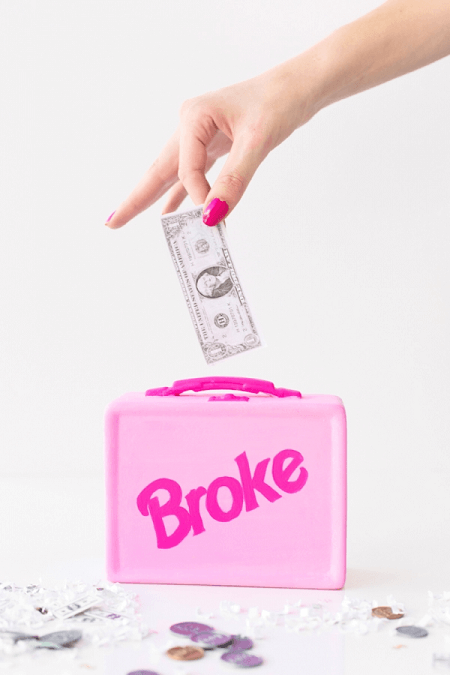 Follow the DIY Lunchbox Piggy Bank Tutorial Here
38. DIY Paper Mache Piggy Bank by In The Little Red House
Make your very own piggy bank using materials you find in your home. You and your kids will love saving pennies to put in this paper mache piggy bank that you made with your own hands. Great as a gift too!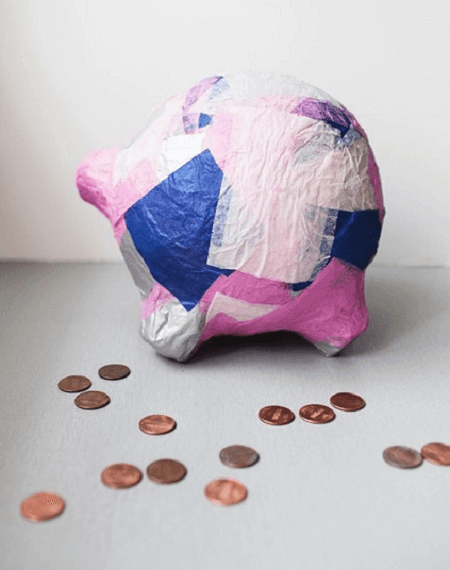 Follow the DIY Paper Mache Piggy Bank Tutorial Here
There you have it – 38 amazing DIY Piggy Banks to help your kids save their pennies!
Looking for more creative crafts to make with the kids? Check out more fun Kids Crafts such as our DIY Kaleidoscope and Dreamcatcher for Kids. We have lots of fun crafts for you and your kids to try. Have a perfect family time!
Which projects will you be making? We'd love to see your finished creations on our Facebook Page. Please share them with us!
Don't forget to add your own special touch to these DIY piggy banks that would spell out how amazing your new coin bank is. Saving money in style is just as important!