When September arrives, it's game on for embracing the joys of the fall season, particularly Halloween. And if you've been fantasizing about turning your normally cozy home into a full-fledged haunted house, you'll love these DIY outdoor Halloween decorations!

Your house will be the talk of the town, and trick-or-treaters will feel especially welcome—or maybe too scared to approach the front door, depending on the Halloween vibe you're going for.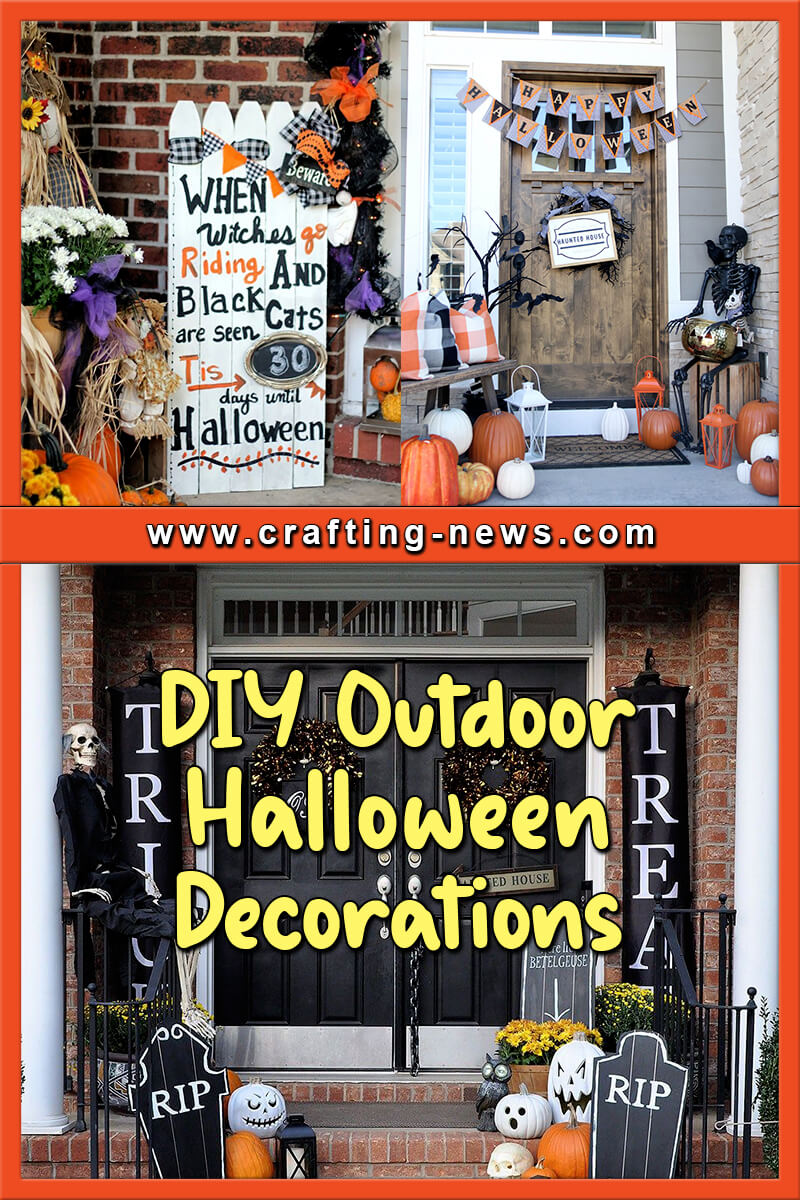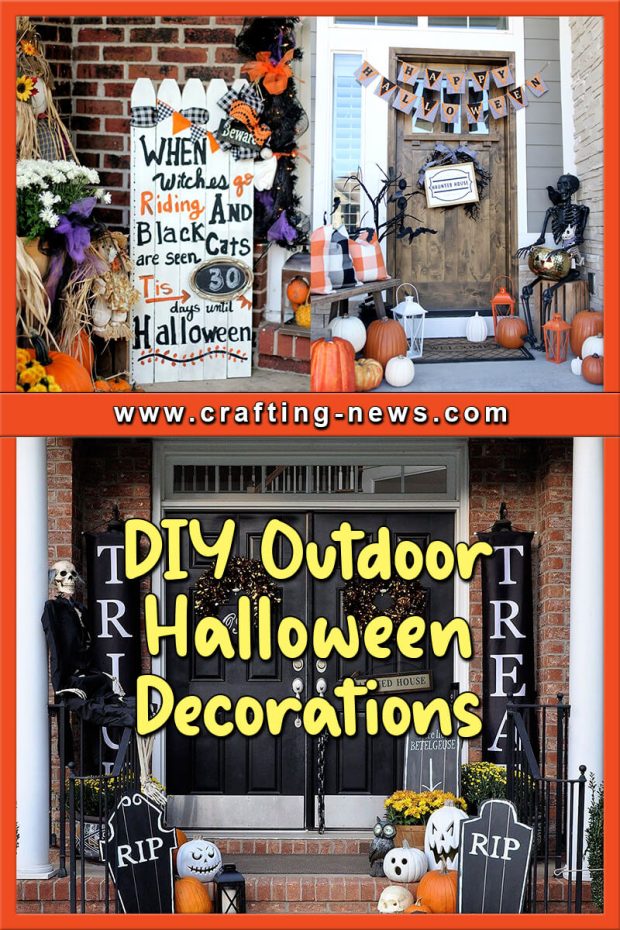 Use these DIY outdoor Halloween decoration ideas to cast a spell on your entire neighborhood, whether they're on your front porch, along your driveway, or scattered around your lawn.
89 DIY Outdoor Halloween Decoration Ideas
Most of these ideas can be completed in an afternoon or less, so even though Halloween is quickly approaching, you still have time to create a truly spooky landscape just outside your front door!

1. Climbing Skeletons Halloween Porch Decor by Instructables
So you want to be the cool (scary) house on the street this Halloween, but aren't just sure how to put your outdoor decorations over the top? Why not add some real flair and have a swarm of skeletons climbing the walls of your house looking for a way in!

You can easily make some inexpensive plastic skeletons climb your house and they can be the most frightening roof decors out there.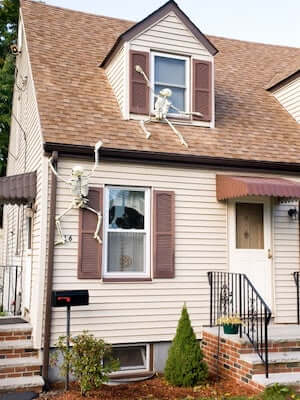 Follow the tutorial here
2. Bucilla Witchs Brew Scary Halloween Wreath from CraftNTreasureCoveUS
Make this witch's brew wreath to hang on your door and greet all your guests. It features a witch's hat, moon, bats, bubbling cauldron, poisons, broom, shoe, jack-o-lantern, black cat, spiders, and a toad.
The kit includes everything you need to make this Halloween wreath, except scissors. Completed, the wreath will measure 17 inches (43.18 cm) x 17 inches (43.18 cm).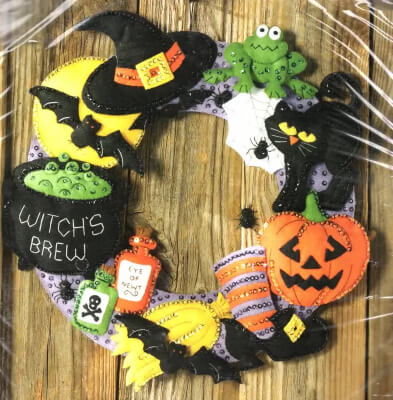 Find the Kit from CraftNTreasureCoveUS Here
3. Giant DIY Spiders For Halloween by Better Homes & Gardens
One is creepy, but a cluster of huge, hairy, scary spiders is spine-chilling! Foam tubes and faux fur make it easy and cheap to infest your home with this DIY outdoor Halloween decoration.

Foam and fabric never seem so frightening as when these spiders strut their stuff down the stairway, over the mantel, or up the side of your home! Make a 2-foot spider, 4-foot spider, or a 7-foot spider—or one of each!
Follow the tutorial here
4. Glowing Plastic Jack O' Lantern Totem by Scratch And Stitch
You can make this outdoor Halloween decoration for about $10 or less if you already have materials that can be used. It's pretty simple and adds a beautiful orange glow to your Halloween front step.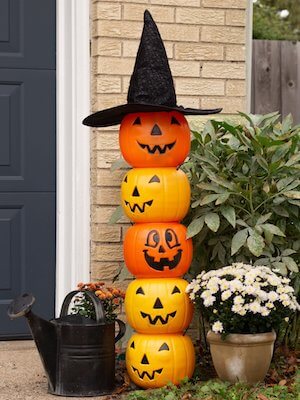 Follow the tutorial here
5. Frankenstein String Art Kit from StringArtFromHeart
Make this cute Frankenstein string art to hang on your door. We would recommend hanging it under a covered porch, so it does not get wet.
This kit includes everything you need to get started right away. You will receive a 5 inch (12.7 cm) x 5 inch (12.7 cm) hanging sign, coloured string, strong nails, a pattern, and easy-to-follow step-by-step instructions.
You might also love these string art ideas: Canvas String Art, Sunflower String Art, Geometric String Art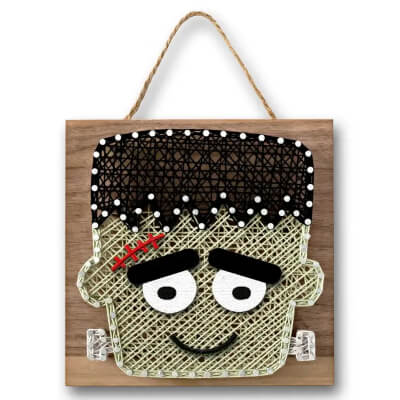 Find the Kit from StringArtFromHeart Here
6. DIY Wicked Witch Legs by Grillo Designs
With a little chicken wire and some thrift shoes, you can make these fun Halloween Wicked Witch Legs. They're a fun DIY decoration that you can use in your yard, shrubs, or in a potted plant on your Halloween porch!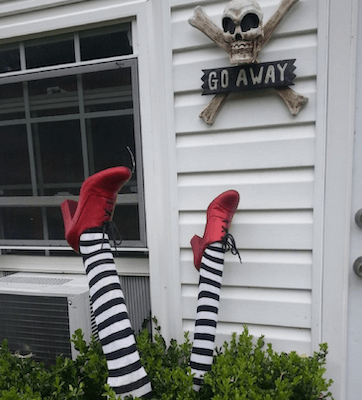 Follow the tutorial here
7. DIY Halloween Tombstones Decorations by HGTV
These hand carved and painted tombstones are an inexpensive and easy way to create a personalized and creative outdoor Halloween display. Whether you choose to add funny sayings or be deathly serious with traditional designs, this tutorial makes it easy to give new foam sheets an ancient appearance.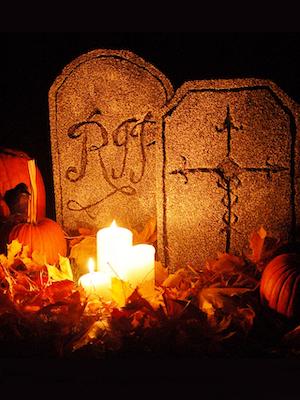 Follow the tutorial here
8. Halloween Coffin from ErpitiLLC
Do you enjoy woodworking? Then why not make a coffin to display in your yard this Halloween? You can make this coffin in just one day. This Halloween coffin plan set will make a 4 foot long coffin. The width is 21 inches (53.34 cm), and the height is 10.5 inches (26.67 cm).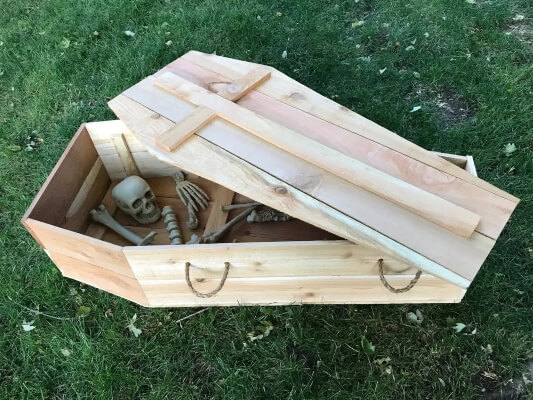 Find the Plans from ErpitiLLC Here
9. DIY Scrap Wood Ghost Decorations by The Creek Line House
Put some of that scrap wood to good use and make a few spooky outdoor decorations in preparation for Halloween. These ghosts are actually pretty cute but they definitely look a bit scary too. They're asy to make and if you're confident in your abilities you could try some more complicated designs too.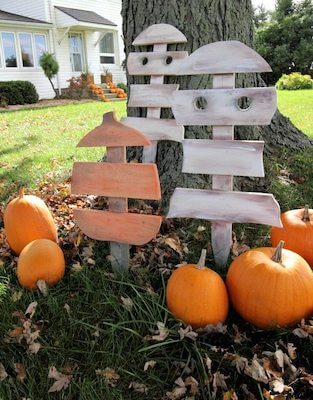 Follow the tutorial here
10. The Witch's Friends Autumn & Halloween Wreath Pattern from ThreadEDWorkshops
Here is another fun Halloween wreath. The wreath features a stretching black cat, a black cat on a broom, and a toad along with a bunch of toadstools and leaves.
This is a downloadable sewing pattern. The pattern templates are full size. When finished, the wreath will measure about 15.75 inches (40 cm) wide x 15.75 inches (40 cm) high x 3.15 inches (8 cm) deep.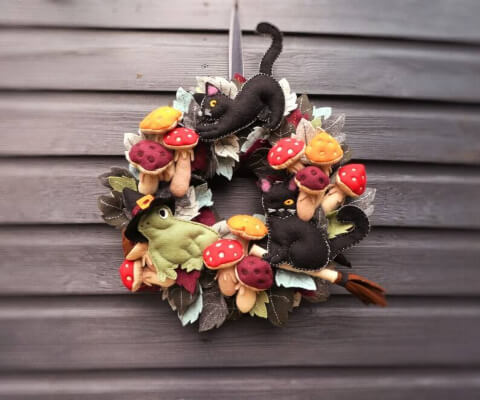 Find the Pattern from ThreadEDWorkshops Here
11. DIY Floating Witch Hat Luminaries by Polkadot Chair
Add a bit of whimsy to your Halloween Porch decorations this year with these Floating Witch Hat luminaries! They even light up, making them a fun and only slightly eerie Halloween decorating idea.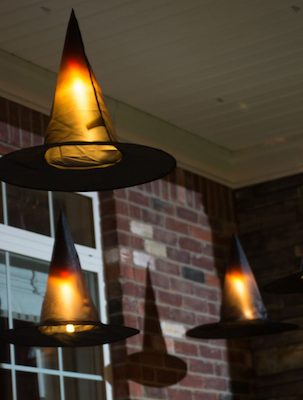 Follow the tutorial here
12. DIY Bubbling Cauldron For Halloween by Scattered Thoughts Of A Crafty Mom
Love a witchy Halloween? It wouldn't be Halloween without a cauldron and this bubblling cauldron is a whole lot of fun. If you want some scary outdoor Halloween decorations, then this cauldron will set you off on a good start.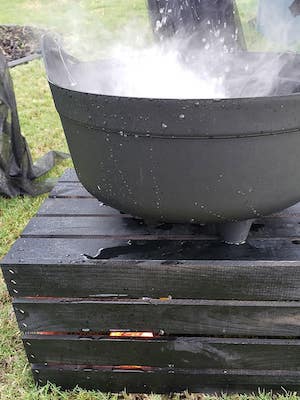 Follow the tutorial here
13. Jack-o-lantern Pumpkin Carving Patterns for Halloween from Spooktober
Since it is Halloween, jack-o-lanterns are a must. Use this set of 20 printable patterns to make a bunch of DIY outdoor Halloween decorations. The patterns are printable, so you can print as many as you want. And to make even more unique pumpkins, mix and match the face pieces.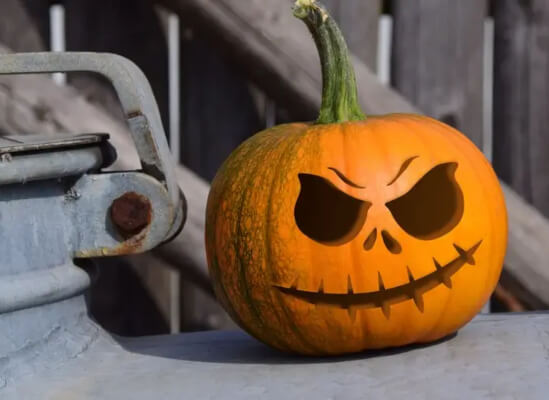 Find the Patterns from Spooktober Here
14. Easy DIY Scary Outdoor Halloween Sign Decorations by The Tip Toe Fairy
Despite what decor you choose for your yard, having some Halloween sign decorations will really help to bring the entir scene to life. Scatter these around the yarn in between your other decorations and your outdoor Halloween look will be complete.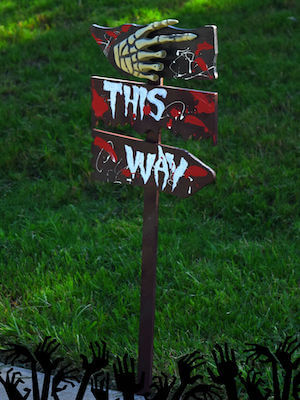 Follow the tutorial here
15. Spooky DIY Hallowen Chalkboard Tombstones by Made In A Day
Take a cue from the haunted houses you've come to know and love with this ghoulish scene. Chalkboard tombstones, tons of pumpkins, and black lanterns add to the theme.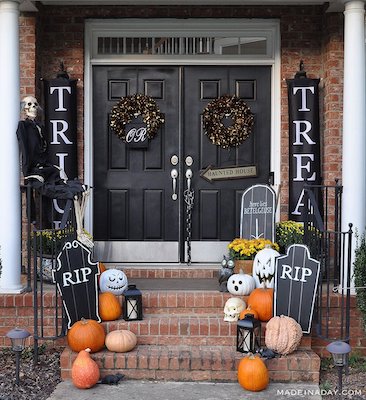 Follow the tutorial here
16. Paper Pag Portrait Luminaries by The House That Lars Built
Adhere a few old portraits to some paper bag lanterns for a front walkway that will send shivers down everyone's spine. With basic white paper bags, a printer, and some tea lights, you can create these easy lanterns and make sure your guests are properly watched over!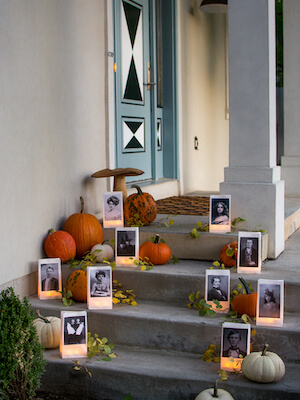 Follow the tutorial here
17. Oversize Outdoor Halloween Bat Decorations by Better Homes & Gardens
These larger-than-life DIY outdoor Halloween bats are a fun and easy way to decorate your home for the season—and the winged creatures are actually easier to make than they look! They're made from plastic hangers, pipe foam insulation, and black trash bags, which also makes them a budget-friendly craft.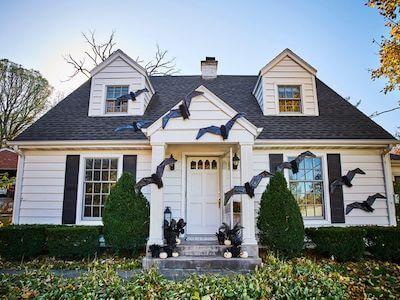 Follow the tutorial here
18. DIY Halloween Doormat by Alice & Lois
This spooky stamped door mat ensures you don't leave any inch of your outside space untouched by Halloween decor. It couldn't be easier to pull it off: Just print a stencil, and dab on a coat of black paint.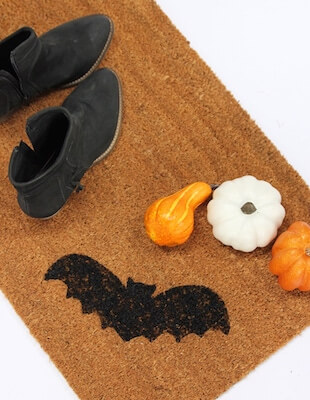 Follow the tutorial here
19. Wiggling Snake Wreath by Martha Stewart
Dark, tangled vines are all you see upon first glance. Come closer and the snakes lying in wait become clear, and the whole wreath springs terrifyingly to life. Make one with nothing more than a grapevine wreath, plastic snakes, wire, and black paint.

Dreadfully sophisticated and shockingly fun, this Halloween decoration hung on the front door gets the holiday off to a screaming start!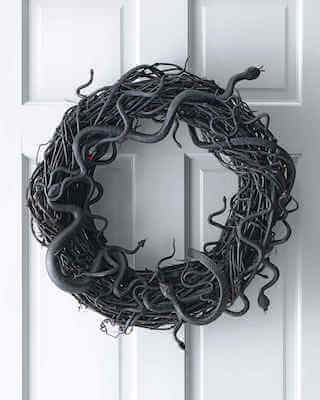 Follow the tutorial here
20. Foam Head Form Muslin Ghost by Lia Griffith
Meet Fred and Alice! They stopped by for a glass of cider. Halloween ghosts are fun to hang on your porch or in a front window in preparation for any ghastly trick-or-treaters that come knocking on your door. It's a simple craft to make and would be a fun one for the kids to get involved in.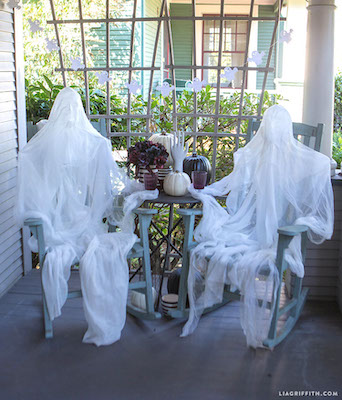 Follow the tutorial here
21. Black Cat O' Lanterns by Sunset
Make your entry glow with fat Halloween cats made from stacked pumpkins (and mini-pumpkin paws). Create a spooky trio of glossy black cats to watch over trick-or-treaters at your door. All you need are a few pumpkins in feline shapes―long or pear-shaped for the body, small and round for the face.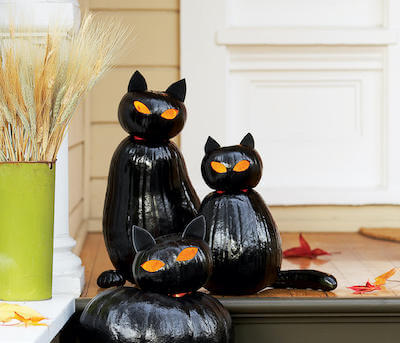 Follow the tutorial here
22. Hanging Cage Halloween Decoration by The Navage Patch
These easy hanging Halloween props use mostly Dollar Store materials and can be made for about $5 each. They are fun to make and look great indoors or outdoors, so grab some supplies and hang a few around your house this Halloween!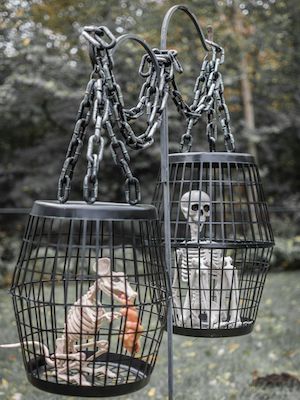 Follow the tutorial here
23. Hocus Pocus Door Hanger Wood DIY Outdoor Halloween Decoration from HeepDesignCo
If you do not have a laser cutter, you can still enjoy making this hocus pocus door hanger. This kit comes unfinished, unassembled, and ready to paint.
All wood pieces are laser cut using ¼ inch (.635 cm) thick maple plywood. Included are the round base, design overlay, and twine.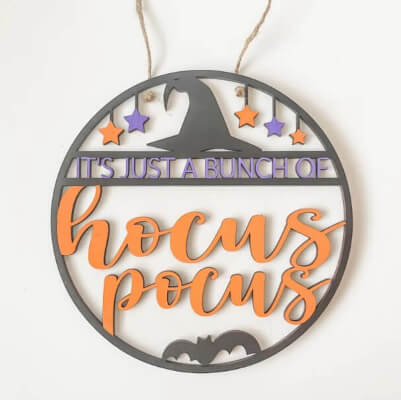 Find the Kit from HeepDesignCo Here
24. Ghostly Outdoor Draperies For Halloween by HGTV
Add a spooky touch to your front porch this Halloween with billowing, tattered draperies made from budget-friendly cheesecloth. These draperies are sure to add an eerie, haunted-house vibe to your front porch. Dip them in a tea bath to give the new fabric a stained, timeworn effect.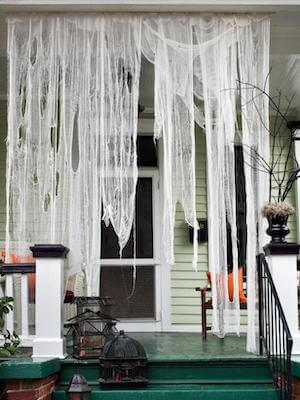 Follow the tutorial here
25. Spooky Pallet Halloween Headstones by Twelve On Main
Is it possible to have a Halloween without graveyards? Building a DIY cemetery fence can hel bring graveyards' nostalgic mood around your home for this Halloween.

You can use pallets to build the cemetery fence. To add some festive essence, add some skulls and other props that you feel will help you achieve what you want. Make a coffin prop to add some creepiness.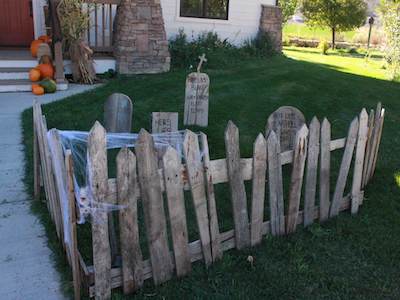 Follow the tutorial here
26. Large Flying Fox Bat Crochet Pattern from KnottedFaux
Crochet this large bat to terrify all your visitors on Halloween night. Even though this bat can be displayed outdoors, we would not recommend leaving it outside in the rain.
When completed, this bat will measure approximately 12 inches (30.48 cm) tall with a 20 inch (50.8 cm) wing span. It is an intermediate to advanced level crochet pattern.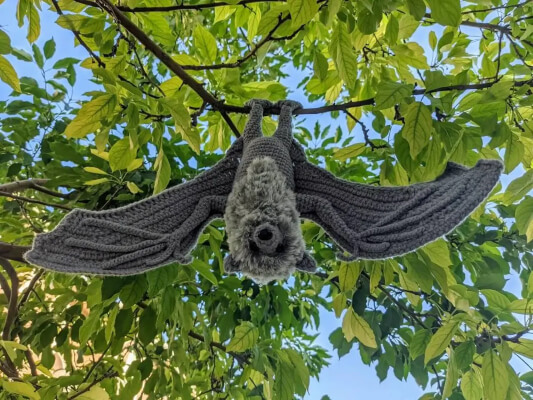 Find the Pattern from KnottedFaux Here
27. Halloween Garage Door Silhouette by Instructables
Lots of people are going to have paste-on garage door decorations, so if you want yours to really stand out, try lighting your decorations from behind.

You can do this by creating cut-outs using plywood, plastic, or another lightweight material. Tape a roll of white Christmas lights to the back of your spooky scene. Then you can lean it up against the garage door (or hang it). Check it out at night, and you'll have a glowing, spooky scene that stands out from all the other lightless decals out there.io9nh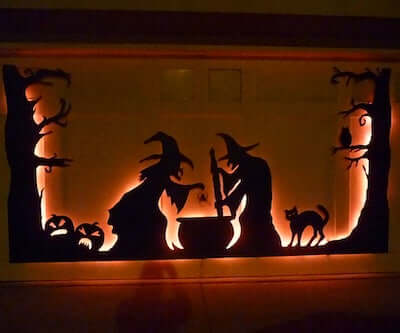 Follow the tutorial here
28. Ghost Leaf Bags Outdoor Halloween Decor by Everyday Art
If you've got large trees on your property, you've undoubtedly spent a lot of time raking up the leaves. Rather than putting those leaves in the garbage or straight to the compost bin, have some fun with them. Fully stuffed bags can make some fun looking ghosts scattered throughout the yard.

This could be a great way to encourage your kids to help with the leaf raking. The more leaves they rake, the more ghosts you'll have for the yard.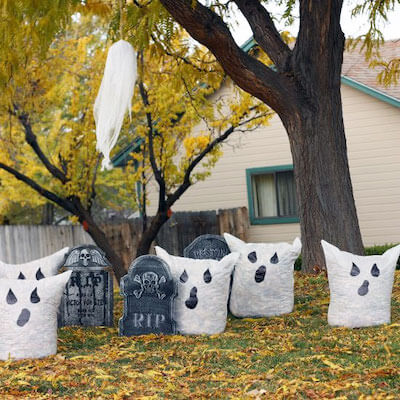 Follow the tutorial here
29. DIY Spooky Skull Ghosts by Crafting My Home
This project focuses entirely on being the most affordable DIY project. If you play the right cards, this $3 budget can shrink even smallr. The main material of this decor idea is the skull, which can be bought for $2 or less. You only need to add onto this skull some cheesecloth, and you will get a spooky accessory.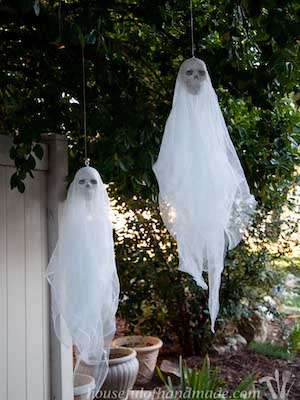 Follow the tutorial here
30. Ghost Boo Sign DIY Halloween Outdoor Halloween Decoration from DaylynnsDesignsShop
Paint this cute little hanger to welcome your guests into your home this Halloween. The DIY Halloween kit will make a hanging that measures 6 inches (15.24 cm). This would be a fun project for older children.
The kit includes everything you need. Included are the Wood cutouts, paint, a brush, and glue.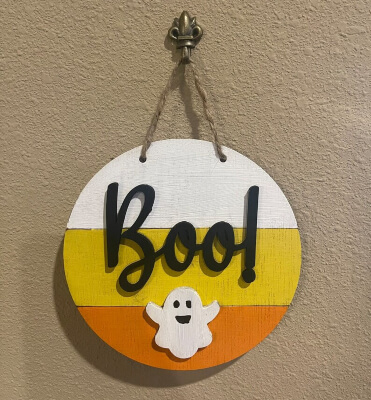 Find the Kit from DaylynnsDesignsShop Here
31. DIY Front Door Halloween Monster by Modern Day Moms
Looking for a Halloween door decoration idea that only costs a few dollars, but is big on impact? You'll need a little masking tape to magic up a Halloween monster design.

Add pumpkins, gourds and decorations to your flower pots on the porch and then create a Monster on the front door with the streamers and use the paper plates with the black circles for eyes.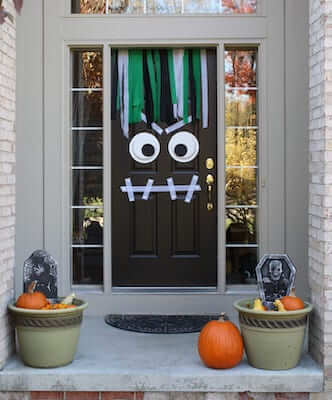 Follow the tutorial here
32. Creepy Spider Egg Sac by The Tip Toe Fairy
Add a creepy touch to your doorway with this globe-shaped incubator filled with spiders. Make several sacs and suspend them at various heights. Making them is really easy, all you need is white tights, plastic spiders, some spider rings, a black balloon, and some poly-fill stuffing.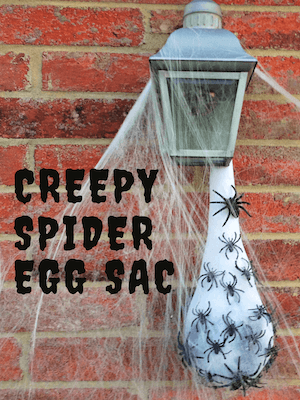 Follow the tutorial here
33. Skull String Art Kit from HandsInArtStudio
Create a striking piece of wall art to display during Halloween. This fun and relaxing kit can be assembled right at home. It is perfect for hanging by your front door under a covered roof. You will want everyone to see this project.
This DIY string art kit includes everything you need to make a creepy Halloween skull decoration. You will receive a pre-cut, sanded, and pre-nailed 8 inches (20.32 cm) x 10 inches (25.4 cm) wooded board, string, and step-by-step instructions.
Find the Kit from HandsInArtStudio Here
34. Lighted Pumpkin Topiary by DIY Candy
For a wickedly good welcome—or just some show-stopping outdoor decor—consider making a pumpkin topiary with painted plastic pumpkins, a barrel-inspired planter, lights, and hay. It will look perfect on your front porch. So festive!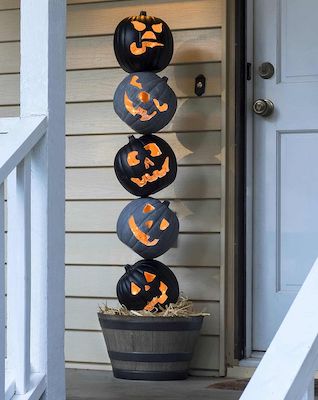 Follow the tutorial here
35. Life-Size Halloween Ghost by Layla Palmer
Create a life-size ghost for Halloween using cheesecloth and other inexpensive items. Hang it from a tree or place it on your front porch so passersby will shake in their boots.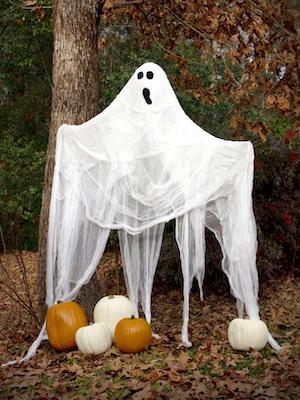 Follow the tutorial here
36. DIY Halloween Candy Stand Cauldron by Kim & Garrett Make It!
These candy dishes will be the cutest on the block–plus trick-or-treaters will love them! Just build the base, fill plastic bowls with sweets, and the neighborhood kiddos can easily grab their share.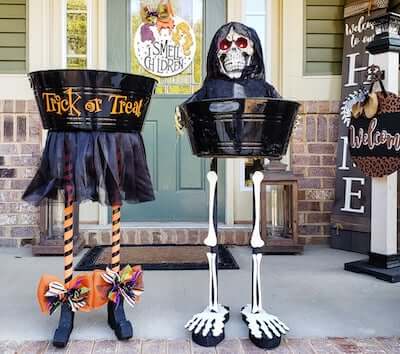 Follow the tutorial here
37. Raven Inspired Halloween Porch Decor by Create Craft Love
This is a subtle way to make your porch look haunted. Get some fake pumpkins, then stick real or fake branches into their middle. Add some realistic ravens to random branches and it will look unassumingly creepy.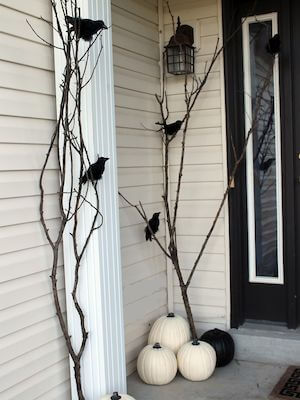 Follow the tutorial here
38. Halloween Pumpkin Arch by Crazicarlos
Why have only one Jack-O-Lanyern when you can have tens of them at once? This entry archway is made of several fake carved pumpkins, all of which glow from the inside, as they should.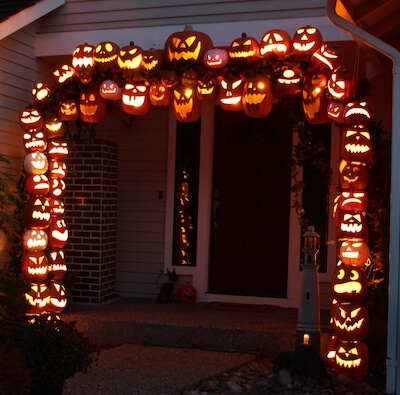 Follow the tutorial here
39. Life-Size Spider Victim Halloween Decoration by Instructables
This is a great high-impact (and easy!) outside decoration for Halloween. If you can use materials commonly found around the house, it's also inexpensive! Add more skulls around the porch to create more spookiness.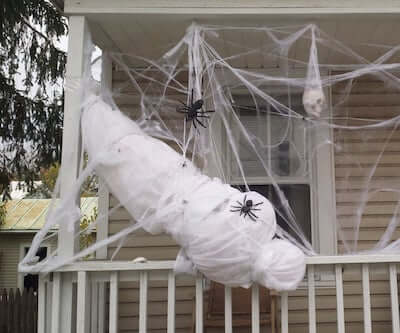 Follow the tutorial here
40. Halloween Dog Skeleton File from Laser Food
Halloween skeleton animals can be expensive. If you have a laser cutter, you can make a whole family of skeleton dogs with this one file.
Once assembled, the skeleton will stand approximately 11 inches (27.94 cm) high x 19 inches (48.26 cm) wide. The digital download includes SVG, DXF, PDF, and PNG Files.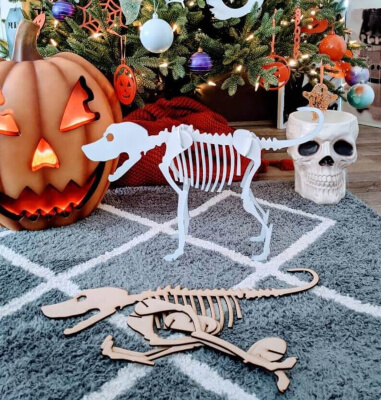 Find the Cut File from Laser Food Here
41. Spiders & Bats Invasion Outdoor Halloween Decor by One Good Thing
If you are looking for a simple yet statement Halloween porch decor, then these bats and spider invasion idea fits your bill. You won't need a magic potion to conjure up this fun Halloween scene!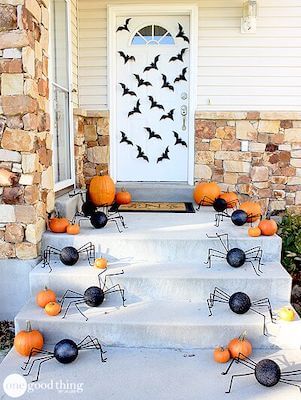 42. DIY Wreath Kit Halloween Trick or Treat from SmallTownGirlWreaths
Ribbon wreaths are all the rage at craft shows. If you love these wreaths as much as we do, make your own with this DIY craft kit.
Included are all the materials needed to make the wreath. There is a link to an instructional video. The completed wreath will measure approximately 24 inches (60.96 cm) in diameter.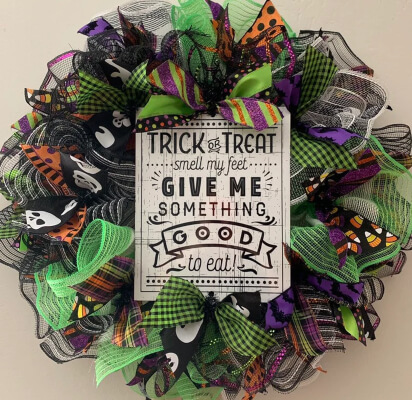 Find the Kit from SmallTownGirlWreaths Here
43. Cheesecloth Spirits by Martha Stewart
Using styrofoam mannequin heads, which are sold at wig shops, you can create free-floating ghosts that can stand on their own—but suspending them allows the cloth to flutter in the wind.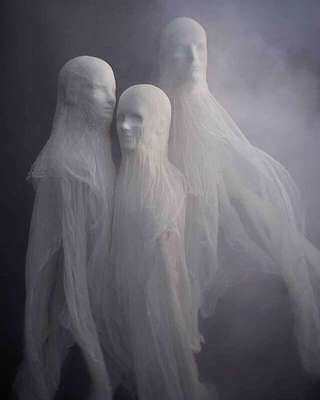 Follow the tutorial here
44. Door Hanger Pumpkin Face Outdoor Halloween Decoration from Sirius3D
Do you have a Glowforge or similar laser cutter? Then you can make this Happy Halloween door hanger. This piece looks best painted in orange and black. However, you can use whatever colours you desire. The finished piece can be displayed indoors or outdoors.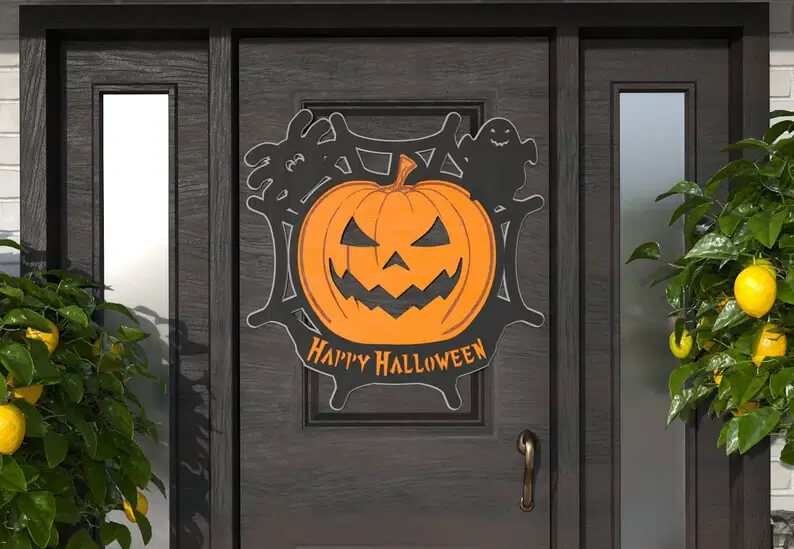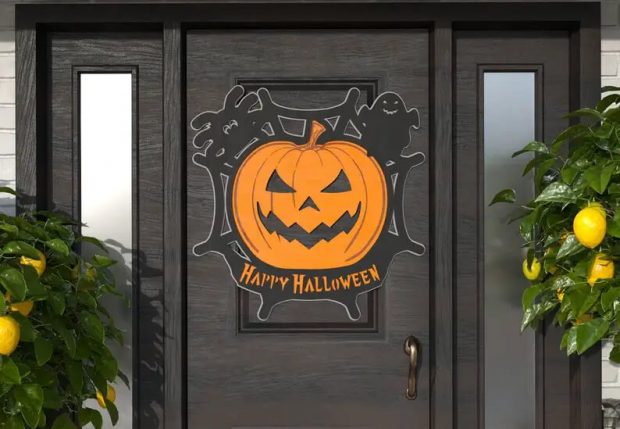 Find the Cut File from Sirius3D Here
45. Halloween Ghost Decoration by The Art Of Doing Stuff
Make this moving, blowing halloween ghost decoration in half an hour with a standing fan, some sheer fabric and a pumpkin head. Spiders optional but, what's a ghost bride without some loitering spiders?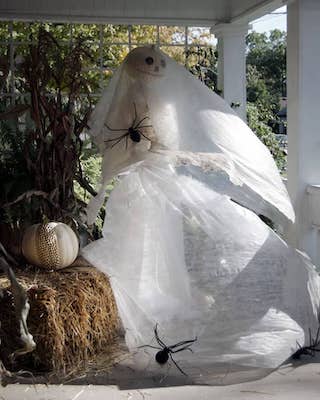 Follow the tutorial here
46. DIY Halloween Mummy Wreath by Better Homes & Gardens
This dollar store Halloween wreath starts with a roll of masking tape–and a pair of hands! Create DIY mummy hands, cover them with cheesecloth, and add them to a purchased grapevine wreath form that's been strung with faux spider webs. That's a wrap!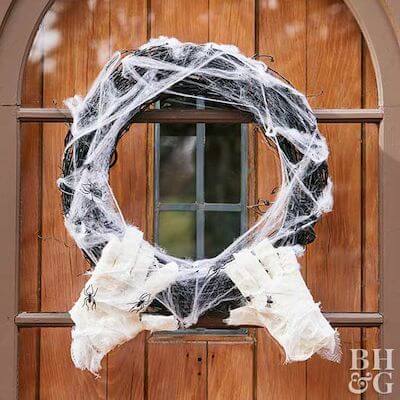 Follow the tutorial here
47. Concrete Lighted Step Spook by Made By Barb
Some Halloween decorations are cute and festive, and some are genuinely creepy. This figure that sits silently on the steps definitely falls into the second category. This tutorial is quite easy as he is a little fellow that is quite portable. He'll sit on your step and scare the bad ghosts away!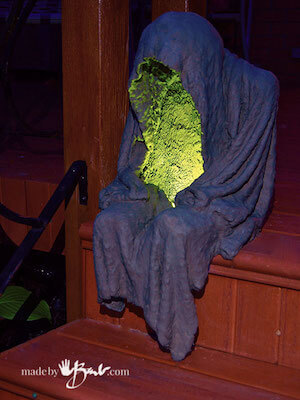 Follow the tutorial here
48. DIY Packing Tape Ghost by eHow
What ghostly apparition is here to haunt your home? None other than this life-sized ghost made of packing tape and plastic cling wrap.

Because of the materials, it's transparent, yet strong enough to hold its shape. Hang it from a tree or the ceiling, and the ghost appears to float in front of you. Now that's getting into the Halloween "spirit."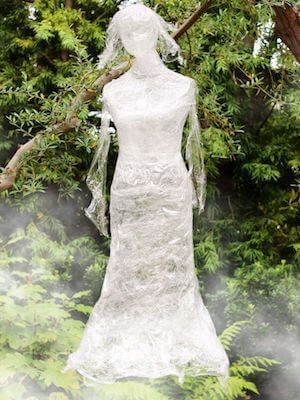 Follow the tutorial here
49. Picket Fence Halloween Countdown by Priscillas
Made from picket fence pieces, this Halloween countdown sign is the perfect way to drum up excitement for the holidays. Use chalkboard paint where your numbers will go, so you can update it each day.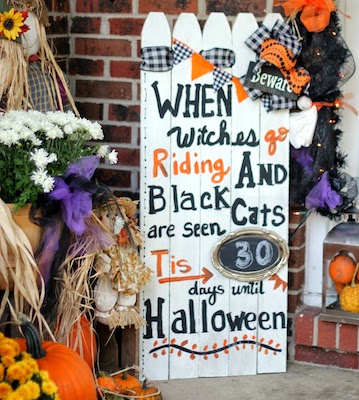 Follow the tutorial here
50. Zombie Planted Hands by Sew Woodsy
The night of the living dead can come alive on your own porch! Order some plastic zombie hands or make your own from cardboard and stick them in empty planters. They'll look like they're crawling up from the earth and will give your visitors a fun fright.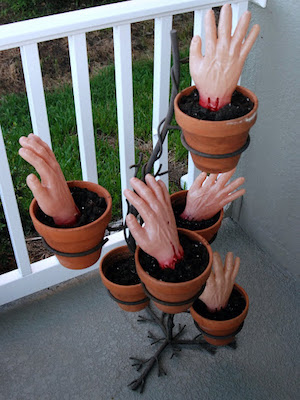 Follow the tutorial here
51. Giant Tentacle Monster by Instructables
Here's a giant idea that's sure to make you the talk of the neighborhood this year!This is a relatively easy build, makes a big impression, and should be versatile enough for lots of Halloween displays.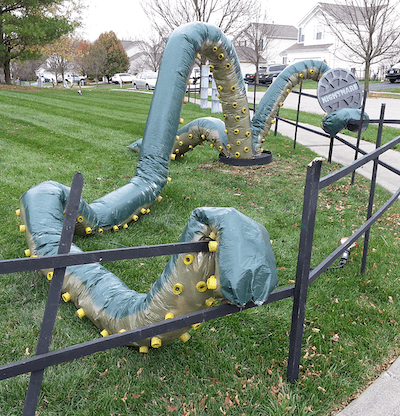 Follow the tutorial here
52. Skeleton Beach Day Halloween Yard Display by Charleston Crafted
Looking for a funny Halloween yard decoration display? If spooky skeletons aren't your thing, give them a fun beach day complete woth sunglasses and a beach umbrella. Pull out your beach chairs and a yoga mat(or a towel), set the skeletons up like they are at a beach party!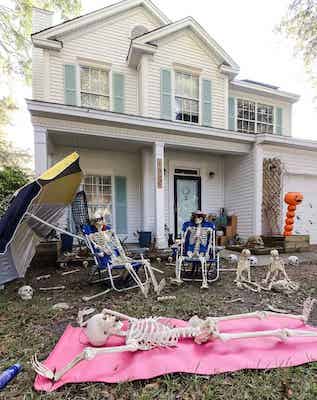 Follow the tutorial here
53. Barbie Zombies Halloween Decoration by Crafts By Amanda
Halloween outdoor decorations don't have to be big to be creepy. Sometimes a smaller version of something lovable is the creepiest of them all. Perfect for Halloween or diehard Walking Dead fans, these Barbie zombies are great decorations idea!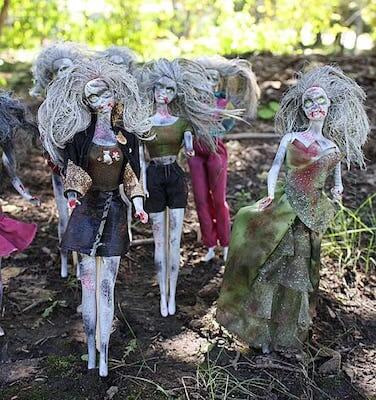 Follow the tutorial here
54. Halloween Pumpkin Decoration Welcome to our Patch from CreativeGiftsNI
Paint a welcome to the pumpkin patch sign using your favourite colours. This is a fun project that will give you hours of enjoyment.
The freestanding pumpkin sign is laser cut from 3 mm MDF. It measures 9.05 inches (23 cm) x 7.87 inches (20 cm).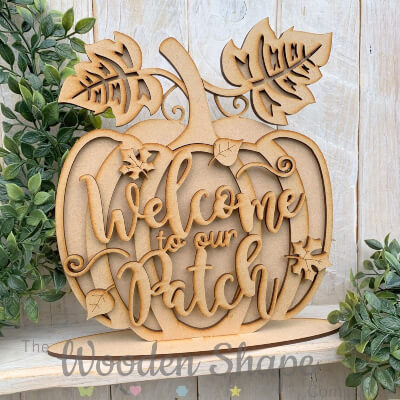 Find the Decoration from CreativeGiftsNI Here
55. DIY Creepy Halloween Curtains by Home Style Austin
Add a bone-chilling "creep" factor to your Halloween home with these easy-to-make Halloween curtains! Before you throw out those stained curtains, consider repurposing them for Halloween yard decorations.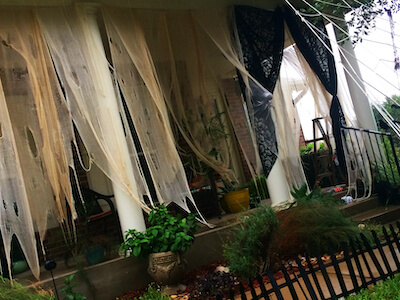 Follow the tutorial here
56. Googly-Eyed Halloween Decorations by Martha Stewart
Googly eyes bring everything to life—houseplants, front porches, and deep inside the hearth. When in doubt, rely on googly eyes to amp up your Halloween decor. Place them on your front door and in planters for a fun and festive look.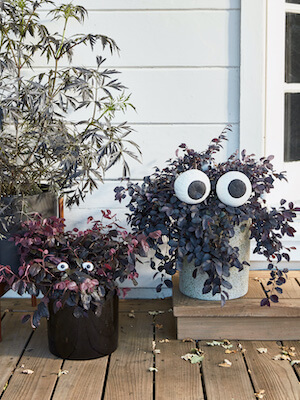 Follow the tutorial here
57. Halloween Door Decor Ideas by Sugar & Cloth
Front door decorations are always a good idea, so make this not-so-spooky setting that you can easily recreate just in time for your next Halloween party!

Whether you're hosting your own party, expecting trick or treaters, or just prepping for the witching hour, these three easy DIY Halloween ideas are made with cheap Halloween decorations that you won't have to worry about being outdoors.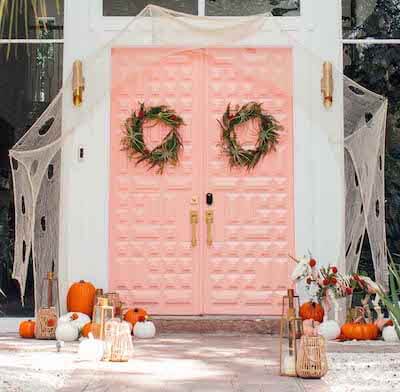 Follow the tutorial here
58. DIY Concrete Pumpkin For Halloween by Home Crux
With loads of pumpkin lights available in the market, these days people need not worry about carving pumpkins. There are a variety of ways to add spooky holiday décor to your home without real pumpkins.

You can use artificial pumpkin-shaped lights or no-carve techniques such as paint, stickers or stencils to transform the orange fruit into a masterpiece without much effort. But if you are bored of such Halloween decorations, try making some concrete pumpkins to grace your home decoration this year.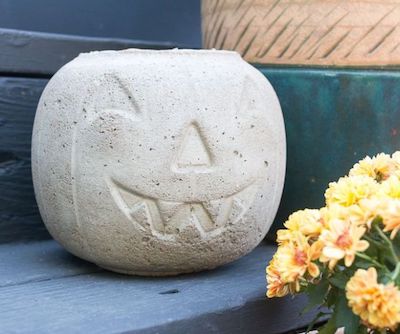 Follow the tutorial here
59. The easiest Macrame spider DIY Outdoor Halloween Decoration from SandysTextileStudio
Knot up several of these spiders to hang from your porch or a tree. Use red beads for the eyes to make them even more creepy. Included are 8 pages of PDF files, a free video tutorial, step-by-step instructions with pictures, and a basic knots guide. You can use the pattern to create 3 sizes of spiders.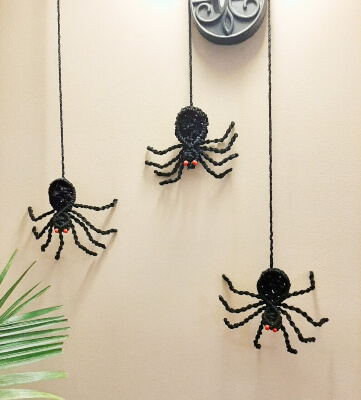 Find the Pattern from SandysTextileStudio HereE
60. DIY Halloween Candy Door Hanger by Cherished Bliss
This DIY Halloween Candy Door Hanger is the perfect way to greet your guests, with a handful of candy! This also serves as a great way to let trick or treaters grab a piece if you are going to be gone for the night. You might appreciate that the smiling pumpkin keeps a little distance between you and your trick-or-treaters.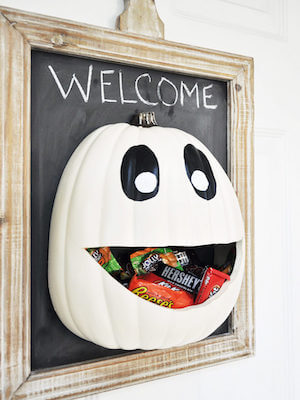 Follow the tutorial here
61. 3 Witches And A Cauldron by Scratch And Stitch
Create a witchy gathering around a cauldron for your DIY Halloween decorations. Use plastic bottles for their heads, black fabric for their robes, and garden stakes. A large witch cauldron surrounded by these creepy witches will surely be an attention-grabbing Halloween decoration!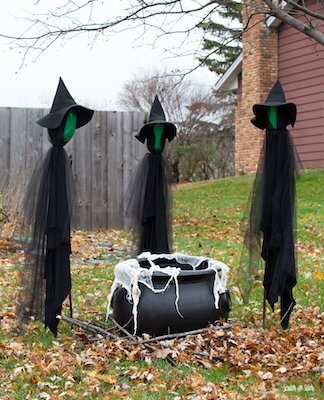 Follow the tutorial here
62. Balloon Garland Halloween Porch Decoration Kit from DuchessSupplyCompany
Create a grand entrance with Halloween themed garland. It will make your house stand out and look more inviting to the little ones. The kit includes everything you need and when finished it will measure approximately 9-10 feet (2.74-3.04 m) tall.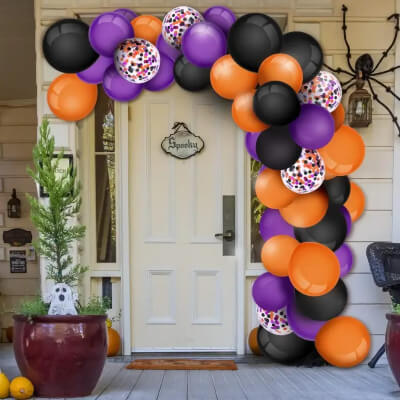 Find the Kit from DuchessSupplyCompany Here
63. Cute And Spooky Halloween Porch by Crafting Chicks
While other projects focus on being as spooky as possible, this one goes in the opposite direction. It still has the creepy concept of Halloween, but it also produces a sense of welcoming. The secret lies in the balance between the creepy light-up tree, the black bat wreath, banner, and the cozy pillows.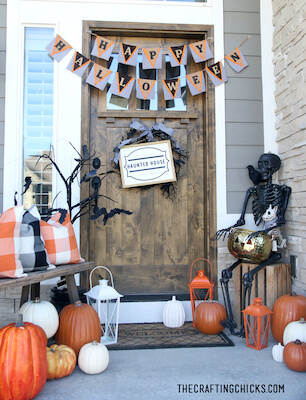 Follow the tutorial here
64. DIY Halloween Corpse by Instructables
If you want your DIY outdoor decorations to freak out the neighbors, this is the way to go! They'll seriously do a double take and maybe even check to make sure he's not real! All you'll need are some big black garbage bags, newspapers to crumple up to make the body, and twine or duct tape to help make the shape.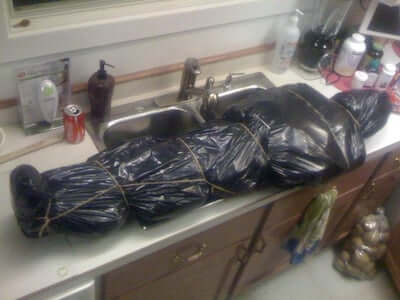 Follow the tutorial here
65. Illuminated Ghost Garland from Taryn Whiteaker
Make this ghost garland to decorate your porch during the day and at night. It is s quick and simple project. During the day they are simple, cute little ghosts. At night, turn on the lights for the trick-or-treaters to see.
All you need to make this DIY Halloween decoration are a strand of white lantern lights, 2 yards of white cotton fabric, white string, scissors, and a black sharpie.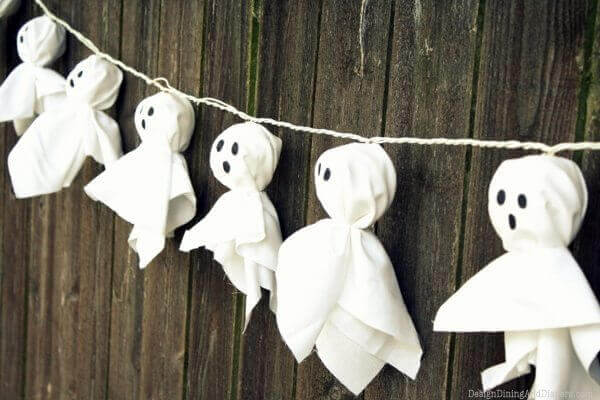 Find the Tutorial from Taryn Whiteaker Here
66. Happy Stake Art DIY Halloween Yard Decoration from readytocutdxf
Cut out this sign to welcome all the trick-or-treaters to your yard. You can use wood, metal, acrylic, etc. Whatever materials your cutter can handle.
The files included in the download can be used for CNC plasma, laser, water jet, sticker decal, woodworking, scrapbooking/card making, web design, vinyl plotters, Cricut, silhouette cameo, etc. You get 1 SVG file, 1 DXF file, 1 PNG file, and 1 PDF file.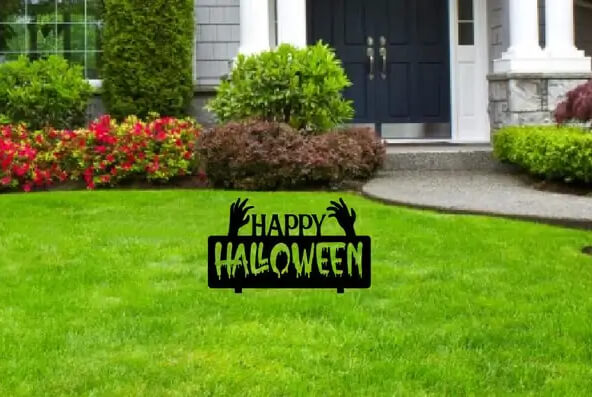 Find the Cut File from readytocutdxf Here
67. Portable Coffin Wedding Arbor DIY Plans from DoitYourSelfPlanner
Build this coffin shaped arbour for all your visitors to walk through. Leave it plain or dress it up. You can even use it for a Halloween themed wedding.
Completed, the arbour will measure 28.5 inches (72.38 cm) x 50 inches (127 cm) x 87 inches (220.98 cm). There are step-by-step instructions. However, you will need to have at least beginner woodworking skills.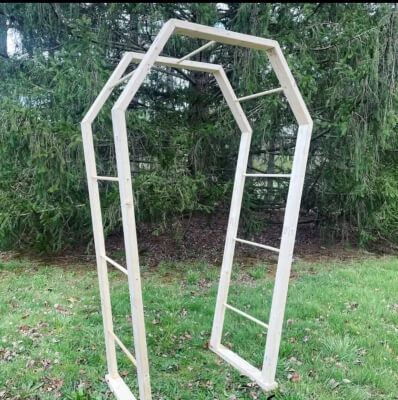 Find the Plans from DoitYourSelfPlanner Here
68. Halloween & Fall Yard DIY Kit from 303Woods
You can paint your own DIY Halloween yard decorations using precut wood decorations. This designer has pumpkins, cats, bats, ghosts, spiders, spiderwebs, and leaves.
If you are searching for a fun activity for your family, check out these ready to paint pieces. Children as well as adults will have fun with these.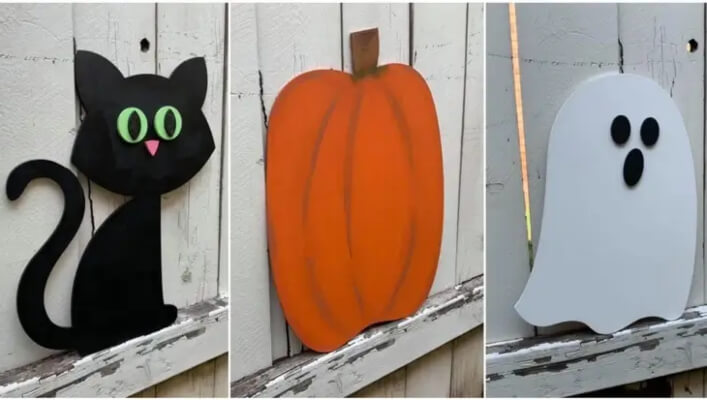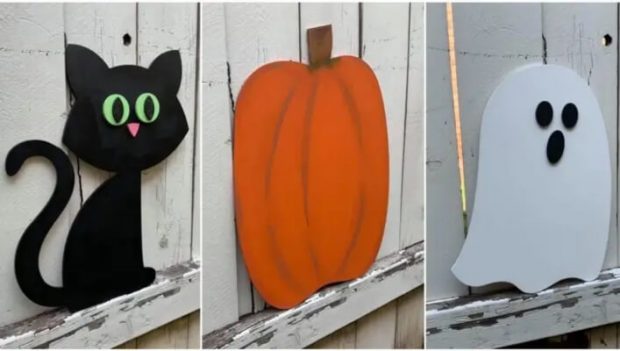 Find the Kit from 303Woods Here
69. An Itsy, Bitsy Spider Wreath from Bugaboo Mini Mr Me
Are you looking for quick DIY outdoor Halloween decorations? Then this may be the project you are looking for. It works up very quickly. All you need to make this Halloween decoration is a stick wreath, spray paint, silver embroidery floss, and a plastic spider.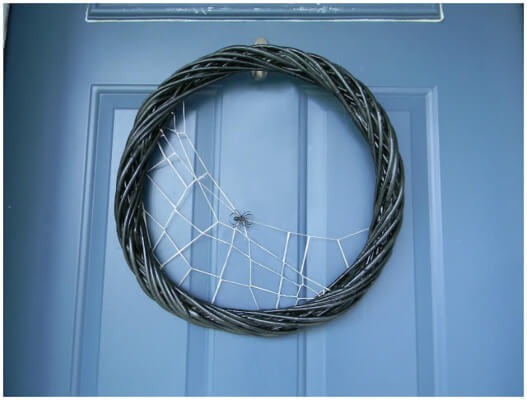 Find the Tutorial from Bugaboo Mini Mr Me Here
70. Tombstone DIY Halloween Yard Decoration from RedWoodBarnCrafts
Turn your yard onto a cemetery with some handmade tombstones. You can make the cemetery as big or as small as you want. And you can create some crazy names and epitaphs.
The step-by-step instructions guide you through the process of creating your own DIY outdoor Halloween decorations. When finished, a single tombstone will stand about 24 inches (60.96 cm) tall and 12 inches (30.48 cm) wide.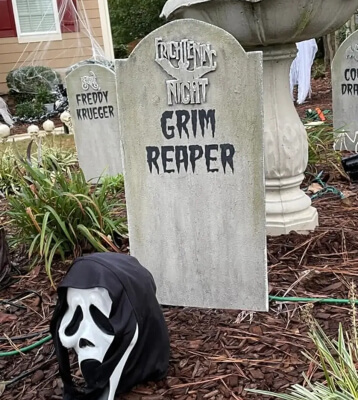 Find the Tutorial from RedWoodBarnCrafts Here
71. H-Raw Foam Tombstone from NightmareCreators
If you are not interested in cutting tombstones from wood yourself, buy some precut Styrofoam tombstones. All you have to do is carve the name and design into the Styrofoam and paint it.
This tombstone measures 15 inches (38.1 cm) wide x 25 inches (63.5 cm) high x 1.5 inches (3.81 cm) deep. You can order it with or without stakes.
Find the Decoration from NightmareCreators Here
72. Pumpkin Bench Wood Plans from WinfieldCollection
Add a bit of whimsy to your porch with this adorable pumpkin patch bench. These 4 goofy pumpkins will definitely get you a lot of compliments.
You will need woodworking and painting experience to make this bench. The finished bench will measure approximately 43 inches (109.22 cm) tall x 33 inches (83.71 cm) tall.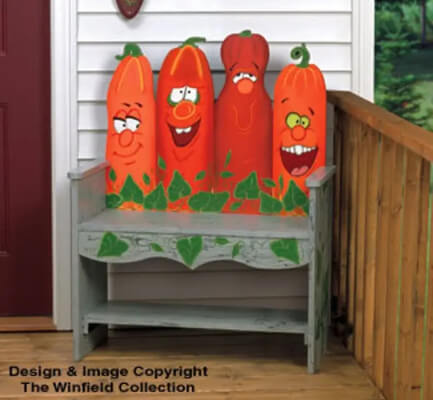 Find the Plans from WinfieldCollection Here
73. Adirondack Skull Chair Plan from WinfieldCollection
Impress all your guest by making this skull themed chair. It will definitely become a conversation piece. And who says it is only for Halloween. Use this amasing chair all year round.
The full-size pattern includes complete step-by-step instructions and assembly diagrams. The finished project will measure approximately 31 inches (78.74 cm) wide x 39 inches (99.06 cm) tall.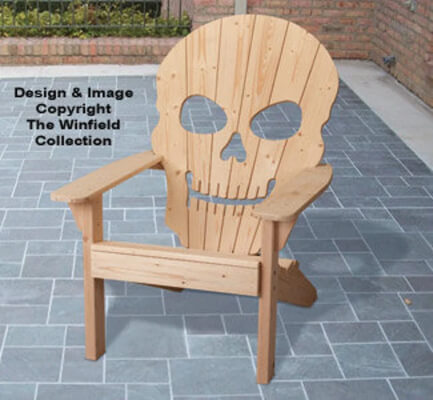 Find the Pattern from WinfieldCollection Here
74. Halloween Luminaries Tutorial from Crafts by Amanda
These colourful Halloween luminaries are easy DIY outdoor Halloween decorations. They are made from painted mason jars, a sharpie, and tea lights. You can use them to light up your sidewalk, porch, or window.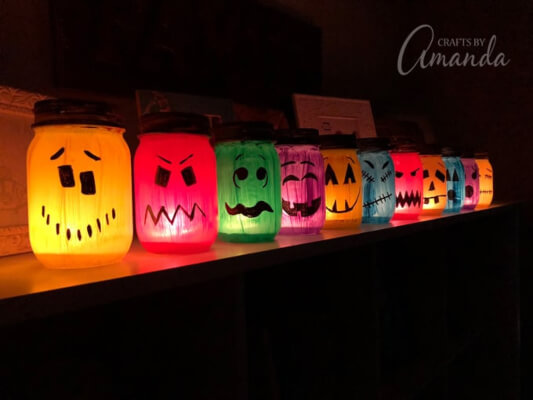 Find the Tutorial from Crafts by Amanda Here
75. Paper Halloween Luminary Craft Kit from WitchNextDoorStore
You can use these paper luminaries outside, just make sure that there is no rain in the forecast. They are the perfect choice for creating a lighted pathway to your porch.
The paper sleeves serve as the background colour, and for holding the die cut pieces. They would make a great DIY project for children. Included are 2 of each of the 3 designs.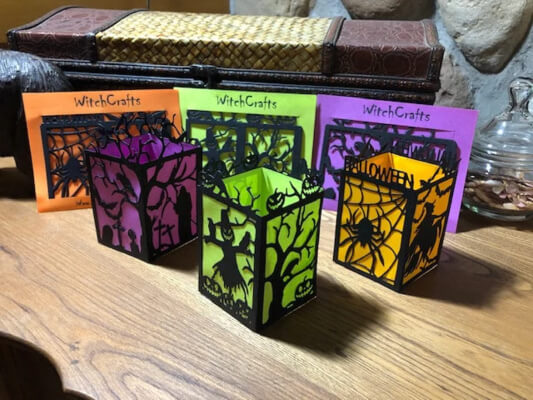 Find the Kit from WitchNextDoorStore Here
76. Floating Head Hanging Ghost Tutorial from Simply Designing
These floating heads will look super creepy at night. You can hang them almost anywhere. Just make sure there is just enough light, so they look threatening.
To create these floating head DIY outdoor Halloween decorations, you will need foam heads, a Styrofoam cutter, cheesecloth, Mod Podge, a foam brush, eyelet screws, E6000 glue, and fishing line.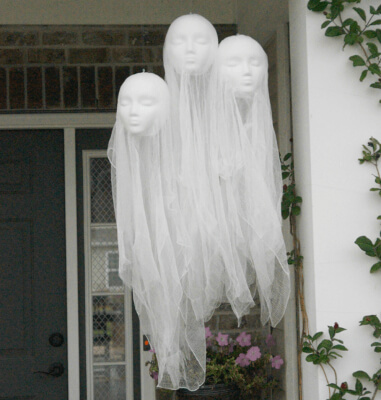 Find the Tutorial from Simply Designing Here
77. Spooky Bush Eyes DIY Halloween Yard Decoration from Kitchen Fun
Make a tree or a bush into a creepy monster using large eyes. To make the eyes, you can use either beach balls or plastic pumpkins. This free tutorial will teach you how to make the DIY outdoor Halloween decorations using inexpensive plastic pumpkin buckets.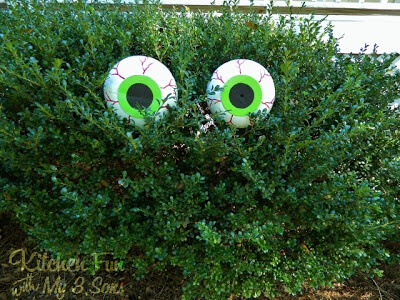 Find the Tutorial from Kitchen Fun Here
78. BOO Halloween Balloon Garland Kit from DuchessSupplyCompany
The 108 piece Halloween set includes everything needed to create the perfect Halloween garland. You get purple chrome, black metallic, black, black marble, and lime green latex balloons, a boo balloon, a mini bat balloon, PVC micro bats, and a spider web with spiders.
A silver ghost balloon can be added to the set. Once the garland is assembled, it will measure approximately 9-10 feet (2.74-3.04 m). Use this fun balloon garland set to decorate the entryway to your home, an arbour, or a tent entrance.
Find the Kit from DuchessSupplyCompany Here
79. Ghost Holding Pumpkin Halloween Ornament Garlands & Baubles from LaserFood
Make some cute door hangers or garland with your laser cutter using this Halloween file. The file includes the ghosts, hands, and 3 different pumpkins
The file is suitable for the Glowforge Basic or Plus. You can scale these ghosts and pumpkins to be as small or as large as you like. You can even make large yard decorations.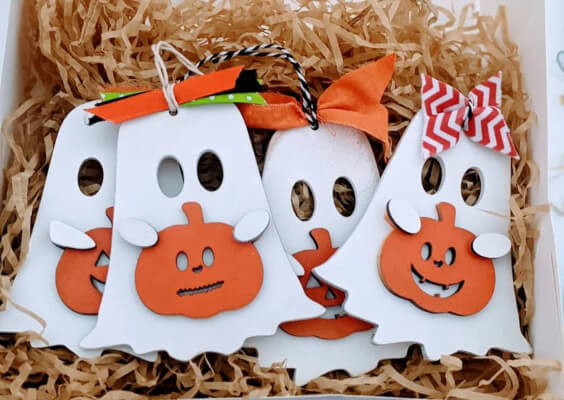 Find the File from LaserFood Here
80. Chic No-Carve Pumpkins Tutorial from Brit & Co
Do you like decorating with pumpkins, but hate the mess created when carving jack-o-lanterns? Instead of cutting the pumpkins, make chic no-carve pumpkins.
To make these DIY outdoor Halloween decorations you will need pumpkins (real or fake), black acrylic paint, white acrylic paint, gold round studs, and a paintbrush.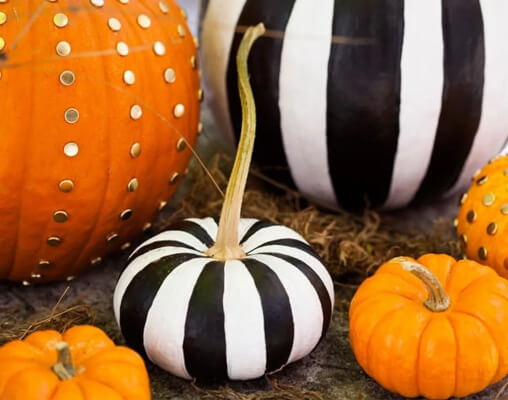 Find the Tutorial from Brit & Co Here
81. DIY Halloween Lantern Decor Pattern from MakamoCreations
Celebrate Halloween with these stunning DIY outdoor Halloween decorations. The spooky and festive lantern comes in two sizes. You can use the finished projects as indoor or outdoor decoration.
Just be sure to use a waterproof material. The download includes a thorough PDF tutorial, assembly video, and SVG file.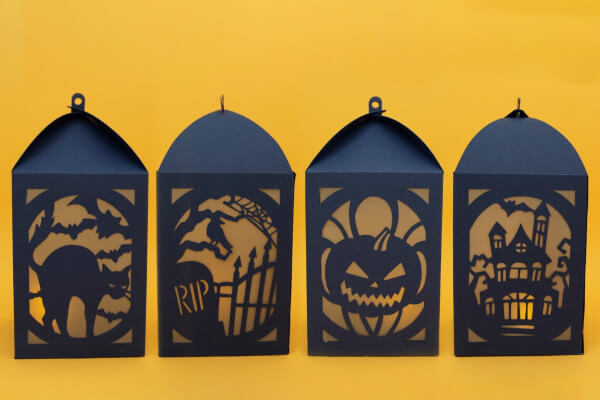 Find the Pattern from MakamoCreations Here
82. Halloween Pumpkin Carving Kit from HookedoPatterns
Your DIY outdoor Halloween decorations are not done until you have carved some jack-o-lanterns. If you are serious about your pumpkin carving, then you need a premium carving kit. This one includes everything you need to create professional looking jack-o-lanterns.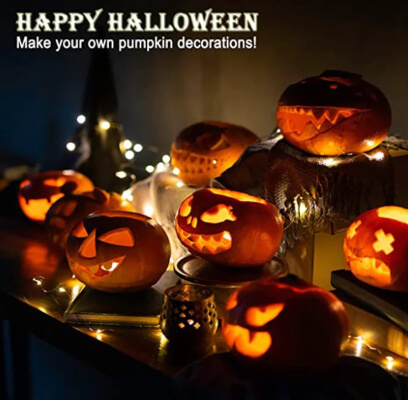 Find the Pattern from HookedoPatterns Here
83. Halloween Spider File from LaserFood
Make a bunch of these DIY outdoor Halloween decorations to scare all your friends. Place them in inconspicuous spots to take everyone off guard. The spider is intended to be cut on a laser cutter such as a Glowforge. Included are SVG, DXF, EPS, PDF, and PNG files.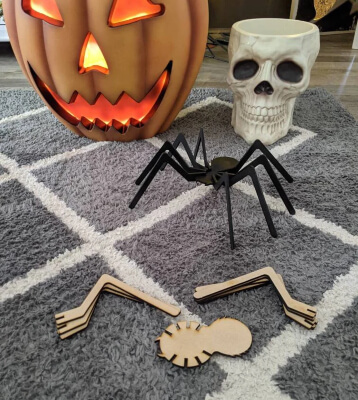 Find the File from LaserFood Here
84. Macrame Bat Pattern from TheKnottyOtterCrafts
Use a waterproof macrame cord to make this large bat wall hanging. This piece would be perfect for displaying on your porch or patio.
This DIT macrame pattern only uses the square knot. It is a beginner-friendly pattern for anyone with a little patience. Some parts can be a bit finicky. The finished wall hanging is 3 feet (91.44 cm) wide and 2.25 feet (68.58 cm) long.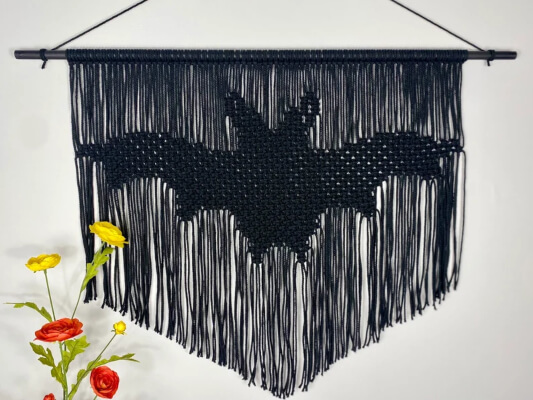 Find the Pattern from TheKnottyOtterCrafts Here
85. The Witch Is In Halloween Door Hanger Pattern from MadeBySannn
Let everyone know the Witch is in with this door hanger. To make this Halloween decoration, you will need a laser cutting machine. The download includes an SVG, EPS, A1, and DXF files.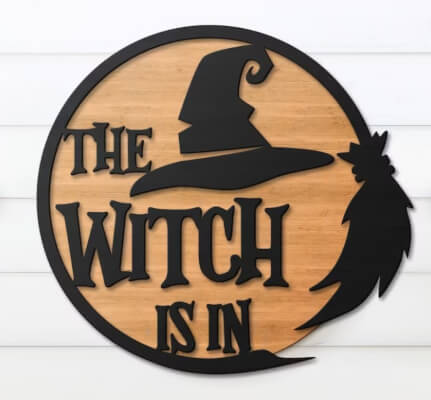 Find the Pattern from MadeBySannn Here
86. Halloween Door Corners Decor from PretePrints
Add some holiday decor to the corners of your doors with this trim bundle. You can choose between any of the 8 decorations or find a place to use them all. You can use these cutouts indoors and outdoors depending on the wood you use.
The trim bundle includes an SVG, EPS, DXF, and PDF file. All the pieces are 8 inches (20.32 cm) tall. They vary in width.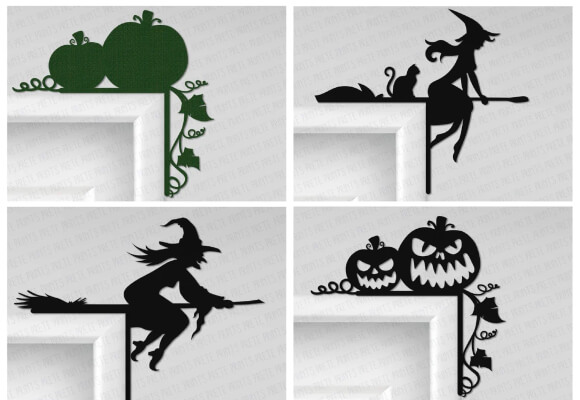 Find the Pattern from PretePrints Here
87. Hershel's Barn Pallet Project Tutorial from Atta Girl Says
Are you a fan of The Walking Dead series or comic books? See how Amy made Hershel's barn out of an old pallet, red paint, fake hands, a chain, and a wood sign.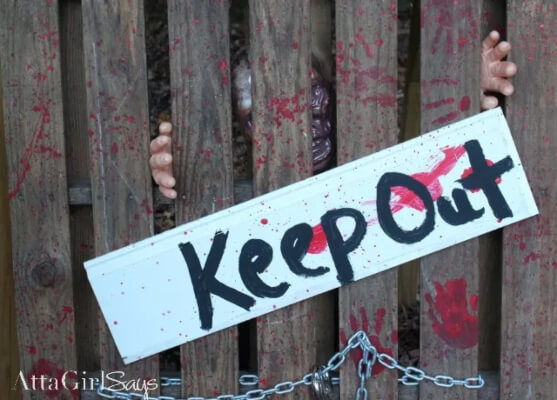 Find the Tutorial from Atta Girl Says Here
88. Easy DIY Halloween Lamp Post Tutorial from Houseful of Handmade
Use this free tutorial to make a DIY Halloween lamppost. It would make a great decoration for welcoming your little guests. Use a solar light for the top. And string some spider webs over the post to create a creepy effect.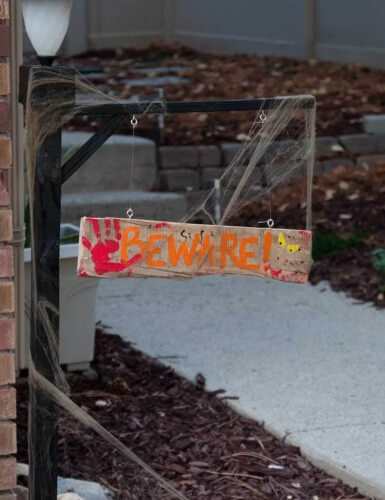 Find the Tutorial from Houseful of Handmade Here
89. Headless Horseman Pattern from WinfieldCollection
Display this huge, eye-catching character in your yard with an ominous light behind it. This is a great piece for anyone that loves Halloween or the Headless Horseman.
This project is easily made from only plywood, black paint, and a handheld jigsaw. Included in the download is a full-size, traceable pattern. The completed decoration will measure 64 inches (162.56 cm) tall.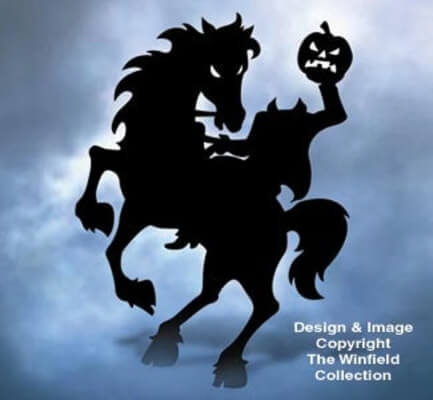 Find the Pattern from WinfieldCollection Here
FOR A TRULY IMPRESSIVE DISPLAY, TACKLE A FEW OF THESE DIY OUTDOOR HALLOWEEN DECORATIONS IN THE WEEKS LEADING UP TO OCTOBER 31.
If you are on the hunt for more Halloween inspiration, take a look at some of our other spooky DIY projects collections: Ghost Lollipop Ideas For Halloween, Halloween Plastic Canvas Patterns, Halloween Paper Crafts and Halloween Amigurumi Crochet Patterns.

However you plan to decorate your home for Halloween, have fun and make sure you share your makes with us on our Facebook Page for us to see!
If you want to stand out on your street, don't be afraid to go all out this spooky season with these DIY outdoor Halloween decorations! Happy Halloween!