Custom wall decor without the hefty price tag? Yes, please! Today, we are going to be looking at some of the best geometric string art patterns found on the internet. So, if you are loving this design look, you have come to the right place!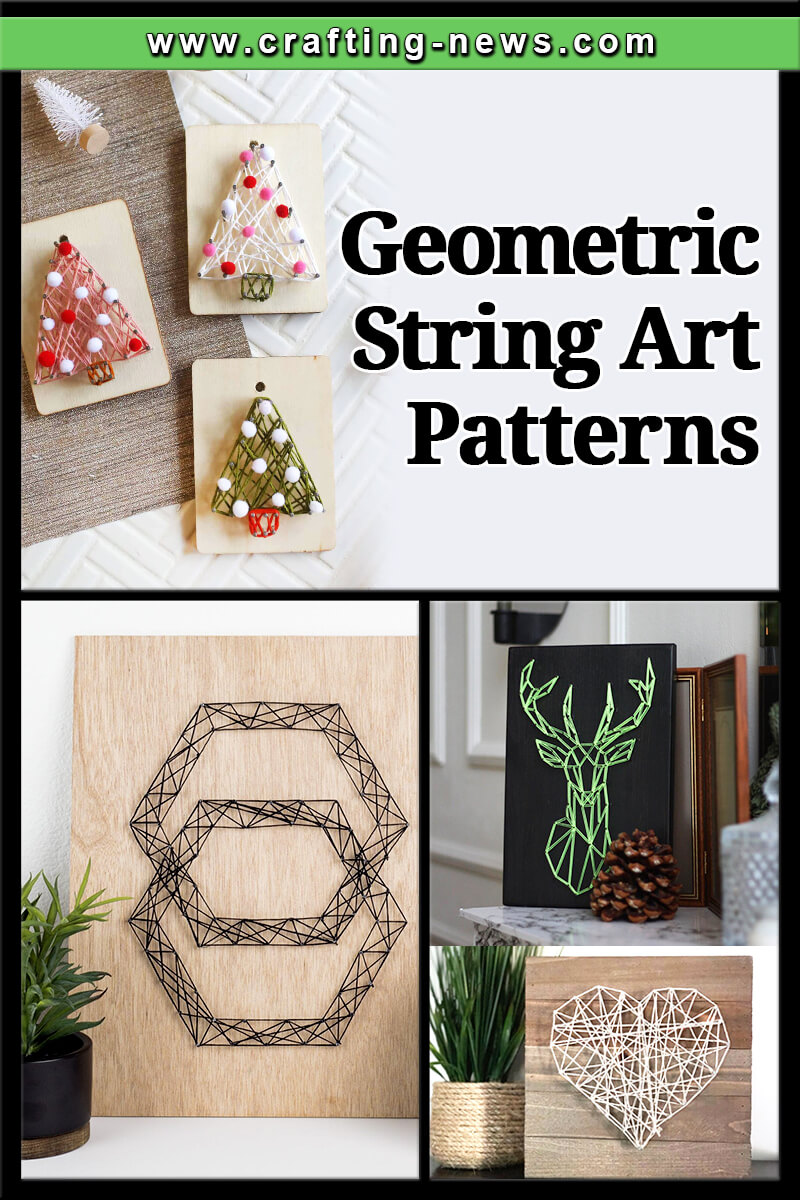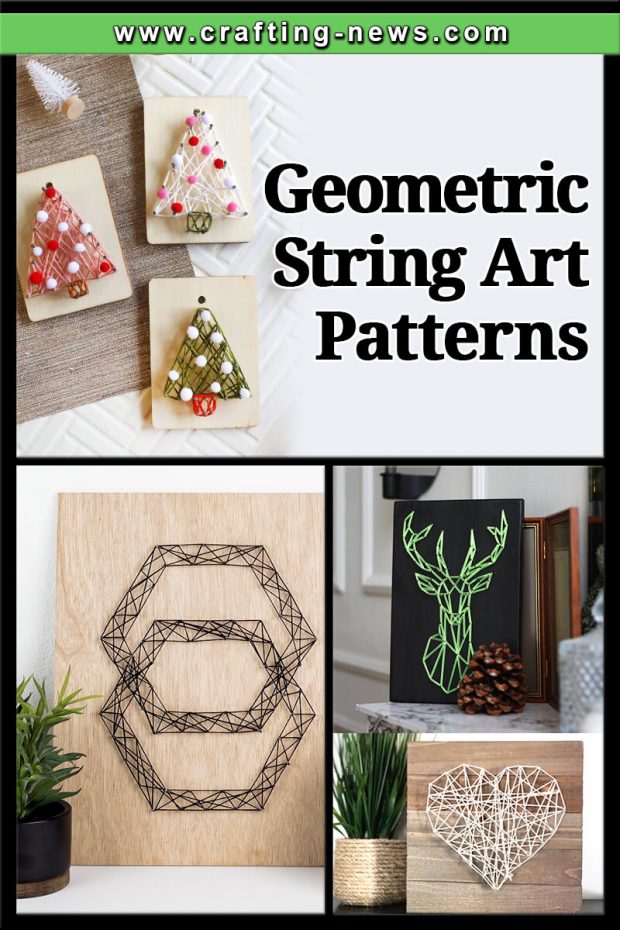 This list includes simple geometrics and animal-inspired motifs that will look amazing no matter where you hang them. Grab some nails or pins, and a whole lot of string, and try one of these budget-friendly DIYs!
1. DIY Modern String Art by A Crafted Passion
This geometric DIY string art is so easy to make with this simple tutorial and looks great on the wall. Plus, this modern pentagon design is too fun, a really minimalist and modern design, perfect for decorating a house.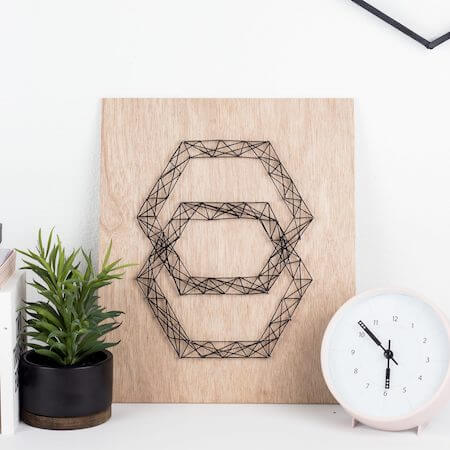 Get the tutorial here
2. Geometric String Art by Rapid Resizer
The geometric form below is called Metatron's cube. It contains every shape that exists within the universe. How cool is that? Experimenting with different colours also adds an interesting affect to this project.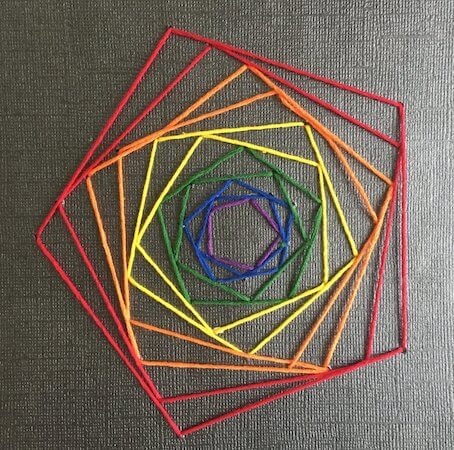 Get the tutorial here
3. DIY Geometric String Art Pattern by Angie Holden
Turn any shape into geometric string art for your home. This is a super simple craft that anyone can make. You can even get older kids involved in making their own fun string art projects.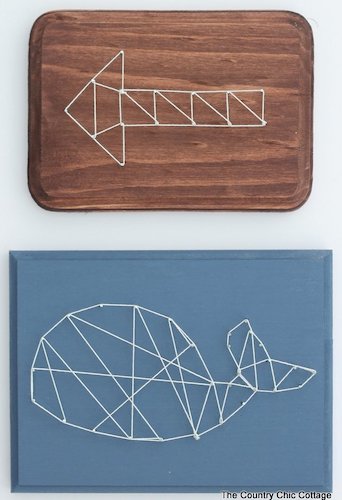 Get the tutorial here
4. DIY Geometric Deer String Art by Raya Art Deco
There is also the possibility of making easy geometric designs that represent animals, as is the case with this deer. Very simple to do and with a nice result.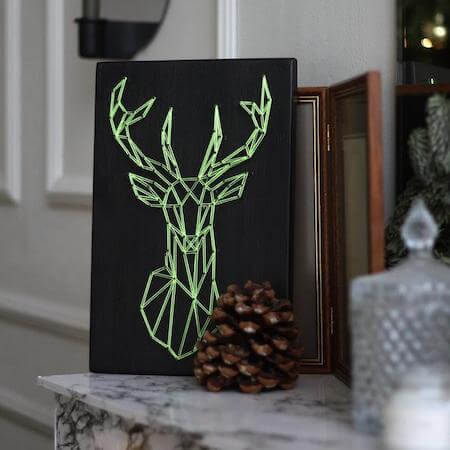 Get the tutorial by Raya Art Deco here
5. Heart String Art by The Spruce Crafts
This tutorial teaches how to make a beautiful barn wood plaque adorned by a lovely heart. It's not as hard as it looks! Once you have your supplies gathered you can make it in less than thirty minutes.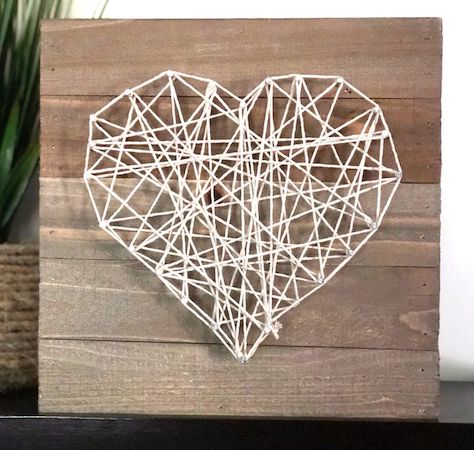 Get the tutorial here
6. Geometric Bear String Art by Rachel Teodoro
Use embroidery floss to create this bohemian tribal style geometric string art bear canvas. It would make the perfect addition to any room, home, or cabin! It would also make a great gift for anyone who loves the outdoors!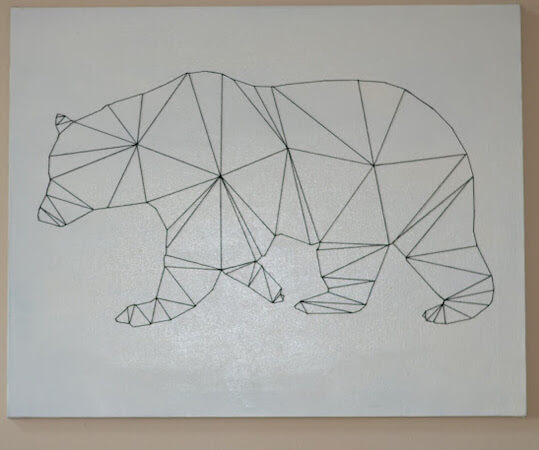 Get the tutorial here
7. DIY String Art Ornaments by A Beautiful Mess
You could easily customize these and use any colors for the tree and ornaments that you like. And if Christmas trees aren't your thing, you could absolutely choose a different design for this string art ornament concept.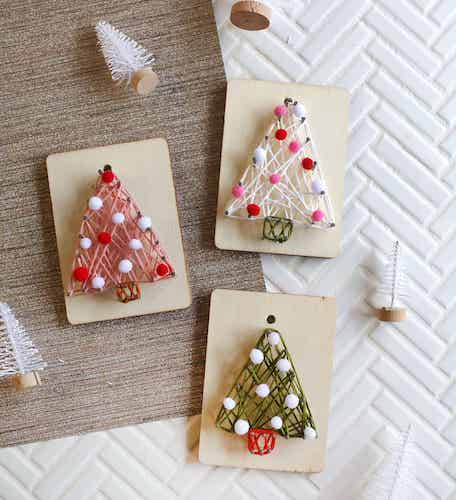 Get the tutorial here
8. DIY Geometric String Art Display by Dormify
What better way to add instant cool factor to the entire room by covering a bland dorm or apartment wall with a minimalist piece of art.
Make it your own by using some damage-free clips to show off your best college memories. Geometric shapes have never looked so chic.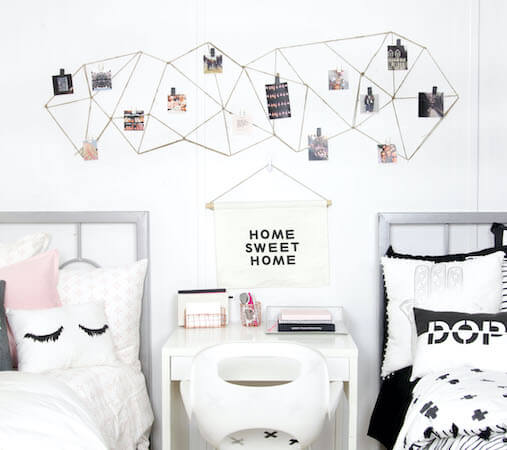 Get the tutorial here
9. Geometric String Stars by Creative Jewish Mom
Aren't these geometric string craft stars fabulous? These work perfectly with dreidels and menorahs and candles as a part of our Hanukkah themed crafting!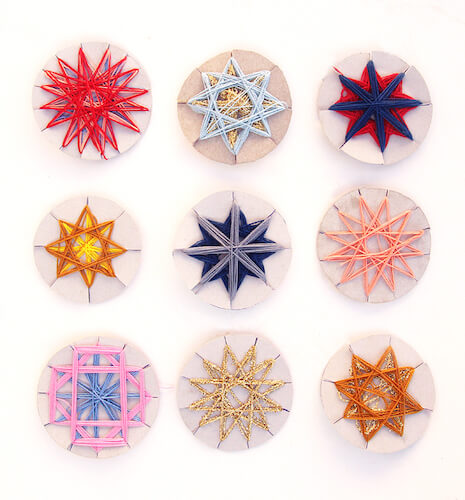 Get the tutorial here
10. DIY Elephant Geometric String Art Template by String Art Design Any Bo
A DIY Elephant Geometric String Art Template is a great addition to your designs at home to make you feel the ambience of being out there in the forest with nature's best creatures!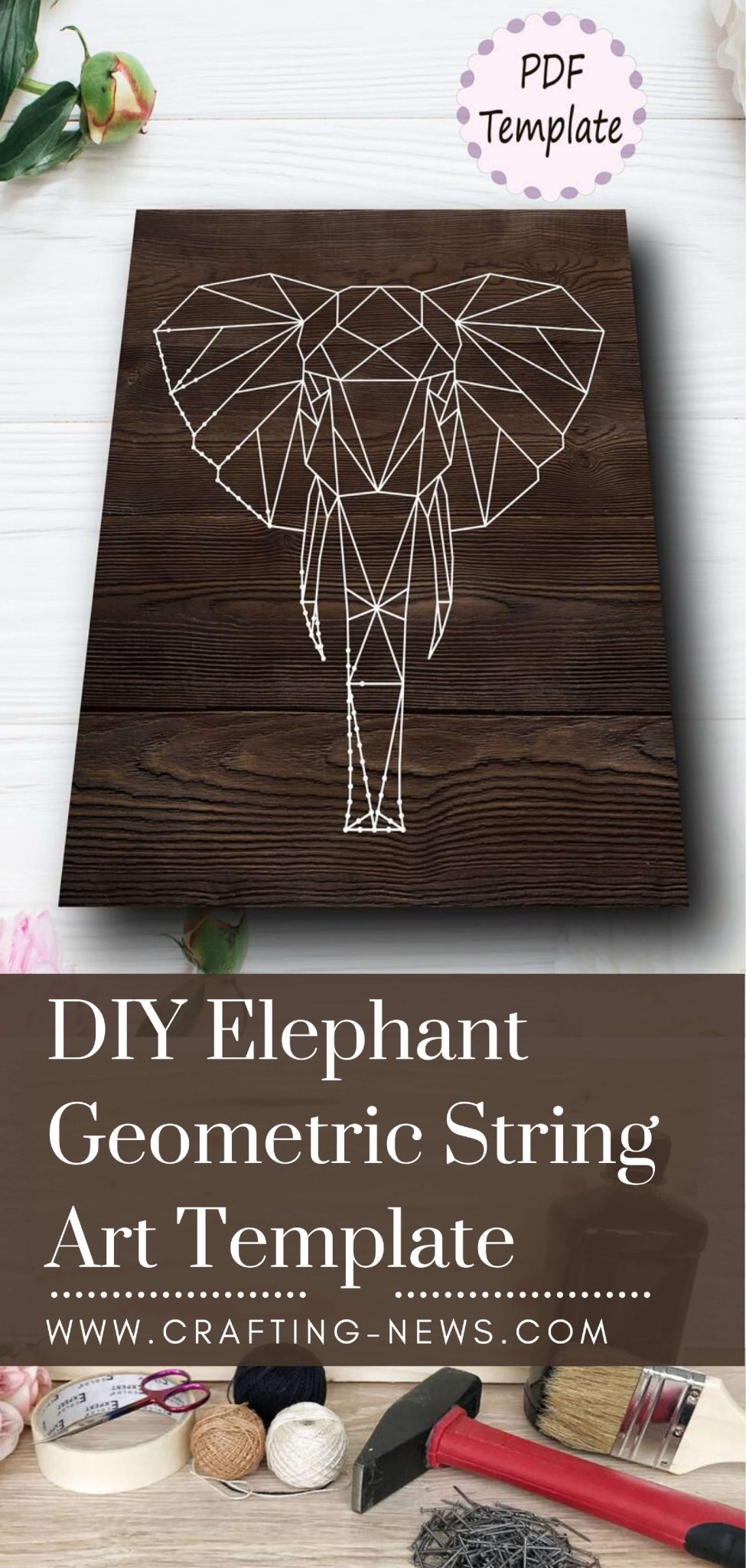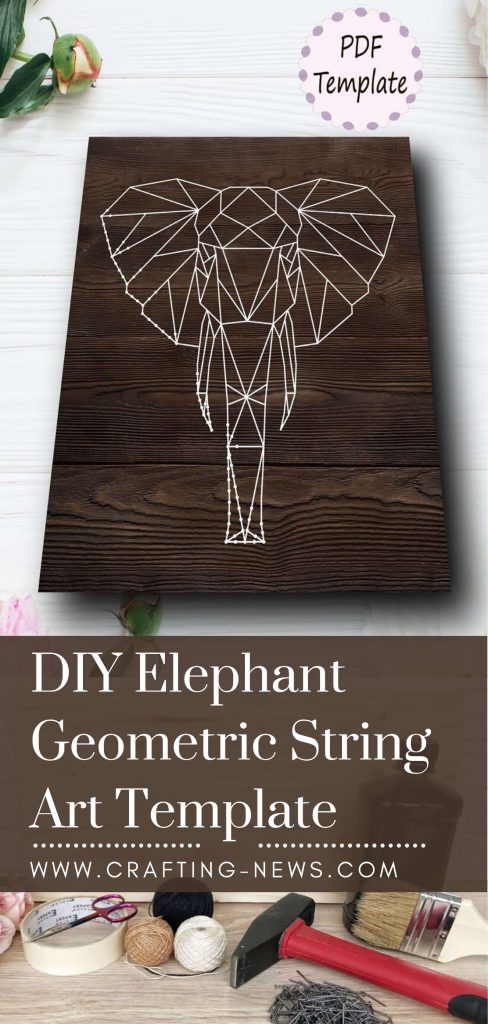 A forest will not be complete without this huge, long-nosed creature that has walked the earth from ancient times 'til now. Elephants are survivors of the past.
They are gigantic animals in size and shape. However, they are sweet and soft-hearted especially when it comes to their young.
Advice from an Elephant:
Make a big first impression
Don't work for peanuts
Be all ears
Know when to put your foot down
Be gentle, no matter your size
Charge ahead
&
Never forget what's important
by KaraMarie
ABOUT THE GEOMETRIC STRING ART TEMPLATE
The DIY Elephant Geometric String Art Template is a ready to use template in two pdf files – one without background and one with background.
This design was proudly introduced and created by AnyBo of StringArtDesignAnyBo. She created a design that uses of strings to craft a stylish design for the home.
The template AnyBo provides include the places where the nails are to be put so it would be ready for crafting. Now that we have that down, let's proceed to the materials that you will need.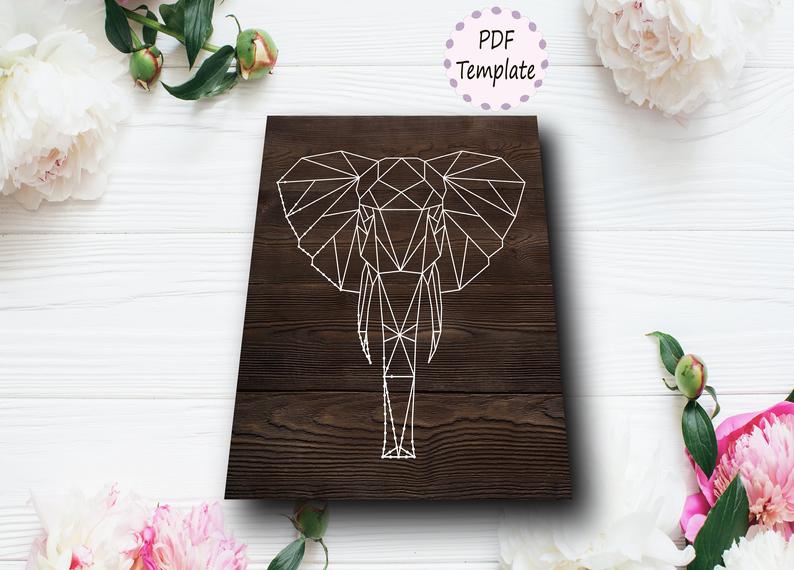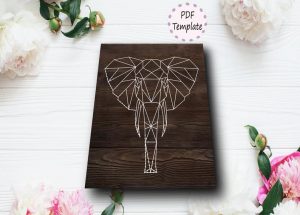 MATERIALS TO START THE DIY
Hammer
Nails – small
Tape – make sure that this will stick to the board as this will pin down your printed template
Yarn – or any string of your choice
Glue – to stick the ends of the yarn
Scissors
Board – a 12 by 18 inch painted or unpainted
Be sure to check our round-up of the Best Wood for String Art.
FINISHED SIZE OF THE STRING ART
The pattern is best for a 12 by 18 inch board output. For a bigger or smaller pattern, you can message the designer.
MAKE MOST OUT OF THIS ELEPHANT STRING ART
String art design is quite an easy craft to do, provided that you already have an existing pattern. This art is famous and well-loved by many people – you may have even done this in school!
As a wall décor or as a gift to a loved one, this creative art design would be lovely and sincerely appreciated. You have the freedom to play with colors and designs that you or your recipient prefers.
The jungle or luxe paradise theme is quite in nowadays. If you're planning on redecorating, this Elephant will fit in perfectly.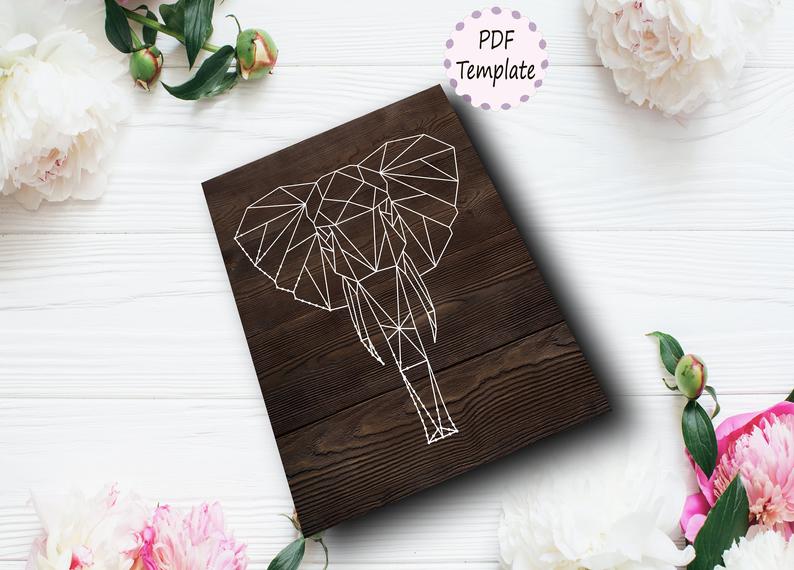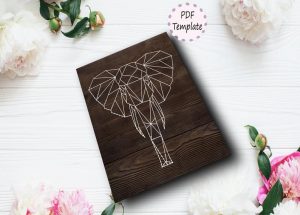 Start Making Your Own DIY Elephant Geometric String Art Template
This elephant design suits both the young and the adult kind of folks. Also, this project will not ask you to spend too much money for its production. It only requires printing and gathering of some materials which are all available anywhere!
Craft your own piece of string art now and level up the creativity in your personalized home decorations and displays! Come and try this easy DIY Elephant Geometric String Art Template!
IT'S TIME TO MAKE YOUR VERY OWN GEOMETRIC STRING ART IN JUST ABOUT ANY SHAPE YOU'D LIKE WITH THESE SIMPLE TUTORIALS!
Thanks for taking the time to look at this roundup. If you try to make your own, we'd love to see your handiwork. Be sure to post it to our Facebook Page.
You might also want to check out these Easy Sunflower String Art Template, Heart String Art Tutorial and more string art patterns here.
Start making your favorite geometric string art patterns today and string away to your heart's content!