Easy Sunflower String Art Template is an easy to follow foolproof pattern that makes an amazing finished project that will brighten anyone's day.
Flowers make some hearts melt with gladness and love. The sight of even a single red, red rose in your window can be such a nice view.
But gone are the days when red roses are the hottest pick among flowers. As summer is a season of a hot climate, it is also the harvest time for another beautiful, pleasing flower to the eyes. Say hello to Sunflowers!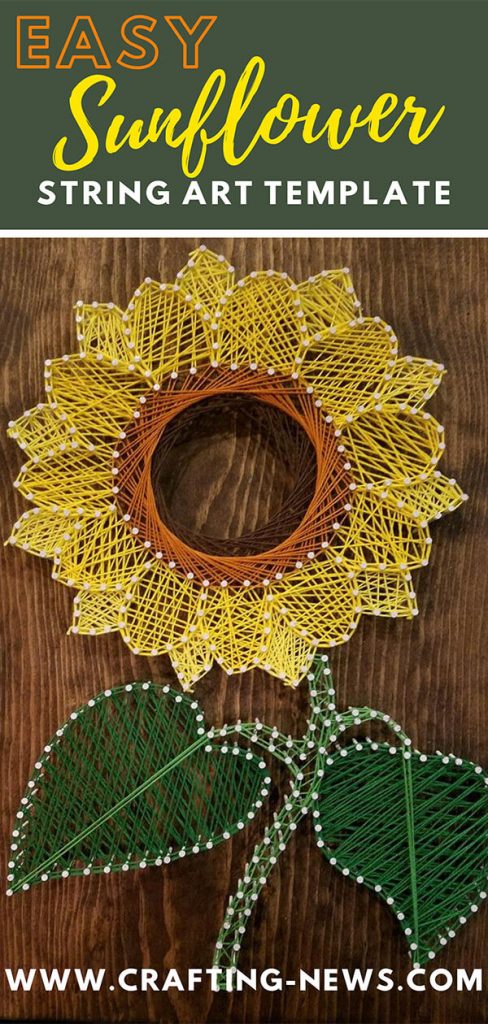 Sunflower String Art Template
It looks lovely especially with the sun shining so bright outside. As a gift or just for your home use a sunflower string art that does not wither nor die with time would definitely bring unlimited joy and pleasure!
Be like a Sunflower so that even on the darkest days, you will stand tall and find the sunlight.
All about the String Art Sunflower

This sunflower string art pattern was made not just as an alternative to preserving the beautiful sight of a yellowish gold flower on the walls of your house. It is also an innovative way to brighten up your day, too. Seeing this sunflower string art early in the morning will make you feel refreshed and invigorated!
This Sunflower string art template design was created by Rebecca Entwisle of StringingAlongWithMe. As a teacher of string art classes for more than three years, Rebecca knows how to make this form of crafting easier and more interesting.
Sunflower String Art Pattern Template
So, to know more about this Sunflower string art template, here are the details regarding the things that you will get once you get your hands on the downloadable template:
String art templates
Downloadable image
Terms and conditions
Instructions
Zip file with SVG, DXF, and PDF files
STRING ART SIZE
This string art is ideal for a size 12 x 18 wooden board. If you want to change it, you can just communicate with the creator herself.
SILHOUETTE AND CRICUT USERS
Rebecca has mastered string art crafting. Years of working with the craft taught her the ins and outs. What might seem like a simple hammering of nails and stringing yarn can actually be made easier!
Silhouette and Cricut machines will make a better string art output according to Rebecca. Trying to make your printed design on a paper and then putting nails in it will just make the paper stick underneath.
Cleaning the paper out will eat out your time. Using Silhouette or Cricut will be a quicker and easier way.
DECORATION MADE EASY
Make someone's day lovelier and more colorful by giving away one finished product of this Sunflower string art template that you personally made. What's more exciting? You get to make more of this for your room, office, and anywhere else that you like by simply downloading once.
THIS SUNFLOWER STRING ART TEMPLATE WILL SURELY BRIGHTEN YOUR DAY!
When you're done making this sunflower string art pattern, do share with us your finish work on our Facebook page. Looking for more creative crafts? Check more fun crafting ideas here.
This sunflower string art design is going to be the easiest and fastest way to accomplish your very own string art craft. Make sure you're ready with all the tools you need to create the most perfect version of this Easy Sunflower String Art Template.
Get crafting now and see how brighter your days to come will be!