String art has been around for ages, but it's making a huge comeback in the craft community right now. And for a good reason! It is so cute and ridiculously easy. To get you started on making some gorgeous string art pieces, check out these heart string art patterns below.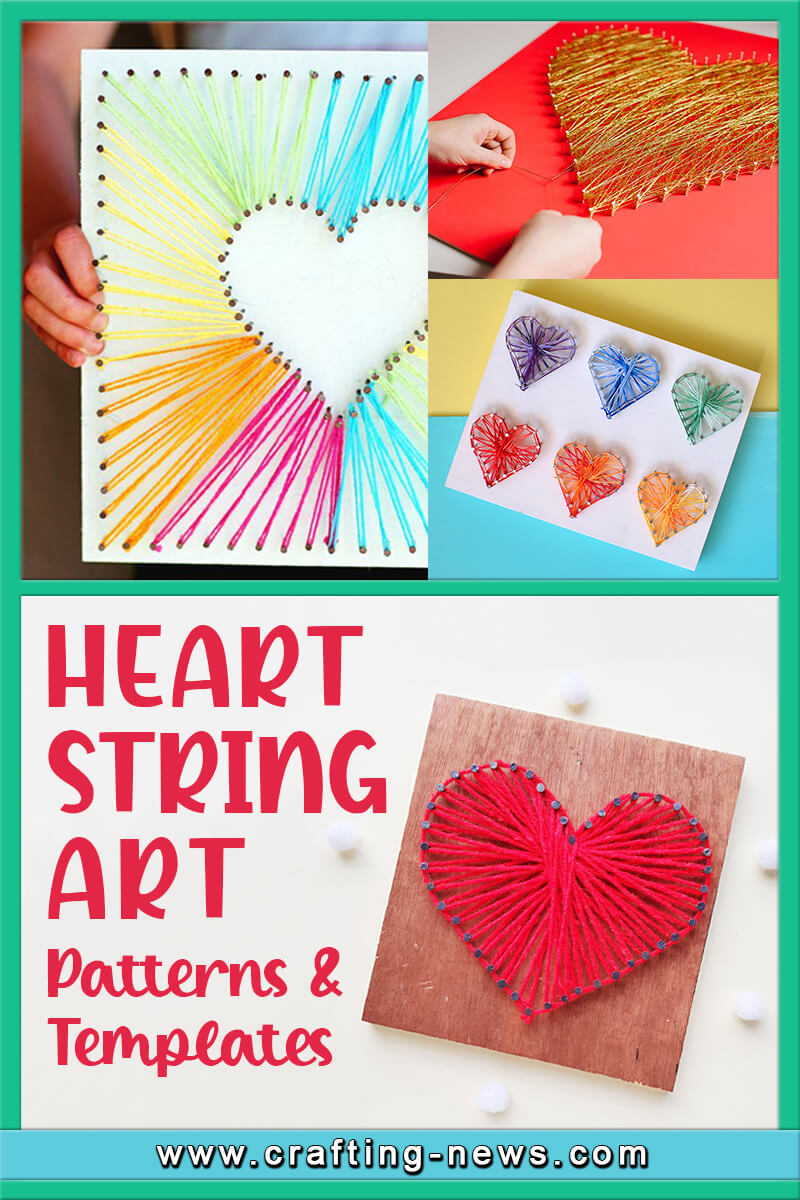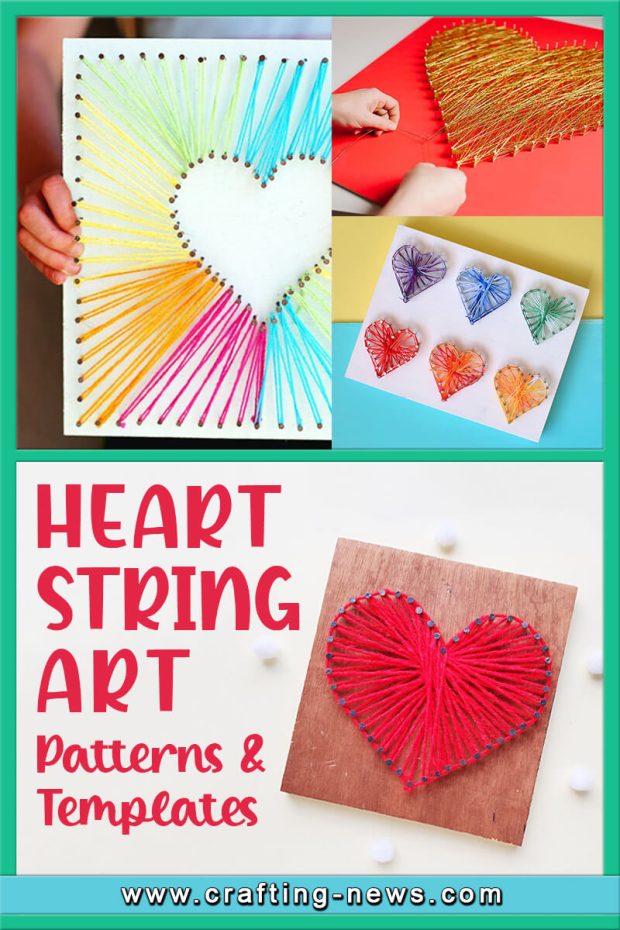 12 Heart String Art Crafts
You've heard of wearing your heart on your sleeve, but with these craft projects, you can display your heart as a home décor piece. Pick out your favorite thread, grab some nails and start creating your own unique string art. We've also included simple tutorials that you can do with the kids! Isn't that fun?

1. String Art Heart Pattern by The Spruce Crafts
This tutorial teaches how to make a beautiful barn wood plaque adorned by a lovely heart. It's not as hard as it looks! Once you have your supplies gathered you can make it in less than thirty minutes.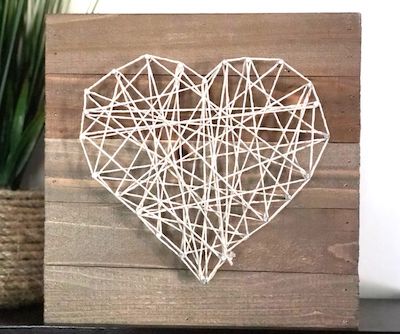 Get the Pattern here

2. Easy Heart String Art by Moms And Crafters
There's nothing like a good old classic made with a holiday theme to get in the spirit of things! With Valentine's Day, things can get very tacky but a heart string art template makes classy decor easy to make.

This one is red, but you don't need to keep things anatomically correct. Make it white or cream to keep things clean and stand out on the wood background. Use black string for a more industrial look that goes nicely with the rough wood and nails.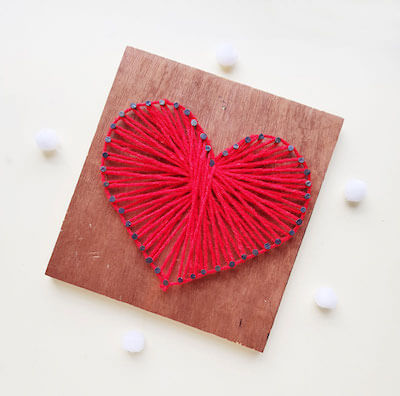 Get the Pattern here

3. Modern String Art Heart by HGTV
Make this inexpensive and modern string art heart to decorate your home for Valentine's Day. Bright, florescent pink and metallic gold make for a bold conversation starter that will fill your home with a dash of color.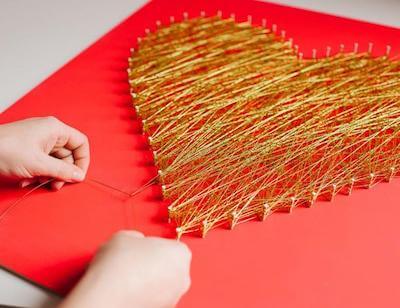 Get the Pattern here

4. Cardboard Heart String Art by Happy Hooligans
This cardboard heart string art project introduces kids to making string art designs without the use of wood, nails or tacks. All you need is a piece of cardboard and some string or fine yarn.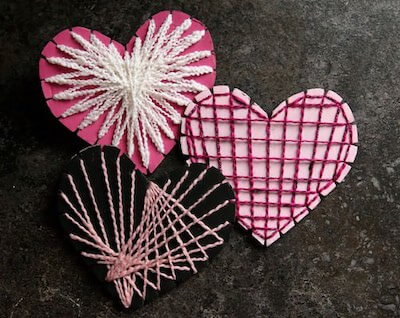 Get the Pattern here

5. Colorful Valentine Day Heart String Art by Sisters, What!
This colorful Valentine Day Heart String Art tutorial is easy to do and fun to use for valentines day or leave up all year long. It's even a great kid craft project.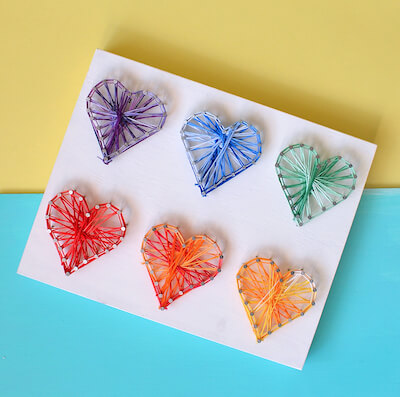 Get the Pattern here

6. Paw Heart String Art Template by Eight 9 Designs
Here's a unique template that's a great idea to make for those who just love animals. Make this art and present it to someone who has pets at home.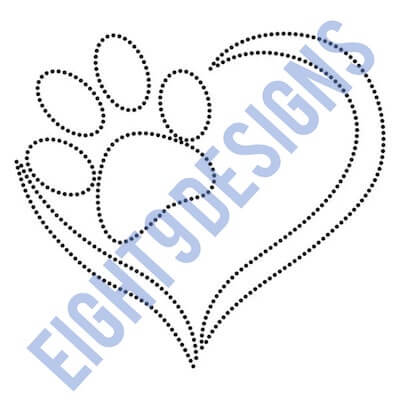 Get the Pattern by Eight 9 Designs here

7. Double Heart String Art by Home Crafts By Ali
If you have a hammer and some embroidery floss, you can make this love-ly project in no time at all. Making this string art home decor piece can be easy for a person with any level of experience. You will just have to follow this simple step-by-step tutorial to make a cute decor piece in your favorite color.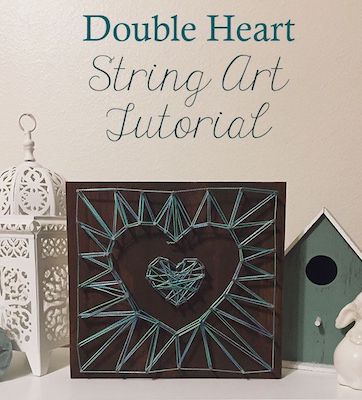 Get the Pattern here

8. DIY String Heart by Green Wedding Shoes
This giant heart string art is pretty easy to make yourself. Such a rad piece for your reception decor that you can keep for your home, as well. Total cost for this project – $35 (the most expensive part is the wood!) and it can be done in a few hours.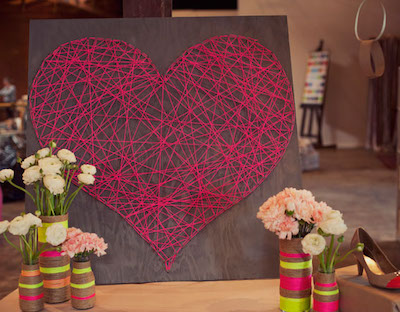 Get the Pattern here

9. Easy DIY Heart String Art by Mombrite
If your kid loves to sew, he or she will love creating this easy heart string art for Valentine's Day or Mother's Day. It makes a wonderful homemade gift for grandparents, teachers, and friends.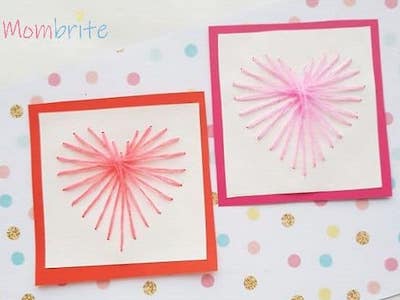 Get the Pattern here

10. Valentine String Art Heart by Glued To My Crafts
This craft is super easy (even for the novice) and makes for great inexpensive decor to celebrate the "lovestruck" holiday. With just a simple white canvas, some pony beads and some pretty twine – you too can pull it together in minutes!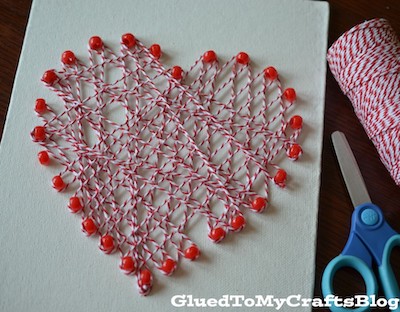 Get the Pattern here

11. Mini Heart String Art Templates by Bluff City Artistry
This set of templates is the perfect gift to make for someone you love. It could also be a fun addition to a party as an activity or party favors. The templates are designed to be used with a 3.5×4 inch or larger piece of wood.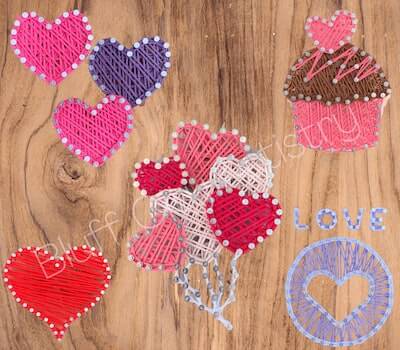 Get the Pattern by Bluff City Artistry here

12. Heart String Art by Sugar Bee Crafts
This heart string art is the perfect way to combine fun and color with elegant home decor, great for a piece of art hanging in your child's study or bedroom. They can have their own creativity shine through by picking the shape and color, and it is fun to make (be sure that you handle the nails for the prep work).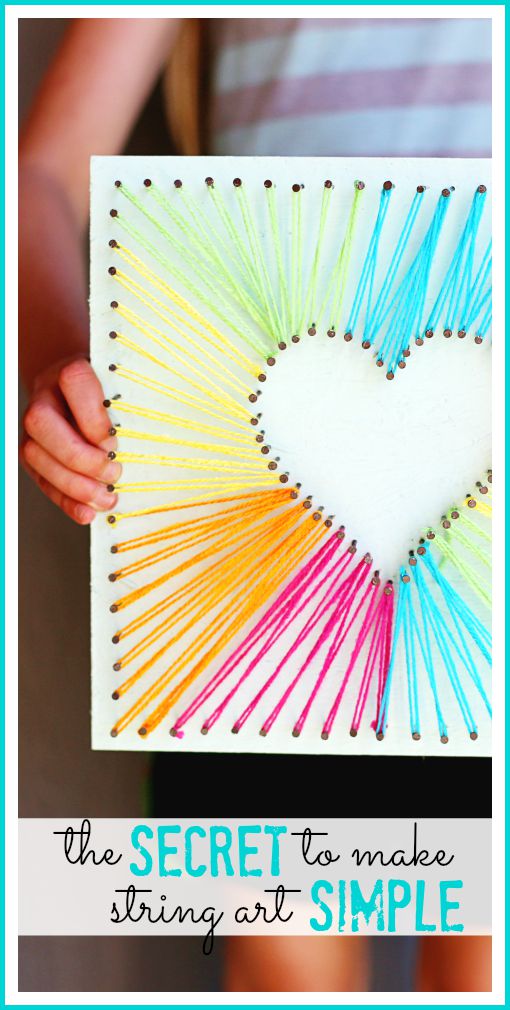 You can also make a more 'living-room-friendly' piece by using a different image, such as a wine bottle, and using neutral yarn colors such as greys and beiges with a pop of color.
Materials:
Yarn in your choice of color
A board in the size of your choice
A printed heart shape
Nails
Tools:
Ruler
Pencil
Hammer
Drill (not essential but makes the process quicker)
Also see: Canvas String Art Graffiti Pattern and Best Geometric String Art Patterns
STRING AWAY TO YOUR HEART'S CONTENT WITH THESE HEART STRING ART PATTERNS!
Thanks for taking the time to look at this roundup. If you try to make your own, we'd love to see your handiwork. Be sure to post it to our Facebook Page.

Interested in more string art projects? Check out these 13 String Art On Canvas Patterns, 13 Easy Sunflower String Art Templates, 10 Geometric String Art Patterns, and Best Wood for String Art.
Spread the love with these heart string art patterns which you can display around your home or offer as a gift to someone you care about.