Halter tops are designed to keep you cool and comfortable. They are comparable to tank tops. However, halter top straps fasten behind or around the neck. I think every woman who lives in a hot climate should have at least one halter top in their wardrobe.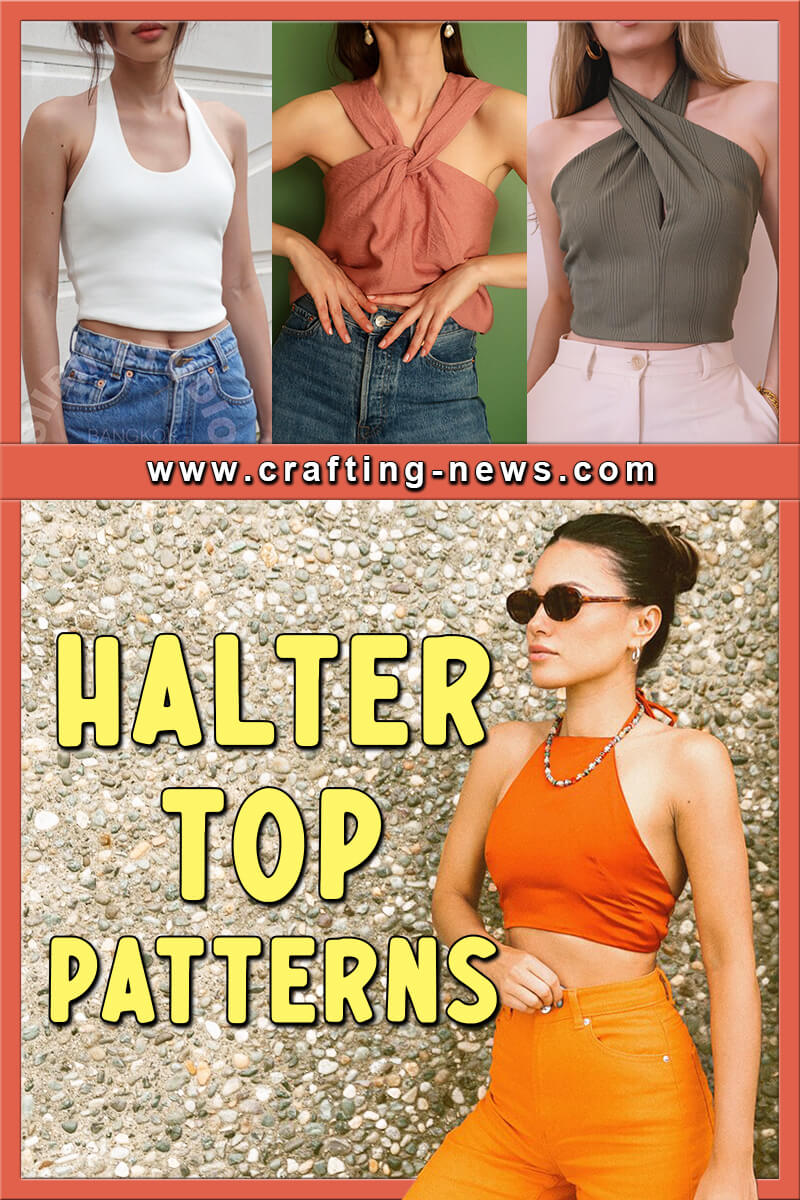 Below are 20 halter top sewing patterns. I have included a wide variety of styles. There are free halter top patterns and paid patterns.
1.

Arwen Twist Neck Halter Top Sewing Pattern

by Theblankk

Perfect for cocktails, parties, and nightclubs, this halter top has a twist neck front design. It is an elegant top that can be worn with jeans, slacks, skirts, or shorts.

This is a beginner-friendly sewing pattern. You will need basic sewing experience. The PDF download includes printable pattern pieces, an instruction pamphlet, and a step-by-step tutorial. The pattern contains 7 sizes, US 4-16 (EU 34-46).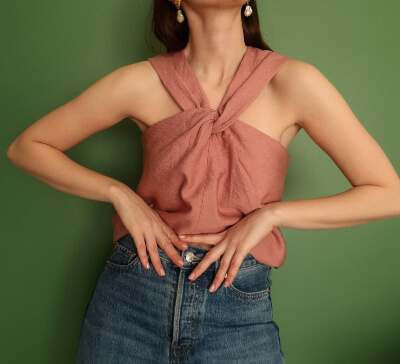 Find the Pattern by Theblankk Here
2.

Halter Crop Top Pattern

by IndiePattern

Make this halter crop top using a fabric with a slight stretch. The casual halter crop top has a form fitting design that is perfect for clubbing, the beach, and the park. Pair it was your favourite jeans or shorts for a stylish look.

Perfect for beginners, this halter top pattern includes clear step-by-step illustrated instructions. It can be completed in as little as 2 hours. The pattern comes in sizes S, M, L, and XL.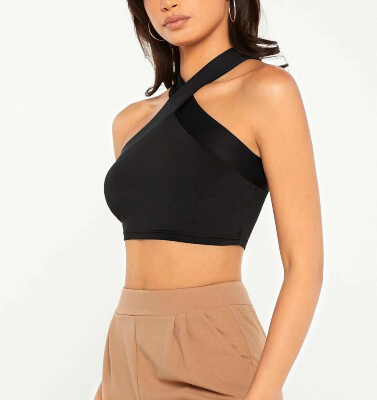 Find the Pattern by IndiePattern Here
3.

DIY Halter Top Pattern by Wobisobi

Halter top patterns do not need to be complicated. Use this free tutorial to learn how to make a posh halter top out of an old man's T shirt. With this pattern, you can easily customise the design to make a unique piece just for you. Add ribbon, ruffles, or cords, the choice is yours.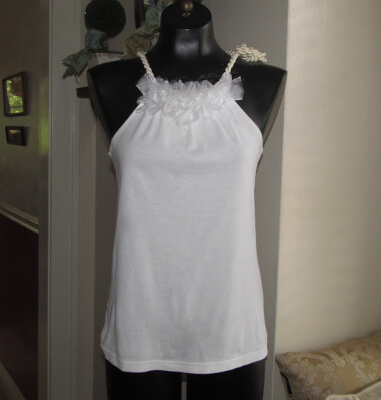 Find the Pattern by Wobisobi Here
4. Basic Halter Top Sewing Pattern
by SiiriiStudio
Here is a great pattern for a basic halter top. This comfortable halter top should be a staple in every woman's wardrobe. It has a casual style ideal for everyday wear.
The halter top pattern includes step-by-step written sewing instructions and detailed illustrations. Stretch knit fabrics are required for the top. PDF halter top patterns are provided in sizes XS-S, M-L, and XL-XXL.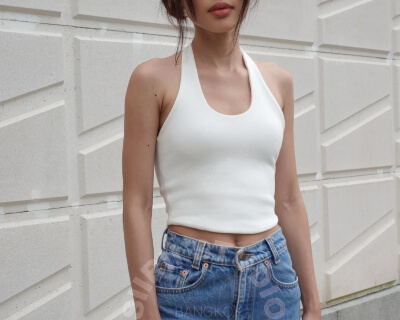 Find the Pattern by SiiriiStudio Here
5.

Women's Halter Top Sewing Pattern by SeaminglySmitten

The Sunny Halter Top is feminine and comfortable. The eye-catching top can be worn to work or the club. Pair it with capris, jeans, or leggings. During the colder months, wear it with a blazer.

Included in the download are full-size, colour-coded pattern pieces. Sizes are for XS–XL. There are also suggestions for creating petite and tall sizes.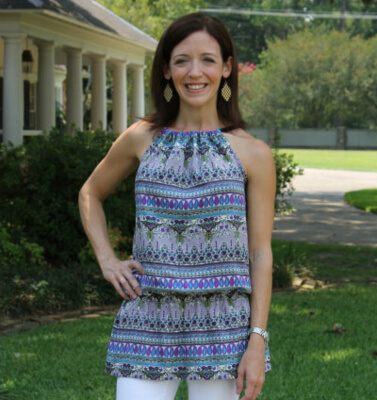 Find the Pattern by SeaminglySmitten Here
6. Handkerchief Halter Top
Pattern by The Dreamstress
If you are looking for quick and easy hater top patterns, it does not get much easier than a handkerchief halter top. Handkerchief halter tops used to be big in the 1930s, and now they have made a comeback.
Follow along with this free tutorial to learn how to make this light and stylish top. Once you make one, you will be looking for new scarves to make even more.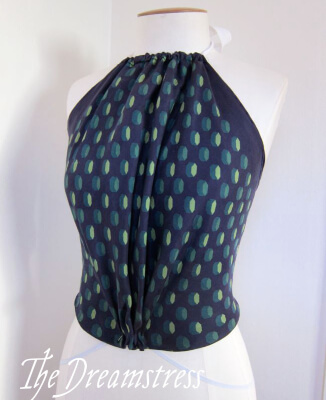 Find the Pattern by The Dreamstress Here
7. Keyhole Halter Top Sewing Pattern
by CluelessPatterns
Featuring a large keyhole front, this slim fit top will keep you cool. Wear this sexy backless halter top, wear with jeans, leggings, or shorts. This is a simple and easy to make halter top. It is designed for stretchy fabric. The download includes detailed sewing instructions and printable pattern pieces in A4 format.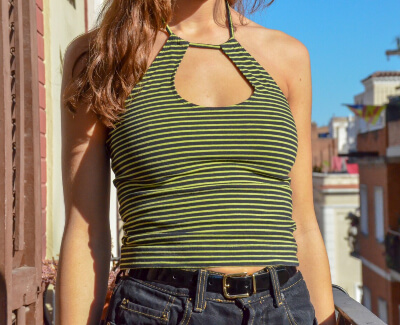 Find the Pattern by CluelessPatterns Here
8. Halter Crop Top Sewing Pattern
by RightSidePatterns
Here is an intermediate level sewing pattern. The halter top features a deep v neck, tie neck, and tie back. It has a casual design that works well with jeans and shorts. There are clear and easy-to-follow instructions with photos to help you make the top. The pattern is for sizes US 0-14 (UK sizes 4-18).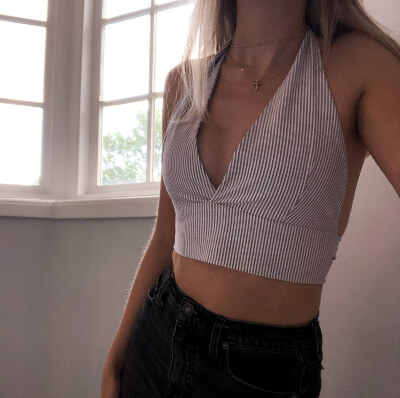 Find the Pattern by RightSidePatterns Here
9. Womens Halter Neck Bralette Style Cropped-Top
Pattern
b
y Beautifulpattern
You will have a lot of fun choosing the fabric to make this reversible halter top. Use patterned fabric for one side and a solid on the other. This will save you time. Instead of making 2 tops, you can make one. The sewing pattern comes in sizes XS, S, M, L, and XL. It is formatted for US letter, A4, and A0 printers.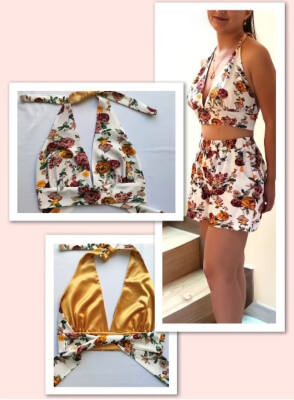 Find the Pattern by Beautifulpattern Here
10. Halter Crop Top Sewing Pattern
by AuraPatterns
Make a statement wearing this criss cross design halter top. It would make a stunning top for date nights, holiday parties, or just hanging out in the sun.
This sweet halter top is a simple, basic sewing pattern. It is easy to construct and sew. It is a wonderful pattern for beginners and experienced sewists alike. The pattern comes in sizes XS, S, M, L, and XL.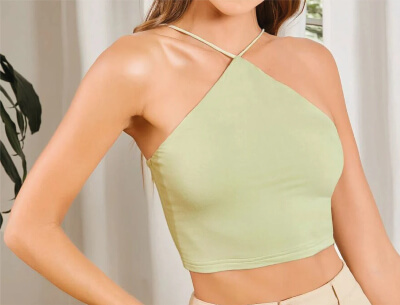 Find the Pattern by AuraPatterns Here
11. No Sew, DIY Halter Top
by Wobisobi
Grab an old T shirt and a pair of scissors and get busy making this super simple halter top. It does not get any easier than this. Simply follow along with the tutorial, make a few cuts, twist the straps, and tie it on. There is no sewing involved at all!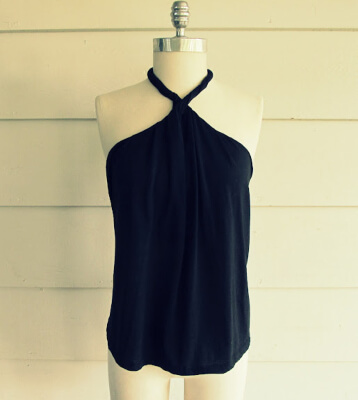 Find the Pattern by Wobisobi Here
12. Twisted Halterneck Crop Top Pattern
by ProjectStitchPattern
The Tia halter top pattern is a basic crop top with twisted neck straps. The top is perfect for spring and summer. It would look cute with a pair of high-rise trousers or a midi skirt.
This is a quick and easy sewing project. It is suitable for all sewing levels. The instruction manual includes everything from fabric suggestions to step-by-step sewing instructions. The pattern includes sizes US 2-14 (UK 4-16).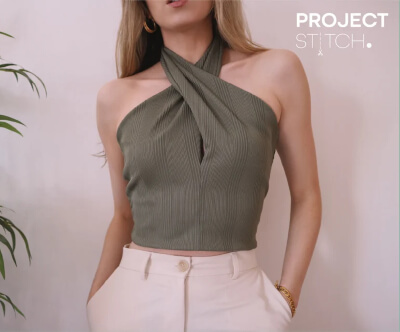 Find the Pattern by ProjectStitchPattern Here
13. Fitted Women's Halter Top Sewing Pattern
by HoneyDewPatterns
This simple summer tank top will become your favourite go-to, summer top. The tank top will get you some sun without exposing too much skin. This halter pattern includes sizes XS-XXXL. The designer recommends fabrics with good stretch such as jersey, knits, and ribbed.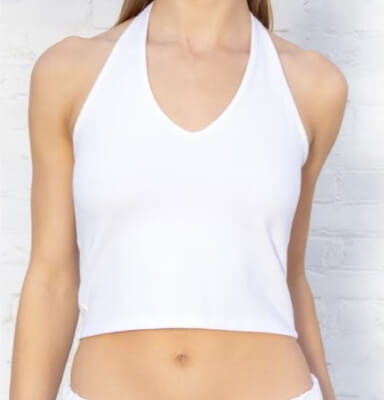 Find the Pattern by HoneyDewPatterns Here
14. Amanda Halter Crop Top
from PatternsByPatronfy
Stay comfortable wearing this cropped halter top. It features a wide waistband, ruched detailing, a crew neckline, and an open back with tie closures.
The pattern includes 6 sizes: US 2, 4, 6, 8, 10, and 12 (UK 6, 8, 10, 12, 14, and16). To make the project even easier, there is a video sewing tutorial that will walk you step-by-step through the whole process.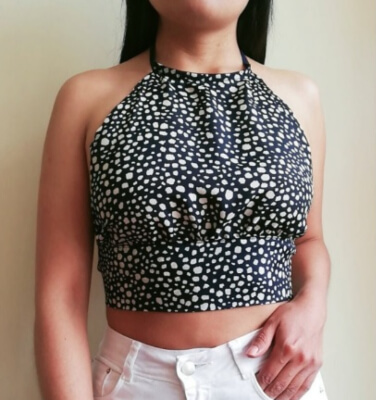 Find the Pattern from PatternsByPatronfy Here
15. Halter Top Sewing Pattern
by TransformedByTracy
This halter top features an open back, cropped length, deep v neck, and tie back. The top pairs well with long skirts and jeans. The digital pattern is formatted for US letter sized paper. Included are sizes small, medium, and extra-large. To make the halter top, follow along with the step-by-step video tutorial.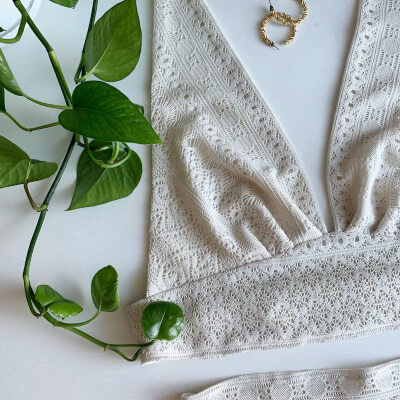 Find the Pattern by TransformedByTracy Here
16. BRALESS Tank Top Sewing Pattern
by AlphaPatterns
Who wants to wear a bra with a halter top? Nobody! With this sewing pattern, you can make two variations of an elastic braless tank top. You can choose to make a classic top of one with a criss cross tie back.
The pattern is available for sizes US 2-12 (UK 6-16). It is written in English and Spanish. There is a link to a video that will help you print and assemble the pieces.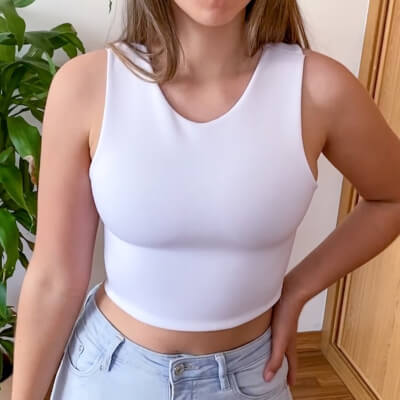 Get the Pattern by AlphaPatterns Here
17. Simple Halter Top Sewing Pattern
by CluelessPatterns
Wear this halter top on its own or layer it under a blazer or cardigan. The top is simple, yet cute and stylish. It is comfortable to wear and perfect for casual outings, shopping, and date nights.
The halter top pattern is simple and easy to make using stretchy fabric. The printable PDF includes detailed sewing instructions and the halter top patterns formatted for A4 paper.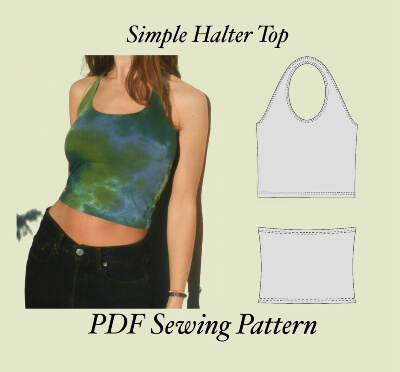 Find the Pattern by CluelessPatterns Here
18. Cutout Backless Crop Halter
Pattern by SewiStudio
The design of this DIY halter top makes it adjustable, giving you the ability to tighten or loosen the top. The neck has tie straps, and the back has criss cross tie straps. This is an easy-to-follow pattern with step-by-step instructions and photos. Sizes are XS, S, M, L, and XL.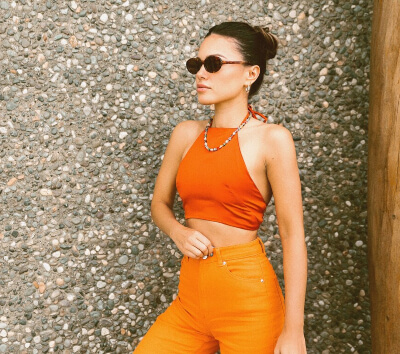 Find the Pattern by SewiStudio Here
Use an old man's button-down shirt to make this wrap crop top that is perfect for summer. The top is versatile and can be worn 3 different ways. You can knot it in front, tie a bow in the front, or tie it behind your back.
This free halter top pattern will fit a size US 2-4. All you need to make the top are a large man's shirt, matching thread, pins, scissors, and a sewing machine.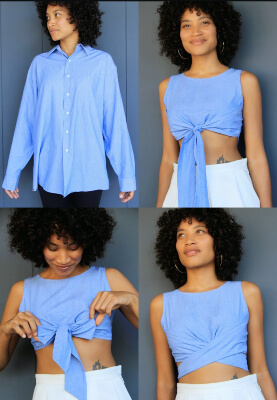 Find the Pattern by The Felted Fox Here
20. Amelia Easy Halter Top Pattern
by PatternCosPatterns
The Amelia halter top has a unique design. You can tie it in different ways to create different drapes. There are 6 sizes from 36 to 46. The pattern is intended to be used with elastic fabrics. Included with the pattern is access to a video tutorial with English subtitles.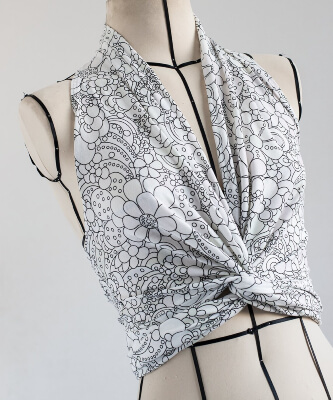 Find the Pattern by PatternCosPatterns Here
Do you have a hard time staying cool in the summer? Use a few of these halter top patterns to make some summer tops.
You can also whip up some of these summer clothing patterns: Buffet Dress, Lettuce Hems, Swimsuits, Boho Dresses. Then share some pictures of your finish works on our Facebook Page.
T shirts are great in the summer, but if you are like me, I still get too hot. If you want to keep cool while staying stylish, make some new tops using some of these hater top patterns.