If you're having trouble finding a swimsuit that "suits" you just right, endlessly shopping online isn't your only option—you can make one, instead! With options to customize your suit through style, surface pattern, and fabric type, how could you not give these swimsuit sewing patterns a try?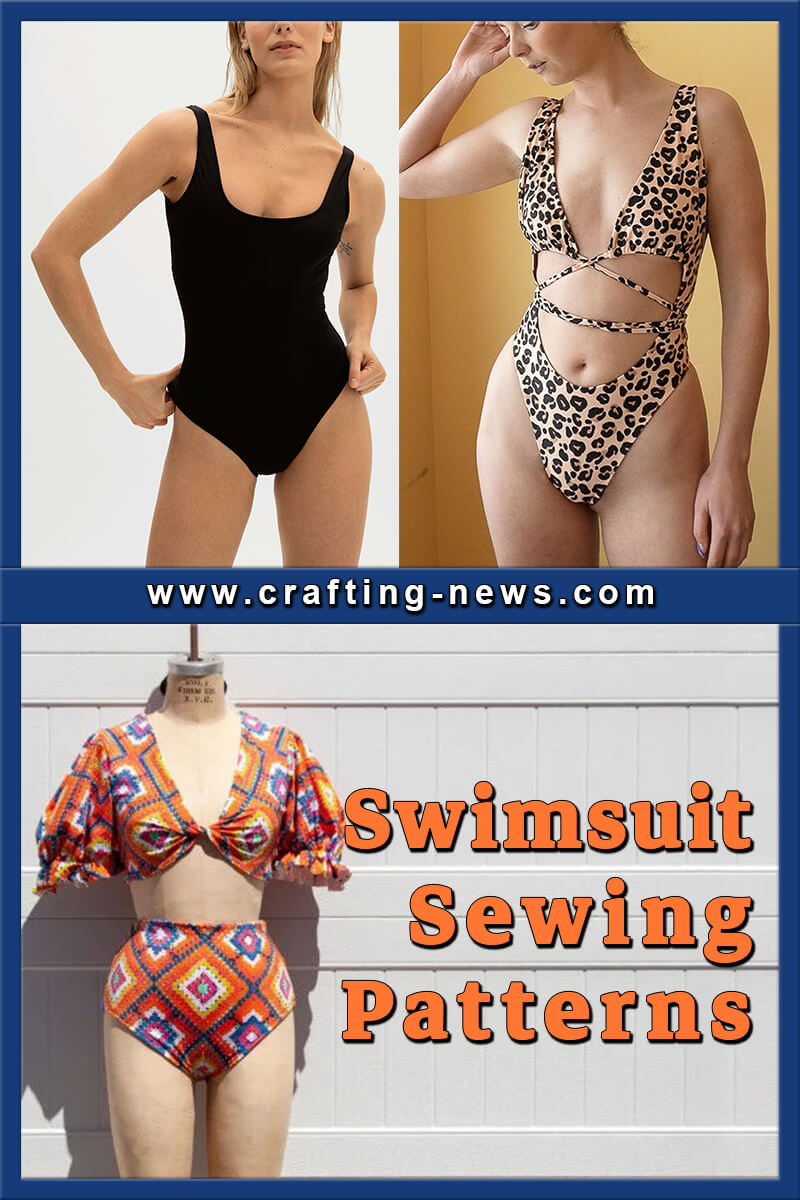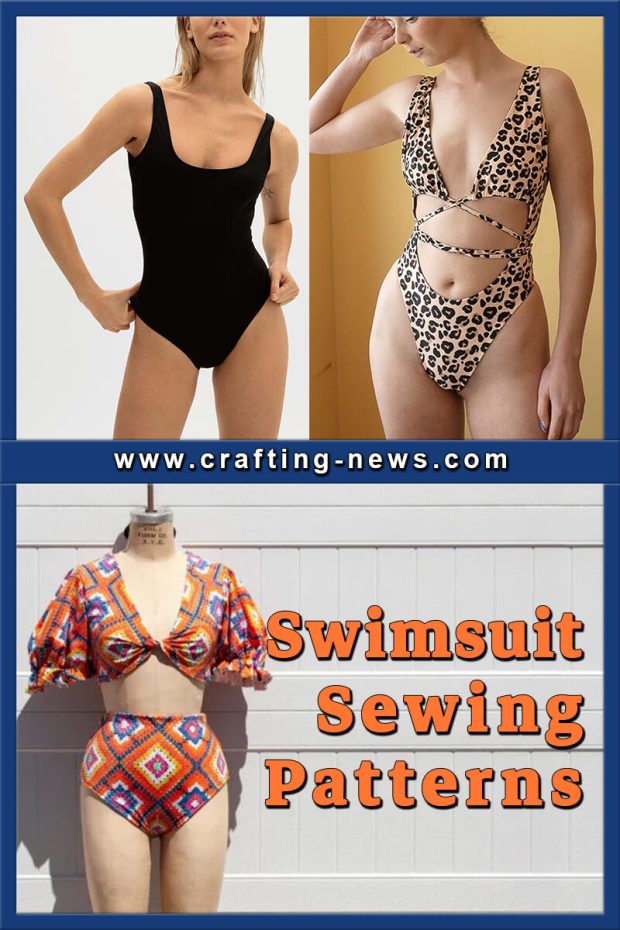 Whether you're all about bikini, tankini, or one-piece, there's one true thing: This summer, it's all about the me-made swimsuit. Mix prints and colors for a swimsuit that celebrates your body and creativity!

1. Square Neck Swimsuit Sewing Pattern by EK Sewing Patterns
This swimsuit features a modern square neckline, minimal topstitching and wide straps for an easy fit. It is versatile enough for every summer activity. It is comfortable, looks flattering, and stays put—no matter how you move.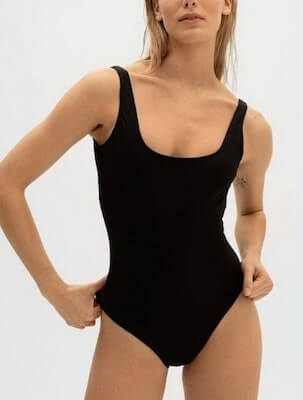 Get the Pattern by EK Sewing Patterns here

2. Isabelle One Piece Swimsuit Sewing Pattern by Edgewater Ave
This Isabelle One Piece is a sexy style that covers you in all the right places. This one piece might surprise you! It's flattering on all body types and the adjustable ties add an adorable detail.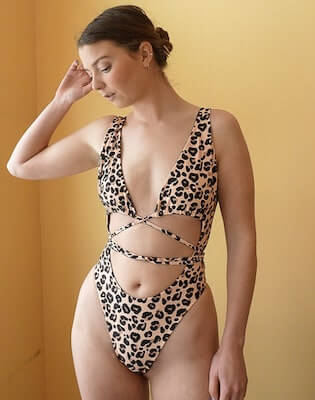 Get the Pattern by Edgewater Ave here

3. Midline Free Swimsuit Sewing Pattern by Gingham Hive
This Midline Swimsuit is a two piece swimsuit that hits at your waistline. It offers real support options with an integrated shelf bra or supportive sports bra that can also used separately.

High waisted boyshort inspired bottoms for more than your average coverage back there. Unique construction techniques give you a professional finish with enclosed seams.

Easily customized to your unique body shape, torso length, rise and personal preferences. Mix and match fabrics for a totally rad swimsuit. Go off menu and make sports bras for your home workout routine or make athletic tops for anything from rock climbing to jogging.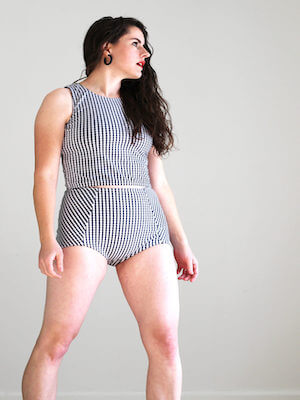 Get the Pattern here

4. Women's Mairin Swimsuit Sewing Pattern by Sew A Little Seam
This Women's Mairin Swimsuit Sewing Pattern is loaded with options! Choose from a one piece, tankini, crop, bikini, and peplum and customize from there. Options include wide and narrow straps, V or scoop necklines for both the back and front as well as a halter and open back.

Bottoms can be made in high, mid, or boy cut and also feature a low or high waist. There are so many options you can make thousands of versions!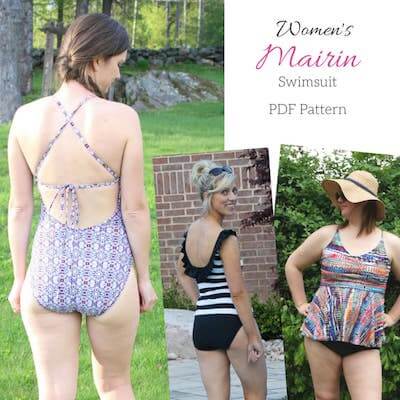 Get the Pattern by Sew A Little Seam here

5. Gidget Bikini Sewing Pattern by Ruby Jean's Closet
This Gidget Bikini Swimsuit has a vintage-y, retro feel that's oh so much fun! It's fully lined for comfort, can be made from quilting cottons, and the pattern bottom comes with sizing options for wearing with or without a diaper underneath.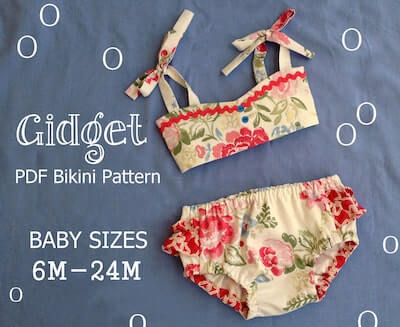 Get the Pattern by Ruby Jean's Closet here

6. Swimsuit Sewing Pattern by Lorien Knits
This swimwear pattern will allow you to sew your own one-piece swimsuit with a sweetheart or a square neckline. The back is a bit cheeky and the front has a good coverage. There is a back band to prevent the straps from falling off of your shoulders. This swimsuit is a perfect match between practical and sexy!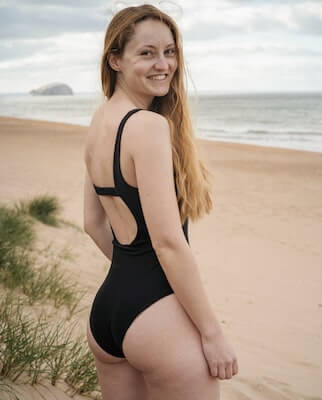 Get the Pattern by Lorien Knits here

7. Reed Swimsuit Sewing Pattern by Mood Sewciety
This Reed Swimsuit is a two-piece bikini with a retro vibe. It features cute design elements such as puff sleeve and twist off front top perfect for any 1950s inspired swimwear design.

This flattering silhouette features an easy to sew high-waisted bikini bottom for great coverage. This is a fun design great for retro lovers and flattering for many body types.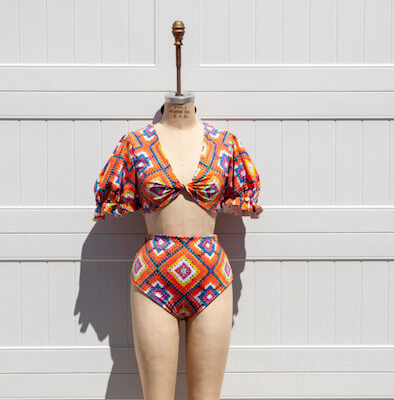 Get the Pattern here

8. Rashguard Swimsuit Sewing Pattern by Low Land Kids
This pattern includes the option of a one piece rashguard swim suit lined with a keyhole and tie back so it's easy to get on and off.

There is also an unlined regular rashguard option (which you can still add the keyhole if you'd like but you'd need to add liner or bind the hole). On sizes NB – 2T, you can also add a snap placket at the crotch for easy diaper changes if desired.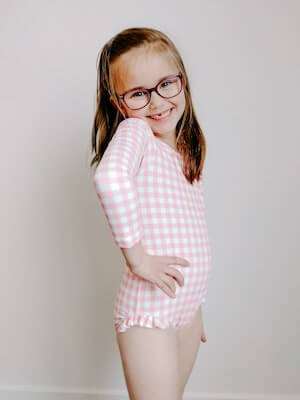 Get the Pattern by Low Land Kids here

9. Reversible Swimsuit Sewing Pattern by The Spruce Crafts
This DIY swimsuit is easy to sew, and can be made in the exact fabric of your choice. Not only that, but it's reversible, so you don't even have to decide between two colors or prints.

Sewing swimwear is easiest if you have a serger, but this tutorial shows you how you can sew stretchy fabrics on a standard sewing machine with a stretch zig-zag stitch.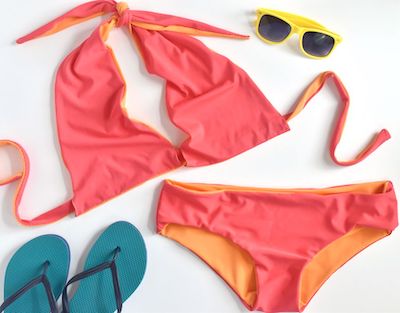 Get the Pattern here

10. Boca Bay Swimsuit Sewing Pattern by Greenstyle Patterns
This Boca Bay Swimsuit sports a squared off neckline, two different top options (a flat front or a gathered front) and several bottom options with a moderately cheeky back coverage. You can make reversible bottoms or traditional bottoms with three different rises and optional waistbands.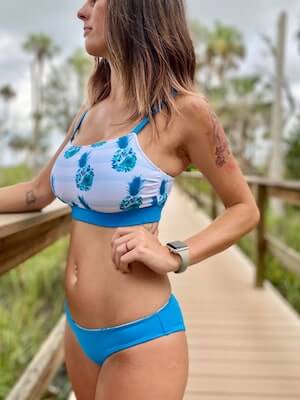 Get the Pattern by Greenstyle Patterns here

11. Salida Swimsuit Sewing Pattern by Sew Daily
Sew your next favorite swimming suit with this one-of-a-kind sewing pattern! The one strap design makes for a unique and stylish suit while its simple pattern makes it easy to adjust the sizing and length. It's the perfect project for intermediate sewists looking to make a splash with their summer sewing!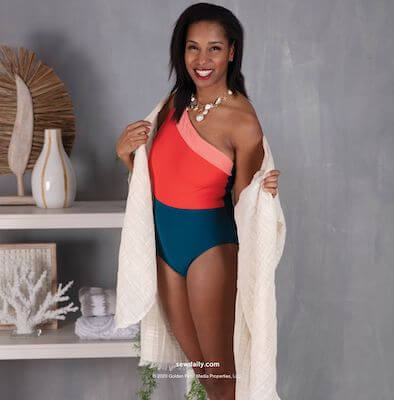 Get the Pattern here

12. Fit To Be Tied Swimsuit Sewing Pattern by Rad Patterns
This Fit to Be Tied Swimsuit is a versatile sewing pattern to give you tons of stunning swimsuit options! With multiple cup size options in every size and functional ties, you're sure to get your perfect fit!

This suit has options for one piece or two piece. The two piece bottoms include two rise options and the two piece top and one piece both have the option for a full coverage back or halter style straps.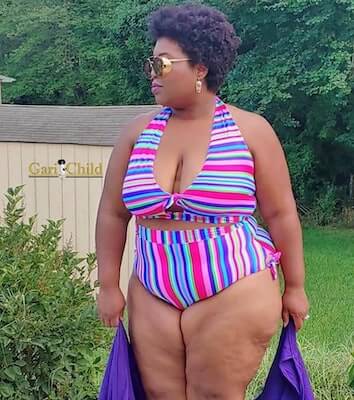 Get the Pattern by Rad Patterns here

13. Pilatus Swimsuit Sewing Pattern by OPIAN
This Pilatus Swimsuit has the most awesome 80s vibe to it, with a tie feature at the front and high-waisted bottoms, it's bang on trend for summer. The pattern doesn't come with any support apart from the tie at the front so is probably suited to smaller bust sizes.

The thing we really loved about it is the high waisted bottoms so that you are showing a little bit of flesh but just under the bust.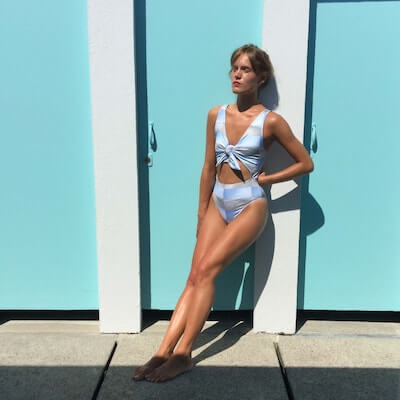 14. Phoenix Swimsuit Sewing Pattern by Elly Art Craft
No serger needed for this Phoenix Swimsuit Pattern! This is a cute, quick sewing pattern great for first time swimwear sewists. This is a one piece full bottom coverage swimsuit with a stylish long ruffle over the bust adding a bit of elegance to your beach vacation.

Whether you need a new bodysuit or an outfit to hit the beach, the Phoenix pattern is the perfect thing to make sure your summer goes swimmingly! You could try it with a jersey or mesh for an everyday look.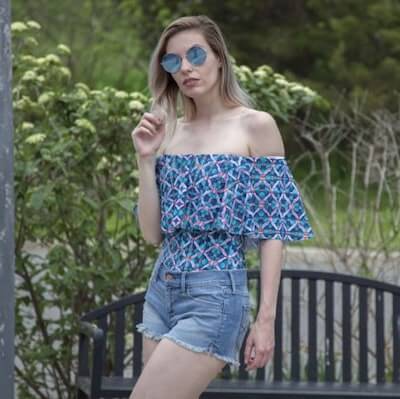 Get the Pattern by Elly Art Craft here

15. Halter Top Swimsuit Sewing Pattern by Gigi Patterns
If you're fond of halter tops, this swimsuit pattern is extremely flattering. As it ties at the neck, this swimsuit is easy to adjust for a comfortable fit. reveals an open back, and high-cut sides to help create the impression of longer legs and it doesn't have a seam at the centre back for a cheeky fit.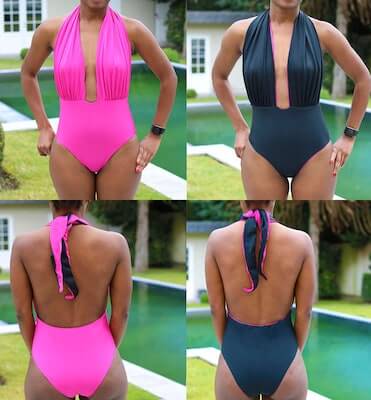 Get the Pattern by Gigi Patterns here

16. Ipswich Swimsuit Sewing Pattern by The Fold Line
Soak up the sun in this Ipswich Swimsuit! This modern pattern has two cleverly colour-blocked variations: a one-piece swimsuit with a contrast waistband or a high-waisted bikini with piping detail.

Both suits feature supportive straps, and an optional underwired foam swim bra and boning, so that you're comfortable lounging by the pool or playing volleyball on your favorite beach.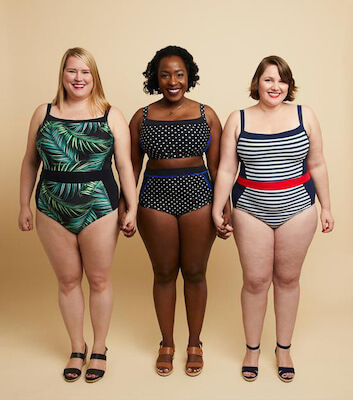 Get the Pattern here

17. Bombshell Swimsuit Sewing Pattern by Closet Core Patterns
This 1950s-inspired design offers three fully lined options: a halter-neck maillot, a sweetheart-neck, gathered-bust maillot; and a high-wasit bottom, to be paired with bikini tops you already own.

With ruched seams, a booty encasing seat and a skirt-like front, the Bombshell is fully lined and provides an appealing amount of coverage.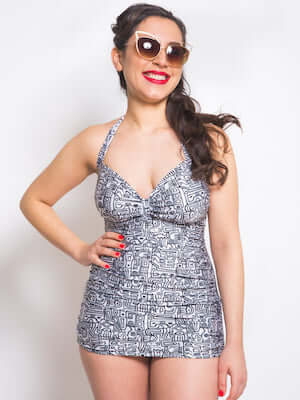 Get the Pattern here

18. High Waist Collective Bikini Sewing Pattern by Swim Style Patterns
This High Waist Collective Bikini Sewing Pattern is a simple tops and high waist bikini bottom. Its simple design would be a great first swimsuit pattern to sew.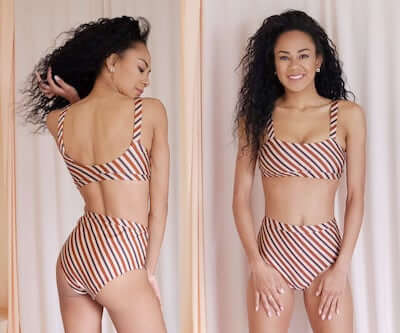 Get the Pattern by Swim Style Patterns here

19. 3 In 1 Swimsuit Sewing Pattern by Cotton And Curls
Who doesn't love multipurpose outfits? This 3 in 1 swimsuit will be ideal for you whether you're curvy, slim, or pregnant! It can easily transform from a tankini into a maternity swimsuit or a bikini. Enrich your wardrobe with three swimsuits at a workload cost of just one!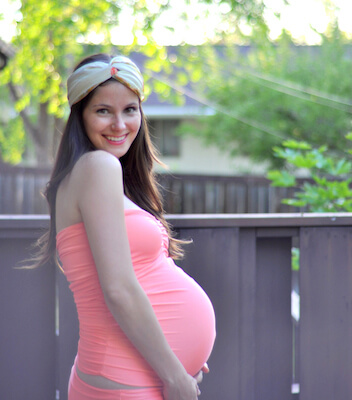 Get the Pattern here

20. Nautilus Swimsuit Sewing Pattern by Paprika Patterns
This Nautilus Swimsuit has an elegant twist center front, like the shell of its namesake cephalopod. The pattern is fully lined and comes with 4 different cup size options (AA cup, A/B cup, C/D cup, or DD+ cup) to make fitting a breeze.

Available as a one-piece suit with a cute little peek-a-boo under the twist or a bikini. The bikini comes with twists on the bottom that echo the bodice twist and has a low rise, (View B) or plain with a low or mid-waist rise.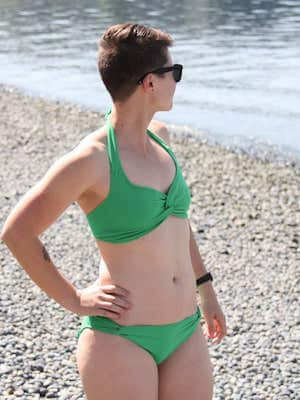 Get the Pattenr by Paprika Patterns here

21. Bikini Set Sewing Pattern by Aura Patterns
This cute bikini set is a basic top and bottoms sewing pattern that is easy to construct and is perfect for beginners or experienced sewists!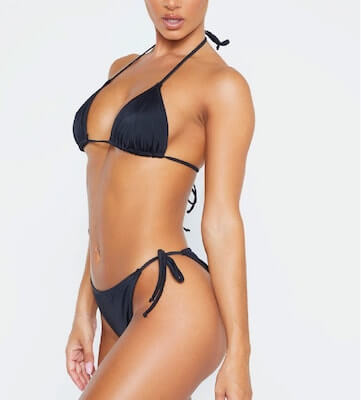 Get the Pattern by Aura Patterns here

22. Cordia High Waisted Swimsuit Sewing Pattern by Mood Sewciety
This Cordia High Waisted Swimsuit is a flattering fit for almost every body type. It is stylish, comfortable, and modest. It features a halter neckline and multiple cup sizes to fit your needs!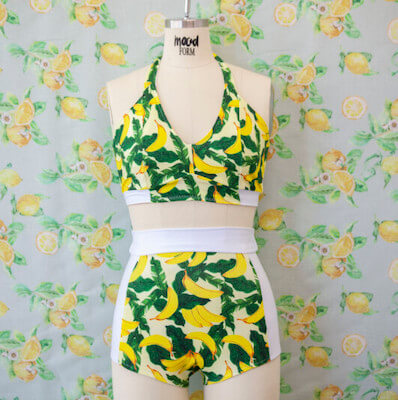 Get the Pattern here

23. Halter And High Waist Bikini Sewing Pattern by The Sewing Rabbit
This free swimsuit sewing pattern features gathered seams on the bikini with a defined waist-line, a full coverage halter top with a tie top and back closure. You can really experiment with this pattern – use a printed bottom with a complimentary solid color top.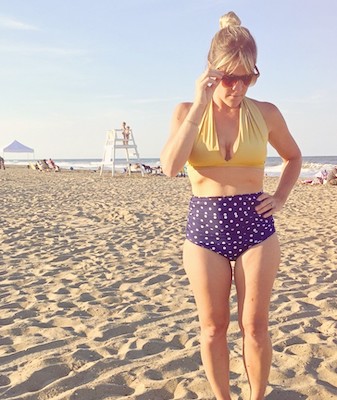 Get the Pattern here

24. Surf Swimsuit Sewing Pattern by Peekaboo Pattern Shop
Are you a keen surfer or bodyboarder? This is the swimsuit pattern for you! With its long sleeves and front zip, this swimsuit sewing pattern is a practical choice if you like to spend a lot of time in the sea or taking part in watersports. It will give you some protection from the sun's rays and this swimsuit can also be worn underneath a wetsuit.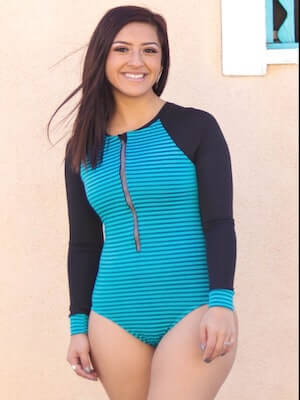 Get the Pattern by Peekaboo Pattern Shop here

25. Annette One Piece Swimsuit Sewing Pattern by DIBY Club
The open back strap design combined with the underbust strap support make this swimsuit better than all the others! This will definitely be your go-to year round.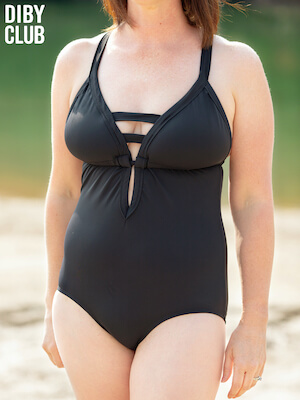 Get the Pattern here
WITH THESE SWIMSUIT SEWING PATTERNS IN HAND, YOU'LL BE READY TO HIT THE BEACH, POOL, OR STRUT YOUR STUFF ON THE BOARDWALK!
Have you made any of these swimsuit patterns? If so, be sure to share pictures on our Facebook Page for everyone to see!

As the weather starts heating up, one thing becomes abundantly clear: Beach season is upon us! And while we start sewing these gorgeous swimsuits, we're also hunting for our new fave summer skin products. From body scrubs and foot scrubs to lip balms, what better way to pamper your body than by giving it the all-natural treatment?

With summer just around the corner, what are you waiting for? Block out some time for these swimsuit sewing patterns!