Children love learning and are amazed by science experiments. If you are looking for a fun and interesting experiment, teach your kids how to make crystals.
When people are learning about making crystals, they often want to know how to grow crystals in seconds. However, crystal growing is a slow progress. Growing your own crystals at home does not take as long as it takes in nature, but it still takes patience.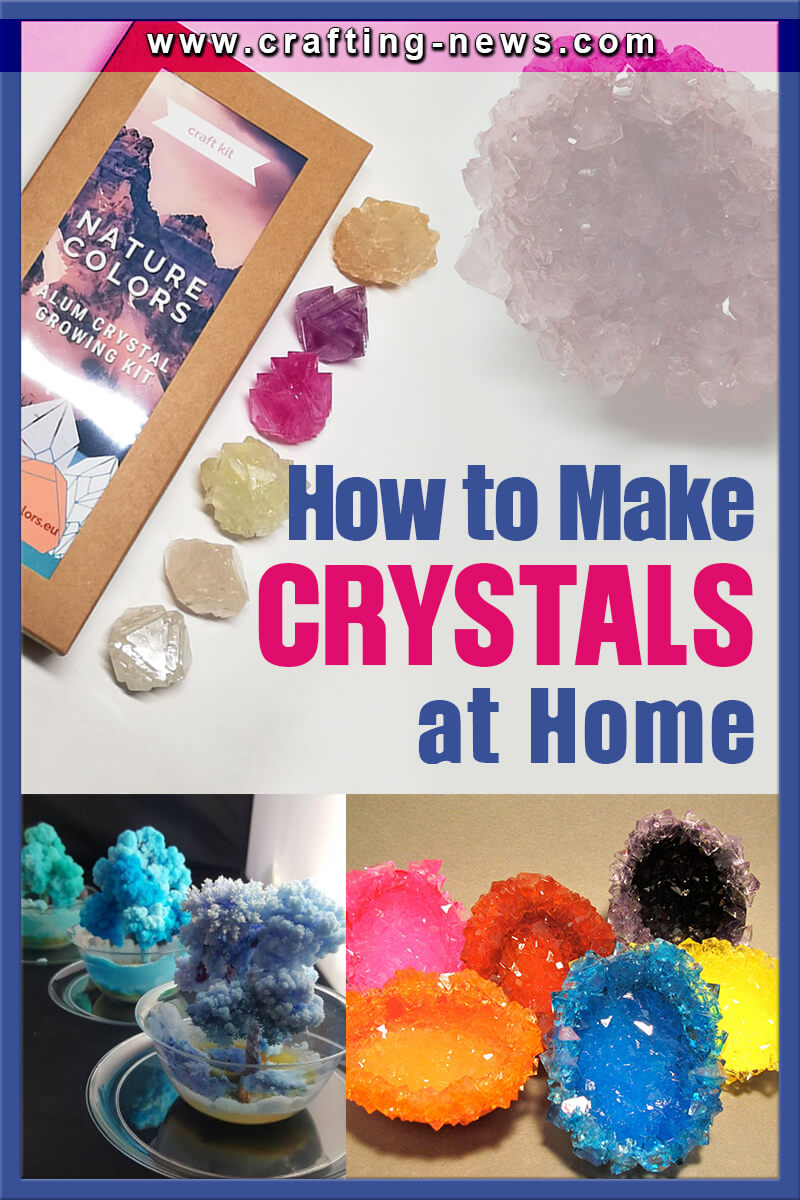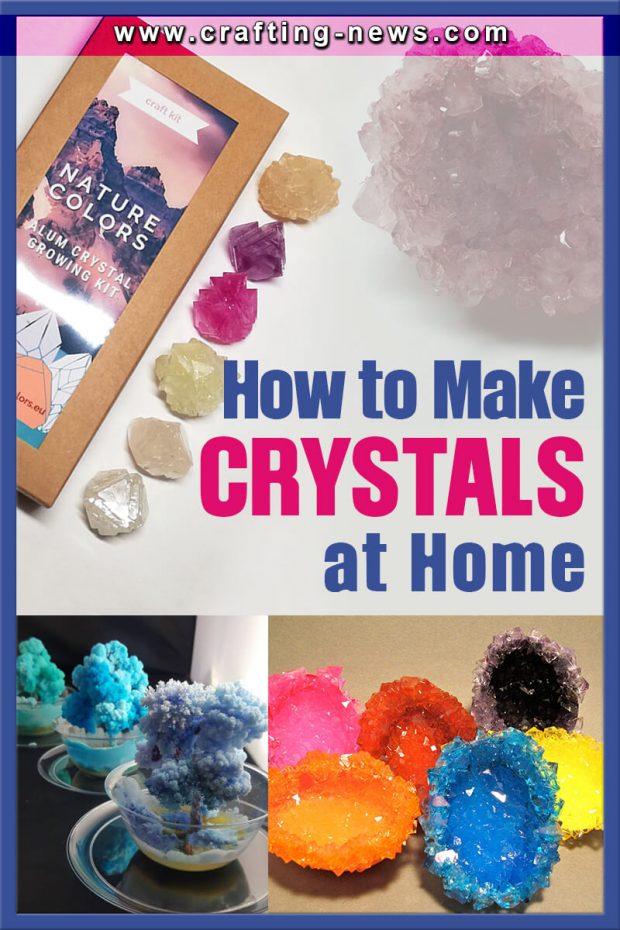 Unlike many adults, kids are extremely curious. They will want to check on their experiment frequently to see how well the crystals are growing. This helps get them interested in studying science.
Easy Tutorial on How to Make Crystals
Growing crystals is extremely easy and enjoyable. If you are trying to get your child interested in science, you can easily make this how to make crystals recipe at home.
If you are looking for a how to grow salt crystals recipe, simply substitute salt for the Borax.
How to Make Borax Crystals
Please note that Borax can be toxic to pets. Do not leave the experiment out where your pets can get into it.
Step-by-Step Instructions for Making Borax Crystals:
Shape the pipe cleaner into a ball or an interesting shape.
Cut the string to the length needed to suspend the pipe cleaner in the jar.
Tie one end of the string to the pipe cleaner.
Tie the other end to the popsicle stick or spoon. The stick/spoon will lay across the top of the jar while the pipe cleaner is suspended about halfway down. Make sure the pipe cleaner hangs freely. You do not want it to touch the bottom or the sides.
Remove the pipe cleaner from the jar.
Fill the jar 2/3 full with water.
Pour the water into the measuring cup. And measure the amount of water you will be using.
Boil the water.
Place the borax into the mason jar. You will want to use 4 tablespoons of Borax per 1 cup of water.
Pour the boiling water over the Borax. Be extremely careful not to burn yourself.
Stir the solution to make sure all the Borax is dissolved.
Now suspend the pipe cleaner in the solution by laying the stick/spoon on top of the jar.
Set the experiment aside so that it will not be knocked over.
Leave the crystals grow for 12-24 hours.
After the crystals have formed, carefully remove the experiment from the jar.
You can either lay the crystal formation on a paper towel to dry or hang it up.
How to make crystals at home kits and recipes
Below are both recipes and kits for learning how to grow crystals at home. If you are purchasing a kit for a child, make sure that you are there to supervise the experiment.
1. Alum Crystal Growing Kit from NatureColorsEU
Have fun and learn more about how to make crystals with this creative kit. The kit is available in 3 sizes. You can order enough alum for 1 large crystal, 2 large crystals, or 3 large crystals. 1 large crystal will measure approximately 1.18 inches (3 cm) in diameter.
The how to make alum crystals kit includes instructions, seed crystals, fishing line, wooden spatulas, and alum (potassium aluminum sulfate, formula KAl (SO4)). If you are not satisfied with the form of crystal, you may dissolve it in very hot water and start the experiment again.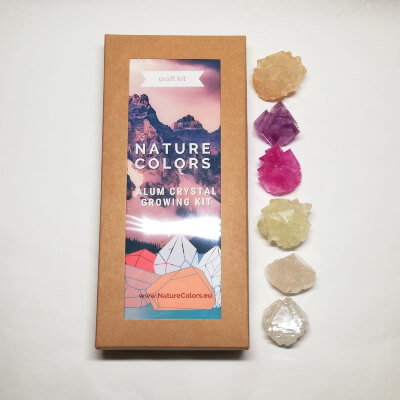 Find the Kit from NatureColorsEU HERE
2. Egg Geode Crystal Kit from BergenStreet
These crystal egg geodes only take 24 hours to form. They are simple to make and incredibly affordable. They are just as beautiful as the real thing! This kit would make a great Easter gift or stocking stuffer. And you get to choose from 9 different colours.
The Professor Figgy's Fabulous Crystal Egg Geode Craft/Science Kit comes with everything you need to grow 2 gorgeous geodes in a single colour.
The contents include an instructional insert, alum powder, school glue, Ukrainian egg dye, a jumbo white eggshell (blown out & cleaned), a craft stick, Q-tip glue applicators, a pair of protective gloves, and a one-quart container with a lid.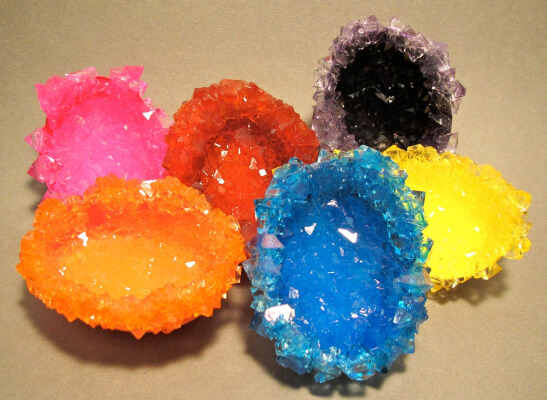 Find the Kit from BergenStreet HERE
3. Crystal Growing Kit for Kids Science Experiment
This science kit contains fast growing red, green, blue, and yellow crystal flowers. The kit makes a great project for teaching children how to make crystals safely. They will feel like a real scientist.
The crystal growing kit for kids includes everything needed to grow your own crystal formations. You get 4 coluors of crystal growing powder, 4 seed crystal rocks, 4 stir sticks, 4 measuring cups, and 1 instruction manual.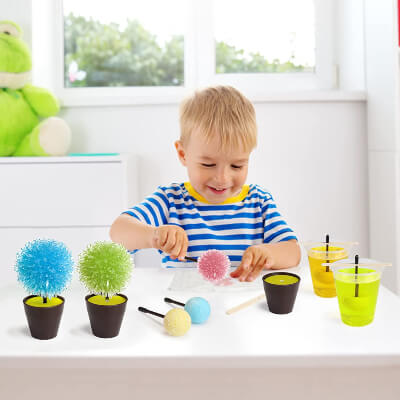 4. Rock Candy Crystal Experiment by Green Kid Crafts
What better way to learn how to make crystals than with rock candy? Unlike most homemade crystals, these crystals are edible. These crystals take six-seven days to form. Your kids will be amazed at how fun and easy these treats are to make.
To make rock candy all you need is sugar, Kool Aid, sticks, water, jars, parchment paper, and clothespins.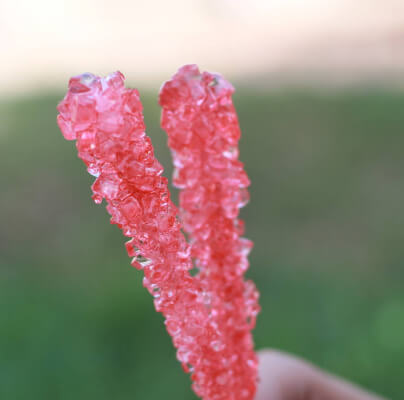 Find the Kit from BergenStreet HERE
5. Fun, Easy and Educational Crystal Growing Kits from DeepwoodsgoodsShop
The primary element behind this crystal growing kit is plain old table salt. You will receive 2 kits. One kit will have natural coal chunks for the crystals to grow on. The second kit will have a natural cotton wire tree.
After following the simple included detailed instructions, you will learn how to make crystals with salt. Depending on the humidity, you will begin seeing growth within 1 to 2 hours. They will continue to grow and change for 2 to 3 days.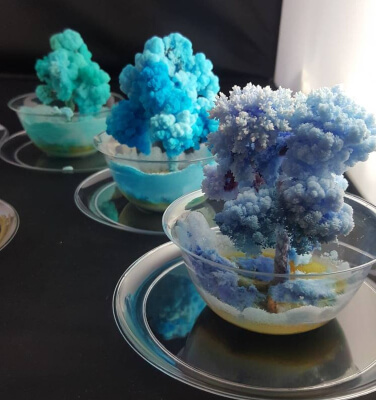 Find the Kit from DeepwoodsgoodsShop HERE
6. Vibrant Colored Hedgehog Crystal Growing Kit for Kids
This how to make crystals kit is perfect for children 8 and up. Look how cute these little hedgehogs are. Kids will want to learn about science with this whimsical kit.
The XXTOYS Crystal Growing Kit includes red, green, blue, and orange hedgehog crystals. Let your child feel like a real chemist while watching these hedgehogs grow in 72 hours.
The kit includes 4 cute hedgehog models, 4 colourful crystal powder packs, 4 seed rocks, 4 plastic containers, 4 stirring sticks, and instructions.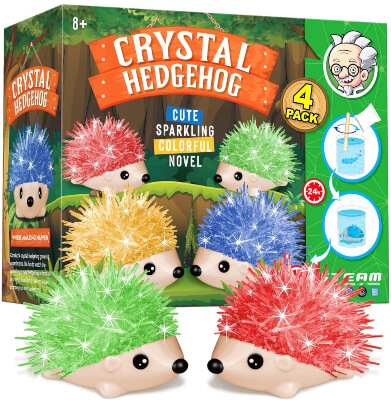 7. Grow Your Own Crystal Rainbow from MomsTieDyeByRochelle
Here is an amazing kit that has everything you need to grow your own crystal rainbow. All you have to do is add water. It does not get any easier than that.
The kit is hand packaged and guaranteed to be a hit! This is an approved STEAM activity to learn about molecules expanding and condensing. It is a simple project that will help your children learn the basics of how to make crystals.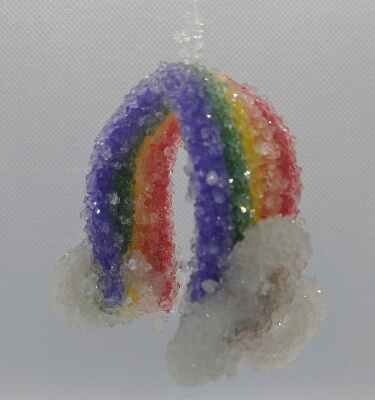 Find the Kit from MomsTieDyeByRochelle HERE
8. Crystal Science Experiments with Display Cases from Dekolamps
You can do 7 different crystal growing experiments with this science kit. And each crystal will have its own display case. The how to make crystals experimental kit from 4M is perfect for young science enthusiasts.
The kit is recommended for ages 10 years and up. It comes with complete instructions for each experiment.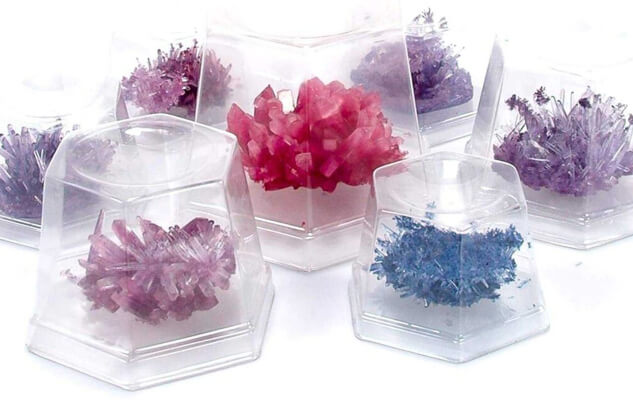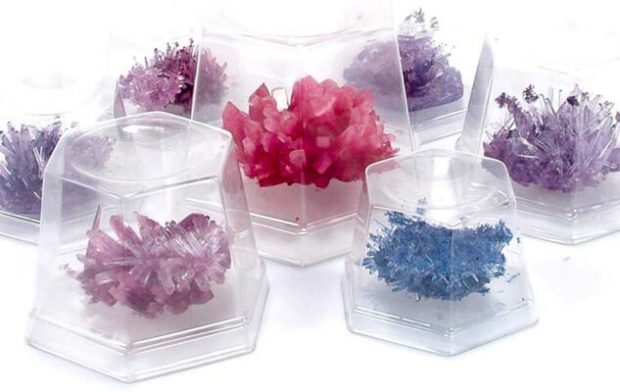 Find the Kit from Dekolamps HERE
9. How to Make Crystals with Salt by Science Notes
Colourful crystals are easy to grow. But black is a little trickier. Learn how to make stunning black crystals with this free how to make crystals tutorial. These black crystals can look translucent, like black diamonds and smoky quartz, or opaque, like anthracite.
With this free tutorial, you will learn how to make crystals with Epsom salt. You can substitute the Epsom salt with borax or sugar.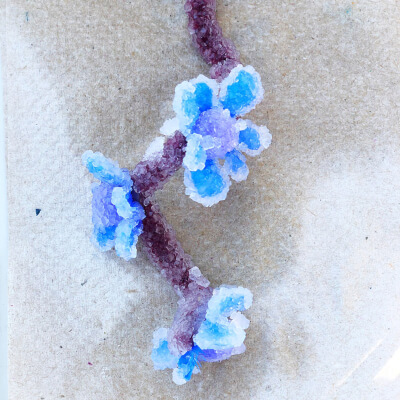 Find the Tutorial by Science Notes HERE
10. Mega Crystal Growing Lab with Light-Up Display Stand & Guidebook
You can grow up to 8 colourful crystals in as little as 3-4 days with this Mega Crystal Growing Lab from National Geographic. You will get blue, pink, red, purple, green, orange, yellow, and glow in the dark. And to make this how to make crystals kit even better, it comes with a light-up display.
The kit comes with 5 real gemstone specimens: quartz, rose quartz, fluorite, calcite, and amethyst. Children will learn about the gemstones in the kit with the included, full-colour learning guide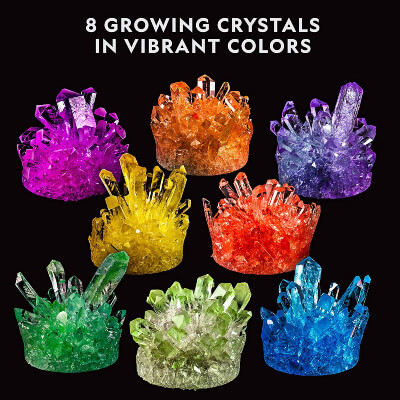 11. How To Grow Crystals In Your Own Home For Under $5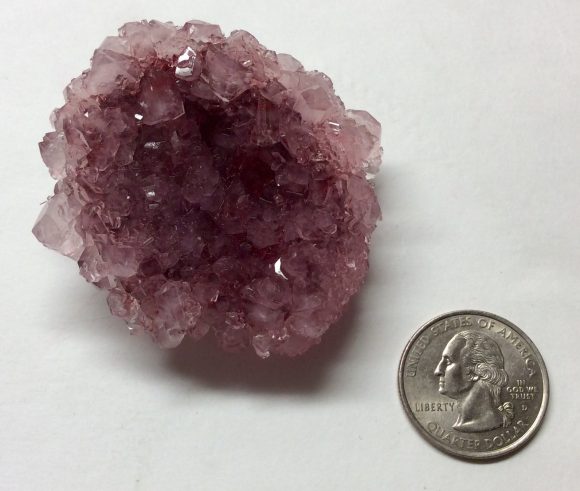 Check out the materials list and purchase any additional which you need. Then click on the link at the end of the post to follow the instructions on how to grow your own crystals.
Materials
3 Tablespoons Borax, about $4.00/box
1 Cup boiling water
Food coloring
Pipe cleaners, on hand or $1
Large jar, glass or pitcher
Dish cloth
Skewer, butter knife or chop stick
Fishing line, curling ribbon or string
Are you searching for an educational indoor activity? Teach your kids how to make crystals at home.
Are you interested in learning how to grow crystals? Growing crystals is fun and educational. We have gathered a wide variety of recipes and kits that are ideal for anyone interested in science.
What are you waiting for? You probably have the most basic supplies already sitting around your home. Gather everything and try our how to make crystals tutorial.
For more amazing crafting ideas, don't miss this Baking Soda Sea Art and Different Paper Mache Recipes.