If you want to know how to make a bath bomb the simple way, then this is right stop for you. This recipe calls for a few simple ingredients which you will most likely already have at home. So gather your supplies and make a few bath bombs!

How To Make A Bath Bomb
You can use different essential oils for different scents, depending on what you like. We love vanilla and coconut the most. You can also add some glitter or flower petals to add a zing to your bath bombs.
You can make these as a perfect little gift for your friends and family, or just to pamper yourself.  After all, who doesn't love a nice relaxing bath.
Ingredients for making a bath bomb
To make this bath bomb recipe you will need the following ingredients:
1/2 cup baking soda
1/4 cup corn starch
1/4 cup Epsom salt
1/4 cup citric acid
4 tsp coconut oil
2 tsp water
1 tsp essential oil
A few drops of food coloring (optional)
Bowl
Whisk
Bath bomb molds
Method
Combine all of the dry ingredients in the bowl.
Add the wet ingredients, slowly, while whisking until well combined. The mixture should be just wet enough to stick together in clumps.
Press the mixture firmly into the mold until full. Close the mold and remove the excess mixture from the sides.
Let the mixture sit in the molds for 5-10 minutes.
Carefully remove the bath bombs from the molds and let them dry for 24 hours.
And that's it, you're done! This is such a quick and simple recipe, which is why we love it so much.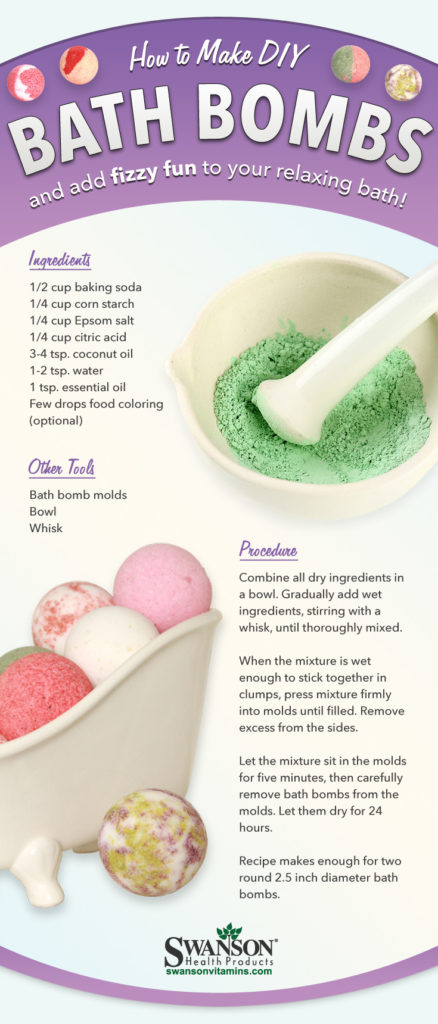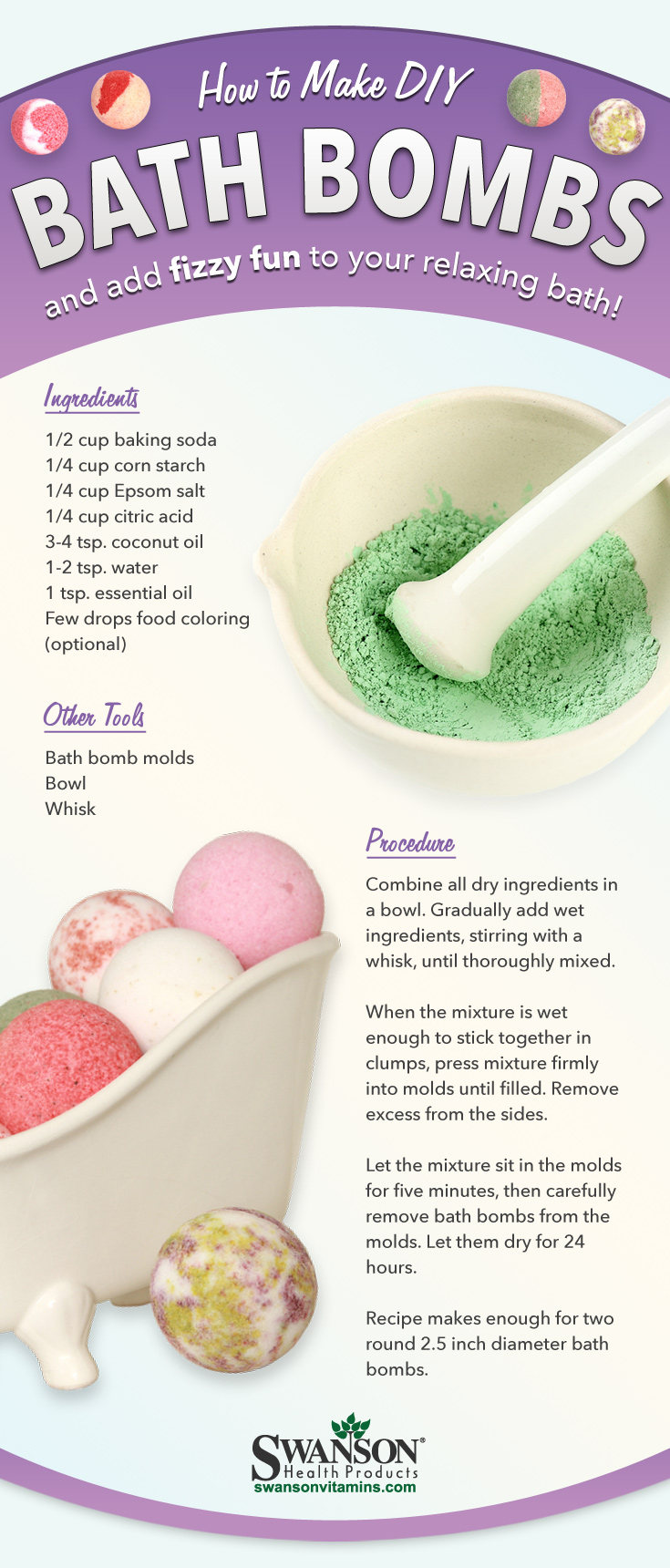 Finishing Up With Variations On How To Make A Bath Bomb
If you want to make these diy bath bombs even more spectacular, you can try a few different things. Firstly, you can use different shaped molds such as flowers, love hearts, cupcakes or even Santa to create cool and different bath bombs.
You can also try mixing different colors into the same bath bomb by separating the mixture into different bowls before adding the coloring.
And of course you can add different ingredients for an extra luxurious and therapeutic feel to your bath bomb. You can add flower petals, oatmeal or green tea leaves. Now you know how to make a bath bomb at home.
Thanks to the guys at Swanson Health Products for the recipe
If you loved this recipe, check out this Lemon and Vanilla Bath Bomb Recipe