Bring summer fun to the next level with these PVC sprinkler for kids and other sprinkler ideas. After all, there's no better way to beat the heat this summer other than playing around with water!
Consider making one or more of these fun summer projects using PVP pipe!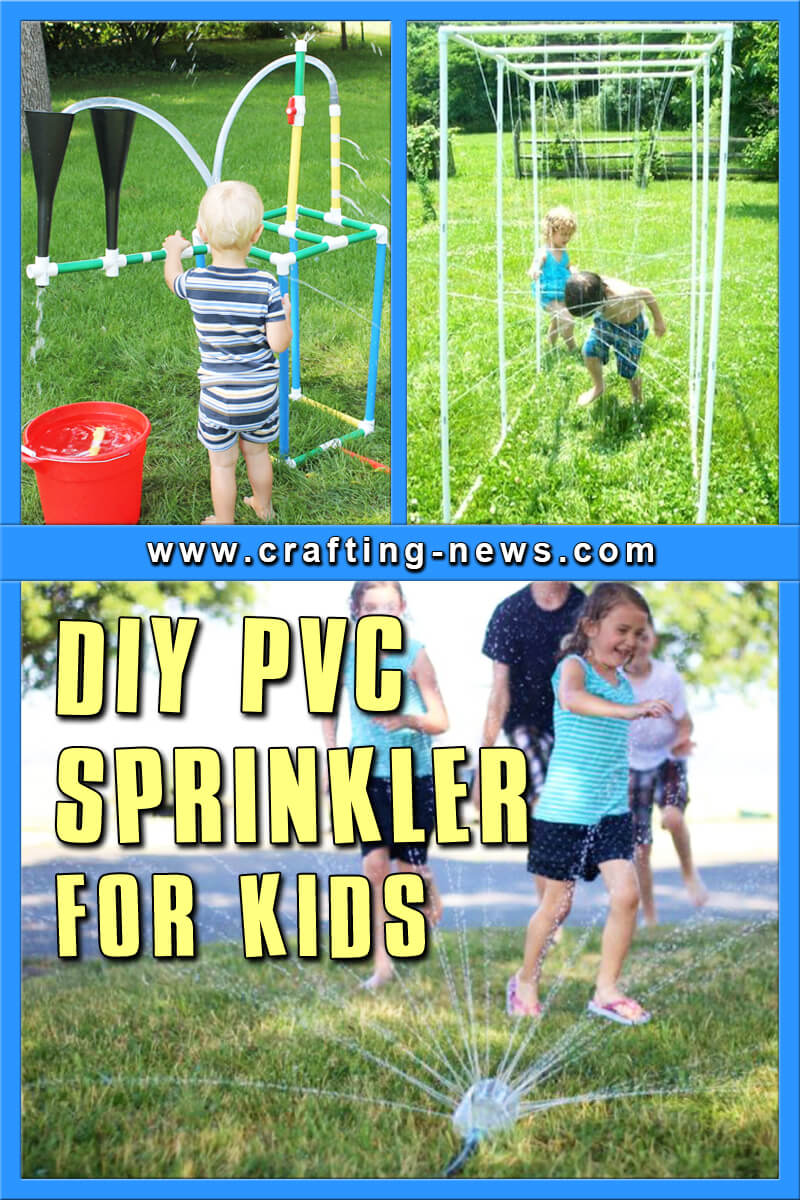 Sprinklers: they're not just for grass anymore. Sprinklers are one of those things that all kids love. Something about them just captivates children, especially when the weather gets hot.
9 DIY Sprinklers for Kids
Who needs pools or water parks when you can provide your kids with endless entertainment, and a fun way to cool off, through making one of these DIY pvc kids sprinkler.
1. Soda Bottle DIY Sprinklers for Kids by Gluesticks Blog
Who knew a soda bottle could be so much fun! With a simple video tutorial, this will show you hot to turn your two-liter plastic bottle into an awesome sprinkler.

Once it's ready to go, you can lay the "sprinkler" on the grass, or toss the hose with the attached sprinkler over the swing set or a tree branch to make a "shower".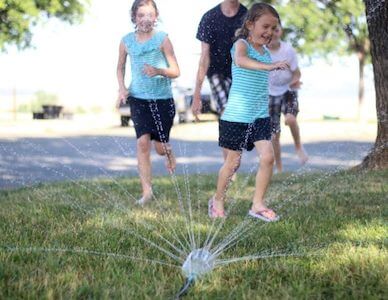 Follow the tutorial here
2. DIY Above Ground PVC Sprinkler for Kids System by The Crafty Blog Stalker
Are you actually totally into the idea of building an irrigation system of your own rather than simply buying a pre-packaged one that you can put together? Make an above-ground sprinkler system using PVC pipe and some sprinkler heads.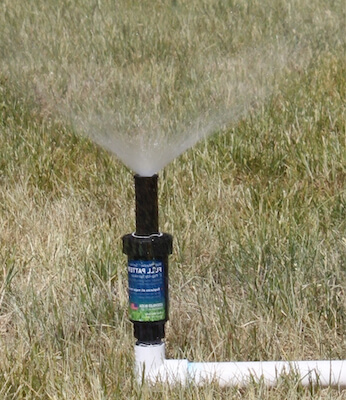 Follow the tutorial here
3. PVC Garden Sprinkler by Instructables
If you want a sprinkler that will spray water for your plants from a height, this PVC pipe is the low-budget conduit you've been praying for. It's barely noticeable when the water's not running and practically holds itself up. On top of that, it's simple and effective.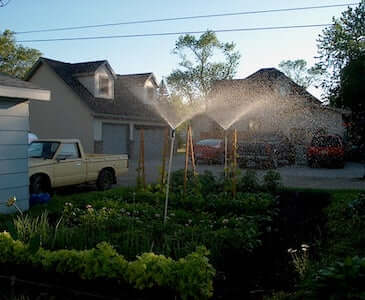 Follow the tutorial here
4. DIY PVC Kids Sprinkler Relay by Let's DIY It All
If you are looking out for fun, cheap, and easy to make summertime activities. You have landed in just the right place. With this tutorial, you can set an insanely cheap but ultra-fun oozing DIY sprinkler relay!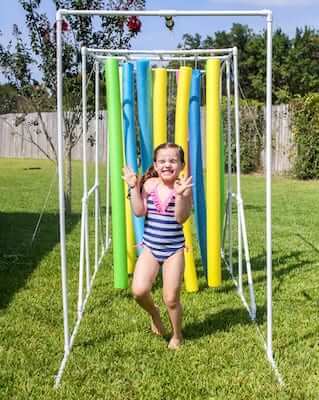 Follow the tutorial here
5. DIY PVC Pipe Car Wash Sprinkler by Mom Endeavors
Beat the summer heat with this uber exciting DIY PVC Pipe Car Wash Sprinkler! It can be the ultimate fun zone for kids, and they can have some real-time fun washing off their bikes, tires, or just playing around.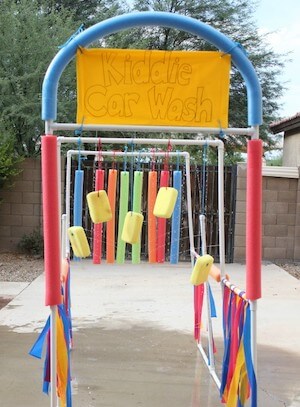 Follow the tutorial here
6. Tinker DIY Sprinklers for kids by Instructables
If you or the kids enjoy playing with Tinker Toys, you will love playing with these sprinkler parts. Everything can be found at you local hardware store for hours of outside fun with or without the water.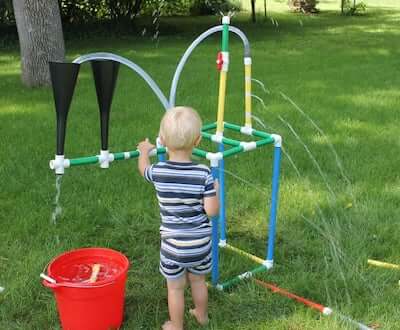 Follow the tutorial here
7. PVC Sprinkler Water Toy by Instructables
This build makes use of mister jets to create a "carwash" type sprinkler. Additionally, one can make 2 DIY sprinklers of this type and connect them for twice the fun!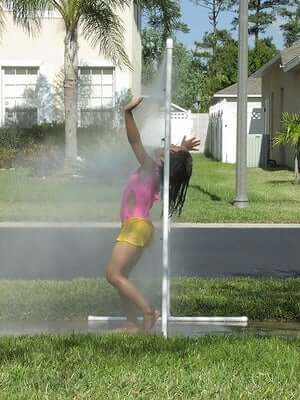 Follow the tutorial here
8. DIY PVC Pipe Sprinkler by Inspired Housewife
This DIY PVC pipe sprinkler system is simple, relatively inexpensive, and versatile. You can put over a slide for more fun or put to good use in a garden for watering when your children are otherwise engaged.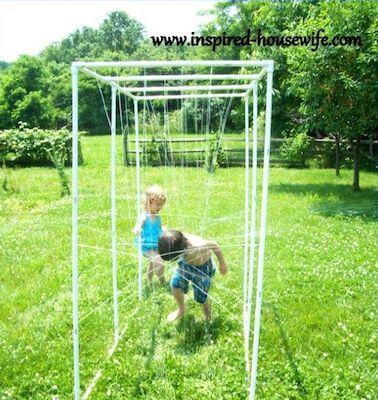 Follow the tutorial here
9. DIY PVC Kids Sprinkler
This Kids Sprinkler will provide some fun and entertainment for your kids this summer. Plus a great way to cool down as well. Build you own PVC kids sprinkler to last you all summer long. The adults will be playing all day in this one too.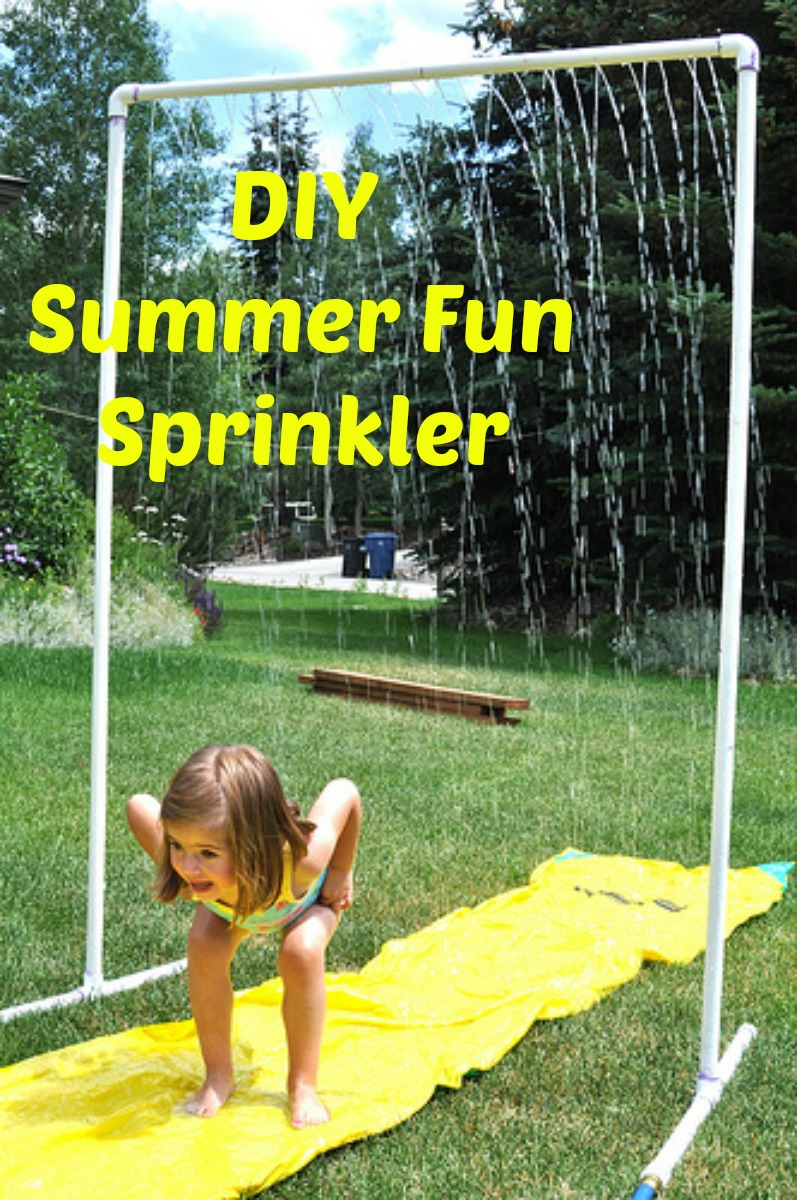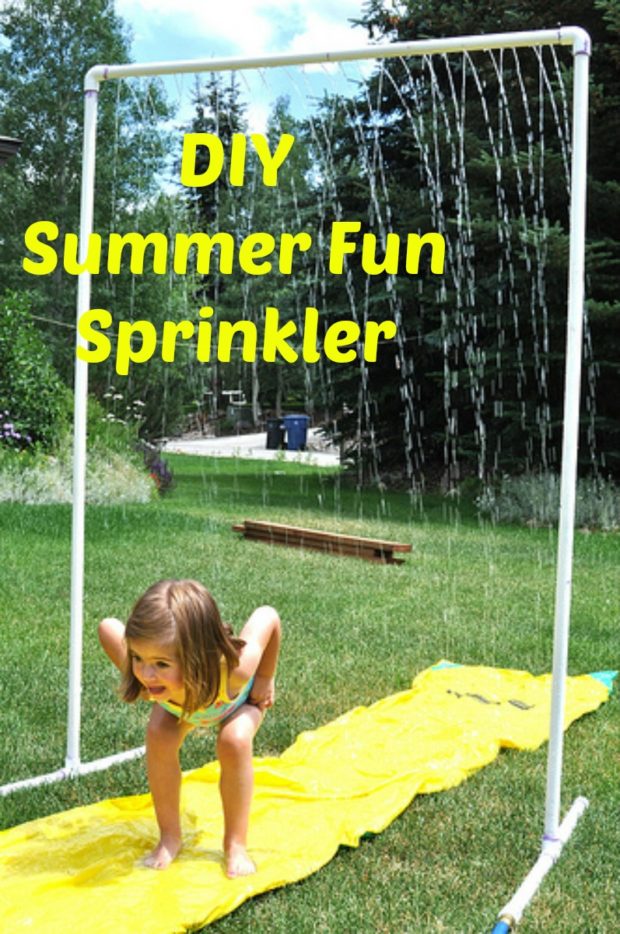 Materials for the Kids Sprinkler
For this project you will need to take a visit to your local hardware store for a few bits and pieces that may not be lying around the house.
Alternatively, you can order the items here for delivery straight to your door. You will need:
PVC pipe (1x 1.5m pipe; 2x 2m pipes; 4x 0.5m pipes; 2x pipe corner connections; 2x T-connections; 3x pipe ends or stoppers. You can use any width pipe, but we recommend 20-40mm)
Garden hose
Hose connector (optional)
Duct tape (optional)
Plumbers glue
A drill
Instructions
Tips If you were able to buy the pipe in the correct sizes there shouldn't be any cutting involved. When connecting the PVC pipes together, use some plumbers glue in the area that you are connecting to ensure that it stays together. It is also easiest to connect all of the pipe while they are laying on the floor, and then standing it up at the end of the process.
We recommend using the images provided as a guide to where all of the pipes should be joined.
Step 1 Once you have all of the materials ready you will need to drill some holes in the 1.5m length of PVC pipe. Drill the holes only on one side of the pipe. This will be where the water sprays out from.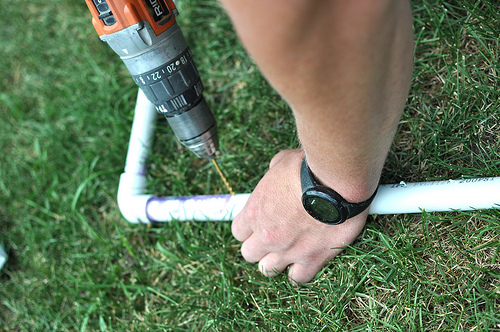 Next, it is time to connect all of the pieces of pipe that you have.
Step 2 The 1.5m pipe with the holes in it goes along the top of the sprinkler. Now join the two corner pieces on each end of this top pipe.
Step 3 You can then connect the 2x 2m pipes, one on each side of the top 1.5m pipe.
Step 4 At the bottom of each 2m pipe, you can now connect the t-pieces. There should now be 2 openings on each t-piece (4 altogether). Connect a 0.5m pipe to all 4 openings. Then attach the pipe ends or stoppers to 3 of the 4 openings.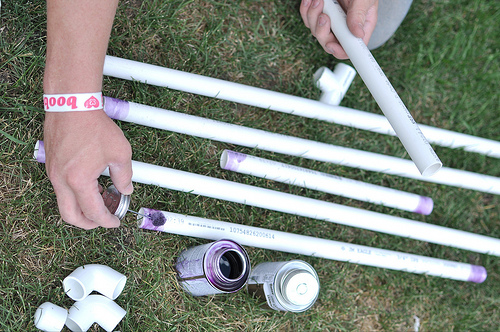 Step 5 There should now be 1 opening left at the bottom of the structure. This is where the hose will be connected to the PVC pipe sprinkler. You can do this one of two ways. You can either buy a hose connector which will screw onto your hose and into the PVC pipe. Or as a much simpler method, you could use a generous amount of duct tape to hold the hose to the pipe.
Stand the PVC structure up and you are ready to go! Play around with the water pressure and decide what is best for you.
You can even put a slip and slide underneath the sprinkler for an added bonus for the kids!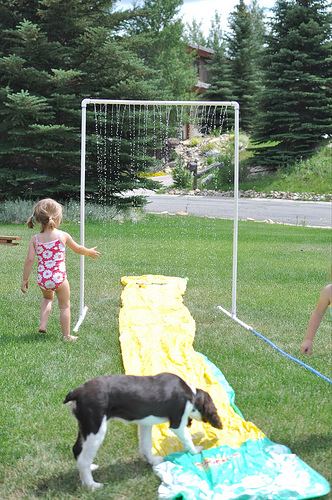 A massive thank you to Lindsay & Drew for this one.
LET'S KICK THIS LIST OFF WITH A LITTLE DIY! WE LOVE A GOOD DIY AS MUCH AS THE NEXT PERSON AND THIS LIST OF PVC SPRINKLER FOR KIDS WILL BE A HIT ALL SUMMER!
So get your kids out of the air conditioning, and outside to make some memories – just don't forget the sunscreen! Share your moments together and the DIY you make by posting a picture on our Facebook Page.
For more outdoor crafting ideas, check out these DIY Kids Backyard Sling Shot and How to Make Rainbow Bubble Snakes for your kids to enjoy.

With these DIY PVC Sprinkler for kids, don't be surprised if your kids never want summer to end!