Are you looking for a fun macrame project? If so, knot up some of these macrame angels. Angels are enjoyable projects that use knotting as well as combing. The combing adds a fringe effect that is perfect for angel wings.
Below are 19 DIY macrame angel patterns. Every one of these patterns is beautiful and would make a great addition to any home.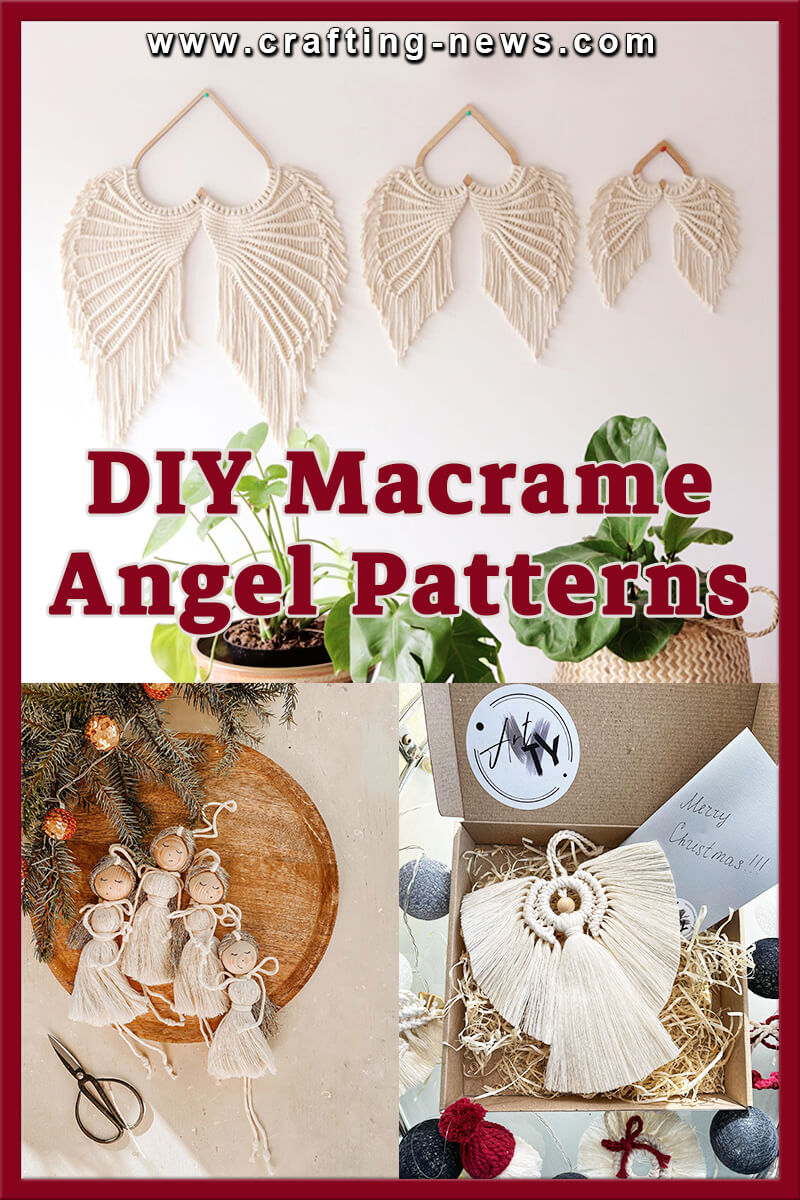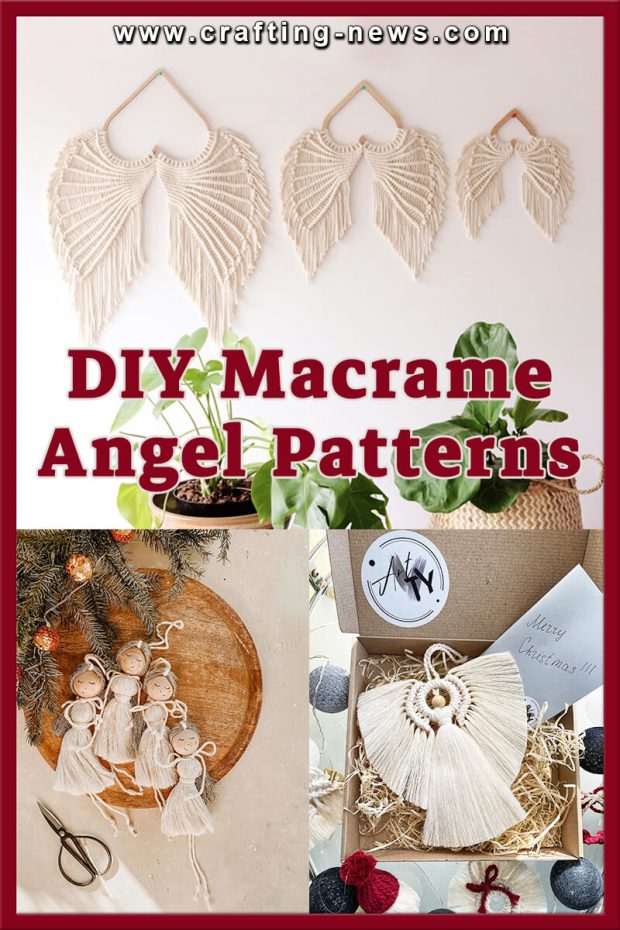 1. Macrame Angel Pattern by KnotsbyNikaStudio
If you are new to macrame and are looking for an easy angel pattern, this one is for you. The finished angel is beautiful and will look stunning anywhere you decide to display it.
This digital pattern contains a step-by-step written tutorial that is detailed and easy to follow. The completed angel measures approximately 7.87 inches (20 cm) tall and 7.48 inches (19 cm) wide.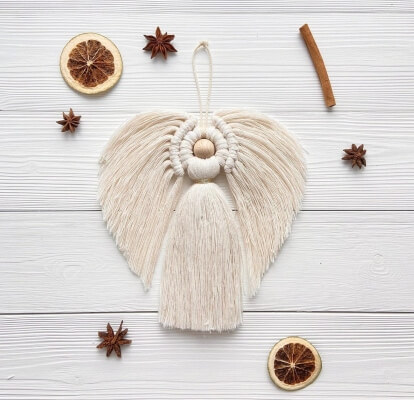 Find the Pattern by KnotsbyNikaStudio HERE
2. Macrame Christmas Angel Ornament by UniqueForYouByVanya
Make a bunch of these macrame angel ornaments to decorate your tree. Or use them to decorate your packages. This mini Christmas angel ornament tutorial includes more than 50 helpful photos. The intermediate level pattern is extremely detailed.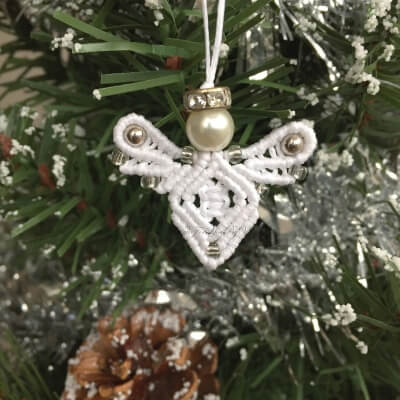 Find the Pattern by UniqueForYouByVanya HERE
3. DIY Macrame Angel Tutorial Step by Step from Rox Shana
You can make this DIY macrame angel with the help of this free video tutorial. The video is extremely well done. It is so easy to understand, you could make this your very first macrame project.
Find the Tutorial from Rox Shana HERE
4. Macrame Angel Wings Tutorial by PeloteEtCompagnie
The angel wings would look absolutely beautiful hanging above the headboard of your bed. Or use them to decorate your sitting room or sunroom.
Finished, the macrame angel wings will measure approximately 13.78 inches (35 cm) high and 15.75 inches (40 cm) wide. The instructions will show you how to tie all the different knots using 2 mm cord.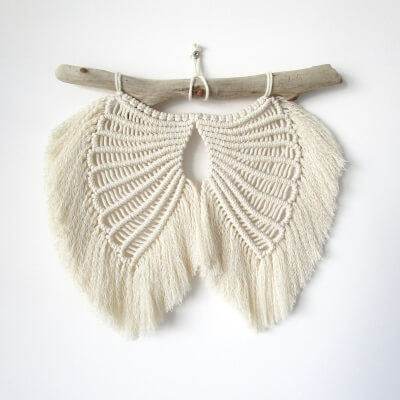 Find the Tutorial by PeloteEtCompagnie HERE
5. DIY How to Make a Wall Hanging Macrame Angel by SandysTextileStudio
Here is a very cute macrame pattern that is a throwback to the 70s. If you are into the retro look, you will love this wall hanging. This is a beginner to intermediate level pattern.
There are 17 pages of step-by-step instructions with pictures. There is also a video tutorial included. The pattern can be used to make different size wall hangings.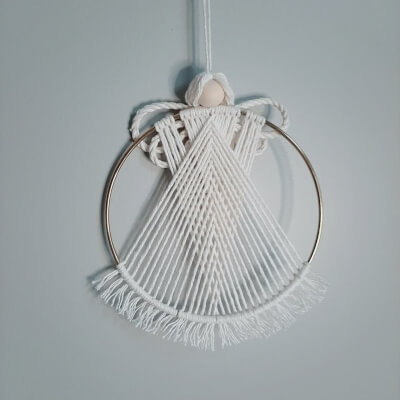 Find the Pattern by SandysTextileStudio HERE
6. How to Make Macrame Angel Ornament Pattern Tutorial by CALMSOULdecor
Make this macrame angel for yourself or as a gift. This angel would also make a terrific addition to a nursery. This digital DIY macrame written tutorial includes pictures of each step.
There is also a knot guide with illustrations. To make this angel you will need 28 feet of 3 mm rope, 1.8 inches (4.5 cm) wood ring, .8 (2 cm) inch wood bead, scissors, and a comb.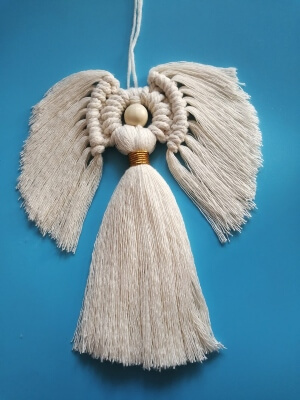 Find the Pattern by CALMSOULdecor HERE
7. Easy Macrame Angel Wings Wall Decor Pattern by MacrameDecorDIY
You do not need any previous macrame experience to complete this angel. It is a fun project that works up quickly, which makes it a great gift idea.
The macrame tutorial provides a list of the required supplies, detailed instructions, and pictures of the different steps. The artist has also included advice and tips to make the whole process even easier.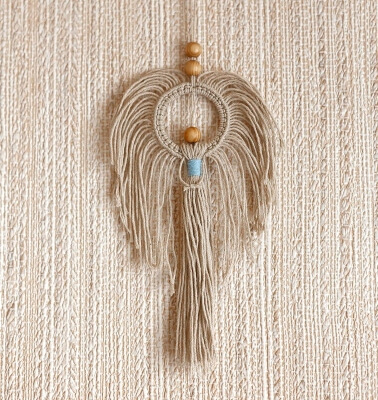 Find the Pattern by MacrameDecorDIY HERE
8. Macrame Angel Wall Hanging Ornament Pattern by OpalAndSage
These angels are the ideal size for decorating your Christmas tree. Or you can use them to decorate baskets or bottles. This is a video tutorial for making a macrame angel. There are no written instructions.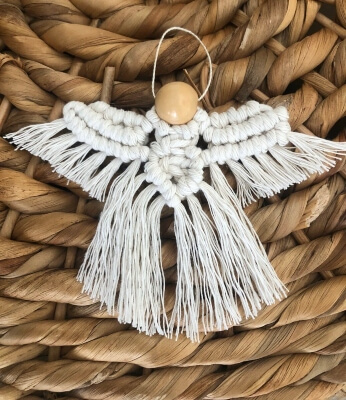 Find the Pattern by OpalAndSage HERE
9. Macrame Angel Tutorial by Macrame School
Use this DIY macrame tutorial to make this stunning angel with golden wings. You can use this to decorate during the holidays or all year round.
Find the Tutorial by Macrame School HERE
10. Macrame Angel Wings Pattern by FreeBirdFibers
Here is another pattern for gorgeous angel wings. And if you look closely, the top of the wall hanging forms a heart. To make these macrame wings, you will need a heart frame and 5 mm single twist cotton cord. Included with the download are detailed instructions with photos and video tutorials.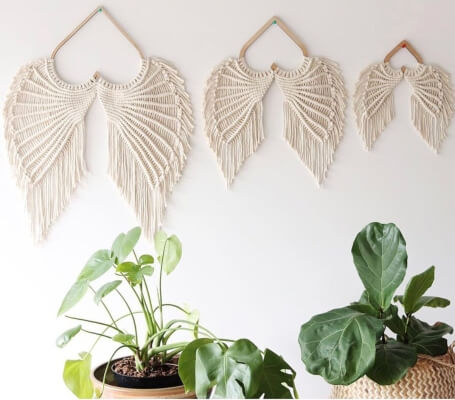 Find the Tutorial by FreeBirdFibers HERE
11. DIY Macrame Angel Tutorial by eccentroDIY
Add little charms to the belts of these angels to make each one unique. You can also use any colour cord you choose. Completed, the height of this angel (without the hanger) is approximately 9.84 inches (25 cm).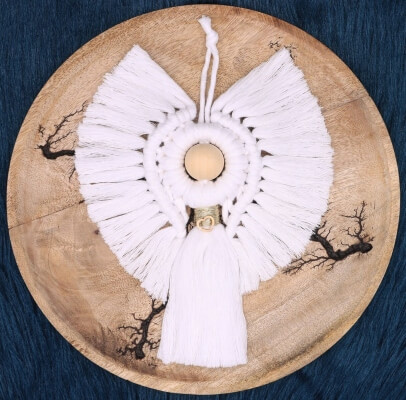 Find the Pattern by eccentroDIY HERE
12. Macrame Christmas Ornaments by MacrameByKaretskaya
With this download, you get instructions for making 3 different DIY macrame ornaments. There is a star, a tree, and an angel. They will be the perfect addition to a home decorated in boho chic style.
These patterns are very easy and are great for beginners. If you are looking for a fun crafting project to do with your kids, try knotting these ornaments.
Also see our collection of Felt Christmas Ornament Patterns for your Christmas decor.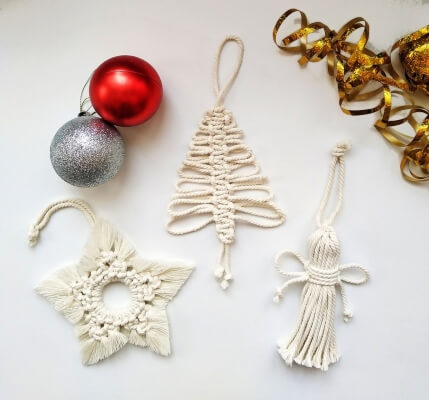 Find the Pattern by MacrameByKaretskaya HERE
13. Macrame Angel Pattern Christmas Tree Ornament by KnottingFlats
Here is another beautiful DIY macrame ornament. It is a fun and quick project that would make a unique craft night with friends. It is a beginner-friendly project that requires knowledge of the larks head knot, double half hitch knot, and the gathering knot.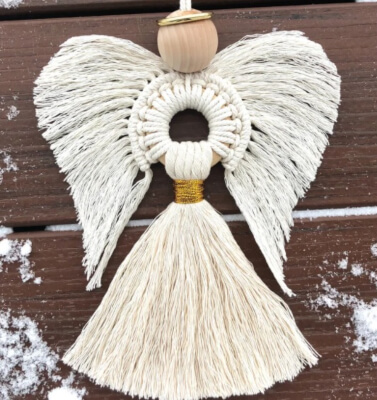 Find the Tutorial by KnottingFlats HERE
14. Macrame Wings Tutorial by EntreCuerdas
Make these stunning macrame angel wings using this DIY macrame tutorial. The wings are not too small and not too large. This makes them perfect for displaying almost anywhere.
Completed, the macrame wings measure approximately 13.78 inches (35 cm) x 15 cm (40 cm). The tutorial is very well explained and includes photographs along with explanations of the whole process.
Find the Tutorial by EntreCuerdas HERE
15. How To Make Macrame Angel Wings Wall Hanging | EASY Macrame Tutorial for Beginners
Use this free DIY macrame tutorial to learn the basics of making macrame wings. This would make a great first project for someone just learning the art of macrame. The completed design is small, so it would work well in a nursery or a reading room.
Find the Tutorial by SilentKnot HERE
16. Easy Angel Wings | DIY Macrame Wall Hanging | Wall Decoration
Learn how to make these DIY macrame wings with this free video tutorial. This mini hanger would make a wonderful addition to any home decor.
Find the Tutorial by Macrame Magic Knots HERE
17. Easy Christmas decor Macrame Angel Tutorial by ArtbyTYua
Are you new to DIY macrame projects? Check out this boho angel. It is an easy pattern you can use to make beautiful holiday decorations. The finished size of this angel will be about 8 inches (20.32 cm) tall (without hook) and 7 inches (17.78 cm) wide.
To create the Christmas angel, you will need 3 mm cotton rope, 5 mm cotton roper, a 5 mm hoop, and one 12 mm wooden bead.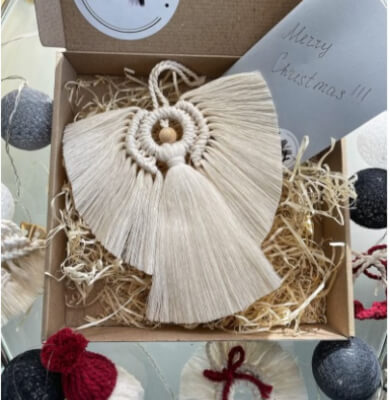 Find the Tutorial by ArtbyTYua HERE
18. Macrame Wings Wall Hanging Pattern by WithLoveByKree
Make these DIY macrame angel wings for your own home, or give them to a friend as a housewarming gift. The knots used to make the macrame wings are easy to learn. It is a beginner-friendly project. Once you learn the knots, the process of creating these wings will be relaxing and meditative. And the results will be rewarding. The pattern is a video.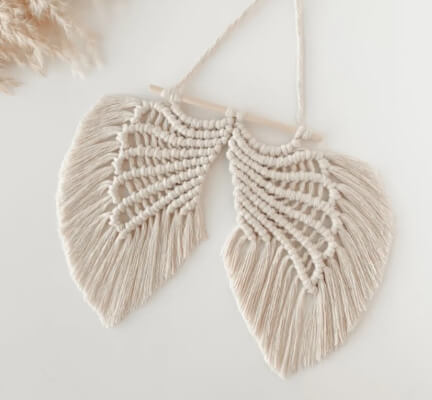 Find the Tutorial by WithLoveByKree HERE
19. Christmas Macrame Angel Doll Pattern by MacramagicShop
Kids and adults alike will love making these macrame Christmas angels. They would be an incredible way to spend time getting crafty. Make several of the Bohemian angel to decorate your Christmas tree decor, make a garland, or decorate your table.
The tutorial has written instructions with tips and tricks. There are a lot of photos to visually walk you through the process.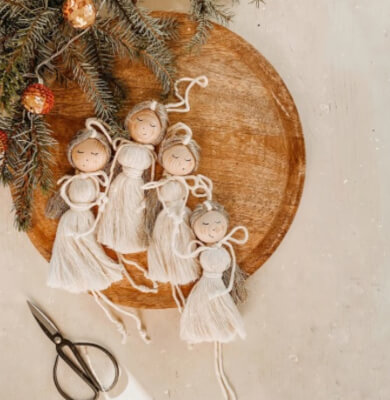 Find the Tutorial by MacramagicShop HERE
Macrame Angels can be used as wall hangings, tassels, or ornaments. They also make great gifts.
Macrame is an art form that people of all ages can enjoy. Looking for more Angel patterns? You will love this collection of crochet angel patterns you and your family will enjoy to make.
In our list of macrame angel patterns, we have included patterns for everyone. It does not matter if you are completely new to macrame or have been doing it for years, there is a macrame angel pattern for you.