A homemade ornament is more than a decorative addition to your Christmas tree—it's a memory: one that is made with your kids and family, celebrating the season, and cherishing time together. Browse through these Felt Christmas Ornament Patterns here that includes woodland animals, Christmas trees, gingerbreads, stars, and more.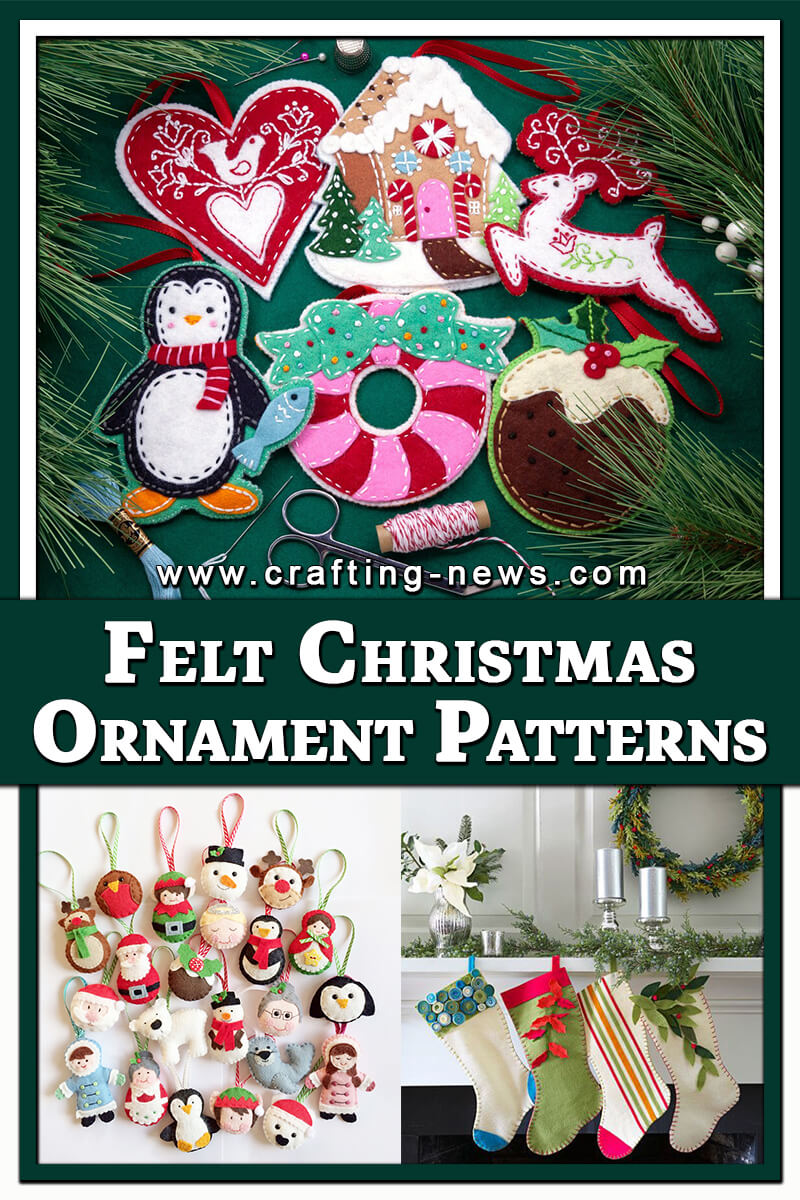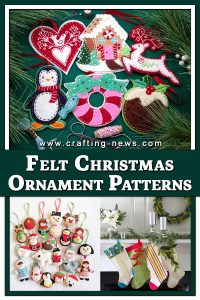 Using felt to make ornaments makes these crafts very kid-friendly. The soft material means less paper cuts and more smiles! So grab the whole family and get to crafting!
1. DIY Felt Nordic-Inspired Christmas Ornaments by Wallflower Kitchen
Add a touch of Nordic Christmas decor to your home by making these Nordic-inspired felt Christmas tree decorations to hang on the tree! They're very simple to make and the only skill involved is knowing the blanket stitch which is also very easy to grasp.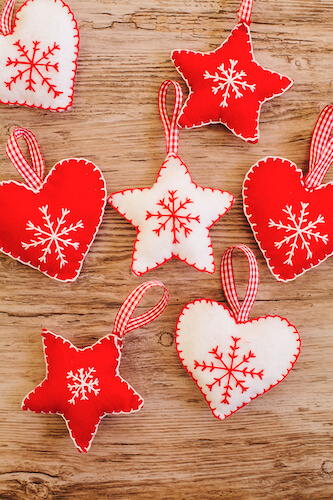 Follow the Tutorial here
2. Felt + Wood Ball Tree Ornaments by Home For The Harvest
This DIY tutorial shows how to make simple wood & felt ball ornaments. These handmade Scandinavian felt Christmas ornaments are perfect for modern Christmas decor (and they also make lovely gifts)! They almost look like little minimalist snowmen, perfect for a magical nordic holiday.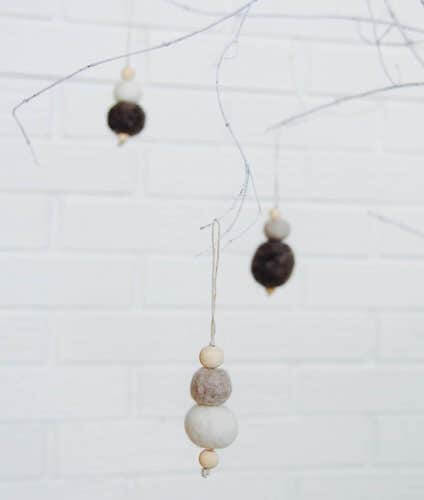 Follow the Tutorial here
3. Star Felt Christmas Ornaments Pattern by Patricia Welch Designs
This is a hand sewing pattern for hand sewers looking for a fun project where they can explore their use of color. Use the ideas in the photographs or get creative and do your own color combinations in this wool felt project.
These stars can be used as tree ornaments, gift tags, embellishments for door knobs, or hang them from windows. These make great Christmas ornaments, other holidays, or as accent pieces year round.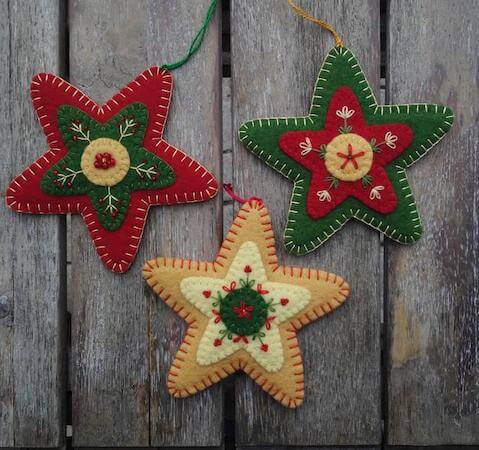 Get the Pattern by Patricia Welch Designs here
4. Easy Felt Christmas Ornaments Patterns Free by The Artisan Life
These felt Christmas tree decorations are beyond simple to make, plus they're super cute! You can customize them quickly and easily with ric rac or other trim and they're a great no sew felt craft for kids who are working on their cutting skills!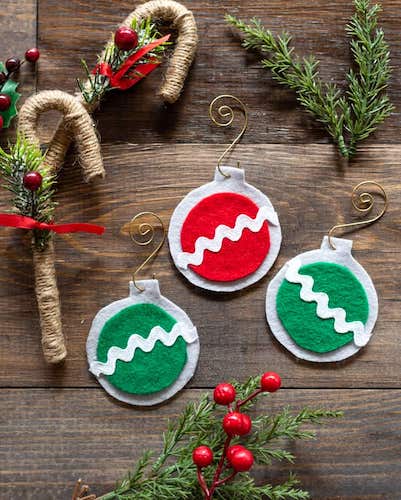 Follow the Tutorial here
5. Gnome Felt Ornaments by Baul De Malinka
The festive season isn't complete without these little gnomes to watch over and join in the fun with you. Make a whole squad of the gnomes, leave some of them for yourself and send the rest to your friends and family in order to spread the Christmas spirit everywhere.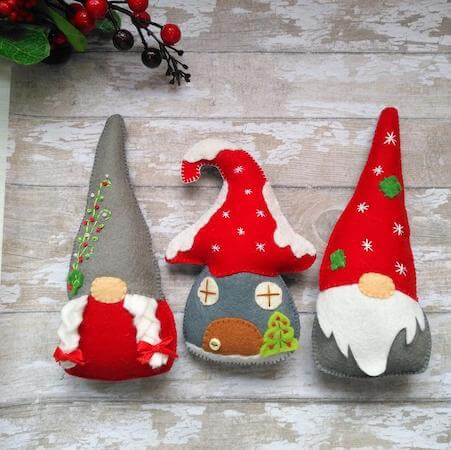 Get the Pattern by Baul De Malinka here
6. Embroidered F
elt Christmas Tree Decorations

by Lia Griffith

These Embroidered Felt Christmas Tree Decorations are a must-craft this holiday season. These ornaments are a wonderful heirloom accessory to add to your own personal collection and make for beautiful handcrafted holiday gifts as well!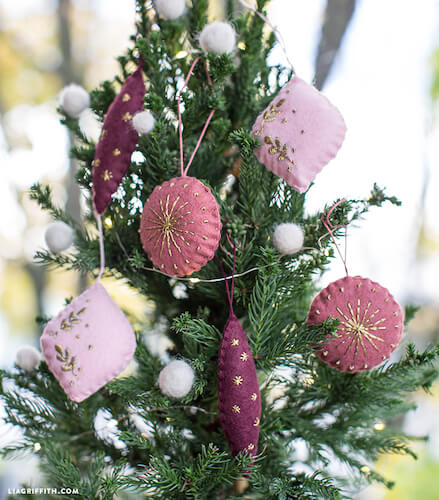 Follow the Tutorial here
7. Monogrammed Family Ornaments by Made Everyday
Monograms are classic and timeless. These easy handmade felt monogram ornaments will add a touch of tile to your tree this year, and you can even make one for each family member.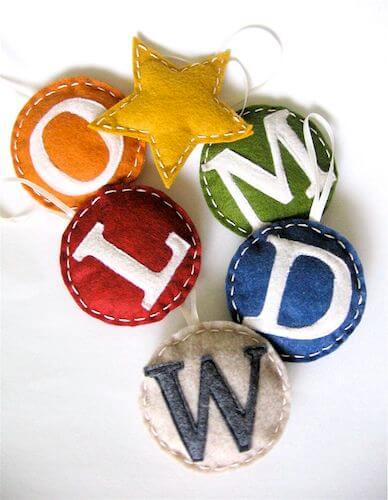 Follow the Tutorial here
8. Hot Chocolate Felt Christmas Ornament by Betz White
Whip up a sweet mug of hot chocolate for your holiday tree. The Hot Chocolate Ornament is a three-dimensional felt mug embellished with a beautiful snowflake embroidery and topped with 2 felty marshmallows. So fun to make for a sweet gift!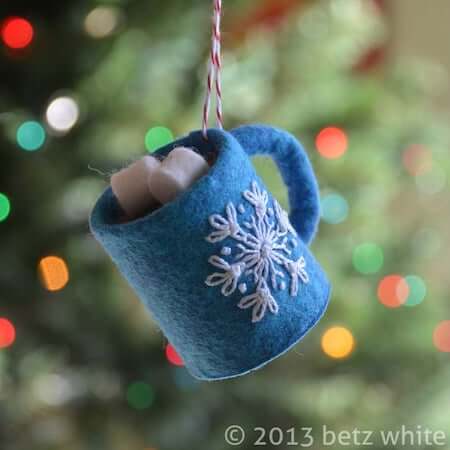 Get the Pattern by Betz White here
9. All Wrapped Up Felt Christmas Ornaments Patterns by Sew Sweet UK
Sew your own Festive Christmas tree ornaments. All wrapped up in their cosy scarf's to keep them warm, these are a delight to make, keep them for your self or give them as a gift.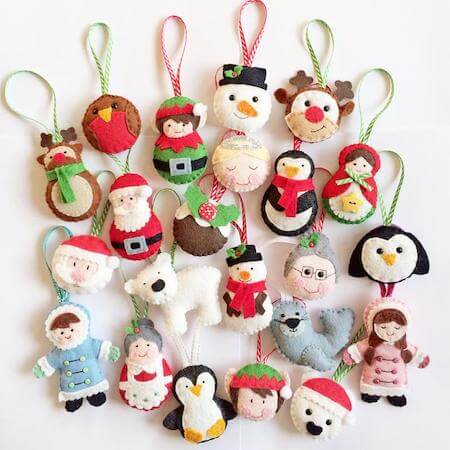 Get the Pattern by Sew Sweet UK here
10. Wool Felt Mitten Christmas Ornament by Polkadot Chair
Your tree doesn't have to be a haphazard cacophony though. These darling Mitten Christmas Ornaments are stylish and fun and add a cozy touch to any tree. You don't need a sewing machine to make them and can add some fun hand embroidered details to the ornaments as well!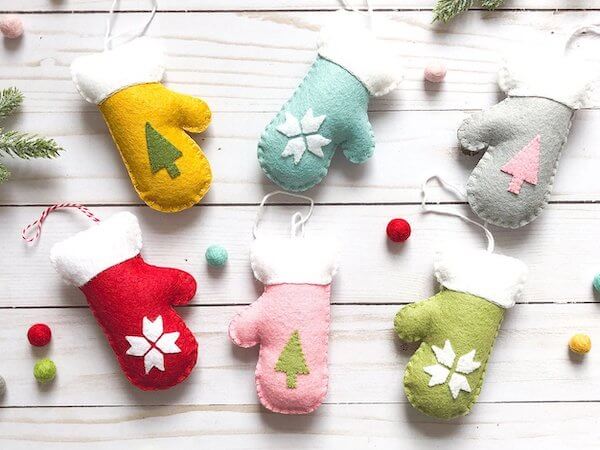 Follow the Tutorial here
11. Retro Wool Felt Christmas Ornament by Erica Hite
Looking for an affordable but special handmade gift? Would you love to make holiday decorations your family will use and treasure for many years to come? These retro modern Christmas Ornaments are easy and a pleasure to make.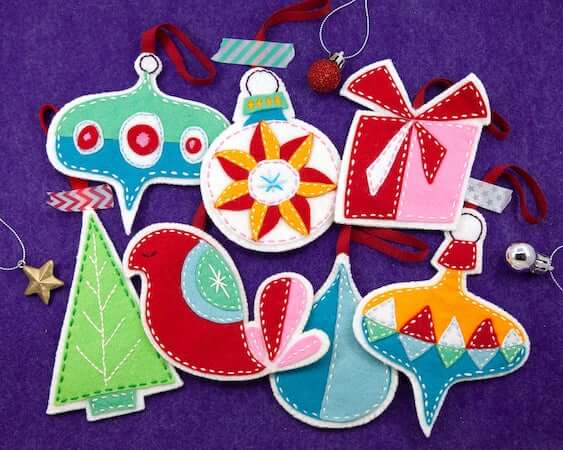 Get the Pattern by Erica Hite here
12. Snow Globes Felt Christmas Ornaments by Lupin
Make felt snow globe ornaments, or embroidered snow globe ornaments, or just use the snow globe embroidery pattern to decorate a festive sewing project!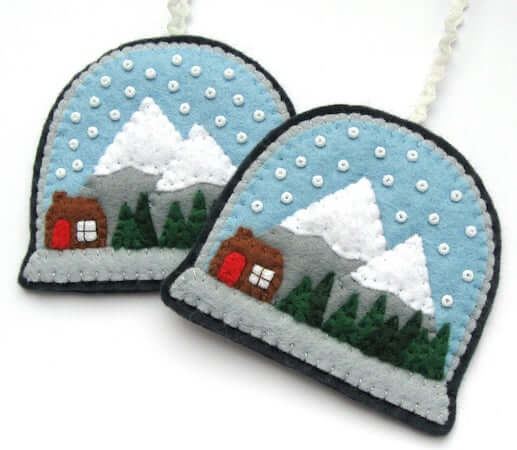 13. Felt Christmas Ornaments by Kippi At Home
Felt Christmas ornaments are budget-friendly, so you can make a ton of them. These homemade felt Christmas tree decorations are designed and embellished with a traditional Nordic style. The ornaments are made out of craft felt, embroidery floss, and a wee bit of fiberfill—however, a few added yarn, buttons, bells, rick rack, and glass beads.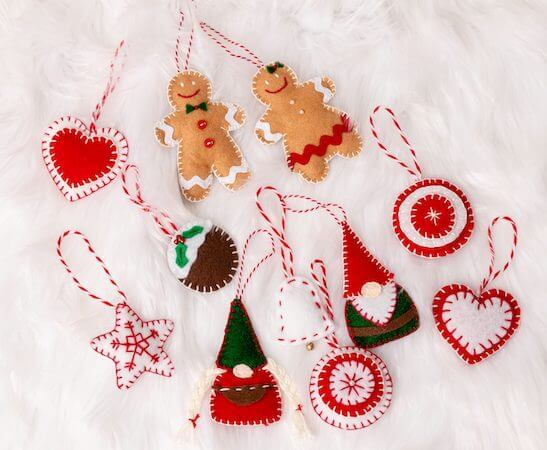 Follow the Tutorial here
14. Felt Christmas Angels by Wool Felt Wonders
These Felt Christmas Angels are perfect to work up for the holidays or any time you feel that heavenly inspiration. Perfect as an ornament or as a package tie-on, you'll love how this Angel reflects your love of crafting!
The heads are made from fine wooden beads, the legs are pipe cleaner covered with felt. The carry Holly leaves with wooden beads for holly berries.
For more angel patterns, check out these 32 Crochet Angel Patterns.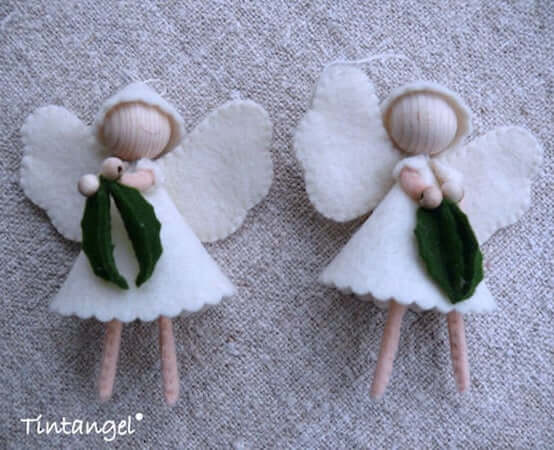 Get the Pattern by Wool Felt Wonders here
15. Woodland Fox Felt Ornament by S
This Woodland Fox is a handsome, sweet-faced little fellow. He's perfect for your living room, nursery, or work-space. (No matter where he is, he's sure to bring a smile.) This felt pattern is stitched entirely by hand, and is perfect for beginners.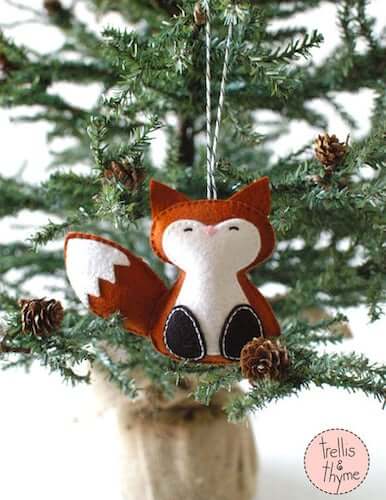 Get the Pattern by Sosaecaetano here
16. Felt Christmas Tree Decorations by Living Well Mom
Nothing says "Christmas" quite like a Christmas tree. That's why this mini felt tree makes the perfect ornament to hang on yours. It's cute, it's festive, and all ages and abilities can join in on the DIY fun.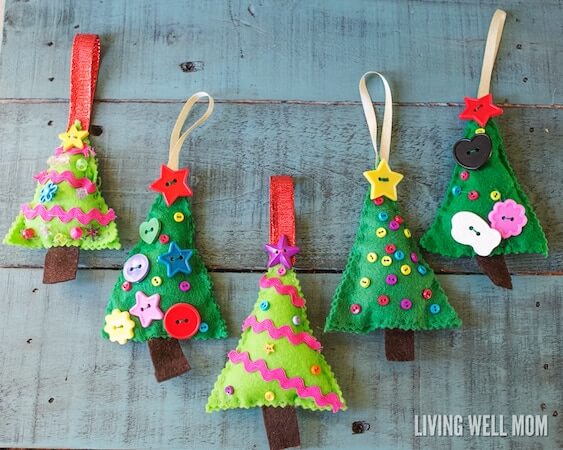 Follow the Tutorial here
17. Felt Nativity Garland by Polly Chrome Crafts
This pattern includes instructions to make all of the beloved figures needed to tell the first Christmas story. When you make this set, you are making a family heirloom for the whole family to enjoy.
Also, check these 10 crochet nativity sets you can add to your collections.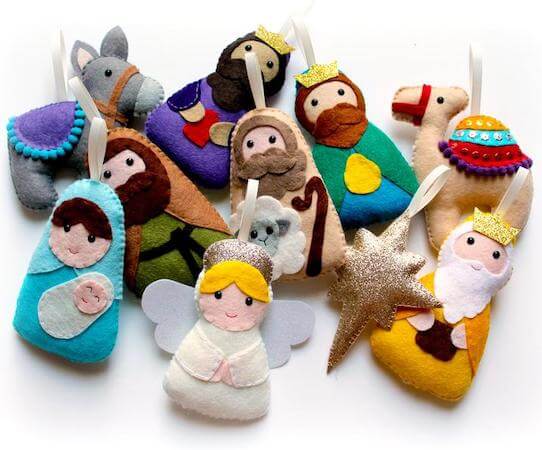 Get the Pattern by Polly Chrome Crafts here
18. Farmhouse Felt DIY Christmas Tree Ornaments by Whipper Berry
These Farmhouse Felt DIY Christmas Tree Ornaments are sure to be a classic staple for years to come as you decorate for the holidays, plus they are super easy to store and won't break!
What you'll love about these ornaments is that you can tell your Christmas story right on your tree with these simple word ornaments. You create your own story. Not to mention the fact that you can select the colors.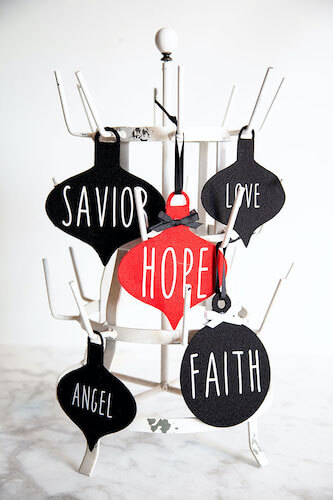 Follow the Tutorial here
19. Felt Christmas Stockings by Good Housekeeping
Folksy and whimsical, these embellished booties with blanket-stitched edges are just begging to be filled by Santa. Among the chic yet simple felt flourishes: pinwheels, faux foliage, stripes, and more.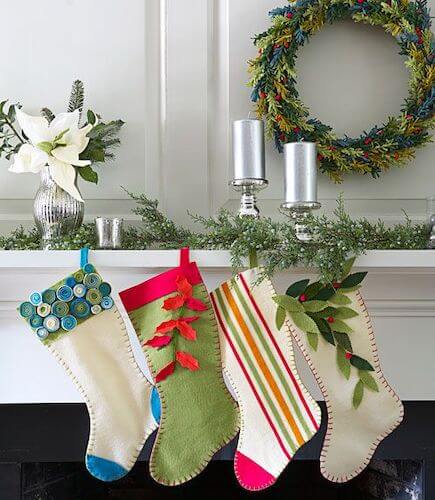 Follow the Tutorial here
20. Felt Holiday Ornament by Museo Of The Morn
The embroidered details on these ornaments are what make them truly special. The pattern for these super sweet heirloom holiday ornaments includes all the instructions you need to create them for your own holiday tree, or just to display all the time!
They stitch up pretty quickly and you will love adding them to your holiday collection. The ornaments are approximately 4 inches in diameter, making them a great size to show off the embroidered elements and to fit on pretty much any tree.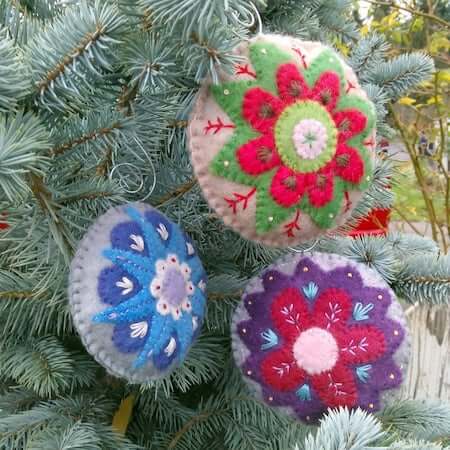 Get the Pattern by Museo Of The Morn here
21. Felt Gingerbread Houses by Gingermelon
If you love gingerbread houses, this charming pattern is created specially for you! The pattern includes instructions and pattern pieces to make five unique and quirky little houses, as well as a whimsical Christmas tree chock full of shiny-bright glass bead ornaments!
These delightful little ornaments would look lovely on a wreath, made into a garland, or just hanging on your tree!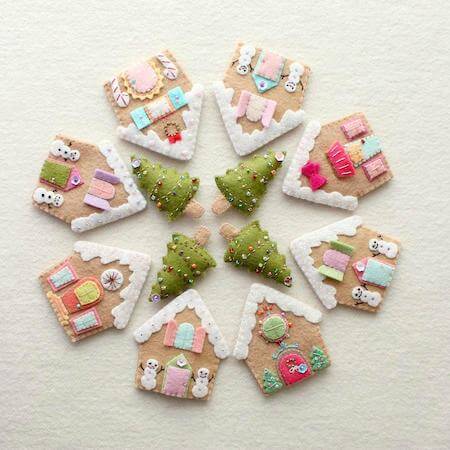 Get the Pattern by Gingermelon here
22. Felt Mini Christmas Stocking Ornament by Away Up North
Create a bit of your own Northwoods magic with these Felt Mini Christmas Stockings. The pattern features all the directions you will need to create 4 different miniature stockings, each one featuring an original design.
At just 4.75 inches high and 2 inches wide, the finished stockings are perfect for holding little gifts like chapstick, coins, mini candy canes & chocolates. Hang them from a window sill or shelf, use them as doll stockings, tie them on top of a present, or hang them on the Christmas tree.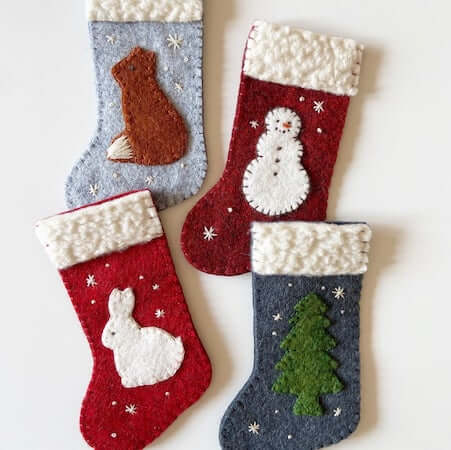 Get the Pattern by Away Up North here
23. Felt Christmas Tree Decorations by This Heart Of Mine
This adorable Felt Christmas Tree Decorations will look so festive up on your tree. And it's easy to make with just pieces of felt so kids can help make their own! Making (and then hanging) these felt trees is an easy craft for the whole family.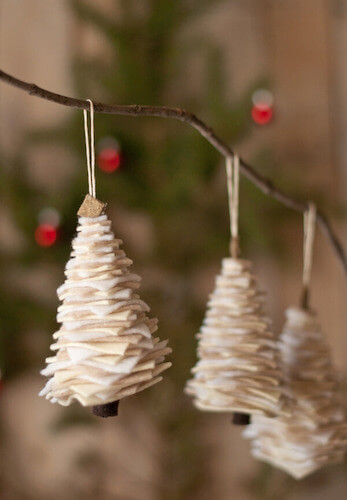 Follow the Tutorial here
24. Nordic Felt Christmas Ornaments by Erica Hite
Make your own Christmas ornaments this year or give them as gifts. This pattern includes instructions or stitching 7 whimsical ornaments: gingerbread house, Nordic heart, penguin, robin, wreath, Christmas pudding, and a reindeer.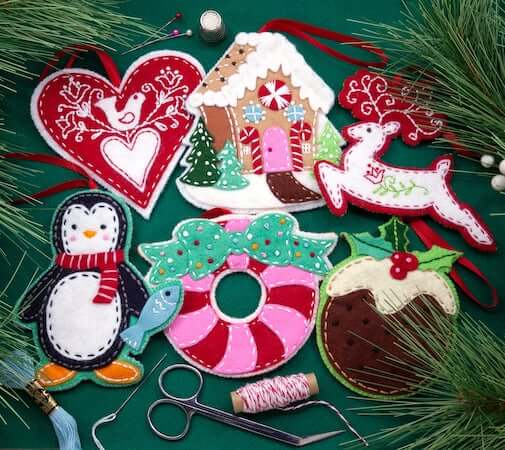 Get the Pattern by Erica Hite here
25. Felt Ugly Sweaters Ornament by Little Things To Share
Have fun making this cute Christmas sweaters! These adorable ornaments will look perfect hanging on your Christmas Tree, as part of a Christmas garland, or as decorations for your Christmas presents.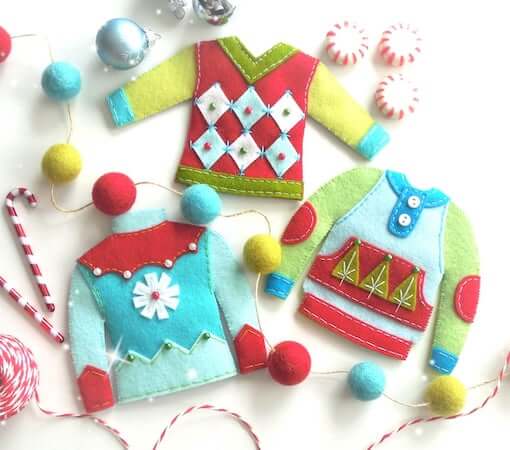 Get the Pattern by Little Things To Share here
26. Felt Ornament Sewing Pattern by Patricia Welch Designs
The possibilities are endless with this Felt Ornament Sewing Pattern. Make a poinsettia or a snowflake in a variety of color combinations. The ornament is to be made from wool or synthetic felt and is hand embroidered and embellished with sequins and beads.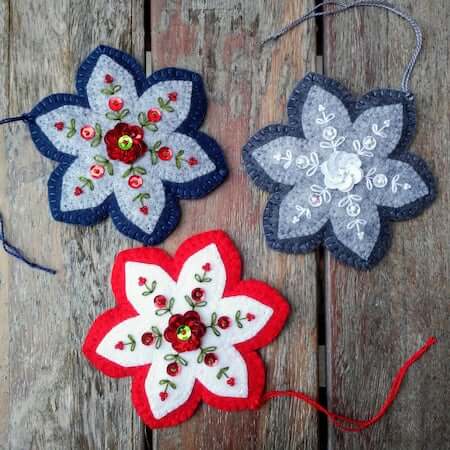 Get the Pattern by Patricia Welch Designs here
27. DIY Christmas Tree Ornaments by Apple Green Cottage
DIY Christmas Tree Ornaments these soft, colorful felt ornaments just in time for this Christmas. You can keep them for yourself, but they also make a wonderful handmade Christmas present. They are easy to make, inexpensive and don't take a lot of time to complete. A great beginner crafting project!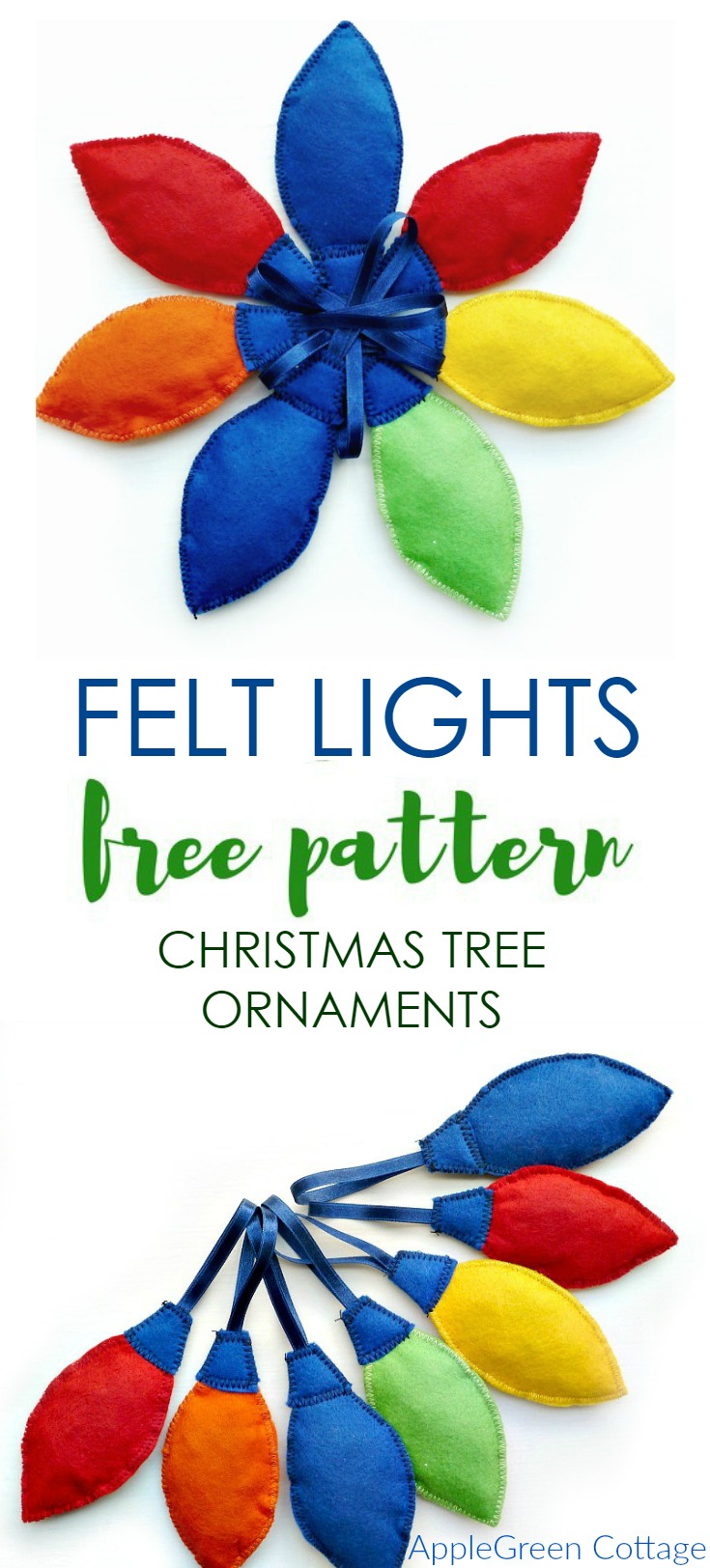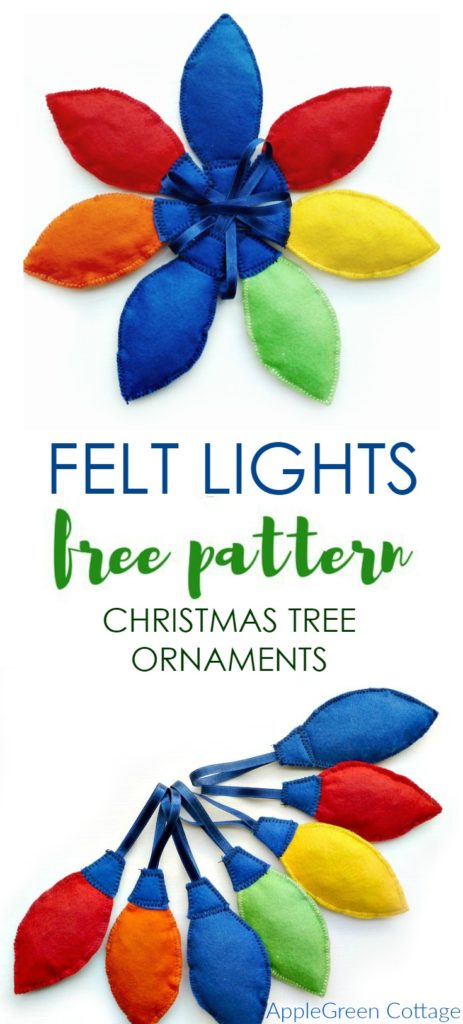 You'll need:
Soft Felt in your favorite colors (Buy a multi-color pack, not individual pieces, to save money!)
8 inches of Satin Ribbon of your choice per each ornament piece
soft Toy Stuffing Material
coordinating sewing thread
Glass Head Silk Pins
sewing machine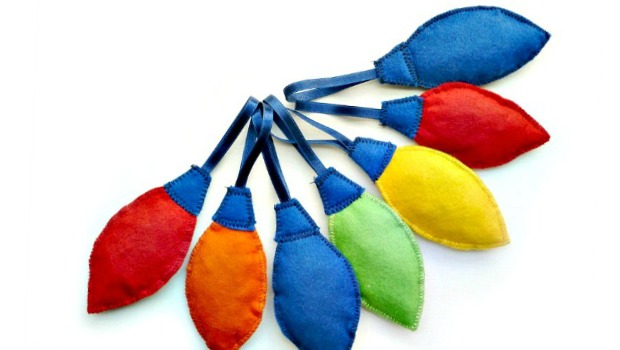 And you can download your PDF sewing pattern for FREE. Yey! Get it here, complete with instructions and bonus tips to make it super easy for you:
With so many F
elt Christmas Ornament Patterns
and options to choose from, you're bound to find something that suits your taste and, most importantly, your tree.
Decorating your home for Christmas doesn't need to be expensive. Try your hand at some of these patterns to usher in the holidays. And don't forget to share your finished ornaments on our Facebook Page!
Here are more Christmas crafts:
Sew Christmas Stocking Pattern
Christmas Elves Cross Stitch Pattern
If you want to create something interesting and sweet for the Christmas holiday, choose from these cute felt Christmas ornament patterns and start making one today!