Make use of some remarkable Christmas Elves Cross Stitch Patterns to prepare for the upcoming festivities of the holiday season. This is the right time to focus and start working on your Christmas special stitching!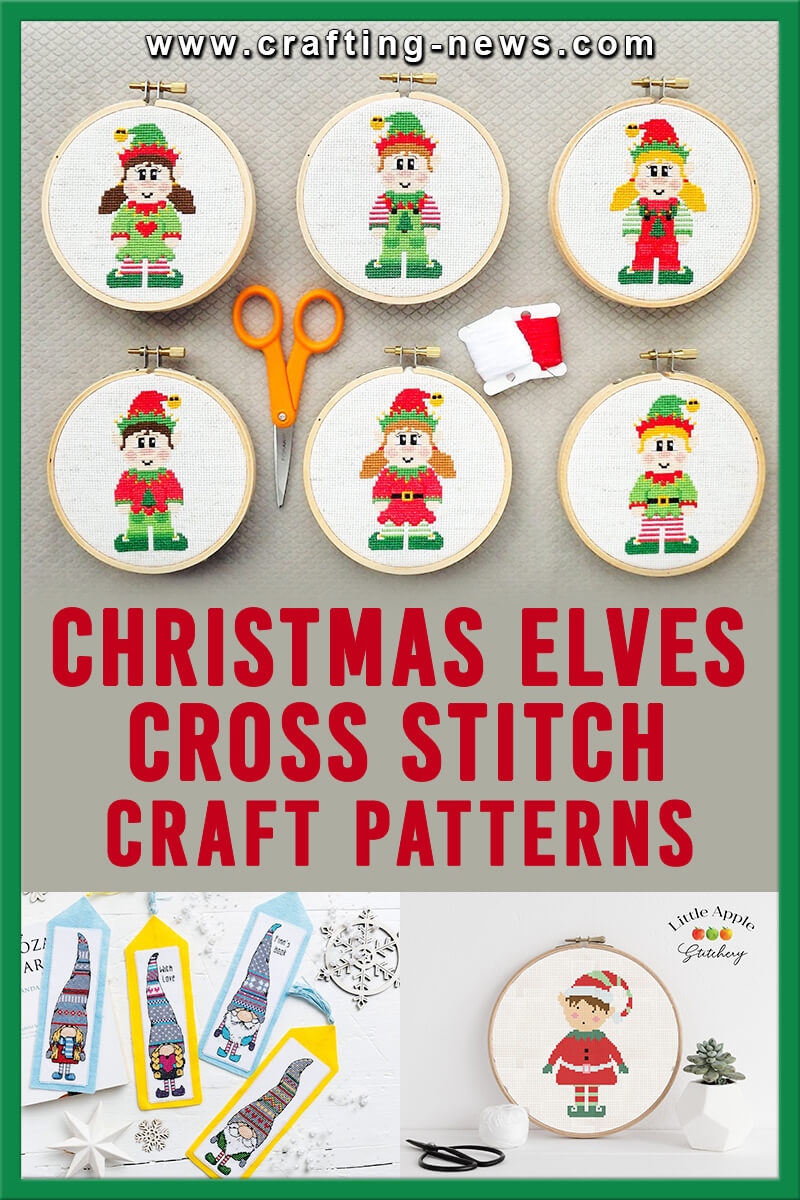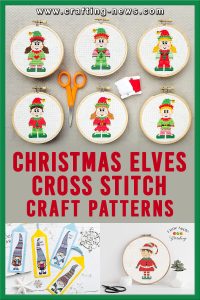 While Santa shows once a year, the Elves spend a whole lot more time front and center. If your house is an Elf crazy, we are sure you will enjoy this little collection of 10 adorable elves and gnomes cross stitch patterns you can stitch!

1. Christmas Elves Cross Stitch Pattern by Fuzzy Fox Designs
This pattern allows you to make 6 different Christmas elves, 3 girls and 3 boys – perfect for Christmas cards, Christmas decorations or a cute Christmas elf bunting.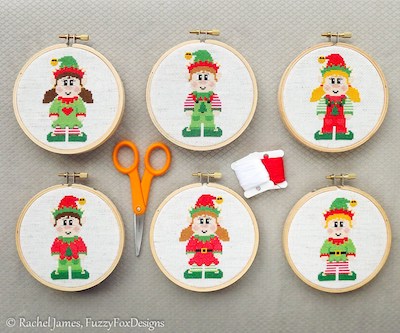 Get the Pattern by Fuzzy Fox Designs here
2. Elf Cross Stitch Pattern by Little Apple Stitchery
Stitch up this fun Santa's elf pattern for the upcoming holiday season. The bright colors and fun pattern make for a great gift or home decor piece. This finished stitched area is 6.5 x7 inches and should be a perfect quick stitch project.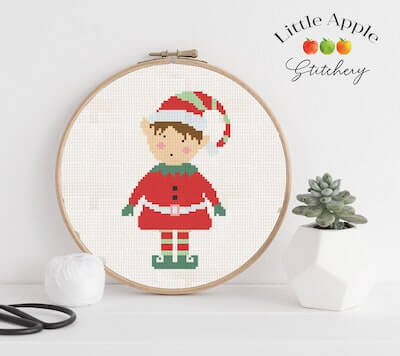 Get the Pattern by Little Apple Stitchery here
3. Buddy, The Elf Cross Stitch Pattern by Good Morning Maui
if you're a fan of the movie, or just a fan of Christmas, this Buddy the Ef Cross Stitch Pattern is something you will want to stitch up to add to your holiday decor. The design is 170 by 60 stitches and uses 15 colors, It comes out to 11.6 by 5.1 inches.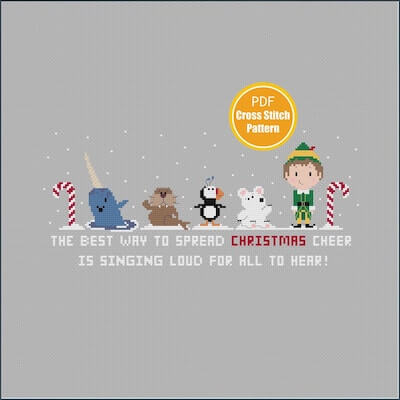 Get the Pattern by Good Morning Maui here
4. Free Christmas Gnome Cross Stitch Pattern by Gathered
These adorable gnomes will steal your heart! Magic is sweeping through the land with this cute cross stitch gnome, which can be made into a bookmark, to protect your favorite novels.
With their cute round noses, tall towering caps, and big bushy beards, the tome are gnome-like creatures from Swedish folklore.

These Scandinavian mythological characters are domestic sprites who act as secret guardians for the household, protecting them from misfortune… and now here they'll be defending your books from losing your place.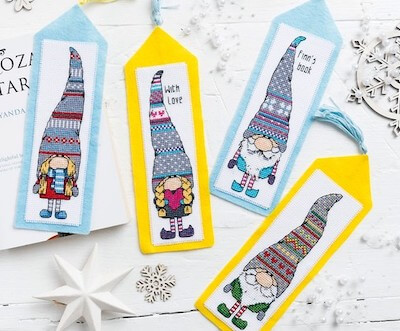 Get the Pattern here
5. Gnomes In Springfield Cross Stitch Pattern by Stitched Modern
An adorable garden landscape features gnomes tucked among the toadstools and flowers. This fun pattern is full of charming details. The gnomes in their blue coats and red hats contrast with the mushrooms and wildflowers that surround them. In addition to the single main design, this pattern has charts for three smaller charts featuring more gnomes.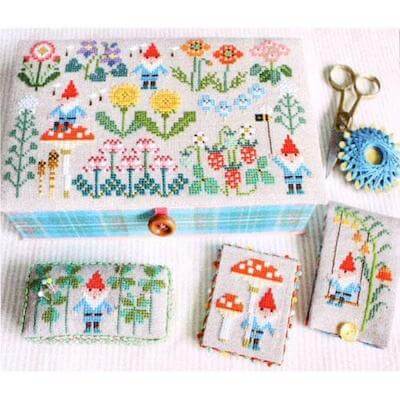 Get the Pattern here
6. Christmas Elves Cross Stitch Pattern Ornaments by My Darling Plum
Add some Christmas festivity to your decor with this cute Christmas elves cross stitch pattern! It's the perfect size to make an embroidery hoop ornament!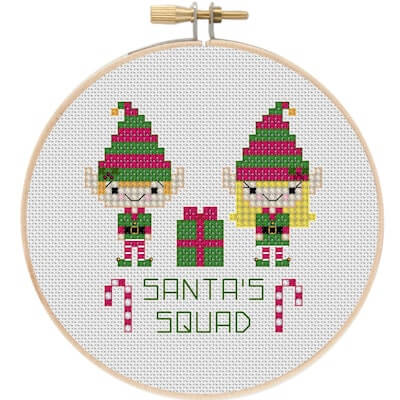 Get the Pattern by My Darling Plum here
7. Christmas Elf Mouse Cross Stitch Pattern by Lucie Heaton
Monty is dressed up in a cute elf outfit, ready to join Santa's little helpers this festive season! Perfect design to create small gifts, Christmas cards or ornaments for the festive holidays.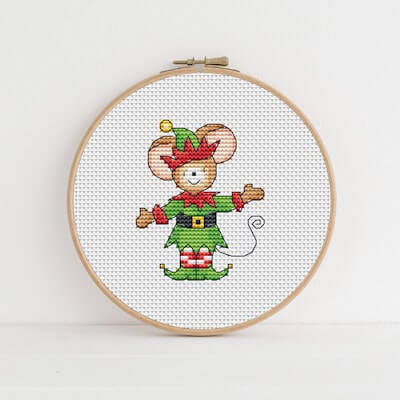 Get the Pattern by Lucie Heaton here
8. Gnome For The Holidays Cross Stitch Pattern by Tiny Modernist
Stitch these 5 endearing little holiday gnomes holding a sweet treat or present, and celebrate being "Gnome for the Holidays" this year!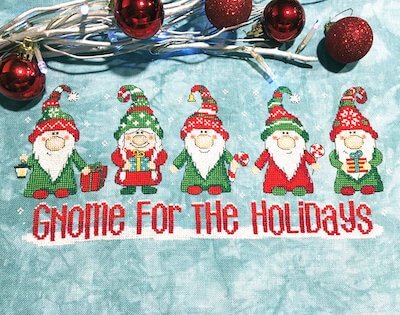 Get the Pattern here
9. Christmas Gnomes Cross Stitch Pattern
Call them gnomes or call them elves, these tiny helpers have been in folklore and myths for ages. Their stories of saving Christmas and protecting our gardens have passed from generation to generation.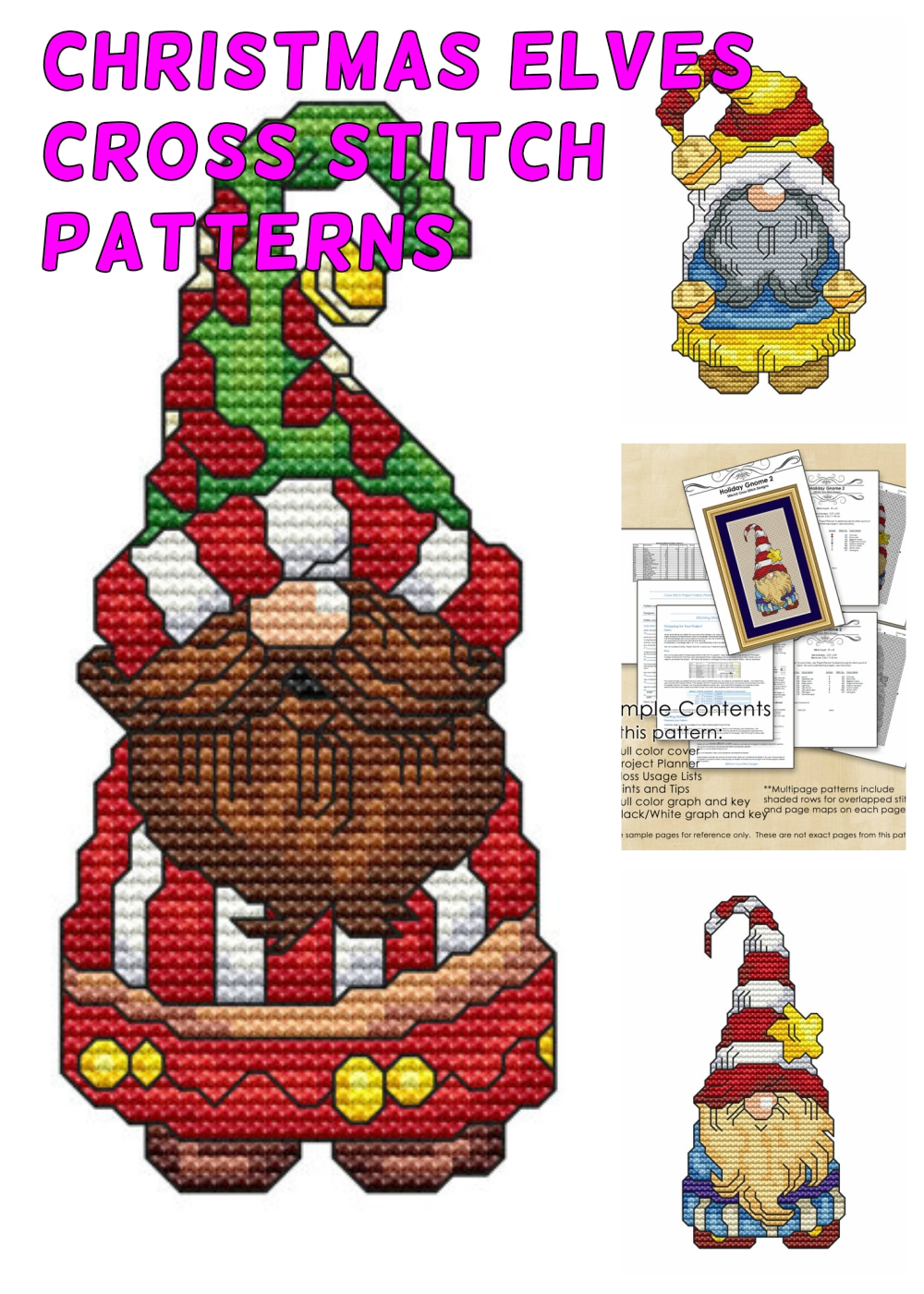 I remember when we were young; my mother had a few gnomes in the front yard. I couldn't resist the urge to play with them, bowling them down with a football. It earned me quite the spanking back in the day. But, the very next day I would be back at it because I found them so irresistible.
So, when I saw the Christmas elves cross stitch pattern, it got me
reminiscing about the good old days. I decided to make one piece for my mother just to remind her too. You should have seen the beautiful smile on her old grey face as I gave it to her and we shared stories. So gnomes can save memories too.
The Christmas elves cross stitch patterns comes as a set. Some short and some tall, others slim while others seem to have eaten quite a healthy meal. Either way, there is a whole variety of them. Five in total and they are just perfect for the Christmas holidays.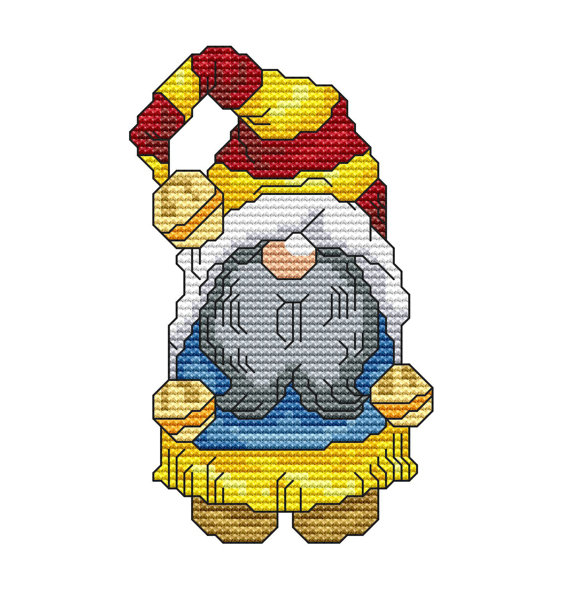 Cross Stitch For Beginners
The tutorials for the Christmas elves cross stitch pattern are well explained in simple English. They are coupled with pictures and diagrams to show you exactly what you need to do. So whether you are a beginner or an intermediate, you are bound to end up with the perfect Christmas elves if you follow the layout.
Also, the creator made sure to include explanations for complicated stitching terms; this will be very helpful especially for beginners.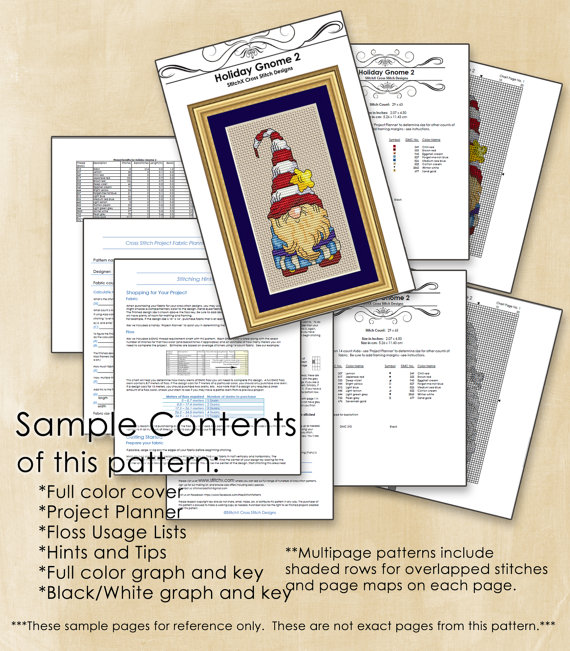 Christmas Elves Timeless Christmas Decor
And the applications for the Christmas elves cross stitch pattern are endless. That is what makes them so enticing to me. You can give them out as gifts this coming Christmas. A way to pass on the Christmas spirit to friends and family.
The best gifts are always given from the heart, and with these beautiful pieces, they are bound to know that you truly love them. You can also set them out as part of your decorations for your Christmas party. The colors will stand out a lot, and they will attract a lot of attention I guarantee.
Your creation will be the talk of the town for days after Christmas. Especially when you get to tell them that you made them yourself.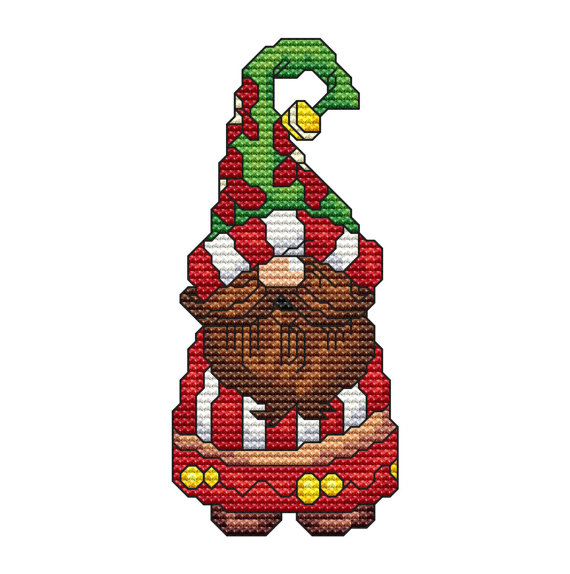 PICK ONE OR TWO FROM THIS LIST OF CHRISTMAS ELVES CROSS STITCH PATTERNS AND START MAKING IT AS GIFTS OR CUTE DECORATIONS FOR YOUR HOME.
Make these Christmas elves cross stitch patterns right now before Christmas rolls around. The pieces give an authentic and rustic ambiance that you will fall in love with not to mention anyone who gets one as a gift. So whether it is a gift or a decoration or just for everyday fun, the Christmas elves cross stitch patterns will not disappoint.
Try your hand at some of these patterns to usher in the holidays. And don't forget to share your finished ornaments on our Facebook Page!

Be sure to check out our 27 Pipe Cleaner Christmas Crafts, 24 Plastic Canvas Christmas Patterns, 27 Felt Christmas Ornament Patterns, and 25 Christmas Stocking Sewing Patterns for more ideas on how to spice up the festivity.
Since elves are such a hardworking and admirable part of Christmas, it would be fun to celebrate these often-overlooked subjects and find the very best Christmas Elves Cross Stitch Patterns!