Brighten up your backyard or balcony with these adorable macrame bird feeders that can be made with items you have lying around the house. Hang one by your window or arrange several in an artistic vignette near an outdoor dining area. Get ready to make some new feathery friends this spring in just a few simple steps!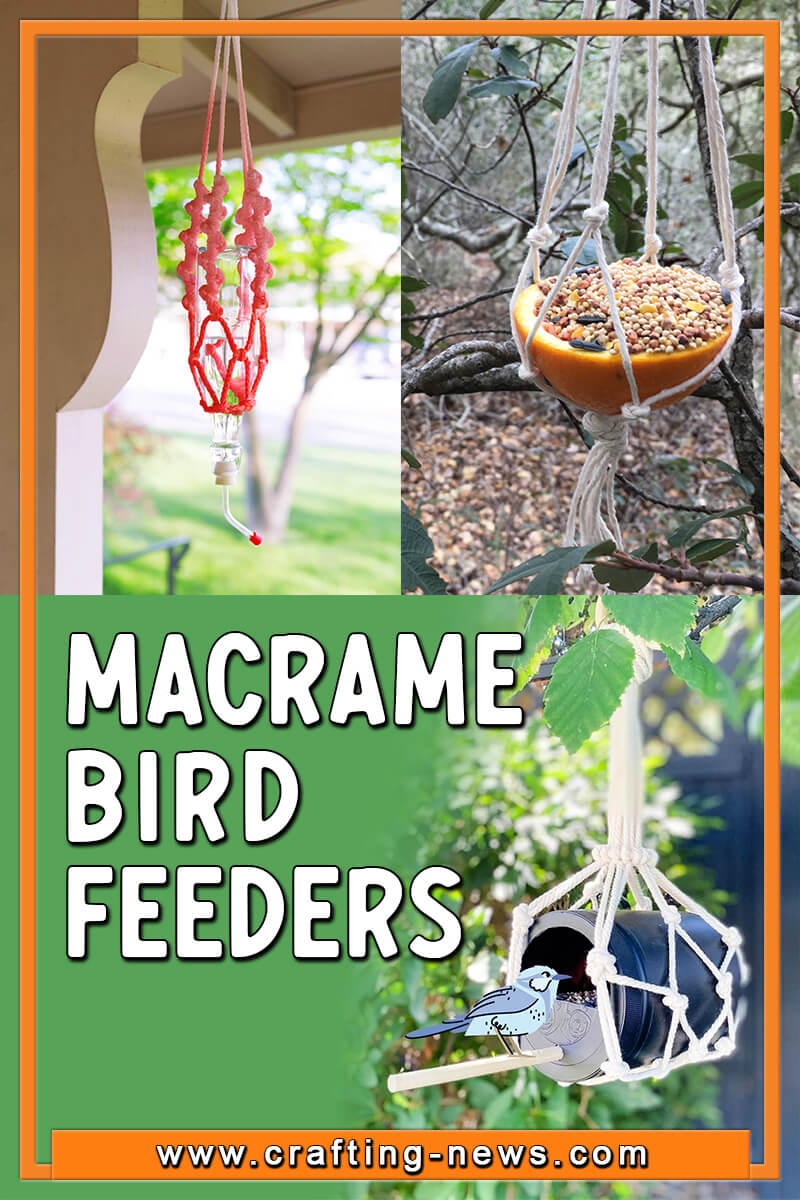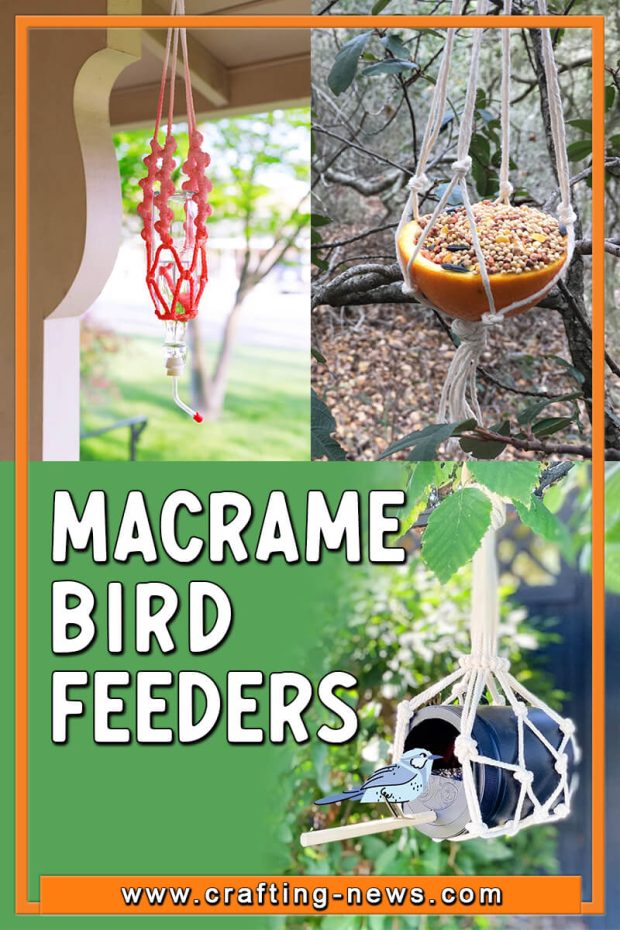 Macrame offers a great way of making attractive, ornamental, hanging garden bird feeders. Get as fancy as you like with the macrame. Once you get the hang of it, your can have fun incorporating colors, tassels, glass beads to attract birds and catch the sun!

1. Simple Modern Bird Feeder by Delia Creates
This bird feeder is a great way to welcome in Spring and invite the birds to linger at your place a little longer. It has a simple, minimalistic look that makes it a great complement for any porch or tree. And don't worry if you're a macrame newbie, it's super beginner friendly!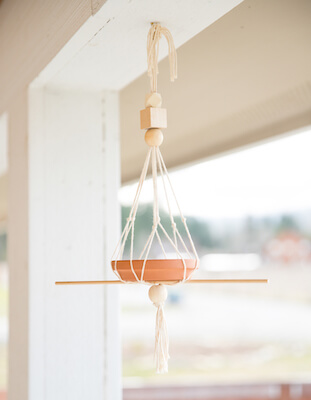 Follow the tutorial here

2. Macrame Hummingbird Feeder by Lovely Indeed
For something delicate and to hone in on the hummingbirds, check out this macrame beauty. It's perfect for grouping together or just leaving as a small spot on the porch. This little macrame feeder gets the job done and looks fab doing it.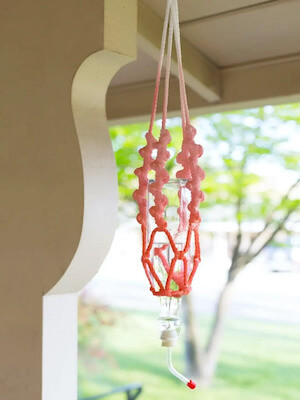 Follow the tutorial here

3. Macrame Easter Egg Bird Feeder by Honestly Modern
We love making the most of the things we already have at home, especially seasonal items that don't get a lot of love much of the year. Bring out your plastic Easter eggs to make simple DIY macrame bird feeders with kids.

The entire project may have taken 30 minutes from start to finish including gathering supplies and cleaning up.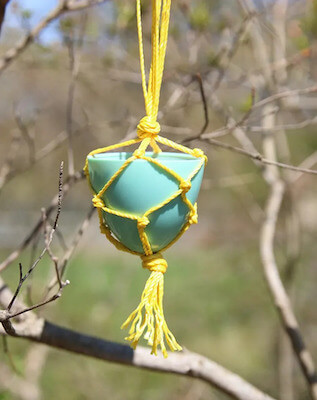 Follow the tutorial here

4. Simple Macrame Orange Bird Feeder by Blue Corduroy
A simple bird feeder is an orange peel stuffed with birdseed. Attach a string so it can hang. Macrame knots are added to give it a fresh, modern look.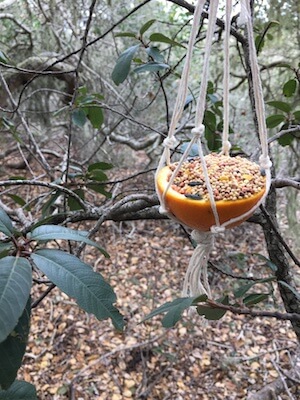 Follow the tutorial here

5. DIY Macrame Water Bottle Bird Feeder by Hearth And Vine
See how easy it is to create this beautiful hanging bird feeder with basic macrame knots and a water bottle. This DIY bird feeder is perfect for hanging anywhere outdoors for the enjoyment of your feathered friends.
However, it's best to hang this decorative bird feeder near a window or porch so you can enjoy watching the birds feast.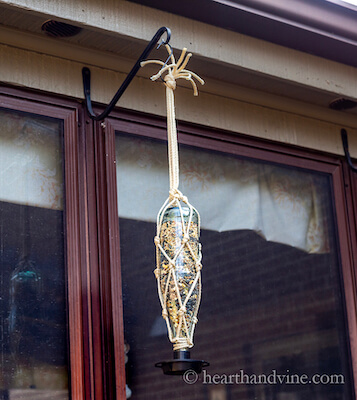 Follow the tutorial here

6. Macrame Bird Feeder Pattern by Hoooked Yarn
This fun macrame project is made for outdoor use, so decorate your garden with this pretty and useful hanger! The hanger is made with Jute, which is a 100% natural and vegetable yarn.

This sturdy yarn is suitable for outdoor use, as a Jute is a natural fibre and is fully biodegradable. With some understanding for the basic knots, you can get started right away with this macrame pattern.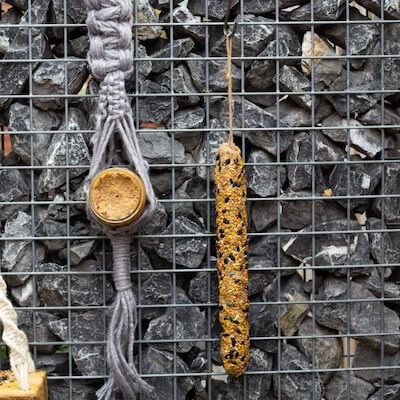 Follow the tutorial here

7. DIY Macrame Bird Feeder by Making Things Is Awesome
Bringing all the birds to the yard is super fun with these super easy to make DIY Macrame Bird feeders that are made from empty peanut butter containers. You can also substitute any plastic lidded container that you have in your home for this project.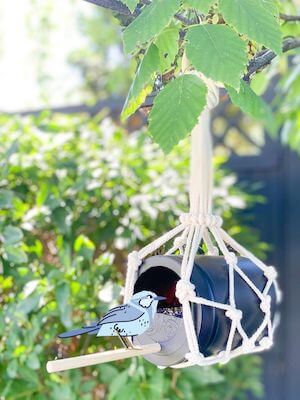 Follow the tutorial here

8. Macrame Coconut Bird Feeder by Fanny Zanotti
Add a hint of the tropics in your backyard with this Macrame Coconut Bird Feeder. Using a 100% real coconut shell, you get an all-natural way to feed the birds in your garden.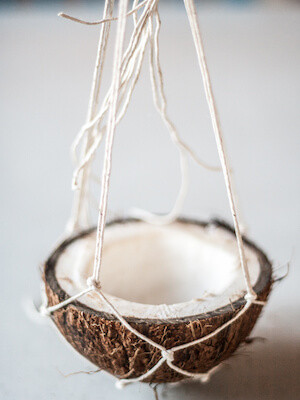 Follow the tutorial here

9. Hanging Macrame Bird Feeder Pattern by Pelote Et Compagnie
Whether you use this macrame beauty as a plant hanger or bird feeder, this piece will provide an elegant and classy look in your home and will fit right with your decor. Upcycle an old saucer, plant pot, or piece or crockery as your feeding dish.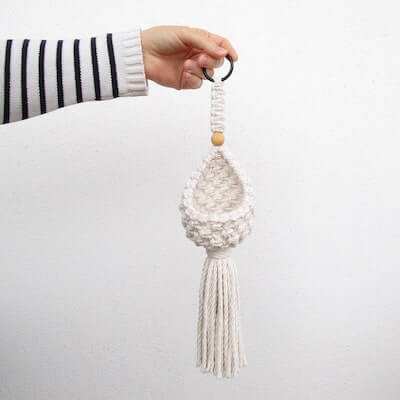 Get the Pattern by Pelote Et Compagnie here

10. Hanging Macrame Bird Feeder by Rooted In Thyme
Using jute twine, saucer, wreath, and some wooden beads, your garden will look better than ever thanks to this elegant craft. Add fresh flowers and some herbs perfect for Spring decor!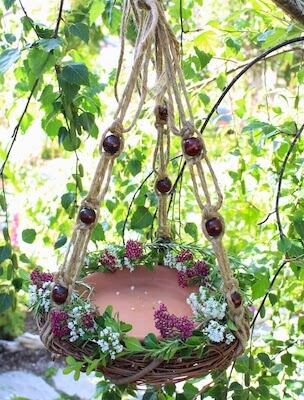 Follow the tutorial here
FEEDING BIRDS IS FUN AND SO IS MAKING THESE MACRAME BIRD FEEDERS!
Who knew that just a little creativity and macrame cord is all we need to bring all the birds to the yard! If you make these projects, please leave a comment or share a photo on our Facebook Page.

If you enjoy bird watching and want to attract more birds to your property, you'll love these DIY birdhouses, Homemade Hummingbird Feeders and more bird feeders we have shared. Check them out!

There are indeed ton of bird feeders you can buy out there, but going the handmade route allows you to have complete design control. So have a go at these macrame bird feeders today!