Take a hop around this adorable collection of macrame bunny patterns! Perfect for baby projects and grown-up bunny-lovers alike, explore this gorgeous range of designs.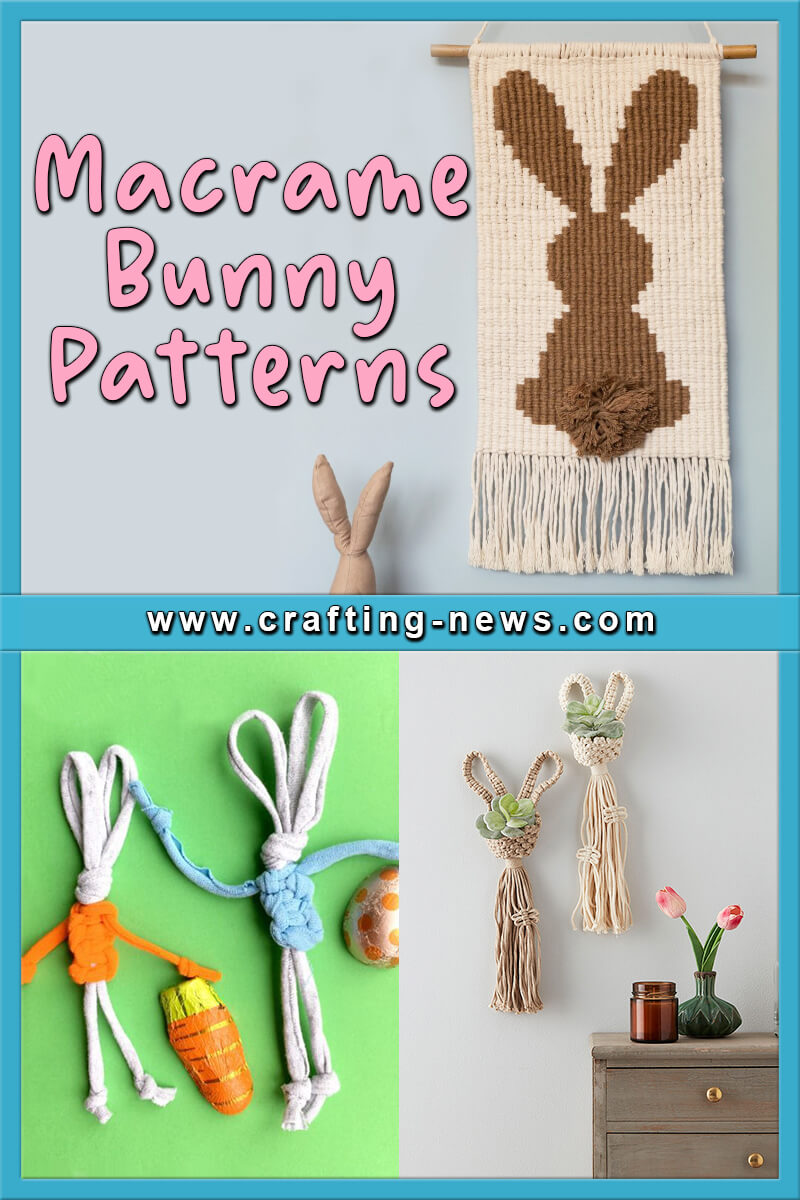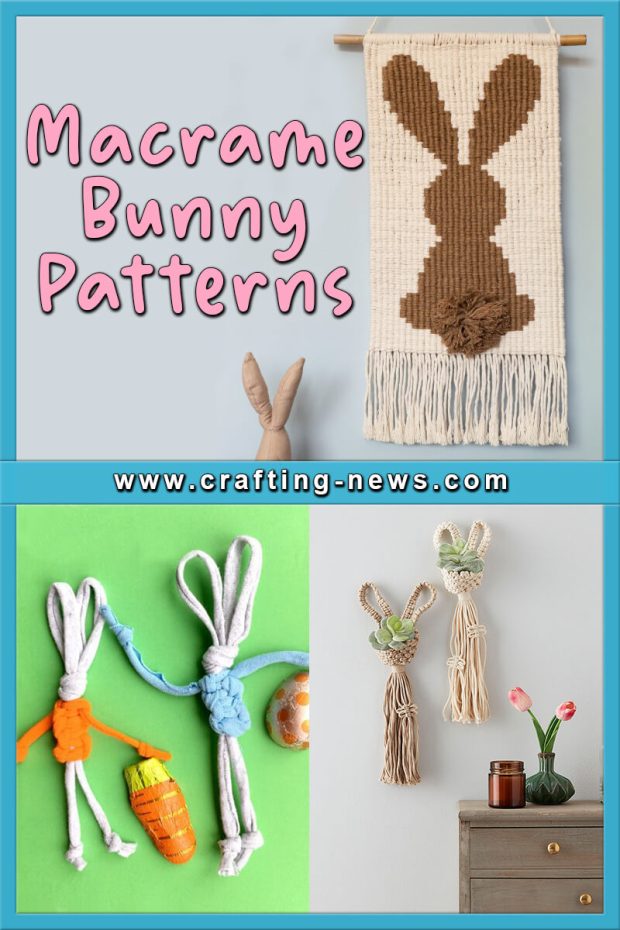 10 Bunny Macrame Patterns
If you're feeling crafty this Easter season, why not try your hand at these adorable DIY bunny crafts that will brighten any room in your house? From simple macrame bunny ears to bunny wall hangings, these projects will look amazing and also make for the perfect handmade gift!
1. Macrame Bunny Wall Hanging Basket by Silent Knot
Learn how to make this adorable and unique macrame bunny wall hanging basket with this tutorial! Especially designed for Easter and can easily turn into a functional storage, catch-all basket and a plant pot holder, too.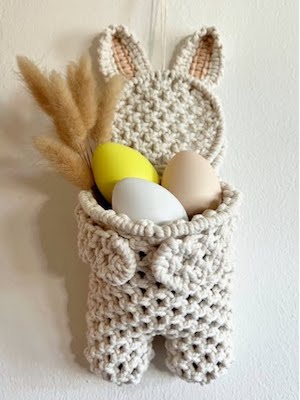 Get the Pattern here
2. Macrame Easter Bunny Ears by Hobby Craft
Get ready for egg hunt season by making these fun macrame Easter bunny ears. Using a few simple knots, you can recreate this look in no time.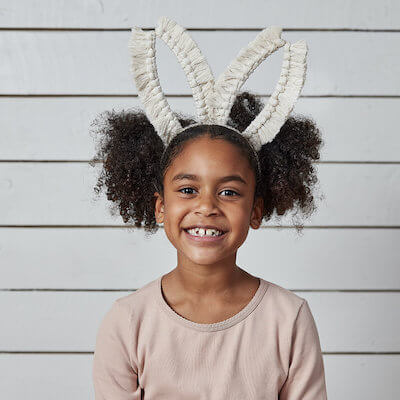 Get the Pattern here
3. Macrame Bunny Wall Hanging by Simply Inspired
Taking an unusual twist to using a normal macrame cord, this wall hanging tutorial incorporates some fluffy yarn more commonly seen in crochet or knit pieces, to create the most adorable furry bunny. This DIY macrame bunny wall hanging is perfect for Easter or even a woodland themed baby nursery!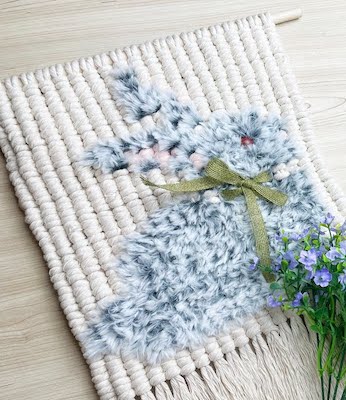 Get the Pattern here

4. Macrame Bunny Plant Pods by Hobby Craft
Put a seasonal twist on macrame plant hangers with these bunny plant pods! They're the perfect way to display smaller plants in your home, especially as you embrace all things spring. These seasonal details are a great way to refresh your home décor.
Also see: Mini Macrame Plant Hangers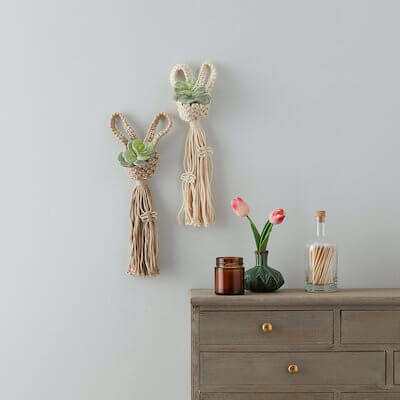 Get the Pattern here

5. Bunny Macrame Pattern by Lia Griffith
This is a simple craft project and is easy to personalize using different colors of macrame cord. Choose a natural and pink cord or use whatever colors you like.

While this macrame bunny is created as part of an Easter and spring collection, you can make it any time of the year. It would make really cute kid's decor year-round!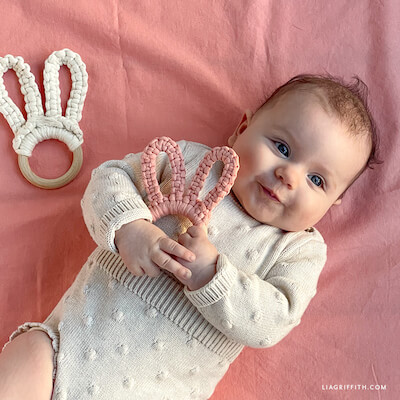 Get the Pattern here
6. DIY Bunny Macrame Mobile by Bochiknot Macrame
Incorporate bunny ears into a baby mobile pattern along with pom-poms and tassels for the bunny tail. For the center of the mobile, add a feather/bead/sequin pattern that shines and moves as the baby mobile spins for the little one! This could also be a fun DIY Easter project with the family with the cute bunny ears and bunny tail.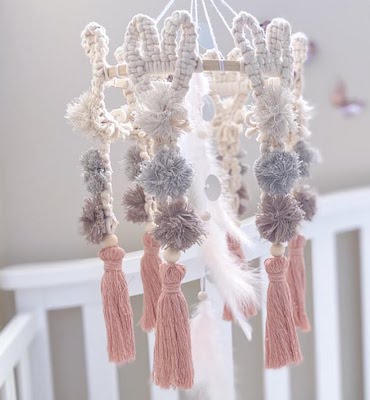 Get the Pattern here
7. DIY Macrame Bunny Wallhanger by Hoooked
This macramé wallhanger Bunny Bella takes some time, but it's very fun! It's the perfect project for the macramé beginner, since you only use one macramé knot. Get in the Easter mood with this macramé Easter wallhanger in your living room, or decorate your kid's bedroom with this cute rabbit!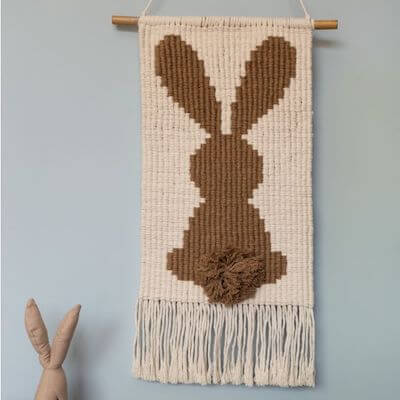 Get the Pattern here

8. Macrame Bunny Wreath by Hobby Craft
Add a modern touch to your Easter decor with this macrame wreath! With just a couple of hours and a few knots, you can create this spring wreath – perfect for adding a seasonal touch to your home.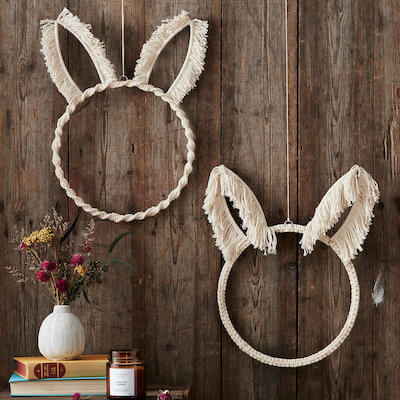 Get the Pattern here
9. Macrame Easter Bunny Decor by Sasha Macramessage
Make yourself a super cute Macrame Easter bunny. The perfect wall hanging for a nursery! Make them in neutral or juicy colors and bring life to a whole herd of lovable bunnies, each with its distinctive color personality.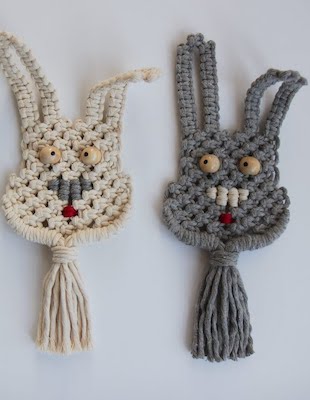 Get the Pattern here

10. Macrame Bunnies by Red Ted Art
How about another cute little toy that your little ones can play with? When it comes to what you can do and make with macrame, you'll be surprised at the variety of little toys like these that you'll find.

These little bunnies are actually made out of t-shirt yarn and using macrame knots to bring it to the appropriate shape. While macrame cords are just as effective, there is something quite endearing about these bunnies being made out of old tees.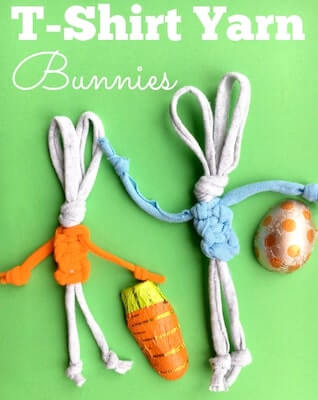 Get the Pattern here
WHETHER YOU ARE LOOKING FOR CUTE MACRAME BUNNIES OR EASTER BUNNY DECORATIONS, YOU WILL LOVE ALL OF THESE MACRAME BUNNY PATTERNS.
Once finished, please have a moment to share your works on our Facebook Page. We love seeing you bring these patterns to life with your own special touches!

Love these ideas? Check out all of our macrame patterns archives. Or browse through our home decor section for more projects you can make.

We hope you enjoyed all of these macrame bunny patterns. Happy knotting friends!