What can be cuter than a macrame plant hanger? A mini macrame plant hanger! Now, even the smallest of your plants can have a stunning space to fill!

Plant hangers are one of the best macrame projects to tackle if you're a beginner. They're quick and easy (usually) and almost always look amazing because plants and macrame just go together.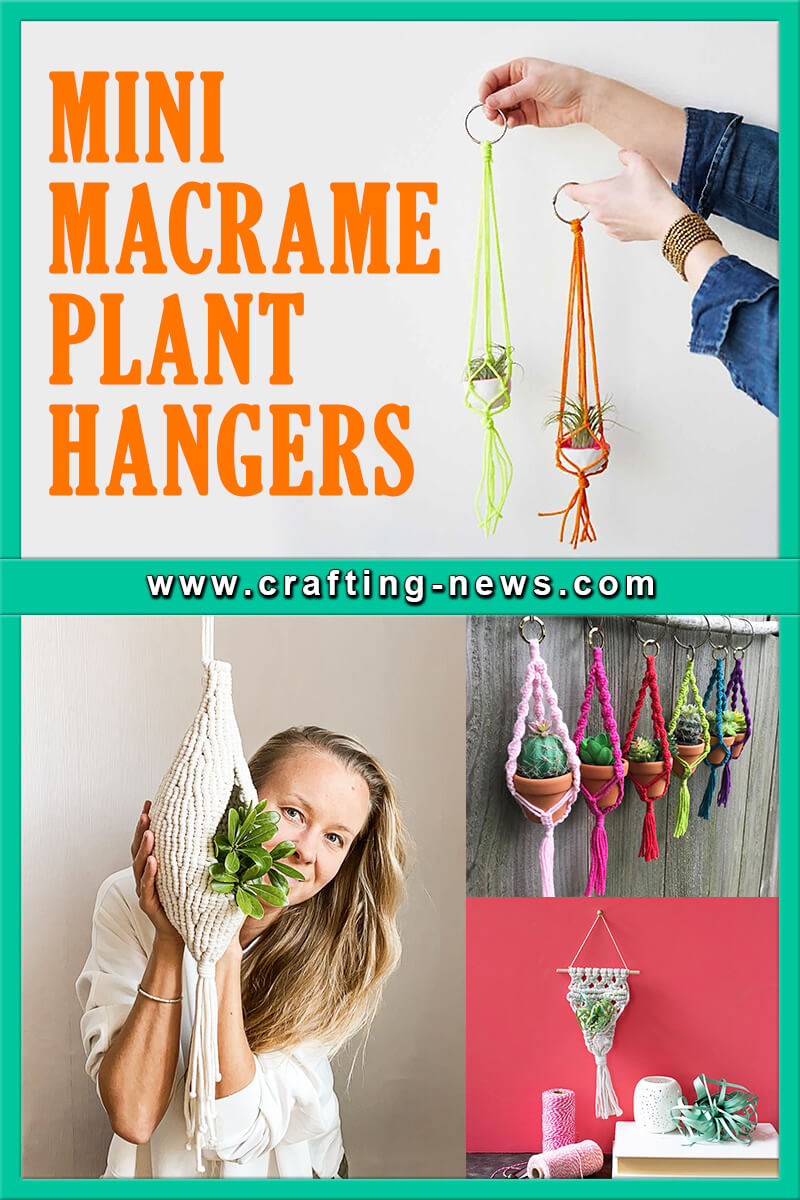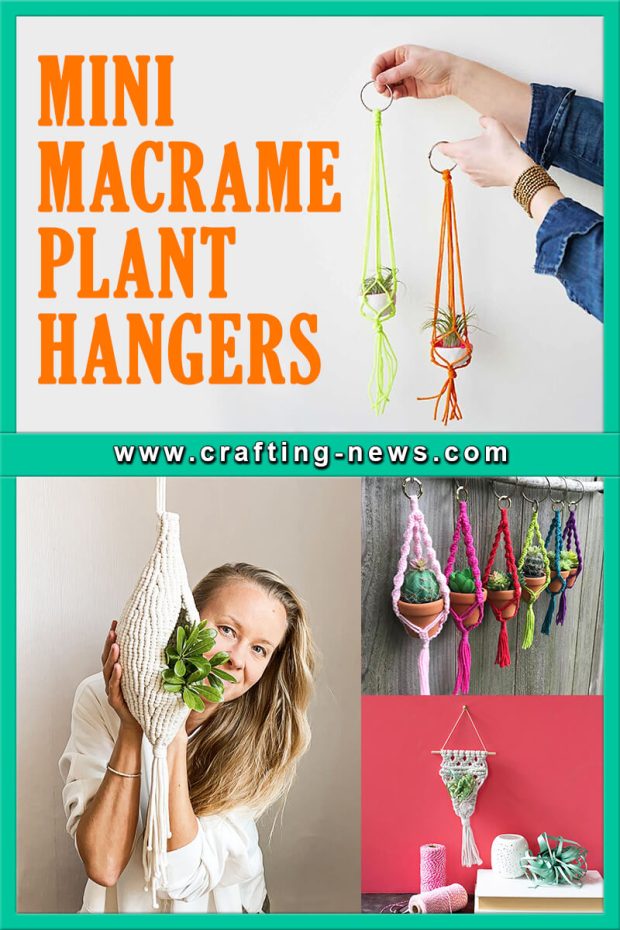 These trendy mini macrame plant hangers make a big visual impact, but they only uses few supplies. Combine your love of macrame with your love of plants for a fresh new home decor piece. With all of these mini macrame plant hanger ideas, you can actually create an amazing macrame hanger garden, indoor or outdoor!

1. Mini Macrame Plant Hanger Pattern by Driftwood Family
Learn to make an adorable macrame plant holder at home! It is the perfect size to hang from your rearview mirror, or decorate your home or can also be used to hold crystals and minerals, or anything small!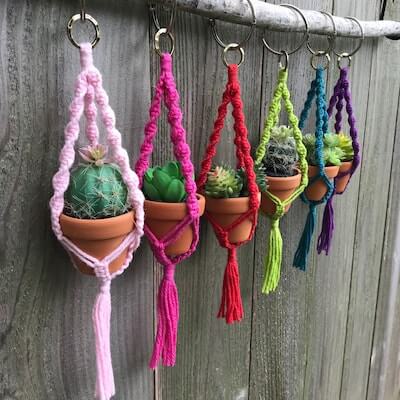 Get the Pattern by Driftwood Family here

2. Mini Macrame Plant Hanger DIY Pattern by Matching North
If you're looking for a super quick macrame project, this Mini Macrame Plant Hanger will do the trick! It's fast, adorable, and perfect to hang from your rearview mirror, adorn your desk at work, or even as a boho-chic Christmas ornament.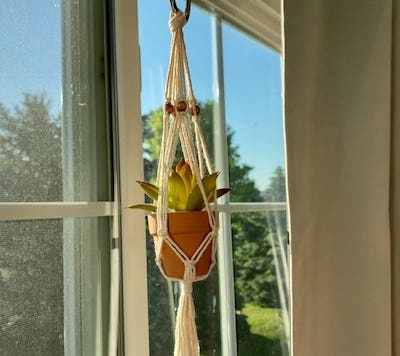 Get the Pattern here

3. Mini Macrame Plant Hanger Tutorial by Hemptique
This Mini Macramé Plant Hanger is made with eco-friendly and biodegradable hemp cord! It's the perfect way to bring a touch of outdoors inside.

This hemp planter would look great hanging from a rear-view mirror, in an office, or in any other space you'd like! It's the perfect size for a succulent plant or some small flowers.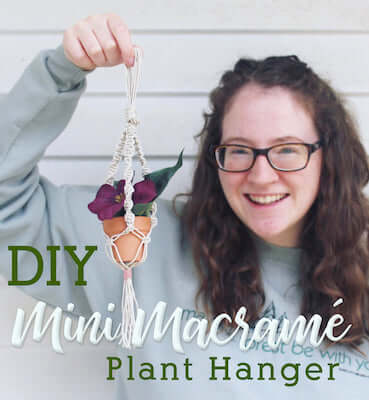 Get the Pattern here

4. DIY Macrame Air Plant Holder Pattern by Simple Beans
This macrame air plant holder is great for laying flat against the wall and will hold an air plant or small bud vase. It's your world!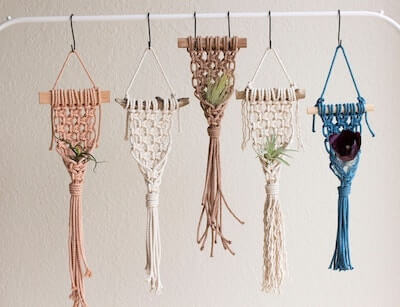 Get the Pattern by Simple Beans here

5. DIY Mini Plant Hangers Macrame Pattern by Think Make Share
Creating the macramé hangers is surprisingly easy! Start with four strings or cords cut a little more than double the desired length of your hanger. If you are looking for a simple project to fill up an afternoon, this is the craft for you!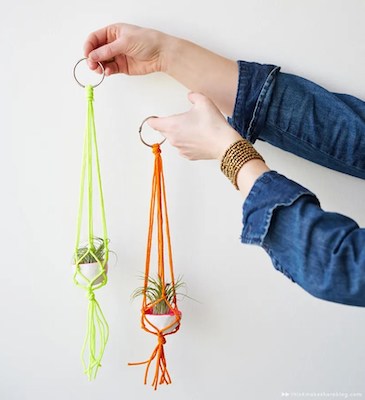 Get the Pattern here

6. Mini Macrame Succulent Hangers by Mom Spark
These tiny but impressive plant hangers are made specifically for succulents. Brightly colored macrame cord really makes them pop.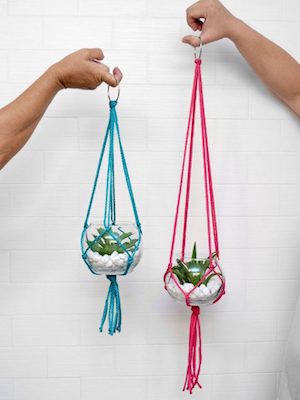 Get the Pattern here

7. Mini Macrame Succulent Hanging Planter by Almost Makes Perfect
This tutorial skips the knots and opts for beads instead. You don't have to tie a bunch of knots, just grab some beads and get down to work! These super simple plant hangers only require three knots. Just three knots (plus a little tie off on the top and bottom) and you're done. How easy is that?!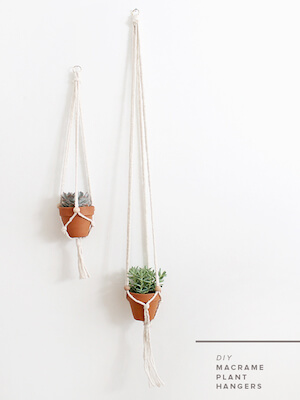 Get the Pattern here

8. Mini Macrame Air Plant Holder by Lia Griffith
If you need some DIY inspiration, this mini macrame air plant holder is super adorable and a great project for those of you interested in improving your macrame skills. Just follow this tutorial and hang it up anywhere in your home!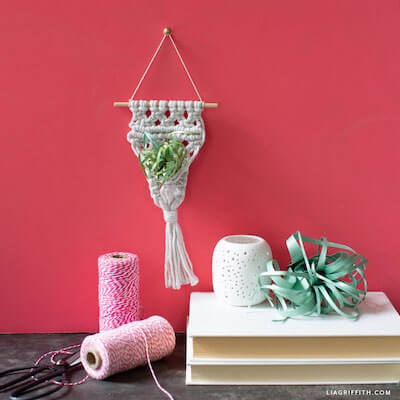 Get the Pattern here

9. Macrame Air Plant Hanger by A Kailo Chic Life
To start off all the spring and Easter gorgeousness, this super simple macrame air plant hanger uses plastic Easter eggs!
You will love these mini macrame air plant hangers because they are perfect addition to your colorful home or office. The best part is that each of these planters will cost you less than $2 plus the cost of the air plant!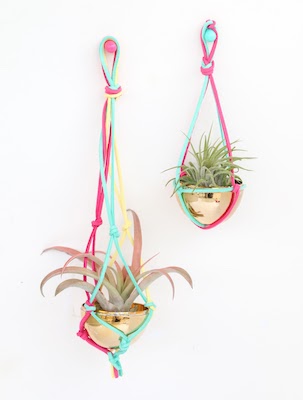 Get the Pattern here

10. Mini Macrame Air Plant Holders Pattern by Crafted By Ceri
These mini macrame holders are designed for mini air plants and will look so pretty hanging around your home. They'd make a great present for any plant-lovers but are also just great storage. Take the plant out and you could fill yours with decorative items, toys, beauty items or even stationary.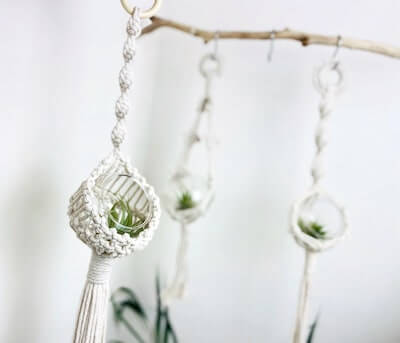 Get the Pattern by Crafted By Ceri here

11. Mini Macrame Plant Hanger Pattern by Heathers Handcrafts UK
Plant hangers are the perfect space saver for displaying your favourite plants. These miniature sized hangers are the perfect size for small cacti, succulent or baby plants. It can be hung basically anywhere with a hook in the ceiling or wall, or an over-the-door hook. A lovely addition to any room!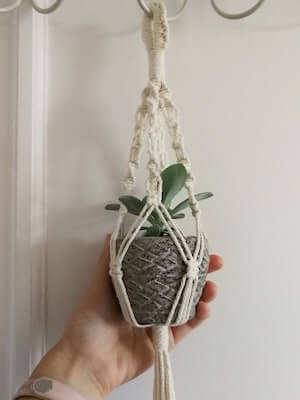 Get the Pattern by Heathers Handcrafts UK here

12. Macrame Glass Bowl Air Plant Hanger by Crafted By Ceri
This Macrame Glass Bowl Air Plant Hanger design is so appealing if you love the DNA spiral (otherwise known in macrame language as the half square knot). This design features a really thick spiral suspended from a wrapped ring, with a honeycomb hexagon shape opening – a real eye catcher!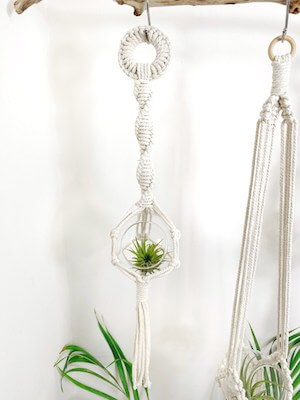 Get the Pattern here

13. Mini Macrame Plant Hanger by Crafty Girl Life Hacks
Make these darling little mini cactus pots for yourself or as a cheap and easy gift. You can customize it using whatever rope or t-shirt yarn colors you prefer.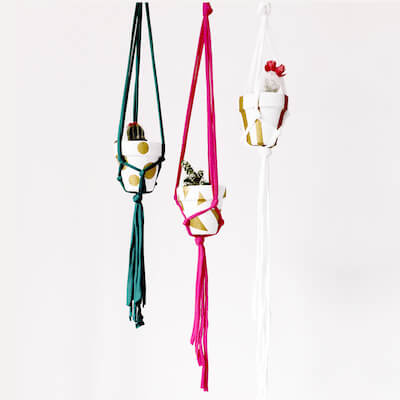 Get the Pattern here

14. Diamond Days Macrame Plant Hanger by Yarnspirations
A few simple knot techniques are used to create this attractive macramé plant hanger. You can display a single hanger or create a trio of hanging plants in a colorful arrangement to really stand out.

Diamond details add just enough graphic interest to plain pots. Learn double half hitch knots, gathering knot, and fringe techniques on this fun project.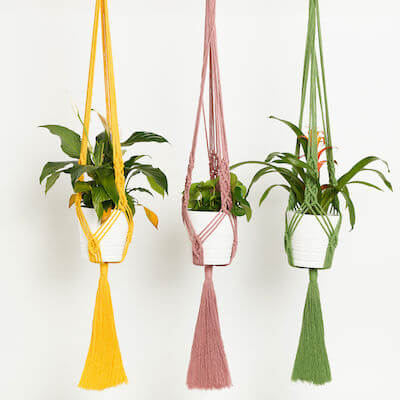 Get the Pattern here

15. Macrame Cocoon Plant Hanger by Curious Craft Studio
Ready to get your hands all knotty with this playful macrame plant hanger tutorial? This Cocoon Macrame Plant Hanger is inspired by nature in both texture and shape.
The sturdy cocoon shape is defined by each additional vertical cord with no other support frame inside. This minimalist plant hanger is suitable to house a quirky air plant or another small plant.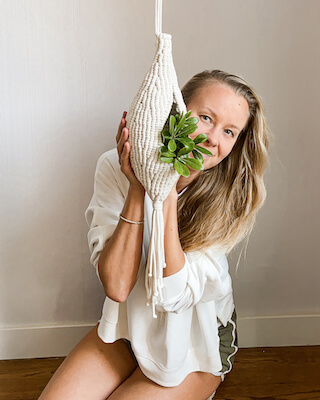 Get the Pattern here
WHICH OF THESE MINI MACRAME PLANT HANGERS DO YOU FIND THE CUTEST?
Browse through all of our macrame projects for inspiration, such as lawn Chairs, Mirrors, vase and share your project photos with us on our Facebook Page so we can admire your makes! You can also add more interest to your macrame project, learn the macraweave technique here.
These mini macrame plant hangers are some of those unicorn DIY projects – something that can appeal to all ages, only uses a few materials and crafters at any skill level can easily make. Score!