Macrame is huge right now and is becoming more popular every day. It is an easy and inexpensive hobby that is fun and rewarding. If you enjoy the art of macrame and are looking for a way to add even more interest to your projects, try macraweave. This technique combines macrame and weaving.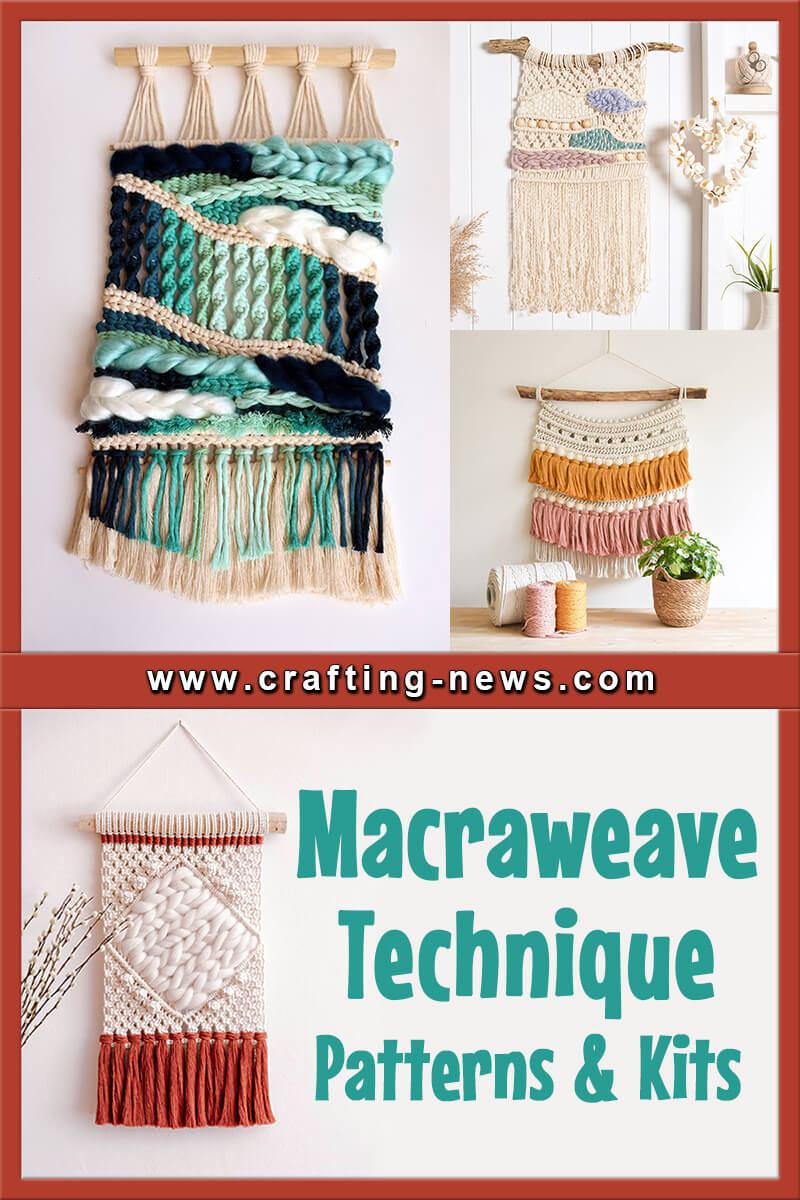 Learn the Macraweave Technique with 10 Projects You Can Try
Below are some of our favourite macraweave projects. We have included a lot of exciting projects we hope you will want to work on.
What Is Macraweave?
Macraweave is an art form that combines macrame and weaving. It creates striking projects with lots of texture. It is also a great way to add pops of colour.
How to Macraweave
Before you can learn how to macraweave, you must first be familiar with the art of macrame. Some macraweave project are woven as you make your macrame knots. While other patterns are weaved after the project is knotted.
Macramweave is comparable to macrame. To create a macraweave project you will need basic macrame supplies such as a dowel rod, rope, scissors, and a measuring tape. In addition to these regular tools and supplies, you will also need your weaving material. This is often a thick fibre such as chunky merino wool.
15 Macraweave Patterns and Kits
If you know the basic macrame knots, it is time to learn meacraweaving. The technique will take you basic projects to a completely different level. Below you will find 15 macraweave patterns. There are free macraweave tutorials, paid patterns, and kits.
1. DIY Macraweave Wall Hanging Pattern by ShareTheKnot
This is a beautiful macrame wall hanging that incorporates a small bit of weaving. This piece would look stunning next to an entry door, in the kitchen, or even in a bathroom.
The digital pattern includes written step-by-step instructions, a materials list, a Macrame Knot Guide, and a short video. Completed, the macraweave wall hanging will measure close to 19.69 inches (50 cm) long x 12.20 inches (31 cm) wide.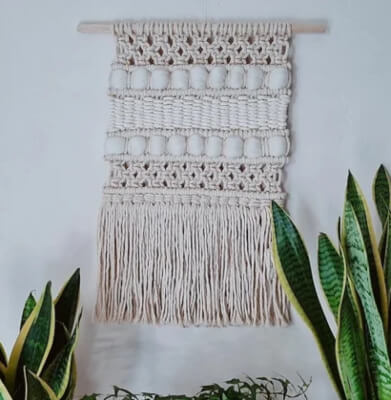 Find the Pattern by ShareTheKnot Here
2. Alice DIY Macrame Weave Wall Hanging Tutorial by HelixDesignHOME
Here is a macrame weave project suitable for an advanced beginner to intermediate level macrame artist. The wall hanging has a boho chic design with a subtle pop of colour.
To make the DIY macrame project you will need to know how to make the larks head knot, square knot, and horizontal clove hitch knot. The finished size will be approximately 12 inches (30 cm) wide x 15.8 inches (40 cm) long.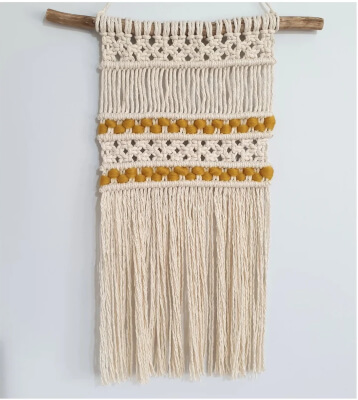 Find the Tutorial by HelixDesignHOME Here
3. Beginners Macrame Weave Kit by WoolCoutureCompany
Are you interested in purchasing a macrame weave kit? With this kit you get to choose your favourite yarn pack colour combination and rope colour. The kit creates a stunning piece of artwork with subtle colours and lots of texture.
Each kit includes 60 metres of 3 mm macrame rope, 10 chunky wooden beads, 4 bundles of super chunky yarn, an S hook, a piece of wood, a Beginners 'How to' Macrame Guide, and the pattern. Once complete, the wall hanging will measure about 11.41 inches (29 cm) x 19.69 inches (50 cm).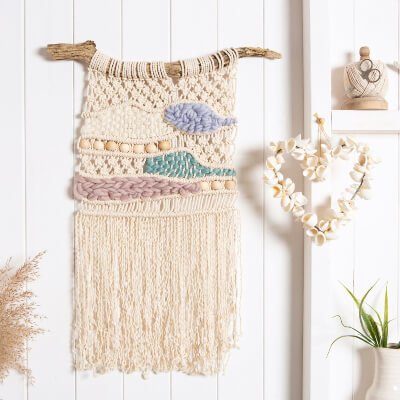 Find the Tutorial by WoolCoutureCompany Here
4. Sea of Cortez. Macraweave Wall Hanging Tutorial
In this free macrame tutorial, you will learn how to create a stunning wall hanging. This piece is a great way to add colour and visual interest to any room.
This is a fun pattern that uses several shades of the same colour along with natural macrame cord. The video tutorial is detailed and easy to follow.
Find the Tutorial by Fibers of Mine Here
5. Macrame Weaving Pattern for Wall Hanging by HomeVibesMacrame
This step-by-step picture-based pattern is for anyone ready to improve their macrame skills or determined beginners ready to tackle a fun project.
The macrame weaving pattern will guide you through each stage of making the wall hanging. Once you have this pattern mastered, you can use it to create wider and longer versions.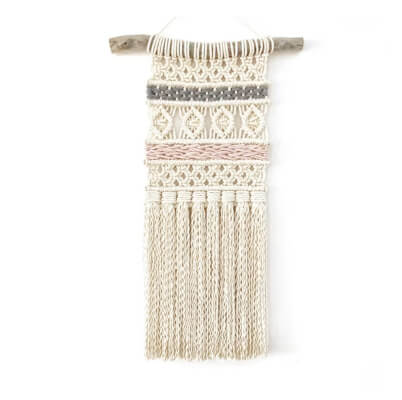 Find the Tutorial by HomeVibesMacrame Here
6. Macrame Macraweave Wall Hanging Pattern by bochiknot
If you are new to the art of macrame, yet want to incorporate weaving into your first project, this pattern is for you. You will be able to create this beautiful wall hanging to enhance the aesthetics of any room in your home.
Included in the download are written instructions with photos. There is also a link to the step-by-step video tutorial.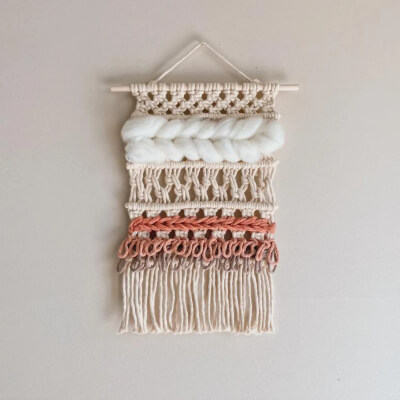 Get the Tutorial by bochiknot Here
7. Macrame Weave Heart Wall Hanging Kit by SarahHarste
Hang this finished project in a child's room or a nursery. You could even make this piece for your mother on Mother's Day.
This macrame weave project is intended for macrame artists that have previous experience. However, a beginner can complete the project with a little patience.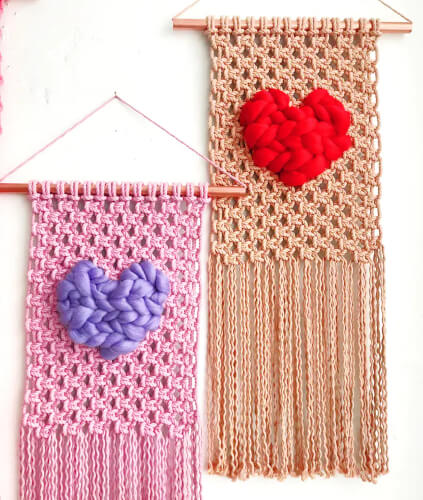 Find the Tutorial by SarahHarste Here
8. DIY Macrame Tutorial: Macrame Weaving Wall Hanging with Hexagon Pattern
Are you searching for a way to add colour to a room without it being too dramatic? This artist combines several of her previous tutorials to make this wall hanging.
Her free video tutorial will walk you through the process. Since this is a combination of previous lessons, we would recommend this pattern for more advanced macrame artists.
Find the Pattern by Lots of Knots Canada Here
9. Macrame Weave Wall Hanging Tutorial by KnotsAndWallflowers
This is a beautiful, little wall hanging uses coloured ropes to create a pop of colour. The wool used for weaving is neutral and works well with the pattern.
The macrame weave pattern contains a step-by-step written tutorial. To make the wall hanging you will need about 4 mm natural white twisted cotton cord, 20 m of 4 mm coloured cord, and wool.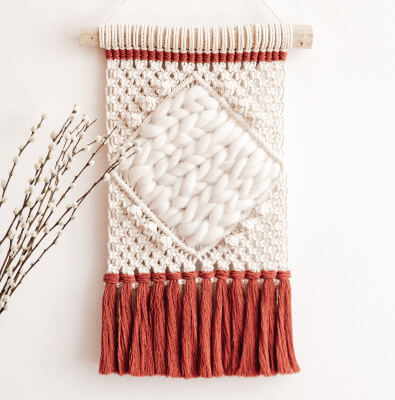 Find the Tutorial by KnotsAndWallflowers Here
10. DIY Rainbow Macrame Weaving Tutorial for Beginners
Here is a fun rainbow design. Unlike most of the other macraweave patterns we have listed, this one is primarily weaving. To make this piece, the only macrame knots you need to know are the Lark's head knot, double half hitch knots.
Find the Tutorial by Lots of Knots Canada Here
11. How to make: Macrame & Weaving Wall Hanging
If you are an advanced macramw artist, check out this free video tutorial from STMNT Home Decor. The final wall hanging is absolutely gorgeous.
The artist does not give you step-by-step instructions. So, you will need to be able to follow along without too many instructions.
Get the Pattern by STMNT Home Decor Here
12. BELLA DIY Macrame Wall Hanging Pattern by LanaaStudio
This DIY macrame wall hanging incorporates very subtle weaving. It would be a great project for someone who is just starting to dabble in macraweave.
If you use the suggested materials, your finished piece will measure approximately 25 inches (64 cm) long x 29 inches (73 cm) across.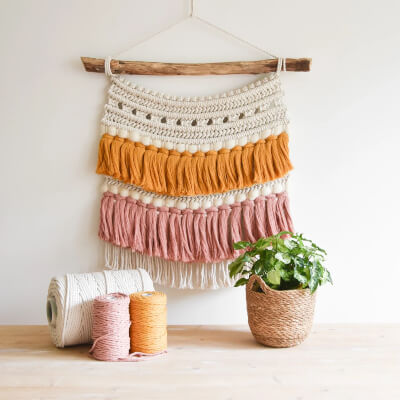 Find the Pattern by LanaaStudio Here
13. Macrame Weave Half Mandala Wall Hanging Tutorial
Make this half mandala wall hanging to be the focus point in your room. This stunning macraweave project will wow everyone that walks in.
The finished mandala wall hanging measures 24" (91 cm) across. It is an intermediate level macrame project that requires knowledge and patience.
Find the Tutorial by Fibers of Mine Here
14. DIY Macrame Flower
This project would be ideal for decorating for spring and summer. The large flower creates an eye-catching centrerpiece.
The macrame pattern uses the Lark's head knot, alternating square knots, and double half hitch knots. Once you have the DIY macrame hanging completed, the designer will show you how to make the flowers
Find the Tutorial by Simply Inspired Here
15. A How to Macraweave Tutorial
Follow this free macraweave tutorial to lean how to make a gorgeous wall hanging. You can use a neutral coloured wool roving like the artist, or use a coloured wool to add a fun pop of colour.
For this DIY macrame tutorial you will need to know how to create the square knot, the double clove hitch knot, and the lark's head knot.
Find the Tutorial by Interwoven Studio Here
Are you searching for ways to add more interest to your macrame projects? If so, macraweave may just be what you are looking for.
Are you a fan of macrame? Have you tried macraweaving yet? It is a fun technique that is a great way to add colour and even more texture to your projects.
If you're on Facebook, stop over to our Facebook Page and share your thoughts on this new fun technique. If you want more macrame projects, check out our Macrame Mirror patterns, Macrame Bird Feeders, Macrame Butterfly Patterns, Macrame Vase Patterns, Macrame Crystal Holders and a lot more here.
If you enjoyed our list of macraweave projects, go ahead and give one of them a try.