Are you looking for a way to recycle your old glass jars? Turn them into macrame vases. The finished vases are ideal for flowers, pens, pencils, coins, lights, etc. And they are beautiful. They even make great centrepieces for weddings.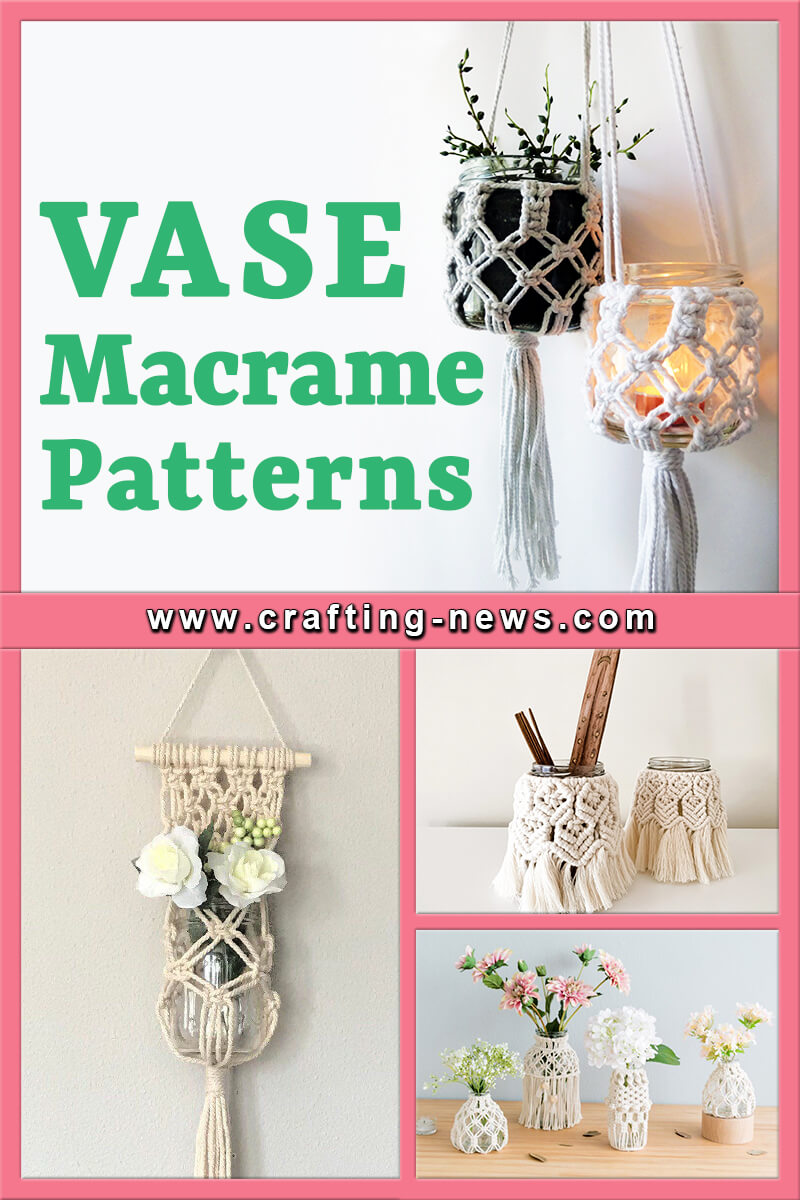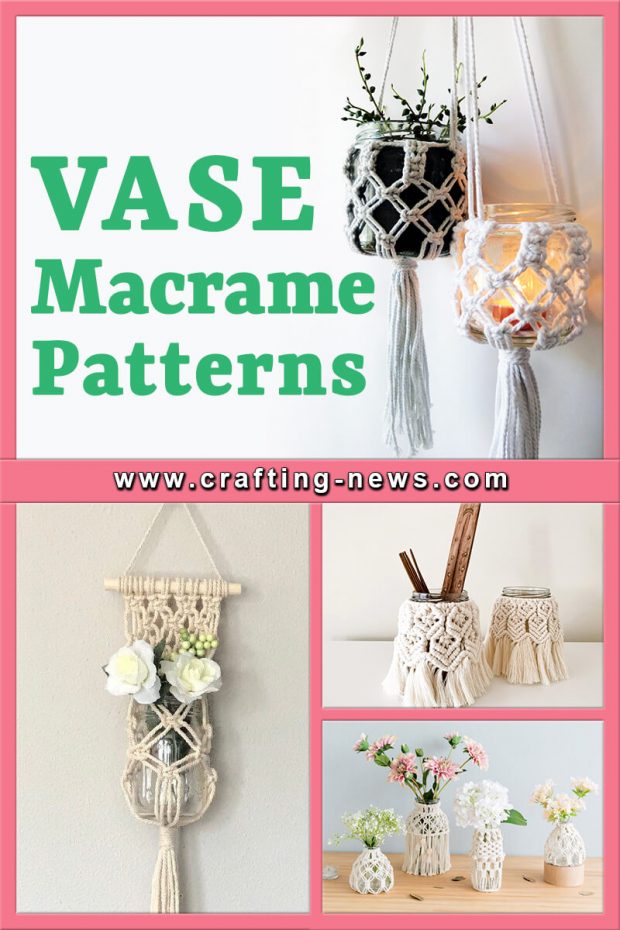 Below are 19 macrame vases. We have included free DIY macrame patterns, paid patterns, and premade products.
1. Macrame Jar Cover Pattern by Macrameto
Are you new to the art of macrame? This macrame jar cover pattern explains all the knots used to complete the project. The DIY macrame tutorial includes both written instructions and images.
The pattern is written for a jar that measures close to 5.5 inches (14 cm) tall x 3 inches (8 cm) in diameter. The macrame jar cover can be made with 3 mm or 4 mm cord.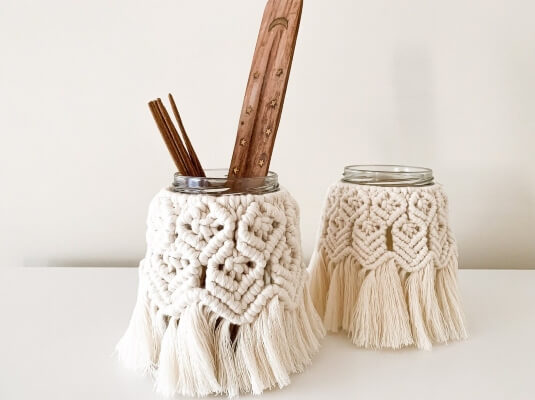 Find the Tutorial by Macrameto Here
2. Macrame Jar Cover Pattern by masuca
You can use this macrame jar cover to display your flowers or place it on your nightstand with a candle inside. The light from the candle shining through the macrame jar cover will create entrancing shadow movements.
Included in the PDF pattern is a description of the materials needed, written step-by-step instructions, and knot directions. The pattern will work on a jar that measures approximately 2.95 inches (7.5 cm) x 6.5 inches (16.5 cm).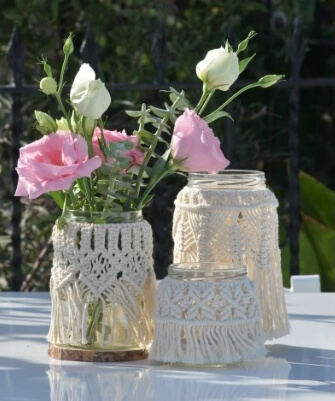 Find the Tutorial by masuca Here
3. DIY Macrame Vase Plant Wall Hanger
Follow this free DIY vase video tutorial to learn how to create this charming vase. The finished vase would look beautiful hanging in any room of your home.
You will need a 3.5 cm wooden ring, a vase, and 2 mm twisted cotton cord. There are no written or verbal instructions so we would recommend it for an intermediate to advanced level macrame artist.
Find the Tutorial by edelmac Here
4. Macrame Vase Beginner Pattern for a Hanging Jar Lantern by HippieMoments
Add a Bohemian touch to your home decor with this DIY macrame project. This beginner-friendly pattern includes easy-to-follow step-by-step instructions. You can use the finished product as a hanging lantern, vase, or plant holder.
To make one hanger you will need 77 feet (23.45 meter) of 2 mm cotton cord and a glass jar measuring about 3.54 inches (9 cm) high with a 2.75 inch (7 cm) opening. Once finished, the vase will be about 18.11 inches (46 cm) long (not including the fringe).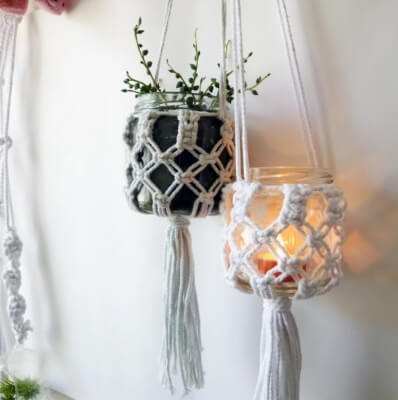 Find the Tutorial by HippieMoments Here
5. Macrame Jar Cover Pattern by thisiswhatidostudio
Use this step-by-step video tutorial to recreate a macrame jar cover for almost any size jar. This video shows you all the materials needed, how to make the knots, and tips for creating your own macrame jar cover.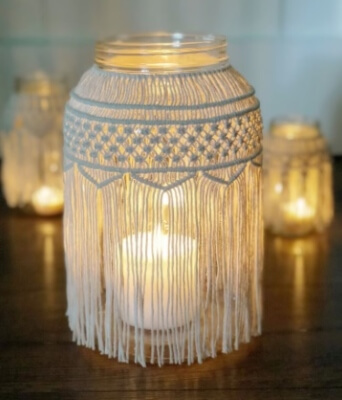 Find the Tutorial by thisiswhatidostudio Here
6. Boho Wine Bottle and Candle Holder Covers Macrame Patterns by RosaMayCrafts
This is a 3 in 1 pattern. With this one download, you will be able to create a variety of rustic and stylish diy macrame vase covers. Use them to decorate your table, a counter, or a mantle.
The DIY macrame pattern is easy to follow. There are a lot of images and a detailed step-by-step tutorial. This is a beginner-friendly pattern that includes a tutorial for making all the knots used.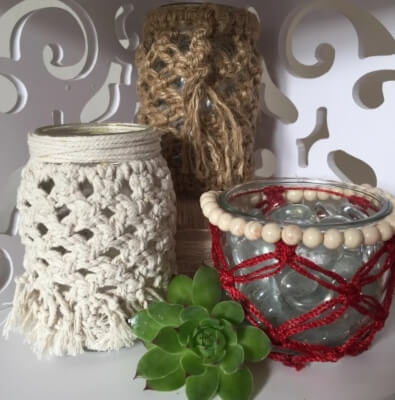 Find the Tutorial by RosaMayCrafts Here
7. Macrame Jar Cover Tutorial by ShareTheKnot
Are you looking to create a wide variety of macrame accessories? This pattern is extremely versatile. It will teach you everything you need to know to create beautiful and elegant knot covers on just about anything.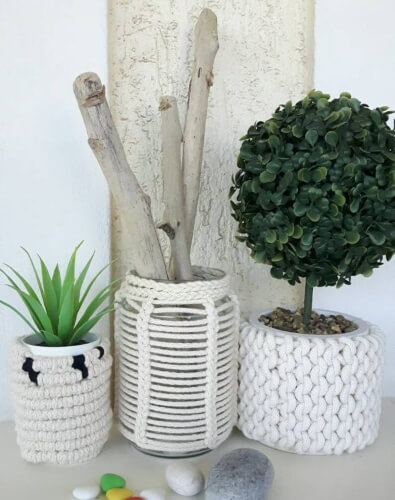 Find the Tutorial by ShareTheKnot Here
8. DIY Macrame Flower Vase Tutorial
Here is simple, free DIY Macrame case video tutorial. If you are good at following along with video instructions, you can make this jar cover. There are no written or verbal instructions.
Find the Tutorial by DIY Handmade Studio Here
9. Bouquet + Vase Wrap Pattern by MACRAMEMODERN
Are you planning a wedding? Then take a look at this stunning macrame jar wrap pattern designed to hold a bouquet. This piece is gorgeous and would look amazing in photos. That pattern uses 5 mm cotton rope. You get to pick the colour to match your wedding decor.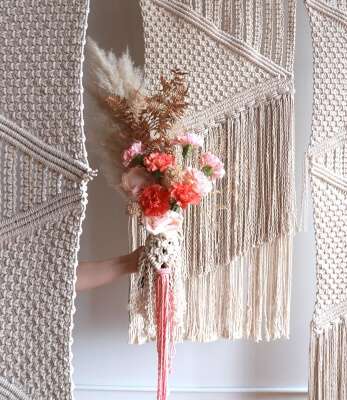 Find the Tutorial by MACRAMEMODERN Here
10. Macrame Bottle Holder Tutorial by DavidandCharles
Create a cute macrame bottle holder with this tutorial download. The holder is perfect for holding a vase full of flowers or storing a special bottle of wine. This is a beginner friendly project. The pattern is easy to follow.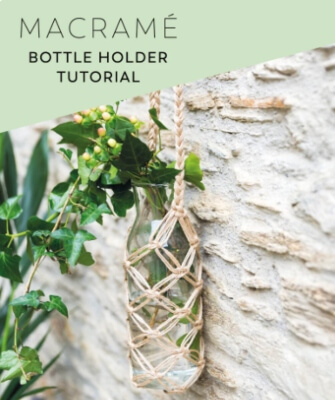 Find the Tutorial by DavidandCharles Here
10 Premade Macrame Vases
If you would rather purchase a premade macrame vase, there are plenty to choose from. Below are 10 macrame premade macrame vases that are ideal for adding texture and visual interest to your decor.
1. Macrame Flower Vase from NicSonFarms
Are you planning a big celebration or just looking for a beautiful way to display floral arrangements? These handmade macrame flower vases are beautiful. There are 9 different patterns to pick from.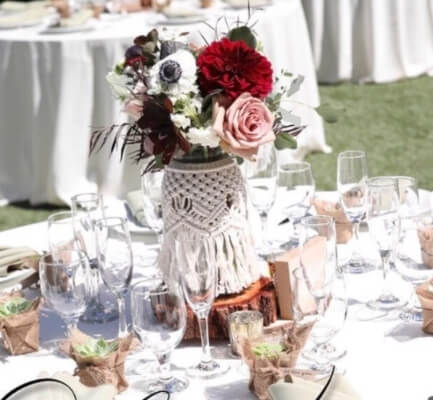 Find the Vase from NicSonFarms Here
2. Macrame Vase Cover from mifasolaso
This stunning vase is decorated with a unique, handmade macrame cover. You can use the bottle for flowers or as a carafe for wine or juice. The vase cover can be removed for washing. The measurements of the bottle are 10 inches (25 cm) high x 3.5 inches (8.9 cm) in diameter.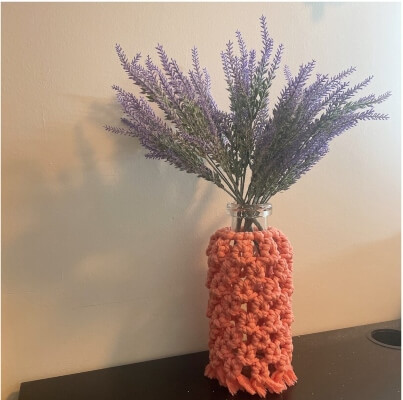 Find the Vase from mifasolaso Here
3. Recycled Macrame Vase Holder from CraftDecoStudio
Hang your flowers anywhere with this natural cotton vase holder. The holder comes with a frosted pink recycled bottle. Included is an "S" hook for easy hanging. The holder measures 40.5 inches (102.87 cm) long from the straps down to the end of the tassel.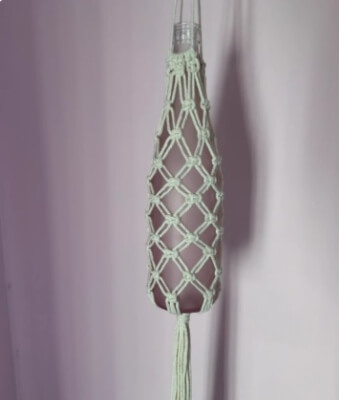 Find the Vase from CraftDecoStudio Here
4. Primitives Macrame Flower Vase by Kathy Store
The Bohemian inspired glass vase with macrame cover would fit in perfectly with farmhouse decor. The primitive vase measures 4.5 inches (11.43 cm) in diameter x 9.25 inches (23.50 cm) tall. It is crafted with 100% cotton rope.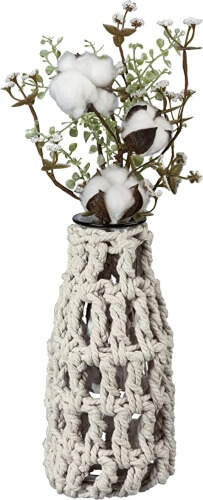 Find the Vase from Amazon Here
5. Macrame Flower Vase with Rope Ne from MEDELE
Use this jug vase as a centrepiece on a table or display in on a plant stand. It is made of high quality glass and rope netting. The vase has a rustic style that is ideal for farmhouse and coastal decors.
It measures 6.3 inches (16 cm) wide by 10.2 inches (25.91 cm) tall. The jug mouth measures 1.18 inches (2.99 cm) in diameter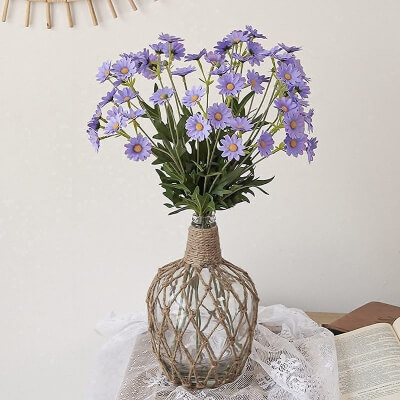 Find the Vase from MEDELE Here
6. Macrame Flower Vase made of recycled glass from Makrameeformysoul
This macrame flower vase is perfect for boho chic decor. The macrame cover is handmade with cotton cords and wooden beads. The glass vase measures 11.81 inches (30 cm) high x 7.87 inches (20 cm) wide.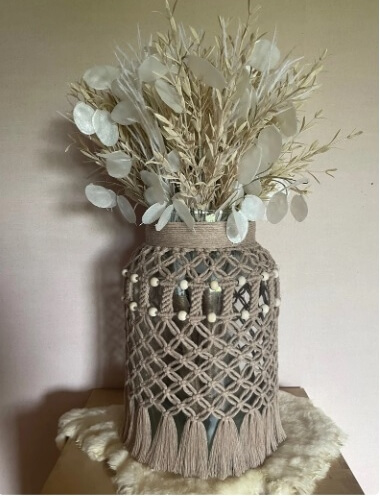 Find the Vase from Makrameeformysoul Here
7. Macrame Flower Vase from madebyjuliaRa
Create a cosy atmosphere in your home with these macrame flower vases. The beautiful decorative accessories have a trendy boho style. The small vase measure 5.51 inches (14 cm) x 3.94 inches (10 cm). The large vase measures 10.63 inches (27 cm) x 3.94 inches (10 cm).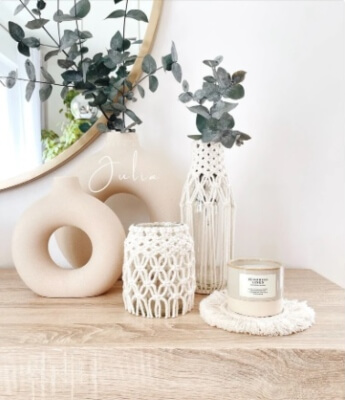 Find the Vase from madebyjuliaRa Here
8. Macrame Flower Vase Plant Hanger from TheRaspberryWillow
This macrame flower vase plant hanger is the perfect home decor piece for any room in your home. You can use the vase to display cut flowers or battery operated tea lights.
The hanger is made from 100% cotton cord. It will fit around a pint size mason jar. It hangs on a 6 inch (15.24 cm) dowel. Including the fringe, it measures approximately 18 inches (45.72 cm) long.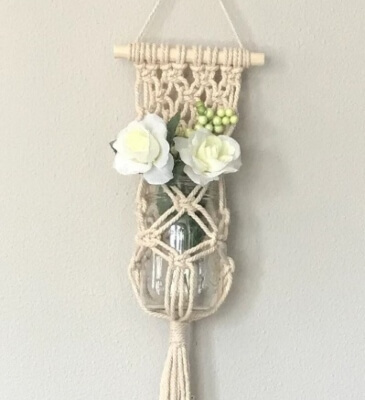 Find the Vase from TheRaspberryWillow Here
9. Macrame Flower Vase Centerpiece from BraidMate
Purchase one of these boho chic macrame flower vases to add a simple touch to a table. Or buy one of each to create a statement. These pieces are beautiful and can be displayed together or spread out. They would make wonderful wedding centrepieces.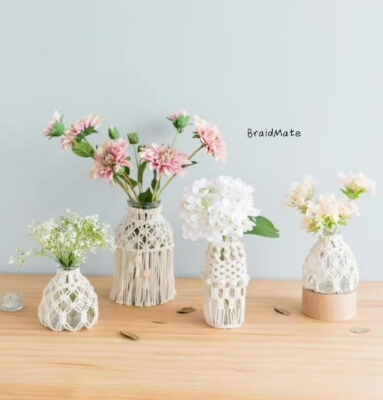 Find the Vase from BraidMate Here
Are you looking for a way to upcycle an old glass jar or searching for wedding decor pieces? These macrame vases are a fantastic choice.
You can also add these Macrame Wedding Backdrops, Macrame Table Runners, Macrame Feathers, Macrame Coasters, Macrame Bird Feeders and Hanging Arch Macrame Toran in your wedding or party decorations.
The art of macrame is so much fun, and completed projects work well with almost any decor. If you are interested in adding a subtle boho touch to your home or party, consider some of these macrame vases.