These macrame feather tutorials are a perfect entry point into the world of macrame, even if you've never forayed into it, and look so professional that you'll have everyone asking where you bought them.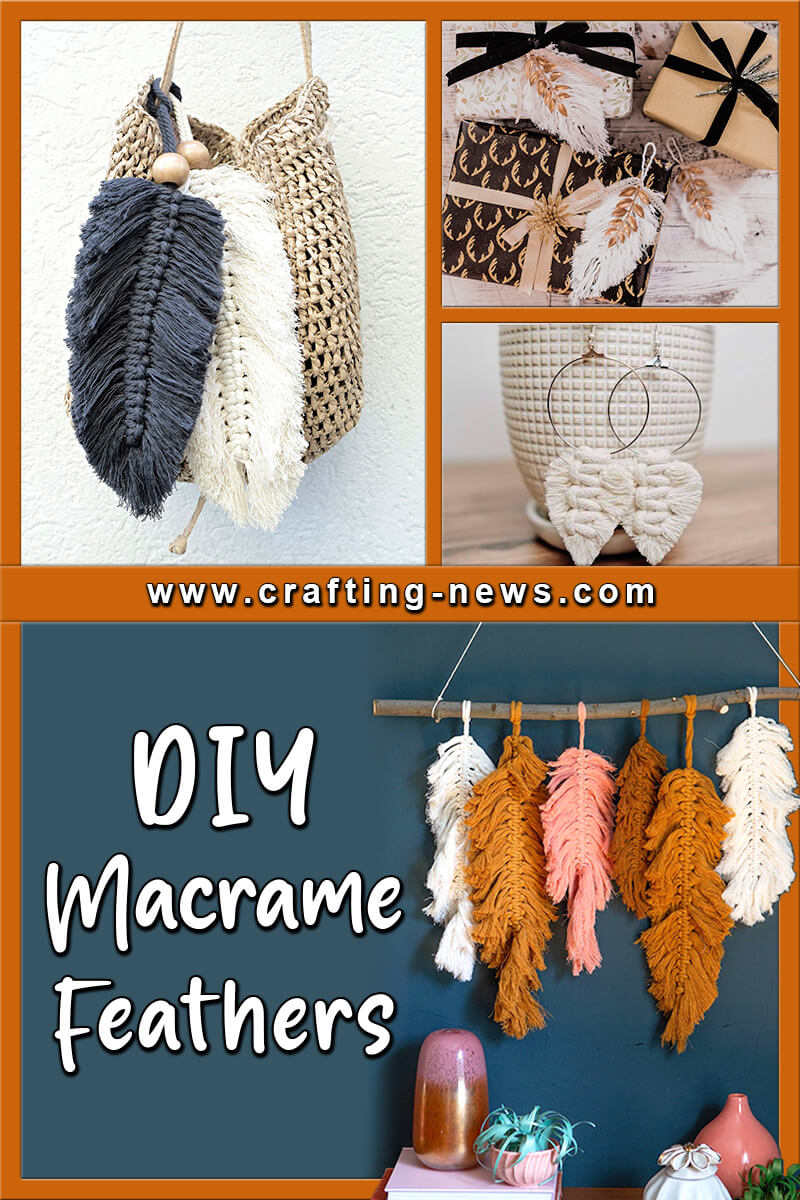 This beautiful little project is a wonderfully piece to have up your sleeve – once complete, these fantastic feathers can be turned into on-trend jewelry, used to decorate a range of home decor pieces, or even added to fashion accessories like bags and keyring.
Check out the tutorials below, and learn how to create your own.
1. DIY Macrame Feather Purse Charms by Cuckoo 4 Design
This macrame feather is similar to a tassel but adds more boho charm to your outfit or home decor. You can even make a wall hanging out of a grouping of macrame feathers.

If you don't have macrame yarn, you could also use wool, rope, or any other cords you have laying around the house. Another cute idea is to use different colors to create more texture and variations for each feather.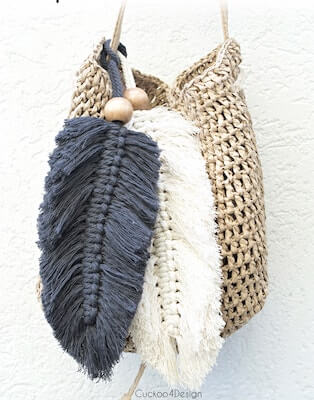 Follow the tutorial here
2. Macrame Feather Earrings by Flax & Twine
Feather earrings are the perfect accessory for the season. These beautiful lightweight earrings are made of linen – not cotton macrame cord – so they have a more delicate look to them.
Here's more Macrame Earrings to add to your accessories.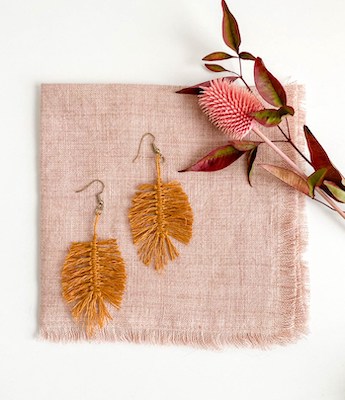 Follow the tutorial here
3. DIY Boho Macrame Feather Wall Hanging by Willow Bloom Home
This project can be completed in under an hour with only a few supplies. And the finished project will add a fun modern Boho touch to your home. It would be a lovely Mother's Day gift as it's easy to customize the colors to someone special's favorite colors.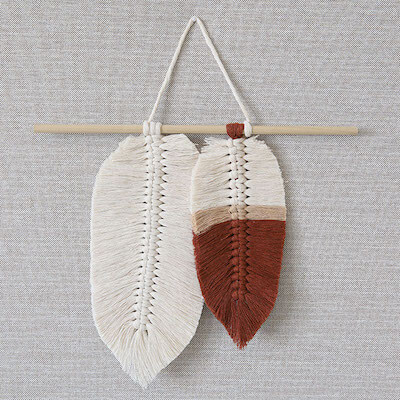 Follow the tutorial here
4. Macrame Feather Wall Hanging by Hobby Craft
Create this stunning wall hanging using a selection of cotton yarns and a tying technique that replicates the delicate shape of a feather. This tutorial explains the technique used to create this modern home decoration.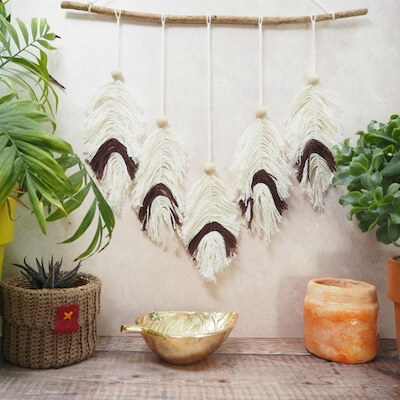 Follow the tutorial here
5. Christmas Ornaments Feather Macrame Tutorial by The DIY Mommy
Learn how to make easy Christmas Ornaments for your glamorous or boho holiday home this year! This is a fabulous project to make if you've never tried macrame before, or if you have some leftover scraps of macrame cord from another larger project.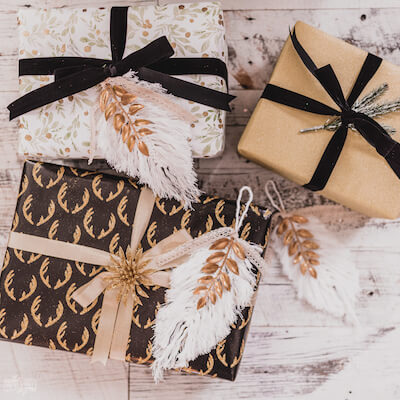 Follow the tutorial here
6. Simple Macrame Feather DIY by South Lumina Style
These simple DIY macrame feathers only require a few supplies that you can find online or at your local craft store. They are a great macrame project for beginners. You can scale them to all different sizes to use them for projects like keychains, home decor items and even jewelry.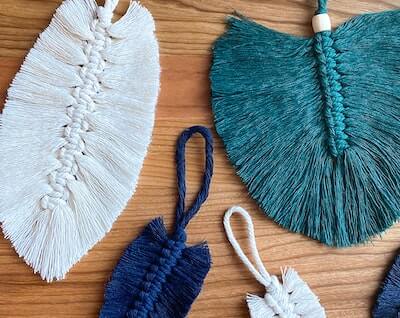 Follow the tutorial here
7. How To Make A Feather Macrame by Creative Fabrica
Are you looking for that something special to add a wisp of whimsy to your wall? Or simply hoping to add to your bountiful boho collection? Either way, these feathers have got you covered.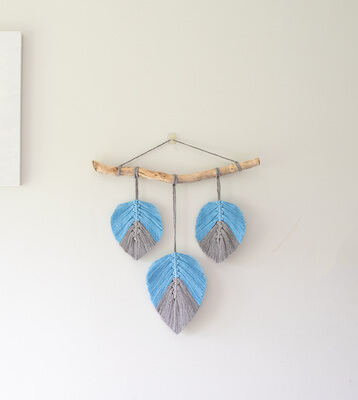 Follow the tutorial here
8. Macrame Feather DIY by Briana K Designs
This Feather Macrame is an easy, quick, and fun basic intro to Macrame. This is a fun quick project that isn't overwhelming and helps you keep crafty!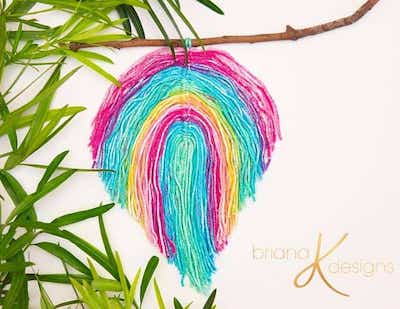 Follow the tutorial here
9. Macrame Feathers by Cut Out + Keep
These Macrame feathers look complicated, but are a cinch to make. And they are super pretty! If you love that boho look in your homes, you will love making and displaying these feathers.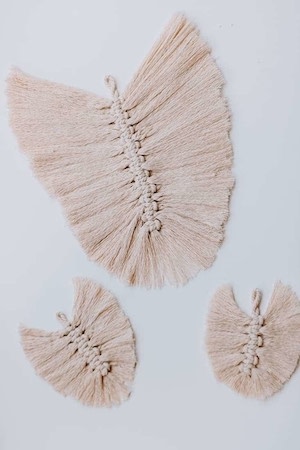 Follow the tutorial here
10. Feather Macrame Bookmark by Mama In A Stitch
This tutorial will show you how to put your scrap yarn to use and make a beautiful, feathers. This is a great project for anyone, including older children, and there's no experience necessary.

These easy feathers are so simple to make, and we imagine them being used for so many things. Hang them on your bag for a boho look, put them on a wall hanging, or make a bookmark like the one below.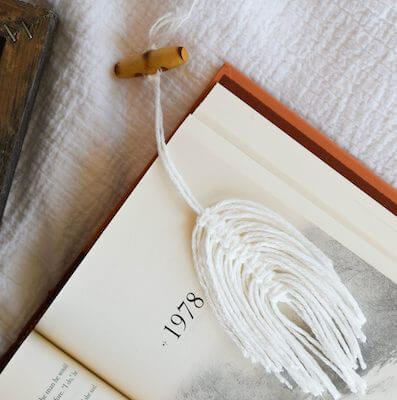 Follow the tutorial here
11. DIY Macrame Feather by Beads And Basics
With this Macrame Feather DIY, you can make such a feather in no time. You can make one and use it as decoration on the wall or on a bag. If you make more than one, you quickly have a real eye-catcher in your home.
You can make this DIY Macramé Feather in any color you want, so it will fit in almost any interior. You use 1 basic knot and then comb the yarn, giving you a beautiful full feather. Totally on trend and perfectly suited to the boho style.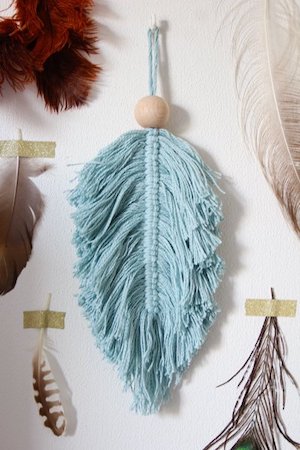 Follow the tutorial here
12. Macrame Feather Tutorial by ALS Beauty Shop
You can create a feather (leaf) at home using this step-by-step photo guide. You can use almost any yarn or cord consisting of loosely twisted threads of any color.

This feather will decorate the walls in your home. And also you can hang it on a baby mobile, a boho garland, a keychain, a bag, a diffuser in a car on a rear-view mirror, and much more!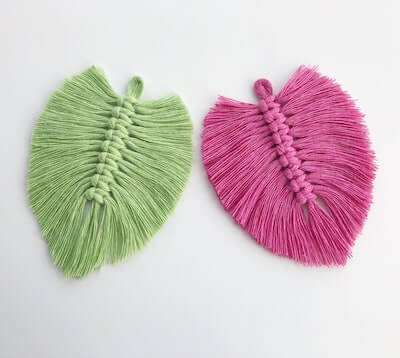 Get the Pattern by ALS Beauty Shop here
13. How To Make A Macrame Feather by Countryfile
Create beautiful feathers for gifts or to decorate your home this Christmas with this easy step by step guide. You'll be amazed how simple these are to make, even if you've never made anything with macramé before.
They look great as tree decorations and make lovely gifts, too; perfect as a keyring or a fun home decoration, whatever the season.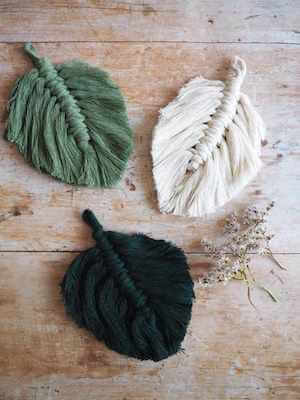 Follow the tutorial here

14. DIY Macrame Feathers by Honestly WTF
Create a wall display that your friends will envy with this free macrame pattern for giant feathers. You could easily modify the pattern to make smaller feathers that would be great for keychains or even ornaments.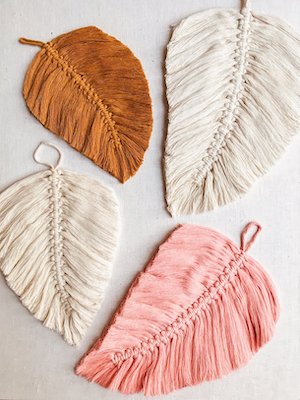 Follow the tutorial here
15. Macrame Feather Wall Decor by Lia Griffith
Learn the beautiful art of macramé with this chic DIY feathers wall hanger guide – perfect for beginners wanting to create the perfect boho-chic look in their home, or to make as a gift for your friends and family.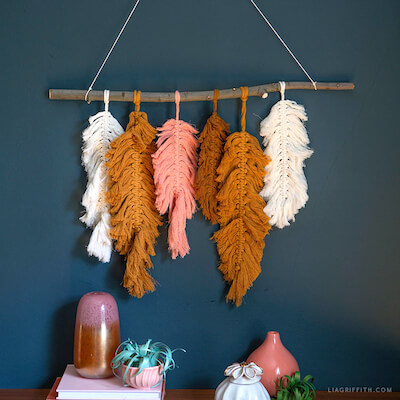 Follow the tutorial here
16. Feather Macrame for Beginners by MacrameByKaretskaya
Make this macrame leaf as a statement piece or an addition to another project. Make one or several. Change up the colours. This pattern will have your imagination working overtime.
The pattern includes a materials list and a step-by-step guide with lots of photos. It is an easy pattern that can be completed by beginners. The total length if the lead is 9 in.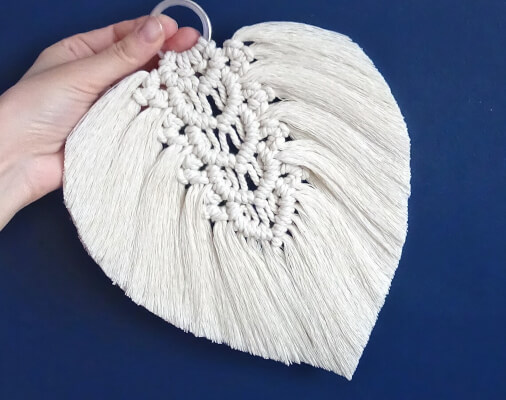 Find the Pattern by MacrameByKaretskaya HERE
17. Macrame Feathers by Aimsy's Antics
This tutorial will show you two different types of knots that you can use to make thiese feathers. Then to finish off the project with some fabric dye, and trying out the dip-dye technique for an ombre fade effect. Perfect for adapting to your colour scheme and bringing boho-vibes into your decor.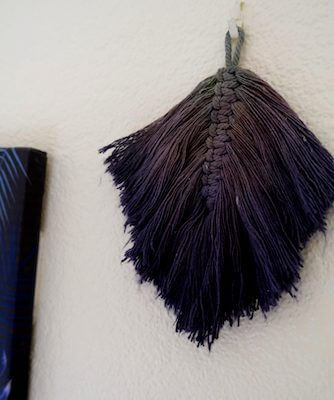 Follow the tutorial here
18. DIY Macrame Feather Earrings by Crafted Avenue
These DIY macrame earrings will seriously match any outfit! They are super easy to make, so they make a perfect quick craft! You can easily make them as gifts for your friends and family too!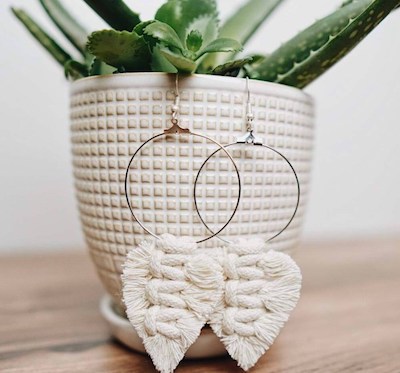 Follow the tutorial here
19. DIY Macrame Feather Tutorial by Home Ideology
A delicate diy tutorial is a great place to start if you've ever wanted to give Macramé a go. And you'll never guess how you get those beautiful wispy ends – a cat brush! Crazy genius idea!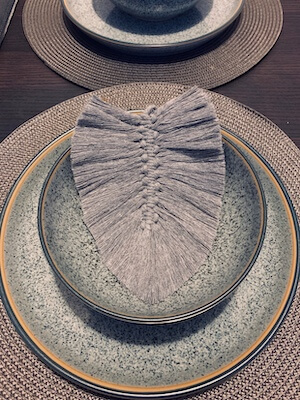 Follow the tutorial here
20. DIY Macrame Feather Bunting by Boho Decor
If you're looking for boho gift ideas, this beginner macrame DIY kit contains the materials you need to make a macramé feather bunting, that includes easy step by step instructions. The perfect letterbox gift for someone who loves crafts or an enjoyable project for yourself.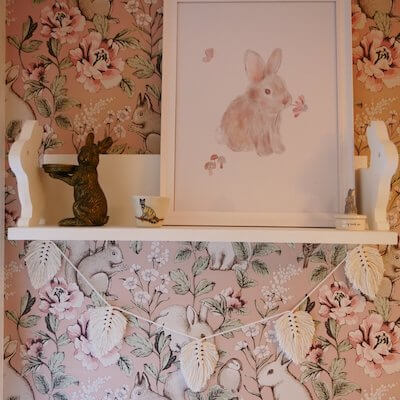 Get the Kit here
21. Boho Chic Feather Macrame Tutorial by goolgool
If you are an advanced beginner macramer, take a look at this gorgeous ocean wave-inspired boho chic macrame feather. The intricate center design combined with the soft edges makes for a beautiful macrame leaf wall hanging.
The download includes the written pattern and photo tutorial. All the knots used are explained step by step. The finished project measures approximately 9.5 in. wide x 14.5 in. long.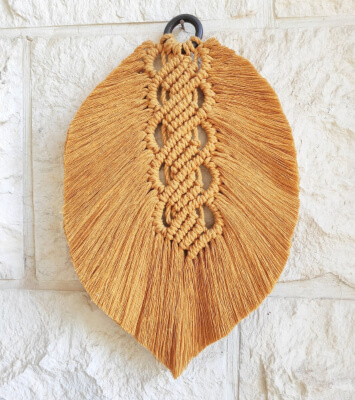 Find the Pattern by goolgool HERE
22. Feather Macrame Tutorial by IlovecreateStore
Make this wonderful macrame wall hanging to show off your macrame skills. Nobody needs to know this is a beginner-level project. This pattern includes the instructions, a materials list, and a step-by-step video. It will also teach you how to comb the cord to make the fringe.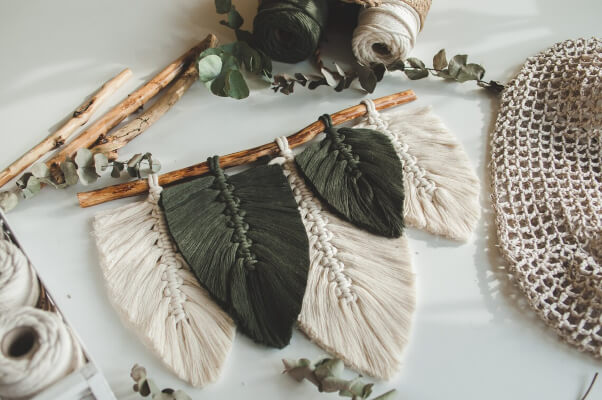 Find the Pattern by IlovecreateStore HERE
23. Macrame Bohemian Feather by PeloteEtCompagnie
This is another beginner-friendly pattern that is stunning. It is a fun little piece that will help add texture to any room.
The pattern is in both English and French. The instructions are extremely detailed and include pictures of the construction. Also included are instructions and pictures for each type of knot used.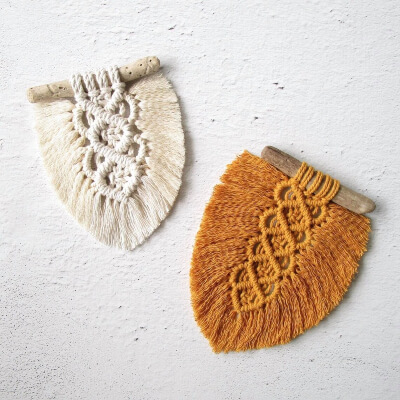 Find the Pattern by PeloteEtCompagnie HERE
ONCE YOU GET HANG OF THESE MACRAME FEATHERS, YOU CAN KNOCK A BUNCH OUT WHILE YOU WATCH TV ONE NIGHT!
Be careful…it won't be long before everyone's asking for some!
We'd like to see your DIY macrame feathers in all their glory. Be sure to share them with us on our Facebook Page!

The popularity od macrame hasn't declined much at all in the past few years, which makes it such a great hobby to take up! Here are more macrame projects you can try next: Macrame Shower Curtain Ideas, DIY Macrame Basket Patterns, Macrame Bracelet Tutorials, and Macrame Bag Patterns.

Have fun making a bunch of these macrame feathers today!