A fresh and modern take on this ancient craft, here are 25 pretty and colorful macrame bracelets to make. These tutorials are easy to follow, you'll be knotting up a whole armful of bracelets in no time!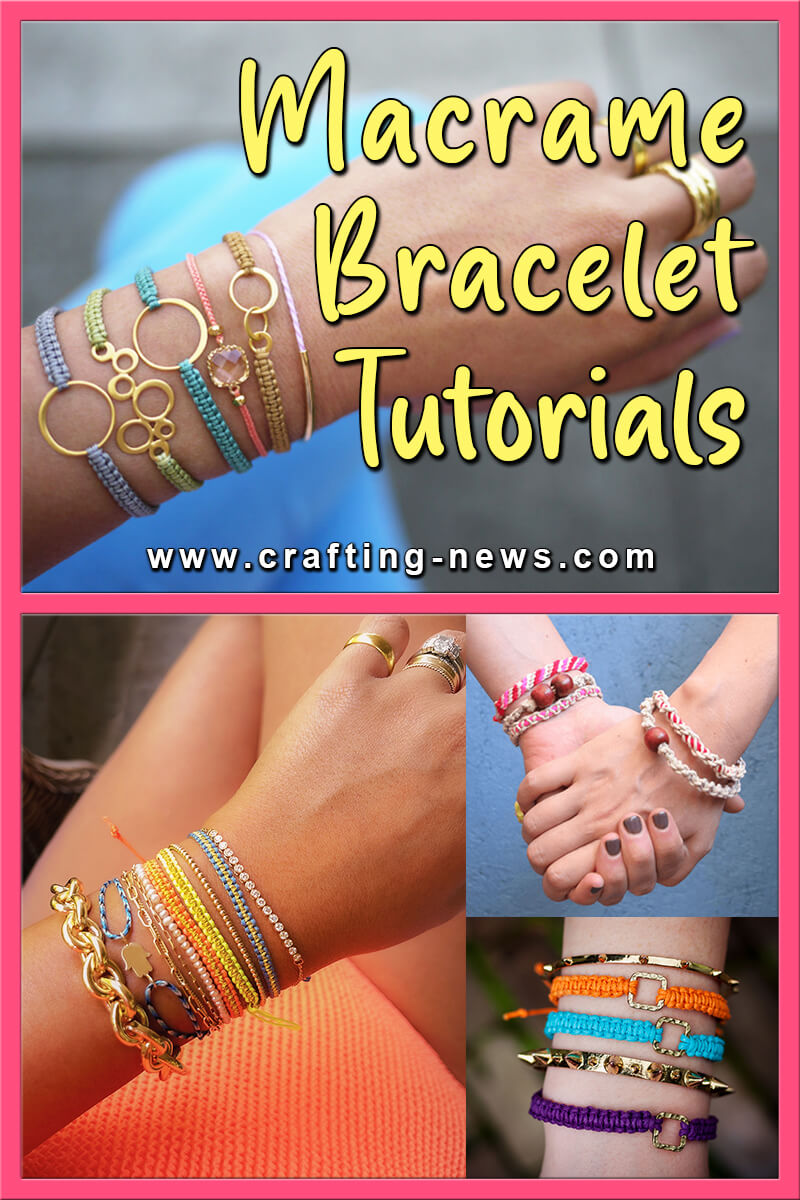 Elegant and pretty, these jewelry pieces can be worn every day. Make bolder statement pieces, or delicate bracelets to stack. Add your own favorite beads or inclusions to personalize for yourself or as gifts. Once you learn the basic macrame techniques, the possibilities are endless!

1. DIY Macrame Bracelet by A Beautiful Mess
If you want to create a simple, stylish macrame bracelet, try out this tutorial. The guide has easy to follow steps with clear photographs to show you how to complete this simple knot. Finish the bracelet off with a customized stamping plate with your favorite word of saying.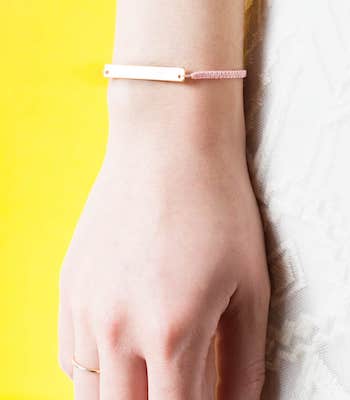 Get the tutorial here
2. Men's Leather Cord Macrame Bracelet by Golden Age Beads
Find out how to make this macramé leather cord and bead bracelet. The dark colored cord is perfect for men's jewelry-making, but this bracelet could be made in other colors if you'd prefer a unisex style bracelet.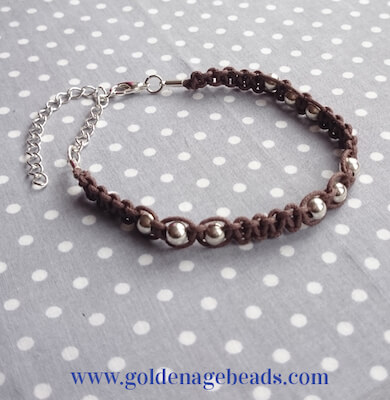 Get the tutorial here
3. DIY Woven Macrame Bracelet by Honesty WTF
This bracelet tutorial is a rendition of an old favorite using an oh-so-handy technique: square knots. You will love how the gold embroidery floss makes the bracelet look sparkly and luxe. Make one for yourself and for a friend – we dare you to stop at one!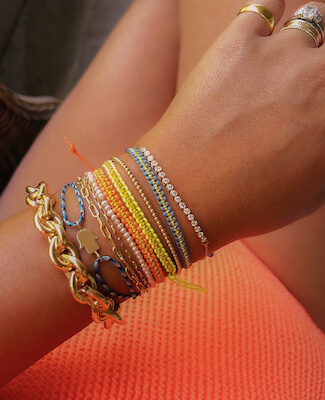 Get the tutorial here
4. Macrame Bracelet Tutorial by Create And Craft Blog
These bracelets are so simple and quick to make, comfortable to wear and look great stacked up! If you are selling or gifting your makes, these are one-size-fits-all, and providing you don't use metal beads, can be good for people with sensitive skin who can't wear metal jewellery – just use ribbons and cords!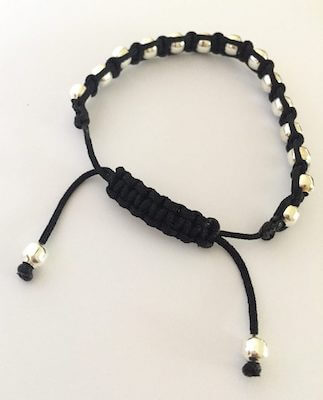 Get the tutorial here
5. Boho Macrame Bracelet Tutorial by Macrame D Amare
This boho bracelet is beaded with a variety of brass beads, gemstones and colorful threads. The pattern is the base – the choice of colors and beads is yours!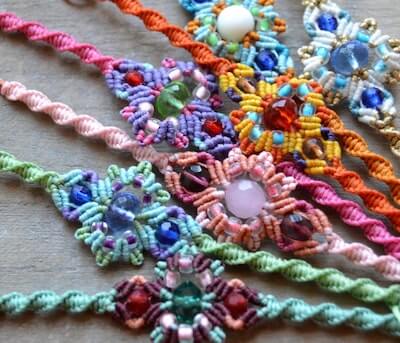 Get the tutorial by Macrame D Amare here
6. How To Make A Macrame Bracelet by Gathered
Macrame chunky bracelets are in trend this summer thanks to their boho style and simple design. Easy and simple to knot, you can make them in a colour that complements your outfit and hit the town with your new accessory.

Plus they'd make an affordable and handmade gift for a fashionable friend too. This macrame project is perfect for beginners or anyone just wanting to try out the world of macrame!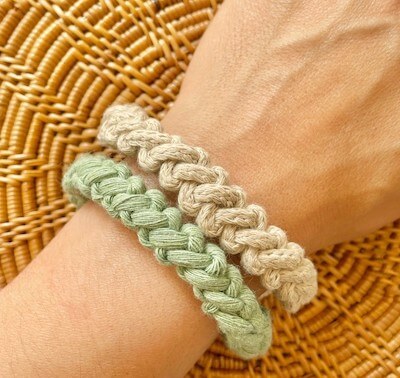 Get the tutorial here
7. DIY Fresh Flower Macrame Bracelet by The Sweetest Occasion
Consider this macrame bracelet tutorial if you have a special event that you want to make even more special. This tutorial will show you how to weave in fresh flowers to a simple bracelet to make it more chic and charming.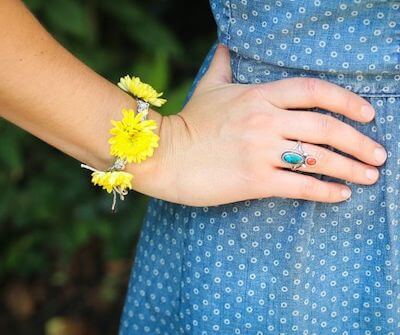 Get the tutorial here
8. Simple Macrame Bracelet by K4 Craft
This DIY tutorial shows how to make a pretty macrame bracelet with a simple technique. It is quite practical to create from a plastic bracelet base and tarpaulin wires. Choose colors that harmonize with each other and have them look at the craftmanship. It's super cute and easy to do!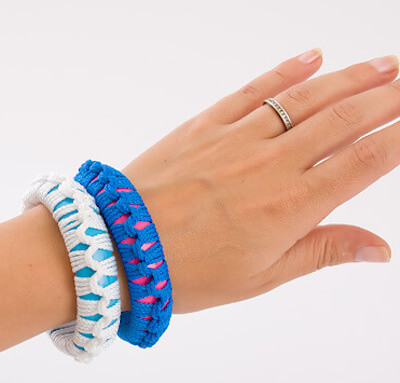 Get the tutorial here
9. Macrame Bracelet Pattern by Make And Fable Crafts
Macrame bracelet pattern for a cuff-style design, based a variation on a classic knot known by many different names: Josephine Knot, Double Coin Knot, Sailors Knot and Carrick Bend. You also get a bonus project that uses the same pattern to make a more delicate bracelet.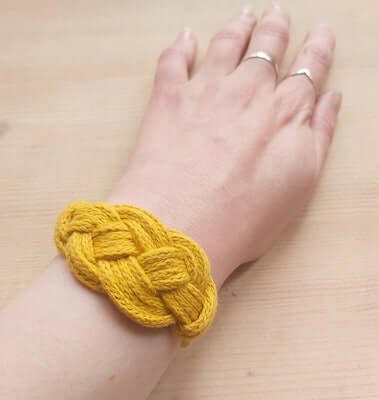 Get the tutorial by Make And Fable Crafts here
10. Falling Leaves Micro Macrame Bracelet by Knot Just Macrame
A chain of colorful leaves trailing from your wrist, my Falling Leaves Bracelet is the perfect piece for Autumn or Spring – or heck, anytime you want a bit of leafy whimsey!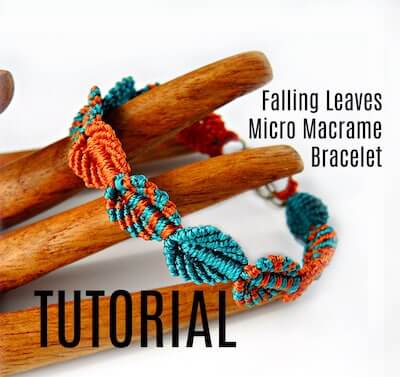 Get the tutorial by Knot Just Macrame here
11. DIY Macrame Friendship Bracelet by Ciera Design Studio
You and your friends deserve more than a few pieces of thread to symbolize your friendship. This DIY Macrame Friendship Bracelet wraps around a delicate square connector charm, reminiscent of a miniature golden buckle. This helps tie the colorful bracelet in with the rest of your more refined metallic jewelry, while being rustic enough to remain true to typical friendship bracelet form.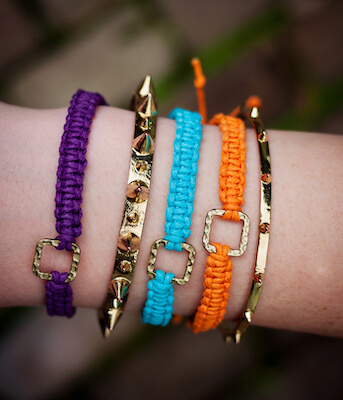 Get the tutorial here
12. DIY Macrame Bracelet by Honesty WTF
Get ready to make marvelous macrame bracelets with a twist. This bracelet is a pretty and stylish update on an old classic. We are sure many of you have never forgotten the practically right of passage, ever-so-simple square knot technique, so now it is time to take your macrame bracelet pattern skills to the next level.

Use updated elements like colorful nylon cord and glossy metal charms to replace the traditional hemp and wooden beads. Have a blast knotting this DIY macrame bracelet design, and then stack multiple bracelets together for an added element of chic charm.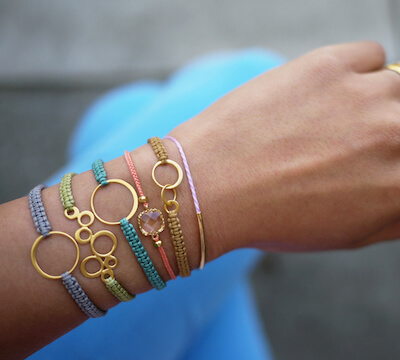 Get the tutorial here
13. Macrame Bracelet Tutorial by Cynthia Shaffer
Looking for a not-so-typical macrame bracelet pattern? This tutorial takes a spin on your summer camp macrame bracelet and give it something of a cosmic look, like moons around a planet. Say good-bye to icky yarn, rope, or string and ugly wooden beads, and say hello to hemp yarn, clear glass beads, and and some hand dyed rayon ribbon.

Quick, simple, and super sweet, this macrame jewelry is everything you could want in a DIY bracelet pattern. Learn how to macrame with these step-by-step instructions, and show off your new fabulous hemp bracelet.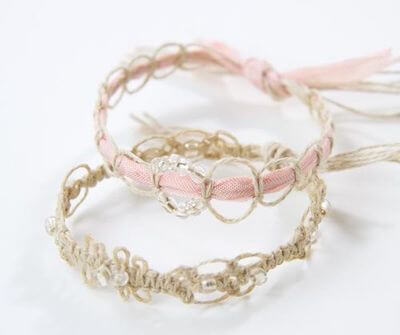 Get the tutorial here
14. Macrame Double Bracelet Tutorial by Raquel Bea Designs
Create this interesting knotted chain then make another thin multicolor bracelet to fill in the links. Replace the filler bracelet for a ribbon, soutache, a rhinestone chain, a thicker cord or fabric.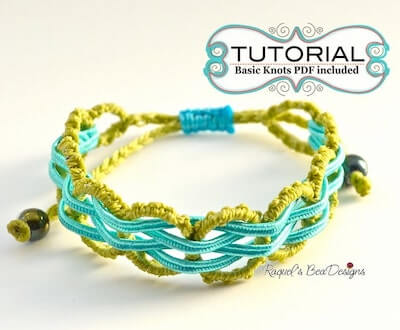 Get the tutorial by Raquel Bea Designs here
15. Chevron Friendship Macrame Bracelet Tutorial by CSL Designs UK
This is a tutorial that will teach you how to make your own Chevron Friendship Macrame Bracelet. The tutorial demonstrates using 1mm satin cord in three different colours, although it can easily be made using only one colour. It also teaches you how to make a button and loop closure using a shank button.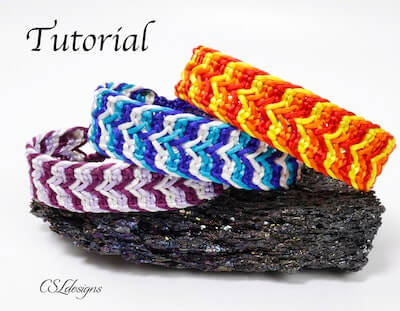 Get the tutorial by CSL Designs UK here
16. DIY Macrame Charm Bracelet by Rockin Mama
You will love how simple and elegant appearance of this "knotted" bracelet and once you've mastered the square knot, you can easily personalize the bracelet to your liking.

This particular bracelet can be made in one sitting and likely in an hour or two once you've mastered the technique, making it the ideal project for those just beginning DIY jewelry making. I used this tutorial as an inspiration but changed it by adding charms and adapting the closure so that it's easy and adjustable.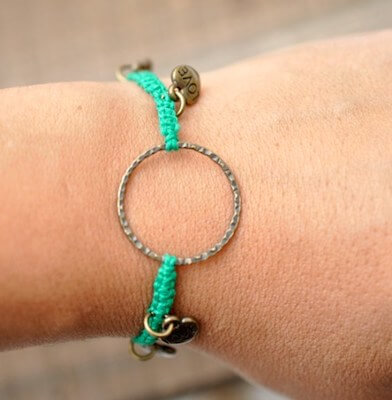 Get the tutorial here
17. Macrame Spiral Bracelet by Craftify My Love
This spiral know pattern is popular for friendship bracelets made with embroidery floss, but you can make this bracelet using any type of macrame cord. This fun macrame bracelet is easy enough for beginners to complete, and the tutorial comes with a video if the pictures are too hard to follow.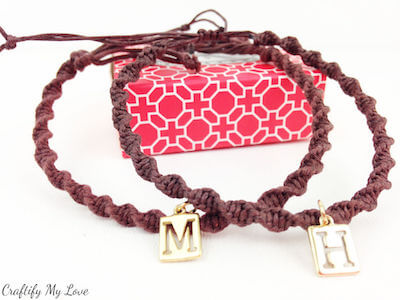 Get the tutorial here
18. Seaside Plaited Macrame Bracelet by How Did You Make This
This project makes use of a series of macrame knots tied to create the effect of a stranded braid. It has a nautical feel, and since it's made from #10 cotton crochet thread you can make use of our dying tutorial to make it in any color you like.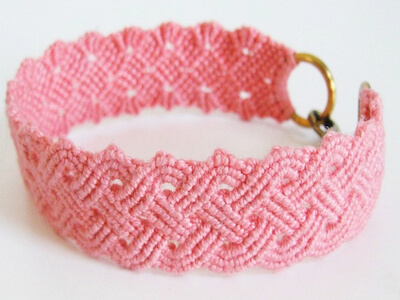 Get the tutorial here
19. DIY Jewel Macrame Bracelet by Hello Glow
Adorn yourself more with these jewel macrame bracelets that are quite easy to make. Tape off the natural braiding cord and then star knotting the strands together to make the bracelet featuring a lovely design pattern. Finish the bracelet with antique jewels using jump rings.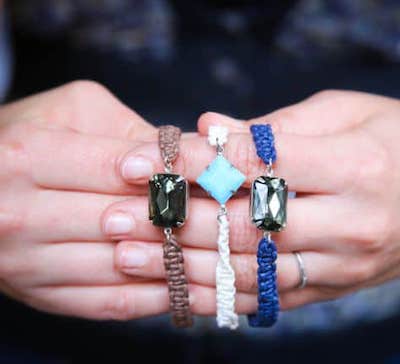 Get the tutorial here
20. DIY Leather + Climbing Rope Macrame Bracelets by The Stripe
Get crafty with the super durable climbing rope to make lasting longer macrame bracelets. Grab the climbing rope, deerskin lace, and an end cap with a hook to whip up this leather and climbing rope macrame bracelet. A durable project to craft for fashion lovers.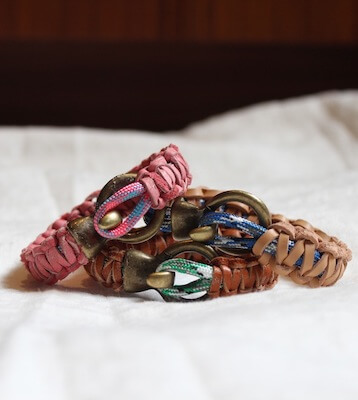 Get the tutorial here

21. DIY Hemp Macrame Bracelet by DIY Projects
With some basic knot tying and string, you can quickly make these colorful hemp bracelets for all your friends. It's a simple gesture to show your loved ones how much they mean to you.

This will walk you through 3 different bracelet tying tutorials: The Square Knot, The Diagonal Knot, and the Diagonal Weave Friendship Bracelet!
Get the tutorial here
22. DIY Wavy Macrame Bracelets by Macrame School
This tutorial shows how to make an easy wavy macrame bracelets. For the most interesting appearance you can also add beads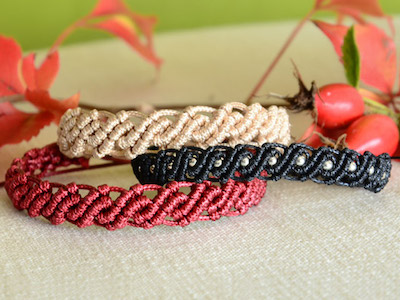 Get th tutorial here
23. Micro Macrame Bracelet With Rings by How Did You Make This
This method for making a macrame bracelet is a lot of fun because it uses rings to hold the ends and a hidden hem on the back to finish the strands. It's a pretty piece of jewelry that's easy to wear with lots of looks, and could be made in an endless range of colors to match anything.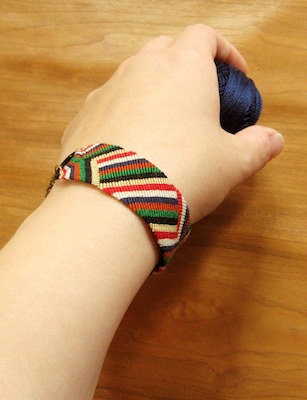 Get the tutorial here
24. Simple DIY Macrame Bracelet by Momtastic
Teens will love making these macrame bracelets for their friends, but moms can enjoy them just as much. Make them with any colored string and combine unique beads for simple but pretty bracelets that can be layered.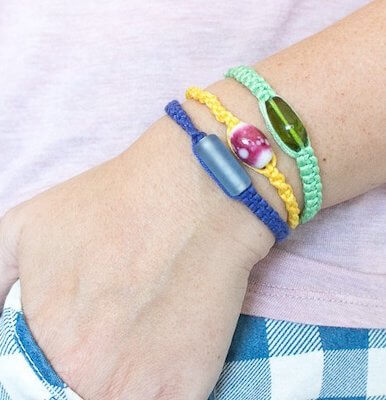 Get the tutorial here
25. Drunkard's Path Micro Macrame Bracelet by Knot Just Macrame
Learn how to make your own Drunkard's Path micro macrame bracelet following the instructions included in this tutorial. Beaded arc sections contrast with knotted bands to make a beautiful piece. Pattern is meant for all knotters, although some experience with knots (double half hitch, larks head) is preferable.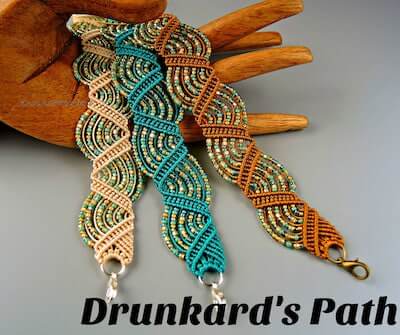 Get the tutorial by Knot Just Macrame here
WE HOPE YOU'VE ENJOYED LEARNING ABOUT HOW TO MAKE A MACRAME BRACELET!
Looking for more friendship bracelets and accessories to give to your BFF? Check this out: 38 Friendship Bracelet Patterns, Celtic Knot Jewellery and Macrame Necklace Patterns.

We also have loads of macrame projects here on Crafting news including 42 Macrame Wall Hanging Patterns, 35 Macrame Bag Patterns, 21 Macrame Coaster Patterns, 10 Macrame Hanging Chair Patterns, and 14 Macrame Belt Patterns. Be sure to post your creations to our Facebook Page!

Gather up your cord of choosing and then make your own collection of macrame bracelets today!