Macrame hanging chairs are extremely popular. They are often used in outdoor environments. They are comfortable, airy and perfect for hot summer days. Since macrame is such an inexpensive hobby, you can make a macrame hanging chair pattern for the fraction of the cost of buying a new macrame chair.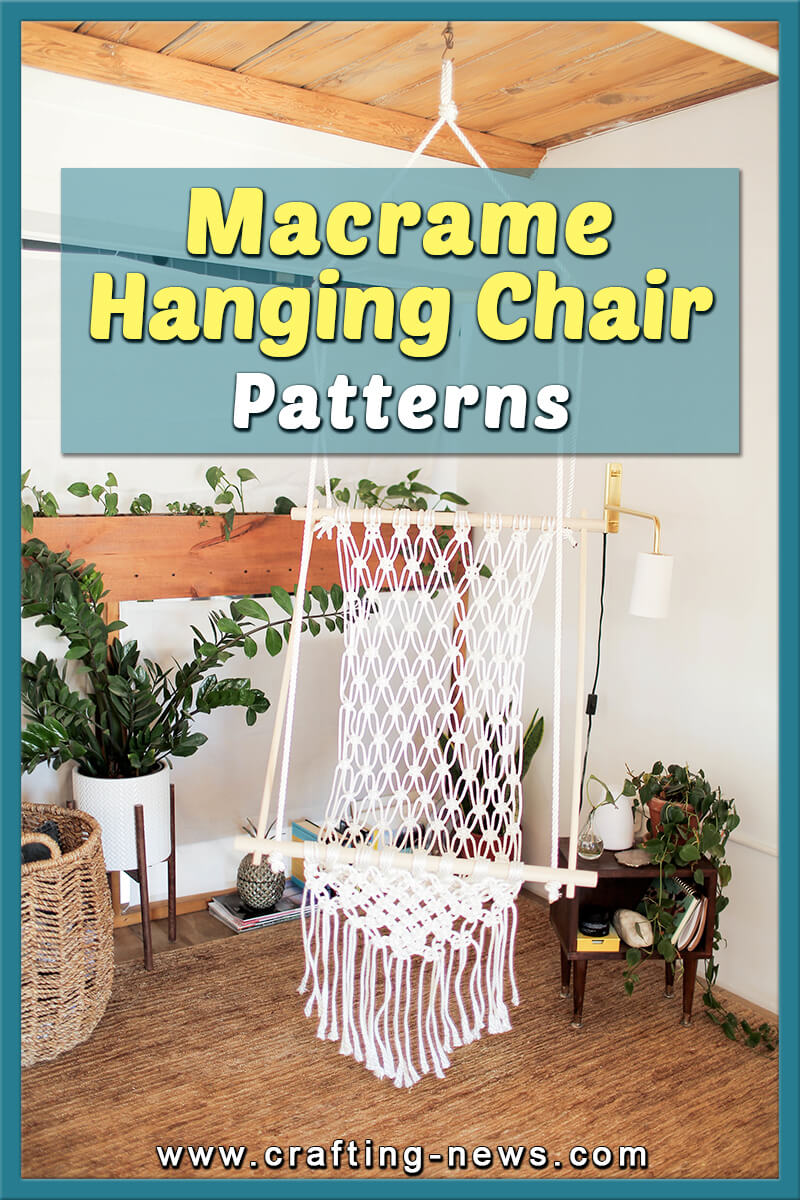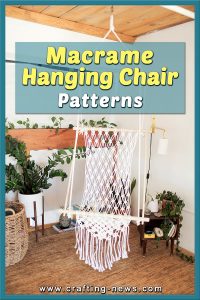 The once popular crafting technique that was all the rage in the 1970s, has made a huge comeback. The once old-fashioned art form has gained a cult following with the younger generation.
With new modern techniques and fresh modern designs, macrame can now be found everywhere.
10 Hanging Macrame Chair Patterns
Below are 10 free macrame hanging chair patterns. We have included a wide variety of designs. There are easy patterns as well as complicated patterns. Add cushions and change up the rope colours to match your home decor.
1. DIY Hanging Macramé Chair by Classy Clutter
This hanging macramé chair uses 2 hula hoops to give it, its fun shape. If you are an advanced macramer and do not need a lot of instructions, you can figure out the basics of this hanging macrame chair.
This project is not for a beginner as there are very few instructions.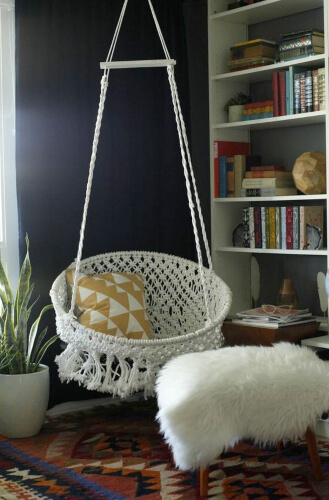 Find the Tutorial by Classy Clutter HERE
2. Hanging Hammock Chair Tutorial
This macrame hanging hammock chair is easy to make. However, since it is so large, it can be time consuming. The directions are for a seat that measures approximately 32" wide. To make the seat even larger, cut additional cords.
The pattern is easy and can be completed by an advanced beginner. You will need at least 355 yards of 6 mm cord, two 3" welded metal rings, a flexible tape measurer and clear drying fabric glue.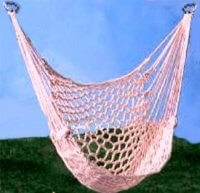 Find the Tutorial on Free-Macrame-Patterns HERE
3. Macrame Hanging Hammock Chair by Angie Diersman
Here is a stylish macrame hanging hammock chair pattern that is beautiful and comfortable. The pattern only uses simple square knots. Even a beginner can finish this pattern in a weekend.
To make this chair you will need hardwood dowels, 200 yards of macrame cord, 8 yards of rope, a drill, measuring tape and scissors.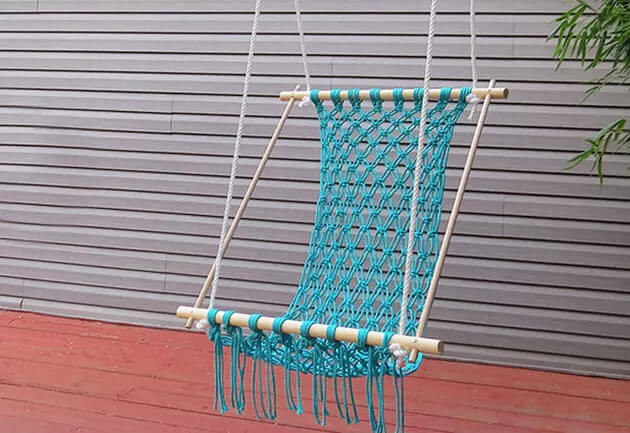 Find the Tutorial by Angie Diersman HERE
4. Macrame Swing Chair by TNARTNCRAFTS
This retro inspired fringe designed macrame chair can take you back to the 70s. It would make a great addition to your patio, covered porch or a child's bedroom. It adds a touch of fun while being useful and practical.
The video tutorial is very informative and shows you step-by-step instructions. All the measurements are shown before each step. There are no verbal instructions. You will have to watch the video closely to see how to complete each step.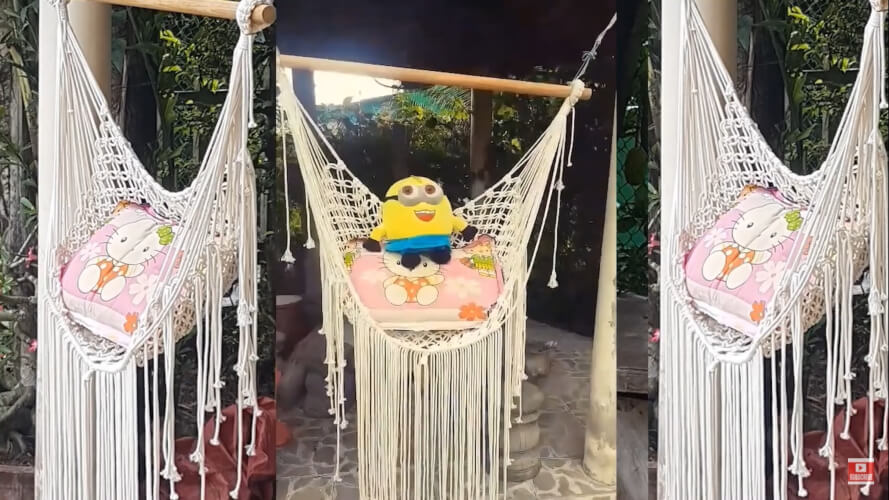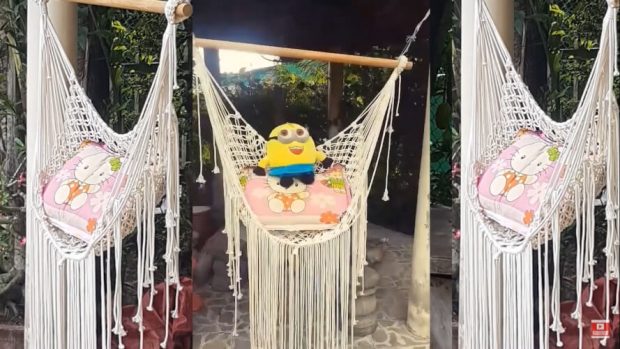 Find the Video Tutorial by TNARTNCRAFTS HERE
5. Macrame Hanging Chair Pattern from DIY Enthusiasts
Macrame hanging chairs are not only decorative, they can be functional and comfortable. This striking chair would look perfect hanging outside a beach house or near a garden. You could sit back and read a book while listening to the waves.
You will need to understand the basics of macrame to complete this chair. There are written instructions along with drawings. The drawing can be a little hard to decipher.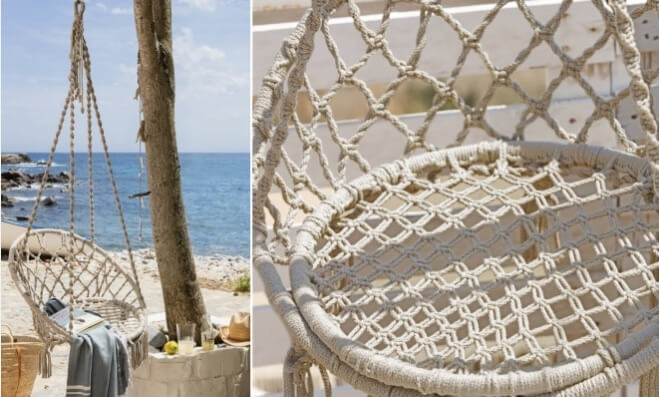 Find the Tutorial on DIY Enthusiasts HERE
6. Hanging Macrame Chair from Cut Our & Keep
The Ovis macramé hanging chair uses metal and wood to create a rigid frame. The cotton ropes make the chair soft and comfortable. When you combine both features, you have a chair that is both supportive and comfy.
There are step-by-step instructions with a few illustrated pictures. We would not recommend this pattern for a beginner. The illustrated pictures can be difficult to interpret.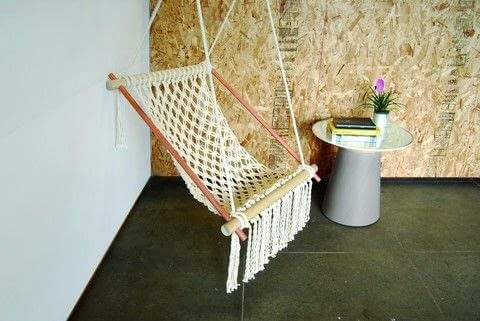 Find the Tutorial on Cut Our & Keep HERE
7. Macrame Cat Hammock by My French Twist
You are not the only one that would love relaxing in a macrame hanging hammock chair. This chair was designed for a cat. You can bet your furry friend would appreciate a chair of their own.
The pattern is very simple and only uses square knots. This project could easily be completed in just a few hours. You will need masking tape and scissors, a 24" long wooden drapery rod with finials, 500 foot of cotton clothesline, and an 18" square throw pillow.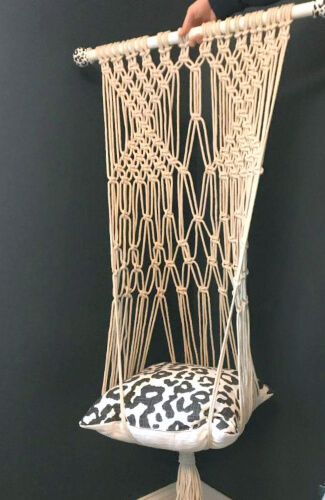 Find the Tutorial by My French Twist HERE
8. DIY Macrame Hanging Chair by TNARTNCRAFTS
Here is a video tutorial for a two-toned macrame hanging chair pattern with a floral inspired seat. You can easily change up the colors to make it match the décor of your home.
We would recommend this pattern for an advanced beginner to a more experienced macramer. You will need 2 circle rings, macrame cord, scissors and a ruler. All the measurements are shown before each step. There are no verbal instructions.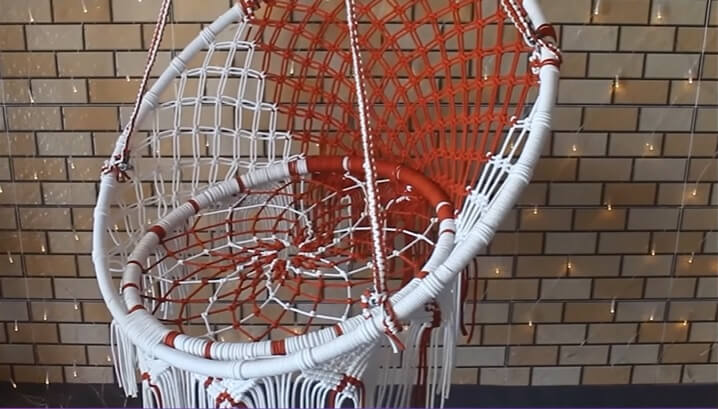 Find the Video Tutorial by TNARTNCRAFTS HERE
9. DIY Macrame Hanging Chair Pattern by The Sorry Girls
You will need quite a bit of time to complete this macrame hanging chair pattern. There are 5 wooden dowels that need to be prepped before you start the project.
Along with the wooden dowels, you will need 20' of ½" rope, painters tape, 200 yards of ¼" macrame cord, a hanging chair mounting kit, hand saw, sandpaper, a drill with 5/8" drill bit, wood screws and scissors.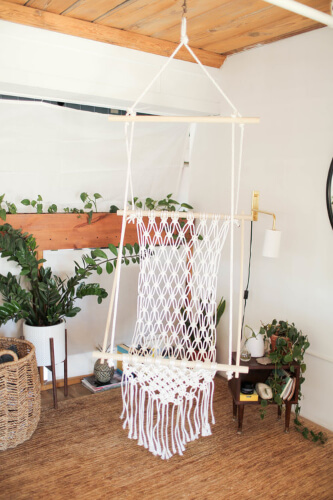 Find the Tutorial by The Sorry Girls HERE
10. Hanging Macramé Chair by Macy McCall
This is a beautiful macrame hanging chair pattern that provides a little more support than most macrame chairs. The design of this chair makes it quite unique.
In this video tutorial, you get both visual reference and verbal instructions. You will need to be able to make your own frames.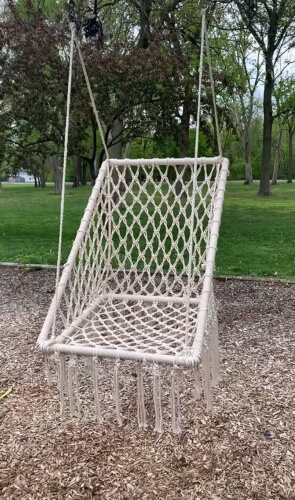 Find the Video Tutorial by Macy McCall HERE
LIVEN UP YOUR INDOOR AND OUTDOOR SPACES WITH SOME OF THESE MACRAME HANGING CHAIR PATTERNS.
Macrame is such a versatile art form. You can make anything from jewellery, garland, door curtain, wall hangings, plant hangers to furniture. The possibilities are almost endless. And the supplies are often inexpensive.
Being creative can be enjoyable and relaxing. And macrame projects are no exception. If you are looking for some fun furniture ideas for your home, patio, or garden, try one of the above macrame hanging chair patterns.