Macrame has become wildly popular in the last couple of years for its unique natural and artisanal aesthetic. Making macrame yourself provides so much freedom to create one-of-a-kind pieces. Here, we bring you DIY macrame necklaces, perfect for pairing with all of your summer outfits!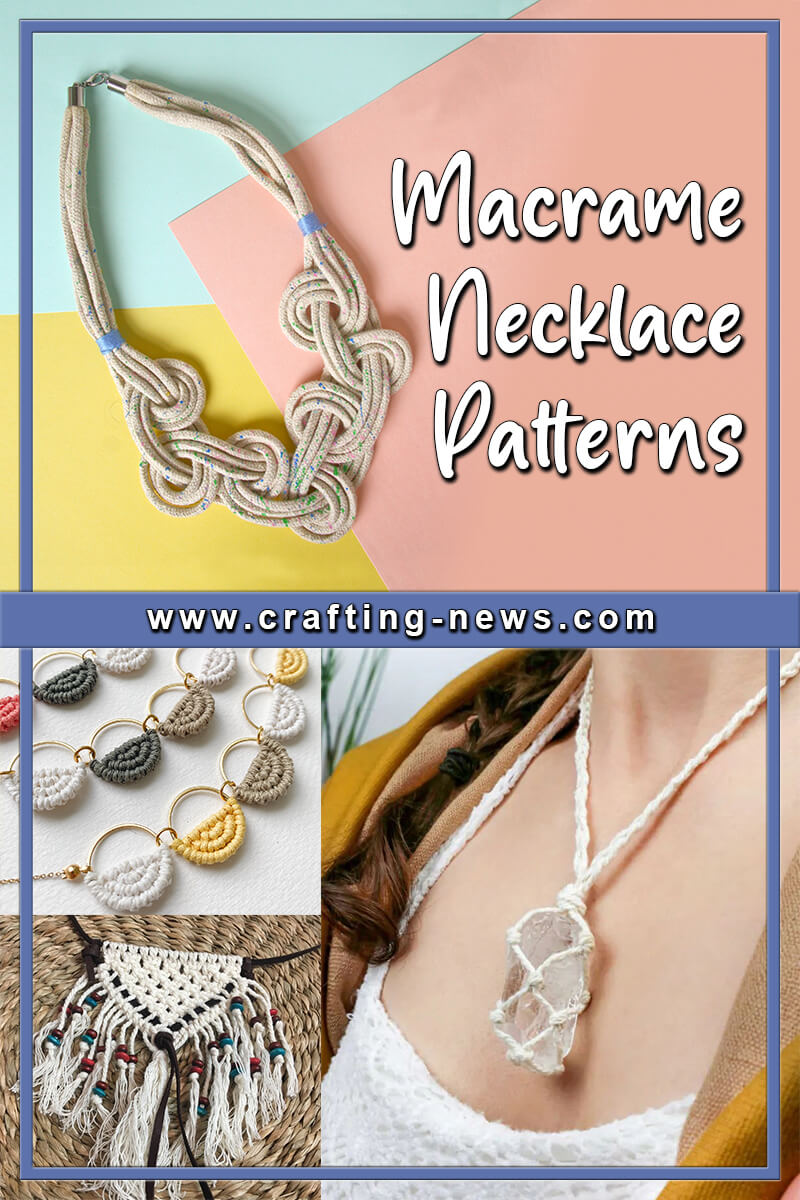 These macrame necklace patterns are perfect for beginner, intermediate, and advanced crafters. We've included a variety of style as well, so you're more likely to find something you'll actually wear.
19 Necklace Macrame Patterns
Gather up your cord of choosing and then find a macrame necklace tutorial to follow Inspiration is quite literally a click away!
1. Simple DIY Macrame Necklace by Lia Griffith
This DIY macrame necklace uses a series of the most basic macrame knots — the square knot. To make this necklace, you will need a chain and jewelry findings.

The tutorial uses a copper keyring for the center, but feel free to choose another type of metal that better fits your style! While you are at your jewelry store, you can also pick out little beads to add into your macrame weaving.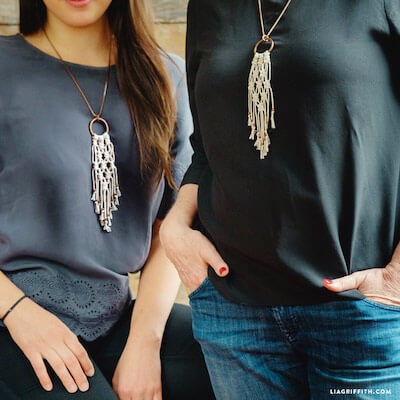 Follow the tutorial here
2. Macrame Braid Necklace by Make And Fable
This macrame braid necklace looks more complicated than it is- if you have ever made a basic three strand plait or braid before, you can make this necklace!

The magic of this necklace is that is only uses a single piece of cord, rather than 3 separate ones to create the braid, and by doubling the cord up you get a fancy looking plait! And if a necklace isn't your thing, you can easily make it into a bracelet instead.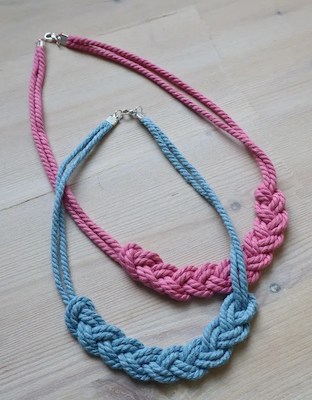 Follow the tutorial here
3. Necklace Macrame Pattern by Gathered
Liberating a skein of yarn from your stash, transforming it and taking it out on the town on the same night has never been easier – colorful cotton rope and some knotty know-how is literally all you'll need to perfect a flower-look statement necklace.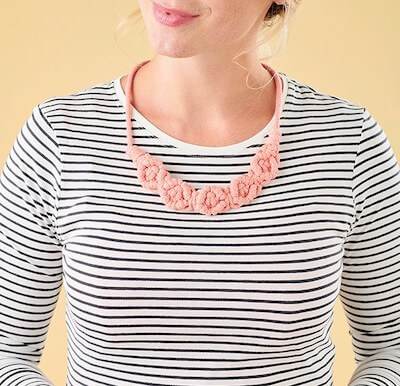 Get the Pattern here
4. Knotted Chevron Statement Macrame Necklace by instructables
These necklaces are made with double half hitch knots – essentially the same way that a lot of friendship bracelets are made.
By varying the way the strands are worked you can create two very different kinds of stripe patterns. The repetition of one knot creates a nice texture for making patterns pop.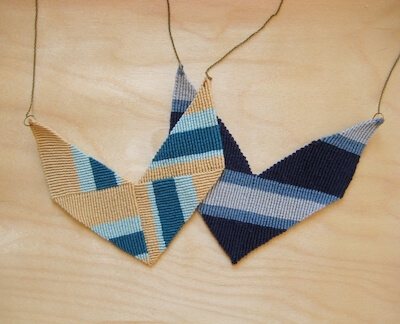 Follow the tutorial here
5. Tuija Macrame Necklace Pattern by Curious Craft Studio
This Tuija Macrame Necklace is super simple in its round shape, with an added diamond that gives it the perfect amount of chic, without being too bold.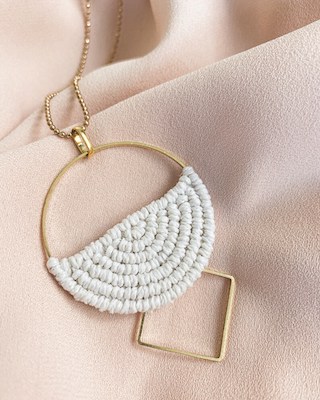 Get the Pattern by Curious Craft Studio here
6. Macrame Necklace Tutorial by Crafting With Lindsey
Create your own pretty macrame jewellery with this color photo tutorial. The tutorial shows you how to make two different styles of necklace. The necklaces are made using simple knots, so are perfect for macrame beginners.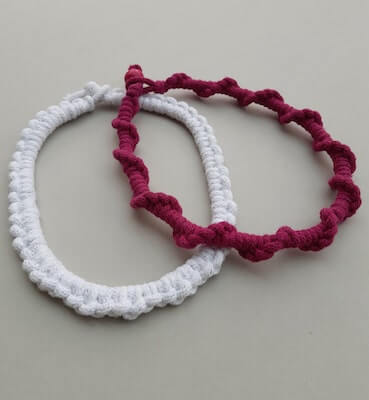 Get the Pattern by Crafting With Lindsey here
7. Macrame Necklace Pattern by Curious Craft Studio
Make a stunning lightweight macrame necklace with this necklace macrame pattern. Perfect for the confident beginner/intermediate skill level, this tutorial includes step-by-step instructions, photos, and video to ensure you receive all the guidance you need.
Get the Pattern by Curious Craft Studio here
8. Free DIY Macrame Necklace by Crafting On The Fly
If you're a true macrame lover then why not wear your work? This free macrame pattern is ready for you to make, wear, and show off to all your friends. This necklace really only uses one macrame knot, but the finished piece of jewelry looks much more complicated.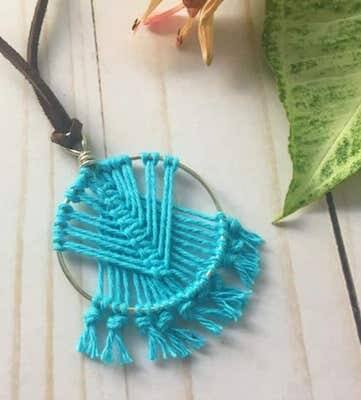 Follow the tutorial here
9. Loop The Loop Macrame Necklace Tutorial by Make & Fable
This Macrame Necklace Tutorial uses three strands of cotton rope, in a simple alternating half hitch pattern, to create a stunning statement necklace! You also get a bonus project that uses the same pattern to make a pair of Celtic-style earrings.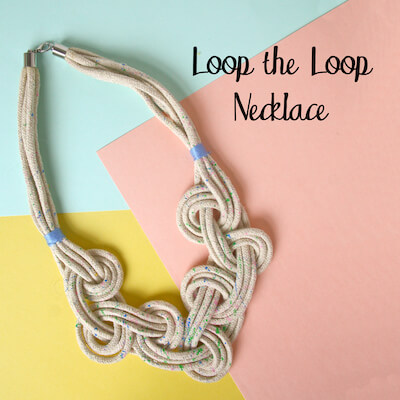 Follow the tutorial here
10. Macrame Necklace Tutorial by David And Charles
This exquisite choker-style necklace features a simple square knot pattern embellished with metallic beads, and is secured around your neck with plaited ties.
Simply adjust the length of the plaits to make the necklace longer or shorter to fit. You can make a bracelet or an anklet to match your necklace too.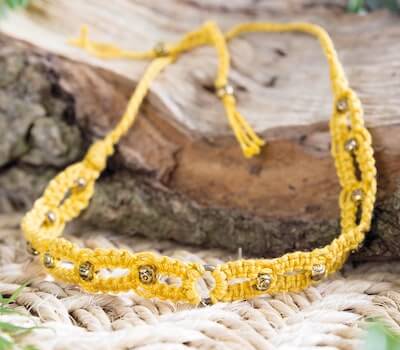 Get the Pattern by David And Charles here
11. Simple Macrame Necklace by Instructables
This necklace is part industrial, part retro, and part pretty. Using a clipboard, you'll knot strands of cotton twine to a bronze ring with hex nuts intermingled throughout the macrame. You'll then hang the pendant from a long chain.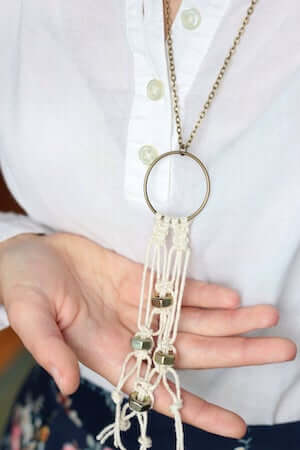 Follow the tutorial here
12. DIY Macrame Pendant Necklace by Gina Michele
Because your looks and personality matters! Don't over-do it by wearing heavy jewelry when off to work or headed somewhere casually. Therefore, this macrame jewelry brings you a delicate macrame pendant necklace. All it needs are two supplies, strands, and the stone.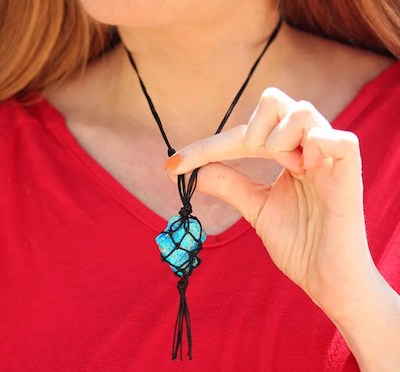 Follow the tutorial here
13. DIY Macrame Necklace by Rebecca Propes
Do you have that inner boho that wants to come out? This DIY Macrame Necklace can help! For this macrame necklace, you will need cotton yarn, colorful beads, leather cording, and headpins to make this pretty accessory to rock!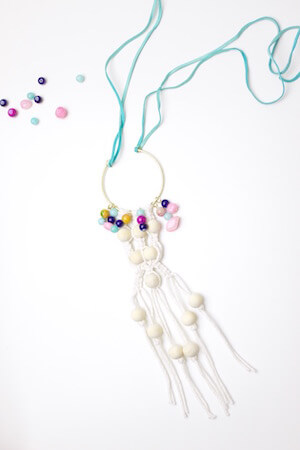 Follow the tutorial here
14. DIY Roped Macrame Necklace by Collective Gen
This roped necklace will cover all your formal and informal functions. Although it's a delicate necklace, it holds the capability of being fancy and straightforward at the same time. You will need pliers, tape measure, scissors, chain, cords, jump ring, and parrot hook.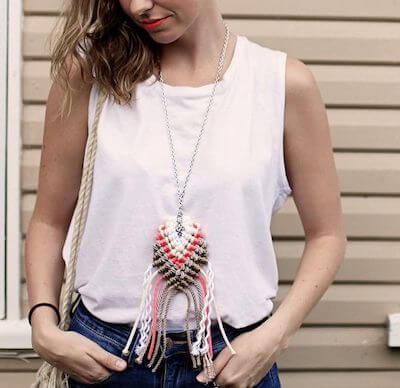 Follow the tutorial here
15. DIY Dyed Macrame Necklace by The Merry Thought
A stretch of leather cord, some macrame string and a bit of creativity are all it takes to create this simple yet stunning tassel necklace.
The best part of this tutorial is that it requires absolutely no expertise in sewing or jewelry crafting because with a simple knots and some brightly colored dye, practically anyone can recreate this necklace.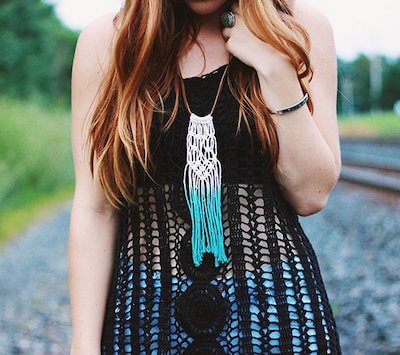 Follow the tutorial here
16. Lucky U Macrame Necklace Pattern by Modern Macrame
This Lucky U Necklace is a talisman of positive energy. A simple beginner level pattern that you can whip up in under an hour, these stylish necklaces make great gifts for you and for all your lucky friends!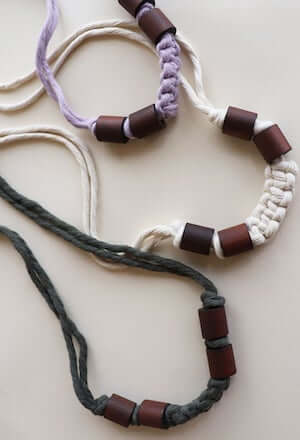 Follow the tutorial here
17. DIY Stone Easy Macrame Necklace by Craftsy Hacks
Need an easy but beautiful macrame project? Make this DIY macrame necklace – a beautiful jewelry item you can make for your loved ones or yourself.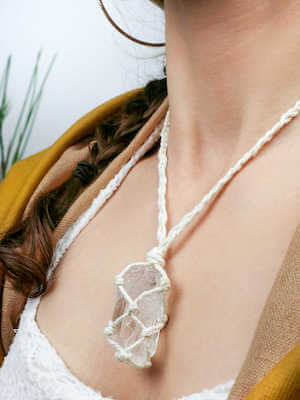 Follow the tutorial here
18. Macrame Susie Necklace Pattern by Curious Craft Studio
This Macrame Susie Necklace with the classic clove hitch texture and three half circle shapes, stacked one above the other, add a bright statement piece to any wardrobe.
Follow the design and pick your color, or come up with your own color or combination of colors for a personal twist.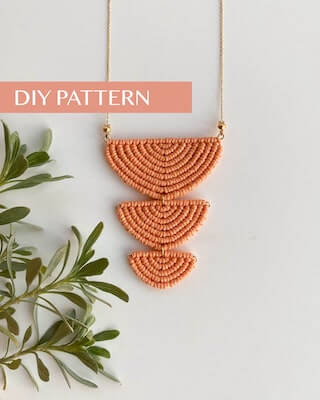 Get the Pattern by Curious Craft Studio here
19. Boho Macrame Necklace Pattern by Bead Shack
Make a gorgeous necklace using leather strap, beads, and cotton string to put together an amazing creation for you to wear over a jumper, t-shirt or dress – suits anything really. You can then hang it in your bedroom as a decoration until the next time you wear it!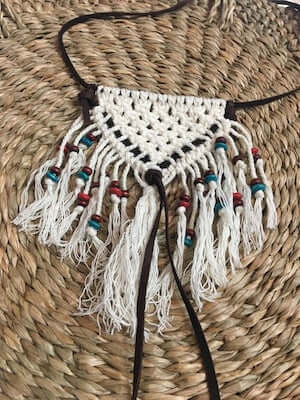 Get the Pattern here
YOU'LL FEEL LIKE YOU'RE STEPPING OUT TO MAKE A STATEMENT WEARING YOUR NEW MACRAME NECKLACE THAT YOU'VE MADE YOURSELF!
Love these projects? Browse even more DIY jewelry ideas here where you can find more macrame jewelry pieces like these 18 Macrame Earrings and 25 Macrame Bracelet Tutorials.

We would love to see the unique DIY macrame necklace designs that you come up with, so please share your photos with us on our Facebook Page.
Get your hands on this effortless fashion fad with these macrame necklace patterns today!