These macrame earrings will add some originality and boho vibes to your wardrobe and are budget-friendly enough, that you can make a dozen pair of them!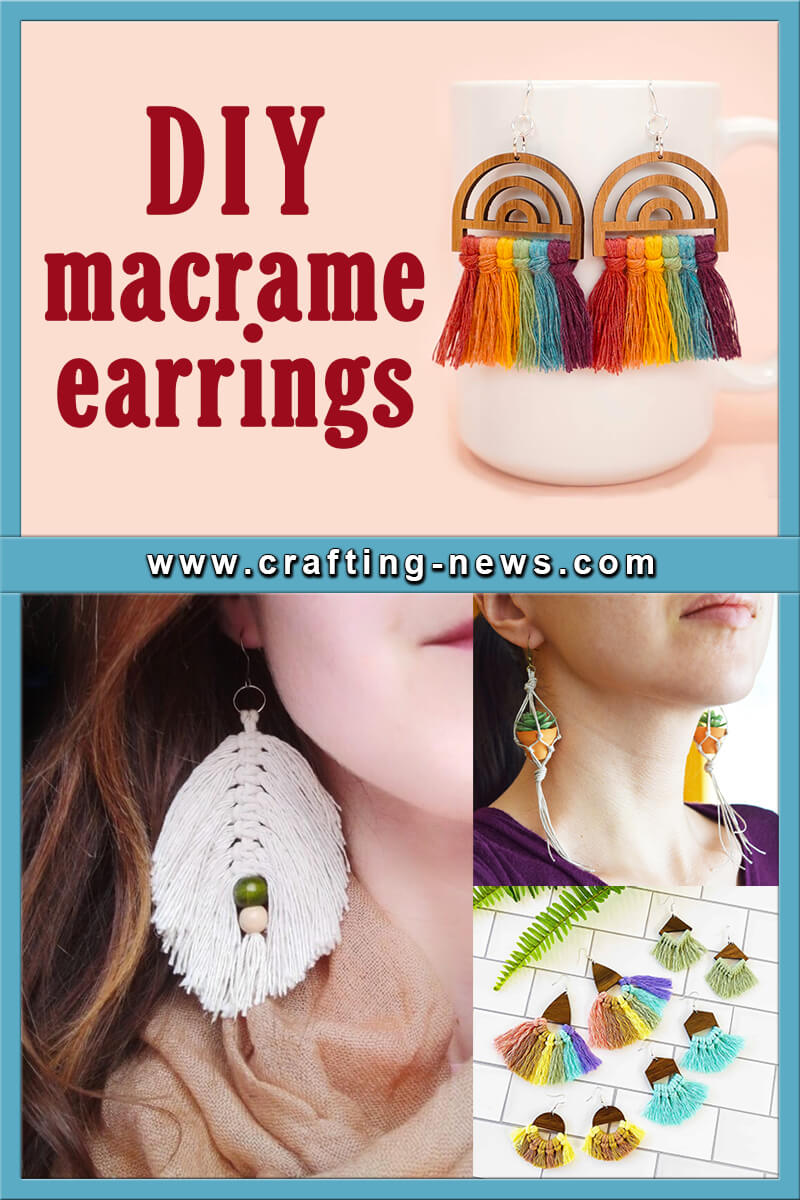 Macrame has become wildly popular in the last couple of yearns for its unique, natural, and artisanal aesthetic. Making macrame yourself provides so much freedom to create one-of-a-kind pieces.
Here we bring you macrame earring patterns, perfect for pairing with all of your summer outfits!
1. DIY Macrame Rainbow Earrings by Happiness Is Homemade
These DIY rainbow macramé earrings require just a few simple supplies, and they make a huge impact! Make them in lots of different color combinations to match your entire wardrobe, and be sure to keep a few extra pairs on hand – they make an awesome gift idea!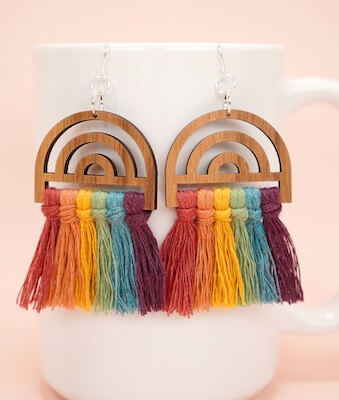 Follow the tutorial here
2. Leaf Macrame Earrings DIY Pattern by Craftsy Hacks
These macrame leaf earrings are beautiful craft adults and even teens can make. These earrings are extra cute and a great accessory for any time of the year.

Making these beautiful Macrame earrings are easy and take little time. The process is straightforward, allowing you to style them to add a touch of your personality to your jewelry.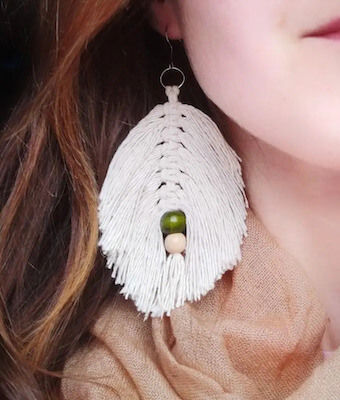 Follow the tutorial here
3. DIY Boho Macrame Earrings by Darn Good Yarn
Looking for a fun, DIY craft to bring a pop of color into your wardrobe? These boho macramé earrings are easy to create and add a touch of boho brightness to your outfit. You might want to make multiple pairs as they make great gifts!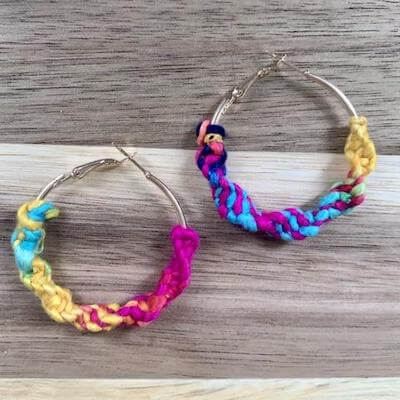 Follow the tutorial here
4. DIY Easy Macrame Earrings by Amy Romeu
Do you want to learn how to make trendy and lightweight macrame earrings but you're not sure what materials you need or how to make them? Wood and macrame earrings in a boho style are so popular trendy, and lightweight – perfect for summer.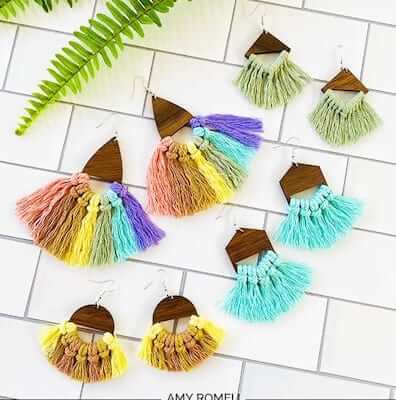 Follow the tutorial here
5. Macrame Earring Tutorial by The Spruce Crafts
Follow this tutorial for a basic pair and a pair that's a little more intricate. As you're gathering materials, take a peek through your earring collection for hoops or shapes that you already have—these might be great starters for adding some macrame knots to give them new life!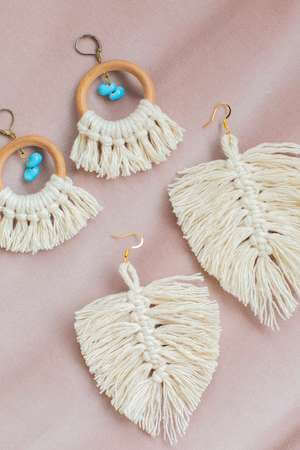 Follow the tutorial here
6. DIY Macrame Earrings by That Sweet Tea Life
Because macrame is so unique aesthetically, your friends and family won't know you made these earrings yourself; they'll think you purchased them from a boutique!

The pattern includes two guides: one for creating a basic pair of macrame earrings and another for making an intricate pair. So, read on to learn how you can make macrame earrings!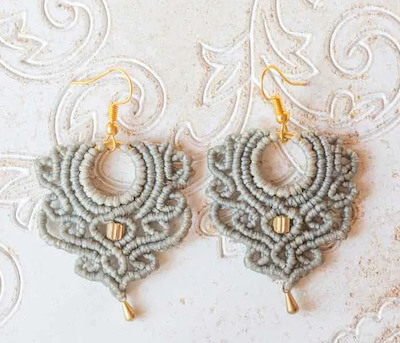 Follow the tutorial here
7. DIY Micro Macrame Plant Hanger Earrings by Higher Jewelry
We all love unique, eccentric jewelry–especially when it can be made in about 30 minutes and the supplies cost less than $30.

This fun project is for those of us short on time (and money!). This simple beginner macrame project can be turned into earrings, necklaces, or used as miniature decoration.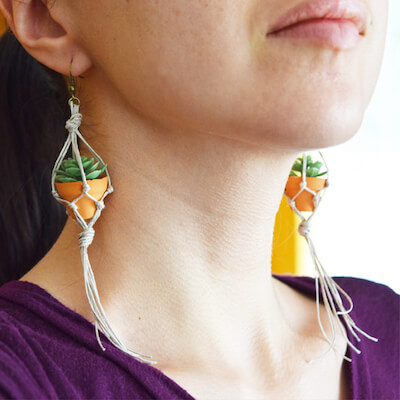 Follow the tutorial here
8. Easy Macrame Earring Tutorial by Wonderfil UK
If you're looking for a fast and easy project that looks great, this simple DIY project makes professional earrings with a personal touch. Perfect for your own wardrobe accessory or a handmade gift for a friend, they only take 20 minutes from start to finish and don't require a sewing machine!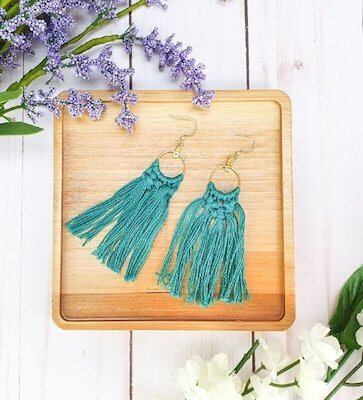 Follow the tutorial here
9. Swirl Earring Macrame by How Did You Make This
These macrame earrings are one of those projects where a fun technique and some pretty geometry came together to be really addictive.

Adding beads to rows of double half hitch knots automatically creates the swirl effect, and the knotting is sturdy enough to hold its shape without needing any additional structure beyond the wire loop at the center.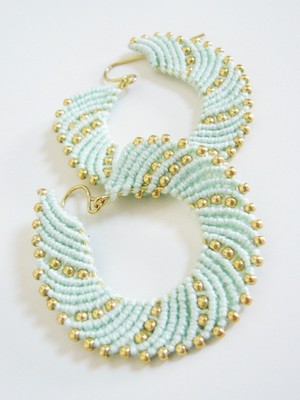 Follow the tutorial here
10. Heart Macrame Earrings by Curious Crafts Studio
Is there anything better than a handmade heart-shaped gift? Gift these adorable little heart macrame earrings to a loved one, or to yourself! The heart macrame studs are super easy and quick to make, and warm even the most cynical heart!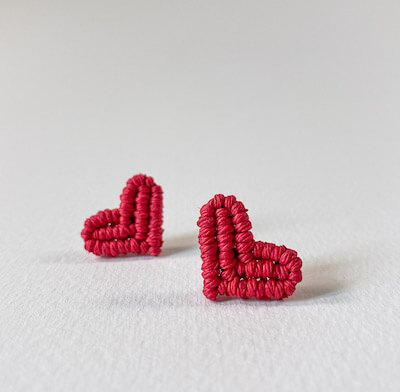 Follow the tutorial here
11. Desert Serenity Macrame Earring Pattern by Zaney May
This Desert Serenity Earrings Pattern is a micro macrame pattern; made with double half hitch knots and lark heads; with beads and ear hoops.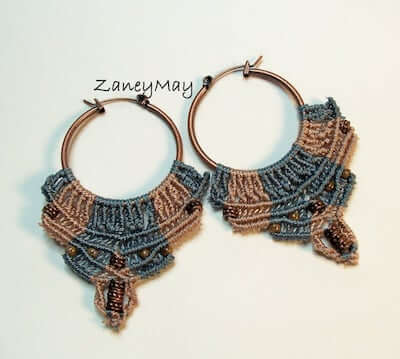 Get the Pattern by Zaney May here
12. Straw And Leather Macrame Earrings by Goody Beads
Macrame is making waves along side the fiber trend. This tutorial will show you how to make a single half hitch knot with 3mm deerskin lace around a woven straw ring. It revises our favorite woven straw component into fall fashion and even back to school wear!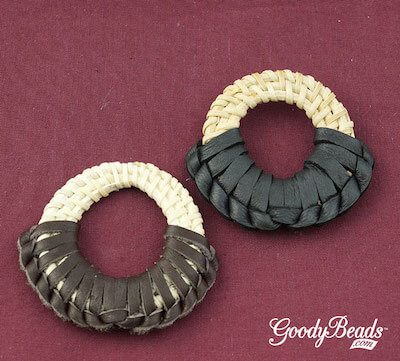 Follow the tutorial here
13. Macrame Earrings Pattern by Knot Calm
Make your very own Macrame earrings with these easy to follow instructions. This pattern will show you how to make a pair of tassel earrings which you can make in any color your heart desires.
They are a great statement piece for your outfit. If you have ever wanted to make your own handmade earring, this is the perfect pattern to try!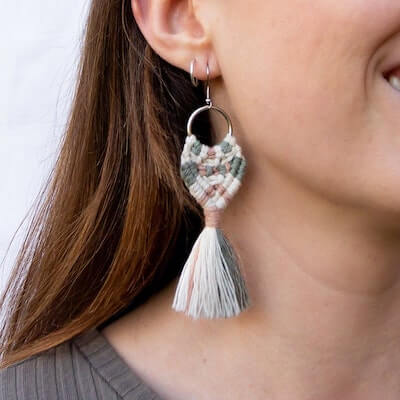 Get the Pattern by Knot Calm here
14. DIY Macrame Feather Earrings by Crafted Avenue
These DIY Macrame Feather Earrings will seriously match any outfit! They are super easy to make, so they make a perfect quick craft! You can easily make them as gifts for your friends and family too!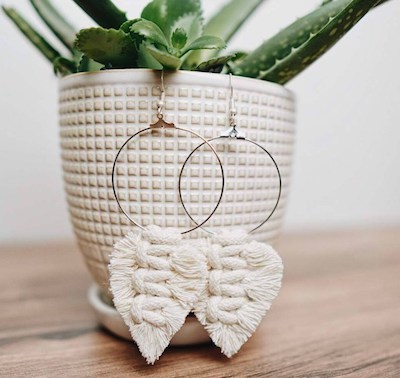 Follow the tutorial here
15. Black Macrame Spiral Earrings by Pandahall
Have you ever made macrame spiral earrings with black wax cord and red wood beads? This micro macrame earrings tutorial will show you detailed steps about how to DIY simple macrame spiral earrings. You just need to know how to tie a larks head knot.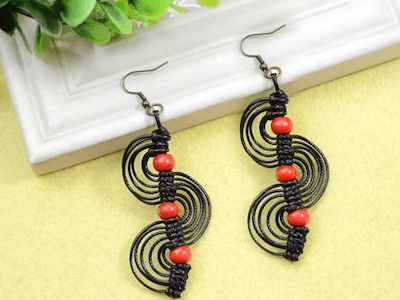 Follow the tutorial here
16. DIY Macrame Earrings Tutorial by Matching North
Learn how to make a pair of DIY macrame earrings in this easy and quick step by step tutorial! This project is perfect for beginners and only uses a few basic macrame knots. You'll need to know the larks head knot, square knot, and diagonal double half hitch.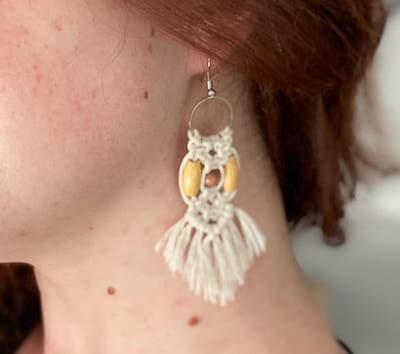 Follow the tutorial here
WITH THESE DIY MACRAME EARRINGS, YOU CAN CREATE A CHIC, BOHO PAIR OF EARRINGS THAT LOOK LIKE THEY CAME FROM A BOUTIQUE!
Love this project? Browse even more DIY jewelry ideas: Macrame Necklace Patterns, Macrame Bracelet Tutorials, DIY Ear Cuffs, DIY Earrings Patterns, Clay Earrings DIY, Macrame Jewelry Patterns and more here!
We would love to see the unique DIY macrame earring designs that you come up with, so please share your photos with us on our Facebook Page.

These macrame earrings are quick and easy, why not make multiple pairs?