Ear cuffs are the perfect way to add accessories to your outfit in a really edgy yet fun way! Whether you prefer subtle and simple styles or are a fan of dramatic and bold, this list of DIY ear cuffs has you completely covered!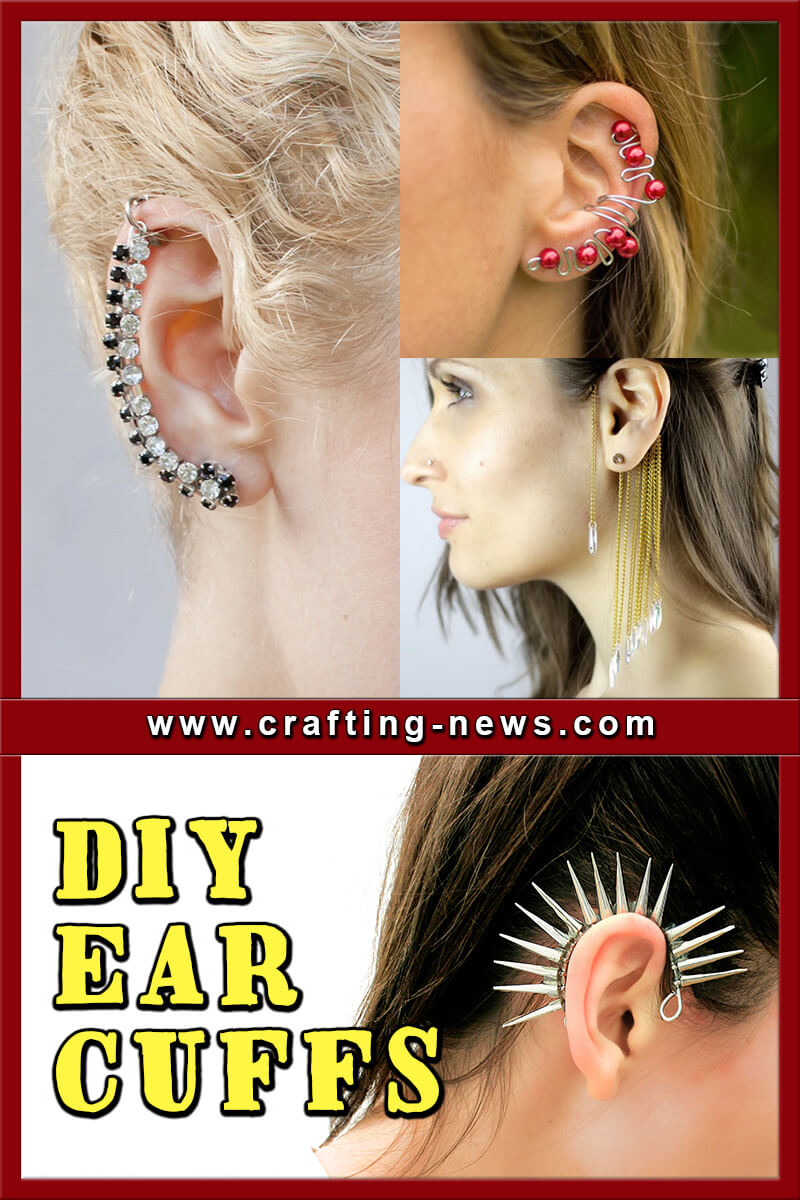 Rather than looking everywhere for your style of ear cuffs, why not make them yourself? Whether to jazz up a pared-back ensemble for one of your first post-lockdown evenings out or to wear for everyday occasions, there is an ear cuff for every jewelry lover in this edit. Click through to see them all.
1. Textured Copper Ear Cuff Tutorial by Rings & Things
This ear cuff tutorial shows you how to make a simple metal ear cuff in copper. This simple design wraps around the outer cartilage of the ear and is a popular style for men. It can be textured and colored as desired.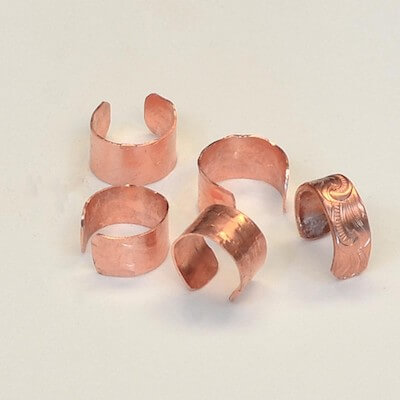 Get the tutorial here
2. DIY Ear Cuffs by Honestly WTF
It's important not to skimp on the quality of materials for this tutorial – good glue and crystals are a must for that strong hold and sophisticated sparkle!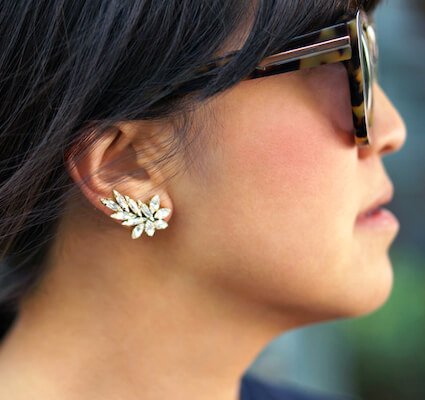 Get the tutorial here
3. Swirly DIY Wire Ear Cuff by Wire Jewelry Tutorials
This lesson teaches you to make an ear cuff that gracefully curves along the edge of your ear. Delicate looking spirals sweep up and down, extending from a single bead in the center.

This diy wire ear cuff is easily customizable. You can make the spirals any size you like, use different shaped beads, or even wrap beads all the way up the spirals. The possibilities are endless!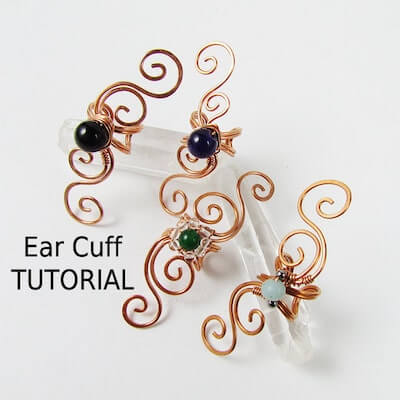 Get the tutorial by Wire Jewelry Tutorials here
4. DIY Spiky Ear Cuff by Style Caster
The perfect solution for the piercing-shy, ear cuffs are the easiest way to add some temporary edge to your look. Here's how to DIY your own metal-heavy version to rock now and wear through spring.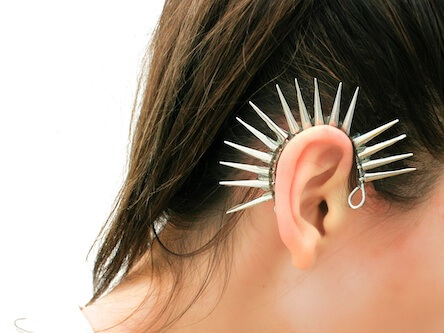 Get the tutorial here
5. DIY Ear Cuffs by Chictopia
This chic ear cuff is made of wooden clothespins. How cool is that? You clip and glue them to a piece of plastic that has been shaped to fit the back of your ears. Spray paint in any metallic color you like and you're set!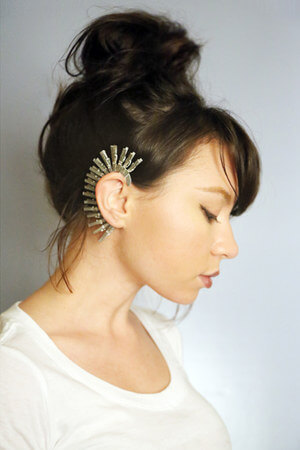 Get the tutorial here
6. Ear Sweep DIY Earrings by Craft Paper Scissors
Ear Sweeps (aka Ear Vines/Climbers) are so on-trend right now! They make a big impact and give the appearance of multiple piercings without the commitment. This DIY jewelry project is easy to make using bendable craft wire and the variations are endless!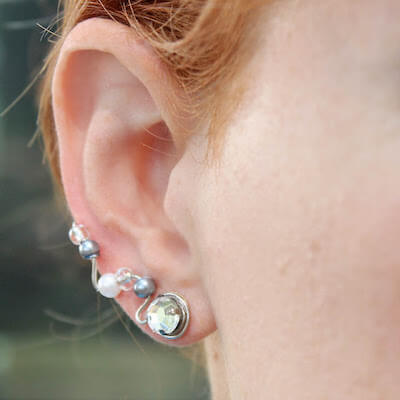 Get the tutorial here
7. Rhinestone Ear Cuff by Transient Expression
This ear cuff features a rhinestone chain. What's neat is that you will use a clip on earring at the top and a regular stud post to anchor both ends.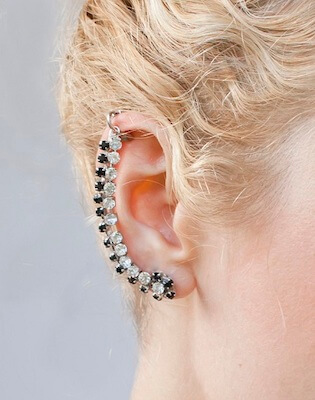 Get the tutorial here
8. DIY Bow Ear Cuff by Styleoholic
Looking for an easy DIY project with super stylish results? This DIY Bow Ear Cuff is perfection! With the help of this tutorial, you'll learn how to take simple wire and turn it into this great addition to your jewelry collection.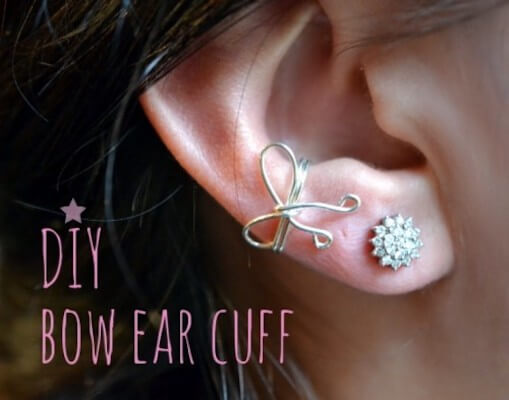 Get the tutorial here
9. Wire Wrapped Flower Ear Cuff by Panda Hall Learning Center
Learn how to make wire wrapped flower ear cuff earrings with turquoise beads and chains. Surely, you will be surprised by the jewelry.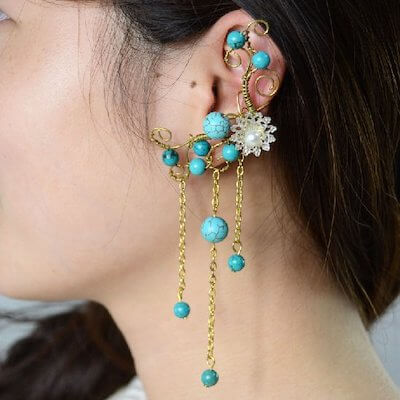 Get the tutorial here
10. DIY Dragon Wing Ear Cuff by Instructables
Have you ever wanted to be a dragon? Well that dream may be hard to reach, but you can at least make wing ear cuffs. They are actually fairly easy to make, no resin or polymer clay required.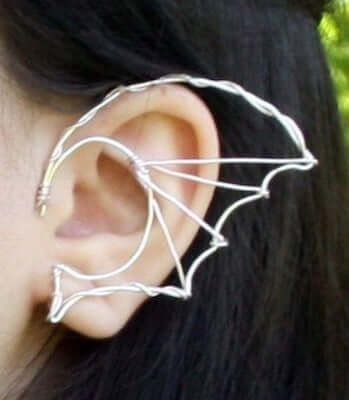 Get the tutorial here
11. Wire Ear Cuff With Changeable Dangles by Jewelry Making Journal
These changeable ear cuffs would be fun to sell (or to give as gifts) with a selection of dangles to wear on them. You can wear a single ear cuff on one ear – or make a pair to wear at the same time.

This style is a nice alternative for people who don't wear pierced earrings. Or for people who like to wear more ear adornments in addition to their earrings!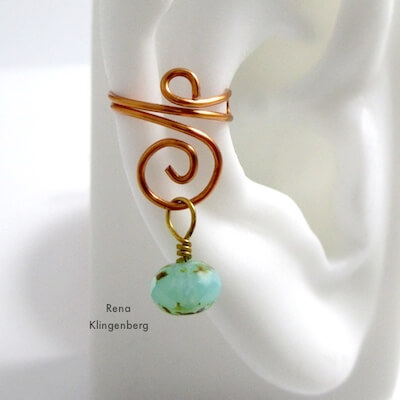 Get the tutorial here
12. Textured Ear Cuff Tutorial by Kernowcraft
This is a really fun beginners metalsmith project, great for those looking to explore texturing and metal bending techniques. No soldering is required!

This tutorial is for a 7mm wide earring cuff, using 0.7mm thick silver sheet ear cuff. However, they can be easily changed to other sizes to suit your style.
Get the tutorial here
13. DIY Pearl Ear Cuff by Fustany
Pearl earrings are easy to make, yet they convey elegance and sophistication. Whether you're making them for yourself, giving them as a gift, or starting your own little jewelry business, you can make these Pearl Ear Cuffs quickly and easily yourself.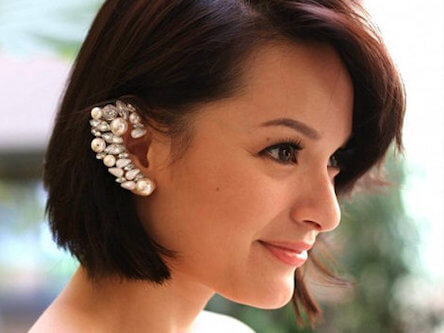 Get the tutorial here
14. Wire Ear Cuffs by Panda Hall Learning Center
This is an easy DIY project on how to make black copper wire ear cuffs for unpierced ears. It is a 10-minutes project for both jewelry makers and green hands.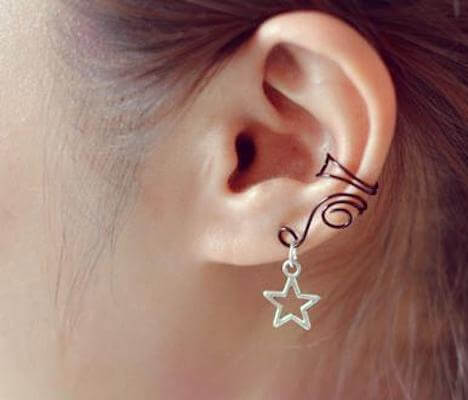 Get the tutorial here
15. DIY Ear Cuffs by By Isnata
This ear cuffs hangs through the back of the ear. This accessory gives a delicate and at the same time whimsical side to the look. It can adapt to all styles: bohemian, rock, classic, it's up to you to create it according to your desires.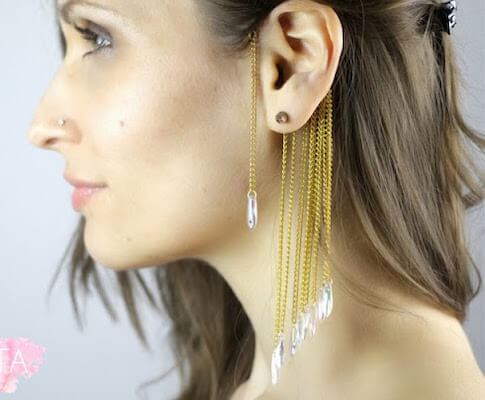 Get the tutorial here
16. DIY Cuff Earrings With Skull Beads by Panda Hall Learning Center
Halloween is coming, are you looking for skull jewelry? Well, this wire ear cuff tutorial will entirely tell you how to make wire skull ear cuff with skull beads.

It is a cinch to make it, if you have some wire wrapped techniques, there will be no problems to make this skull ear cuff.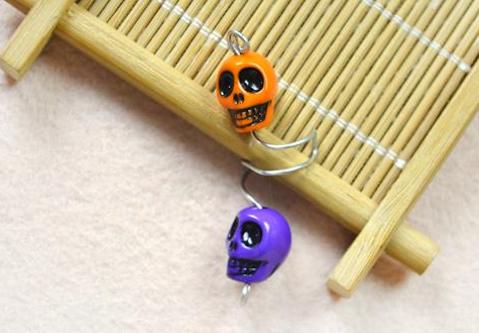 Get the tutorial here
17. Ear Cuff Tutorial by My Wired Imagination
This Ear Cuff Tutorial is for pierced ears and are a clever way to make it look like you are wearing more earrings than you really are. This fun tutorial shows, step by step, how to create them. They can be created plain (all metal), or dressed up as far as you want to take them.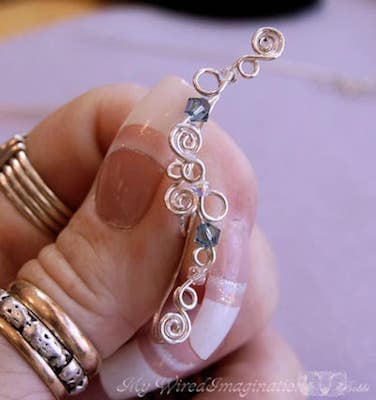 Get the tutorial by My Wired Imagination here
18. DIY Ear Cuffs by Brit + Co
Using various stones and crystals, these statement earring cuffs will turn heads and be a great addition to any jewelry collection. These are great for an everyday work look!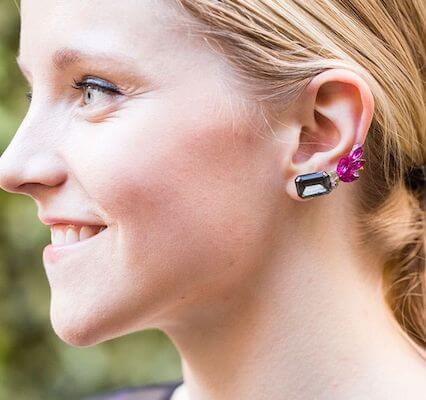 Get the tutorial here
19. Ear Cuff DIY by My White Idea DIY
Add a little flair to your average ear cuff with this beaded accessory. Easy to make and it costs nearly nothing! These would make a beautiful gift for the holidays, or you could even sell them at a craft show!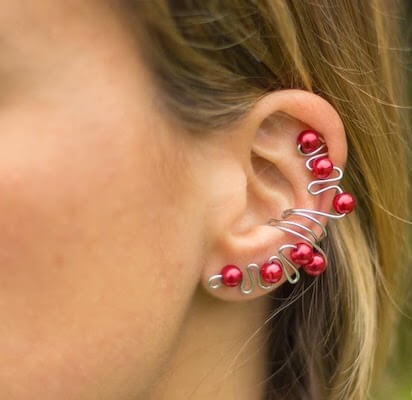 Get the tutorial here
20. DIY Ear Cuffs by Trinkets In Bloom
Inspired by brooches and pins, these two versions of a DIY cuff earrings will have your earrings moving in a whole new direction. A fun change from the usual dangling earrings, these large DIY Ear Cuffs are a new way to express your personality and make a statement.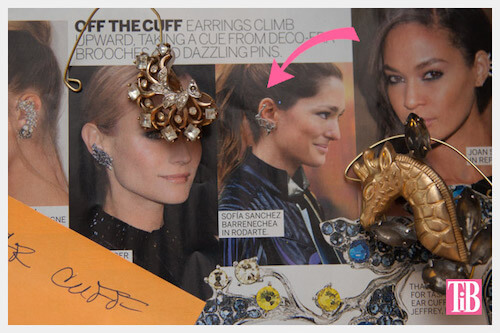 Get the tutorial here
THESE DIY EAR CUFFS ARE CHIC AND OH-SO-EASY TO DO. YOU WILL END UP MAKING SEVERAL FOR YOU AND SEVERAL MORE FOR YOUR BEST GALS!
Let us know which ear cuffs you plan on making and don't forget to share your finished pieces on our Facebook Page.

DIY earrings are fun to make for fashion or gifts. Grab over 40+ easy DIY earrings here that you can create on a budget, with no skills required! Also, check out these Wire Wrapping stones Tutorials, Crochet Earrings Patterns, Clay Earrings DIY, Wire Wrapped Ring Tutorials and more DIY Jewellery to add to your jewelry collection.

Now the red carpet and runway trends are sufficient enough to motivate you to adopt this hot trend and if that's not enough, then the factor of wearing ear cuffs without extra piercings must compel you to get DIY a few. Have fun making some DIY ear cuffs today!