Rings are one of the few pieces of jewelry you can see when you wear them. And whether you're into making jewelry normally or not, there's quite a thrill to looking down and seeing some bling that you made on your own hand! Choose a few of these DIY wire wrapped ring tutorials to make this weekend.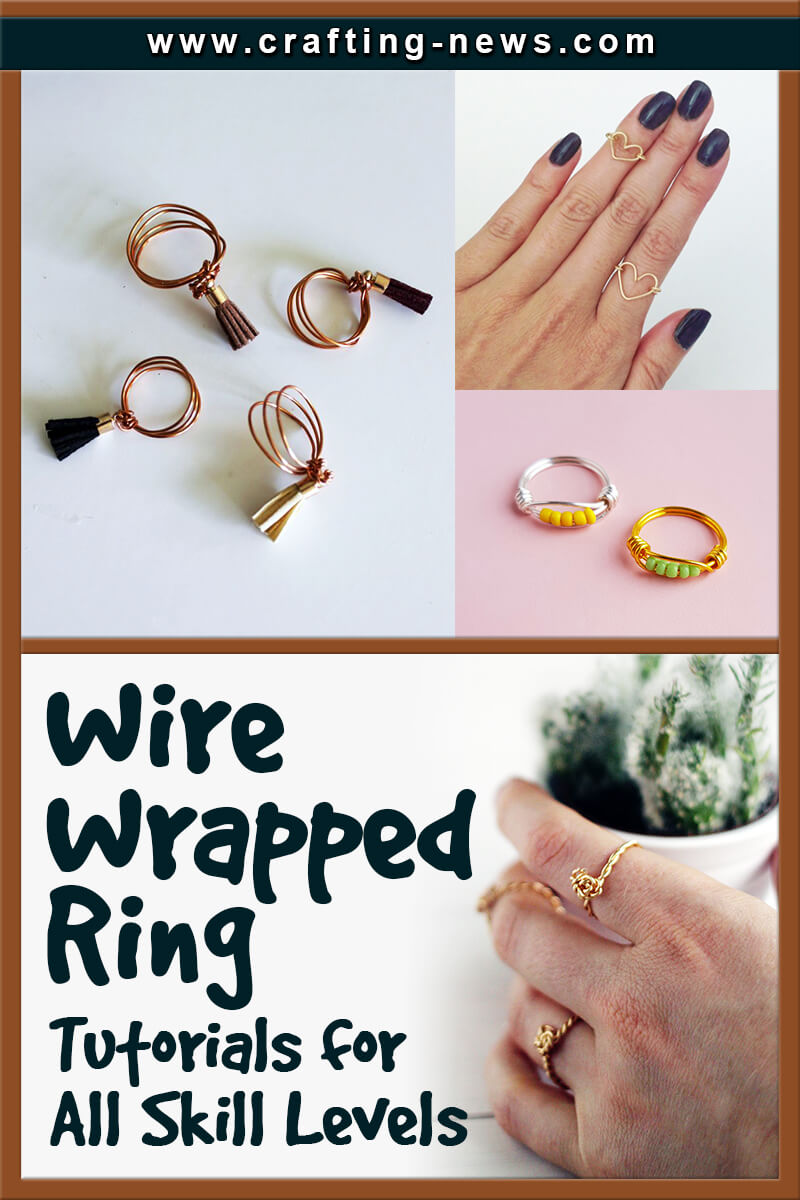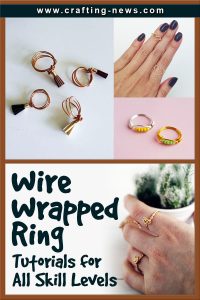 What is wire-wrapping? It's is a jewelry making technique in which wire is bent and shaped into endless shapes and forms.
No heat or flames are used, so it makes for an easy introduction to the vast world of jewelry design. It's great for children and adults alike and easy to travel with. Why not learn something new?
1. DIY Wire Rings by Craftsy Hacks
Easy to make DIY copper wire rings that are a great craft for adults! It's a beautiful jewelry item you can make on a low budget! Change the shape, the stone, and even the wire's color to make something truly unique. It's all up to you.
Get the tutorial here
2. DIY Wire Rings With Leather Tassels by Creative Fashion Blog
These DIY wire rings are super-simple to make and are perfect for the absolute beginner! What you will love most about this little DIY is that you can make so many at a time.
Give some to friends or make them in different sizes and wear several at a time for a boho-layered look. The stacked wire layers in the back can be separated for a bigger presence on your finger or kept tightly wound for a more delicate look.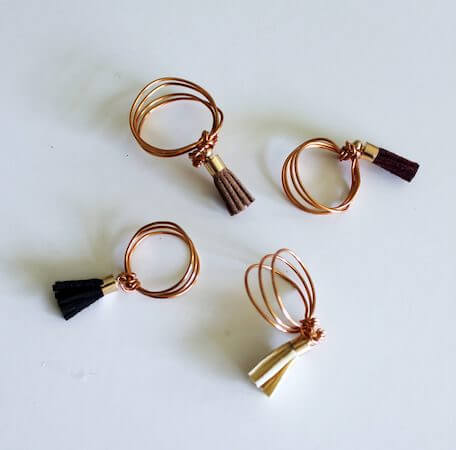 Get the tutorial here
3. DIY Wire Heart Ring by YesMissy
For bohemian chic to adorable minimalism, next up is this delicate DIY wire heart ring. These are so incredibly easy to make, requiring only your 20-gauge wire, some clippers, and your jewelry pliers.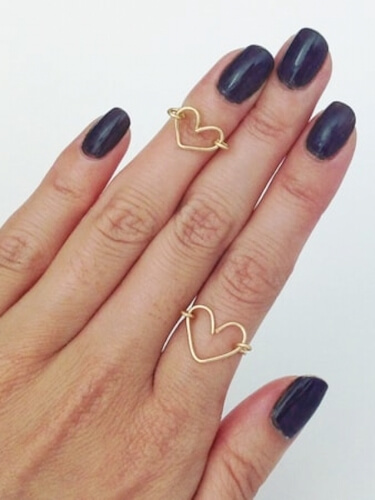 Get the tutorial here
4. Wire Wrapped Sea Glass Ring by Kernowcraft
Here's another take on the wire-wrapped stone, but this time, you'll be using sea glass. If you or your recipient are beach lovers, this is the perfect way to carry a little bit of the coast anywhere you go.
If you don't already have a souvenir from your last beach adventure, scour your local coastline for well-worn sea glass in an appealing shade. From there, simply follow the tutorial to create something unique.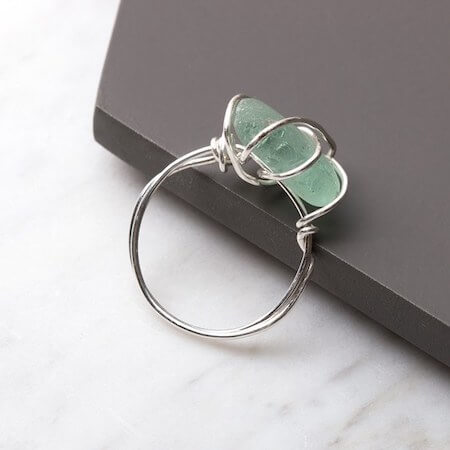 Get the tutorial here
5. Wire Wrapped Rings with Stones
Nothing finishes off an outfit like a beautiful piece of jewelry. You can dress up all you want but a stunning jewelry piece can make all the difference between getting a, you look good compliment and a wow!
We should always aim for the wow, at least that's my opinion. And that's where learning how to make wire wrapped rings with stones comes in. I stumbled on the tutorial on home baby crafts blog spot, and I instantly fell for the bedazzling wire wrapped rings.
Such beautiful pieces that you can use to spice up your attire, and they correctly accentuate the movements of your hands by drawing attention to them. The beauty of learning how to make wire wrapped stone rings is that they aren't that hard to make and they are gorgeous.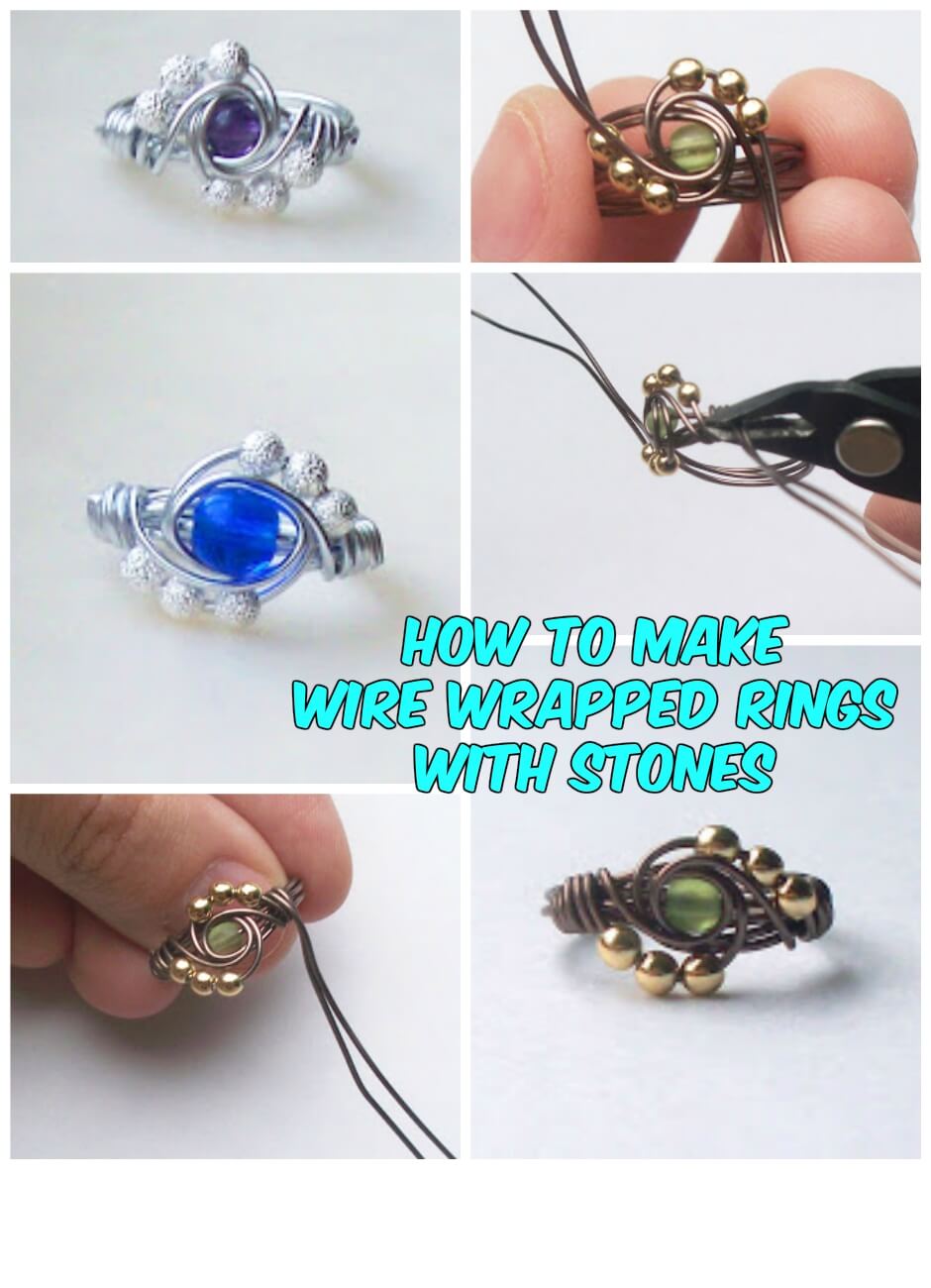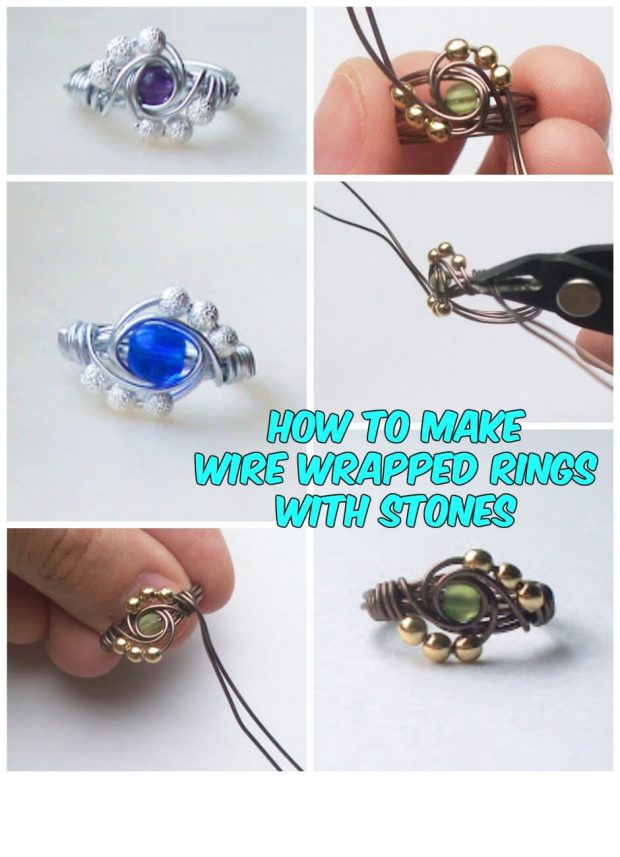 Wire Wrapped Rings Materials
2, eight to10 inches 20 Gauge wire
1, 4mm round stone
6, 2mm or 3mm beads in any color
A ring mandrel (or some rod)
Wire Snips
Chain nose pliers
Learn How To Make Wire Wrapped Rings with Stones HERE
6. DIY Metal Ring – Adjustable Spiral Ring Tutorial
DIY Metal Ring – Adjustable Spiral Ring Tutorial will enable you to make your own custom easy adjustable spiral ring. Easy to complete and minimal tools required. Have you ever tried making your own jewellery? It can be quite addictive.
You can make exactly what you want, in the size you want it, using reasonably priced materials – and end up with a stunning custom piece of jewellery which is really eye-catching and sure to be admired.
This adjustable spiral ring is quite easy to make with just a little wire, a bit of muscle and a few standard tools.

Supplies needed to make this ring
Two 6 inch pieces of round, soft, 16 gauge wire
One 14 (or more) inch piece of 24 gauge, round, soft wire
Ring mandrel or other round object ¾" to 1 inch in diameter
Round nose pliers
Flat nose pliers
Wire cutter
7. DIY Beaded Wire Ring by The Craftaholic Witch
This DIY beaded wire ring can be great for everyday use and also a super cute gift for a loved one! Grab some cute seed beads, craft wire and pliers and get crafty!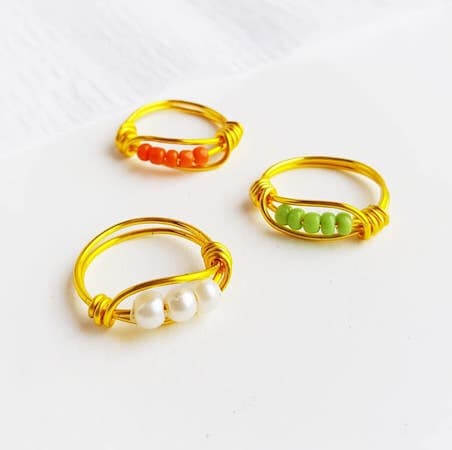 Get the tutorial here
8. DIY Dainty Stacking Wire Ring by Creative Fashion Blog
Aren't they just so cute! The little twisted rose-bud detail can be as big or delicate as you'd like. Since you'll be the one making them, you get to decide exactly how they'll look.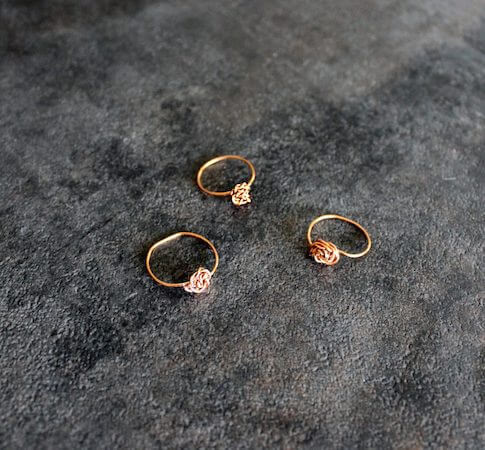 Get the tutorial here
9. Super Quick Wire Spiral Ring by Cut Out And Keep
This ring makes in under 10 minutes and is great for those wanting to start into making wire jewelry. It's trendy and very petite. These little rings are very pretty made in colored wire as well.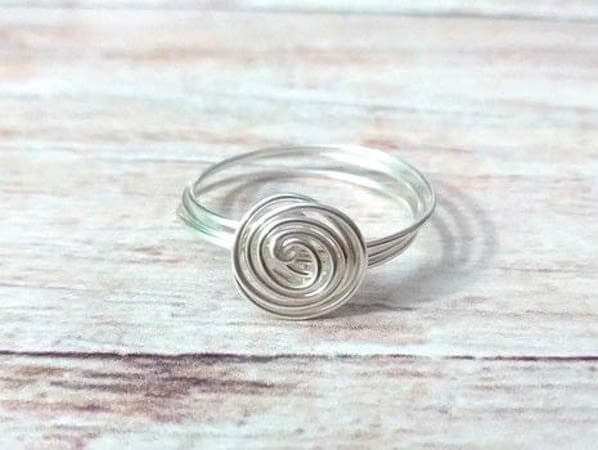 Get the tutorial here
10. DIY Wire Love Ring by Why Don't You Make Me
While this ring was made with Valentines Day in mind, it is a great everyday ring as well! With step by step directions on how to create this adorable ring you'll be sporting it in no time! A great reminder to love and be loved!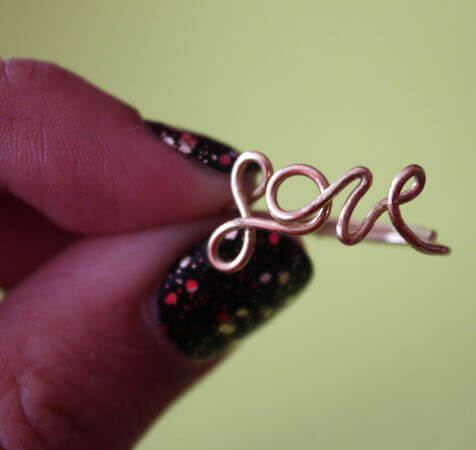 Get the tutorial here
11. DIY Infinity Ring by Instructables
You only need a little bit of wire, a round nose pliers and wire-cutting tool to make this cute infinity ring! It is simple to create and looks great! You can also modify this to make an infinity bracelet.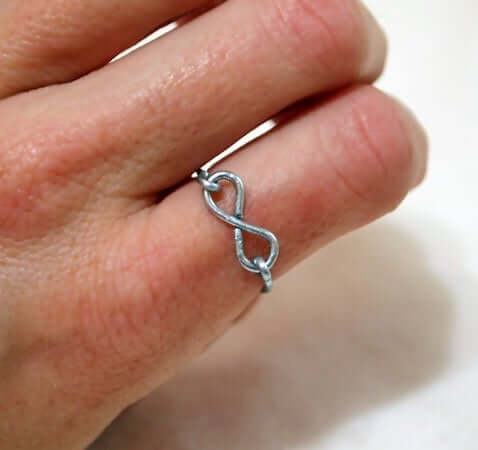 Get the tutorial here
12. DIY Swirl Ring by Oh Everything Handmade
This lovely swirl rings actually looks too good to be a DIY project. Take a piece of wire and make a flat fold at the middle. Press it as flat as possible.
Wrap the wire around the ring mandrel or anything similar and use the hammer to pound it. After that, shape both ends into the desired look.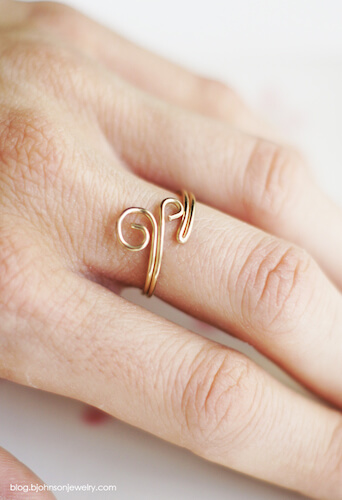 Get the tutorial here
13. Treble Clef Wire Ring by Karen Lei
This is the perfect DIY ring for all the music lovers out there. With only craft wire and a few tools, you can make this ring in under an hour. This statement ring is simple yet stunning.
You can fit this ring to any ring size and use any color craft wire you'd like.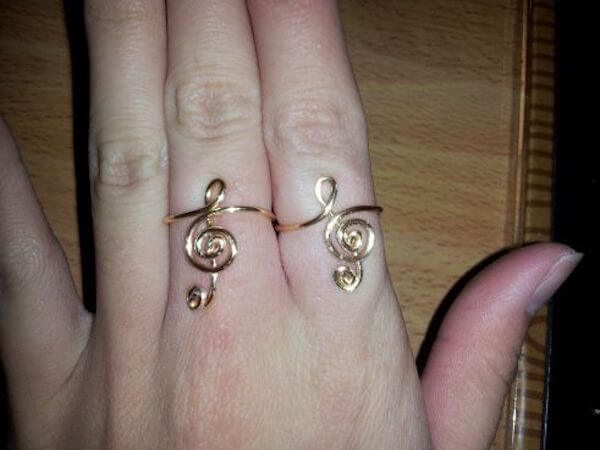 Get the tutorial here
14. Pearl Bling Ring by Spoilt Rotten Beads
These simple and free wire jewelry making instructions make one perfectly elegant wire and pearl ring. This is the perfect little cocktail ring to add to a party dress or to a t-shirt and jeans with heels.
This chunky pearl ring combines delicate freshwater pearl colors with edgy wire-wrapping to create a sophisticated and stunning look.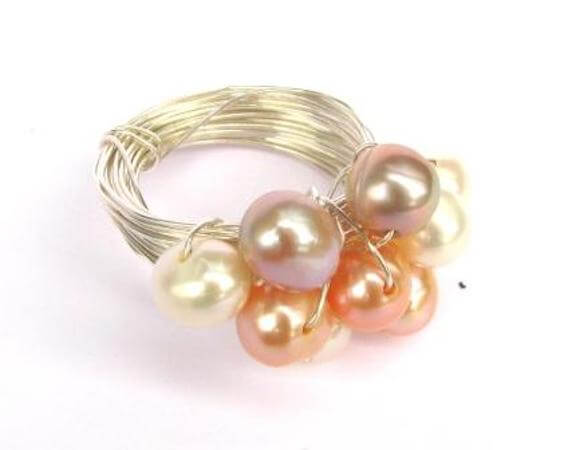 Get the tutorial here
15. Easy Midi Ring by Quiet Lion
Show a little unconventionality with the chic Bohemian Midi Ring, a cute little wire piece that sits in the middle of your finger for off-center charm. If you need something unusual and easy to dress up your wardrobe, this DIY ring is an effortless go-to.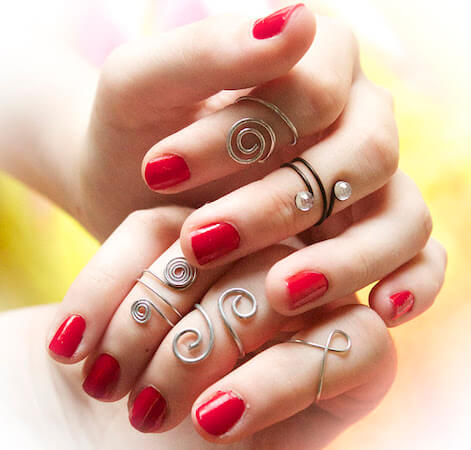 Get the tutorial here
16. DIY Swirly Double-Heart Ring by Instructables
Get in the mood for gift giving and craft this beautiful Swirling Double Heart Wire Ring. Whether it is for Valentine's Day, Mother's Day, or any other day you want to tell someone you love them, this DIY wire ring is the perfect homemade gift to make.
This cute swirling heart design provides double the dazzle. With just craft wire, jewelry pliers, a ruler, and a mandrel, you can learn how to make a wire ring that your friend, mom, sister, or significant other is sure to adore.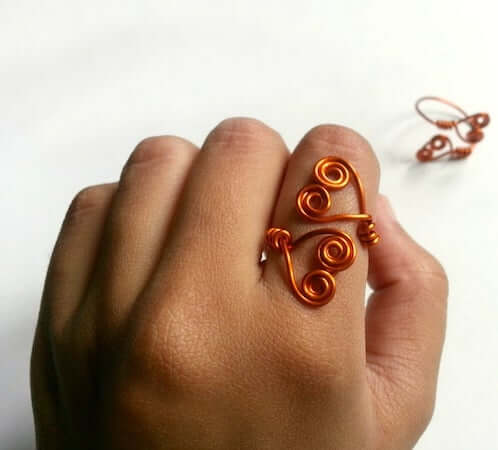 Get the tutorial here
17. DIY Twist & Knot Wire Rings by Fall For DIY
Make fabulous wire rings with a twist. These Twisted Knot Wire Rings are fun and easy to make. Simple and customizable, these DIY rings are designed to fit all ring sizes. With this tutorial, you will quickly learn how to make a ring that fits together in a stunning spiral knot.
Get the tutorial here
18. DIY Wire Bow Ring by I Spy DIY
Looking for an easy DIY project with super stylish results? This DIY Wire Bow Ring is perfection! With the help of this tutorial, you'll learn how to take simple wire and turn it into this great addition to your jewelry collection.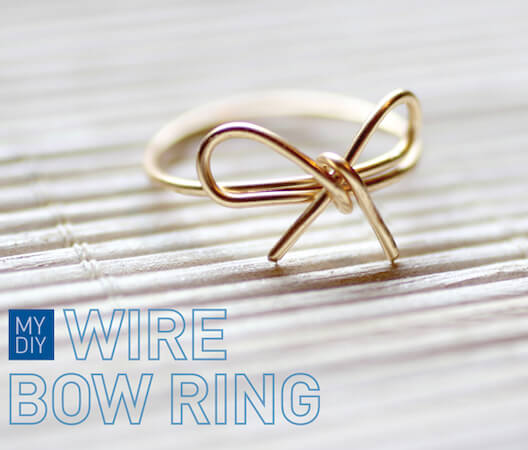 Get the tutorial here
19. Wire Wrapped Rose Ring by Unblushing
Looking for a unique handmade gift or a simple flower jewelry statement (for yourself)? Try making this Wire Wrapped Rose Ring and find out just how easy it is to make!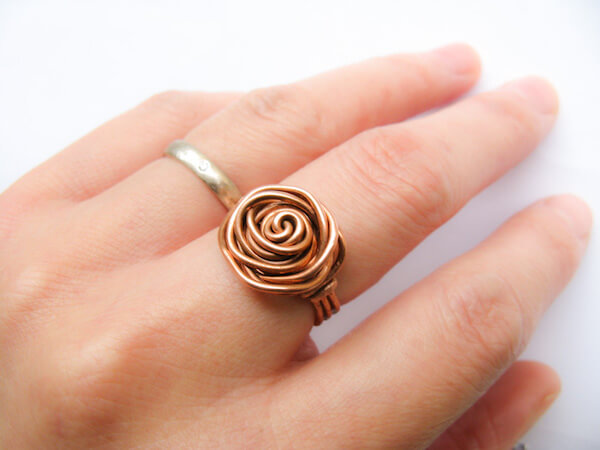 Get the tutorial here
20. Wire Wrapped Ring by Moms And Crafters
Making your own DIY seed bead rings using this wire wrapped ring tutorial is a fantastic way to get started with wire wrapped jewelry making on a dime!
You can totally stack these rings, but if they feel bulky, just wear one for a minimalist look. Or wear them on different fingers. These might be a classic but they are so cool!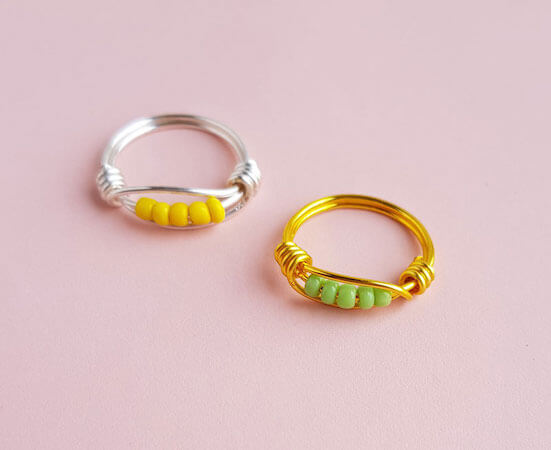 Get the tutorial here
21. How to Make Easy Wire Wrapped Rings by The Trevor Dragon
Once you make a few of these rings and get the hang of the technique, you can really get creative with colors, wire weight, and beads. There are endless options out there for beads ranging from pretty glass and ceramic options to polished and natural stone and crystal beads.
Before you know it, you may end up with enough rings to wear a different ring on every finger for a month!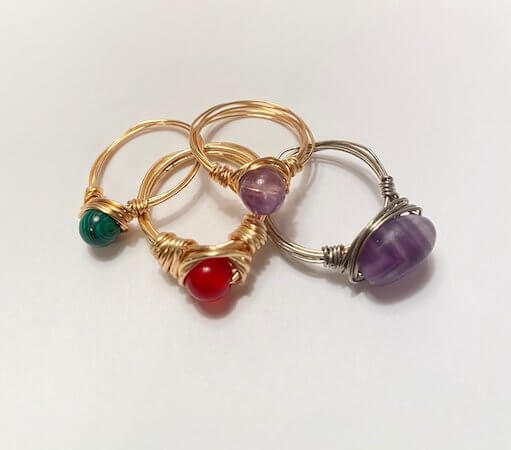 Get the tutorial here
22. Simple Wire Wrapped Ring by Instructables
Learning how to make a simple wire wrapped ring is the perfect way to practice basic wire wrapping techniques. Not only are they a fun accessory to wear or make with friends, but they also make excellent gifts, as well.
Once you get the hang of forming a symmetrical, round band, you're on your way to creating all kinds of unique wire wrapped rings!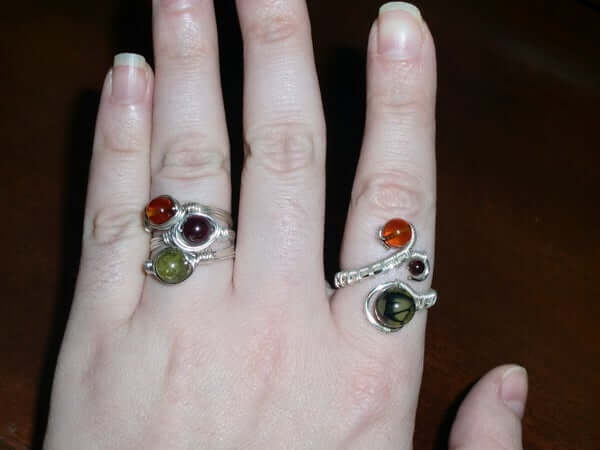 Get the tutorial here
23. Butterfly Wire Wrapped Ring by Ingz Jewel
This lesson shows how to make a cute Butterfly Ring using wire work technique and Swarovski crystals.
Although this tutorial is labeled Intermediate Level, but a Beginner can also complete this project as the instructions are very detailed, complete with one picture on each step.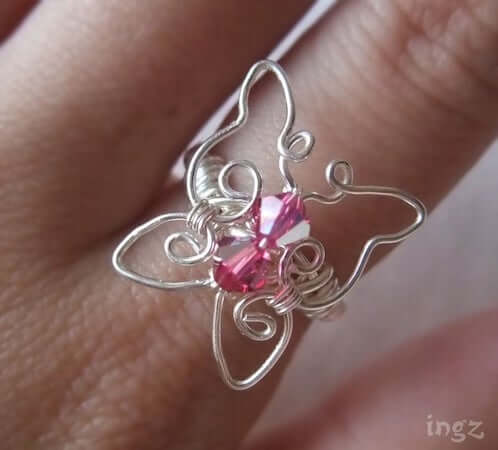 Get the tutorial by Ingz Jewel here
24. DIY Circle Wire Ring by Kimberlie Kohler
This unique ring is a lot of fun to make. This Circle Wire Ring is simple, beautiful, and it goes with everything. Be sure to read all the way to the end of the tutorial to find out how to embellish your ring with beads!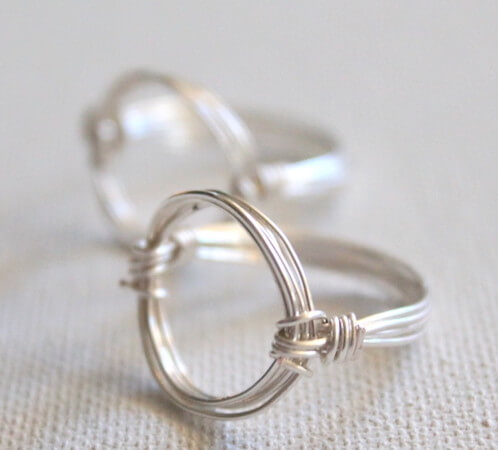 Get the tutorial here
25. Electrifying Harry Potter Inspired Wire Ring by Instructables
If you've always dreamed of being like the boy who lived, then this handmade ring is the perfect accessory to get you started. This wire ring will help you achieve the iconic Harry Potter glasses and lightning bolt scar style.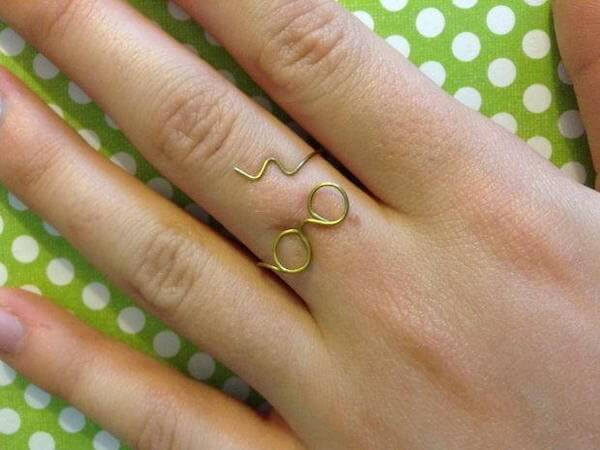 Get the tutorial here
26. Easy Spinner Wire Wrapped Ring by The Beading Gem
Want a minimalist style wire wrapped ring that isn't too hard to make? Then check out this easy spinner wire wrapped ring tutorial. The main part of the ring is actually a double ended eye pin!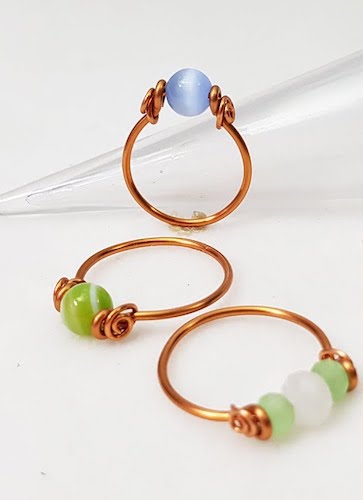 Get the tutorial here
27. Wire Rings With Beads by Lebenslustiger
Adding a bead or a pearl is a great way to hide the endings of a wire ring and give the ring a bit more substance.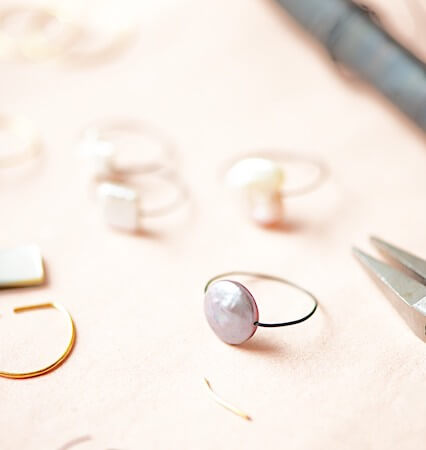 Get the tutorial here
28. Seed Bead Adjustable Wire Ring by Jewelry Making Journal
Choose seed beads in your favorite colors to accent this comfortable, adjustable wire ring. You can make a several of this quick ring design, to match every color in your wardrobe.
Or fill a basket with them and place it next to your checkout stand, where your customers can "impulse purchase" a handful of them!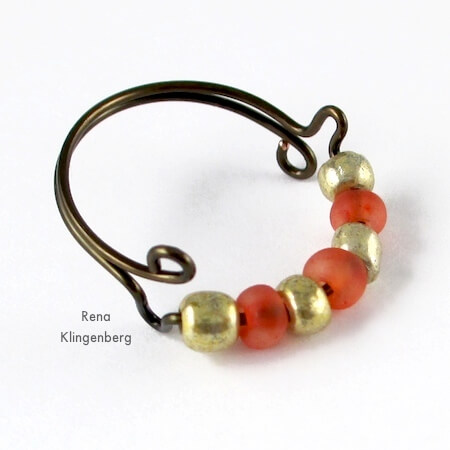 Get the tutorial here
29. DIY Beaded Ring by The Merry Thought
You can make this sweet ring in under 5 minutes. Or spend the day making a bunch of them to stack your hands or share with friends! Could you see yourself stacking a few of these?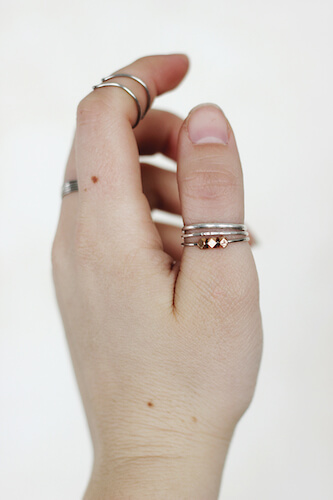 Get the tutorial here
30. Wire Wrapped Butterfly Ring by Panda Hall
If you love wire wrapped jewelry, you may fall in love with this red handmade wire wrapped butterfly ring. Just with some wires and some wire wrapping techniques, you can make it by yourself too.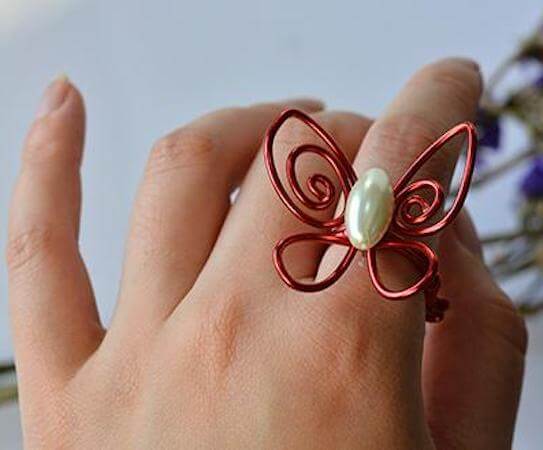 Get the tutorial here
31. DIY Beaded Swirly Ring by Instructables
Get your swirl on by making this Swirled Wire Pearl Ring. This wire wrapping tutorial shows you how to make a beautiful ring that can have up to three pearl beads, depending on how many coils you want your ring to have.
Wire-wrapped rings are made to fit your finger perfectly, so it looks like it was made for your hand when you wear it.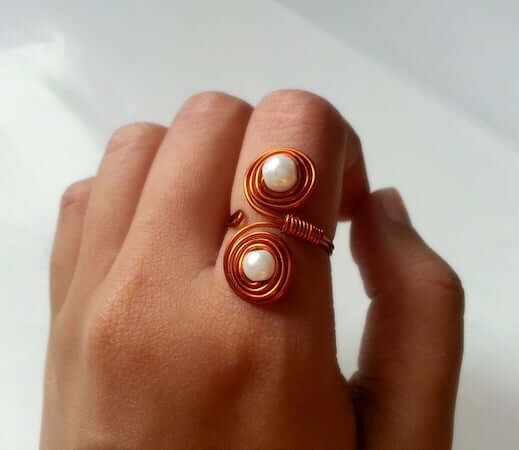 Get the tutorial here
32. Easy Wire Wrapped Ring by Happy Hour Projects
This Easy Wire Wrapped ring is a great project for those stray beads you just can't part with, and it's really cost effective since each ring takes just one bead and about 12 inches of wire. You can even make these rings in under 10 minutes!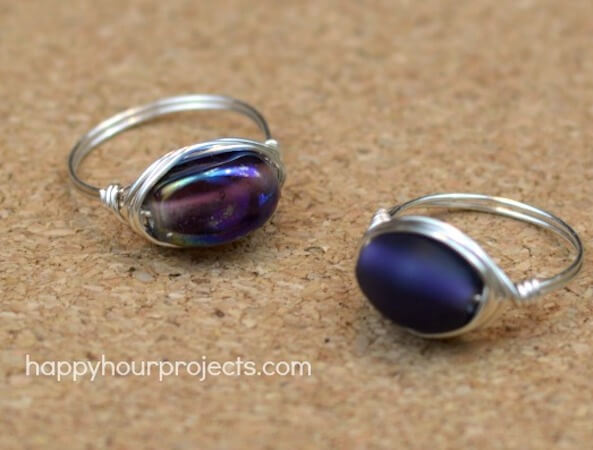 Get the tutorial here
33. Easy DIY Wire Wrapped Rings by Dream A Little Bigger
Here's a simple yet lovely wire wrapped ring. Now because jewelry wire can be stupid cheap you can make a ton of these. When you get the hang of it you can bust one of these guys out in less than 10 minutes.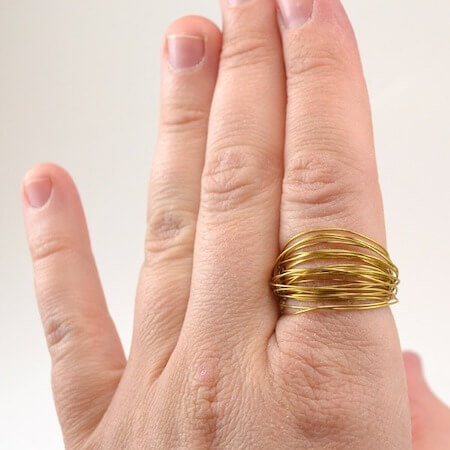 Get the tutorial here
34. DIY Wire Wrapped Couple Rings by Beebeecraft
Do you want to make some handmade couple rings for the coming Valentines' Day? This couple of DIY wire wrapped rings is quite easy to make for both green hands and professionals, so if you are searching for some special presents for your lover, then this tutorial on how to make wire wrapped rings will be a good choice for you!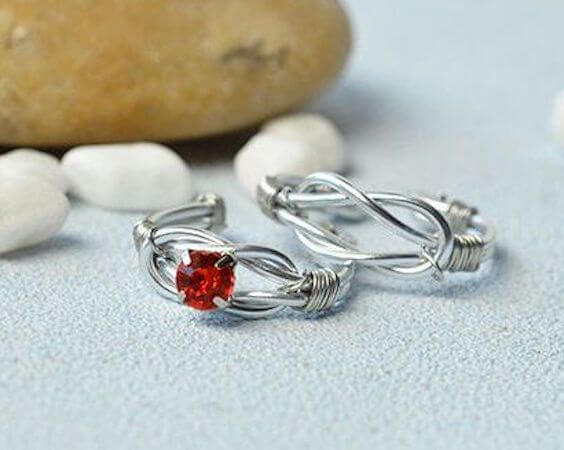 Get the tutorial here
35. DIY Wire Double Hearts Ring by Kind Designs Online
Don't know her ring size but really want to give her a ring? Easily adjust size by squeezing hearts together or carefully spreading apart on a ring mandrel or finger.
Effortlessly adjust ring by sliding further down the ring mandrel for a larger size or place ring on mandrel size you wish and squeeze hearts together. Easy!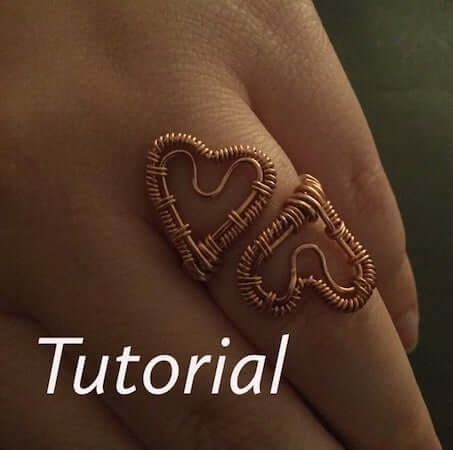 Get the tutorial by Kind Designs Online here
36. Wire Wrap Cluster Ring by Fashion Wire
This fun little wire wrapped ring is is easy to make and has lots of design possibilities and can easily be made into a cocktail ring or birthstone ring!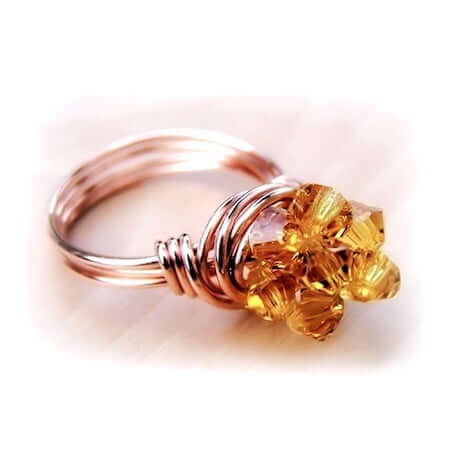 Get the tutorial by Fashion Wire here
37. DIY Wire Wrapped Spiraling Ring by Kind Designs Online
Prepare yourself for an easy to follow wire tutorial for beginners and advanced jewelers alike! This tutorial will teach you how to make a wire wrapped spiraling ring with just one piece of 18 gauge wire, a bead and a few tools.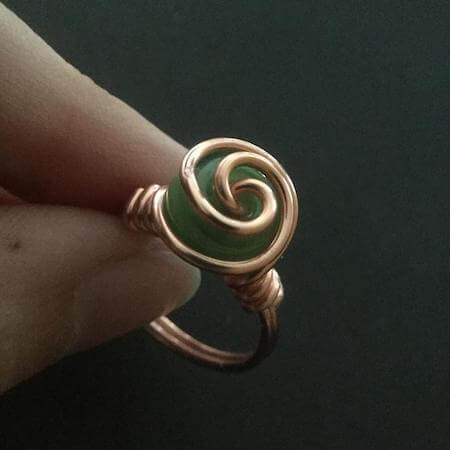 Get the tutorial by Kind Designs Online here
38. DIY Wire Kiss Krong Ring by Abby Jewellery
These stylish rings are quick and easy to make, producing a striking design and a very robust ring. Since they only require a small amount of materials, you can make one for every outfit, mixing it up a bit as they are also stackable and by wearing 2 or 3 at a time, means the combinations are endless!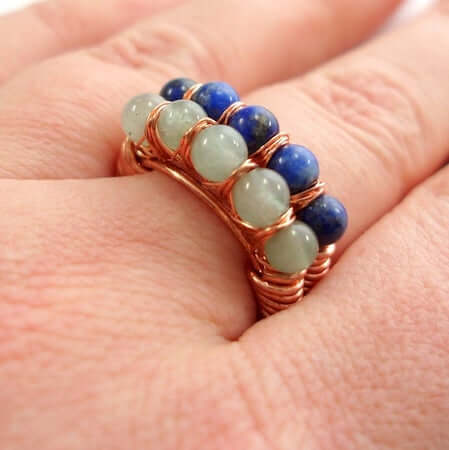 Get the tutorial by Abby Jewelry here
39. Wire Wrapped Serpent Ring by
With this tutorial you will learn to make a Adjustable Serpent Ring, no soldering needed and a very versatile design so you can do it in many materials. It has easy to follow step by step instructions with high quality photos that will help you on your way.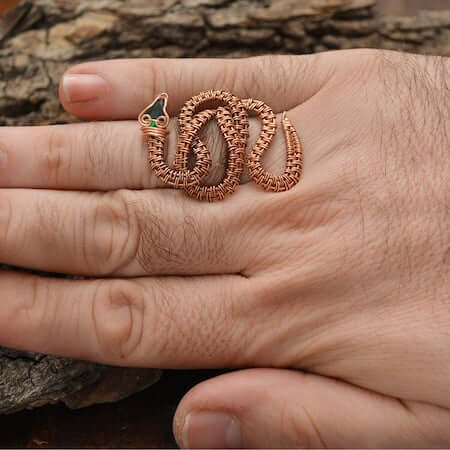 Get the tutorial by Zagreo Jewelry Design here
40. Celtic Knot Wire Wrap Ring by Timeless Tempest
This ring is inspired by the beautiful wire woven jewelry of the past, and the mysterious traditions of the people of the Celtic nations. This Celtic Knot Wire Wrap Ring is also designed it as simple project that most beginners can take on with no problem.
Get the tutorial by Timeless Tempest here
41. Cat Inspired Wire Wrapped Ring by Wire Up Gem
With this cat inspired wire wrapped tutorials, you would be able to create a cute little kitten wire wrapped adjustable ring. It is so easy and with templates and step-by-step instruction you would be able to finish this cat in no time!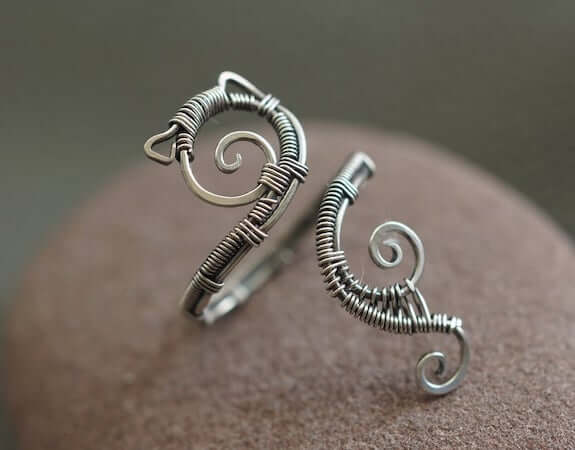 Get the tutorial by Wire Up Gem here
42. DIY Wire Wrapped Ring – Swirly Adjustable Rings
DIY Wire Wrapped Ring – Swirly Adjustable Ring is a free downloadable lesson. I teach you how to use very basic techniques to make a beautiful adjustable ring with graceful swirls that climb up and down your finger.
This ring makes an excellent matching piece to go with the designer's Swirly Ear Cuff design. You can find the tutorial for the matching ear cuff here.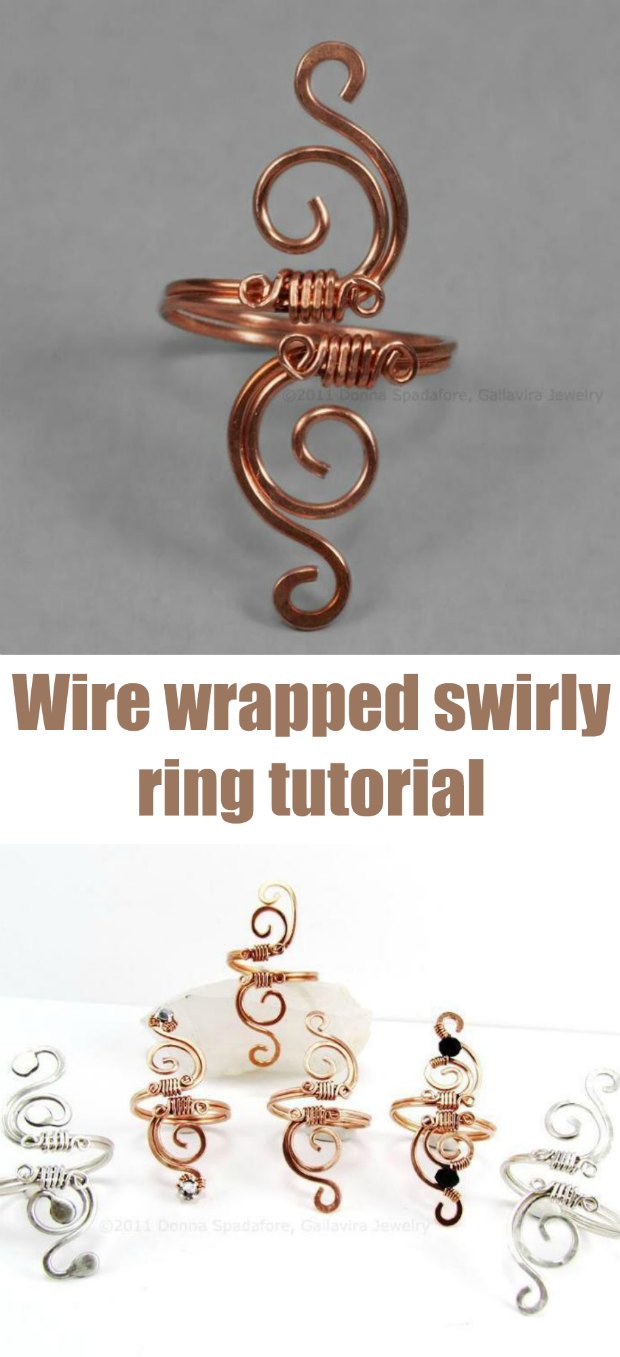 Materials for this Pattern
22 gauge round wire
18 gauge round wire
Metal Bench Block
Metal Hammer
Basic jewelry making tools set (round nose pliers, flush cutters, chain nose pliers)
Ring Mandrel
ONCE YOU'VE TRIED A FEW OF THESE DIY WIRE WRAPPED RING TUTORIALS, YOU'LL BE READY TO PLUNGE INTO THE WORLD OF WIRE WORK AND DIY JEWELRY MAKING!
We would be so glad if you share your finished works with us on our Facebook Page. Once you start making fabulous DIY rings, you'll be hooked!
There's something about owning a beautiful piece of jewelry you've made yourself. Whenever you look at it gleaming on your finger or around your neck, you feel a huge sense of accomplishment!
Also, check out these Wire Wrapping stones Tutorials, Crochet Earrings Patterns, DIY Ear cuffs, Wire Dragonfly Tutorial and more DIY Jewellery that are all worthy addition to your jewelry collection.
Make wire wrapped rings for all your friends in no time, or make enough for every finger and every outfit!