If you have ever thought about learning how to wrap stones in wire to make jewelry but didn't know where to get started, you've come to the right place. Wire wrapping stones is actually much easier than it looks and learning how to do it enables you to create beautiful, one-of-a-kind jewelry pieces using only a few basic materials.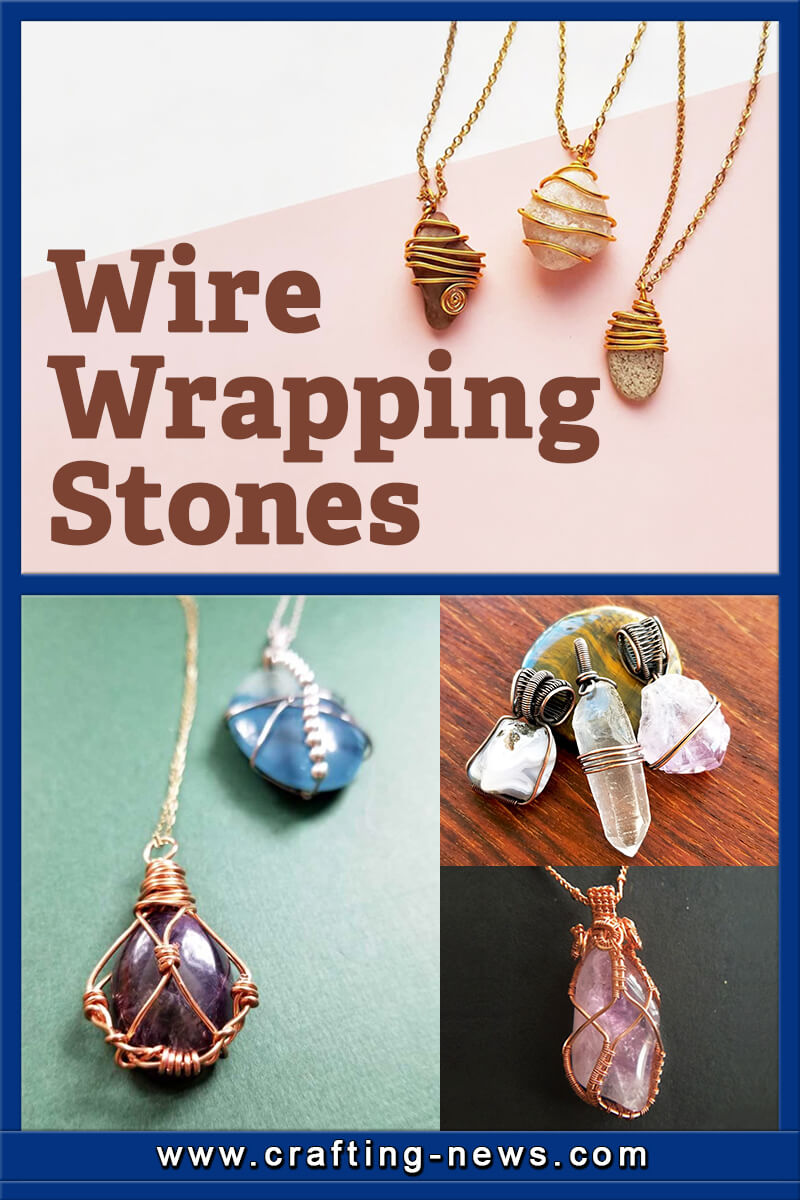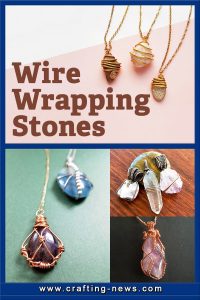 Many people collect interesting little stones, seashells. sea glass, and similar items as souvenirs from trips. Instead of letting them collect dust in a bowl or forgetting about them in a drawer, you can make a nice piece of jewelry out of these items.
15
Wire Wrapped Stones Tutorial
You can wrap small or large stones, and it's okay if they're slightly irregular in shape. That just makes the jewelry more interesting!
1. Stone Wire Wrapped Pendant by The Spruce Crafts
This project provides step-by-step instructions to use wire to wrap a simple pendant—in this case, a polished stone—that you can add to a necklace, charm bracelet, or another jewelry type.
This wire-wrapped pendant necklace is a fairly quick and easy project. And it makes for a great personalized gift, especially if you use a pendant that is meaningful to the recipient.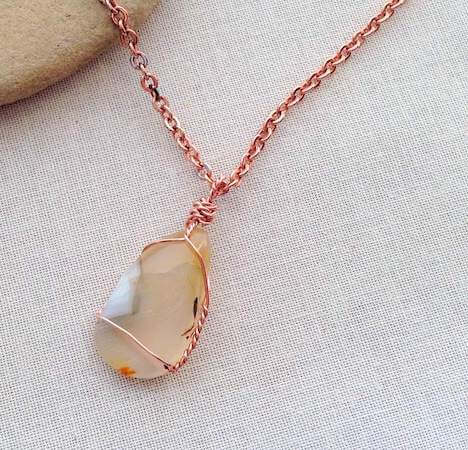 Get the tutorial here
2. Wire Wrapped Stones by Moms And Crafters
Learn how to wire wrap stones without holes with this DIY wire wrap stone pendant tutorial! Feel free to play around, experiment, and do your own thing – because that's really the point of jewelry making.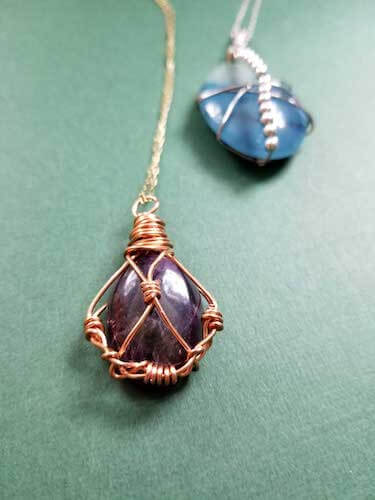 Get the tutorial here
3. Wire Wrapping Stones by Timeless Tempest
If you're having trouble figuring out how to wire wrap stones without holes, or wire wrapping irregular stones in general that you may have lying around, have no fear!
This tutorial will show you 3 different ways to wire wrap stones in one tutorial! This beginner wire wrapping tutorial is sure to have a technique that will help you wrap whatever stone you could want, and turn it into your own pendant!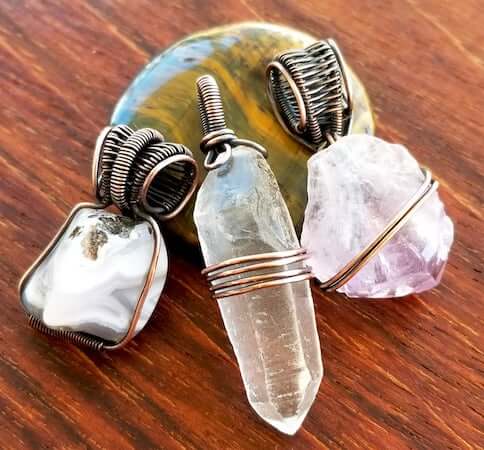 Get the tutorial by Timeless Tempest here
4. Stone Wire Wrapped Pendant by Craftsy
Making your own wire-wrapped stone pendant is pretty simple, and you can apply these techniques to almost any stone.
If it's your first time wire-wrapping, choose a stone that's large and long — like a slab or a good-sized pointed crystal. That will make the technique a little easier to learn.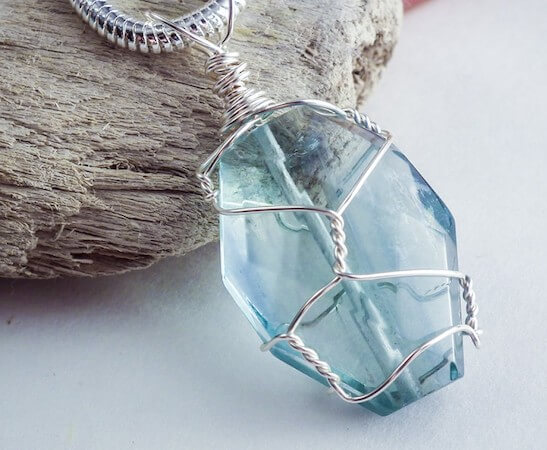 Get the tutorial here
5. Wire Wrapping Stones by Make And Fable
Netting is a method that creates a netted effect and is really great for crystal points, but also works well on smooth, tumbled stones and sea glass.
This is slightly more complex technique, that creates a netted effect that looks like a fisherman's net or chain link fence. It is made by twisting alternate pairs of wires together around the stone to create a net or basket that holds the stone.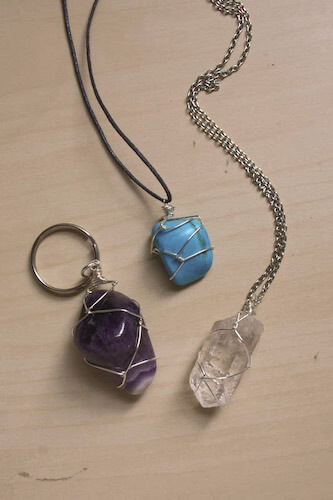 Get the tutorial here
6. DIY Wire And Stone Rings by Creative Fashion Blog
These DIY wire wrapped rings are surprisingly simple to make and are perfect for the absolute beginner jewelry-maker! Add stones in different sizes and colors to create interesting and completely new looks.
This project is easy to complete on a quiet afternoon and make great, thoughtful gifts.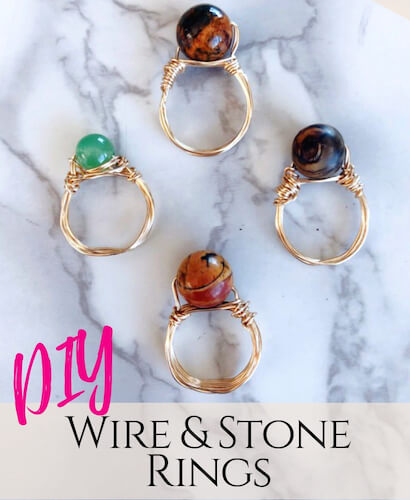 Get the tutorial here
7. How To Wire Wrap Stones Without Holes by Studio 73 Designs
Are you interested in learning how to wire-wrap stones without holes? This tutorial will show you how to wire-wrap a stone with just wire, no soldering (specifically a cabochon).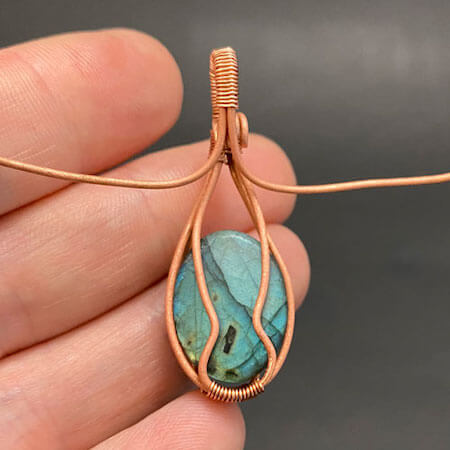 Get the tutorial here
8. Wire Wrapped Tumbled Stone by Kind Designs Online
Make the perfect pendant for men or women! This tutorial falls under an Intermediate wire wrapping level, but is at a beginner wire weaving level.
Create a wire wrapped tumbled stone of your choosing – basically any organic shaped smooth stone or river rock out there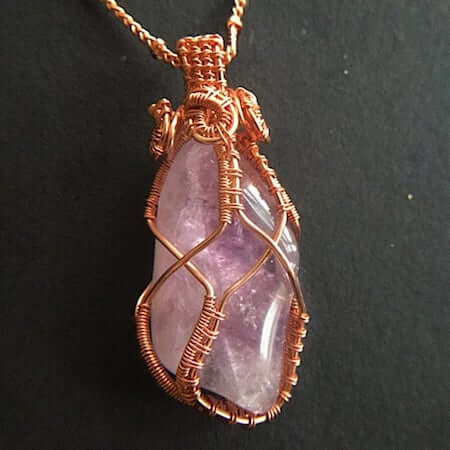 Get the tutorial by Kind Designs Online here
9. DIY Wire Wrapped Stone Necklace by Alice & Lois
Learn how to make this simple, but elegant DIY Wire Wrapped Stone Pendant. You can make this in under ten minutes, too!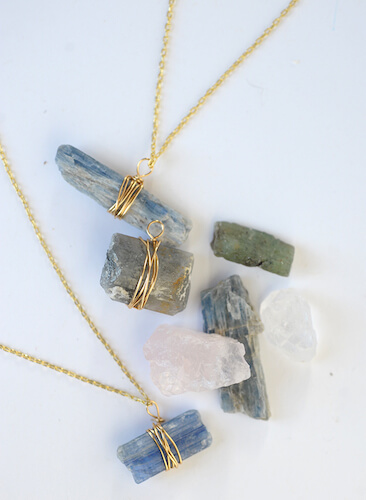 Get the tutorial here
10. DIY Wire Wrapped Stone Necklace by Trinkets In Bloom
Its time to get crazy with our accessories and add some color. This DIY wire wrapped stone necklace with large stones is a great way to do just that. This really is a great necklace for Spring or Summer.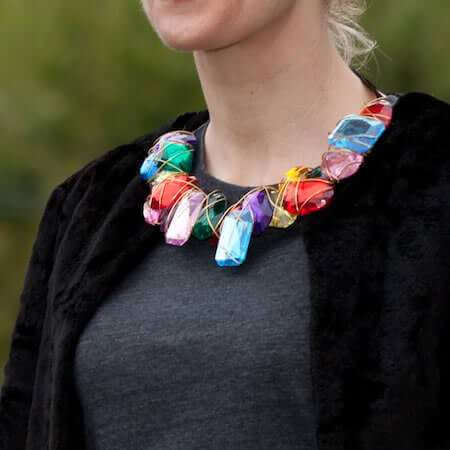 Get the tutorial here
11. Wire Wrapped Stone by Superior Agates
In this tutorial, you will learn how to make the easiest wire wrapped stone ever. If you're looking for a simple style pendant you would be able to make for men, or a basic unisex style piece, this will work out perfectly.
It's easy to wrap, uses minimal supplies, and takes a lot less time to make than other wraps, as well as being fun!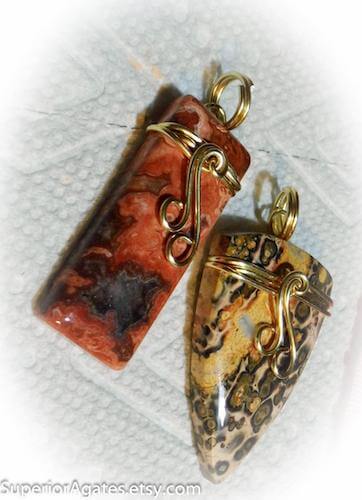 Get the tutorial by Superior Agates here
12. Wire Wrapped Gemstone Ring by Kernowcraft
This step by step tutorial will show you exactly how to make a wire wrapped ring using a rough gemstone. Wire-wrapping doesn't require any soldering supplies, and with only a few tools needed you can create a simple ring in no time.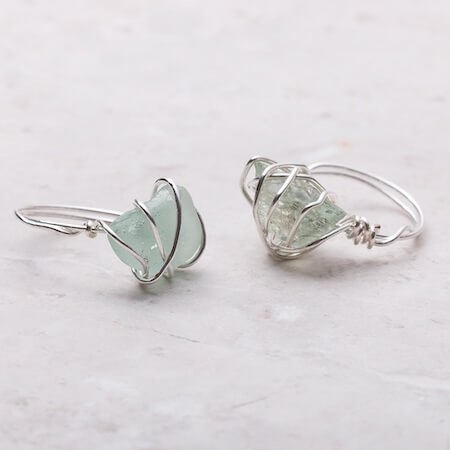 Get the tutorial here
13. How To Wire Wrap Stones by The Craftaholic Witch
You can learn how to wire wrap stones without holes and make a pendant necklace using these in 3 different designs with the help of this tutorial.
Once you have collected the stones, all you need is some wire and pliers to get started and you can learn to make wire wrapped jewelry pieces in no time.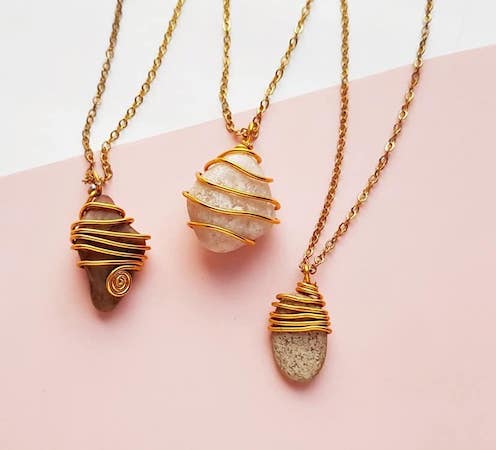 Get the tutorial here
14. Double Stone Wire Wrap Tutorial by Abby Jewellery
This ring makes a bold statement. Smooth swirls of wire frame the stones, holding them firmly in place. These swirls are echoed in the center of the ring and accented with two spirals either side. The geometric woven shank adds textural contrast, whilst making it very strong.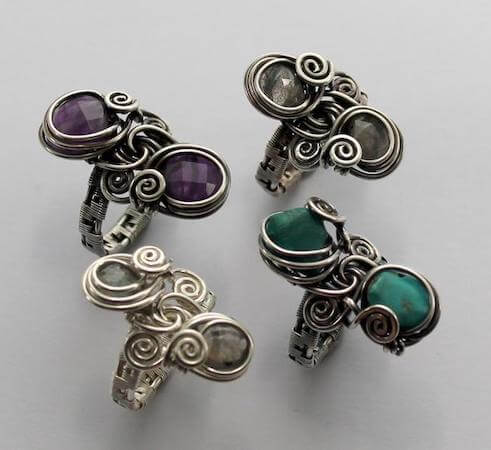 Get the Pattern by Abby Jewellery here
15. Stone Wire Wrapped Bangle Bracelets by Made In A Day
Looking to craft a great gift for someone? These Stone Wire Wrapped Bangle Bracelets are sure to be a hit. They look so great wearing them stacked together.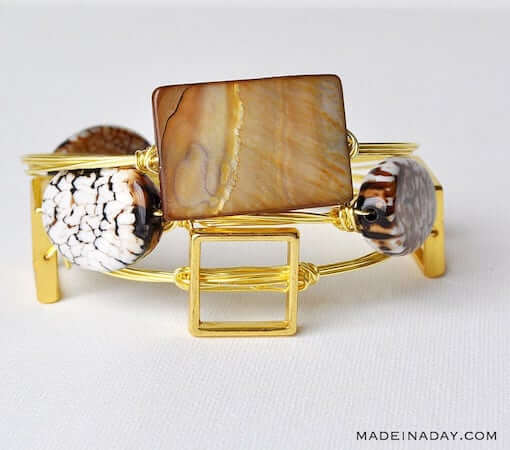 Get the tutorial here
THE BEST PART ABOUT THIS ART FORM IS THAT WIRE WRAPPING STONES ARE ONLY LIMITED BY YOUR IMAGINATION.
We can't wait to see what you create! Show us your finished creations by sharing a pic on our Facebook Page.
If you find yourself needing some extra accessories to add to your wardrobe but you can't afford to go out and buy expensive jewelry, them making your own at home is a great solution!
Check out these 37 Crochet Earrings Patterns ,Wire Ring Tutorials or simply browse through our DIY Jewellery archives for more ideas!
Whether it's polished stones from a tourist place or a rough stone picked up along a hike – they could do so much more than sit in a bowl. Get started on wire wrapping stones today!