Who says gorgeous jewelry has to be expensive? Macramé just got wearable with these Macrame jewelry patterns we're sharing below. We all love to splurge on jewelry once in a while! But why buy jewelry when you can easily make it yourself—and for a lot less? We like to make our own jewelry, and you can too!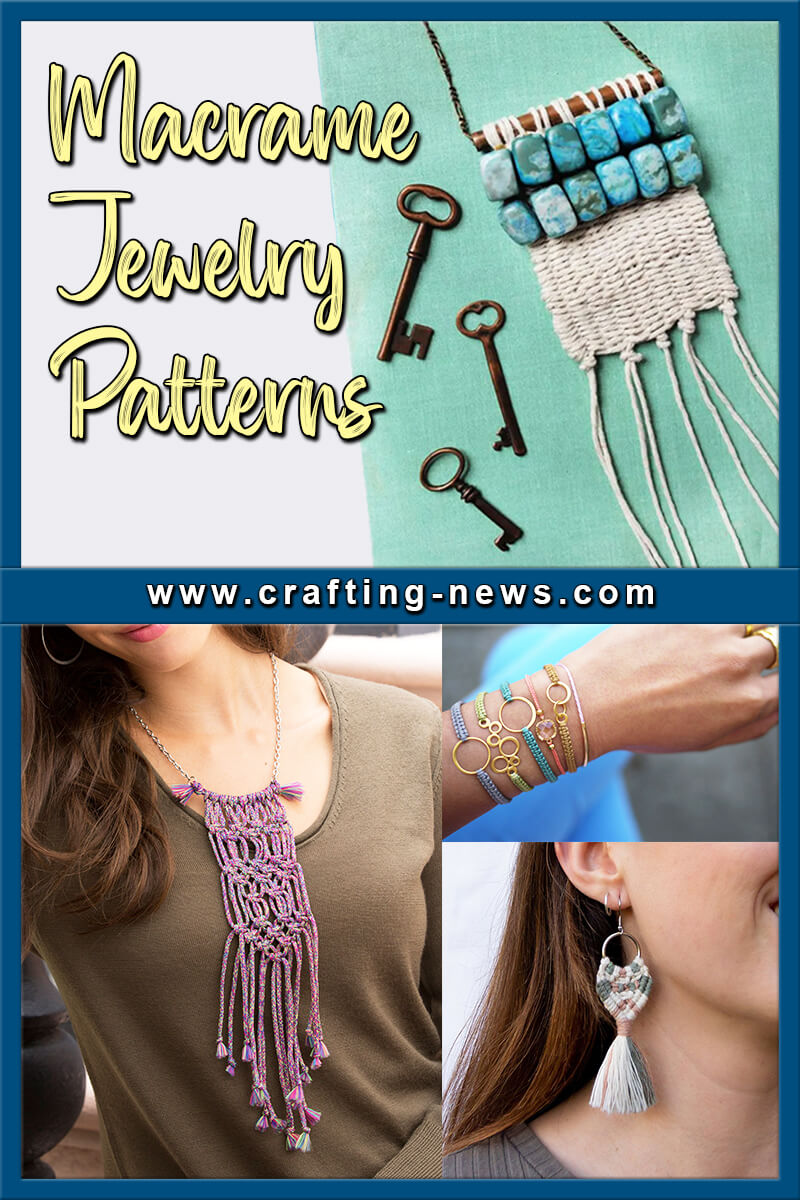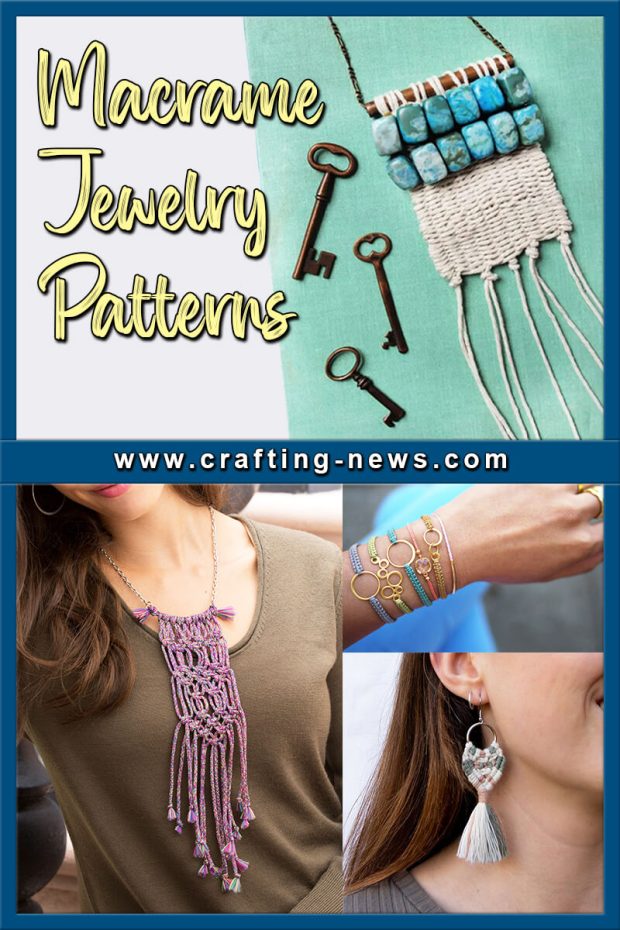 Macrame has become wildly popular in the last couple of years for its unique natural and artisanal aesthetic. Making macrame yourself provides so much freedom to create one-of-a-kind pieces.
32 Macrame Jewelry Patterns
These tutorials prove beyond all reasonable doubt that there's so much more to this craft than plant hangers and wall décor. Macramé, we salute you! Scroll down to see all the styles!

1. Simple DIY Macrame Necklace by Lia Griffith
This DIY macrame necklace uses a series of the most basic macrame knots — the square knot. To make this necklace, you will need a chain and jewelry findings.

You can use a copper keyring for our center, or feel free to choose another type of metal that better fits your style! While you are at your jewelry store, you can also pick out little beads to add into your macrame weaving.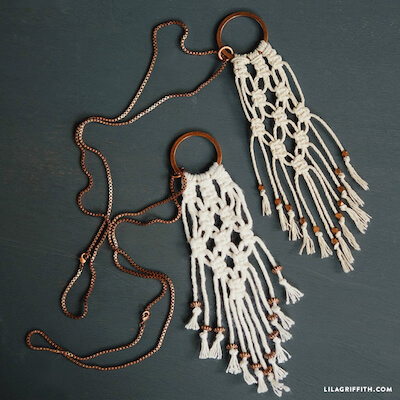 Get the Pattern here

2. Openwork Macrame Bracelet by How Did You Make This?
A lot of macrame projects look heavy – made with thick yarns and dense knotting patterns. Macrame can also be used to create light and lacy looks, like in this bracelet. This openwork macrame style is delicate, pretty, and fast to knot!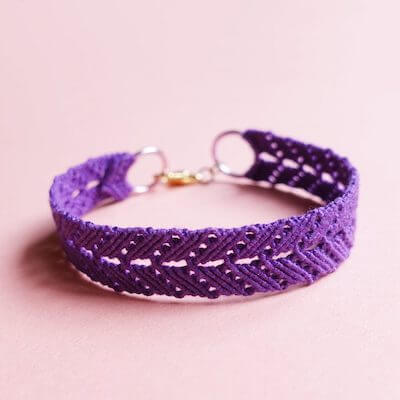 Get the Pattern here

3. Boho Macrame Earrings Pattern by Knot Calm
Make your very own Macrame earrings with these easy to follow instructions. This pattern will show you how to make a pair of tassel earrings which you can make in any color your heart desires.

They are a great statement piece for your outfit. If you have ever wanted to make your own handmade earring, this is the perfect pattern to try!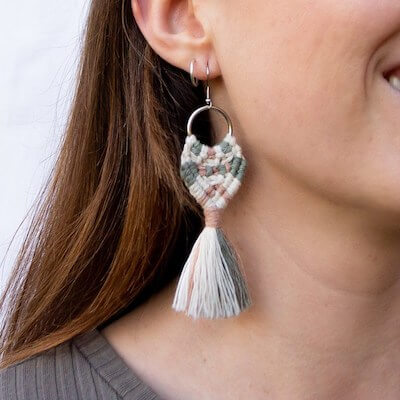 Get the Pattern by Knot Calm here

4. Macrame Vine Bracelet by Micro Macrame Maven
Here's a chance to wear a bit of nature's beauty around your wrist. This Margaretenspitze bracelet is really 3 single bracelets stacked together (or you can make just one or two if you want a narrower bracelet).

This project uses Margaretenspitze techniques (a style of macramé knotting that primarly uses Half Hitches & variations (like the Double Half Hitch) in it's construction.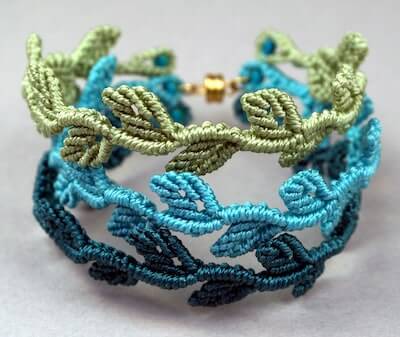 Get the Pattern by Micro Macrame Maven here

5. Macrame Interchangeable Pouch Necklace by Macrame Damare
This tutorial will allow you to create a macrame stone pouch necklace with adjustable closure. You can change stone whenever you want, following the energy vibration you need on that particular day. The pattern is the base, the fun part of choosing colors is for you.
Also See: Macrame Crystal Holders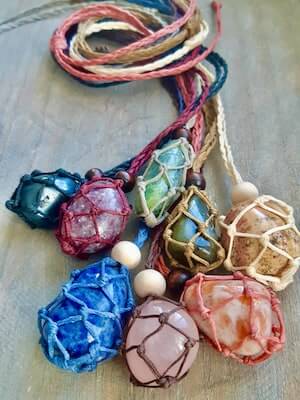 Get the Pattern by Macrame Damare here

6. Beaded Macrame Bracelet by Knot Just Macrame
Want to learn how to make your own micro macrame jewelry? This tutorial will show you how to knot this pretty micro macrame bracelet. It's easier than you think! These instructions are for a micro macrame (beaded macrame) bracelet in a pattern called Hydrangeas.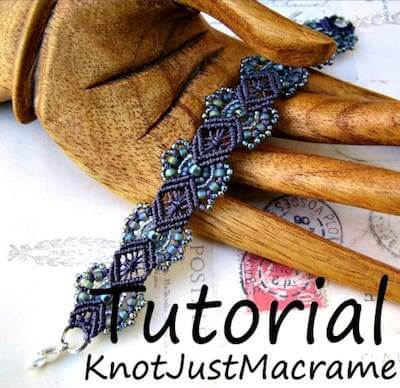 Get the Pattern by Knot Just Macrame here

7. Easy Macrame Jewelry Rings by Instructables
These Macrame Rings use just the regular macrame knots and that's what makes it so easy, especially if you already know how to macrame! You can also decide to give it your own twist by adding a bead to it, or by using more than one color.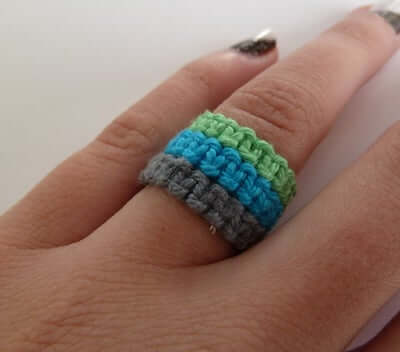 Get the Pattern here

8. Macrame Bracelet by Gathered
Macrame chunky bracelets are in trend this summer thanks to their boho style and simple design. Easy and simple to knot, you can make them in a colour that complements your outfit and hit the town with your new accessory. Plus they'd make an affordable and handmade gift for a fashionable friend too.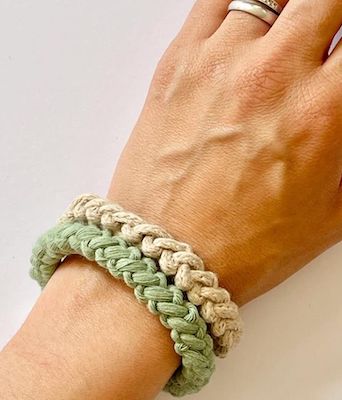 Get the Pattern here

9. Macrame Butterfly Brooch by Micro Macrame Maven
This whimsical Micro-Macrame and wire Butterfly Brooch made with nylon cord (S-Lon or C-Lon) will brighten your day. Several different knotted chain variations make up the wings & hammered wire is used to form the base and the antennae.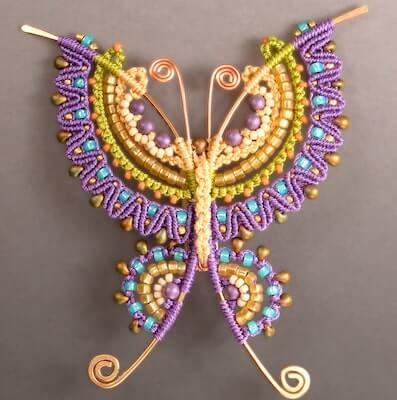 Get the Pattern by Micro Macrame Maven here

10. Beaded Hemp Ankle Bracelet by Happy Hour Projects
This DIY Macrame Jewelry looks stunning and is guaranteed to fit your ankle perfectly. A simple double braid technique adds flair to the beginner-friendly design, and you can tweak the color scheme to reflect your favorite hues.

Because it only uses a few supplies, including seed beads and hemp cord, this project is as affordable as it is cute. If you're feeling extra crafty, use the same tutorial to create a matching bracelet.
Get the Pattern here

11. Cowrie Shell Macrame Jewelry by The Neon Tea Party
Shell jewelry has been on the rise for a couple years now and it's safe to say it has hit its peak this summer! Did you know that cowrie shell jewelry is so easy to make at home?!

All you really need to create the look are cowrie shells, knotting cord in whatever color you please, and gold seed beads to give your creation a professional finish.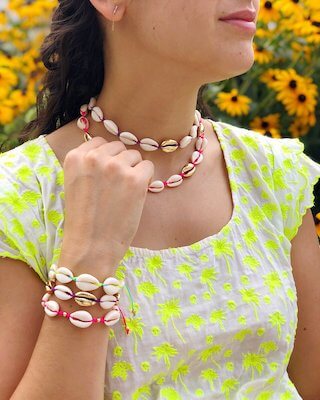 Get the Pattern here

12. Macrame Flower Earrings Pattern by Unique For You By Vanya
Check out these micro macrame flower earrings tutorial and make unique jewelry piece for yourself or as a gift. The earrings are made of scrap/ leftover waxed threads. To make them you'll need threads with a length of 30 cm.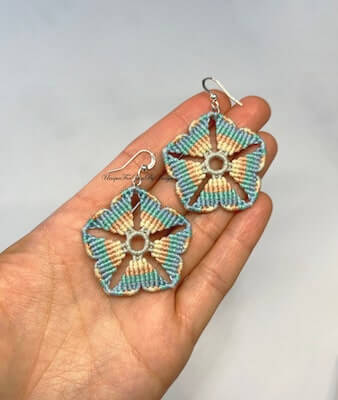 Get the Pattern by Unique For You By Vanya here

13. Rainbow Macrame Earrings by Happiness Is Homemade
These DIY rainbow macramé earrings require just a few simple supplies, and they make a HUGE impact! Make them in lots of different color combinations to match your entire wardrobe, and be sure to keep a few extra pairs on hand – they make an awesome gift idea!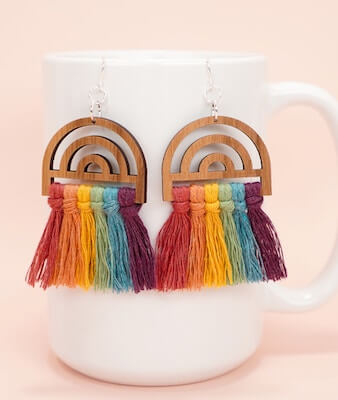 Get the Pattern here

14. Macrame Swirl Earrings by How Did You Make This?
These macrame earrings are one of those projects where a fun technique and some pretty geometry came together to be really addictive!

Adding beads to rows of double half hitch knots automatically creates the swirl effect, and the knotting is sturdy enough to hold its shape without needing any additional structure beyond the wire loop at the center.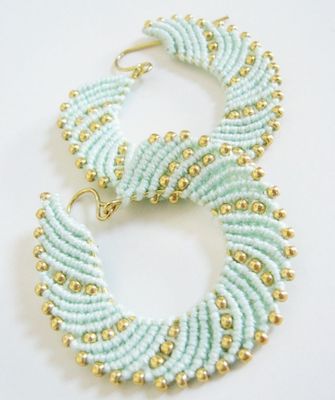 Get the Pattern here

15. Stone Pendant Macrame Jewelry Tutorial by Aisha Macrame
Are you looking for a cute way to wrap stones and turn them into gorgeous pendant necklaces? Then follow this wrapping stone tutorial and you're good to go!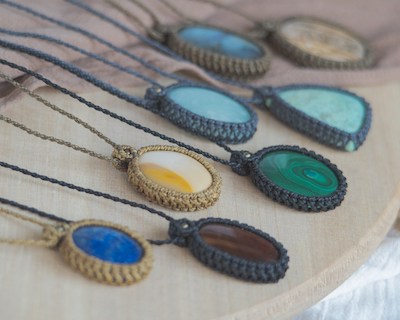 Get the Pattern by Aisha Macrame here

16. Macrame Knot Necklace by Lia Griffith
Here is a macrame knot necklace that can act as a trendy fashion statement to pair with any outfit during any season!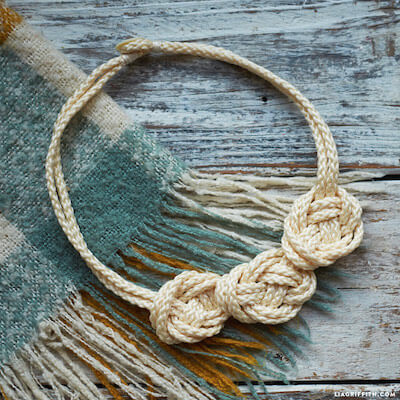 Get the Pattern here

17. Macrame Necklace Tutorial by Gathered
Liberating a skein of yarn from your stash, transforming it and taking it out on the town on the same night has never been easier – colourful cotton rope and some knotty know-how is literally all you'll need to perfect a flower-look statement necklace.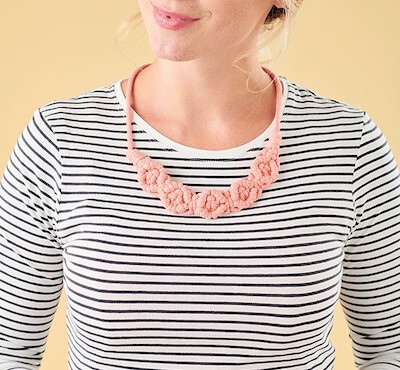 Get the Pattern here

18. Boho-Inspired Woven Macrame Necklace by Styleoholic
This super eye-catching and boho-inspired necklace is amazing and suitable even for those who can't do macramé.

Prepare necklace chain at desired length, 4″ of copper pipe, cotton twine, yarn, thick cardboard measuring about 5″ x 7″, 12 turquoise stone beads, tapestry needle for weaving, hand-sewing needle for threading through the stones and thread in coordinating color.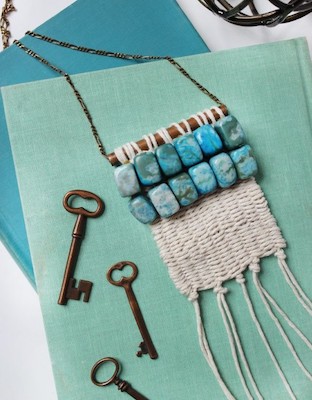 Get the Pattern here

19. Knotted Chevron Statement Macrame Necklace by Instructables
These necklaces are made with double half hitch knots – essentially the same way that a lot of friendship bracelets are made. By varying the way the strands are worked you can create two very different kinds of stripe patterns. The repetition of one knot creates a nice texture for making patterns pop.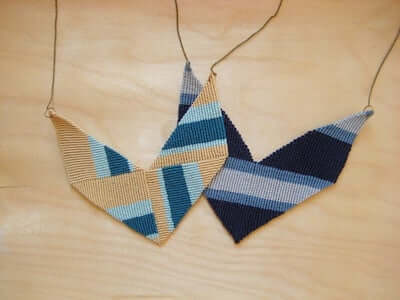 Get the Pattern here

20. DIY Macrame Bracelet by Honestly WTF
If you want a beginner bracelet to look more polished, add some pretty focal pieces like the ones you see here. Also, don't be afraid to play around with fun-colored cords.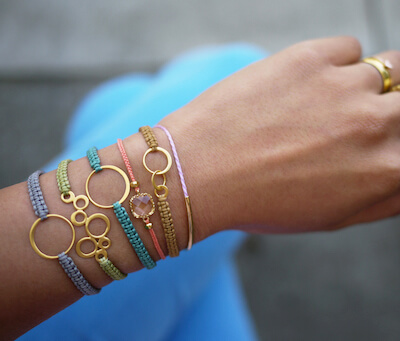 Get the Pattern here

21. Square Macrame Pendant by Red Heart
Try out your knot-tying skills for this macramé pendant and add the perfect touch of gorgeous folkloric style to your look!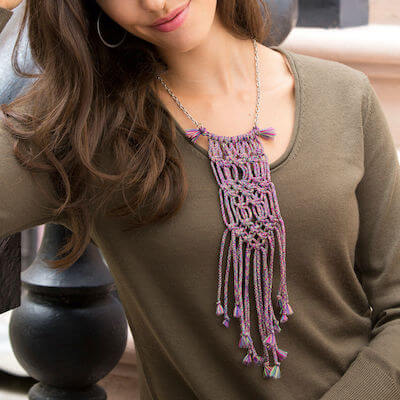 Get the Pattern here

22. Jewel Macrame Bracelet by Hello Glow
Make an easy macrame bracelet, and upgrade it to look modern and chic with the aid of jewels. The large cubic jewels lend this macrame bracelet a regal touch that's contrasted by the plain weaving. Such a beautiful macrame jewelry to keep or give away!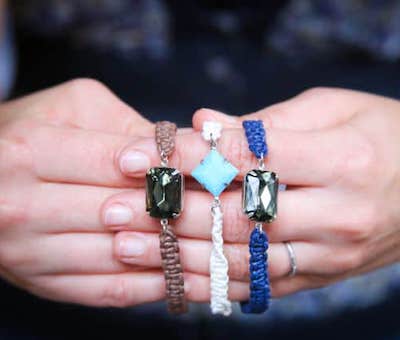 Get the Pattern here

23. Macrame Turtle Pendant by Unique For You By Vanya
Check out this little micro turtle macrame jewelry tutorial and make unique jewelry charm for yourself or as a gift. This is suitable for a casual necklace or it can also be used as an ornament, or to decorate packages and other items.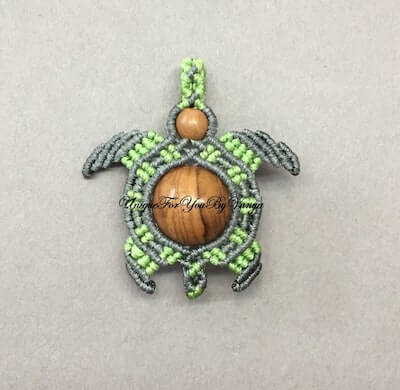 Get the Pattern by Unique For You By Vanya here

24. Boho Macrame Jewelry Bracelet by Macramedamare
This boho bracelet is beaded with a variety of brass beads, gemstones and colorful threads. Once you get familiar with this macrame jewelry tutorial, experiment with different colored beads and cord to come up with a unique combination.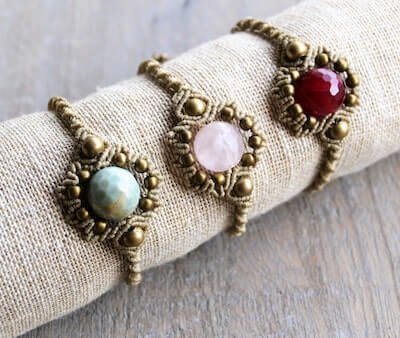 Get the Pattern by Macramedamare here

25. Colorful Macrame Cross Earrings Tutorial by Macrame School
Perhaps the way to get into micro macrame work is to pick smaller projects like earrings. Colorful ones also help as beginners will not get confused with the multiple cord strands being used.

One awesome tutorial which fits these criteria is the colorful macrame cross earrings project. This tutorial is also a great way to use up some odd beads which aren't sufficient for larger bracelet or necklace designs.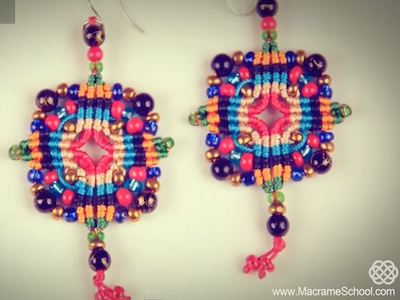 Get the Pattern here

26. Colorful Macrame Knot Necklace by Lia Griffith
This DIY macrame jewelry pattern is an easy one for all skill levels — and a great craft for older kids who are comfortable using hot glue and an embroidery needle. This project is super simple to make, so you can craft this gift or pretty accessory in no time.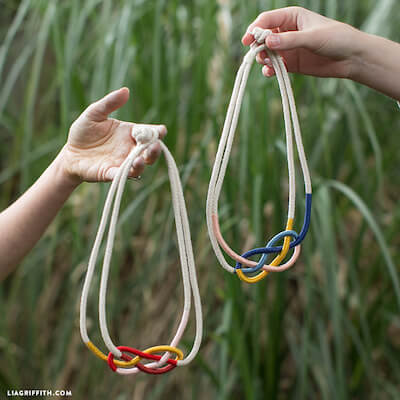 Get the Pattern here

27. Macrame Butterfly Ring by Macramedamare
Bring in spring with this easy Macrame Butterfly Ring Pattern. These little guys are happy and bright and they work up so quickly you will want to make many. This easy macrame jewelry pattern is the base, the fun part for you to make your own color combinations!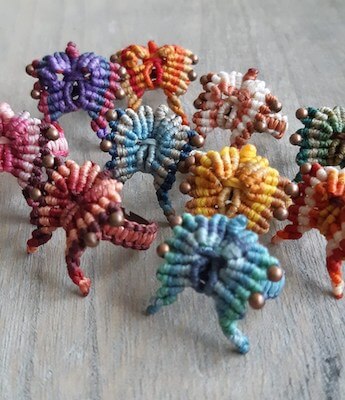 Get the Pattern by Macramedamare here

28. Drunkard's Path Micro Macrame Jewelry Pattern by Knot Just Macrame
Learn how to make your own Drunkard's Path micro macrame bracelet following the instructions included in this tutorial. Beaded arc sections contrast with knotted bands to make a beautiful piece. This pattern is meant for all knotters, although some experience with knots (double half hitch, larks head) is preferable.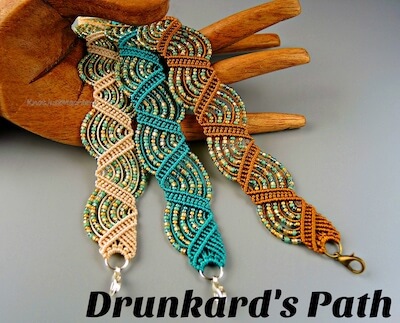 Get the Pattern by Knot Just Macrame here

29. Macrame Earrings by The Spruce Crafts
With just a few simple materials, you can create a chic, boho pair of earrings that look like they came from a boutique, but you'll be able to say that you made with your own two hands. Follow these tutorials for a basic pair and a pair that's a little more intricate.

As you're gathering materials, take a peek through your earring collection for hoops or shapes that you already have—these might be great starters for adding some macrame knots to give them new life!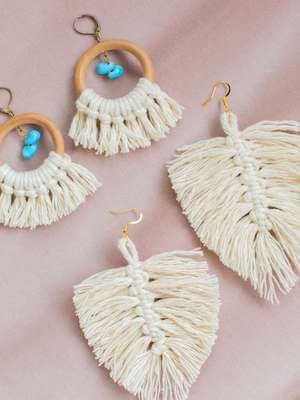 Get the Pattern here

30. Beaded Macrame Bracelets by Crystals And Clay Jewelry DIY
Here's an interesting macrame bracelet design using the round gemstones. You will use 4mm garnet beads for this project, along with some beautiful vintage style dark red seed beads.

Unlike traditional macrame bracelets which use the thread pattern as the focal point, this design focuses on the beautiful gemstones. It gives the bracelet a more formal and elegant look. In addition, it is also a great project to get familiar with the macrame techniques. You will learn three knots in this design.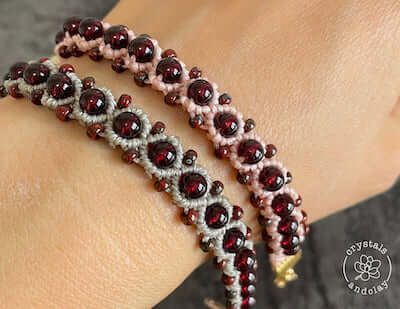 Get the Pattern here

31. Macrame Earrings Pattern by Curious Craft Studio
These macrame earrings are a celebration of timeless elegance. These simple yet stunning studs are an everyday essential. This design was conceived with the idea of zero-waste in mind – what a beautiful way to use all your leftover scraps!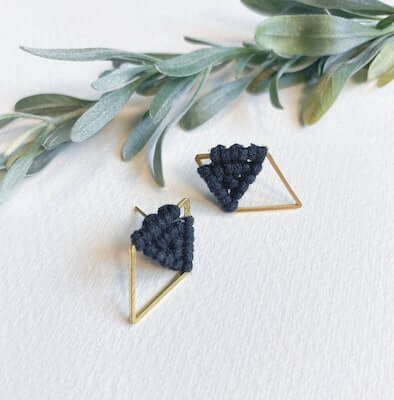 Get the Pattern by Curious Craft Studio here

32. Macrame Swirl Brooch by Micro Macrame Maven
This eye catching brooch is as fun to wear as it is to make. Choosing cord colors that range from lighter to darker tones creates a dramatic effect, however using just one color of cord looks great too!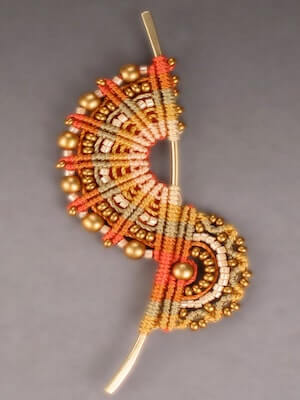 Get the Pattern by Micro Macrame Maven here
NOT ONLY ARE THESE MACRAME JEWELRY PATTERNS FASHIONABLE, BUT THEY'RE EXTREMELY AFFORDABLE. YES, PLEASE!
If you love working with macrame, try out these macrame plant holders or cute macrame wall hangings for your DIY home decor! Or, browse all of our DIY Jewellery projects for a whole variety of wonderful accessories and gift ideas.

Share what you've been up to with the Crafting News community by posting to our Facebook Page — your creativity is our biggest inspiration!

Have you ever wanted to make your own jewelry? Trust us— it's simple! So, gather your craft tools and start making your own Macrame jewelry!