Are you drawn to the intricacy of the Celtic knot? These Celtic knot jewellery patterns are intriguing and significant. There are many meanings, from faith and unity to love and protection.
If you are looking for a unique gift idea or are wanting to make yourself some stunning pieces, check out our list of Celtic knot jewellery patterns.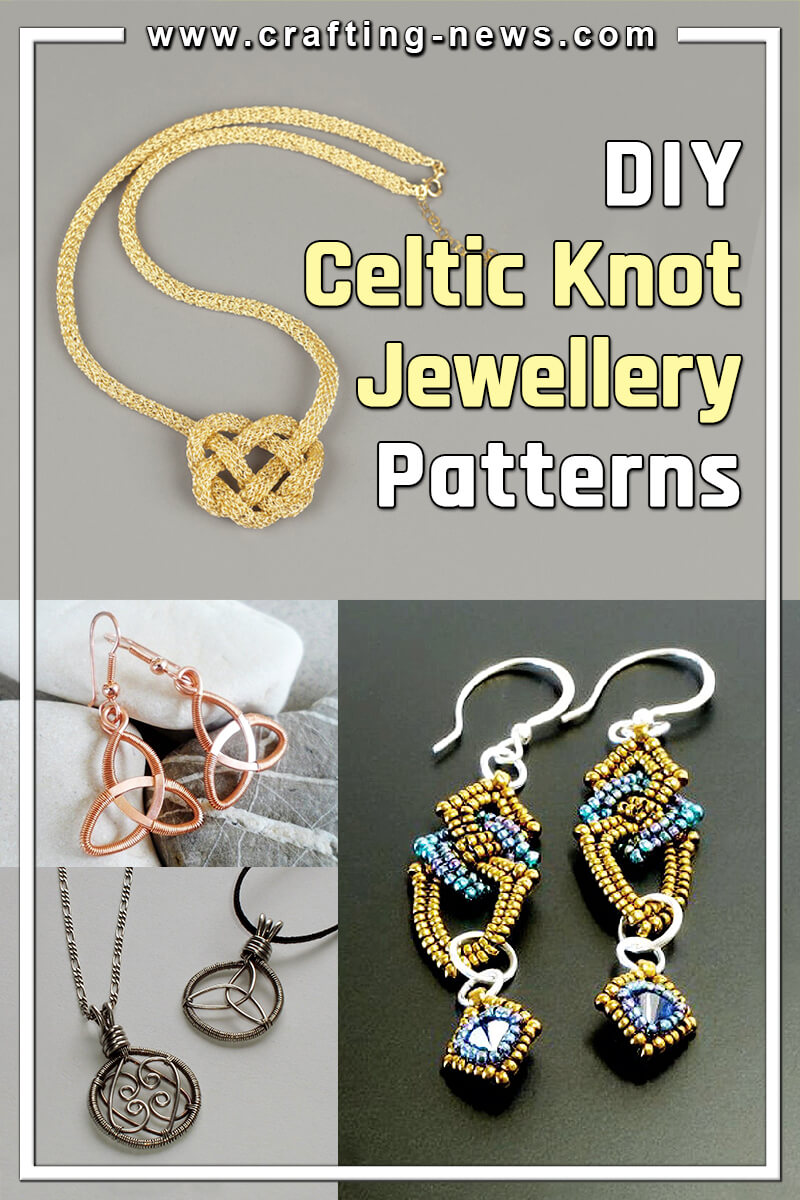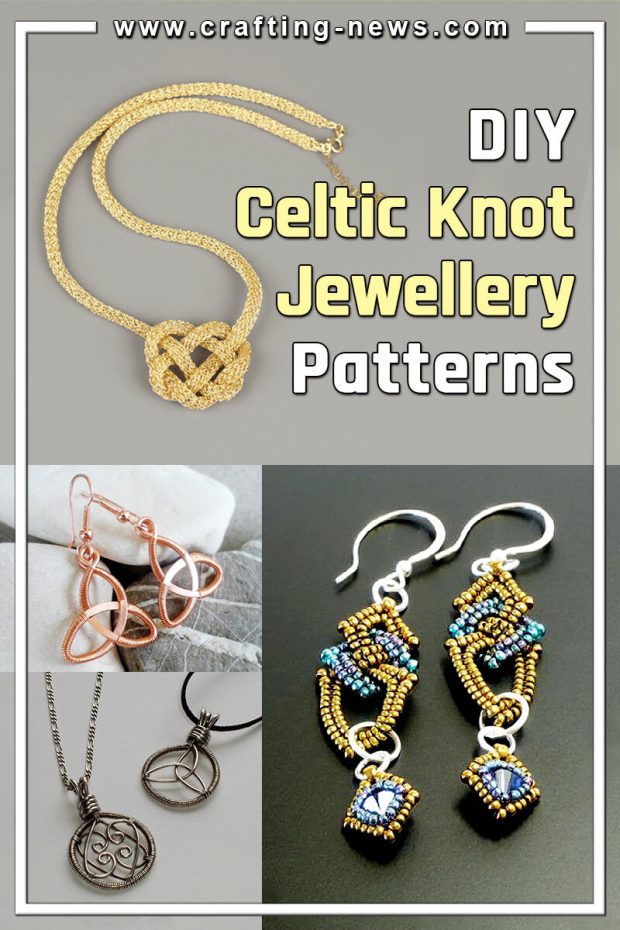 You can use the Celtic knot to make brooches, hair pins, pendants or even attach it to a bracelet. Whatever you desire to create as far as jewellery is concerned you can do it with the Celtic Knot.
Below are 10 amazing DIY Celtic knot jewellery tutorials. There are patterns that include wire wrapping, wire knitting, and even macrame.
1. Earrings and Pendant Celtic Knot Jewellery Tutorial by AlinasStudio
Do you love a fun challenge? If you do, then check out this wire Celtic knot jewellery tutorial. This tutorial will teach you how to make a gorgeous pendant from a single piece of wire.
This is an advanced pattern for anyone that is up to a challenge. The Celtic wire jewellery tutorial is filled with information, tips, tricks, and advice. There are 52 clear pictures and a diagram. The pictures can be magnified at least 300% with clarity.
Celtic Wire Knot Materials
Two pieces of 11.6 cm (4 9/16 in) of 16 ga (1.2 mm)
Two pieces fishhook ear wire
The rest of the materials is disclosed within tutorial (full disclosure on download)
Since you will be working with metals and other hard materials, you will also need quite some tools for the process. A few of these tools are:
Round nose pliers
Bent-nose pliers
Flat nose pliers
Nylon jaw flat nose pliers
Flush cutter pliers
Large Mandrel or Round dowel of abt. 3 cm (1 3/16 in) diameter
Chasing hammer
File (could be a nail metallic or glass file)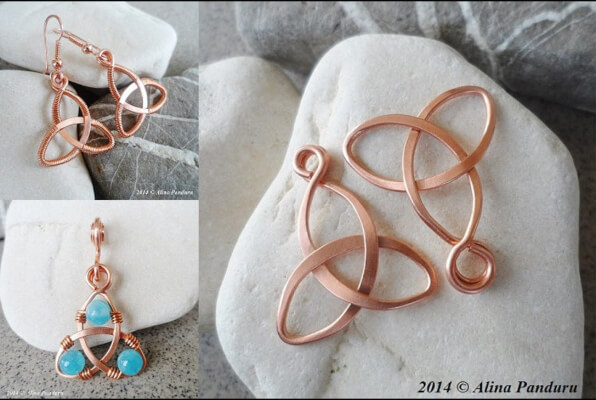 Find the Tutorial by AlinasStudio HERE
2. Love Pendants Celtic Wire Jewelry Tutorial by Abbyjewellery
Learn how to make his and hers love pendants using wire with this Celtic knot jewellery tutorial. Make a set for you and your significant other. Or make a set as a wedding gift.
This is an easy Celtic wire jewellery pattern that can be completed by a beginner. Along with the instructions for the pendants, you will receive a free bonus tutorial to make a chain.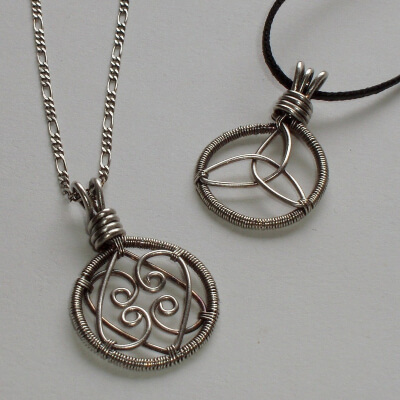 Find the Tutorial by Abbyjewellery HERE
3. Celtic Knot Pendant Tutorial by Mrballeng
Here is a free Celtic knot jewellery pendant tutorial. This is another challenging project that would be perfect for any jewellery maker. There are written Celtic knot tying instructions and photos. The Celtic knot pendant is made from 14 gauge zinc coated steel wire.
The jewellery is formed with the help of a 13/16 Craftsman socket. You will also need a pair of pliers, a square file, and a soldering iron.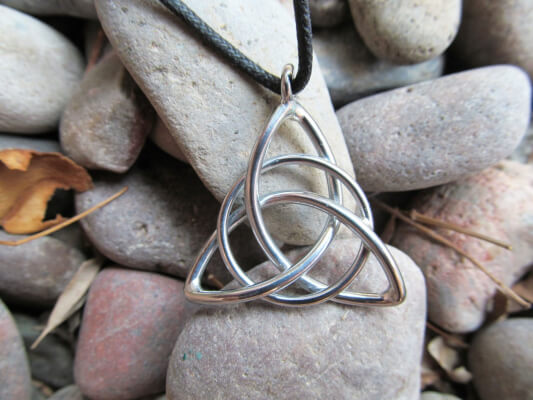 Find the Tutorial by Mrballeng HERE
4. DIY Ring Celtic Knot Wire Wrap Tutorial by TimelessTempest
This Celtic ring was inspired by the gorgeous woven wire jewellery of the days gone by. It has been designed as a simple project that most beginners can complete with no problem at all.
You can make this ring in any size. The Celtic knot wire wrap tutorial contains 18 pages of detailed instructions with high resolution images. To make the ring you will need chain nose pliers, semi-flush cutters, 1 rubber tipped clamp, wire, and a ring mandrel.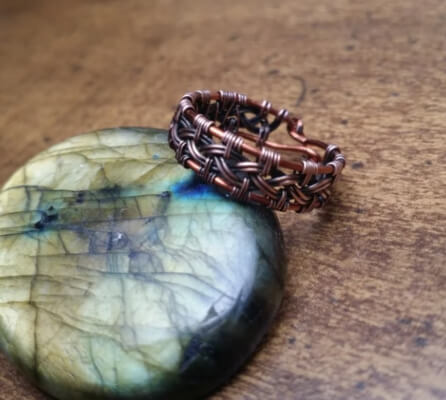 Find the Tutorial by TimelessTempest HERE
5. Beaded Celtic Knot Earrings Tutorial by gwenbeads
If you are a bead weaver, you probably have everything you needed to get started on these Celtic knot earrings right away. This Celtic knot jewellery tutorial starts with a beginner's lesson on beaded rick rack in several sizes. Then you will learn how to make beaded squares.
All this leads up to the main pattern. This pattern is suitable for beginners as well as advanced beaders.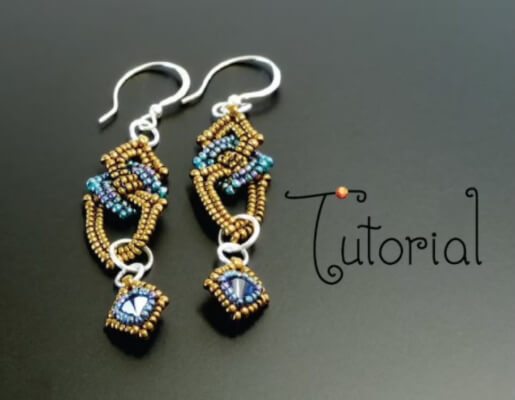 Find the Tutorial by gwenbeads HERE
6. Style Macrame Bracelet Celtic Knot Jewellery Tutorial by DV8Alex
This macrame Celtic knot bracelet looks intimidating to make. But the how to tie a Celtic knot bracelet tutorial is so clear, you will be able to create a gorgeous bracelet on your first try.
There are 180 clear photos and 22 pages of instructions. You can make this project using one colour or six different colours. Also included are 2 additional PDFs to help you with basic macrame knots.
Here's more Macrame Bracelets tutorials here.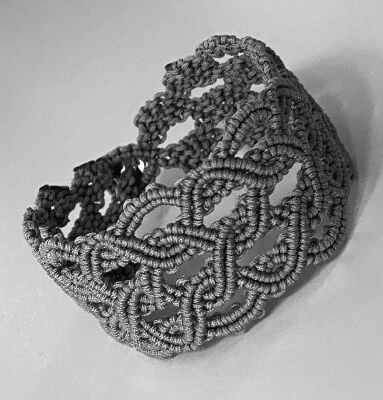 Find the Tutorial by DV8Alex HERE
7. Celtic Knot Earring Tutorial by SueHarle
The Celtic Knot jewellery pattern is suitable for intermediate to advanced beaders. These earrings are beautiful. You will want to make numerous pairs of these earrings in different colour combinations. The artist uses their own unique technique to make these earrings. Included in the download is a 13 page, step-by-step tutorial, as well as checklists.
The celtic knot earrings are stitched in one piece with size 11 delica beads in two colours. The finished earrings will measure approximately 2 inches x 2 inches or 50 mm x 50 mm without the ear hook.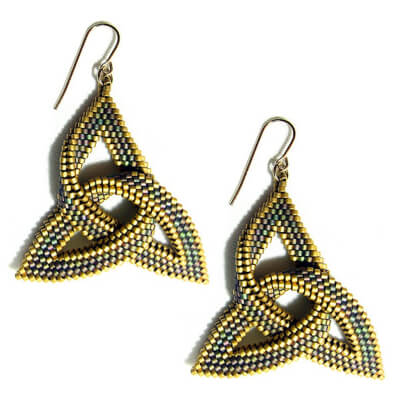 Find the Tutorial by SueHarle HERE
8. Viking Braid Bracelet Cuff Bangle Celtic Knot Wire Wrap Tutorial by TimelessTempest
All your friends will want you to make them this gorgeous Celtic knot bracelet. This bracelet is stunning and will get you a lot of compliments.
This is a beginner-friendly Celtic knot bracelet DIY tutorial. For this project, you will need 20 gauge round and 21 gauge half round copper wire, one 10 mm round stone, one 13 mm x 18 mm matching oval stone, chain nose pliers, semi-flush cutters, and a 2 inch rubber tipped spring clamp.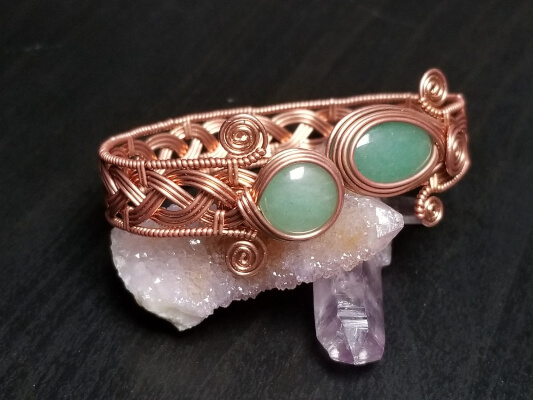 Find the Tutorial by TimelessTempest HERE
9. Celtic Knot Pendant Tutorial by Princess Pam-attitude's
Here is a free Celtic knot jewellery pattern that creates a delicate pendant. This would be a great pattern for a beginner wanting to learn the basics of how to tie Celtic knots.
The free tutorial includes written instructions and some helpful photos. To make the earrings you will need 2 types of wire, beads, round nose pliers, snips, and a sharpie marker.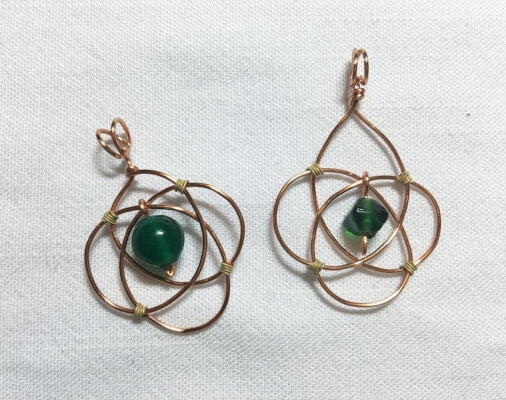 Find the Tutorial by Princess Pam-attitude's HERE
10. Heart Necklace Bold Celtic Knot Jewellery Tutorial by Yoola
How stunning is this piece of Celtic knot jewellery? This will surely become one of your favourite go-to statement pieces.
To make this necklace, you will need to know how to knit with wire. The tutorial will teach you the designer's crochet invisible spool knitting technique. Included with the 24 page step-by-step tutorial are 56 close up photos and a link to a 15 minute video.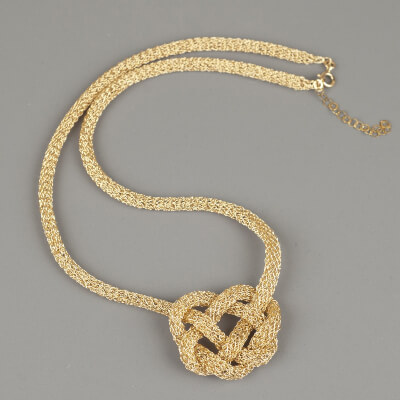 Find the Tutorial by Yoola HERE
The Celtic knot has been used in jewellery and decor for centuries. Learn how to make some stunning pieces with these Celtic knot jewellery patterns.
Celtic knots are aesthetically pleasing and perfectly balanced. The design is perfect for all types of jewellery. There are simple trinity patterns as well as more complicated and intricate patterns.
But no matter which pattern you choose, when you wear a piece of Celtic knot jewellery, you will be wearing a piece of history. We would love to see which of these celtic knot jewellery patterns you choose, so please share your photos with us on our Facebook Page.
For more DIY crafts, don't miss our Wire Dragonfly Tutorials, DIY Knitting With Wire Patterns, DIY Felt Roses Tutorial, DIY Gift Wrapper Ideas and a lot more