Knitting is a rewarding hobby. However, it can become monotonous. If you love knitting yet are tired of creating the same pieces over and over, check out knitting with wire. This is a fun technique that can be used to create beautiful pieces of jewellery.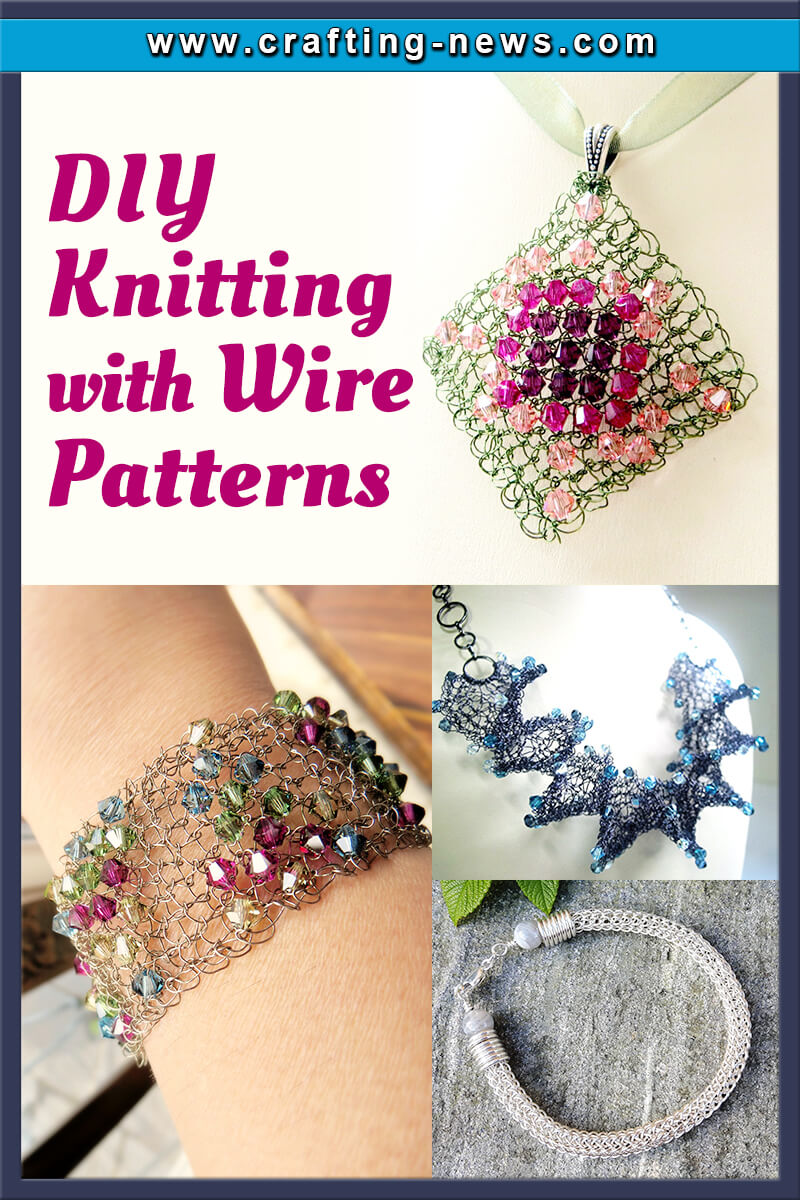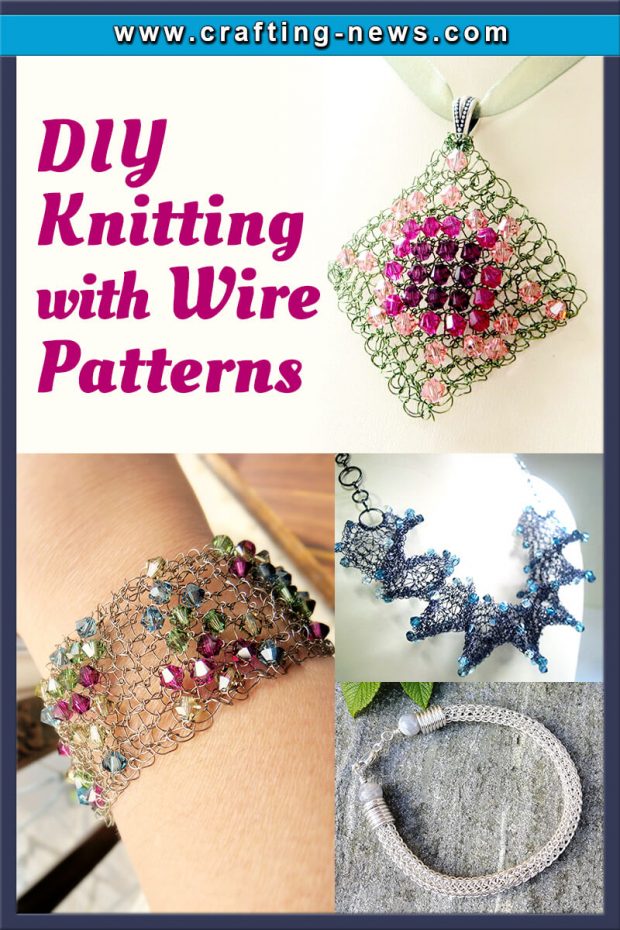 What is Wire Knitting
Knitting with wire is comparable to regular knitting. But instead of using yarn, you use wire. Wire knitting uses standard knitting techniques that produce a netting effect.
The technique does not involve any fancy stitches. As these stitches would be too tough to complete with wire.
Wire knitting is a technique you can use to create stunning pieces of jewellery. You can create pendants, necklaces, rings, and bracelets. And to make each piece even more attractive, you can add beads.
How to Knit with Wire
If you know how to knit with yarn, you can knit with wire. Most patterns start with casting on, then continue with a knit and purl pattern.
Knitting with wire is a little harder on the hands. If you are working on a large pattern, be sure to take breaks. You will also want to stretch your fingers and apply hand cream.
What Supplies are Needed?
You will need very few supplies when knitting with wire. For most patterns, you will need:
Wire
Knitting needles
Beads
Wire snips
Pliers
Jewellery findings
10 DIY Knitting with Wire Patterns
Below are 10 DIY Wire Knitting patterns. There are beginner level patterns as well as more advanced patterns.
1. Crystal & Wire Bead Bracelet by Mahliqa
This wire bead bracelet pattern creates a lovely crystal and wire bracelet. Use a single colour of beads or mix it up and make a multicoloured bracelet. The pattern consists of written instructions and a chart. The finished size of the bracelet will vary depending on your tension.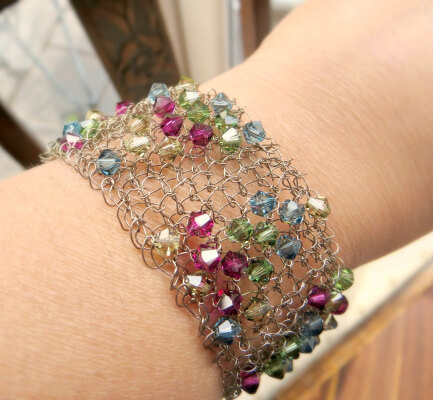 Find the Pattern by Mahliqa HERE
2. How To Make A Viking Wire Knitted Bracelet by TheKnittedRaven
Make this decorative bracelet using the Viking wire knitting technique. This technique has been used for centuries. This bracelet is gorgeous without being overpowering or gaudy.
This knitting with wire tutorial will walk you through each step needed to make this piece of jewellery. Also included are links to mini videos that were designed to help you succeed.
These include How to Make a Wire Wrapped Loop, How to Make End Caps, How to Use Flush Cutters Safely, Viking Wire Knitting, and Introduction to Wire Knitting.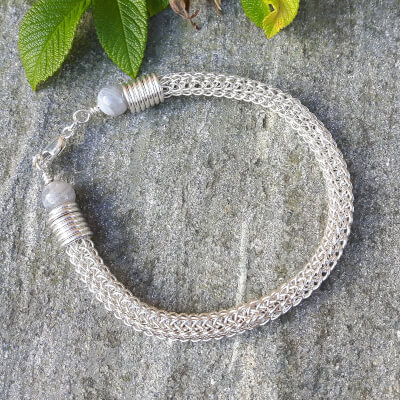 Find the Pattern by TheKnittedRaven HERE
3. Silver Leaf Earrings from Knitter's Pride
These beautiful silver leaf earrings are worked with 32 gauge pure silver wire. You could use either straight or circular needles for this project. To make these earrings you will need 3.5 mm (US 4) needles, 2 silver earring wires, and 25 yards of 32 gauge silver wire.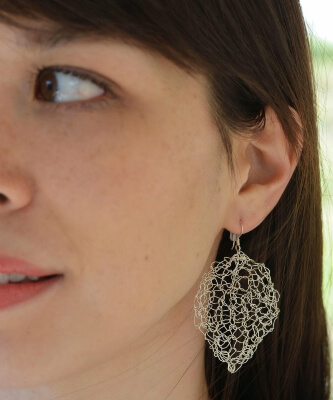 Find the Pattern from Knitter's Pride HERE
4. Crystal & Wire Spiral Necklace Knitting Pattern by Mahliqa
This spiral necklace is reminiscent of a coral reef. The necklace is magnificent, and it will hold its shape. The wire knitting pattern automatically creates a helix effect. You will not have to manipulate the wire after completion to get the desired shape. The pattern is suitable for an intermediate level knitter.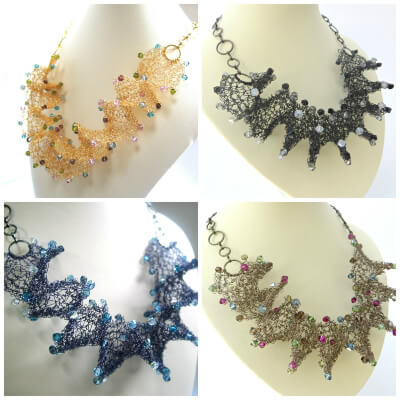 Find the Pattern by Mahliqa HERE
5. Viking Knitting with Wire Tutorial by CraftingSomeFun
If you already know how to make a Viking knit chain, you need this wire beaded bracelet tutorial. It will teach you how to take your creations to the next level, with style and pizzazz.
This tutorial will teach you how to make a wide variety of jewellery embellishments. Included are instructions for triple knit, coloured wire do's and don'ts, taking scrap pieces and turning them into gorgeous jewellery, the "Caterpillar Effect", and using beads.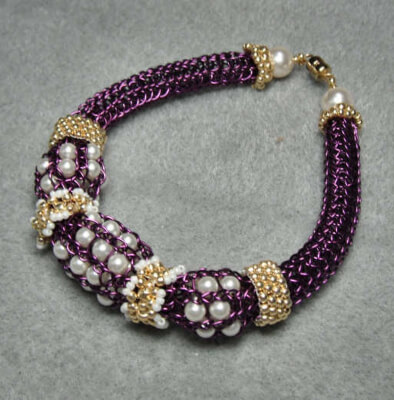 Find the Pattern by CraftingSomeFun HERE
6. Crystal & Wire Knitting Necklace Pattern by Mahliqa
If you are looking for a piece of statement jewellery, you will love this crystal and wire necklace. This piece is chunky and bold. There are so many colour combinations you can create, you will want to make more than one necklace.
The pattern consists of written instructions and a chart that indicates where the crystals need to be knitted in. The finished size of the necklace will depend on your tension. If you knit it tightly, the piece will be smaller. If it is too small, simply add a few more rows.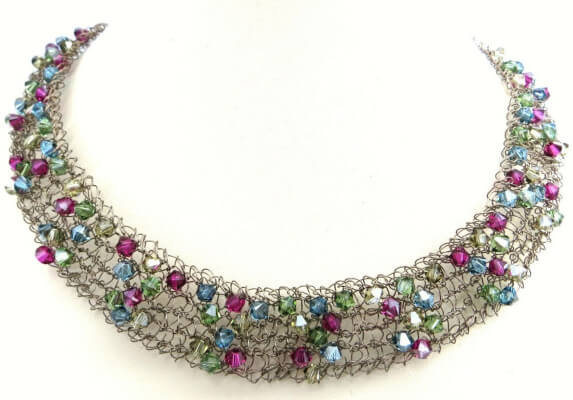 Find the Pattern by Mahliqa HERE
7. Double Wire Beaded Bracelet Tutorial by Yoola
This wire beaded bracelet tutorial will teach you how to DIY a timeless double knit cuff bracelet. You can wear this bracelet with jeans and a t-shirt or with a ball gown. It will look perfect with anything.
The detailed tutorial includes 30 pages of 72 step-by-step close up photos. It is an intermediate level pattern that requires previous wire knitting knowledge.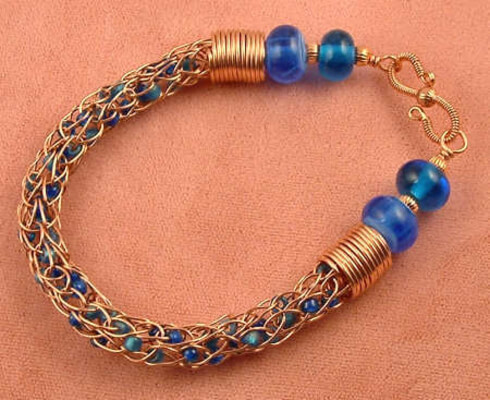 Find the Tutorial by Yoola HERE
8. Knit with Wire Beaded Bracelet Tutorial from Knitca
If you are just learning how to knit with wire, this would make a great project. It is a simple pattern you can compete in just a couple of hours.
This little bracelet makes a great project if you want to try wire knitting. Knitting it is simple and quick, and in just a couple hours you'll make a cute piece of jewelry that you can wear with almost any casual outfit.
RECOMMENDED WITH THIS PATTERN
Knitca knitting wire – 10m / 11yds
3.25mm (US3) knitting needles
sewing needle
84 seed beads size 6/0
For more reference to bead sizes: Easy-to-Use Bead Size Chart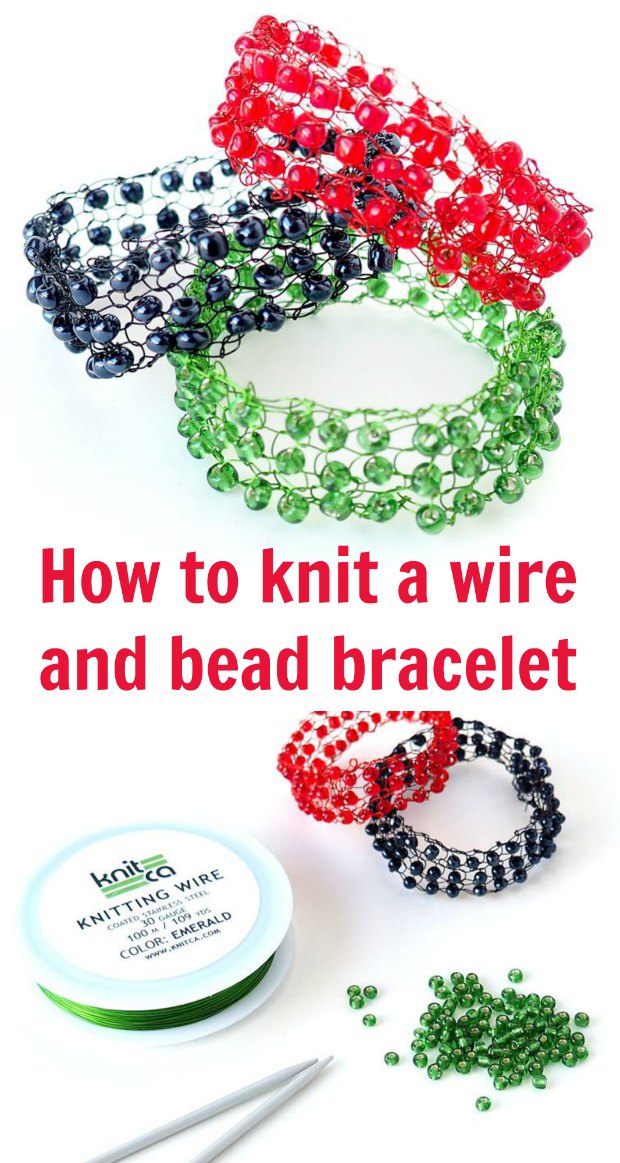 Find the Pattern from Knitca HERE
9. Until I Can Breathe Again Necklace Wire Knitting Pattern by SturdyGirlDesigns
Make this ring for yourself or a friend. Change up the beads and use your giftee's birthstone. It has an antique design that both the young and old will like.
The fully detailed PDF download tutorial makes a 1/2″ knit wire ring with a column of 3 beads. There are 11 pages of step-by-step detailed instructions and 18 photos.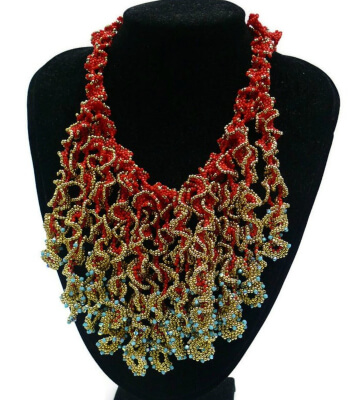 Find the Pattern by SturdyGirlDesigns HERE
10. Diamond Wire Knitted Pendant Knitting Pattern by Mahliqa
Create this magnificent diamond pendant with this knitting pattern. If you are already a jewellery maker, you probably have all the supplies on hand.
This is the perfect knitting with wire beginner's project. The pattern consists of written instructions and a chart to indicate where the crystals need to be knitted in. The size of the finished diamond pendant will depend on your tension.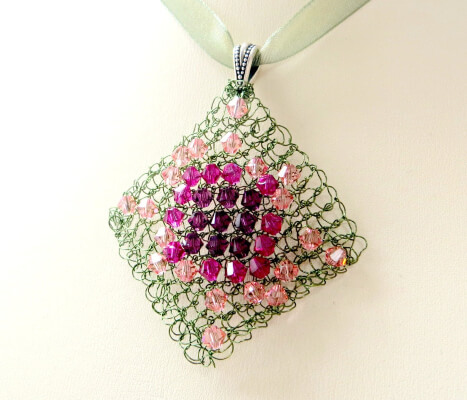 Find the Pattern by Mahliqa HERE
Expand your knitting skills and try something new. You will be shocked at how easy knitting with wire is.
Wire knitting is a fun technique that is easy to master if you already know the basics of knitting. So, what are you waiting for? Knit up some of these amazing knitting with wire patterns or have a try on these Knitting Sets.
Be sure to check out our guide on the types of beading stitches. Make more of these bracelets and necklaces as gifts for your friends and family. Let them be amazed at your skills.