Types of Beading Stitches | Basic Stitches Written Guide
|
Before making intricate beadworks, you should first learn about the basics and that includes the different types of beading stitches.
Do beaded works captivate you instantly? We know we are! Furthermore, instead of wanting to buy them, we would love to learn how to make our own.
If you're just like us, you'll surely enjoy this article. Continue reading to learn more about beadworks, beading, and its different stitches!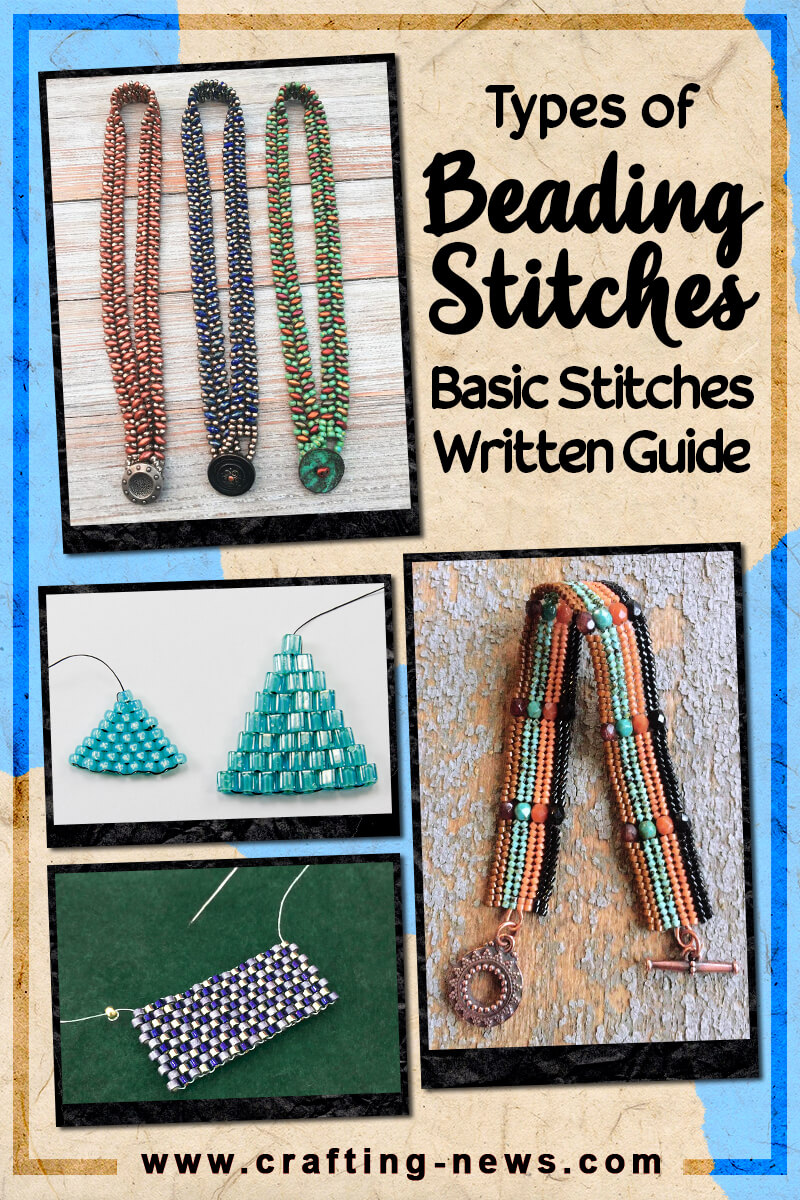 What is Beadwork and Where Do You Use It?
Have you seen pieces of jewelry like earrings, bracelets, and necklaces that are made using beads? If you have, then you definitely have an idea of what beaded works are.
Beadwork is the art of stringing beads together using a beading needle or sewing the beads to a cloth. Completed beadwork projects are usually jewelry, wall hangings, handbags, and even coaster.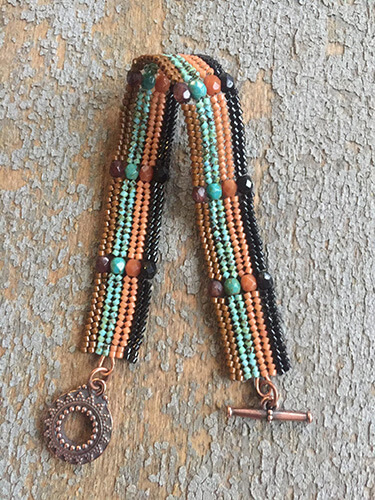 There are lots of available patterns for different projects available online. But just like other crafts, to begin your beading journey, you have to start with the basics.
To create your very own unique beaded items, you have to learn about the technique and fundamental stitches first.
Are you ready to in deeper into the beading world? Let's get familiar with the different types of beading stitches!
Basic Types of Beading Stitches You Need to Learn
Ladder Stitch
Beading projects usually start with a base row where other bead stitches are added. The most commonly used stitch to create the first row is Ladder Stitch.
Aside from being used as a foundation stitch in some projects, the ladder stitch can also be used on its own. You can make this stitch using one bead in each ladder stitch, but you can also use two beads per stitch.
After reaching the desired length, you can go through the beads again with your thread and needle to tighten them. As a result, you'll have a straighter and stronger base row.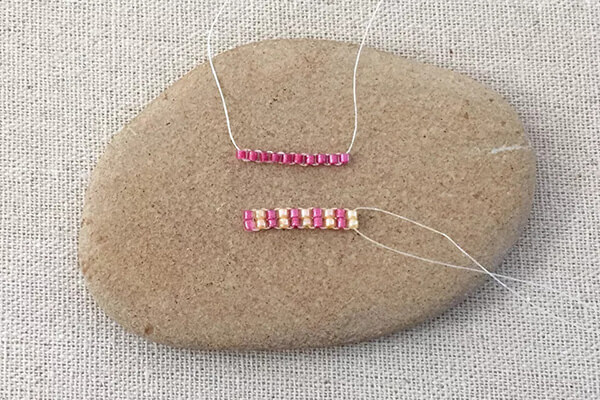 Square Stitch
If you're fond of grid-like designs, you can use the Square Stitch to create your work. Square stitch creates a flat rectangular shape.
Unlike other stitches that create a flat rectangle, the beads in this stitch are aligned without any offsets. This creates rows and columns of beads in straight lines.
Moreover, projects created using the Square Stitch looks similar to loom beadwork projects. This stitch, in fact, is considered an off-loom beading technique.
Although you can create a project using the Square Stitch exclusively, you can also use this stitch in other ways. You can also use this stitch to fix or complete already finished pieces aside from using it to connect the ends of other stitches.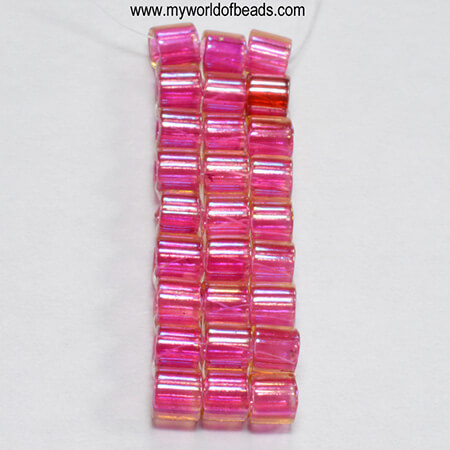 Peyote Stitch
Would you believe beading has been around for a long time? In fact, ancient Egyptians and Native Americans have already been using the Peyote Stitch even before.
This stitch is another off-loom bead weaving technique used to create flat strips, round shapes, and even tubes. Using this stitch, you can create bracelets, rings, and other jewelry.
One of the first lessons taught to beginners who are just starting their beading journey is creating a Peyote Stitch. Others even consider it a quiet meditation.
To create a Peyote Stitch, you have to run the thread horizontally through the beads. Just by looking at the flat piece, you're able to create you'll see that the beads have a one-half bead spaced offset. This creates the up bead and down bead along the top and bottom of your structure.
The Even-count Peyote Stitch is one variation of the Peyote Stitch. It starts with a row with even vertical columns.
On the other hand, the Odd-count Peyote Stitch which is another variation of the Peyote Stitch has an odd number of vertical columns. Using this version of the Peyote Stitch, you can make patterns that have centered focal points.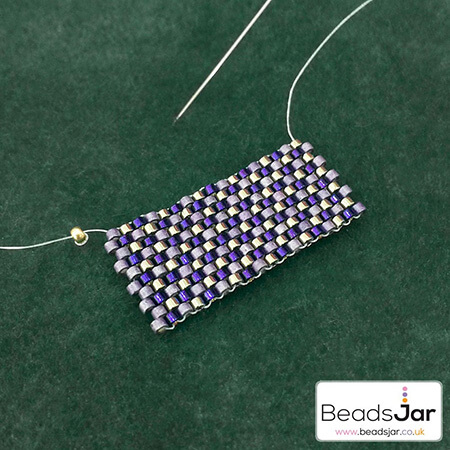 Brick Stitch
We'll head on to our next stitch, the Brick Stitch, or also known as the Comanche Stitch. It's similar to the Peyote Stitch, however, the thread in the Brick Stitch runs through the beads vertically.
Wondering how it got its name? Well, if you take a closer look at the pattern this stitch creates, you'll see that it resembles stacked bricks.
If you're planning to make jewelry designs with focal points or want to make different shapes, this is the beading stitch to use. The brick stitch makes it easy to create triangle and diamond shapes by just decreasing or increasing the bead per row.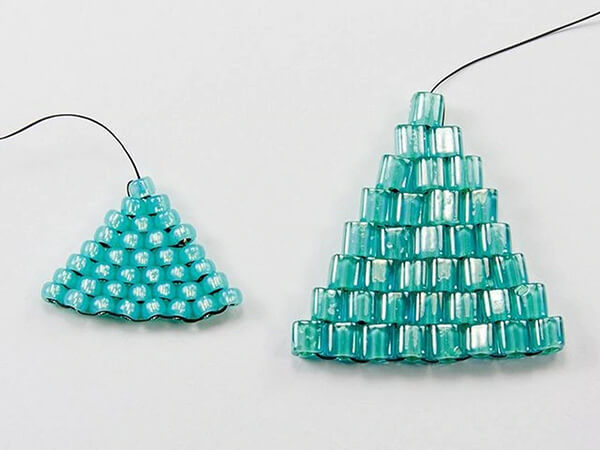 Herringbone Stitch
Does this stitch look familiar? We're pretty sure our crochet and knitting friends know what this stitch is!
Just like in knitting and crochet, we also have Herringbone Stitch in beading. Also known as Ndebele Stitch, it got its name from an African tribe that specializes in this stitch.
This stitch creates two columns of beads that are in an almost V formation, similar to the bones of a herring fish. Hence, it's called the Herringbone Stitch.
Just like other crafters, we are stunned with the various ways you can create intricate details with this stitch. In fact, you can use this stitch to create various shapes and even create a beaded chain for your jewelry.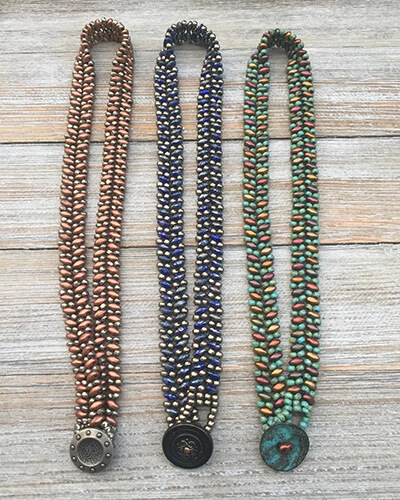 Start Creating your Own Beaded Works Using the Different Types of Beading Stitches!
Now that you have some knowledge of the different types of beading stitches, it's time to get stitching and create your very own unique pieces!
Looking to get into more beaded projects? You have to check out this Knit with wire Beaded Bracelet pattern where they combined knitting and beading into one DIY project!
What kind of beadwork are you planning to make? Keep us updated by posting your works on our Facebook Page. We're excited to see how you applied the different types of beading stitches!