If you've ever thought about making your own jewelry or walked down a bead aisle at a craft store. You know that there are a wide variety of beads that why Bead Size chart comes in handy. Beads come in every color imaginable and many different sizes. Really, there's something for everyone!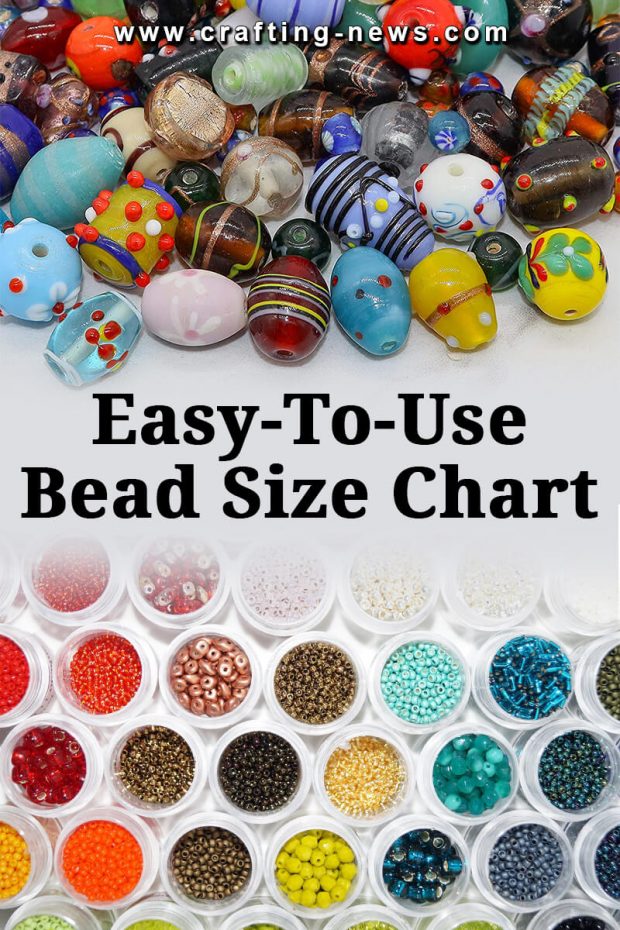 Because there are so many to choose from, beads can be a bit overwhelming too. The very first and most important thing that you need to know is about bead sizing.
We'll help get you started on your beading journey with important things to know and a user-friendly bead size chart!
Bead Size Chart
Most beads fit into the following guide and are sized based on the length of the hole in the bead. Beads are sized by millimeters, as seen in the bead size chart below.
| | | | |
| --- | --- | --- | --- |
| Bead Size (mm) | Beads per inch | Beads per 16″ | Beads per 24″ |
| 2 | 12.5 | 200 | 300 |
| 3 | 8.3 | 133 | 200 |
| 4 | 6.25 | 100 | 150 |
| 5 | 5 | 80 | 120 |
| 6 | 4.2 | 66 | 99 |
| 7 | 3.6 | 57 | 86 |
| 8 | 3.13 | 50 | 75 |
| 9 | 2.5 | 40 | 60 |
| 12 | 2.1 | 33 | 50 |
Why Is Bead Sizing Important?
A brief look on the web will show you that beads are available all over the world for purchase, which greatly opens up options to new options that may not be readily available in your area.
What this means, however, is that there has to be a way for everyone, regardless of location, can identify the beads. Enter using the bead size chart!
You can spend quite a bit on good quality beads, not to mention shipping. Imagine getting beads that are the wrong size and won't work for your project. It would be terribly disappointing.
So the standard for bead sizing is millimeters for most beads. Seed beads follow a different sizing method, which we'll get to later.
Choosing Bead Size
How do you choose what size bead is going to work for your project? This is especially where the bead size chart comes in handy.
Most crafts and jewelry that you make with beads are measured in inches, but beads are measured in millimeters! The bead size chart shows how many of each size bead fit within one inch, 16 inches, and 24 inches. Helpful, right?
It's also good to know what size beads work for different types of projects, generally. As with most creative ventures, there's usually wiggle room, but having a general idea is a good place to begin.
2mm beads

These tiny beads are great for adding dimension to needlecrafts, as well as intricate earrings and bracelets.

4mm beads

Slightly larger, but still tiny, 4mm beads work very well for delicate jewelry.

6mm beads

These beads make great spacers for larger beads and work well for varying accessories.

8mm beads

Very versatile beads, these work well for many types of jewelry, especially men's.

10mm beads

Another bead size that works well for all types of jewelry

12mm beads

A bit larger bead, but still works for jewelry and many other types of crafts, including ornaments and decorations

14mm beads

This size bead can be used for jewelry if they are light, otherwise are best used simply to accent other beads

16mm beads

These beads are much larger, but make great accents for bold jewelry designs. Also, these are used in a large variety of other crafting projects.
Seed Beads
Seed beads are very tiny and used in bead weaving as well as to accent other finished items. They are sized differently than other beads, so the rules of the other beads don't apply here.
Seed beads are calculated using the aught sizing system. You will see them sized like 5/0, 6/0, and so forth. It's important to note that there is a lot of inconsistency with seed beads, they are not the same across brands or even within the same package.
Bead Size Chart – Wrapping It Up
Beads are a great tool in crafting. Even if your entire project isn't beaded, they make wonderful embellishments to many types of crafting ideas you might be working on! Add them to all kinds of needlecraft projects for dimension and maybe some sparkle!
For more bead craft related projects, check out our Types of Beading Stitches, Wire Beaded Bracelet and Beaded Fingerless Gloves.
No matter what you're using beads for, however, size matters! Using the bead size chart above, you can figure out exactly what you need for whatever you want to make. Happy Beading!