Fans of macrame will not want to miss this collection of macrame butterfly patterns that take the shape of such eye-catching creatures we crafters are all delighted to make. These macrame patterns are budget-friendly enough that you can make a dozen of them!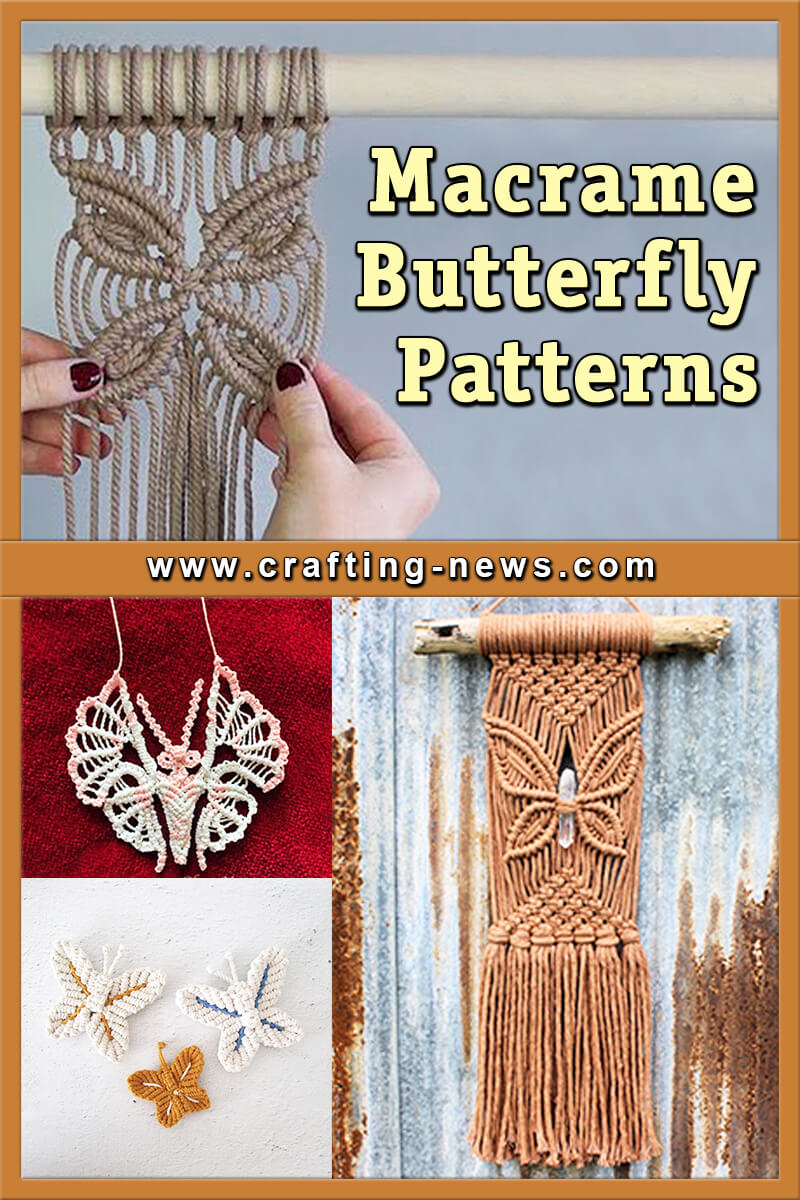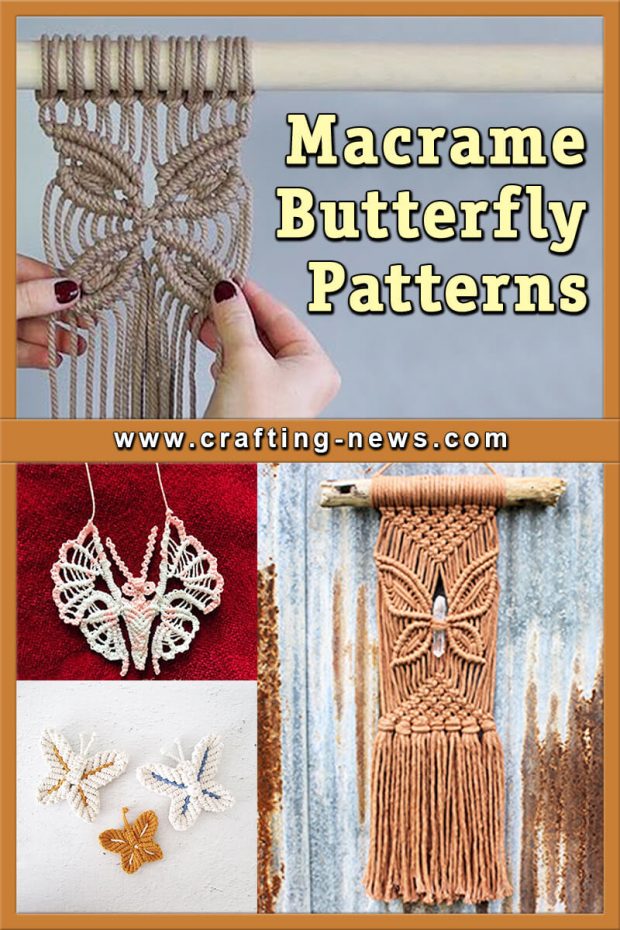 From adorable butterfly accessories to home decor, these patterns will keep you busy with butterflies for some time. If you make any of these projects in a large number, you can have your butterfly swarm brighten up your day as we head into the fall.

1. Macrame Butterfly Pattern by Olga's Macrame Site
This butterfly makes a beautiful unique brooch, pendant, hair clip, or can be used as a home decor piece. You will need 10 cords 1.5-2 meters (5 feet) long, or around 17-20 yards of cord total.

You can make the butterfly in two-tone – white and pink, but you can improvise with other color combinations, or make it monochrome or even ombre!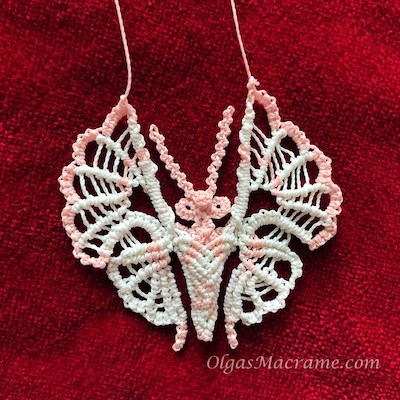 Get the Pattern by Olga's Macrame Site here

2. Macrame Butterfly Pattern by Pelote Et Compagnie
These beautiful butterflies can be used as the cutest embellishment for accessories, baby blanket, or pillow. You can also create a wonderful wall display.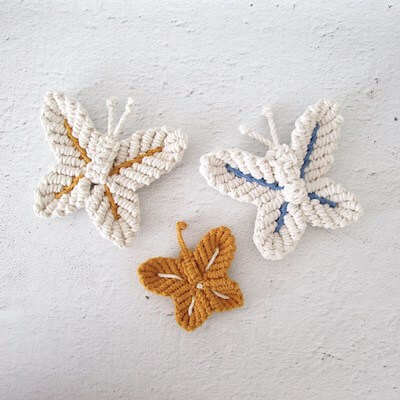 Get the Pattern by Pelote Et Compagnie here

3. Macrame Butterfly Wall Hanging Pattern by Honalee Studio
A butterfly macrame wall hanging pattern and a twig for the holder is sure to create an aesthetic look, bringing a touch of the outdoors to your living room.
Or, you can keep it in the garden. This macrame tutorial is best for intermediate level macrame artists but is explained simply enough for a beginner to make.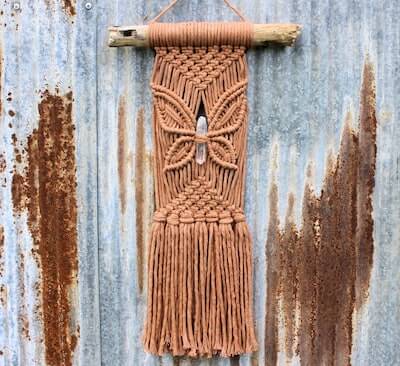 Get the Pattern by Honalee Studio here

4. Macrame Butterfly Tutorial by Macrame School
Adorable little macrame butterflies that work great from appliques, hair accessories, magnets, and more. You'll love making different color combos and will have a pile of butterflies before you know it!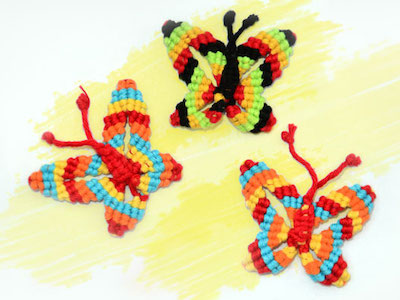 Find the tutorial here

5. Macrame Chinese Butterfly Pattern by Free Macrame Patterns
This Chinese Butterfly is a combination knot made with both the Mystic Knot (Pan Chang) and the Josephine knot (Double Coin). You must know how to tie both knots easily, or this macrame pattern will be difficult for you to complete.

This Chinese knot can be used as a pendant, since the loop at the top could be an attachment point for a necklace cord.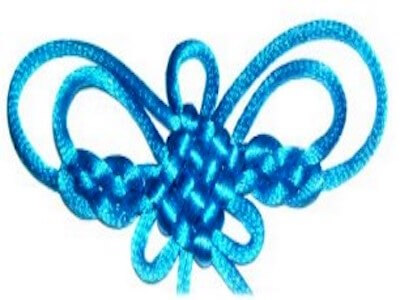 Get the Pattern here

6. Macrame Butterfly Earrings Pattern by Imbali Crafts
Celebrate summer with these Macrame Butterfly Earrings. If you want an instant gratification project to make, these butterflies will be perfect. These earrings will compliment any outfit, day or night!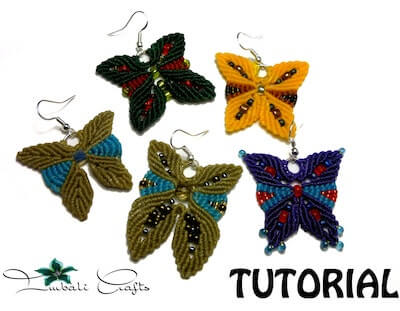 Get the Pattern by Imbali Crafts here

7. Macrame Butterfly Knot Tutorial by Share A Knot
In this tutorial, you will learn how to do the macrame butterfly knot. It's a really cute knot, easy to follow, fast and so pretty! You can create necklaces, bracelets or even decorate your wall hangings, macrame rainbows, plant hangers giving a girly, playful touch.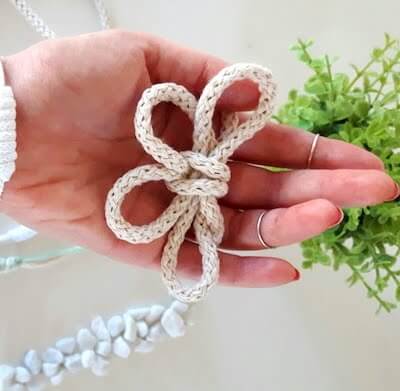 Find the tutorial here

8. Macrame Butterflies by Macrame Adventure
This is a simple Macrame butterfly. It's easy to make and you will only need 13 nylon cords (1.5mm), 6 cords for each wings and one cord for body!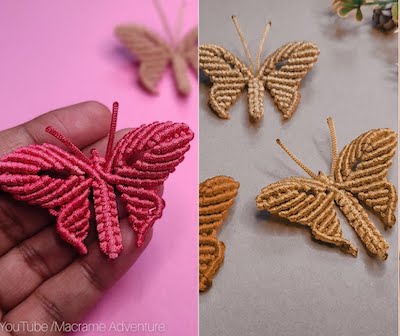 Find the tutorial here

9. Micro Macrame Butterfly Brooch Pattern by Micro Macrame Maven
This whimsical Micro-Macrame and wire Butterfly Brooch made with nylon cord (S-Lon or C-Lon) will brighten your day. Several different knotted chain variations make up the wings and hammered wire is used to form the base and the antennae.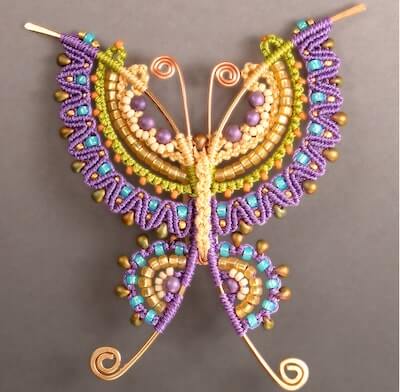 Get the Pattern by Micro Macrame Maven here

10. Macrame Butterfly Bracelet Tutorial by Macrame Tita
A butterfly that flying on your arm! If you'd like to make a quick bracelet that's going to be admired, you are going to love these Macrame Butterfly Bracelets! It makes the perfect last-minute gift or as a gorgeous gift for yourself.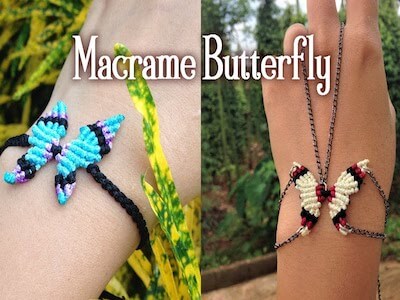 Find the tutorial here

11. Macrame Butterfly Ring Pattern by Macramedamare
Bring in spring with this easy Macrame Butterfly Ring Pattern. These little guys are happy and bright and they work up so quickly you will want to make many.The pattern is the base, the fun part for you to make your own color combinations!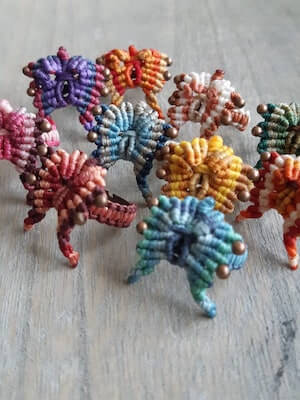 Get the Pattern by Macramedamare here

12. DIY Macrame Butterfly Pattern by Lots Of Knots Canada
Add some texture to an empty wall space with a gorgeous wall hanging. This Butterfly Wall Hanging features a unique design which is must-have in any home with a bohemian theme.

It's the perfect size to display in a bedroom, living room, children's room, workspace, or anywhere else you want to add texture to your walls.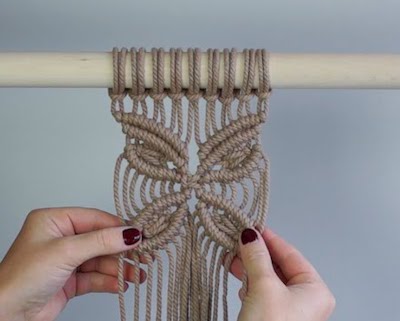 Find the tutorial here

13. DIY Macrame Butterfly by Bochiknot Macrame
This tutorial goes over a 3D macrame butterfly you can use as a wall hanging on its own or as an add on to an additional macrame piece.

It is made with 4 basic macrame knots: the marks head, square knot, double half hitch and double overhand knot. Although it looks very intricate, the majority of the pattern is a repetition of a few simple patterns.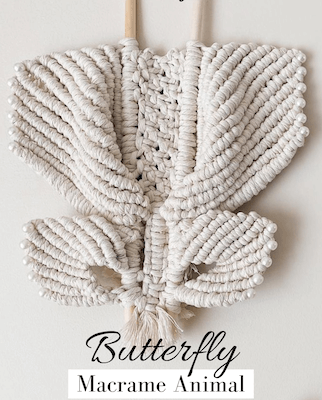 Find the tutorial here

14. Macrame Butterfly Pattern by Zaney May
This Macrame Butterfly Pattern is made with square knots, diagonal double half-hitch knots, double half- hitch knot, lark head, and overhand knots. Wear it as a necklace to symbolize change and endurance, or as a pin to take a simple ensemble to the next level.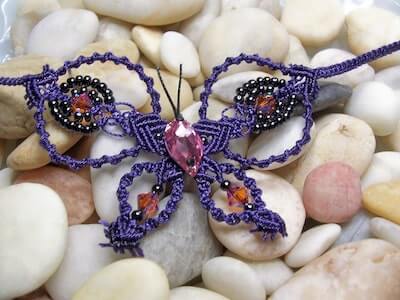 Get the Pattern by Zaney May here

15. Macrame Butterfly Keychain Tutorial by Myow Handmade
If you are on a hunt for a beautiful gift for your friends (which is also easy and quick to make), you will love this gorgeous Macrame Butterfly Keychain.
This is a very fun way to accessorize your bags or you can gift it to your friends for a special occasion. Would you able to say no to this charming little keychain?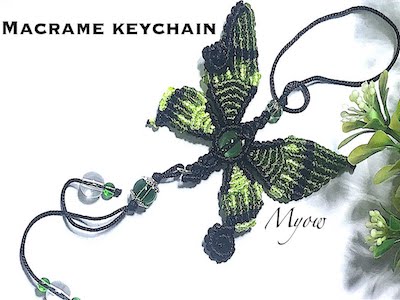 Find the tutorial here
THESE MACRAME BUTTERFLY PATTERNS ARE JUST AS PRETTY AS THE REAL THING AND WE KNOW YOU LOVE THEM!
Let me see those beautiful butterflies! Share your finished creations on our Facebook Page!

If you already embrace this wonderful craft trend, feel free to browse our collection of Macrame Fish Patterns, Macrame Owl Patterns, Macrame Flower Patterns and a lot more macrame patterns filled with inspiration of all your favorite macrame projects. Transform macrame cord into a plant hanger, wall hanging and more!

For now, flutter into your macrame collection these macrame butterfly patterns today. You'll surely have fun making them!