By following a macrame lawn chair tutorial, you can take that ugly chair and transform it into something beautiful. New lawn chairs can be expensive. And let's admit, they are usually very ugly. If you have an old lawn chair that you are planning on tossing in the trash, do not get rid of it. Instead, give it a makeover.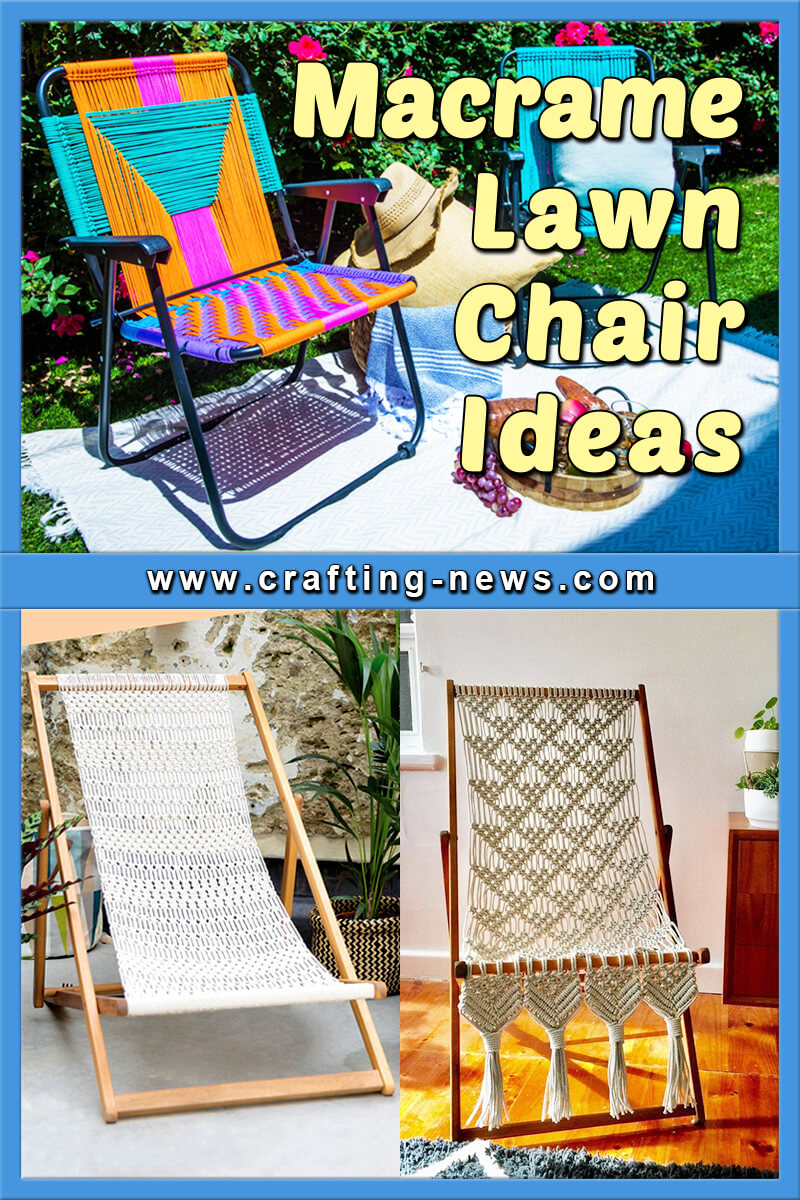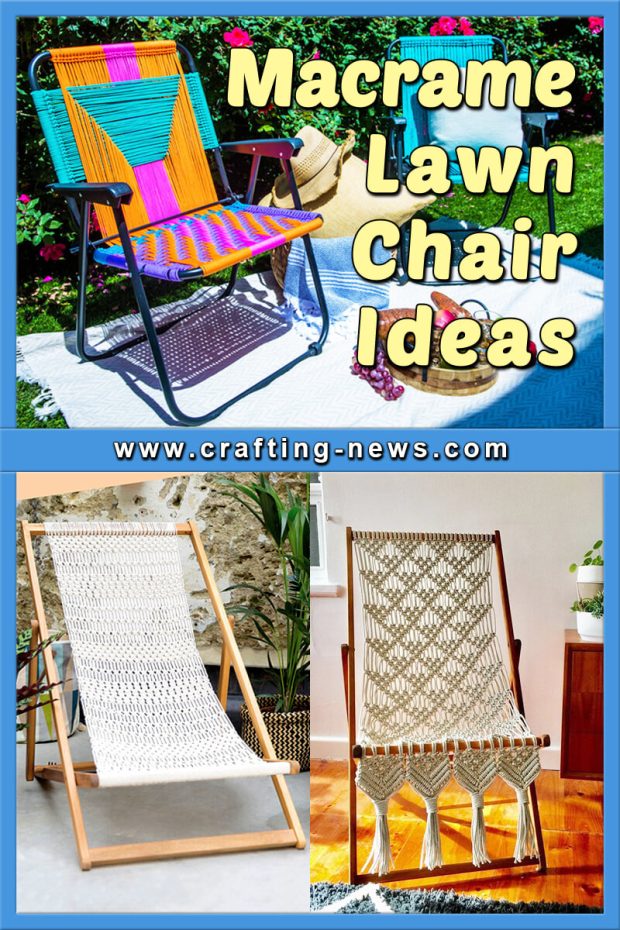 Below, I have included 6 macrame lawn chair tutorials. There are a variety of DIY macrame patterns to choose from.
1. Macrame Lawn Chair Pattern by DavidandCharles
Do you have an old deck chair that has seen better days? Do not throw it out. Take the old chair and turn it into a beautiful, relaxing macrame lawn chair. I love the simplistic design created with this pattern.
To make the chair, simply remove the existing fabric. Then follow the pattern to create your own boho chic chair.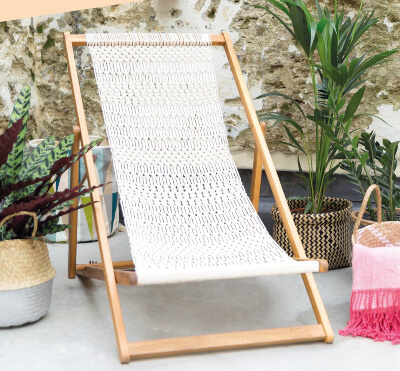 Find the Pattern by DavidandCharles HERE
2. DIY Macrame Lawn Chairs
Take an old chair and follow this free macrame lawn chair tutorial to create a piece of artwork. The chair will add a fun pop of colour. You can use a rainbow of colours or choose a combination that matches your outdoor decor.
To make the macrame lawn chair you will need a metal lawn chair, macrmae cord, crochet hooks, and scissors.
Find the Tutorial by Hallmark Channel HERE
3. DIY Macrame Beach Chair
You no longer have to be embarrassed of your old, ugly metal lawn chair. Remove all that unsightly webbing and put your macrame skills to work.
This DIY macrame project is for those with previous macrame experience. You will need to able to follow along with the video since there are no verbal or written instructions.
Find the Tutorial by DIY Handmade Studio HERE
4. Lawn Chair Macrame Pattern by Knotmodern
Upgrade an old deck chair or buy a new one and transform it into a chair you will want to relax in. This lawn chair macrame pattern is intended for intermediate to advanced level macrame artists. The pattern will work with most deck chairs.
Using a standard sized deck chair, you will need approximately 450 meters of 5 mm cotton rope.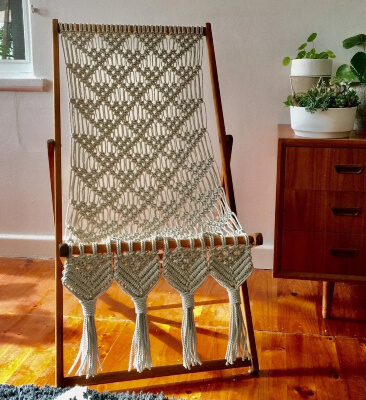 Find the pattern by knotmodern HERE
5. DIY Macramé Beach Chair Makeover
Upcycle a metal beach chair into a bright and colourful macrame lawn chair. You will have a lot of fun choosing your colour combination. And to make it even more colourful, spray paint the metal frame.
This project can be completed by a beginner with a little patience. The artist does a good job of explaining what she is doing as she goes along.
Find the Tutorial by Kitiya Palaskas HERE
6. Macrame Lawn Chair Tutorial
Are you new to macrame? Does the use of crochet hooks confuse you? Then, this macrame lawn chair tutorial is for you. The artist does a very good job of showing you how to use the hooks.
Find the Tutorial by My French Twist HERE
DO NOT THROW AWAY YOUR OLD OUTDOOR LAWN CHAIRS. TURN THEM INTO MACRAME LAWN CHAIRS.
Do you have an old lawn chair that is an eye-sore? I know I have quite a few. Do not throw your unsightly chair away. Instead, repurpose it and make a macrame lawn chair you will be proud to show off.
Macrame can be used for so many things. And it is a lot of fun. For your next macrame project, check out our Mini Macrame Plant Hangers, Macrame Mirrors, Adorable Macrame Mobiles, Macrame Vase Patterns, Macrame Placemat Patterns and a lot more here. And share your creations on our Facebook Page. We'd love to see them.