Are you proud to be a crazy cat person? How could you not be? Kitties are so cute! If you love cats and enjoy working with your hands, give one of these macrame cat patterns a try. There are a variety of patterns from tapestries to drink coasters and more.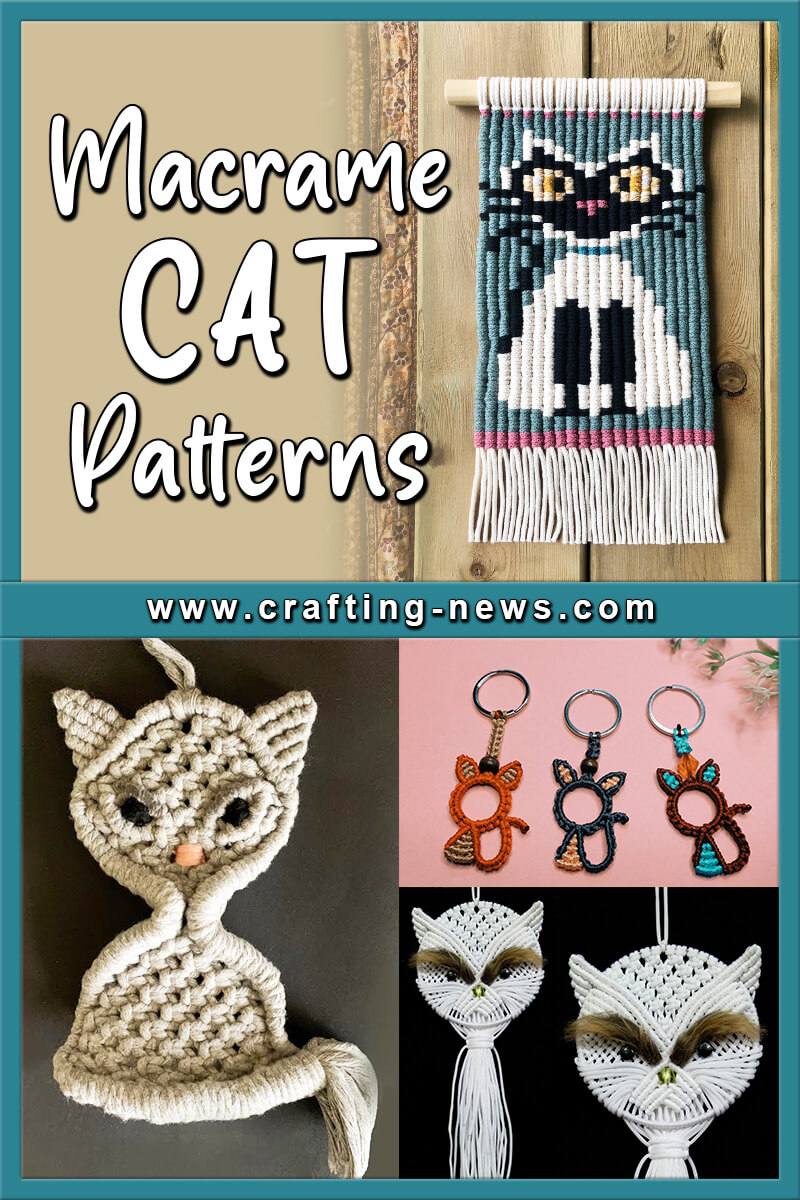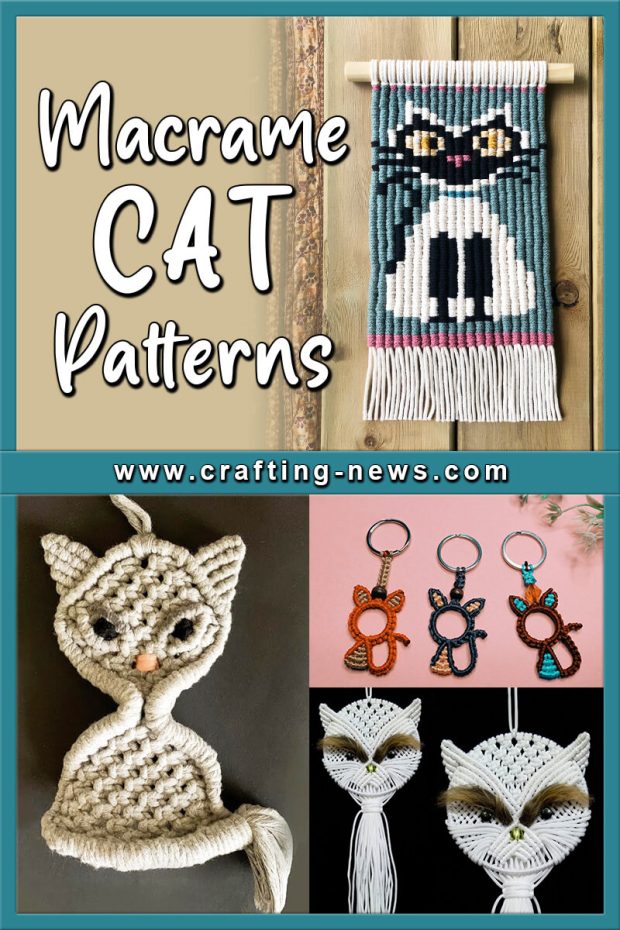 Below, you will find 10 adorable macrame cat projects. There are a couple of paid patterns and several free patterns. We are positive you will find a macrame cat pattern you will want to work on.
1. Small Wall Hanging Cat Macrame Pattern by KnottingFlats
Do you love Siamese cats or know someone else that does? If so, you can create this adorable tapestry. The wall hanging makes a great gift for a cat lover. The cat is cute and colourful. You can even change up the colour combination to create a personalised kitty.
This is a beginner-friendly DIY cat macrame pattern. You only need to know the larks head knot and vertical double half hitch knot. The pattern requires 3 mm braided (3 ply cord or single twist cotton cord), a wooden dowel, scissors, a measuring tape, and a crochet or rug hook. Completed, the tapestry will measure approximately 13 inches (33.02 cm) long x 7 inches (17.78 cm) wide.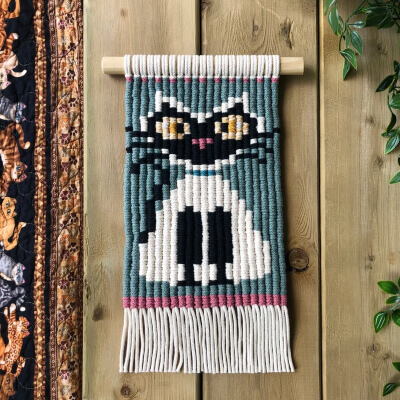 Find the Pattern by KnottingFlats here
2. Macrame Cat Pattern by OlgasMacrameSite
You can use this macrame cat to embellish other projects. Or you can make a keychain or ornament. Use a black cord to create Halloween decorations.
The DIY macrame cat pattern includes step-by-step instructions with 54 images. You will also get instructions for making the macrame knots used in the pattern. The finished cat will measure about 2.5 inches (6.35 cm) long.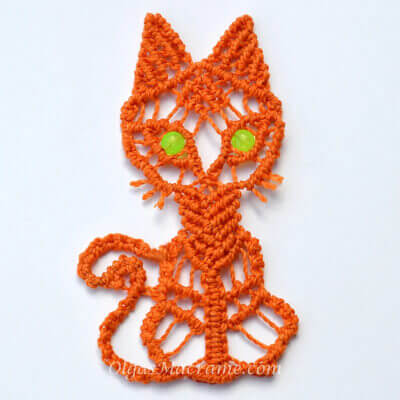 Find the Pattern by OlgasMacrameSite here
3. DIY Easy Macrame Cat Tutorial
Are you searching for a free DIY macrame tutorial you can use to make gifts? This video will walk you through making these super cute, easy macrame coasters. This is a fun macrame project that works up quickly. You can easily make a set of these in a weekend.
To make these macrame coasters you will need 5 mm single twisted string, scissors, a crochet hook, and a comb. You will need to know how to make the larks head knot and double half hitch knot. The finished coaster will measure about 3.5 inches (9 cm).
Find the Tutorial by my Total Handmade here
4. Super Cute Cat Couple Bracelet
Do you enjoy the art of macrame and making jewellery? This DIY cat macrame tutorial combines the 2 and creates a fun little bracelet. These bracelets make great friendship gifts.
To make the bracelet, you will need .5 mm waxed cords. The tutorial uses white, black, and pink. But you can choose your own colours if you wish. We would recommend this tutorial for intermediate level artists. There are no verbal or written instructions. You will also need to know how to read a pattern.
Find the Tutorial by Macrame Tita here
5. Macrame Wall Hanging Room Decor Kitty Cat
If you have previous macrame experience, check out this kitty cat wall hanging tutorial. It is made using a metal craft ring, 3 mm nylon cord, and a bead. The video tutorial is easy to follow, but it is a little quick. It is a great macrame cat pattern for an intermediate level macrame artist.
Find the Tutorial by Globe Studio One here
6. DIY MACRAME | Kitten Wall Hanging
This macrame cat wall hanging tapestry uses a pixelated pattern to create the kitty. The DIY macrame pattern uses beginner-friendly knots and techniques. However, the pattern is big, and it has a lot of detail. If you want to tackle this project, we recommend working on smaller pixel projects first.
Find the Tutorial by Simply Inspired here
7. How to make a macrame pixel art Kitty
How cute is this Hello Kitty inspired DIY macrame cat pattern? It would make a great gift for little girls or anyone that loves Hello Kitty.
To make the tapestry, you will need a 30 cm wooden stick, and 3 mm cotton cords. You will need to know how to make the Lark's head knot, vertical double half hitch knot. The video tutorial is well done and very easy to follow.
Find the Tutorial by Tinango here
8. Simple Keychain Macrame Cat Tutorial
Make a bunch of these little macrame cat keychains to give to your friends or to sell at craft fairs. Use a wide variety of colours to create a wide range of kitties. This is an intermediate level pattern. Since the thread is so small, it can be hard to work with if you have larger hands.
Find the Tutorial by Macrame Adventure here
9. DIY Macrame Cat Wall Hanging Tutorial
Use this free macrame cat video tutorial to make a wall hanging. Unlike the other tapestry types of hangings, this one is shaped like a cat.
To make the cat, you only need 4 mm macrame rope. You do not need any glue or beads. The pattern uses the Lark's head knot, reverse Lark's head knot, half hitch knot, and double half hitch knot.
Find the Tutorial by GreysMade Macrame & DIY here
10. DIY Macrame Cat | Pixel Wall Hanging
Here is a beginner-friendly, DIY macrame cat pixel wall hanging. To make the tapestry, you only need to know the lark's head, vertical double half hitch, and double over hand knots. And you only need two different colours of rope.
Find the Tutorial by Simply Inspired here
Are you looking for macrame cat projects? We think you will enjoy working on several of the projects we have listed.
More pet-inspired projects here:
Macrame is so much fun and it is relaxing. If you enjoy the crafting technique and love kitties, these macrame cat patterns and tutorials will be enjoyable projects to work on.