Macrame is one of the year's home-decor trends. The intricate designs are so beautiful – think of how pretty it looks as home decor or holding plants! But macrame products can hold more than just plants – they can also serve as dog collars and leashes! How useful (and adorable) is that?!
If you're excited as we are, check out these macrame dog collars, dog leashes, and dog leads you can DIY, or you can order online for your fuzzy friends.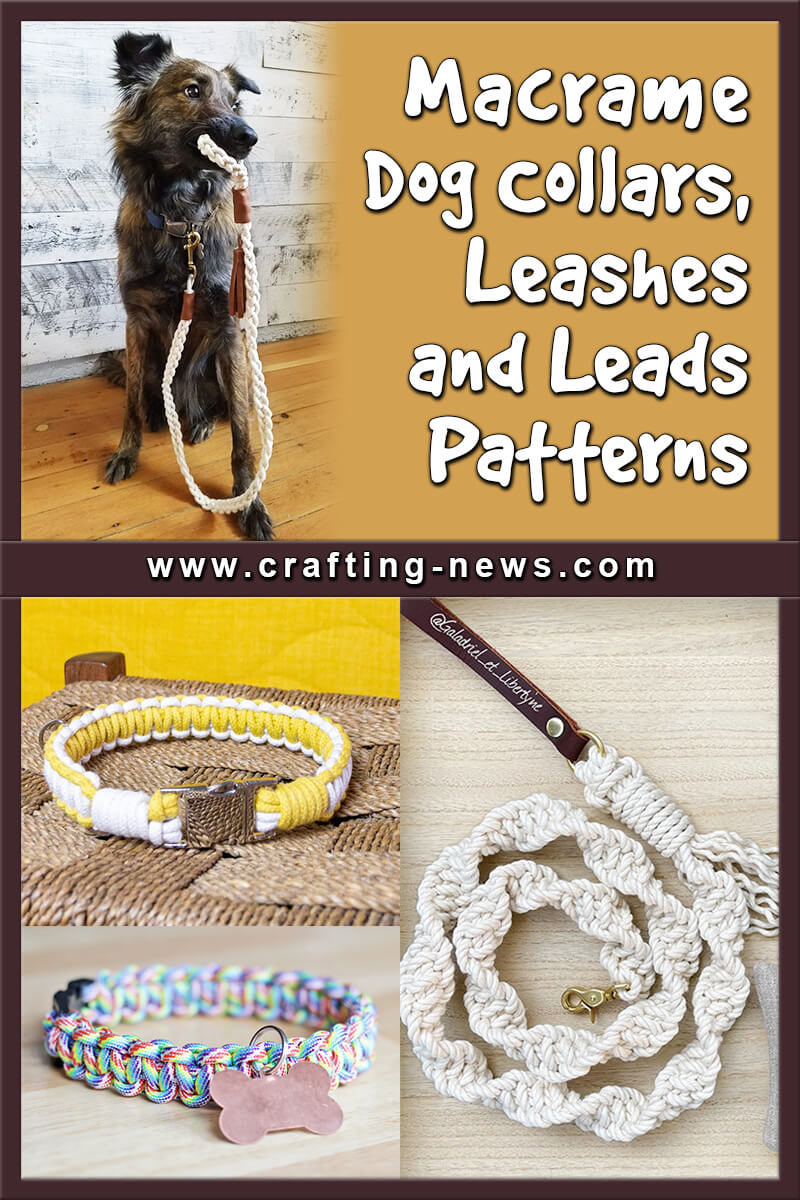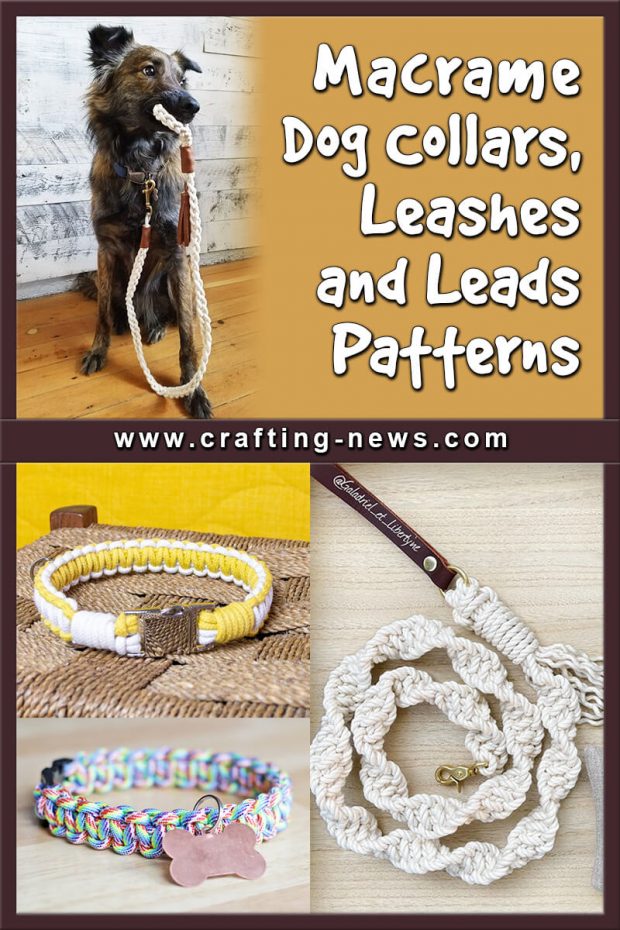 When it comes to life with a dog by your side, a collar and leash are absolute must-haves. From keeping your four-footer safe during neighborhood strolls to holding his identification tags, these accessories fulfill many critical roles. Check out these snazzy sets and see what style fits your floof!

1. Macrame Dog Collar Pattern by Jenny Lemons
In this tutorial, you will learn how to make a dog collar using macrame techniques. All it takes is some rope, hardware, and a few simple knots! This is a great beginners project, whether you're making it for your pet or as a gift for a dog lover.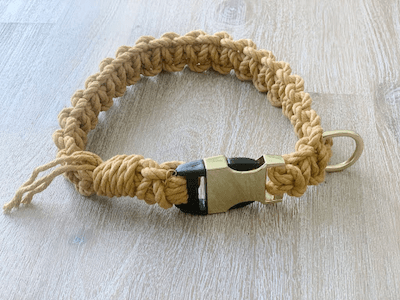 Get the Pattern here
2. Macrame Rainbow Paracord Dog Collar by Hands Occupied
Paracord is an ideal material for macrame due to its durability. Time to explore with some colors and make the collar a vibrant one. You can use some keyrings to attach your dog tag to the collar.

You can also make a bracelet using the same technique, so even if you don't have a brooding teen or a dog to craft for, you can do this project too.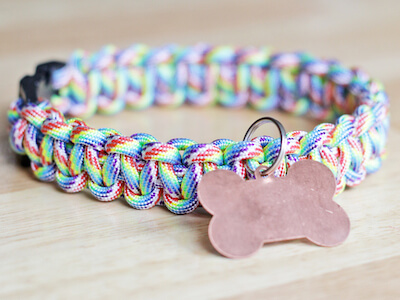 Get the Pattern here
3. Macrame Dog Leash by Cuteness
Design your very own dog leash for a fraction of the store-bought price and learn some handy knot-tying techniques in the process. Woven with paracord, this macramé leash is super strong and — dare, we say — also super cute.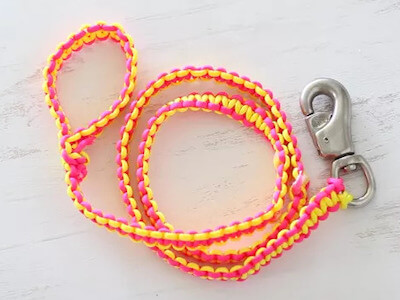 Get the Pattern here
4. Macrame Dog Leash Pattern by Pelote Et Compagnie
Have you ever wanted to customize your dog's leash? With this macrame pattern, not only can you choose your favorite color, you can customize the length and thickness of the leash. Make a shorter leash for tall dogs, or a longer leash to let your dog roam.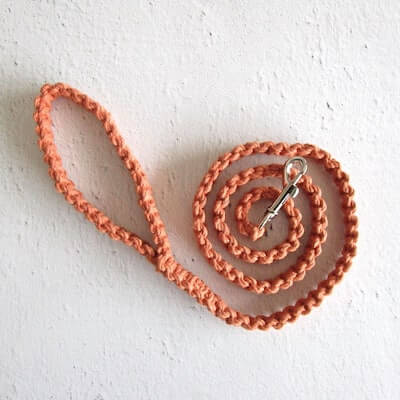 Get the Pattern by Pelote Et Compagnie here
5. DIY Macrame Dog Collar by Knot Calm
This simple DIY dog collar is a great project for beginner and advanced crafters alike! Your dog will love this collar, which can be made out of macrame cord or paracord. The collar also has a loop attached so you have somewhere to attach a dog leash.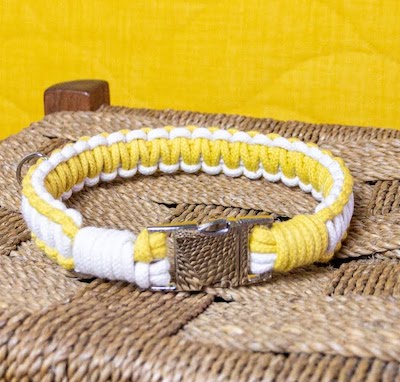 Follow the tutorial here
6. DIY Macrame Braided Rope Dog Leash by Lia Griffith
How cute would it be to create a custom leash for your dog? You can use this leash for anything, whether it's for a special occasion or just for the day-to-day. Start by creating the braided rope, then give it some added flair in any way you like.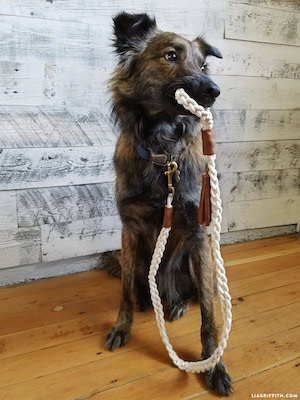 Get the Pattern here
7. Macrame Dog Collar Tutorial by Bochiknot Macrame
Macrame Dog collars make a cute accessory for our little fur friends. This dog collar is made with a V-shaped Double Half Hitch knot pattern.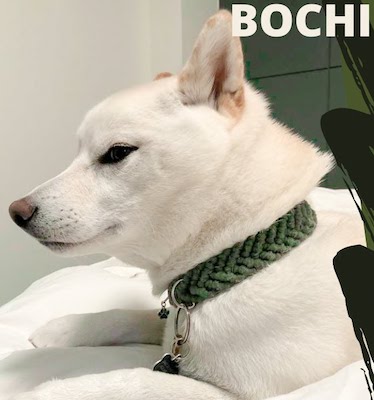 Follow the tutorial here
8. Macrame Dog Lead Tutorial by Oh So Hygge
Learn how to make a DIY Macrame dog leash for your dog following this easy tutorial. This Macrame dog leash is perfect for beginners as it only uses one knot type (square knot).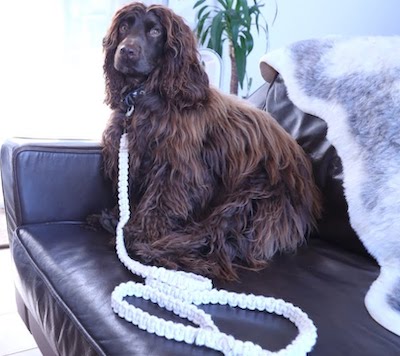 Follow the tutorial here
9. DIY Macrame Dog Leash by Knot Calm
This simple DIY dog lead is a great beginner project to make for your pet! It can be made out of macrame cord or paracord. The leash also has a loop attached so you have somewhere to attach accessories or a bag holder. These leads are very strong and durable, and can be made in any size you like.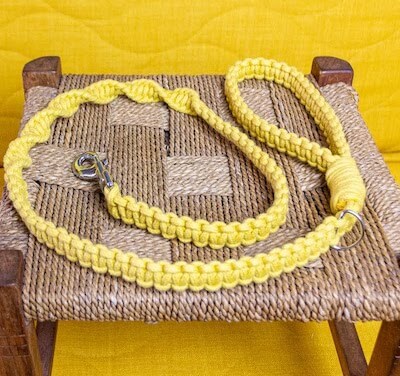 Follow the tutorial here
10. Macrame Dog Leash DIY Kit by Jenny Lemons
Get ready to have lots of compliments on your new leash! Super durable and strong, pretty and unique Macrame Dog Leash with Leather Handle for your favorite Fur Baby. You won't be able to take your doggie anywhere without having someone ask about your leash!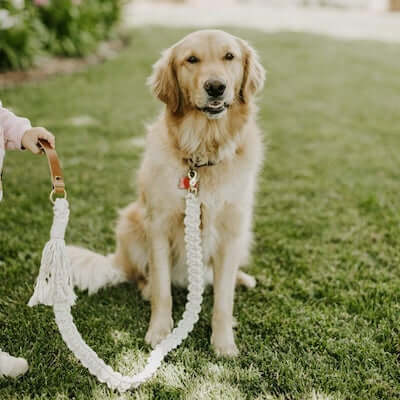 11. Macrame Color Block Dog Collar from Dreamin Bohemian Co
Who says doggos can't be stylish too? Spoil your baby with a soft, bohemian inspired macrame dog collar. This hand knotted dog collar brings Modern to Macrame with clean lines and a color block design.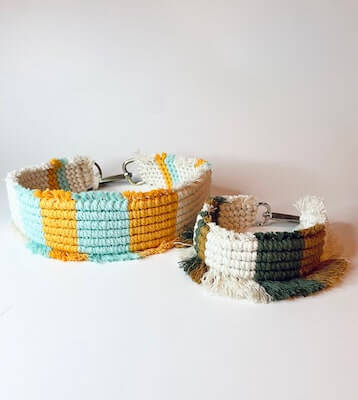 Buy this from Dreamin Bohemian Co here
12. Macrame Square Dog Collar from Ludilun Makery
A handmade macrame dog collar in gorgeous daisy pattern! Treat your favourite furry friend to a bespoke collar that reflects their individual style. Made with quality silver slide buckle and strong D ring for attaching their name tag and lead.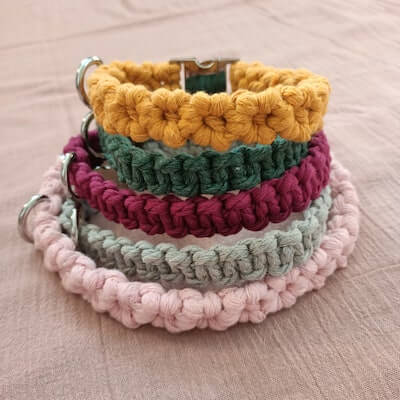 Buy this from Ludilun Makery here
13. Queenly Macrame Dog Leash by Meggs Macrame
You and your furry friend are sure to stand out while taking a stroll using this uniquely handmade macrame dog leash. Perfect for both male and female pets as these colors are unisex. You can customize the length to 4ft for more control of your fur baby or 6ft to allow a little more freedom.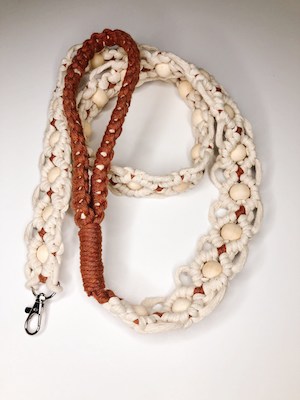 Buy this from Meggs Macrame here
14. Macrame Dog Bandala Collar With Fringe from Knotty Little Willow
This is an adorable macrame bandana for dogs! This is a cute dog accessory for taking your dog out on the town, for photoshoots and even for those pups lucky enough to be in a wedding!

This doggy bandana simply ties on around a dog's neck, making it adjustable for pups of all sizes! The tying string is braided, making it easy to take on and off. It could also be wrapped around a collar to keep the bandana from sliding around. This bandana can be worn in the front, or down the dog's back.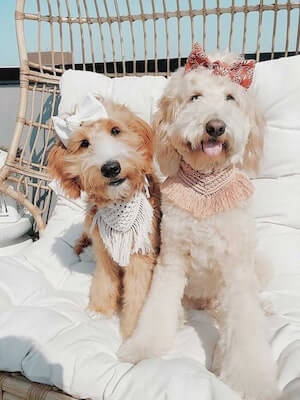 Buy this from Knotty Little Willow here
15. Macrame Woven Dog Leash from Galadriel Et Libertyne
The perfect leash for daily walks, but also for exceptional events, weddings or family photos!

The quadruple rope braided by hand according to the particular technique of macramé makes this leash very strong and robust, while remaining light and comfortable to carry. The leather handle slips easily on your wrist for hands-free walking.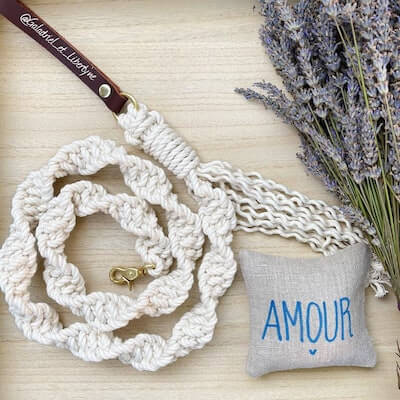 Buy this from Galadriel Et Libertyne here
WRAPPING UP OUR TOP PICKS FOR MACRAME DOG COLLARS, LEASHES, AND LEADS TO OUTFIT DOGS OF ALL AGES.
We love seeing how these projects can inspire you, so please share your project photos on our Facebook Page. For more projects that you can make for your pets, check out our collection of dog sweaters, dog hats, dog toys and Dog Quilt Patterns,
Whether you buy ready-made or want it handmade by yourself, we hope you liked these macrame dog collars we much as we did!