Are you looking for a way to add texture to your decor? How about a macrame rug? Rugs are useful for protecting your flooring, and they add style to your room. They can be used in your entryway, kitchen, living area, bedroom, or bathroom.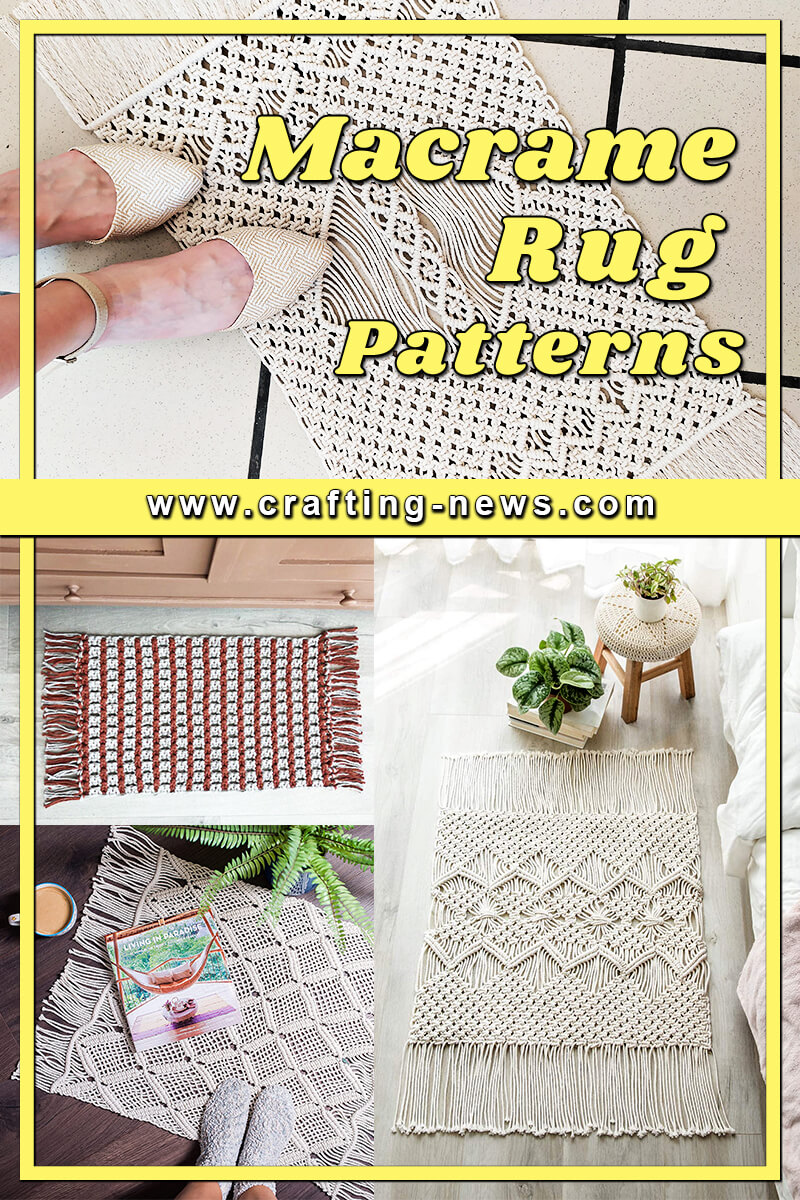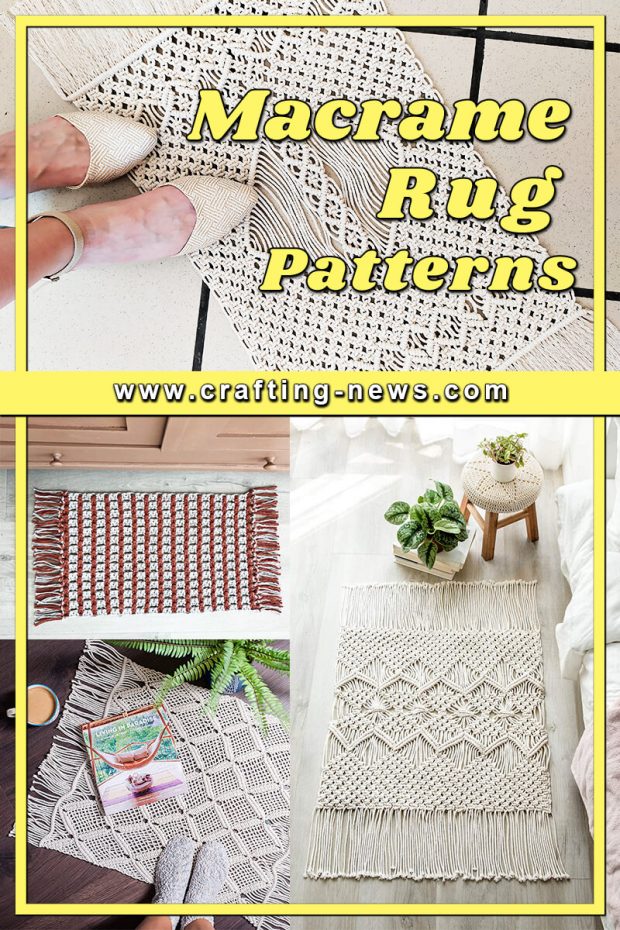 Below are 20 amazing macrame rugs. We have included both products and patterns. So, if you want to get crafty, check out the 9 DIY macrame rug tutorials listed directly below.
If you are looking for a premade macrame rug, scroll down. We are positive we have included a rug that will look incredible in your home.
1. DIY Round Mandala Macrame Rug Pattern by RopeInKnot
If you have patience, you can create this wonderful round macrame rug. It is a stunning piece that will attract the attention of everyone that enters your home. And you can be proud and tell them you made it yourself.
Even though this rug looks intricate and intimidating, it is for beginners. The DIY macrame rug pattern uses no complicated names of knots or incomprehensible pictures.
The tutorial is a video that will show you how each element is performed and how long the thread should be cut. The finished rug size is 35.83 inches (91 cm).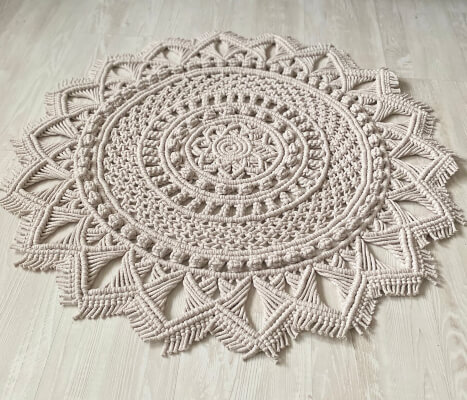 Find the Pattern by RopeInKnot HERE
2. Macrame Rug Pattern by ThisIsSuzy
This is a step-by-step tutorial for making a two-toned rug. It is the perfect little rug for adding accent, colour, and texture to a room. The pattern includes step-by-step photos, an explanation of the knots used, and a supplies list. The completed DIY macrame rug will measure approximately 16.93 inches (43 cm) x 32.28 inches (82 cm).
However, the tutorial can be easily adapted to create a different size. The pattern is available in English, Dutch, French, German, and Spanish.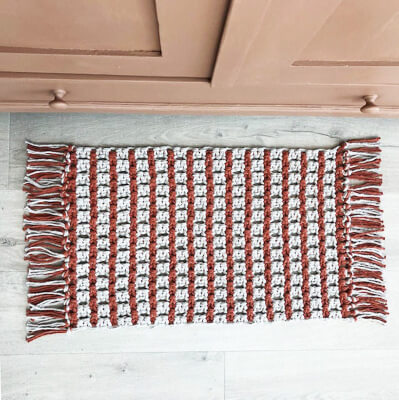 Find the Pattern by ThisIsSuzy HERE
3. Modern Welcome Home Accent Macrame Rug Pattern by Emily Katz
Check out this free DIY macrame rug tutorial if you are looking to make an entrance mat or accent rug. It is a cute little rug with lots of fringe. To make this rug, you will need to have previous knowledge of creating macrame knots. There are a few helpful pictures, but the knots are not explained.
You will need to know the Lark's head knot, square knot, alternating rows of square knots, and horizontal double half hitch. The finished size is 22 inches (55.88 cm) wide x 28 inches (71.12 cm) long, with 7 inches (17.78 cm) of fringe on each end.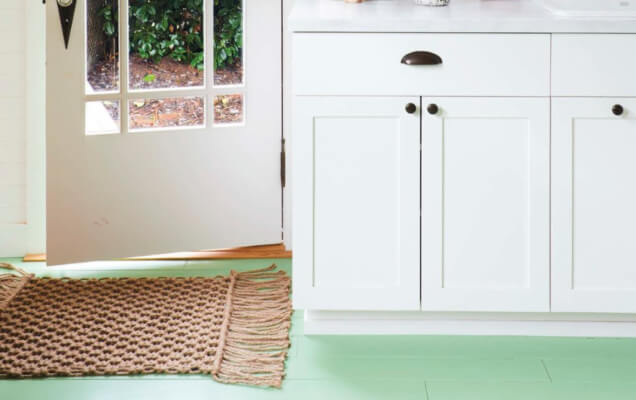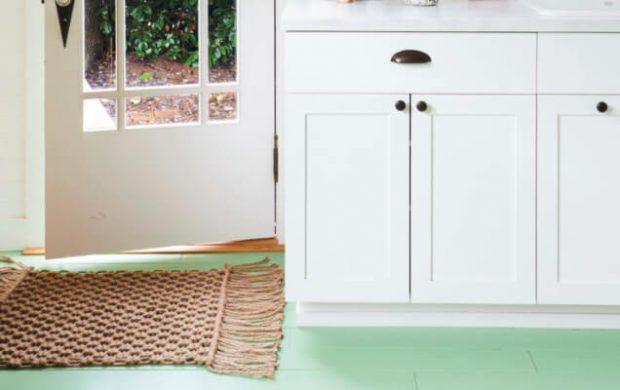 Find the Tutorial by Emily Katz HERE
4. How to Make a Bohemian DIY Macrame Rug by eliscety
Here is another free DIY macrame mug tutorial. The rug is decorative and would look great in a home decorated in Boho chic decor.
This tutorial includes both written instruction and video instructions. The completed rug will measure about 15.75 inches (40 cm) wide x 33.46 inches (85 cm) long, including the fringe, depending on the cord size you use.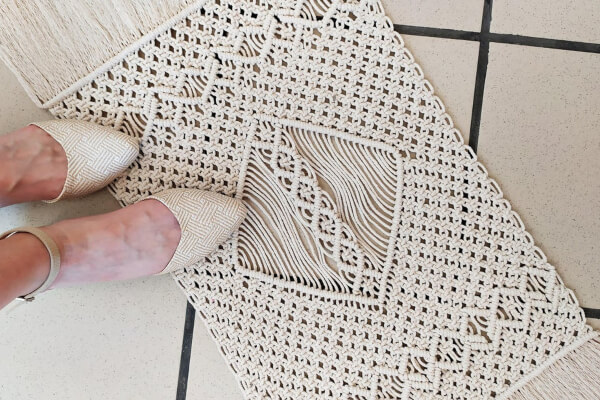 Find the Tutorial by eliscety HERE
5. Modern Macrame Rug Tutorial by VilaVera
Are you looking for a chunky rug? With this video tutorial, you will be able to make this rug quickly and easily. Everyone will want one of these rugs. This DIY macrame rug would look adorable in a nursery.
This tutorial will make a 23.5 inch (60 cm) x 23.5 inch (60 cm) rug. For this size of rug, you will need 1000 feet (305 m) of 5 mm cotton cord.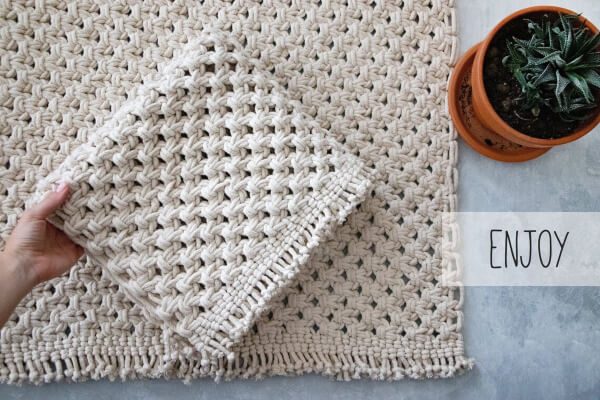 Find the Tutorial by VilaVera HERE
6. Patroon Macrame Rug Pattern by Vleugjegroen
Do you want to add some color to your bathroom? This diamond patterned rug would be a good choice. It has a tight know that is ideal for keeping water from damaging your floor.
This DIY macrame rug pattern is only available in Dutch. You will need previous macrame knowledge to complete the rug. Finished, with the fringe, it will measure approximately 22.83 inches (58 cm) wide and 45.28 inches (115 cm) high.
Find the Tutorial by Vleugjegroen HERE
7. DIY Macrame Rug Tutorial by Gray Wonders
Do you like video tutorials? This one is well done, easy to follow, and free! You could use this rug as an entry mat or as a kitchen sink rug. The pattern is simple to complete and only uses square knots and double hitch knots. You will need 5 mm single twisted cotton rope cut into 36 pieces 23 feet (7 m) long.
Find the Tutorial by Gray Wonders HERE
8. DIY Macrame Rug Tutorial by Made in May
Are you searching for a lacy rug to add interest to a room? This one is beautiful and perfect for an elegant, feminine room.To make this rug you will need 5 mm braided rope, wood glue, and a bodkin. The step-by-step video will walk you through the whole process.
Find the Tutorial by Made in May HERE
9. Dye Macrame Rug Step by Step Tutorial by Lory Lory
Here is another DIY macrame rug tutorial that creates a rug that would be perfect for an entryway. The large side knots and fringe give this rug a lot of visual interest.
A beginner macrame artist will be able to complete this lovely rug. The rug is made using 5 mm 3 strand twisted cotton rope. The completed rug will measure about 40.55 inches (103 cm) wide x 21.30 inches (54 cm) tall.
Find the Tutorial by Lory Lory HERE
11 Premade Macrame Rugs
Do not fret if you do not have the time to make your own DIY macrame rug. Below are 11 macrame premade rugs. All these rugs are beautiful and would add texture and visual interest to your home.
1. Hand-knotted Accent Macrame Rug from Dyeode
Here is a beautiful hand-knotted macrame accent rug. It is made from 100% cotton thread and is available in a natural un-dyed cream colour. You can use it indoors as well as outdoors. It is elegant, durable, and portable. There are 7 sizes to choose from.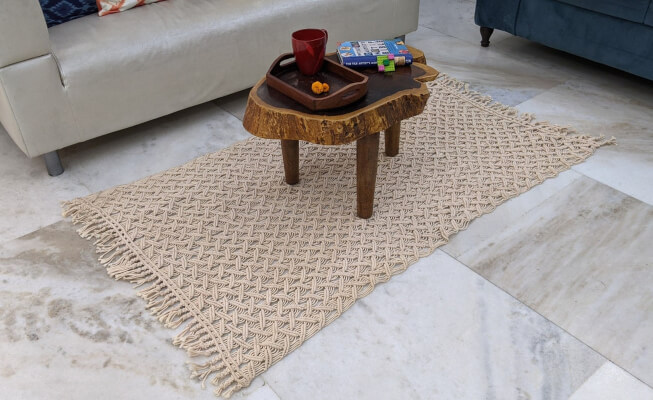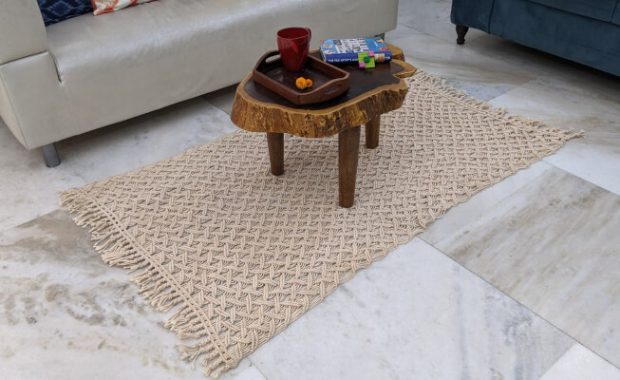 2. Macrame Rug from LakynsLullaby
This rug is a perfect accent for your entryway or bathroom. The rug is 26 inches (66.04 cm) long x 18 inches (45.72 cm) wide.
With the fringe, it is 36 inches (91.44 cm) long. If you like the design of the rug and are interested in a different size, you can contact the seller.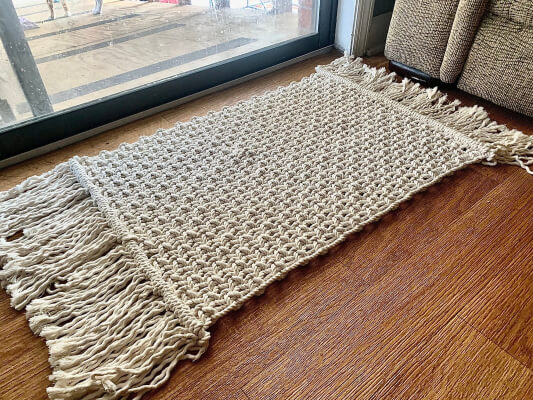 Find the rug from LakynsLullaby HERE
3. Macrame Floor Rug from MaisonMacrame
Add this beautiful rug to your home to add an interesting Bohemian touch and natural feel. This large, gorgeous rug is handmade using emerald green 5 mm cotton cord. The pattern of the rug includes multiple rows of leaves and tassels. The rug measures 59 inches (149.86 cm) long x 39.4 inches (100.08 cm) wide.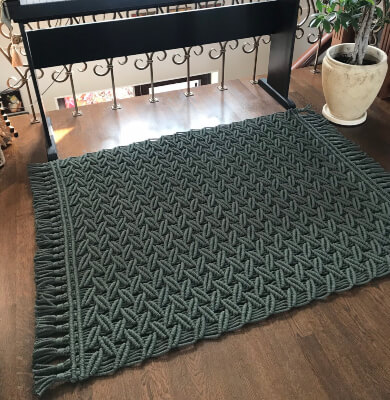 Find the Rug from MaisonMacrame HERE
4. Knotted Cotton Rectangular Rug from the EssentialKnot
This beautiful knotted rug is designed to fit with any decor and add cosiness to your home. It is made from 100% cotton cord and would make a great housewarming gift. There are 4 sizes to choose from and 11 colour options.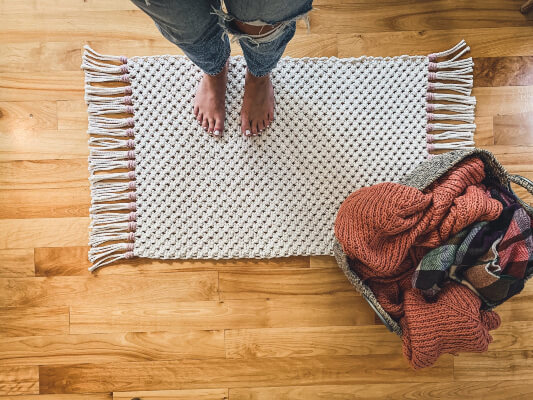 Find the Rug from the EssentialKnot HERE
5. Mkono Macrame Rug with Tassels
Use this thin throw rug to add a boho style vibe. It would look great in a bedroom or reading room. It is water-absorbent, breathable, and durable enough for everyday use. The rug is machine and hand washable.
The bottom of the rug has a thin mesh liner. The rug measures 35 inches (88.9 cm) long x 24 inches (60.96 cm) wide.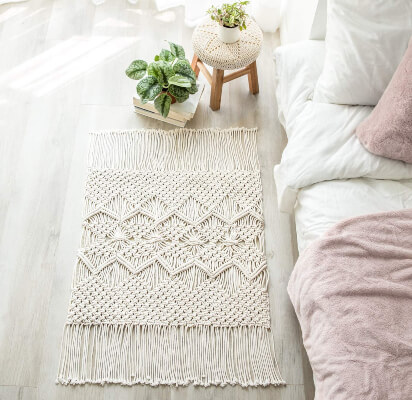 6. SnugLife Macrame Rug with Tassels
The small boho rug is handmade from high quality cotton. It is thick, durable, and will not fade or pill. It is the perfect size throw rug for any high traffic spaces. The rug measures 36 inches (91.44 cm) wide x 24 inches (60.96 cm) high. It is soft beige in colour.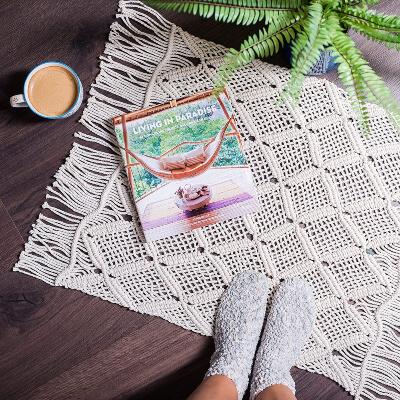 7. Macrame Floor Runner from DesignerStuffCA
You can use this macrame runner as a bedspread, tablet spread, or a floor runner. It is a 100% handmade product. The runner measures 88 inches (223.52 cm) long x 20 inches (50.8 cm) wide. The fingers are 4 inches long.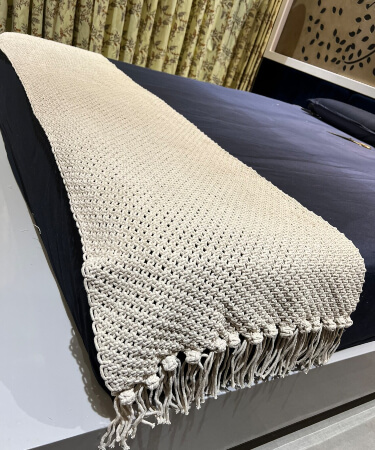 Find the Rug from DesignerStuffCA HERE
8. Hand-knotted Macramé Accent Rug from Dyeode
This beautiful hand-knotted macrame accent rug has an intricate twisted cable pattern. It is white in colour which allows it to work well in any room in your home. It can also be used outdoors on your patio. There are 7 different sizes to choose from.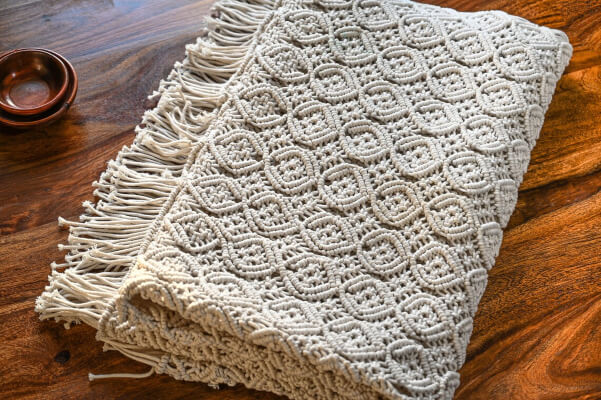 9. Handmade Macramé Rug from NileFingers
This lovely macrame rug was designed to work well in any area of your home. It has a unique, intricate pattern. This handmade rug would make a great Mother's Day or house warming gift. It is off-white in colour. The dimension are 30.71 inches (78 cm) wide x 38.58 inches (98 cm) high.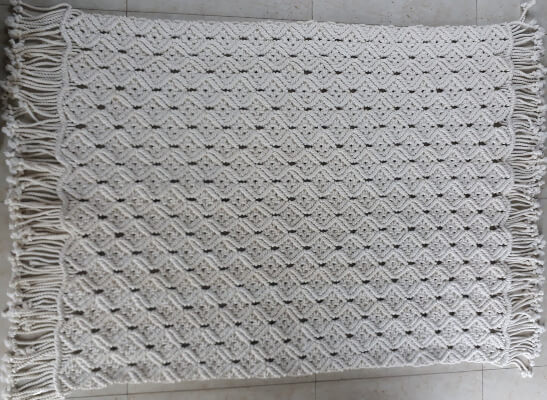 Find the Rug from NileFingers HERE
10. Bohemian Macrame Rug from MoodsnMeditation
Are you looking to add a pop of colour to your kitchen, bathroom, or entryway? This macrame rug really stands out. The rug is made with 4 mm 100% soft cotton cord in the colour raspberry. It can be hand washed in cold water and left to air dry.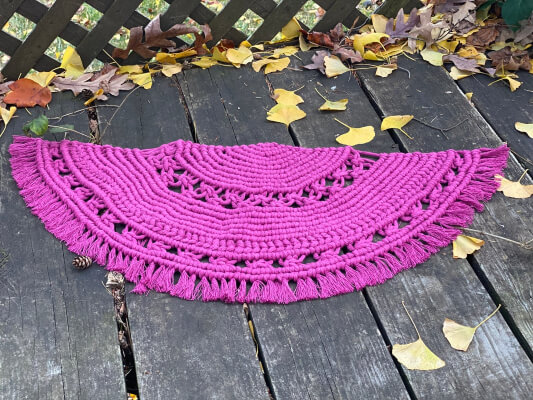 Find the Rug from MoodsnMeditation HERE
11. Handmade Round Macrame Rug from NileFingers
This lovely piece was designed to add class to any living room, bedroom, home entrance, and reception area. It is a beautiful handmade rug that is made from an off-white cotton cord. The diameter of the macrame rug (including the tassels) is 43.31 inches.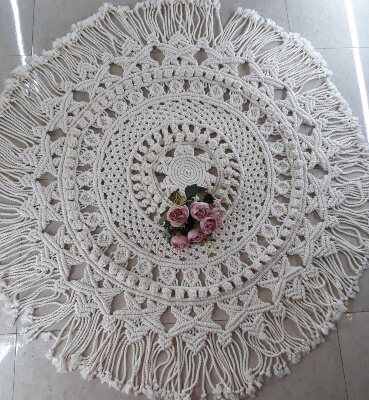 Find the Rug from NileFingers HERE
Rugs are important for protecting your floors. Instead of using an everyday throw rug, add texture and interest with a macrame rug.
Do you love the look of macrame as much as we do? One way you can add macrame to your home decor is with a macrame rug. There are many benefits of using a rug in your home. They add comfort, reduce noise, add warmth, and protect flooring.
Once you make one of these patterns post your creations on our Facebook page. For More macrame goodness, check out our Macrame room divider, macrame rainbows, fruit hammok, Hat Hangers and more here.
You can either knot your own rug or purchase a premade rug. Whatever decision you choose, you will love the way a macrame rug adds depth and texture to your home.