Macrame hat hangers are a great way to add interest to your wall and store your hats. Most hat slings can fit any type of hat from a sunhat, Fedora, to a cowboy hat. They install effortlessly and look amazing.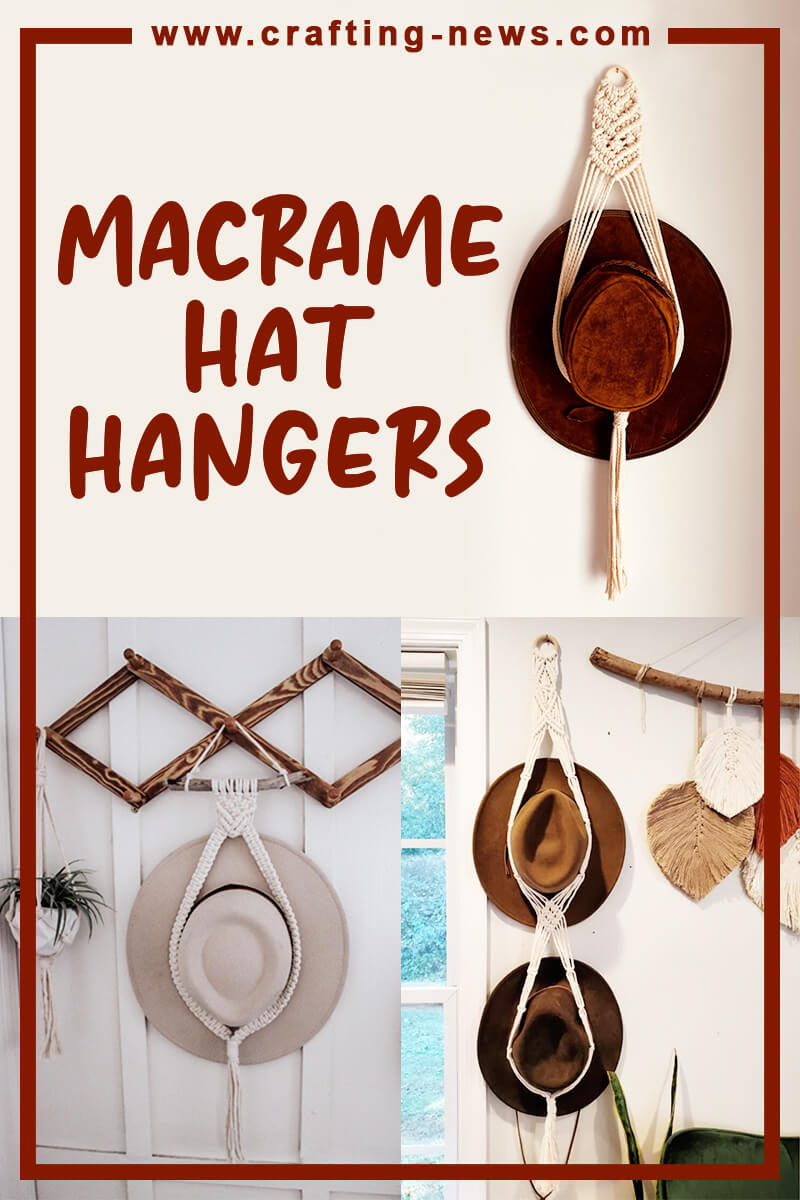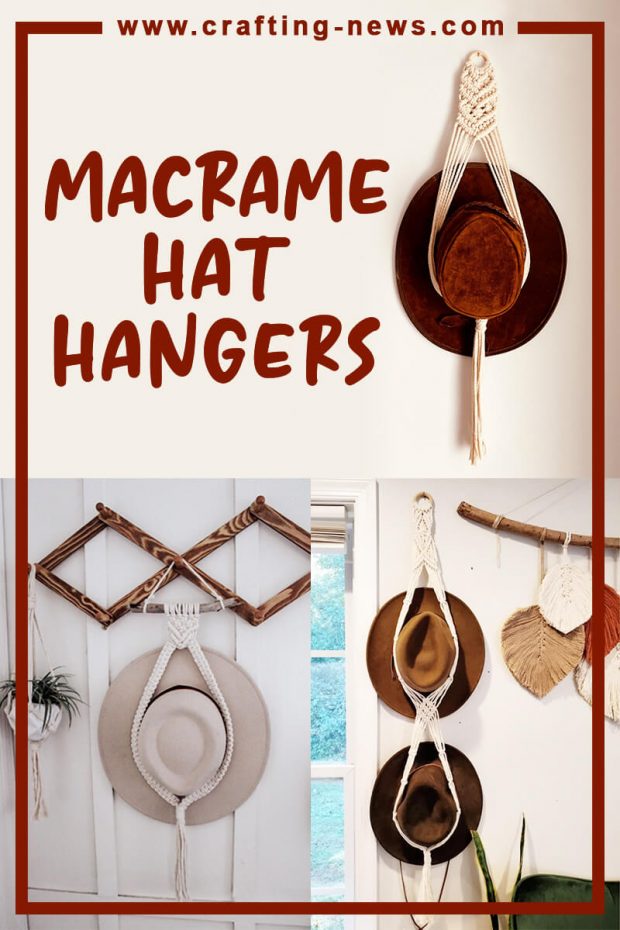 5 Macrame Hat Hanger DIY Patterns
Below are some simple DIY macrame hat hangers and premade hangers. No matter if you want to get crafty and make your own wall hanging or support a handmade artist. There are several designs, styles, and colours you can choose from to spotlight your favourite hats.
1. DIY Macrame Hat Holder Pattern by PapuShoiPATTERNS
The macrame hat hanger joins a simple and modern style to produce a beautiful wall hanging decoration. The DIY macrame hat hanger tutorial is easy to follow and can be completed by a beginner.
The macrame PDF pattern includes step-by-step instructions and a knot guide. For this project, you need 29 feet 6 inches (9 m) of cotton 5 mm 3 strand rope, a wooden ring, scissors, and a measuring tape. The finished hat hanger will measure approximately 2 feet 9 inches (85 cm) long.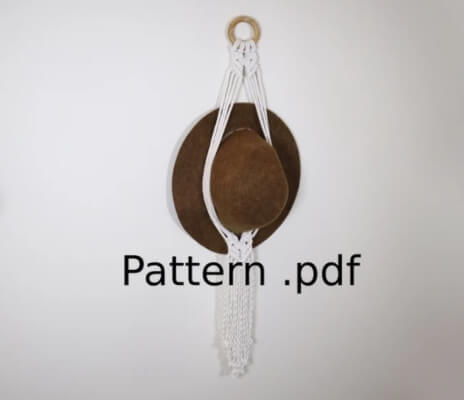 Find the Tutorial by PapuShoiPATTERNS HERE
2. Macrame Hat Hanger Pattern by Nottandtwine
Make your very own hat hanger with this DIY macrame tutorial. The hanger has a long strap and holds one hat. It is the ideal size for an entryway or an RV. This very detailed pattern is written and includes step-by-step instructions with high quality picture guides. You will need about 25-30 meters of 4-4.5 mm cotton rope and a craft ring.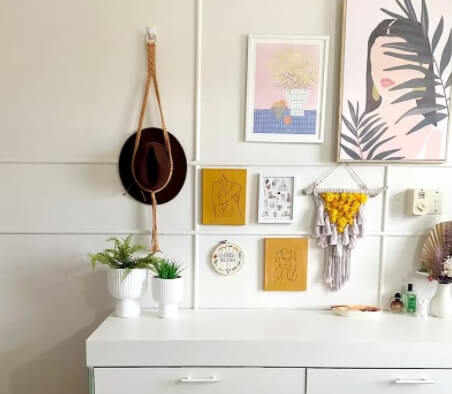 Find the Tutorial by nottandtwine HERE
3. Simple Macrame Hat Hanger Tutorial | DIY Hat Organizer | Double Half Hitch
Here is a gorgeous DIY macrame hat hanger. It has an intricate pattern that will add texture and design to your wall.
This free DIY macrame tutorial will walk you through creating the basic pattern. Then you just repeat the process until you get 7 pairs. Once you have the top section complete, finishing the end off is easy.
Find the Pattern by Habit Made HERE
4. Easy 5 Minute Macrame Hat Hanger Tutorial
This is a fun and straightforward DIY macrame project for beginners. The video tutorial will teach you to make macrame hat hangers using one basic macrame knot, the square knot. To make this boho chic hat hanger, you will need 4 mm single strand rope and a dowel or piece of driftwood.
Find the Tutorial by Summer Macrame HERE
5. Super Easy DIY Macrame Hat Hangers Pattern for Beginners by Marloes Ratten
Here's a 4-minute video tutorial that shows you the basic steps for creating macrame hat hangers. It also has a few written instructions. To make a simple, basic macrame hat hanger you will need 3 mm 3-ply cords, 1 small wooden ring, and your favorite hat.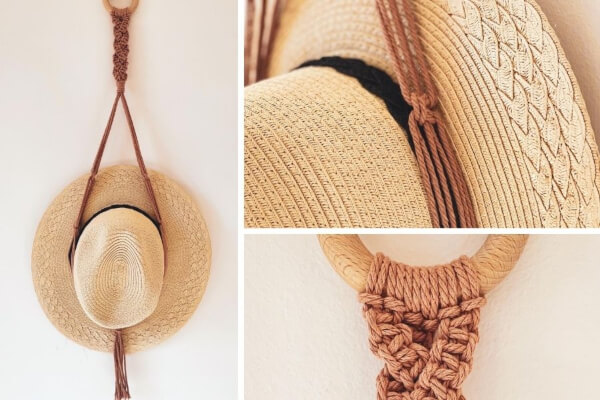 Find the Tutorial by Marloes Ratten HERE
5 Premade Macrame Hat Hangers
DIY macrame hat hangers are fun to make and perfect for displaying your hats. But sometimes, we do not have the time to spend.
If you love these macrame hat hangers as much as we do, and do not want to make your own, that is fine with us. There are plenty of gorgeous handmade macrame hat hangers that are just waiting to be added to your home.
1. Macrame Hat Hanger – The 'Adele' by WovenGiftsByMadison
This stylish macrame hat hanger is perfect for small spaces. It is a great storage solution that is both practical and stylish. The hanger would add a touch of boho chic style to your entryway or bedroom. It also makes a great gift idea for anyone that loves hats.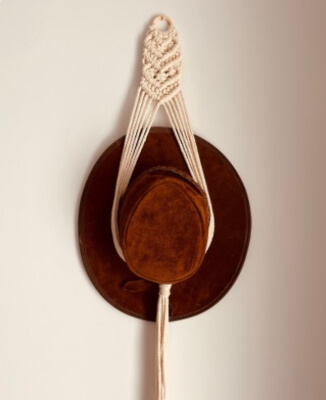 Find the Macrame Hat Hanger by WovenGiftsByMadison HERE
2. Macrame Hat Holder by Threadlocs
Are you looking for a way to add visual interest and colour to your room? Check out this handmade hat hanger. It is available in 24 different colours and 12 styles. There is certainly a macrame hat hanger that will be perfect for your needs.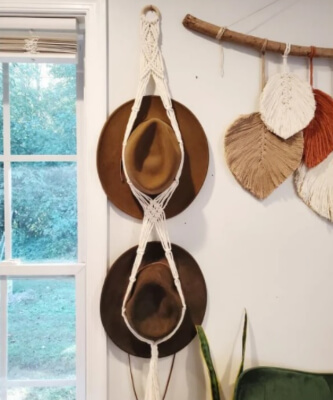 Find the Macrame Hat Hanger by Threadlocs HERE
3. Farmhouse Macrame Hat Holder by LahaCorner
Do you have a lot of hats you are wanting to display? This stylish hanger can be purchased for 1, 2, 3, 4, or 5 hats! And you can select between 25 colours.
The length of the hanger will vary depending on the number of hat slots. The one hat option measures about 29 inches (73.66 cm) long. The 5 hat option is approximately 85 inches (215.9 cm) long.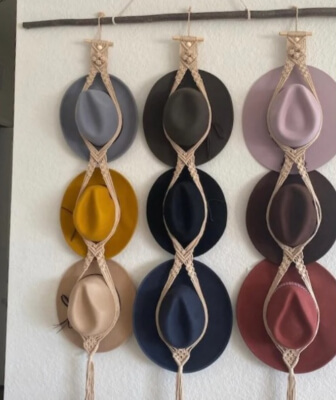 Find the Macrame Hat Hanger by LahaCorner HERE
4. Macrame Hat Holder by OlivetCo
This boho macrame hat hanger was designed on a beautiful piece of driftwood. The double hanger measures approximately 9 inches (22.86 cm) wide by 41 inches (10.14 cm) long with hats inserted. The single hat holder measures about 9 inches (22.86 cm) wide by 29 inches (73.66 cm) long with the hat inserted.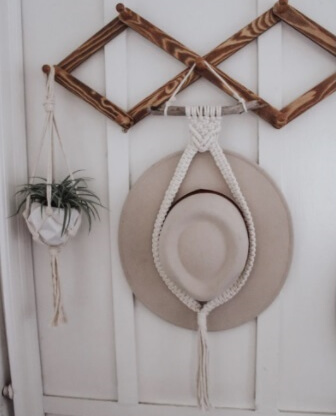 Find the Macrame Hat Hanger by OlivetCo HERE
5. Boater Macrame Hat Holder by CapuchinoDeMatcha
These macrame hat hangers are absolutely stunning. They are made from cotton cord in your choice of color. There are 27 gorgeous colors to select from.
There are 3 styles to choose from. Including the tassel, the single hat sling measures approximately 29 inches (73.66 cm) long, the double is 35 inches (88.9 cm) long, and the triple is 59 inches (149.86 cm) long.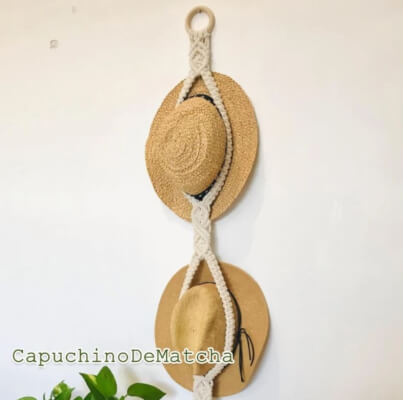 ind the macrame Hat Hanger by CapuchinoDeMatcha HERE
Macrame hat hangers are perfect for adding a touch of elegance to your room or hallway.
Are you searching for a unique way to display your favourite headwear? How about a hat hanger? Macrame hat hangers are beautiful, and they will add a boho chic touch wherever they are displayed.
We have a lot more fun macrame projects for you. Be sure to also check our Macrame Tote Bag Patterns, Macrame Rainbow Patterns, Macrame Moon Patterns, Macrame Necklace Patterns, Macrame Feather Patterns, Macrame Tree of Life Patterns and a lot more here.
Now, make one of these macrame hat hangers and display your favorite hats.