Are you interested in making a mens coat? Do you feel overwhelmed by the whole process? There is no need to be. There are mens coat patterns for all skill levels. You can make a coat even if you are a beginner. And once you do, you will never want to buy a coat at a store again.

17 Mens Coat Patterns
Below are 17 mens coat patterns. I have included a wide range of patterns from lightweight jackets to heavy winter coats.
1. Forester Mens Coat Pattern
by twigandtale
The Forester coat is a stylish jacket that is perfect for all occasions. It has a comfortable, beautiful fit. The coat can be made with a zipper or button closure. It has the option of a detachable hood. This pattern is fairly easy to sew. It can be completed by an adventurous beginner. The download includes video guides for every step.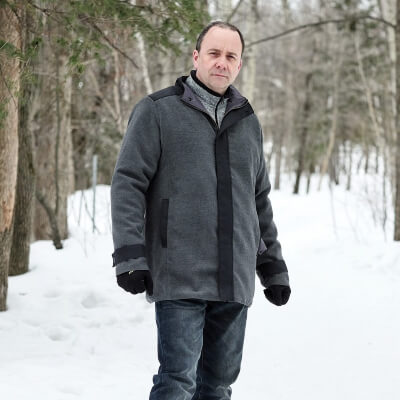 Find the Pattern by twigandtale Here
2. Mens Coat Sewing Pattern
by Joy Patterns
Your man will look dapper wearing this winter coat. The length of the coat is designed to end right around the knees. It has a 3 button closure and button accents on the sleeves. This pattern is for size EU56. However, the designer has additional sizes to choose from. The pattern is very easy to use.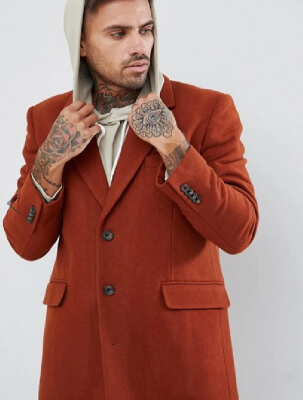 Find the Pattern by JOYPATTERNS Here
3. The Dean Jacket Free MensSwear

Sewing Pattern by Mood Sewciety

The Dean Jacket is ideal for chilly spring and autumn days. It features a timeless design that never goes out of style. It has a button down front and a high neck.

This free mens coat pattern can be made using a variety of fabric types. Use simple solid canvas or twill for a classic look or get have fun and use a vibrant, colourful jacquard.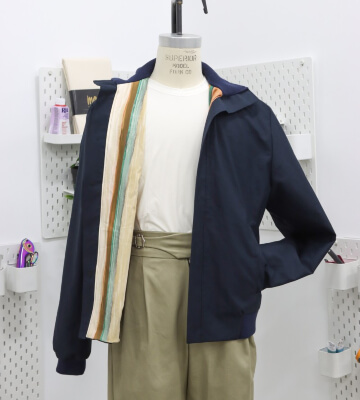 Find the Pattern by Mood Sewciety Here
4.

Akerfeldt Mens Coat Sewing Pattern by ElbeTextiles

The Akerfeldt Coat is a no frills mens coat pattern. It is unlined with a boxy fit. The inside is neatly finished with flat felled seams and facings. There are 4 pockets: two on the chest and 2 on the hips. You get to choose between a collar or a hood.

The designer suggests using mid to heavy weight outerwear fabrics. They recommend canvas, oil cloth, rigid denim, corduroy, or duck cotton.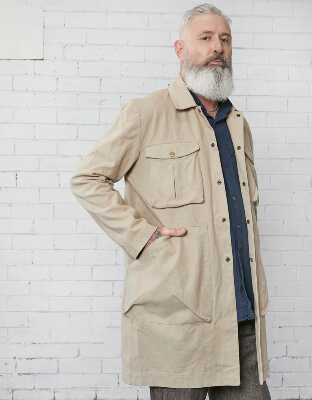 Find the Pattern by ElbeTextiles Here
5. Men's Outdoor Jacket Sewing Pattern by WardrobeByMe
This mens utility jacket has a military-style. It features a front zipper and a buttoned wind guard. There are several pockets and an adjustable pull cord waist casing. The body of the coat is lined. The sleeves are unlined.
This is an advanced level sewing project. The jacket is intended as all-weather when made with woven fabric. Included are sizes 2XS to 4 XL.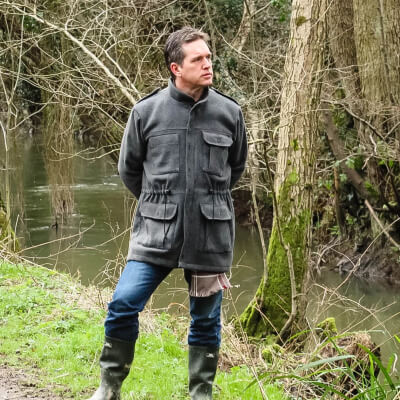 Find the Pattern by WardrobeByMe Here
6. Bomber Coat Sewing Pattern by rebeccajpage
Here is a mens coat pattern suitable for an advanced beginner. The bomber jacket has a sporty casual style. It features a zip front and raglan sleeves with an elasticated hem and cuffs. There are optional welt pockets. Included with this mens coat pattern is a step-by-step tutorial. The pattern is for men's sizes XXS to 4XL.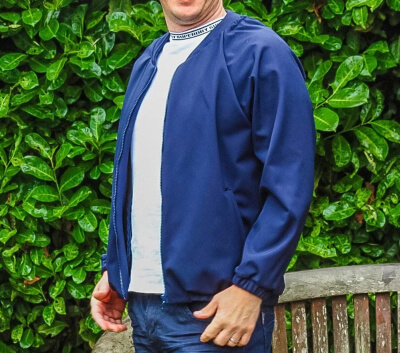 Find the Pattern by rebeccajpage Here
7. Club Jacket Mens Coat Sewing Pattern by Weekend Designer
Follow along with this free tutorial to learn how to create a customised mens coat pattern. The design of this coat uses colour-blocking which is extremely popular. You can choose contrasting colours from opposite ends of the colour wheel, or use black or white as one of the colours.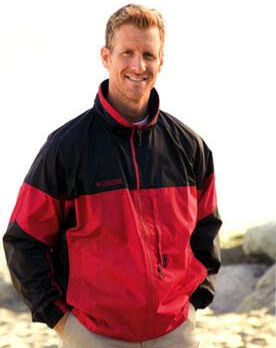 Find the Pattern by Weekend Designer Here
8. Utility Jacket Pattern by WafflePatterns
This utility jacket has a regular fit for ultimate comfort. There is a zipper opening with plackets, a detachable hood, customizable pocket options, an inside pocket, and 2 vents on the back.
The download includes the mens coat pattern in sizes EUR 44-58 along with full illustrated instructions. The pattern is suitable for advanced level sewers.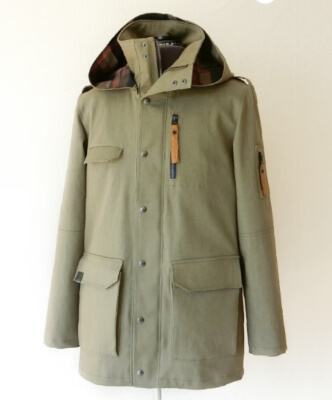 Find the Pattern by WafflePatterns Here
9. Bernard Coat Sewing Pattern
by VikisewsPatterns
The Bernard coat is semi-fitted. It is double-breasted with a straight silhouette. It has a tailored fit that is created by the side panels with princess seams. The front of the coat features two bottom welt pockets and a chest welt pocket. It has 2 buttons on the front and 3 buttons on each sleeve.
The mens coat is fully lined and sits just below the knee. The download includes detailed instructions and photos. This pattern is for US 38. However, it is available in sizes EU 38-EU 54.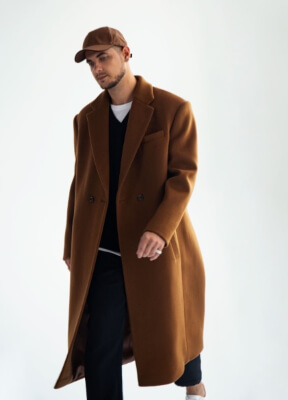 Find the Pattern by VikisewsPatterns Here
10.

The Ilford Jacket Sewing Pattern by SewPurrfectNotions

The Ilford Jacket is a versatile mens coat pattern. It has a simple design that is easily customised. When designing your jacket, choose between the placketed sleeve with a cuff or the easy-to-sew boxy sleeve. There are also a bunch of pocket templates you can mix and match.

You can use this pattern to make a unisex coat. The pattern makes sizes XS – 4X. It is a paper pattern that will be shipped to you.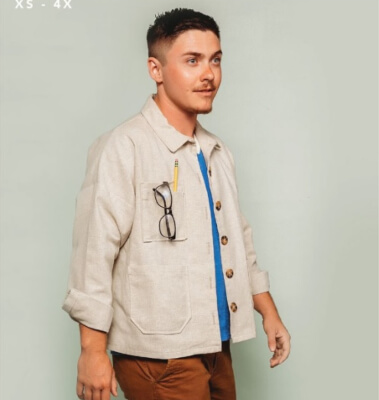 Find the Pattern by SewPurrfectNotions Here
11. Sweatshirt Jacket Pattern by Instructables
Here is a unique mens coat pattern. Instead of cutting out a bunch of single pattern pieces, this one is made from 2 existing sweatshirts of the same size. If you have some old sweatshirts laying around, you can make a jacket in a single afternoon.
Once you have the basics figured out for making this coat, you can add embellishments if you like. You can quilt the fabric, add patches, a zipper, and even buttons.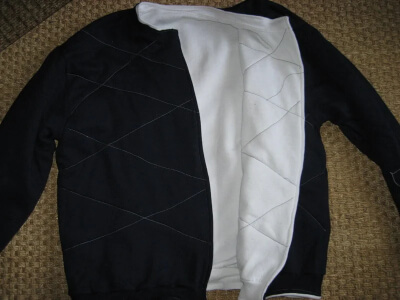 Find the Pattern by Instructables Here
12. Sewing Pattern for Mens Jacket Kaito by DongoDesign
The Kaito jacket was inspired by a Japanese design. The coat is casual and comfortable. It has a contrasting zipper and red band highlighting. It is fully lined with pockets in the side seams.
The mens coat pattern is intended for woven fabrics with an inner lining. The e-book download includes sewing instructions with a lot of photos. This is an intermediate to advanced level sewing pattern.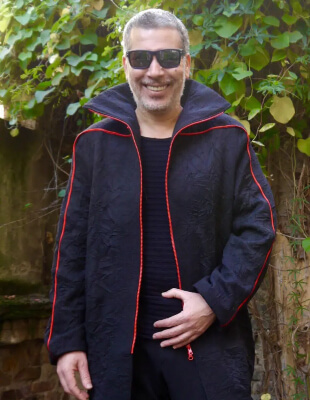 Find the Pattern by DongoDesign Here
13. Reversible Bomber Jacket Sewing Pattern by Mood Sewciety
Are you looking for a free mens coat pattern? Check out the bomber jacket pattern from Mood Sewciety. The jacket is reversible, so you will have a lot of fun picking out your fabric. The unisex pattern includes 9 sizes.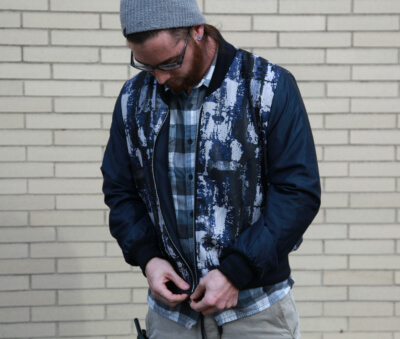 Find the Pattern by Mood Sewciety Here
14. Trench Coat and Cape Digital Sewing Pattern
by GunnarDeatherage
The Hemlock Coat and Cape are ideal for the man with a classic style. This set was inspired by times gone by. It is perfect for winter. The trench coat has optional colour blocking, rain shields, and a tie waist.
Included with the patterns is a full video sewing tutorial. The pattern works great with suiting fabrics, gaberdine, cotton twills, wool wovens, and heavy satin.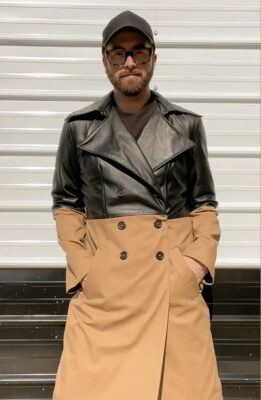 Find the Pattern by GunnarDeatherage Here
15. Men's Overshirt Jacket Sewing Pattern
by WardrobeByMe
Do you know someone that always wears a flannel shirt for a jacket? Surprise them with an actual jacket. The overshirt sewing mens coat pattern was inspired by everyday workwear.
The sewing pattern has a convertible collar, two-pieced cuffed sleeves, and interchangeable pockets. When making the jacket choose a medium-weight woven fabric. This is an intermediate to advanced level sewing pattern.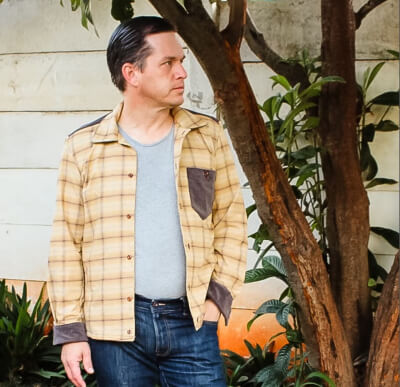 Find the Pattern by WardrobeByMe Here
16. Sewing Instructions for Men's Bomber Jacket
Pattern by Savantpatterns
What man does not love a classic two colour bomber jacket? Now you can sew one using this sewing pattern. It has a vintage style that is extremely popular once again.
The instruction manual is 59 pages long. It has over 80 detailed photographs and illustrations. It is made using complete machining. There is no hand stitching. It is an advanced level bomber jacket sewing pattern.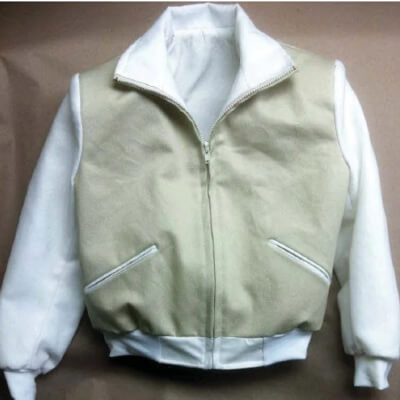 Find the Pattern by Savantpatterns Here
17. Jacket Willhelm Mens Coat Sewing Pattern
by DongoDesign
The Willhelm coat has a casual, comfortable design. It has a button closure and 2 front pockets. Wear it buttoned to keep warm or open for a casual look.
The mens coat pattern is intended for frisked woolen fabrics with an inner lining. The e-book download includes sewing instructions with a lot of photos. This is an advanced beginner to intermediate level sewing pattern.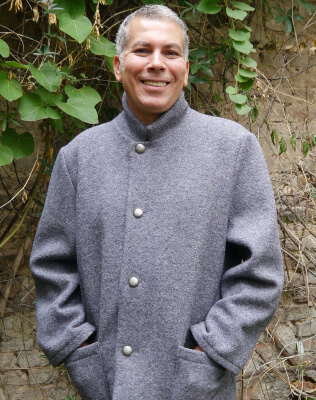 Find the Pattern by DongoDesign Here
If you enjoy sewing and trying new things, give one of these mens coat patterns a try.
Finding a jacket that fits well can be difficult. The shoulders can be too tight. The sleeves are too long. Everyone is different. That is why I love knowing how to sew. If you are interested in learning how to make coats, learn just how easy it is with a mens coat pattern.
If you make one of these patterns, would you mind sharing your finished works with us? Post it on our Facebook Page. We'd love to see your efforts! Here's more clothing patterns you can add to your wardrobe: Waistcoat Patterns, Trench Coat Patterns, Bomber Jacket Patterns and a lot more.
And that's our round-up of mens coat patterns.