Pipe cleaner crafts are some of the best projects for children. They help improve fine motor skills and imagination. If you are looking for some patterns, check out our extensive list of pipe cleaner crafts.
Do you have any pipe cleaners lying around? If you have children, you probably do. Pipe cleaner crafts are a great way to have fun and be creative at any time of the year. And they are the perfect projects for rainy days.
Below are 53 pipe cleaner crafts. We have included extremely easy patterns to more complicated patterns. This way, you can get everyone in your household involved.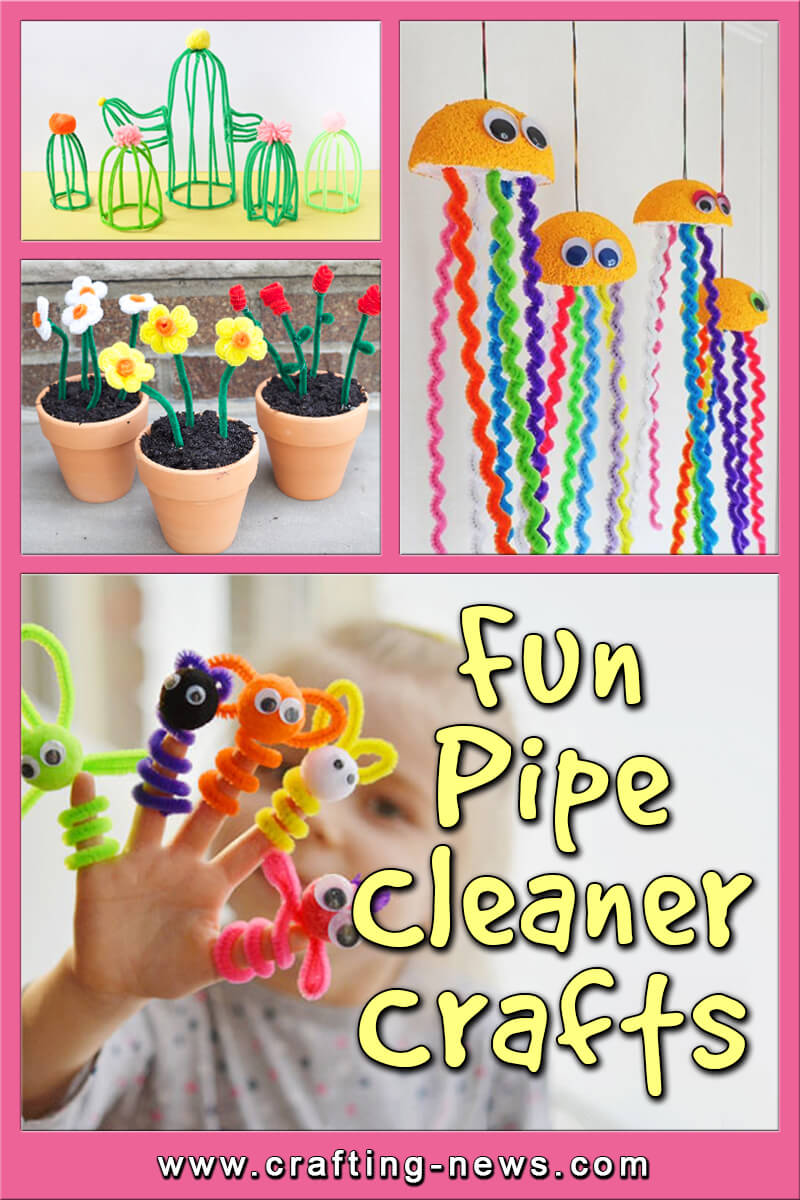 53 Fun Pipe Cleaner Crafts
1. Pipe Cleaner Bicycle by My Kid Craft
It only takes a few multi-colored pipe cleaners to make these simple and fun bicycles. You can also add a basket or maybe try some different colors.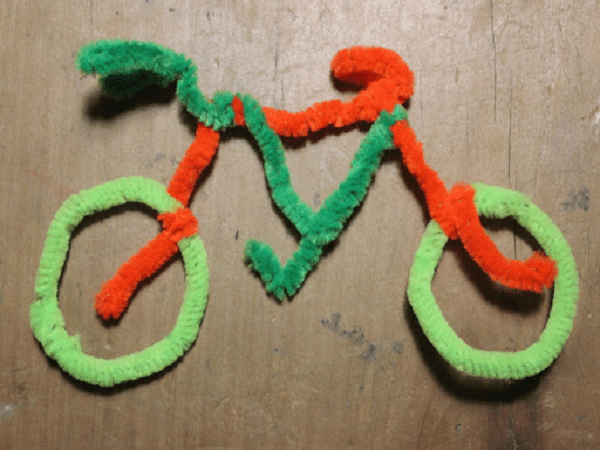 Get the Tutorial here
2. Pipe Cleaner Cacti by Handmade Charlotte
The awesome thing about this project is that you can totally customize the technique to make a cactus in a variety of shapes, sizes, and colors! Put a pompom on top and you've got a colorful collection of cactus decorations!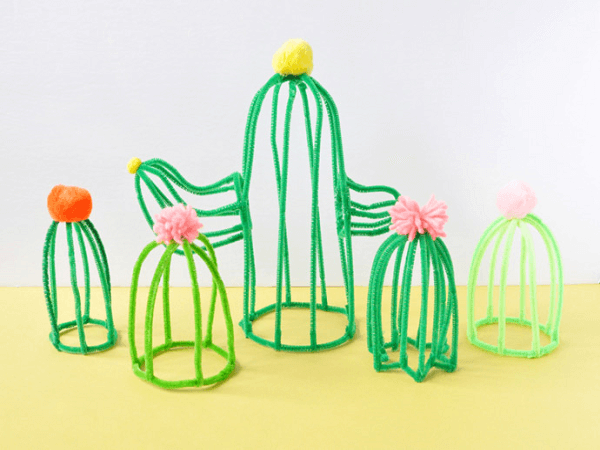 Get the Tutorial here
3. Pipe Cleaners Snowflake by First Palette
Create these pretty eight-sided snowflake ornaments out of pipe cleaners. Use these lovely snowflakes to decorate your holiday tree or hang them around the house as winter decorations.
Try making colorful snowflakes using bright-colored pipe cleaners or create sparkly ones with metallic pipe cleaners. You can also go for classic white snowflakes or use cool colors like white, blue, and purple.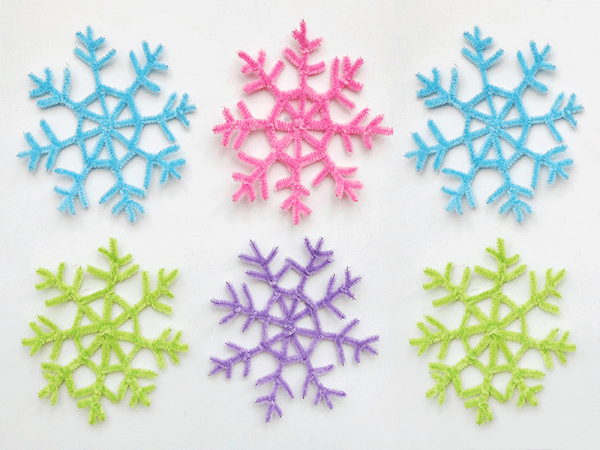 Get the Tutorial here
4. Pipe Cleaner Butterfly Rings by One Little Project
These pipe cleaner butterfly rings are simple to make and they're so pretty! This is such a fun and easy kids craft idea and a super fun summer craft.
All you need are a few pipe cleaners and in less than 5 minutes you can make an awesome homemade ring. Mix up the colors and try new combinations. You can also make them using sparkly pipe cleaners.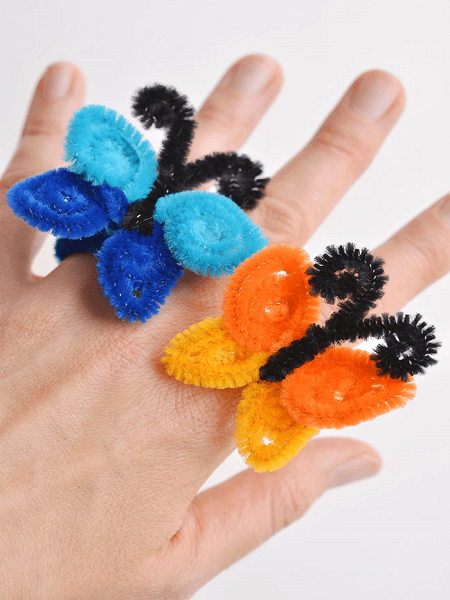 Get the Tutorial here
5. Spider Pipe Cleaner Craft by Preschool Crafts for Kids
Perfect for Halloween, or just craft time, these spindly, skinny spiders are made using just pipe cleaners and a few plastic beads. These make great, easy homemade centerpieces or countertop decorations during October.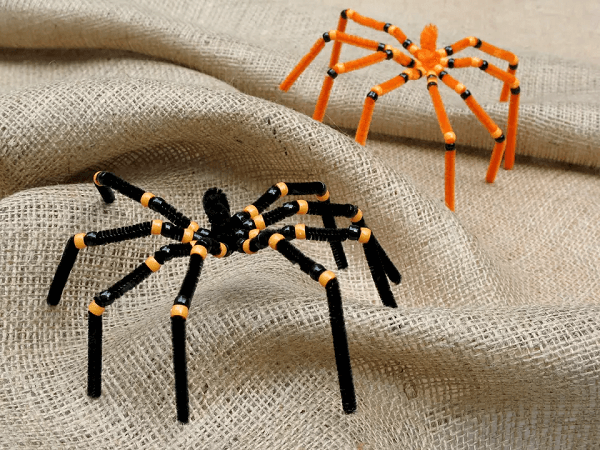 Get the Tutorial here
6. Pipe Cleaner Flowers by The Spruce
If you don't have any real plants in your home or don't really consider yourself to have a green thumb—try making these super cute pipe cleaner flowers. You can place them in a small planter on your desk or in your home, and let them bring you a little bit of joy and happiness.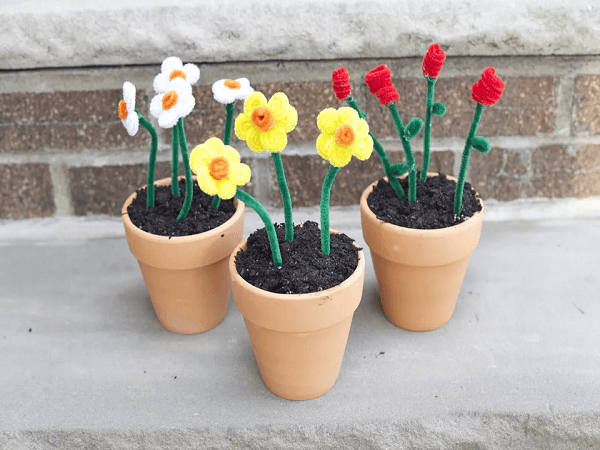 Get the Tutorial here
7. Pipe Cleaner Rainbow by Still Playing School
Rainbows are sure to brighten up a room. If you are head over heels with rainbow then build a pipe cleaner rainbow that will allow your kids to review colors and practice their fine motor skills at the same time. This quiet time activity doesn't use glue so kids can create their rainbow again and again.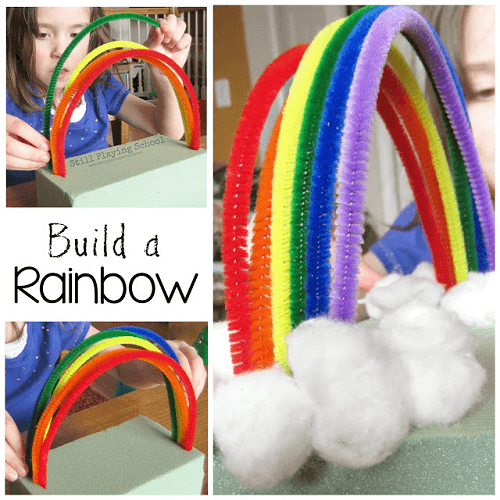 Get the Tutorial here
8. Pipe Cleaner Bunny Ears by Inspiration Made Simple
These are super quick to whip together and the end result is absolutely adorable and kids will have fun playing bunny or putting on a little show with their new ears! Use a bit of face paint to create a bunny face and you have a quick and simple, yet super adorable Bunny Costume!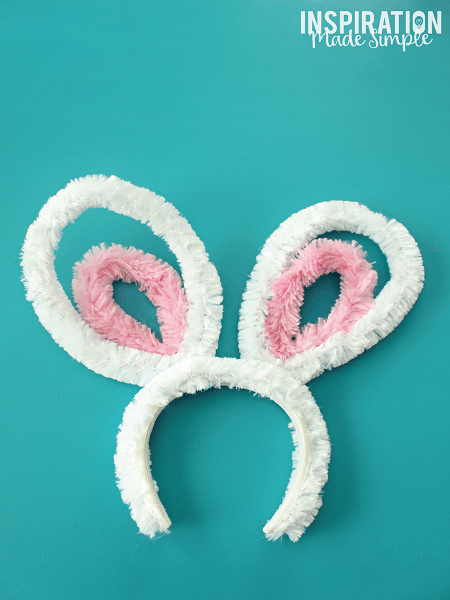 Get the Tutorial here
9. Pipe Cleaner Dragons by Frugal Fun For Boys and Girls
Here's a simple dragon craft that kids will love – Pipe Cleaner Dragons! These posable figurines are just as fun to play with as they are to make and these little dragons are pretty sturdy (for pipe cleaners, of course).
Attach a few to a re-configured wire hanger to create an easy mobile for an enchanted baby's room.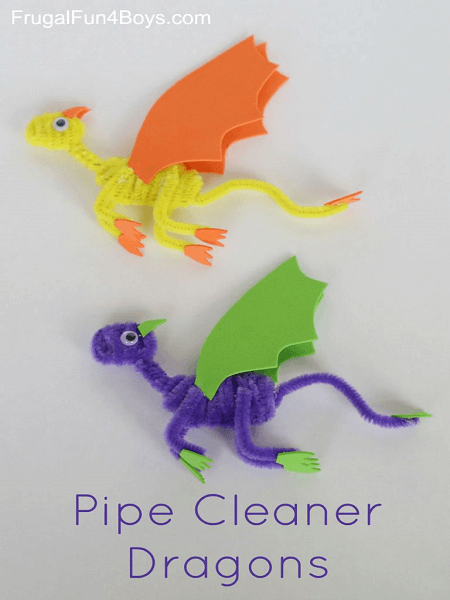 Get the Tutorial here
10. Pipe Cleaner Crowns by The Makerista
These are not only great for Christmas card pictures, but would be fun for a holiday party, a winter program, or as dress-up items for your children.
These pipe cleaner crowns could make a great addition to a princess party too – a handful of them is doable in less than an hour, for just a few dollars!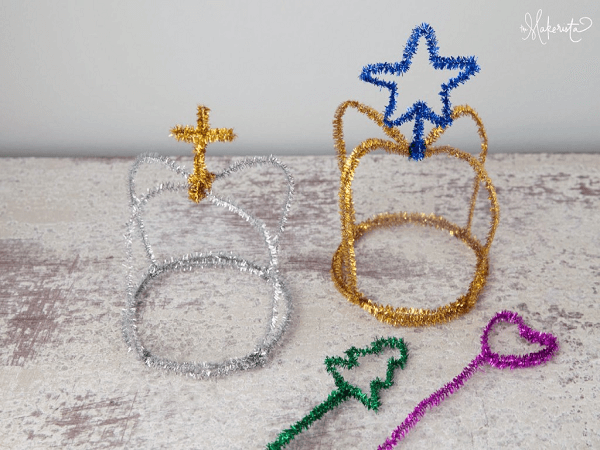 Get the Tutorial here
11. Pipe Cleaner Chameleon by Martha Stewart
This chameleon fits comfortably into a pocket or pencil case, won't make a peep during class, and is easy to take care of: It doesn't need food or water, and it never gets fleas.
This creature is made by forming the head out of one pipe cleaner, then slipping a coiled pipe cleaner over it to create the body. For features, you can use snippets of other pipe cleaners or of felt.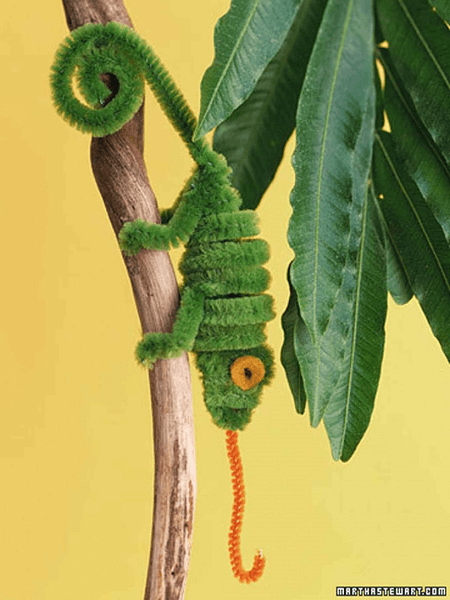 Get the Tutorial here
12. Pipe Cleaner Flamingo Craft by Artsy Craftsy Mom
Flamingos can probably be called the beauty queens among birds. That gorgeous pink color and those long elegant legs – so pretty. Make your own flamingo craft with pipe cleaners and add a feather for extra effect.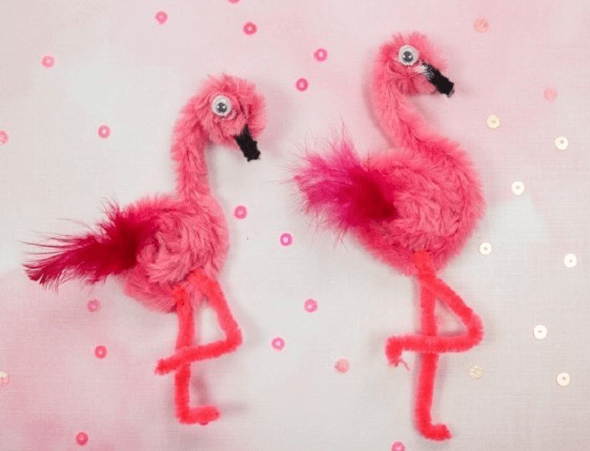 Get the Tutorial here
13. Pipe Cleaner Fuzzy Easter Eggs by Pajama Crafters
These warm and fuzzy Easter eggs will get you excited for Easter! They would be super cute in a wreath, displayed in a basket, or filled with an Easter treat. You can make them in any color combination.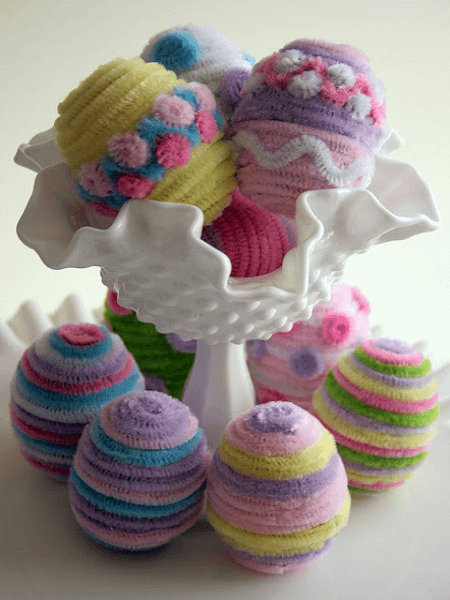 Get the Tutorial here
14.
Easy Bunny Craft from Rhythms of Play

15. Pipe Cleaner Rainbow Jellyfish by Crafts by Amanda
Need a fun project for a lazy afternoon? This adorable rainbow jellyfish craft is full of vibrant colors and very easy to make. Pipe cleaners, googly eyes, and Styrofoam balls are all that are needed to make these cute hanging sea creatures.
These floating jellyfish will look adorable hanging from the playroom, nursery, or your child's bedroom ceiling!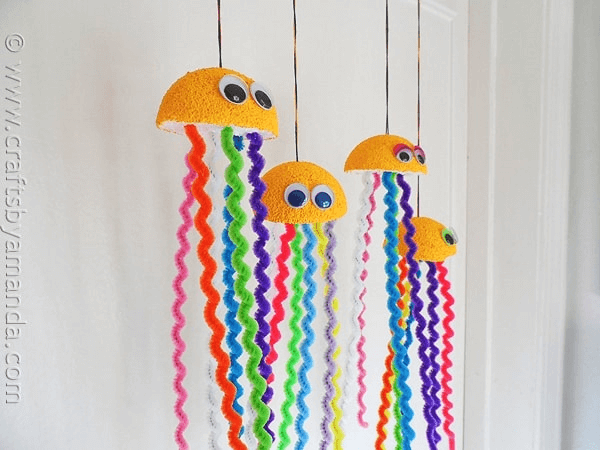 Get the Tutorial here
16. Pipe Cleaner Christmas Trees by Blue Bear Wood
Just how adorable are these little pipe cleaner Christmas trees from Blue Bear Wood? Such a simple idea, but so impressive! You can either make a row of these for the mantle or string them as ornaments on the tree.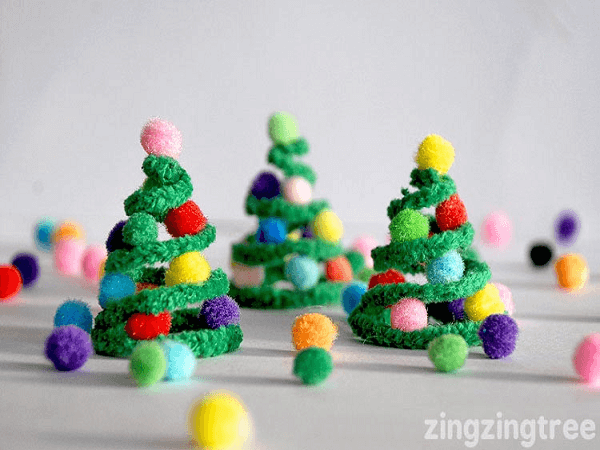 Get the Tutorial here
17. Pipe Cleaner Bunnies by Line Across
This handy tutorial utilizes a few clever pipe cleaner techniques (the tight spiral and the M-fold) to make an adorable set of rabbits and a cute bunch of carrots. Add these to a potted plant for a quick refresh, or to an Easter Basket in the spring.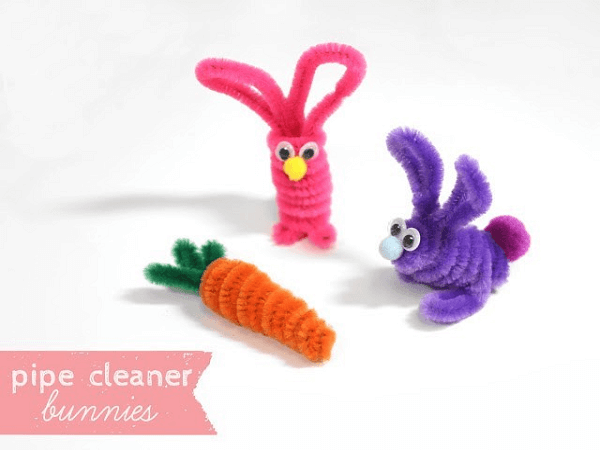 Get the Tutorial here
18. Pipe Cleaner Heart Flowers by Art Appeel
These super easy pipe cleaner heart flowers are great for kids as young as preschool! Make these cutest pipe cleaner hearts for your loved one with 3 or 5 pipe cleaners. You can use regular or glittering pipe cleaners or a combination of both. You can also decorate them with leaves!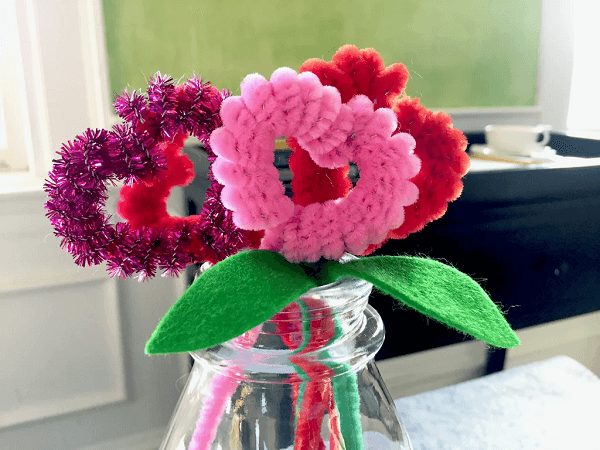 Get the Tutorial here
19. Pipe Cleaner Finger Puppets by One Little Project
These easy pipe cleaner finger puppets take less than 10 minutes to make. Get your kids to choose the color combinations and bend the pipe cleaners while you can do the glue gunning.
Or make these for your toddler and watch them play with delight as they try to get each little puppet on their fingers. These are a fun and easy weekend craft project to do with your kids.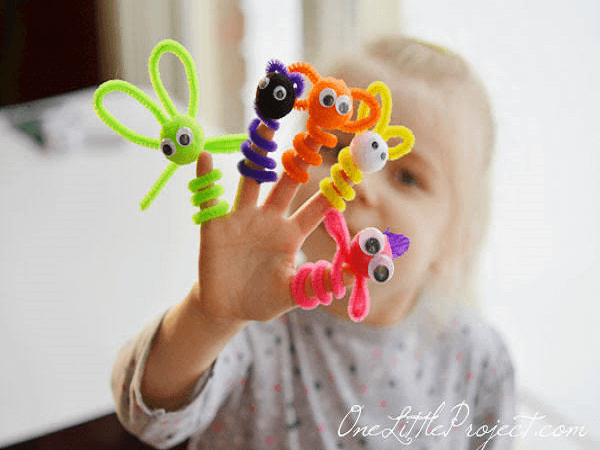 Get the Tutorial here
20. Pipe Cleaner Monkeys by Frugal Fun For Boys and Girls
Here's a fun monkey craft for kids of all ages! Grab some pipe cleaners and some wooden beads and transform them into a cute posable monkey. This monkey can even hang onto a pencil!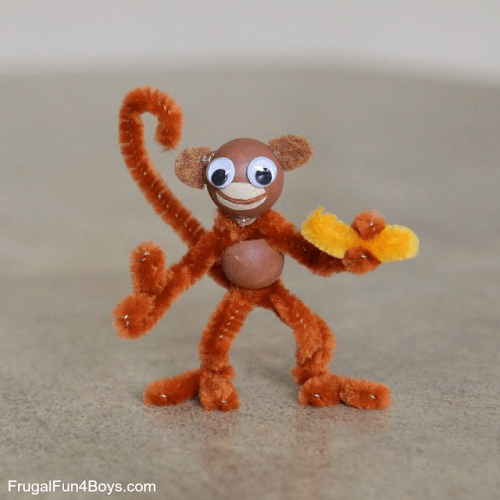 Get the Tutorial here
21. Pipe Cleaner Rings by Juggling With Kids
Fix a length of pipe cleaner around a finger, twist to secure, then hot glue a decorative gem or two on top. These kid-friendly accessories are a perfect DIY for a princess party or dress up playdate.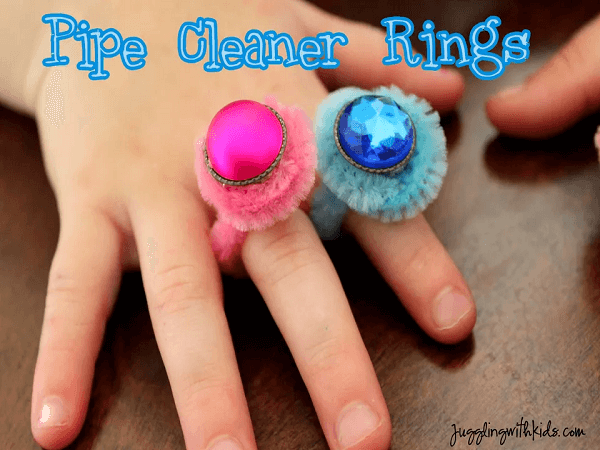 Get the Tutorial here
22. Easy Pipe Cleaner Pals by Parents
Turn everyday craft materials — drinking straws, pipe cleaners, and beads — into these adorable bendy buddies. They are great for playing with and creating all sorts of acrobats.
Just twist and bend and put them into position. One idea, so many possibilities. A perfect activity for Summer Camp or a rainy day afternoon!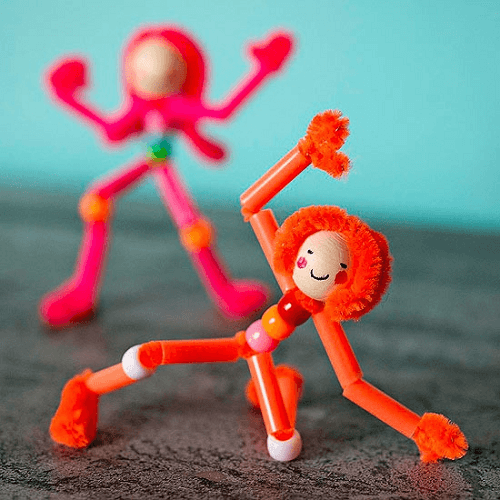 Get the Tutorial here
23. Pipe Cleaner Flower Bouquet by Make and Takes
Make a beautiful bouquet of flowers from pipe cleaners to give as a gift, decorate for Spring, or to use while playing. This flower bouquet is just perfect for Mother's Day Gift.
You can bind them together all on their own or place them in a flower pot o you can leave them separate in the pot for a fun arrangement. Either way, Mom will love them!
Get the Tutorial here
24. Pipe Cleaner Fishing Game by Artsy Craftsy Mom
Who needs a boat and slimy worms to go fishing, when you can do it with pipe cleaners? Colored chenille stems are used to make everything in this game, from fish to octopus to reefs and even the fishing rod!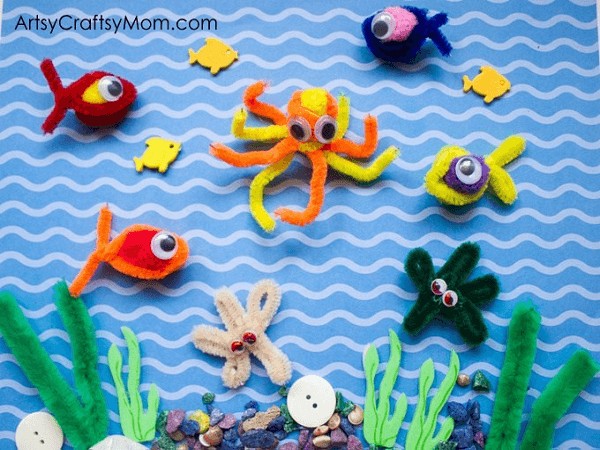 Get the Tutorial here
25. Pipe Cleaner Flower Bookmark Craft by Fun Learning Life
They say the best gift you can give is a book, which makes the second best gift a bookmark! And when it's handmade, even better! Fun Learning Life has an idea for pretty spring bookmarks, made with a Popsicle stick, buttons and of course, pipe cleaners!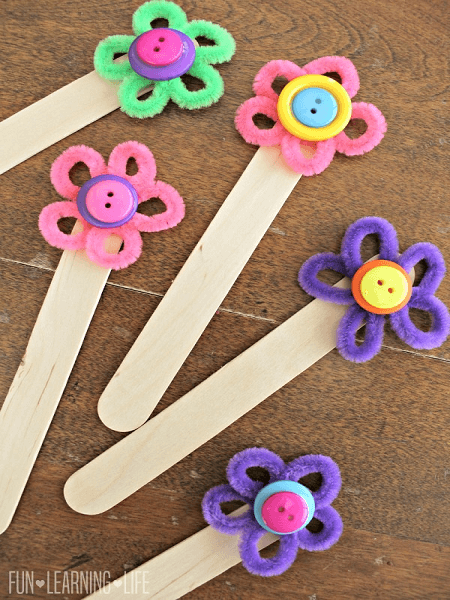 Get the Tutorial here
26. Pipe Cleaner Wall Art by Pink Stripey Socks
While most of the pipe cleaner projects have been centered around younger children, both in difficulty and end product, this is on craft where kids and parents alike can really get excited.
Using pipe cleaners as the lettering, this open style plaque is great for conveying simple messages and utilizing found materials.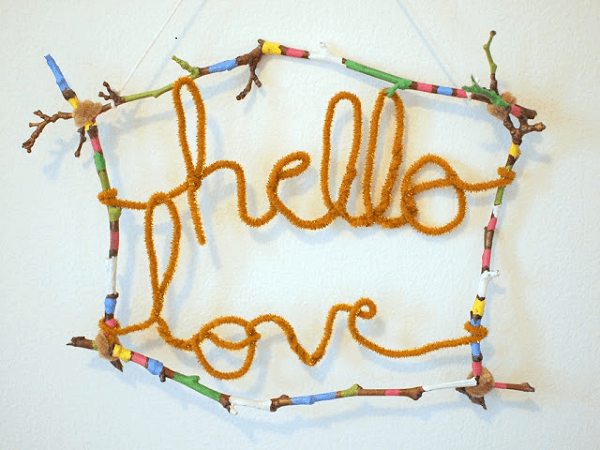 Get the Tutorial here
27. Pipe Cleaner Crocodiles by Easy Peasy and Fun
These little fellows look super fun, and what's even more fun is that once your kids make them, they will be able to play with them. They are perfect for little animal lovers.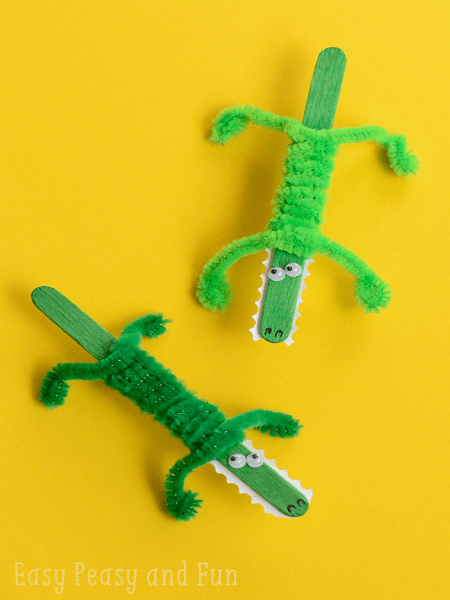 Get the Tutorial here
28. Beaded Pipe Cleaner Dragonflies by One Little Project
These beaded pipe cleaner dragonflies are so awesome because you only need 3 things to make them – pipe cleaners, beads, and googly eyes.
If you can't find sparkly pipe cleaners, you can use regular fuzzy pipe cleaners too. They look just as great! It's just that sparkly pipe cleaners sparkle just like real dragonflies.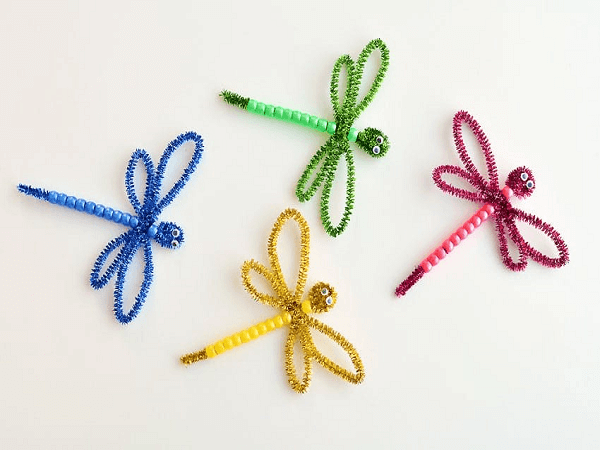 Get the Tutorial here
29. Pipe Cleaner Sculpture by Ampersand Design Studio
Set kids up with a few basic supplies and let them create their own unique piece of three-dimensional art. A square Styrofoam base works perfectly for plastic straws, pipe cleaners, and beads. The best part is, these pieces can be continually re-worked and manipulated!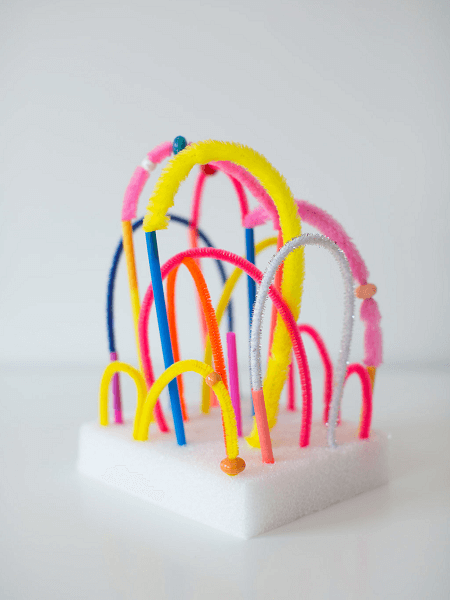 Get the Tutorial here
30. Woven Pipe Cleaner Cans by DIY Ready
This kids craft project is really simple, easy to make, and cheap. It is cute, it uses recycled cans and inexpensive pipe cleaners, and the end product looks great.
Plus, these cute woven pipe cleaner cans help your children organize their things, which they are more likely to do since they helped make it. The only items you may need to buy are pipe cleaners, and you can find cheap pipe cleaners at any dollar store.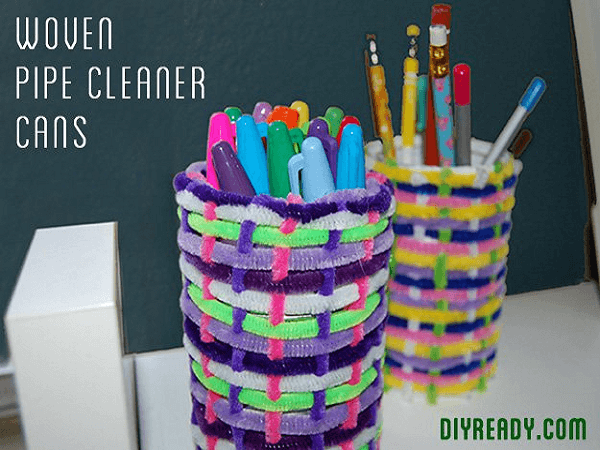 Get the Tutorial here
31. Pipe Cleaner and Bead Snake Craft by Artsy Craftsy Mom
This DIY pipe cleaner and bead snake craft is something that requires very little time, and the stringing process is a great motor skill activity for younger kids.
They might need some help with the tongue, but once the snakes are made, there's a lot you can do with them. Use them as bookmarks to mark your page, or twist them into bag charms or key chains.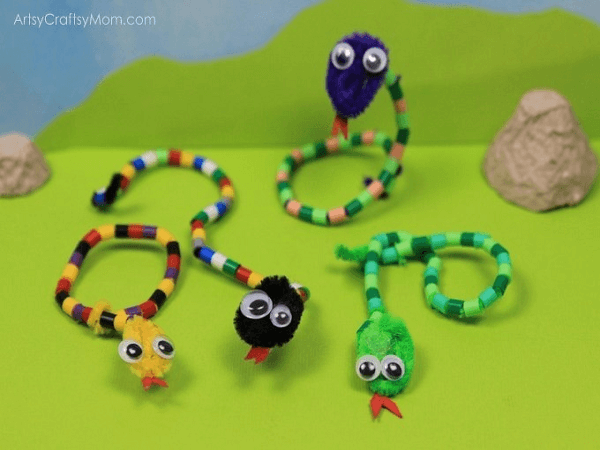 Get the Tutorial here
32. Pipe Cleaner Pumpkin by Crafty Texas Girls
Come Halloween, and you see pumpkins all around – in pies and on porches! Crafty Texas Girls tells us how we can make our own mini pumpkins out of just pipe cleaners. Of course, you can take it up a notch by adding shiny and colorful beads!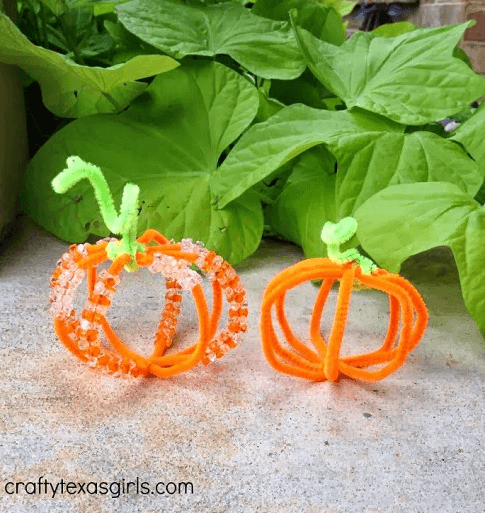 Get the Tutorial here
33. Pipe Cleaner Button Bracelets by Meaningful Mama
When it comes to making jewelry both boys and girls can really get behind this type of project. You can easily use a wide assortment of beads and this guide makes it easy to adapt the design and steps to fit the age group you may be working with.
You can create this colorful bracelet in just a matter of minutes with very little mess!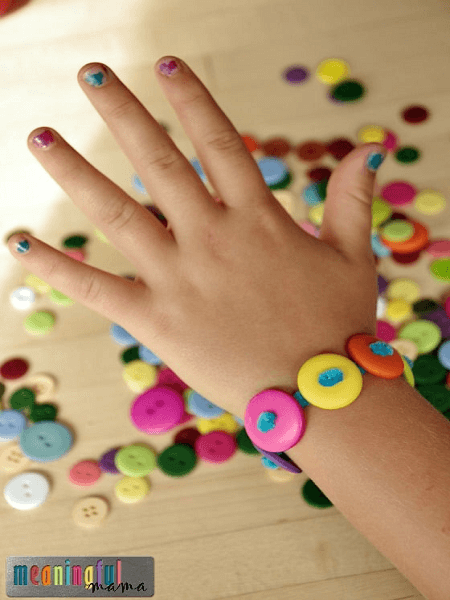 Get the Tutorial here
34. Pipe Cleaner Dog by Craft Foxes
Pipe cleaners can even be used to make cool toys like this dog. Use pipe cleaners of the proper color, eyes, and nose and shape them like a dog. With a few twists, you can turn a pipe cleaner into a toy poodle, pug or other special dogs.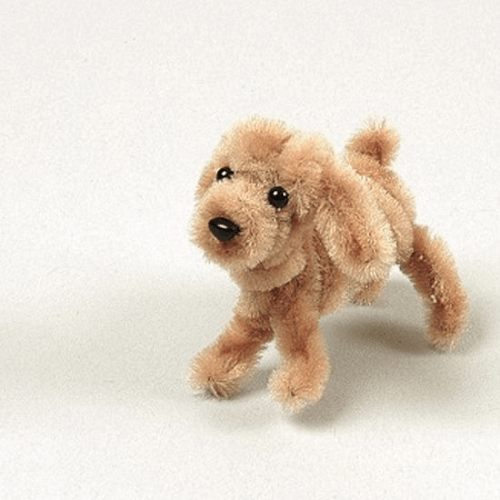 Get the Tutorial here
36. Quick & Easy Pipe Cleaner Teddy Bear from Buddly Crafts
Everybody loves teddy bears. Kids will love creating a bunch of these pipe cleaner friends to give out to their friends. These teddy bears can be used as key chains, zipper pulls, magnets, or ornaments. Add a little bow around their neck or leave it plain.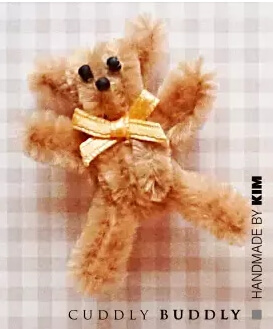 Find the Tutorial from Buddly Crafts HERE
37. Pipe Cleaner Tree Frog from Pipe Cleaner Animals
This adorable pipe cleaner frog is fun and whimsical. It uses 6 different colours of chenille stems. You can change up the colours to create different varieties of frogs. This is an intermediate level pattern. It should take around 5 hours to complete.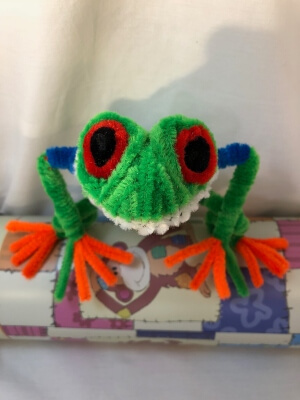 Get the Tutorial from Pipe Cleaner Animals HERE
38. Tortoise Pipe Cleaner Craft from Skymagenta's Craft DIY
Here is a video tutorial that will show you every step in making these little pipe cleaner animals. You will need 2 colours of chenille stems. The finished tortoise will be a little larger than the palm of an adult hand.
39. Sea Anemone Pipe Cleaner Craft from Director Jewels
Sea anemones are often referred to as the flowers of the sea. Even though these flowers are actually marine animals. These pipe cleaner crafts are great for children who need to work on their fine motor skills. You can find more pipe cleaner flower patterns HERE.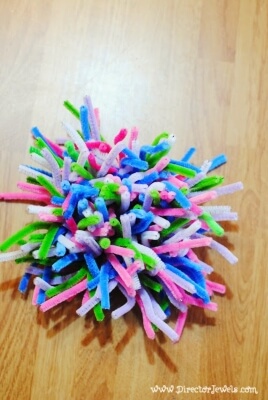 Find the Tutorial from Director Jewels HERE
40. Tarantula Pipe Cleaner from Pipe Cleaner Animals
Scare everyone in the house with this amazing tarantula. This pattern will definitely cause a fright. Make a bunch of these pipe cleaner crafts and use them for Halloween decorations.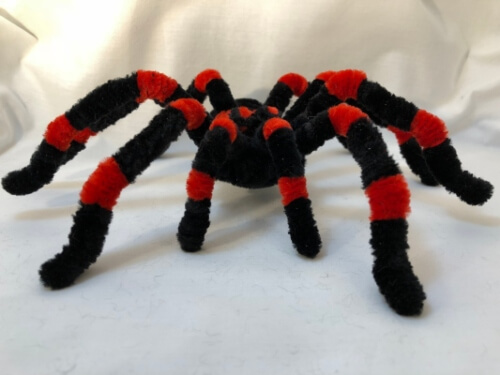 Find the Tutorial from Pipe Cleaner Animals HERE
41. Pipe Cleaner Lion from My Kid Craft
This lion would be a great craft for children that love the circus or the zoo. The pattern is very easy and can be completed quickly.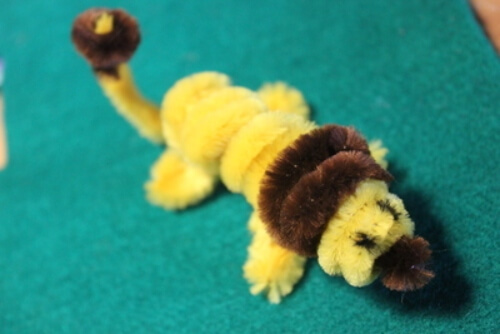 Find the Tutorial from My Kid Craft HERE
42. Pipe Cleaner Mouse from Hub Pages
Here is a cute little mouse pattern that creates a furry little mouse. There are only a few pictures of the process. So, it may be a little confusing for younger children.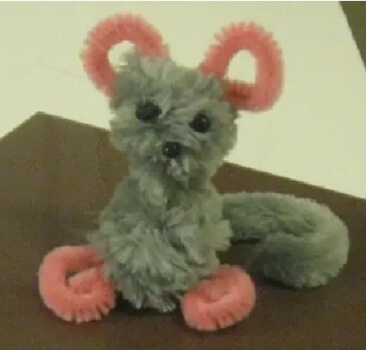 Find the Tutorial from Hub Pages HERE
43. DIY Turkey Ring for Kids by iHeartCraftThings
With this DIY pipe cleaner pattern, children can make their own turkey rings. You can also use this pattern to create napkin rings for Thanksgiving.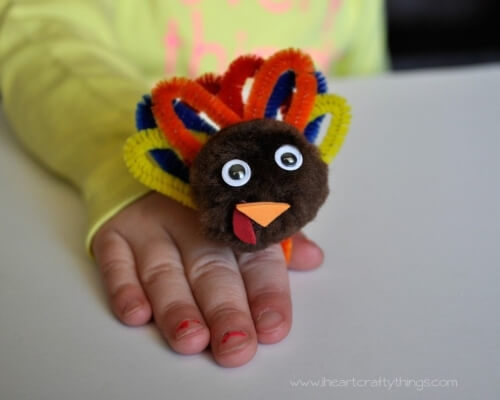 Find the Tutorial by iHeartCraftThings Here
44. Circus Mouse Door Stop from Jane Avion
We usually do not want mice in our homes, but this one just wants to help. Print off this pattern to learn how to make this pipe cleaner circus mouse door stop.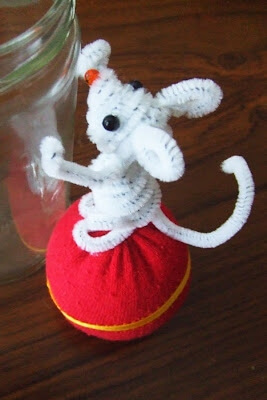 Find the Tutorial from Jane Avion HERE
45. Pipe Cleaner Elephant from Pipe Cleaner Animals
This pipe cleaner elephant pattern is quite impressive. Since there is a little shaping involved in creating the body, we could recommend it for an older child.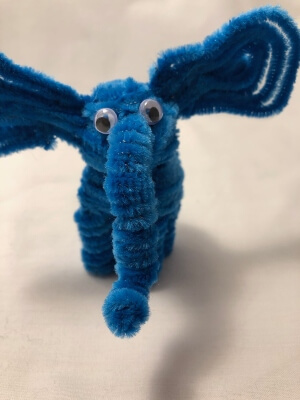 Find the Tutorial from Pipe Cleaner Animals HERE
46. Pipe Cleaner & Pom Pom Reindeer Craft from The Purple Pumpkin Blog
Christmas is one of the best times for crafting. And what better animal to make than a reindeer. This pattern was originally made using a kit, but you can purchase your own materials instead.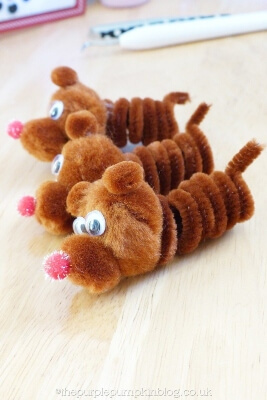 Find the Tutorial from The Purple Pumpkin Blog HERE
47. Pig Pipe Cleaner from My Growing Creative Life
If your child is interested in farms and farm animals. They will like this cute little pipe cleaner pig. The pattern is rather simple. However, since there is not a video, you may need to help them through each step.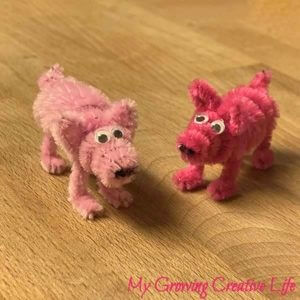 Find the Tutorial from My Growing Creative Life HERE
48. Pipe Cleaner Dog from My Crafts
Kids will enjoy making this googly eyed pipe cleaner dog. They can choose any colour chenille stems that they want.
Find the Tutorial from My Crafts HERE
49. Pipe Cleaner Eagle from Pipe Cleaner Animals
Out of all the pipe cleaner crafts we have listed, this one is the most magnificent. This is an advanced pattern that is easy to make yet can take around 40 hours to complete. If you or an older child is ready to take on a detailed pipe cleaner animal pattern, this one will blow people away.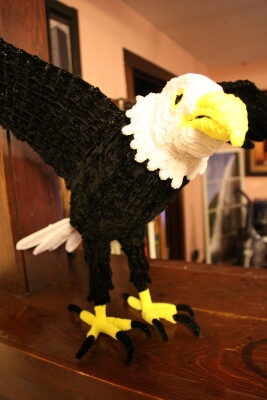 Find the Tutorial from Pipe Cleaner Animals HERE
50. How to Make a Pipe Cleaner Bee from Blissful Domestication
Bees are important for the survival of our world. This bee pipe cleaner project will give you the perfect opportunity to talk to your kids about conservation.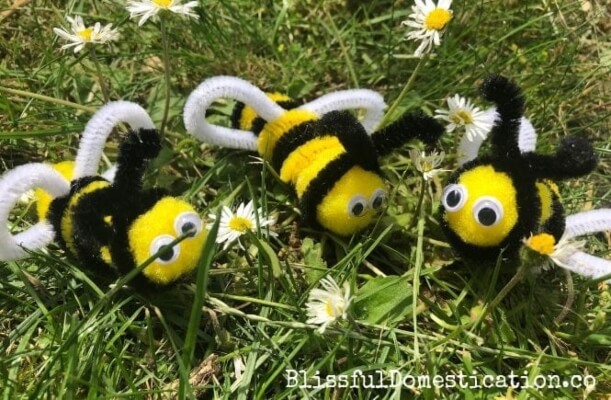 Find the Tutorial from Blissful Domestication HERE
51. Springtime Pom Pom Bugs from Momee Friends of Long Island
Kids love crafting with pom poms. Simply glue the large pom poms together to create the body and add some small pom poms for the feet. Finish the caterpillar off by creating the antenna with the chenille stem.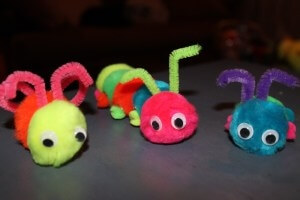 Find the Tutorial from Momee Friends of Long Island HERE
52. Scaredy Cat from Creative Breathing
These scaredy-cat pipe cleaner animals are a fun project for children's Halloween parties. They are easy to make. However, adult supervision is needed since a needle and glue are used.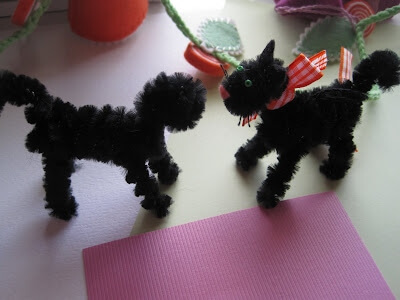 Get the Tutorial from Creative Breathing HERE
53. Pipe Cleaner Penguin from Pipe Cleaner Animals
Here is another intermediate pipe cleaner pattern. This penguin uses 4 different colours of chenille stems. It should take around 3 hours to complete.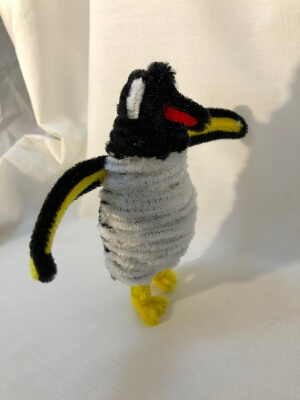 Find the Tutorial from Pipe Cleaner Animals HERE
CHILDREN, AS WELL AS ADULTS, CAN HAVE A LOT OF FUN MAKING PIPE CLEANER ANIMALS. SO, PULL OUT YOUR STASH OF PIPE CLEANERS AND GET BUSY WORKING ON SOME PIPE CLEANER CRAFTS
Crafting is important in a child's development. They can have fun and be creative while learning. Be sure to post it to our Facebook Page and click here for more crafting ideas.
Or you can try making these Pipe Cleaner Christmas Crafts, Pipe Cleaner Flower Tutorials and Pipe Cleaner Spider Crafts.
If you are looking for some fun ways for your keeps to keep active instead of watching TV, try some of these pipe cleaner crafts.