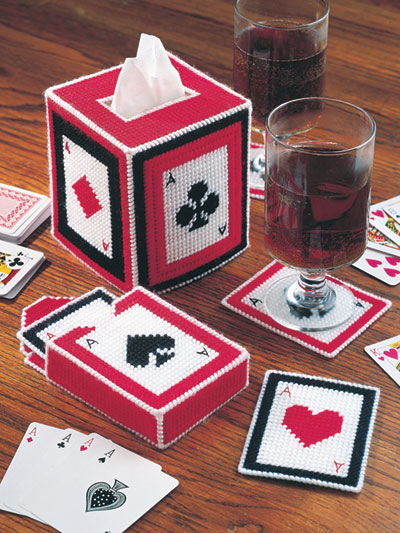 Playing Cards Coasters
These Playing Cards Coasters set patterns are something that caught our eye this week. So we wondered how this was done. It was a new craft to us and now we're fascinated. Have you ever worked with plastic canvas?
We've seen sheets of it for sale in the sewing shops but have only ever used it in bag making as stiffeners for the bottoms of bags, to attach bag feet. But wow, it is so much more versatile.
Ante up with these party-perfect designs to stitch using 7-count plastic canvas, yarn and worsted-weight yarn. Pattern includes Tissue Cover Top, Coasters and Coaster Holder.
It's a very simple idea using large holed plastic canvas, worsted weight yarns, and a large rounded end needle. You can start off simple with running stitches or backstitches, then try cross stitch and a whole host of different stitches and effects are possible. All while the rigidity of the plastic canvas keeps your project flat without pulling and bunching.
Here's a video to show basically how it works. We suggest running it through at a faster speed so you get the idea, unless you want to give it a try and follow along at a regular pace to create your own plastic canvas coasters.
Click on the little gear at the bottom right of the video to speed up once you have the hang of how it works.
Watch The Video Below
For more coaster patterns, check out our DIY Painted Tile Coasters and Macrame Coaster Patterns.
The Playing cards set features some fun coasters and a box to keep them in, along with a tissue box cover. Or use the design to make any kind of box. We love this original crafting idea and think you might like to give it a try.
Want to learn more? Check out the supplies and resources below. There are some truly staggering kits you can buy to get you started – we love the cat tote bag! Link at the bottom to where you can get the pattern for the playing cards set.
Remember to turn off (or white list this site on) your adblocker if you can't see the plastic canvas resources recommendations here –>