If you have a creative gene and cannot get through the day without looking for more ideas for things to make, you definitely have to consider trying out popsicle stick craft.
These practical pieces of wood are the perfect building block for lots of fun and functional items that can be used around your home. You will be surprised at how sophisticated these basic and advanced popsicle stick projects can look!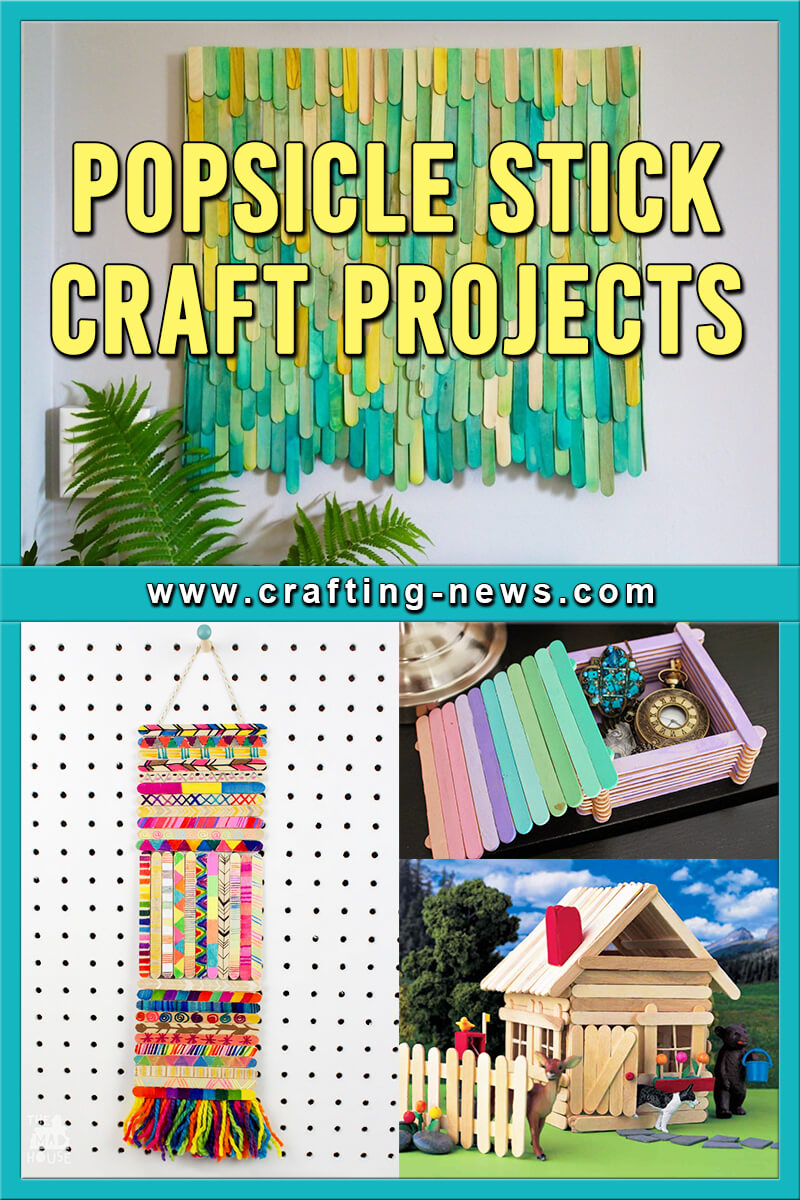 46 Popsicle Stick Craft Projects
These 46 popsicle stick projects are cheap, durable, and whether you're collecting them from literal popsicles or buying wooden craft sticks in bulk at the store, there are a million ways to have fun with them on a rainy afternoon.
Browse through these awe-worthy crafts —you won't believe they're made with popsicle sticks!
1. Avengers Bookmark Popsicle Stick Crafts by Crafts By Amanda
If your kids love the Avengers, these Avengers Bookmarks are the perfect craft for them. These bookmarks include The Hulk, Captain America, and Iron Man. They're also really easy and fun to make. Get creative and make more of The Avenger superheroes!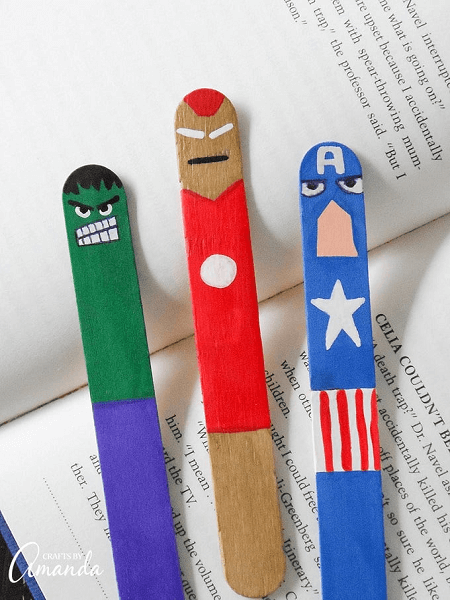 Find the Avengers Bookmark Popsicle Stick Crafts Tutorial Here
2. Hexagon Shelf Popsicle Stick Craft by Make and Do Crew
Not only does this shelf become fantastic conversation pieces in your home, but it also allows you to create super budget-friendly art that doesn't feel too "crafty". After finishing about 100 sugary-sweet popsicles, turn your trash into a geometric wall shelf!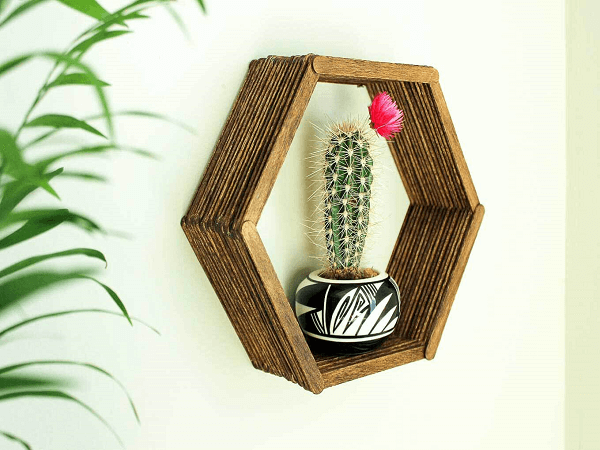 Find the Hexagon Shelf Popsicle Stick Craft Tutorial Here
3. Popsicle Stick Wreath by Babble Dabble Do
This wreath is unbelievably easy! Just popsicle crafts sticks, glue and a paper plate! You could let your kids do these to decorate their bedroom doors – maybe even add in their initial in the center – or let them make a colorful wreath for your front door this summer.
The color choices are endless. Who knew something so fancy could be made from such humble materials.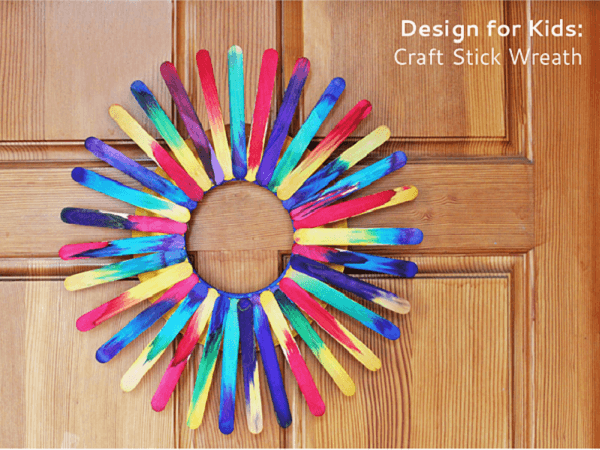 Find the Popsicle Stick Wreath Tutorial Here
4. Folding Popsicle Stick Fans by Pink Stripey Socks
These are made with paper and popsicle sticks and they simply couldn't be easier. Plus, your little ones can decorate them however they want, which just adds to the fun of creating them.
These fans don't open as smoothly as their real counterpart. But it's still a neat kids' craft because it highlights a traditional art form.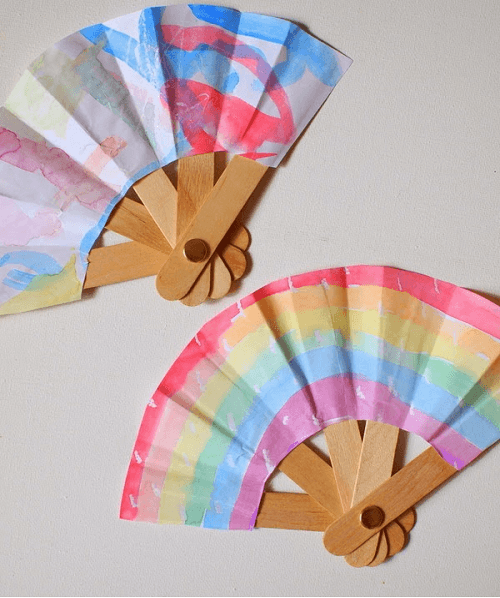 Find the Folding Popsicle Stick Fans Tutorial Here
5. Popsicle Stick Monsters by I Heart Arts n Crafts
The fun part about this craft is that the kids can get so creative with this project, you can use whatever you have on hand to craft with for the ears, eyes, nose, mouth, hair, etc.
You use a few popsicle sticks to make each one and then let them use their own imaginations when it comes to coloring and decorating them. After your kids are done creating their monsters you can hang these up or glue some magnets on the back and put them on your fridge!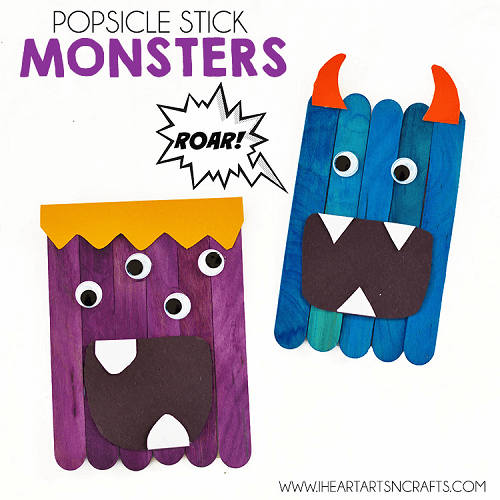 Find the Popsicle Stick Monsters Tutorial Here
6. Popsicle Stick Garland by Pars Caeli
Just because the holidays are over doesn't mean you can't deck out your fireplace. Choose an inspiring phrase for the new year or craft a star garland for awards season.
This little project will make you think of other banners, runners, place cards, and signs you can make using these super inexpensive and super easy to paint popsicle sticks.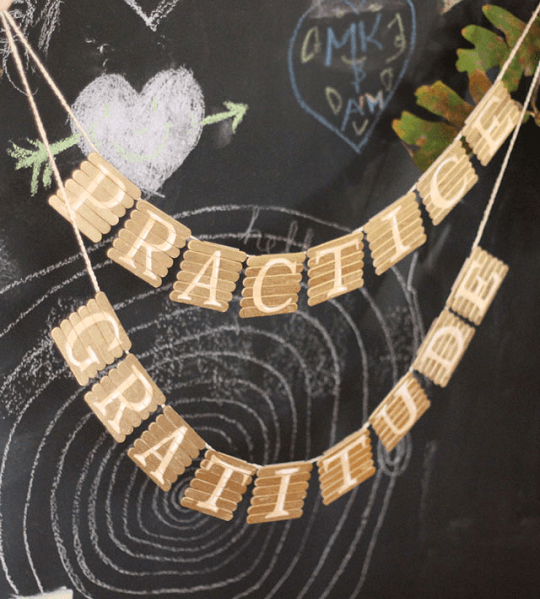 Find the Popsicle Stick Garland Tutorial Here
7. Snowflakes Popsicle Sticks Craft by A Girl And A Glue Gun
Keep the holidays alive with snowflake sticks – a classic winter craft. You could just stick them directly to the wall or add a cute ribbon and twine to hang! It's amazing how many designs you can whip out once you get started!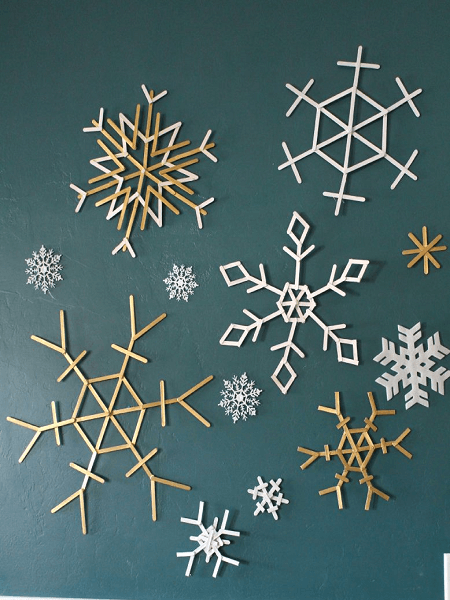 Find the Snowflakes Popsicle Sticks Craft Tutorial Here
8. Popsicle Stick Vases by Cutesy Crafts
These little vases are so easy to make, you just paint the popsicle sticks whatever colors you want – you could also use markers – and then line them up against a glass or small vase to create the design.
You can use them as vases for cut flowers or fill them with dirt and have the kids plant something. You could even use them as utensil holders for your 4th of July party!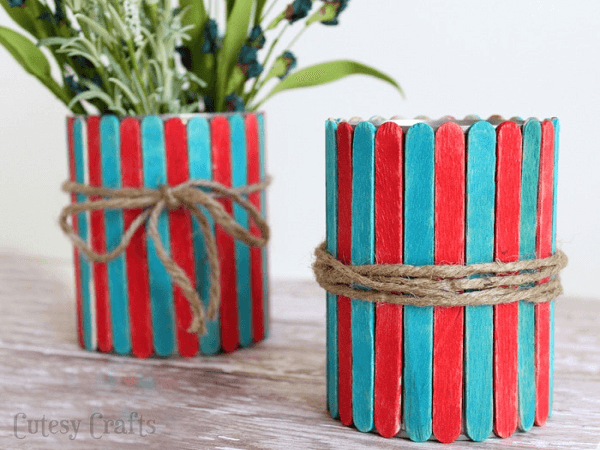 Find the Popsicle Stick Vases Tutorial Here
9. Popsicle Stick Craft Wax Paper Lantern by Artsy Fartsy Mama
This craft is one of the more advanced popsicle stick projects, but it really comes in handy if your kid is in need of a new night light. They can pick their favorite colors and lend a helping hand with the construction.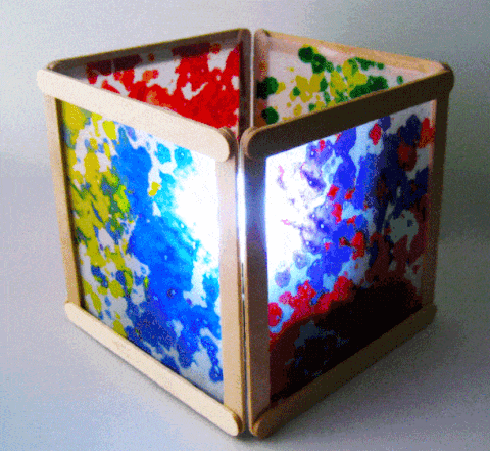 Find the Popsicle Stick Craft Wax Paper Lantern Tutorial Here
10. Popsicle Stick House by Martha Stewart
Made by gluing together Popsicle sticks, this post-ice-pop house is the perfect craft for you and your kids to make. The basic house is complete with a roof, windows, a chimney.
You don't even have to paint or color the sticks, although you can if you want them to be more colorful. What a great craft for summer!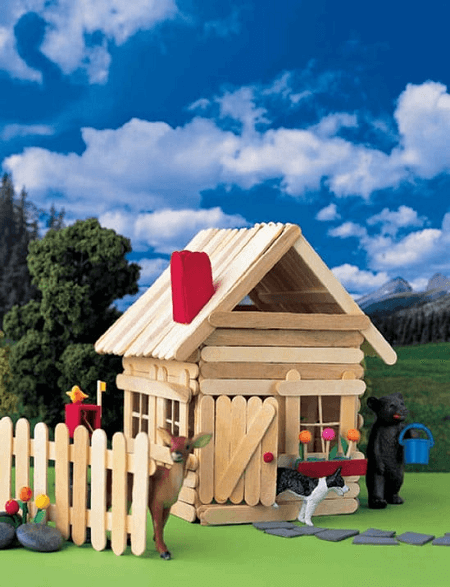 Find the Popsicle Stick House Tutorial Here
11. Popsicle Stick Coasters by Busy Mom's Helper
Seriously, how adorable are these? These coasters are super easy to make and you will love how easy it is to paint them to match your own decor or style. Add these pretty coasters made from popsicle sticks to your homeware collection to hold your coffee, tea or wine.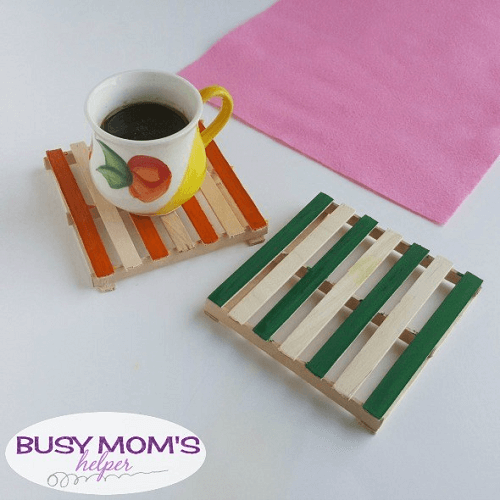 Find the Popsicle Stick Coasters Tutorial Here
12. Popsicle Stick Box by A Primrose In Winter
You can use this box as a jewelry holder, lipstick organizer, or paper clip holder. Feel free to customize this idea by using whatever colors you like best if you're not feeling my white, pink, and blue scheme.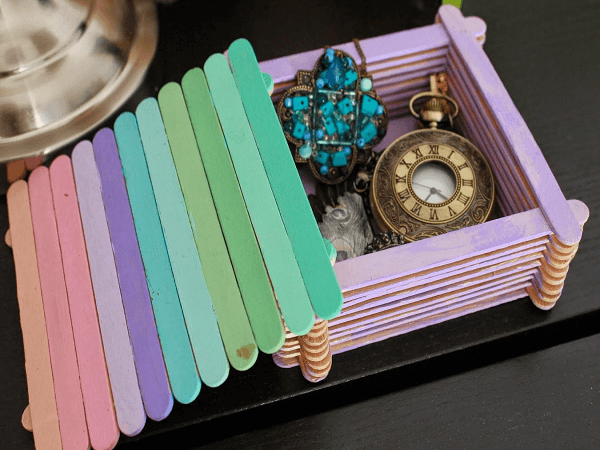 Find the Popsicle Stick Box Tutorial Here
13. Phone Holder Popsicle Stick Craft by Make It Love It
Have your tech easily accessible with this hands-free phone holder. Don't be afraid to customize colors to match your desk. This is an inexpensive way to display your phone in the kitchen or craft room, so you can follow recipes or tutorials without having to hold your phone.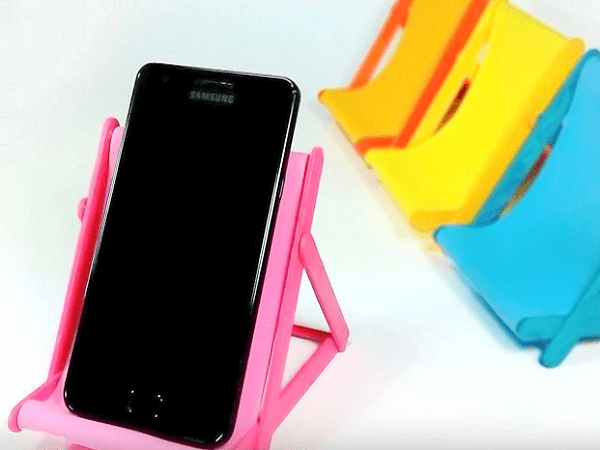 Find the Phone Holder Popsicle Stick Craft Tutorial Here
14. Playing Cards Popsicle Stick Craft by Instructables
Sick of your playing cards getting ruined at the beach or pool? Create these popsicle sticks from Instructables to keep the fun going, no matter the weather!
They are pretty fun to make and are easy to read and hold. I think these can be fun for the novelty of it and fun for kids to play with. As a bonus, you can always easily make new playing card sticks if some break.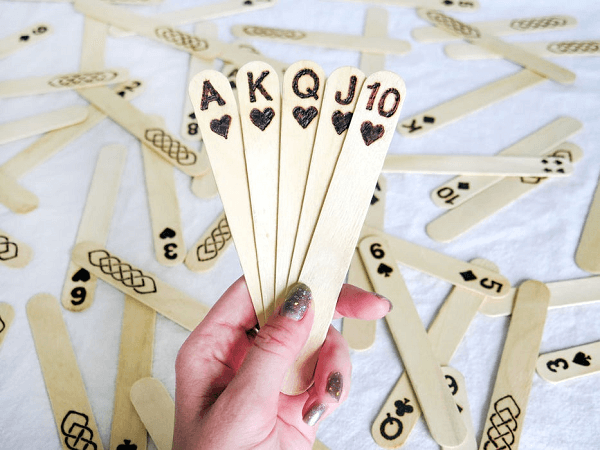 Find the Playing Cards Popsicle Stick Craft Tutorial Here
15. Popsicle Stick Mini Adirondack Chair by Sustain My Craft Habit
These mini Adirondack chairs are the perfect place for any beach-loving fairy to spend her summer day at the beach in! They also make a fun addition to your beach-themed centerpiece idea. The hardest part is keeping them away from the kids who constantly want to play with them!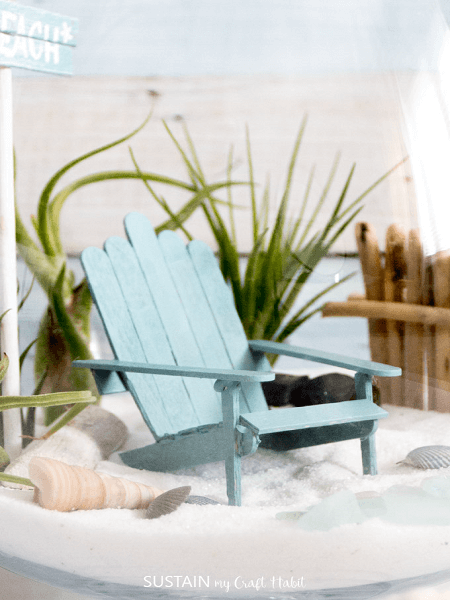 Find the Popsicle Stick Mini Adirondack Chair Tutorial Here
16. Bird Feeder Popsicle Stick Craft by DarVish Arts
Making a bird feeder might sound complicated, but it doesn't have to be! In fact, you will be blown away by how simple and straightforward this process is. While you can enjoy making this bird feeder to put in your own yard or garden, this can also make a great gift for a fellow birdwatcher.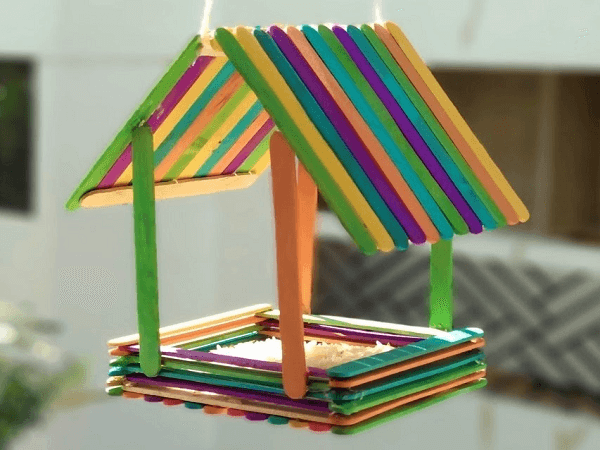 Watch the Bird Feeder Popsicle Stick Craft Tutorial Here
17. Popsicle Stick Wall Hanging by Mum In The Mudhouse
This fun wall hanging is a great way to craft with the entire family. It showcases everyone's individual talents and comes together beautifully in the end. This popsicle stick wall hanging is a super fun collaborative art project or perfect for making over a period of time.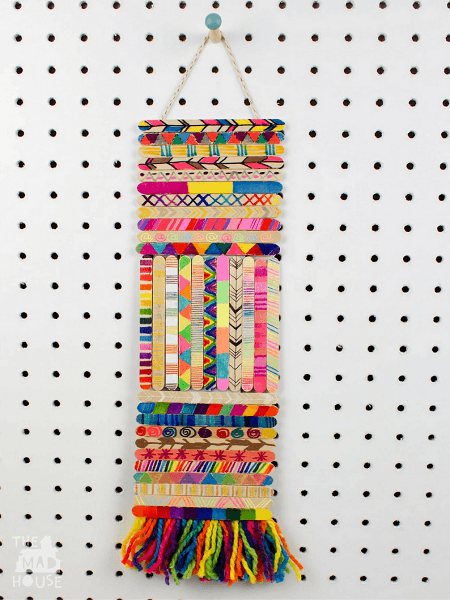 Find the Popsicle Stick Wall Hanging Tutorial Here
18. Bending Popsicle Sticks For Wooden Helix Vase by The Cheese Thief
Who knew popsicle sticks were so flexible! In this craft from The Cheese Thief, we're defying logic and decorating a vase by bending popsicle sticks.
This is a great way to make a simple glass vase look stunning! Faux flowers are used for this instead of live one considering the fact that popsicle sticks probably won't be able to handle moisture well.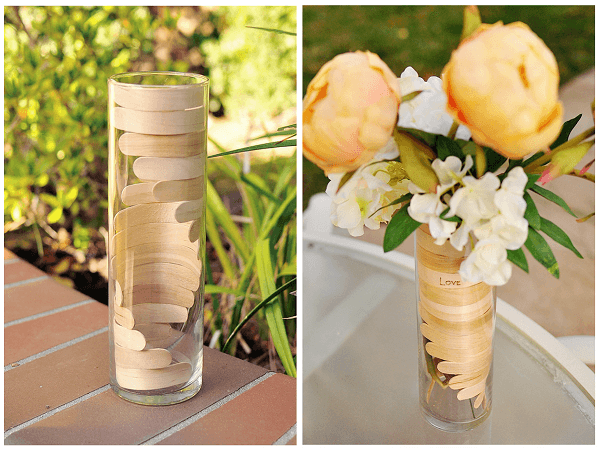 Find the Bending Popsicle Sticks For Wooden Helix Vase Tutorial Here
19. Popsicle Stick Flower Basket Lamp by Instructables
You will surely love how easy yet beautiful this project is. You can also modify this flower basket to make a vintage style lamp. This piece is a uniquely and flawlessly built within an hour.
You can easily make one as a gift to those relatives and friends who love flowers or just keep it for your home decors.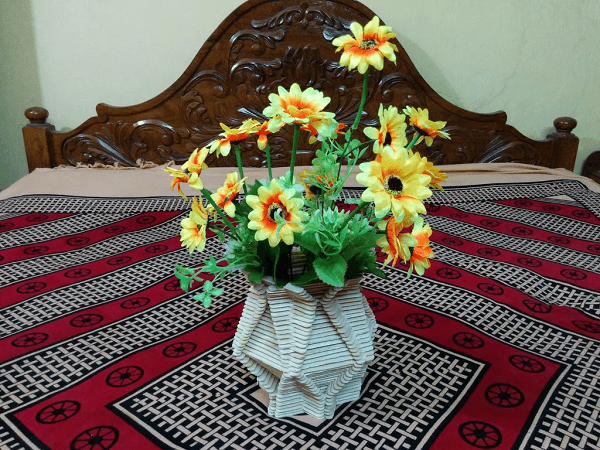 Find the Popsicle Stick Flower Basket Lamp Tutorial Here
20. Glitter Popsicle Stick Frame by Made To Be A Momma
No matter what you make or what colors you choose this is such a simple and fun project even the kids can have fun making! You can place these in your kid's room, on a shelf, or you can even add a magnet to the back for a little refrigerator decoration. These would make for a great teacher's gift or even a happy Mother's Day gift.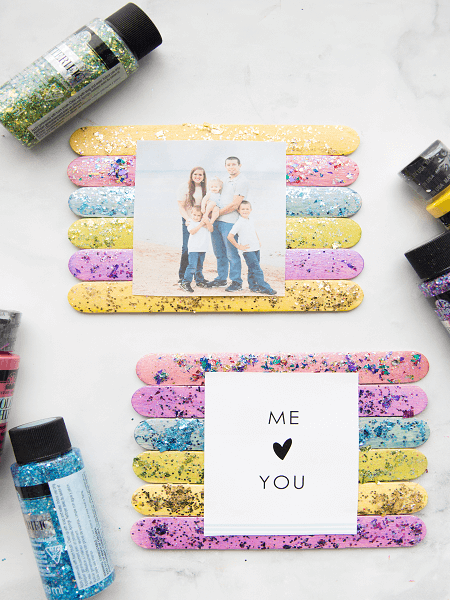 Find the Glitter Popsicle Stick Frame Tutorial Here
21. Popsicle Stick Bunny Decor by Make And Do Crew
This bunny shelf makes a perfect Easter craft idea for Spring or DIY nursery decor to enjoy year-round! This is one of those crafts that looks much harder than it actually is, so as long as you can stack sticks, you can make this DIY art.
This bunny decor looks charming as part of a Spring vignette, sitting on a table or mantle, but you can also hang it on the wall to create a little Easter-themed shelf in your entryway or kitchen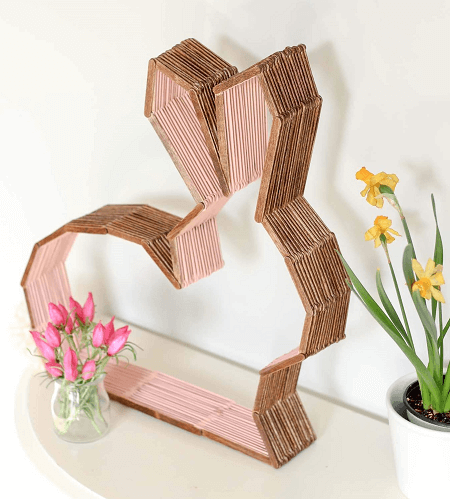 Find the Popsicle Stick Bunny Decor Tutorial Here
22. Popsicle Stick Wall Art by Aunt Peaches
Are your walls blank and boring? Try these cheap wall art tutorial and add vibrancy to your home. Using popsicle sticks, a regular pantry-grade food coloring, and glue, you can make a sophisticated art piece that is as easy as it is impressive. This is a project you will want to hang on your wall year-round!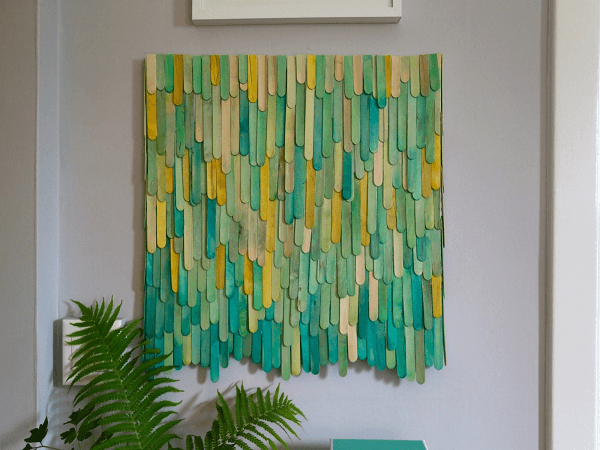 Find the Popsicle Stick Wall Art Tutorial Here
23. Popsicle Stick Plant Hanger by Omaha
You can already get pretty crafty with simply painted pots, but take your plant display to the next level with this DIY hanging pot holder. Learn how to make a popsicle stick hanger for your plants over at Omaha. Fabulous!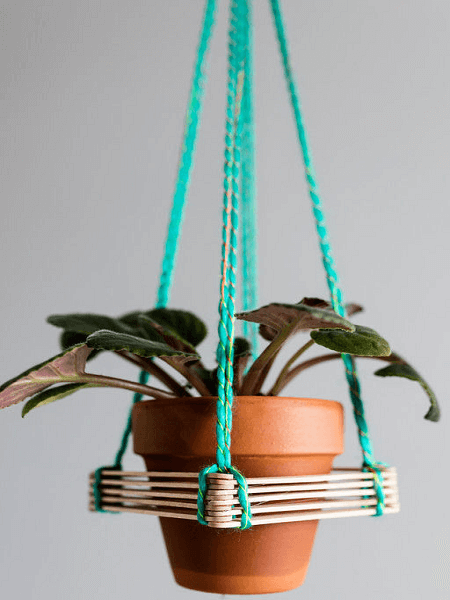 Find the Popsicle Stick Plant Hanger Tutorial Here
24. Popsicle Stick Harmonicas by Make It Love It
These harmonicas are such a great way to beat the heat in the hot afternoons this summer and create something that your kids will actually enjoy making. You can decorate your own harmonicas and when they are finished, you can actually use them to make music!
Just play around with it and let your kids see if they can figure out what creates the sound, why it works, and how to change it up.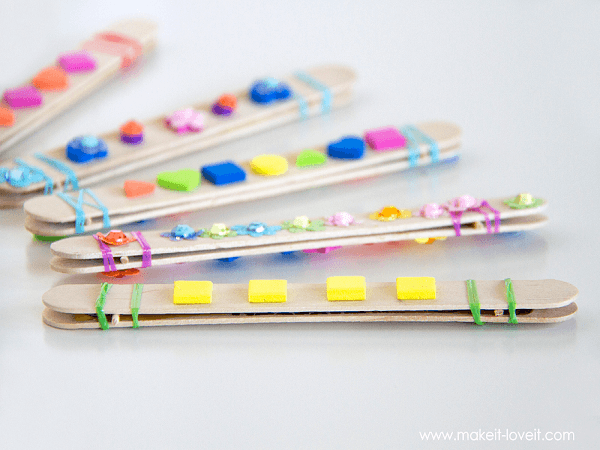 Find the Popsicle Stick Harmonicas Tutorial Here
25. Notebook Cover Popsicle Stick Craft by In My Blue Room
It's time to put those stamps in good use. In My Blue Room Designs has straight forward instructions for assembling popsicle sticks into a journal, which can then be decorated with stamps or with all new designs you have in mind.
This works perfectly for teacher gifts, or to let your kids keep in bed when they want to color or scribble before they fall asleep.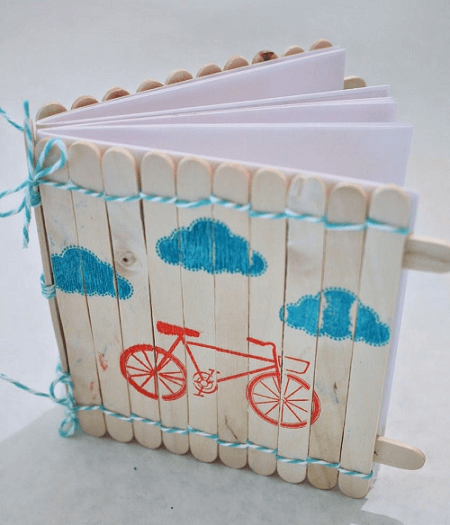 Find the Notebook Cover Popsicle Stick Craft Tutorial Here
26. Sunburst Mirror Popsicle Stick Craft by Gracefully Searching
Sunburst mirrors look brilliant on anyone's wall, and the process is actually quite simple. Just make sure you have a lot of glue and popsicle sticks! Go with various lengths of popsicle sticks, a circular base, hot glue, and whatever shade of paint you would like.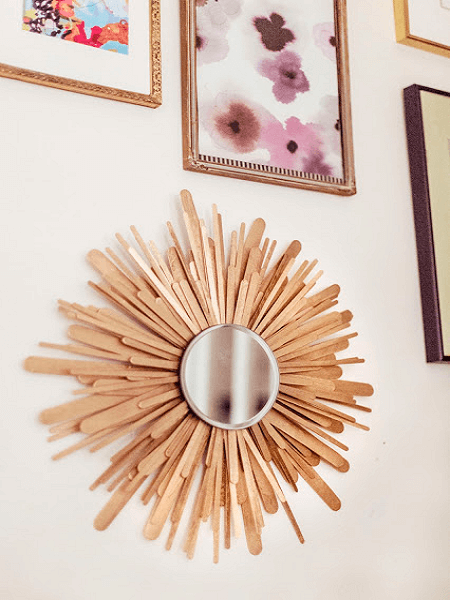 Find the Sunburst Mirror Popsicle Stick Craft Tutorial Here
27. Popsicle Stick Bookmarks by Swoodson Says
If you wanted to make these with kids, you could pre-drill the holes and then have them use a large sewing needle to draw the tassel through the hole.
Aren't these bookmarks cheery and colorful? These popsicle stick bookmarks are a fun craft that will take away summer boredom blues!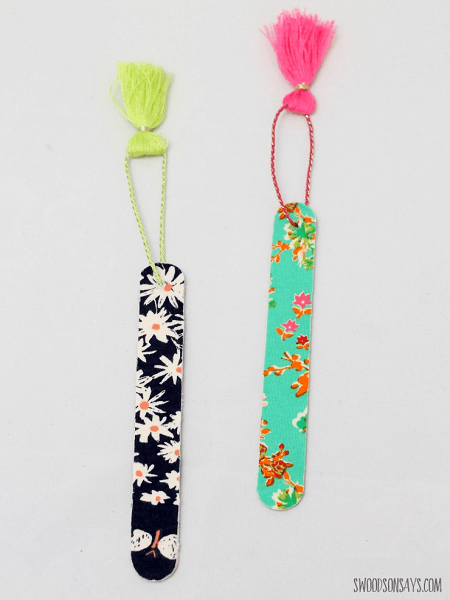 Find the Popsicle Stick Bookmarks Tutorial Here
28. Soap Dish Popsicle Stick Craft by Cut Out And Keep
You won't believe how little is needed to make this soap dish. Keep your soap from sticking to your sink with this modern + minimal wooden soap dish made from popsicle sticks!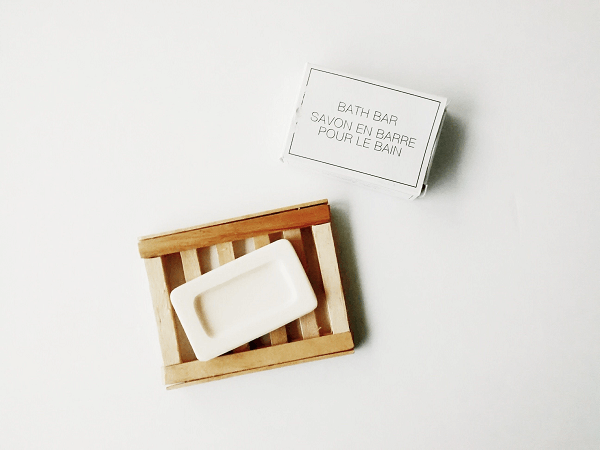 Find the Soap Dish Popsicle Stick Craft Tutorial Here
29. Popsicle Stick Cake by Hostess With The Mostess
This Popsicle Stick Cake Centerpiece is surprisingly easy and super versatile. This popsicle stick craft is made with just popsicle sticks, washi tape, tissue paper fringe, and nesting boxes! The sky is the limit as far as customizing this design.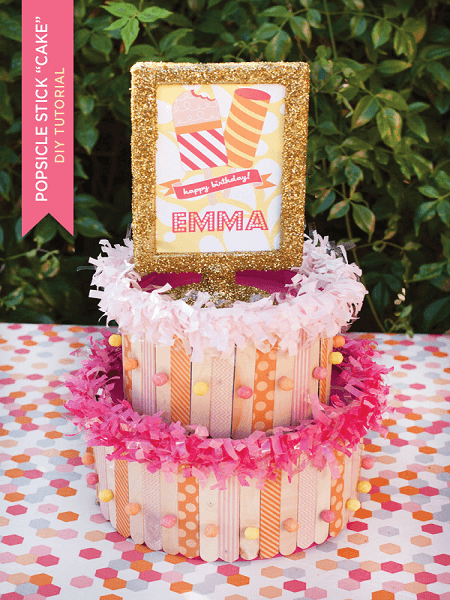 Find the Popsicle Stick Cake Tutorial Here
30. Art Sculptures Popsicle Stick Craft by Hello Wonderful
These easy popsicle stick sculptures pack a ton in one simple activity. There's art, engineering, and fine motor skills involved. Once all your sticks are glued on, you're done! Now admire your pretty stick art sculpture and place it around the home for a unique, kid-designed piece of artwork.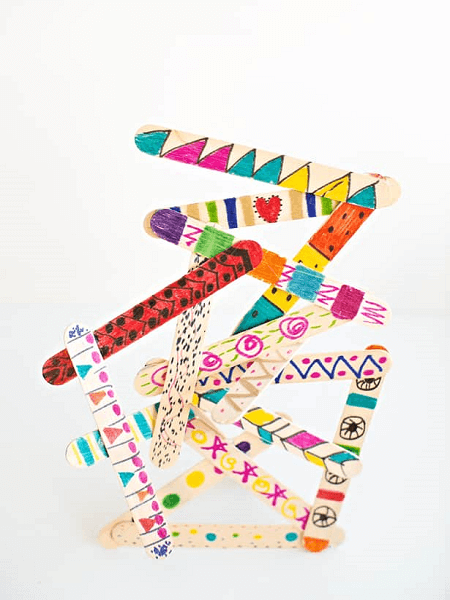 Find the Art Sculptures Popsicle Stick Craft Tutorial Here
31. Popsicle Stick Arrow Wall Art by Festoon And Frill
Is there a way to keep things simple and budget-friendly? Festoon and Frill will show you how to make this stunning arrow wall art that is one of the most contemporary and eye-catching pieces you could show off at the moment!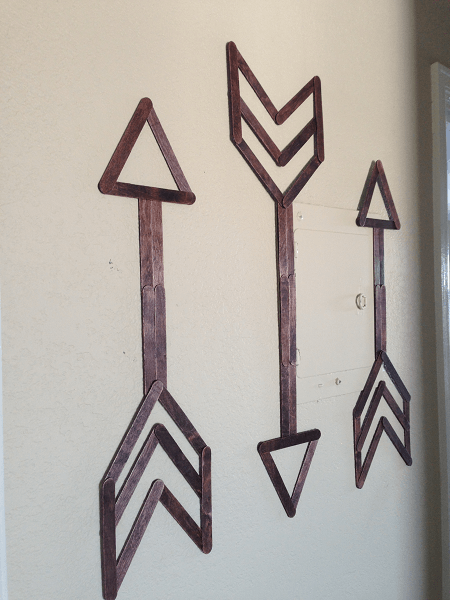 Find the Popsicle Stick Arrow Wall Art Tutorial Here
32. Popsicle Stick Lamp by Handmade Charlotte
These DIY lamps will add a fun and playful touch to a desk or bedside table. They're quick and simple to make, and because you will just use a basic light fixture you can move the lamp around or even swap in another shade in case you want a change later on! Paint them in your favorite colors, glue them onto the frame, and voila!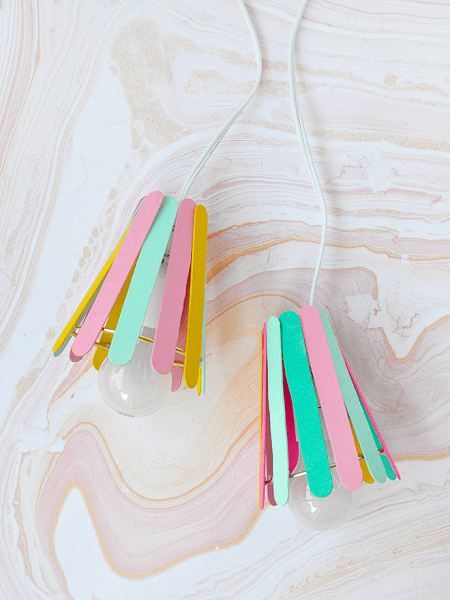 Find the Popsicle Stick Lamp Tutorial Here
33. Popsicle Stick Earring Stand by Shivani Creations
Need a place to store your dangle earrings? Try making jewelry stand with popsicle sticks. Carefully gluing them into a stand will allow you to use them to hang your earrings from, and adding pretty colorful paint gives this project a more sophisticated appearance.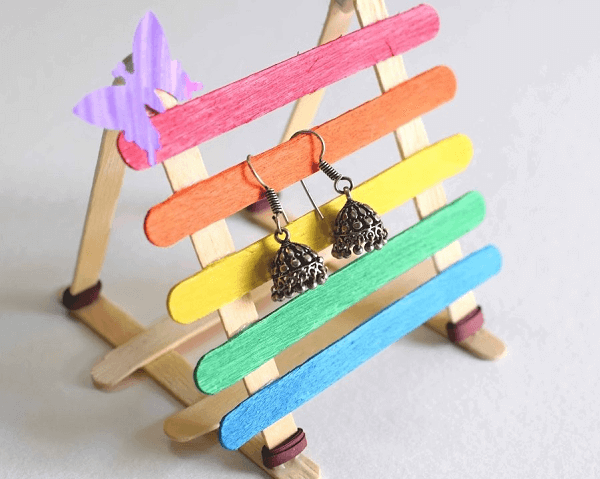 Watch the Popsicle Stick Earring Stand Tutorial Here
34. Popsicle Stick Mosaic Mirror by Little Bits Of Home
All things look better when you add more colors. You can play with colors and make a mosaic look of your popsicle sticks. In this craft, you will have a perfect implementation of this idea. A popsicle stick mosaic mirror that will catch everybody's eye.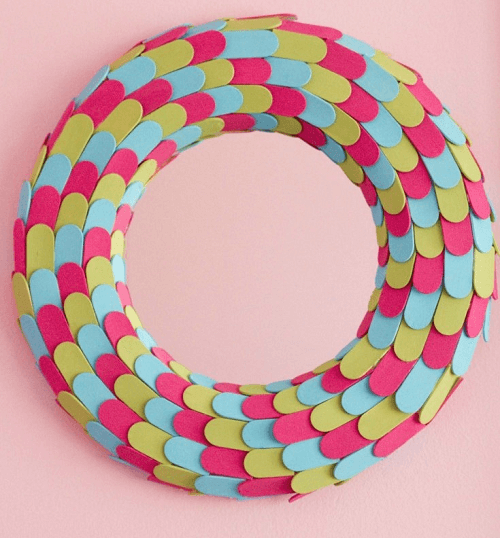 Find the Popsicle Stick Mosaic Mirror Tutorial Here
35. Popsicle Stick Basket by Ikat Bag
The alternating layers of popsicle sticks create a pattern of gaps, which accounts for its basket-ness. It is, apart from being very therapeutic, an extremely kid-friendly craft because it involved harmless old white glue. You can customize them to any size and shape you like, as long as they have an even number of sides.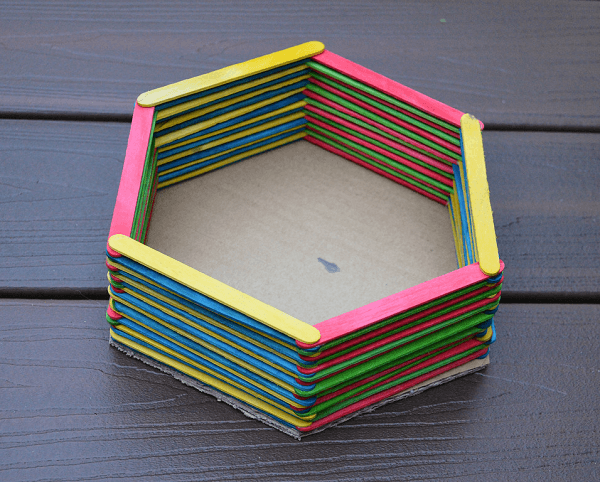 Find the Popsicle Stick Basket Tutorial Here
36. Popsicle Sticks Flower Craft by The Resourceful Mama
Turn craft sticks into a bright and colorful Popsicle Sticks Flower Craft that you and your kids will enjoy making both spring and summer. It's rather easy, has inexpensive supplies and is perfect for all age groups.
You can even change out a few things to make it custom to what you have on hand already. This crafty idea would also make for a great Mother's Day gift for young ones to make!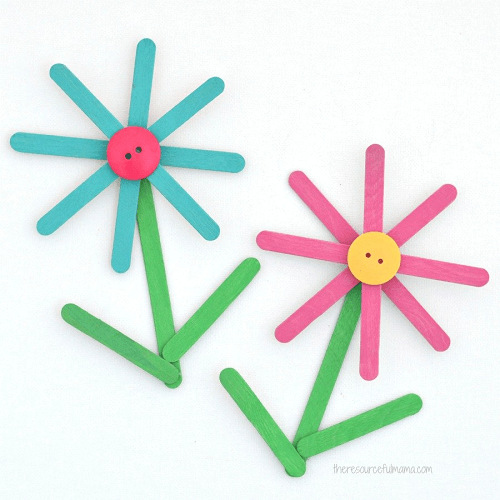 Find the Popsicle Sticks Flower Craft Tutorial Here
37. Popsicle Stick Star Garland by Pink Stripey Socks
This garland is a beautiful ombre blue with festive glitter accents. The best part is that the end result is a stunning piece of DIY holiday decor that you will want to keep up year-round.
Popsicle stick crafts are fun because you get to use paint, glue, and ingenuity to create fun shapes like these stars.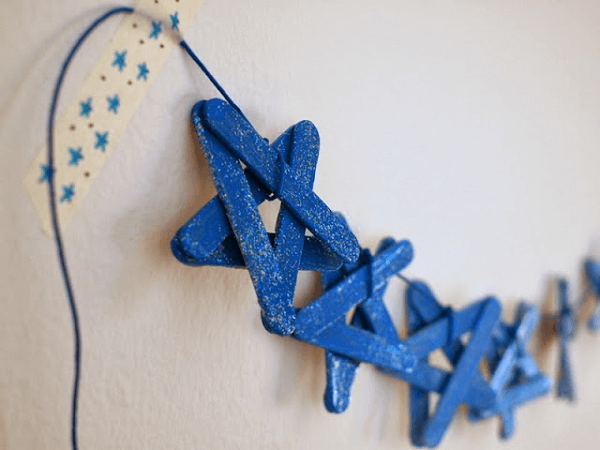 Find the Popsicle Stick Star Garland Tutorial Here
38. Popsicle Stick Heart Wall Art by Make And Do Crew
This is a great year-round DIY art idea for a nursery, a child's playroom or even an adult bedroom. Adorn your walls with some voguish geometric heart shapes using popsicle sticks. All you have to do is paint them and glue them together before you shape them into perfect heart shapes.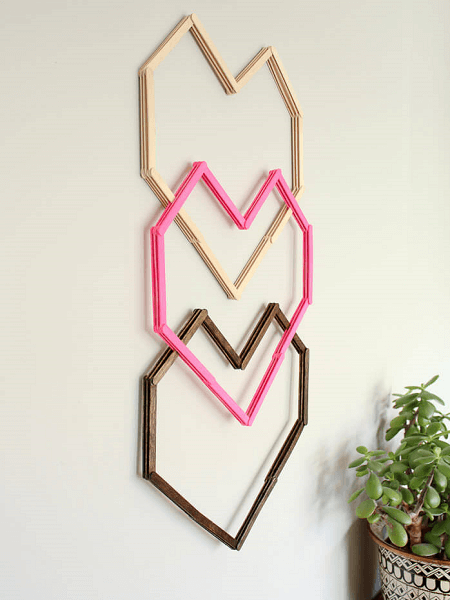 Find the Popsicle Stick Heart Wall Art Tutorial Here
39. Popsicle Stick Pencil Holder by Katherine Lee
Brighten up back-to-school time with these bright and cheery pencil holders. They're super-easy to make and will add a lovely pop of color to your child's desk or homework area.
Kids will love gluing and painting these pencil cups, and they may just be a little less bummed about doing homework with these little cuties to store pencils, markers, and other school supplies in.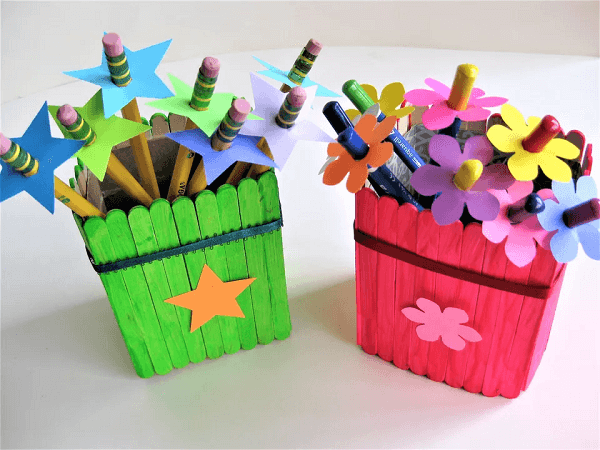 Find the Popsicle Stick Pencil Holder Tutorial Here
40. Popsicle Stick Wall Hooks by Fall For DIY
If you decide to make your own set of these wall hooks, put it to work holding lightweight items like scarves, hats, or delicate necklaces. In the kitchen, these hooks can store reusable shopping bags where you won't forget them. They're really easy to create and you will want to make hundreds just so you can decorate them in different ways!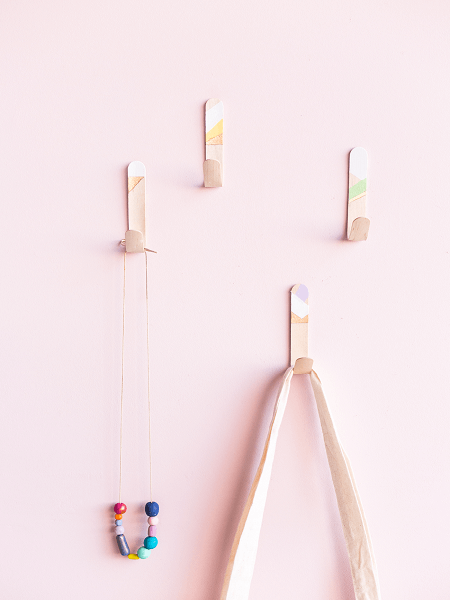 Find the Popsicle Stick Wall Hooks Tutorial Here
41. Popsicle Sticks Garden Labels by Oh So Lovely Vintage
Help your little ones to make their own garden labels and then watch as they enjoy nurturing those plants all spring and summer long, These are super easy and so much fun to make!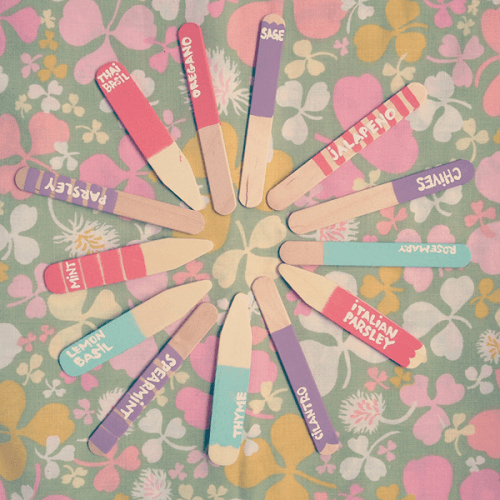 Find the Popsicle Sticks Garden Labels Tutorial Here
42. Weaving Looms Popsicle Stick Craft by Buggy And Buddy
When this loom is done, you can use anything from yarn to leftover fabric scraps to create so many wonderful things. These would make a wonderful addition to a classroom.
Think of what a fun center it would be~ allowing kids to create art while working on fine motor skills at the same time!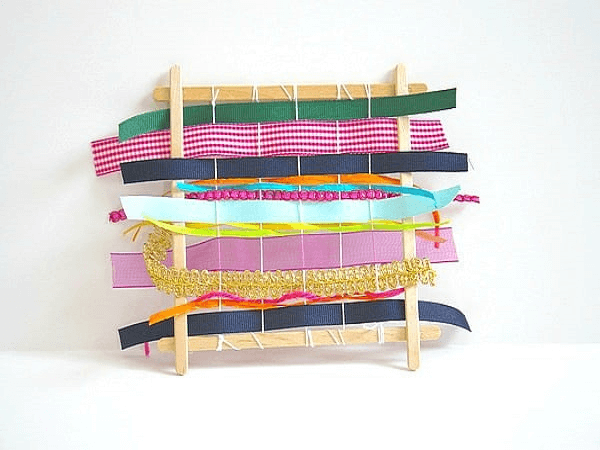 Find the Weaving Looms Popsicle Stick Craft Tutorial Here
43. Popsicle Stick Birdhouse by Instructables
This popsicle stick birdhouse is great for those of us who can't afford to be managing our pets 24/7. Simply string it up in your backyard and put some seeds inside, and you will be surprised by the number of birds that flock to your backyard.
Whether you are simply trying to make a home for your bird or are trying to attract more, this birdhouse is simple and easy for anyone to make. If you want more birdhouse crafts then be sure to check our 31 DIY Birdhouses.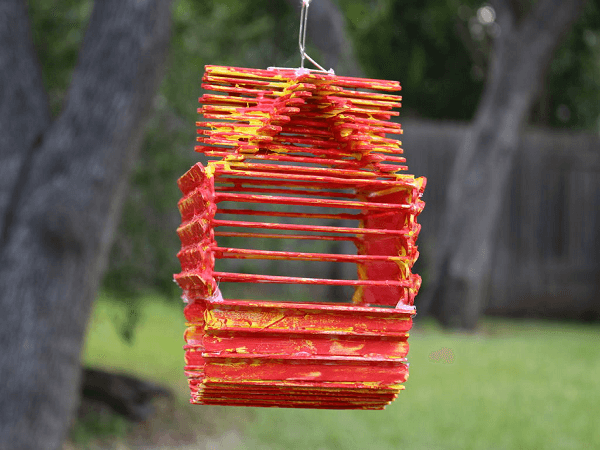 Find the Popsicle Stick Birdhouse Tutorial Here
44. Popsicle Stick House by Crafts By Ria
In this popsicle stick house tutorial, you will learn all the basic tricks to make the walls, windows, fence, and stairs to build a beautiful little craft house.
Decide the height and width and stack the popsicle sticks accordingly. This is a fun project to develop the engineering and math skills of your growing kids.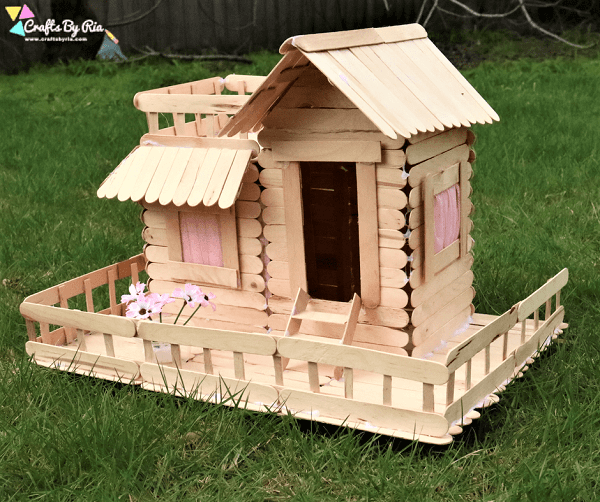 Find the Popsicle Stick House Tutorial Here
45. Popsicle Stick Pallet Art by Deja Vue Designs
This is an easy alternative to making your own pallet art, especially if you want a smaller size. This project measures 8″ x 10″, a perfect size for your wall or mantel. Check out the tutorial from Deja Vue Designs for the entire plans and instructions.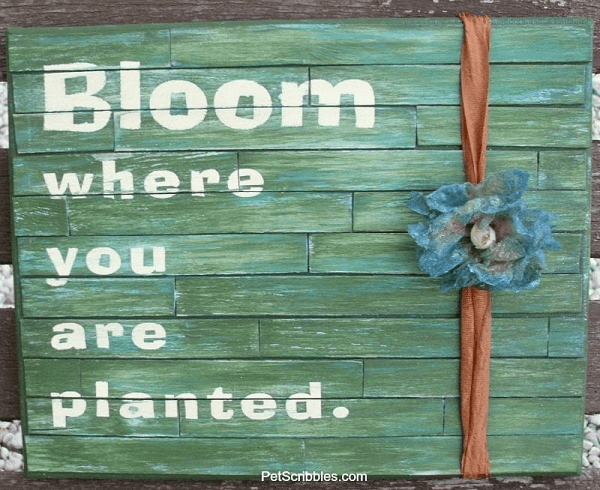 Find the Popsicle Stick Pallet Art Tutorial Here
46. Popsicle Stick Christmas Tree by Twelve On Main
Holiday trees come in all types of materials nowadays. You can use inexpensive popsicle sticks in different sizes and shapes to achieve this modern, architectural gem that will last for years to come. You can paint the sticks green or leave it uncolored for the natural look.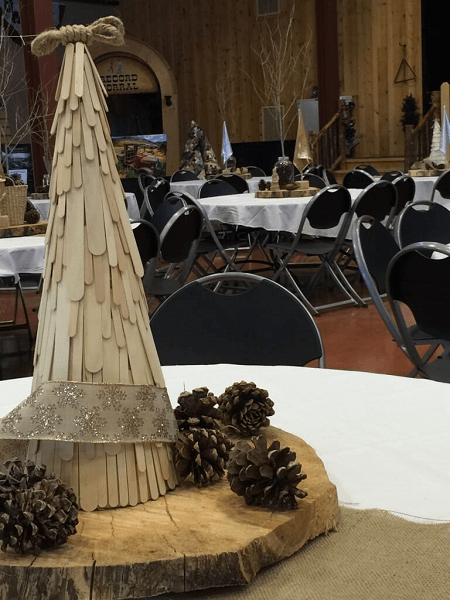 Find the Popsicle Stick Christmas Tree Tutorial Here
We hope you've enjoyed these popsicle stick craft ideas!
Let's keep the crafting rolling! You might have egg cartons laying around so make sure to check our list of Egg Carton Crafts.
When you have made your own special creations, share with us on Facebook. You can also go here to see a roundup of all sorts of fun things you can make other than popsicle sticks.
Better start licking some ice pops, because you're going to want to make more than one of these brilliant popsicle stick crafts!