Embroidery is a lot of fun. You can create wall hangings and decorate countless other items. But to complete the perfect embroidery, the fabric you are stitching needs to be stable. Using a stabilizer for embroidery will give you that extra support you need. It will also make embroidery easier and more enjoyable.

What is a Stabilizer for Embroidery?
Embroidery stabilizer is a type of fabric that is added to your embroidery projects. It makes the embroidery process easier because the fabric is stronger and denser.
There are different types of embroidery stabilizers. Each type has a distinct purpose. When shopping for an embroidery stabilizer you can find fusible, water-soluble, stick-n-wash, heat-away, cut-away, and tear-away. They also come in different weights. Below, you will find out more about each of these options.
Different Types of Stabilizers for Embroidery
Below I will explain the different types of embroidery stabilizers. If in doubt, when searching for an embroidery stabilizer, check the packaging. It will often list the types of projects it can be used for. However, once you start working with a certain type of stabilizer, you may prefer it over other types.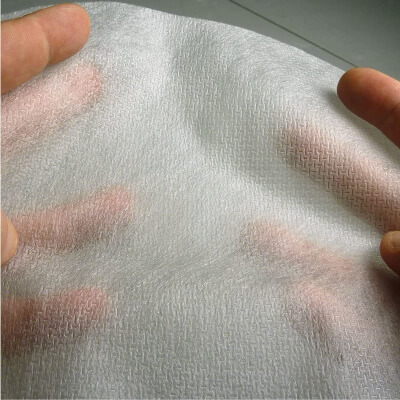 Fusible stabilizer is also known as interfacing. It is normally used for sewing. But it is also fantastic for standard embroidery projects. Fusible stabilizer is ironed onto the back of the fabric. After you stitch your embroidery design, the stabilizer is left in place.
Water-Soluble Embroidery Stabilizer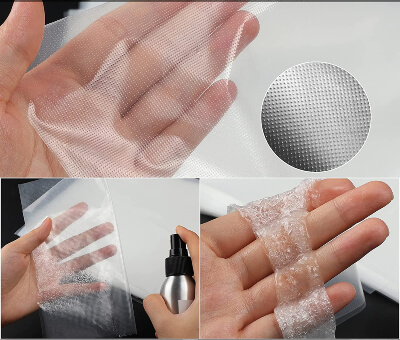 Water-soluble embroidery stabilizer is temporary. It is often kept in place with the embroidery hoop. Once you have completed stitching your design, soak it in water to dissolve the stabilizer. Water-soluble stabilizer makes a great topping when stitching fluffy and squishy fabrics. The stabilizer prevents the stitches from getting lost in the fabric. You can also use water-soluble stabilizer as a backing.
Stick-N-Wash stabilizer is comparable to water-soluble stabilizer. But instead of using an embroidery hoop to hold it in place, you simply press it on the fabric, and it sticks. Once you have completed your design, wash the stabilizer away.
Heat-away stabilizer can be used with delicate fabrics or when creating lace designs. It is an alternative to water-soluble stabilizer for fabrics that cannot be exposed to water. Instead of using water to remove the temporary stabilizer, you use your iron.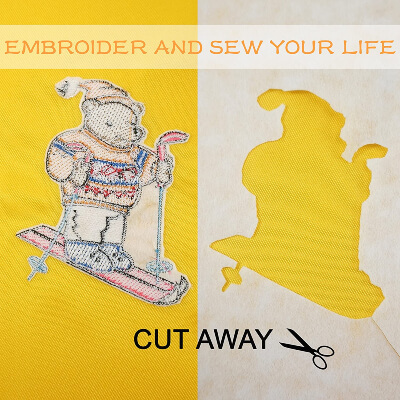 Cut-away embroidery stabilizer is often used in machine embroidery. It can also be used for hand embroidery; however, you will have to use your hoop to keep it in place. Once you complete your project, remove the excess stabilizer from around the edges of the design. The embroidery stabilizer under the stitches stays.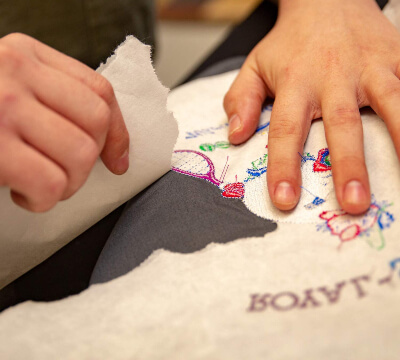 Tear-away stabilizer is great for fabrics that need some extra support. To remove tear-away stabilizer, simply tear it off when you are done.
Stabilizer Weights
As if the different types of stabilizers for embroidery were not enough. You also have to decide what weight to use. When choosing your stabilizer, the role of thumb is, the thinner the fabric, the heavier the embroidery stabilizer should be. The thicker the fabric, the thinner the embroidery stabilizer should be.
Also, take into consideration the number of stitches. If your project has a lot of stitches, you will want a heavier stabilizer than normal. The denser the embroidery design, the more stabilization it needs.
Stabilizers for embroidery has 3 main categories. You will find that the weights often vary by manufacturer.
Light Weight Stabilizer – 1 to 1.5 ounces

Medium Weight Stabilizer – 1.6 to 2.75 ounces

Heavy Weight Stabilizer – High 2.8 to 3.5 ounces
Embroidery Stabilizers Colours
Embroidery stabilizer is available in black, white, and transparent. White is the most common type of stabilizer for embroidery. It can be used with a wide range of fabric colours, and it cannot be seen through the fabric. Black is sometimes used on darker fabrics. The only stabilizer for embroidery that is transparent is heat-away stabilizer.
When Do you Need to Use Embroidery Stabilizer?
Stabilizer is essential for embroidery projects. It is the foundation of your design. Almost every embroidery project you will ever work on will require you to apply some type of stabilizer for embroidery. However, you may come across premade items that have a built-in stabilizer.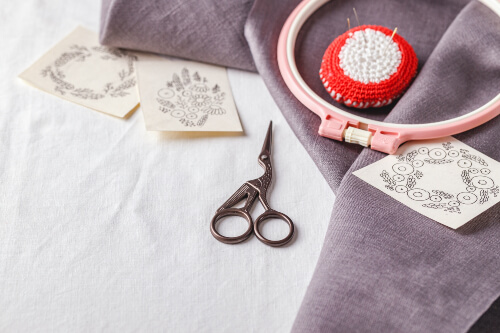 Why do you need a stabilizer for embroidery:
When you embroider thin fabrics, you can see the back of the embroidery. Using embroidery fabric adds an extra layer. This will help prevent the threads from showing through.
Just as with thin fabrics, you can see through light-coloured fabrics. The extra layer that the embroidery fabric adds just enough fabric to prevent the threads from showing through.
Adding a layer of embroidery fabric to lightweight fabrics helps stabilize the fabric. If you do not use embroidery fabric, the stitches will pull the fabric, creating puckering.
Fabrics that have a loose weave can be hard to embroider. This is because there is quite a bit of space between the fibres. The large spaces can make it hard to create smooth lines. Adding a layer of embroidery fabric to the back of your project will cause the loose-weave fabric to act more like a tight-weave fabric.
If you do not use fabric stabilizer on stretchy fabric, your design will look distorted. The embroidery stabilizer stiffens the area. This allows you to create designs easily without the fabric stretching.
Denim and Heavy Weight Fabrics
You may think that heavy weight fabrics do not need a stabilizer, but that is not true. Heavy weight fabrics still need to be stabilized. These fabrics often have a stretch to them. If you do not use a stabilizer, the fabric can pucker.
Use a stabilizer for embroidery t

o make your stitching go a little easier
So, is a stabilizer for embroidery necessary? Yes, it is. You may want to skip the step of applying the stabilizer, but do not do that. You will regret it when you are done. Instead, take a couple extra minutes to apply the stabilizer for embroidery so your finished design comes out perfectly.
Whatever you decided to use, share to us your thoughts on our Facebook Page. We'd love to hear from you. And for more embroidery related projects, check out the articles below:
We hope you enjoy learning the different types of stabilizer for embroidery.