Embroidery is a crafting technique that is practised around the world. It can be dated back the 30,000 B.C. Embroidery uses a wide range of stitches to create decorative designs. The variety of stitches used in embroidery can vary between flat stitches and dimensional stitches. They can be randomly applied to add details or placed directly against each other to cover a solid area of embroidery fabric.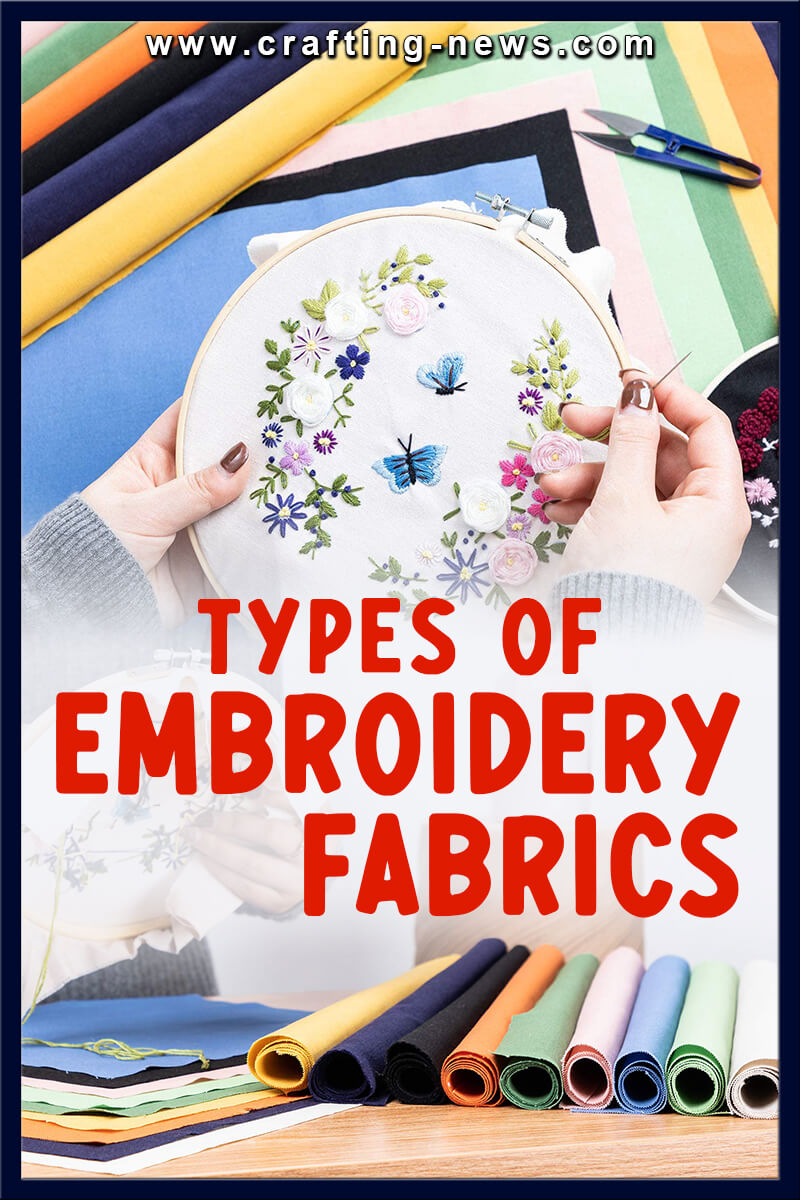 When embroidering, you can use various types of materials. This makes embroidery versatile. You can embroider practically anything from wall hangings to towels and clothes. Below, I have created a list of the most common types of embroidery fabrics.
What Type of Fabric Do you Need for Embroidery?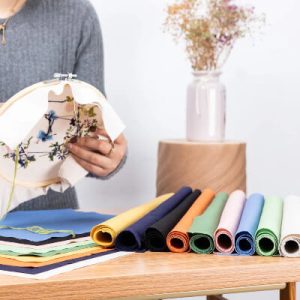 If you are new to embroidery, you may be confused at what you need. That will depend on if you are interested in hand embroidery or machine embroidery. One common supply you need for both techniques is fabric. But which kind? To learn more about embroidery fabrics, continue reading below.
Loose Weave vs Tight Weave Embroidery Fabric
There are many types of fabric you can use for embroidery. However, they all fall into two main categories: loose weave and tight weave.
Loose weave fabrics usually have a "count." The count refers to the number of holes per inch. This number gives you an indication of how loosely the fabric is woven. Loose weave fabric is often used for cross stitching and punch needle.
Tight weave fabric has fibres that are tightly woven together. This type of fabric does not usually have a count. Tight weave fabrics are typically used for hand embroidery and machine embroidery.
Best Fabrics for Embroidery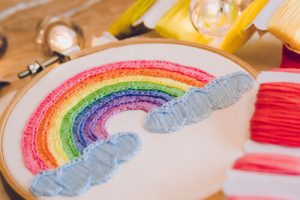 The best embroidery fabrics are tightly woven. When working on embroidery projects, you will usually choose a fabric with natural fibres. The natural fibres are easier to work with than synthetic fibres.
6 T
ypes of fabric used in embroidery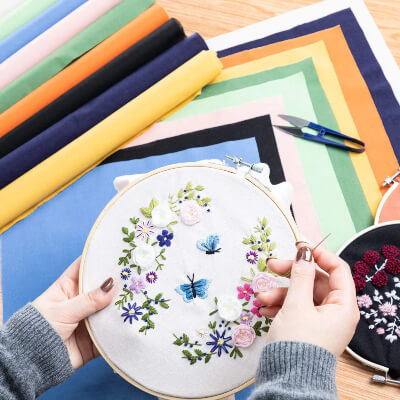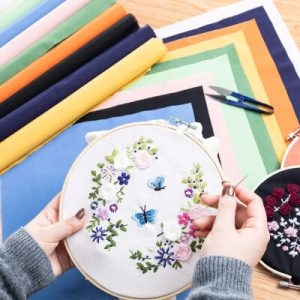 Traditional linen is a great choice for embroidery. It can be used for both hand embroidery and machine embroidery. However, if you are using it for machine embroidery, you may need to modify your setup. It is a durable fabric with a unique texture that can complement designs.
Pros of Traditional Linen
Durable

No guidelines

Even weave
Cons of Traditional Linen
Usually woven with a single thread

Weave can be uneven

Often only found in neutral colours

Can have a rough texture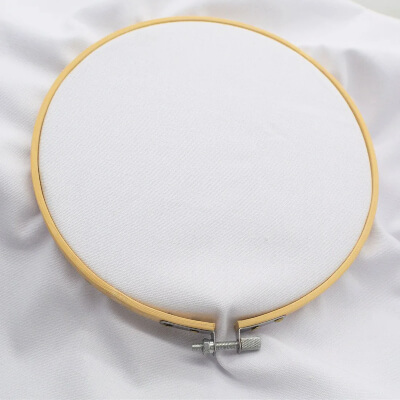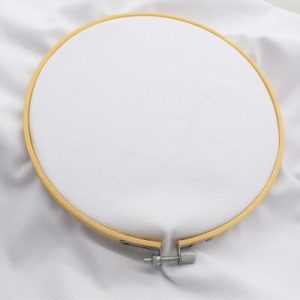 Cotton is a versatile fabric. It is easy to work with and comes in a wide variety of colours. You can purchase cotton fabric off a bolt or embroider premade pieces such as t-shirts, curtains, or pillowcases.
Pros of Cotton
Inexpensive

Available in a lot of colours

Lightweight

Versatile
Cons of Cotton
Cotton can shrink

Must be washed before use
3. Denim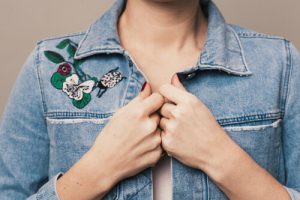 Upcyling old denim clothing has become a huge trend. You can customise pants, shirts, and jackets. The fabric is sturdy and durable with a tight weave.
Pros of Denim
Cons of Denim
Need heavy duty sewing machine for machine embroidery

Can be hard to push your needle through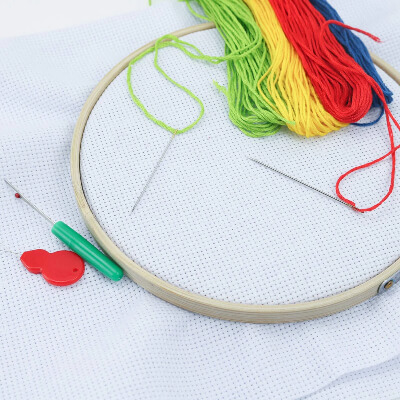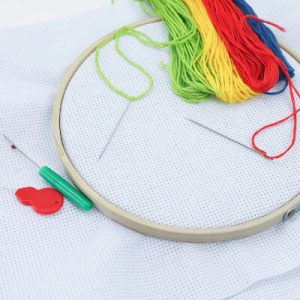 Even weave fabric has horizontal and vertical fibres that are equally spaced. The holes between the fibres are visible and easy to count. It can be used for embroidery, but we would not recommend it. The large holes make it too hard to get smooth stitches or create intricate details. We would only recommend even weave fabrics, such as Aida, for cross stitch or punch needle.
Pros of Aida
Inexpensive

Available in a lot of colours

Even weave

Easy to work with
Cons of Aida
Large holes

Not intended for traditional embroidery
5. Satin and Silk
Satin and silk can be embroidered. However, they do require a lot of experience. The fabrics are slippery and hard to work with. The fabric is delicate and easy to rip. When embroidering silk, use small designs. Large designs can weigh the fabric down, interfering with the elegant drape of the fabric.
Pros of Silk
Lightweight

Tightly woven
Cons of Silk
Large designs interfere with the drape

Hard to work with

Needs a stabilizer
Canvas is another favourite fabric used in embroidery. Unlike most embroidery cloth, it is made with a mixture of natural fibres and synthetic fibres. You can find canvas in a wide range of colours. Popular canvas items to embroider are tote bags.
Pros of Canva
A tight weave keeps the stitches in place

No guidelines

Prevents tears
Cons of Canvas
Can fray

Different types can be harder to work with
Once you have practised basic embroidery techniques, try using different fabrics. You may be surprised at how much you enjoy working with various types of embroidery fabric.
Embroidery is a fun and relaxing hobby. It can be appreciated by people of all ages. And unlike many other hobbies, it is easy to learn and master. Here are embroidery related articles for you: How To Thread an Embroidery Needle Tutorial, Cross Stitch Vs Embroidery and Rose Embroidery Patterns.
If you are new to embroidery or are just looking for different fabrics to use, try working with some of the embroidery fabric choices I listed above.