Many people get cross stitch and embroidery confused. It is easy to do if you do not understand the difference between cross stitch vs embroidery. Both techniques are a type of needle craft that use embroidery floss, an embroidery needle, and fabric. However, they are not the same art form.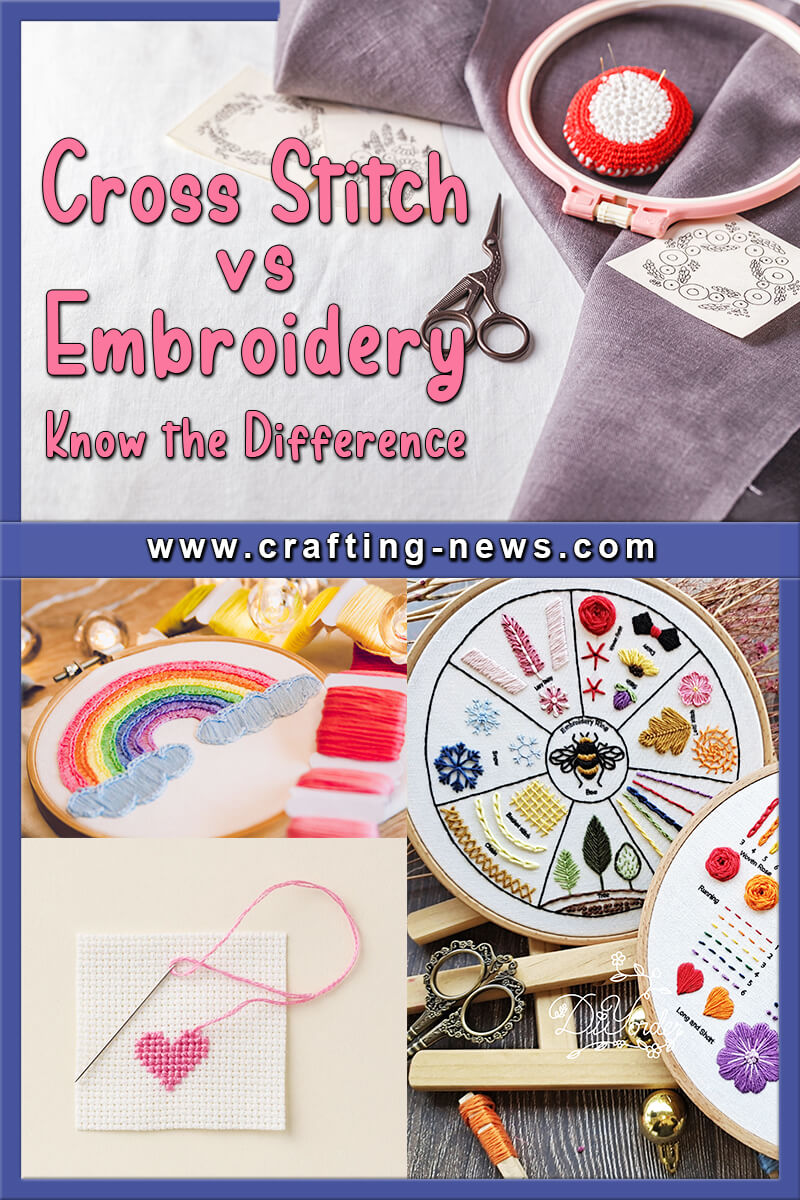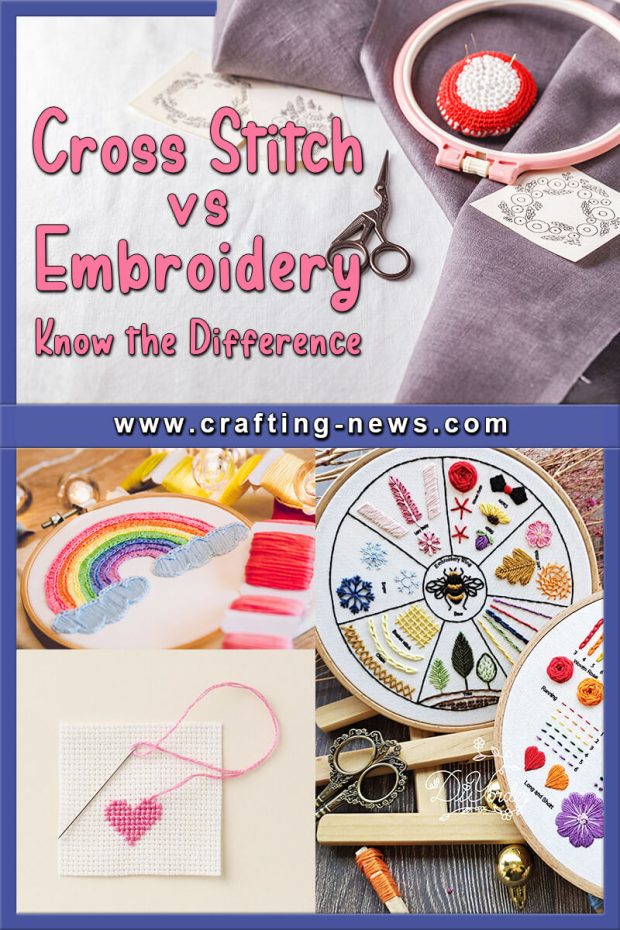 Difference Between Cross Stitch and Embroidery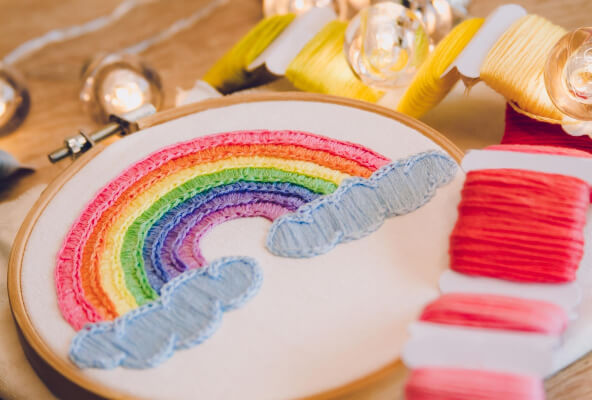 So, what is the difference between cross stitch and embroidery? This is a common question we hear all the time. To learn more about cross stitch vs embroidery, continue reading below.
We hope our explanations will make it easier for you to differentiate between the two.
What is Cross Stitching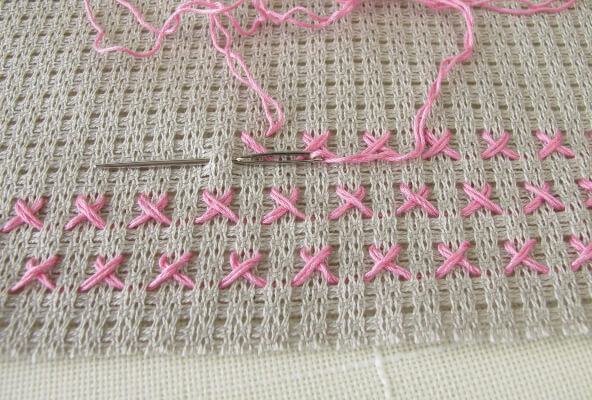 Cross stitch often uses x-shaped stitches to create a pattern or image. However, when cross stitching you may also use ¼, ½, and ¾ stitches along with back stitches. Using the smaller stitches and back stitches helps to create smoother edges.
Cross stitching is often referred to as counted cross stitching. This is due to the fact you count the number of stitches you are making. To make it easier and to create more even cross stitches, you usually use an even weave fabric.
Finished Appearance of Cross Stitch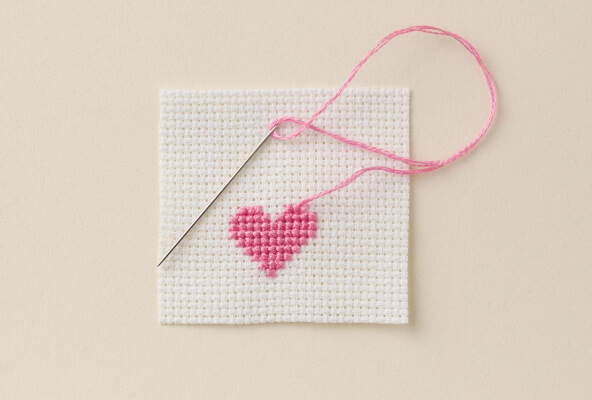 For the most part, a finished cross stitch project will lay flat on the fabric. However, there are a few speciality stitches that can be used to create dimension, such as the French Knot (Click here for the French Knot Tutorial). These specialty stitches are only used sparingly to add interest and dimension.
Cross stitching can be compared to pixel art. It is a specialised art form that uses squares of colours on a gridded fabric. These small squares are combined to create a larger picture. This is the same type of technique used to create old school video games.
Reading a Cross Stitch Pattern
Cross stitch patterns are typically a large pattern of squares. These squares mimic the squares on the even weave fabric. Each square is marked with a symbol, a colour, or it is empty. If it is empty, you will not put a stitch in the corresponding square on the fabric. If there is a symbol or a colour, you will make a stitch using the designed floss colour.
Along with charted patterns are stamped patterns. These types of patterns are stamped directly onto the fabric. This type of pattern may be easier for beginners to understand.
What is Embroidery
Embroidery uses a wide range of stitches to create decorative designs. The stitches can vary between flat stitches and dimension stitches. The stitches are often placed directly against each other to cover a solid area.
Instead of using an even weave fabric, embroidery can use various types of materials. This makes embroidery a little more versatile. You can embroider almost anything from wall hangings to shirts and towels.
Finished Appearance of Embroidery
Embroidery creates a dimensional and textured design. You will often find subjects such as flowers, birds, and insects used in patterns. The combination of the different stitches used creates a 3D visual effect.
Reading an Embroidery Pattern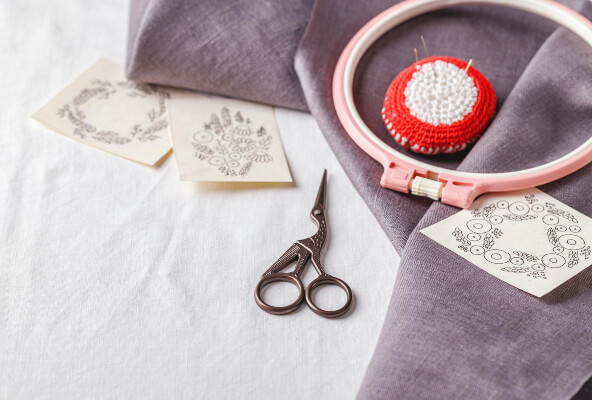 Unlike cross stitch patterns, embroidery patterns are usually transferred directly to the fabric. This is done before you begin stitching. You can do this using several different methods, such as tracing paper or hot iron transfers.
Since the pattern is printed directly on your fabric, there is no counting involved. This is why you do not have to stitch on even weave fabric. Instead, you utilise the lines as your guide. To determine which colours and knots to use, follow the included instructions.
There you have it, difference between Cross Stitch vs Embroidery.
Both cross stitch and embroidery are fun crafting techniques. Some people prefer cross stitching, while others prefer embroidery. And there are people like us that love them both. Share your thoughts which do you prefer on our Facebook Page. We'd love to know.
Here's our list of Cross Stitch Projects:
Cross Stitch Bookmark Patterns and Kits
Cross Stitch Alphabet Small Patterns
Owl Cross Stitch Patterns – Beautiful Stitch Art
Christmas Elves Cross Stitch Patterns – Christmas Crafts
Family Tree Cross Stitch Patterns
Star Wars Cross Stitch Patterns
Lavender and Lace Cross Stitch Patterns
We hope our post has helped clear up the difference between cross stitch vs embroidery.