Cross stitching is a great pastime for children. It allows them to be creative, and it helps them learn. When cross stitching, a child will have to do a lot of counting. This is a great way to get children to do math in a fun way. If you have been looking for a craft for your kids, try a childrens cross stitch pattern.
Cross stitching will not only help kids with their numbers, but it will also improve motor skills, creativity and self-esteem. And the best part about it is, they do not know they are learning. There are a lot of cross stitch patterns for kids available.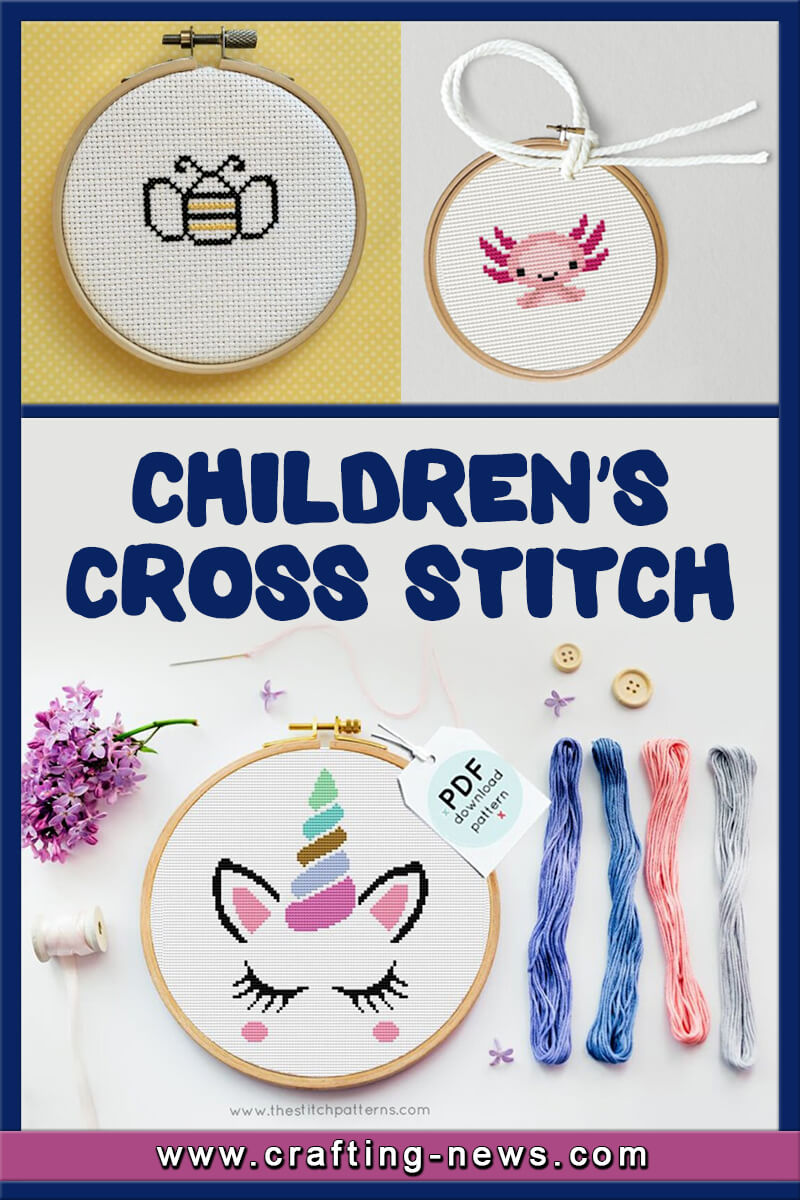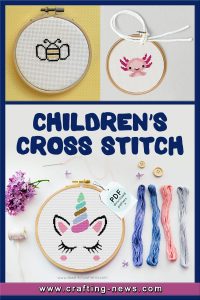 You can find small easy patterns, and more complicated and intricate patterns. If your child has never cross stitched before, look for a pattern that only has full stitches and minimal colour changes.
Once they learn the basics, they can graduate to bigger and better childrens cross stitch patterns.
1. Unicorn Nursery Cross Stitch by TheStitchPatterns
This unicorn pattern is so cute. Any little girl would enjoy making this and hanging it on her wall. The colours are fun and vibrant. And the pattern is easy.
Even though this is a rather simple pattern, we would not recommend this as a first project. It does have large areas that will take a bit of time to complete. The pattern can be completed on 14, 16, 18, 22, 28 or 32 count Aida fabric.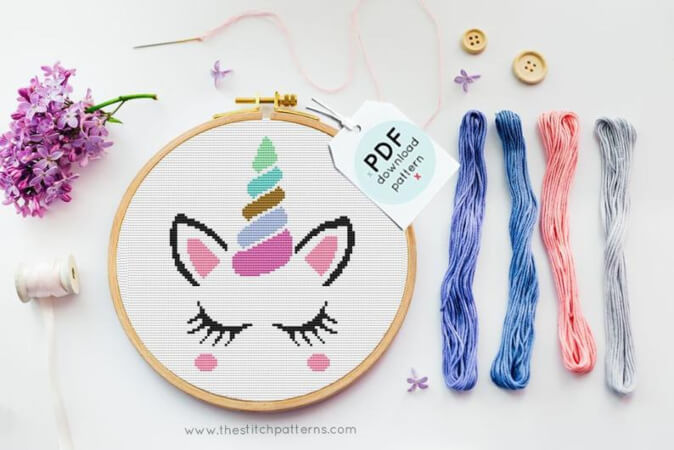 Find the Pattern by TheStitchPatterns HERE
2. Rainbow Musical Notes Cross Stitch Pattern for Kids by ClimbingGoatDesigns
This would be a fun design for a child that loves music. The notes can be made using the suggested colours, or they can be stitched in all black. This pattern would be for a child that has already learned the basics of cross stitching.
There is also some back stitching involved. The final stitch count is 71 stitches wide x 66 stitches high.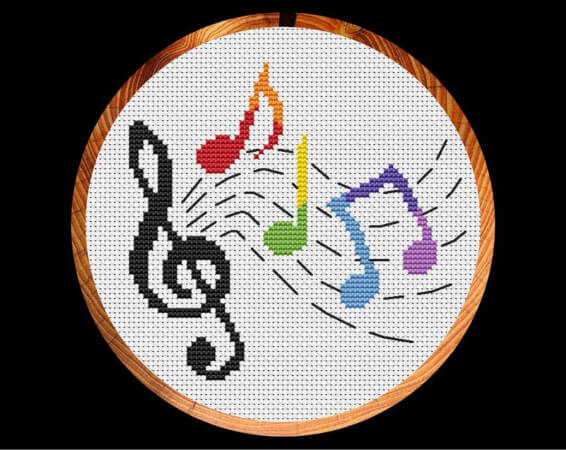 Get the Pattern by ClimbingGoatDesigns HERE
3. Mario Counted Cross Stitch for Kids by CrossStitchesGet
All kids love Mario. The characters are cute and unmistakable. If you have a child that is into gaming, this Mario mushroom pattern may be a perfect choice. The pattern is simple and only uses 3 colours of DMC floss.
A beginner could complete this pattern. The design size is 16 stitches wide x 16 stitches tall. It was designed to be stitched on 14 count Aida fabric.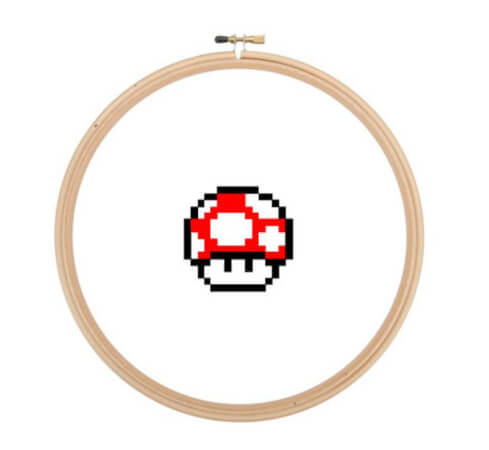 Get the Kit Pattern by CrossStitchesGet HERE
4. Mickey Mouse Cross Stitch Pattern for Kids from The Disney Experience
Who does not love Mickey Mouse? Here is a free Mickey Mouse cross stitch pattern. The pattern features the newest Mickey Mouse design. You will need 14 count Aida fabric and 14 colours of DMC floss.
This pattern would be perfect for a child that has already completed a couple of beginner projects.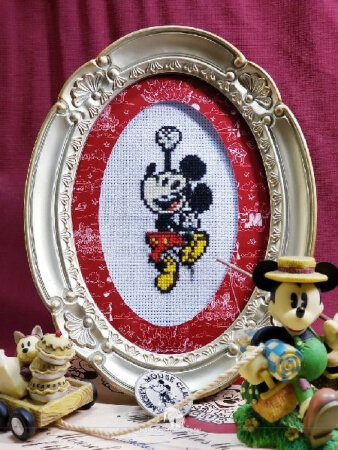 Find the Pattern from The Disney Experience HERE
5. Dragon Jar Childrens Cross Stitch Pattern by SnailFishesStitches
This is another fun design. If your children are into mythical creatures, this dragon would be a great pattern. The pattern uses 5 colours of floss and can be stitched on 14, 18, or 22 count Aida fabric. The stitch size is 33 stitches wide x 37 stitches high.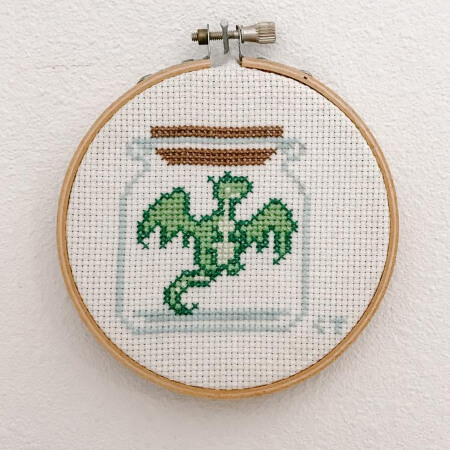 Find the Pattern by SnailFishesStitches HERE
6. Axolotl Easy Childrens Cross Stitch from TheStitchPatterns
The Axolotl is so cute. If it were not a real creature, you would swear it was a Pokémon character. Pandas are cute and cuddly. The pattern is small and can be stitched in a 3" hoop.
This makes it a nice size pattern for small hands. 14 count Aida fabric is recommended, but you can use 16 or 18 count instead.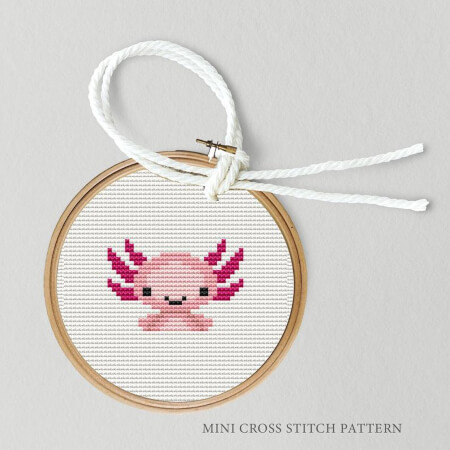 Find the Pattern from TheStitchPatterns HERE
7. Pooh Outline Childrens Cross Stitch by MyEasyStitch
The Pooh outline cross stitch pattern is easy, yet the results are impressive. Your child will be extremely proud of this finished childrens cross stitch. All the stitches are full and only 4 colours of DMC floss are required.
The pattern recommends 14 count Aida fabric. The finished embroidered are is 5.79" wide x 10.07 inches high.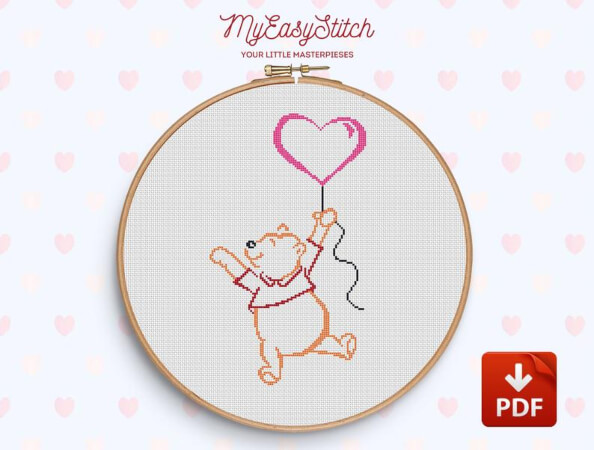 Find the Pattern by MyEasyStitch HERE
8. Earth Easy Childrens Cross Stitch by EasyPeasyDIY
We all need to do our part to keep the early smiling. This adorable childrens cross stitch pattern would make a nice magnet or ornament. This is a simple pattern, however, there are a few tight colour changes.
It would make a good second project for a kid. It is recommended that you use 14 or 16 count Aida fabric.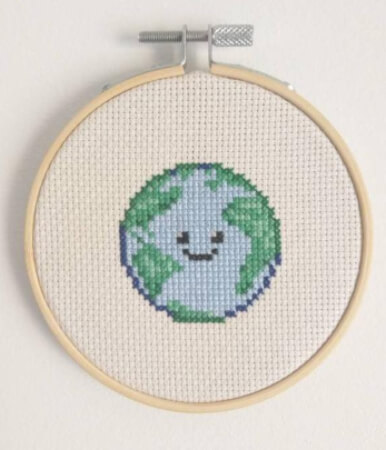 Find the Pattern by EasyPeasyDIY HERE
9. Bee Cross Stitch Pattern by 99CENTSTITCH
Here is a super simple pattern that would make a great first cross stitch pattern. It has an easy design, 2 colours, and only full cross stitches. The pattern uses 14 count Aida fabric.
The design size is 1.78" x 1.35". Once your child has mastered this cross stitch pattern for kids, they can use it to embroider other projects such as a backpack or a towel.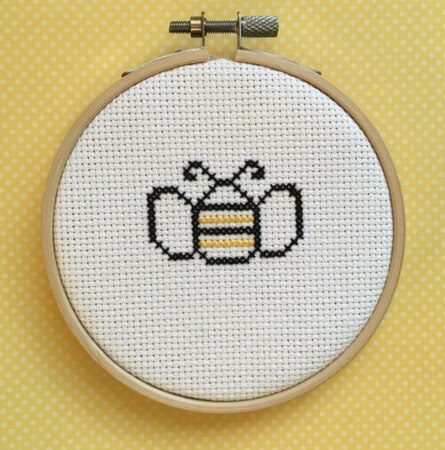 Find the Pattern by 99CENTSTITCH Here
CRAFTING IS A GREAT WAY TO KEEP KIDS BUSY AND OUT OF TROUBLE. TALK TO THEM AND SEE WHICH ONE OF THE FUN CHILDRENS CROSS STITCH PATTERNS THEY WANT TO MAKE.
Cross stitching is fun and is a hobby that you can enjoy throughout your whole life. When children start stitching early, they will enhance their motor skills and improve their concentration.
You can also buy one of these Cross stitch kits for your kids. Also, do check out these Cross Stitch Birth Sampler Patterns, Cat Cross Stitch Patterns, 3 Font Tiny Cross Stitch Alphabet Small Patterns, and Peter Rabbit Cross Stitch.
Although cross stitching has been a woman's hobby for many years, this is no longer the case. Men are enjoying the hobby more than ever. It is a fun hobby that can be enjoyed by people of all ages and genders.
If you are looking for something fun for your kids to do, try one of these childrens cross stitch patterns.