Personalized Family Tree Cross Stitch Pattern
|
They say a picture is worth a thousand words while a family is one of nature's masterpiece. With this Personalized Family Tree Cross Stitch Pattern, you can make custom portrait of each family member – a thousand words and nature's masterpiece in one!
Personalized Family Tree Cross Stitch Pattern
Expressing your love for the important people in your life can be in so many different ways. A usual way is keeping a family picture. This is already very sweet… but you know what's sweeter? Immortalizing and preserving it through cross stitch is even more special! Creating your very own personalized masterpiece showing a picture of your  family tree in a craft would definitely be worth your time and effort.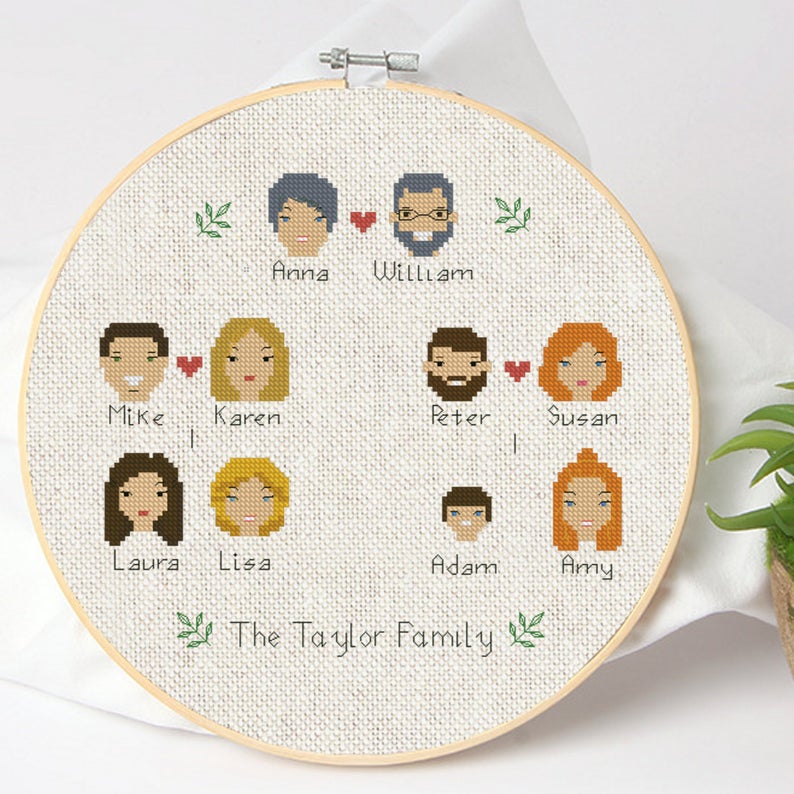 ABOUT THE CROSS STITCH FAMILY TREE PATTERN
One of the best family cross stitch patterns we checked out is by Anna Sypalo of XstitchbyAnna. Unlike ready-made family tree patterns, Anna will help you customize yours! Personalization will be based on thes pictures of your family members that you will send.
Your end product will be a pattern that is only for you and your family! It will be a customized and perfectly sentimental memory of your family line. You can even include your furry pet cat and dogs into the picture!
You and your family will not only be names in cross stitch. It will have your defining feature immortalized as well. Do you have a big family? Don't worry! You can customize up to 60 family members in one pattern!
Decorating your living room, staircase, or anywhere in your house with this cross stitch will be such a nice addition to your family's memorabilia. Framing this up will make it last longer. You can pass this from generation to generations! You being the one to stitch and to finish the crafting of this heirloom is definitely one of a kind!
MATERIALS FOR THE PERSONALIZED FAMILY TREE
Aida fabric
Thread – DMC
Wooden Hoop – 8.5″
SIZE OF THE CROSS STITCH OUTPUT
The dimension of the entire design area will be around 7.64 by 7.07 inches (19.59 x 18.14 cm) for a 14-count Aida fabric. Stitches will be around 108 by 100.
CROSS STITCH FAMILY PATTERN WILL INCLUDE
The pattern will include all the necessary materials that will be used for the stitching process, and those are:
a full color chart
a chart with black and white symbols
a symbol color chart 
a guide about basic cross stitching in pdf form
For all the happy times that you've shared with your family, you might want to keep a memory. Most people would keep a photo of two in their wallet. Now, you have a whole new way of capturing your memories!
Start Making Your Own Family Tree Cross Stitch
This personalized craft can be your best project to date! Seeing their faces made into the cute versions in the cross stitch will surely put a smile on your loved ones' faces. Without a word, they will already know how much they mean to you for exerting the effort to produce such a nice portrait of your family.
Click here for more Crafting News Cross Stitch Patterns! 
Cross stitching has never been this special. As a gift or as a simple decoration, this Personalized Family Tree Cross Stitch Pattern makes an absolutely heartfelt craft. Grab your stitching materials and start making this personalized heirloom you can pass down to the next generation!